It's been a while since I did a Walmart try on for you. I recently placed a pretty substantial order as I was searching for some new spring styles. I found a lot of keepers and a couple of misses, but you know I always keep it real so I will share the not so great as well as what worked for me. This spring Walmart try on is not sponsored by Walmart…all purchases were made by me.
Since Walmart hasn't noticed me yet, I do greatly appreciate you using the links I provide. This allows me to earn the tiniest income at no cost to you, and I hope it makes shopping for anything that catches your eye a little easier. You can access the direct links my clicking on the highlighted text throughout the post or in the shopping widgets.
Today's spring Walmart try on is a mix of dresses, athleisure, lounge, shoes, and one handbag.
Handbag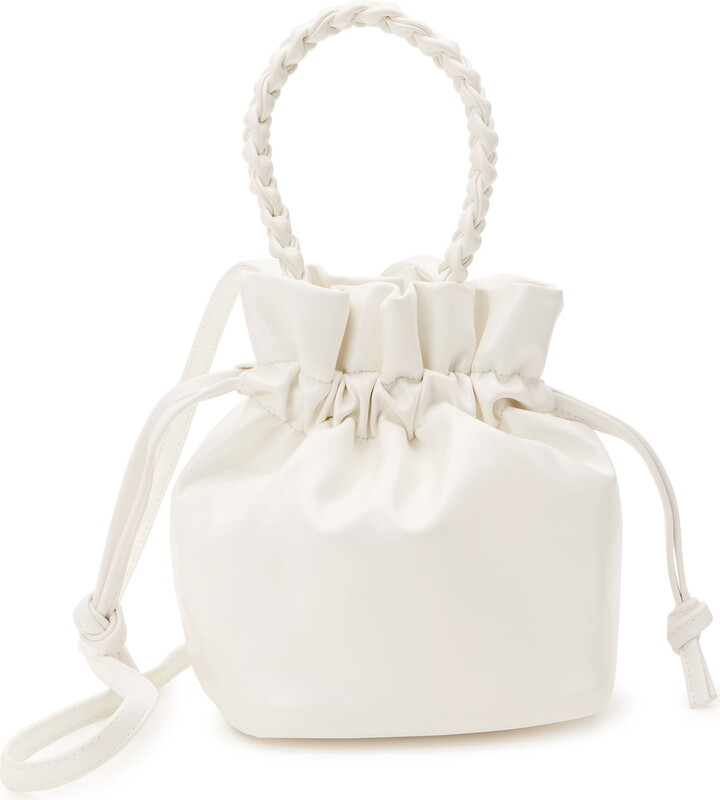 Walmart has some really nice options for spring handbags. I chose one that I thought would go with a lot of different outfits. This bucket cross body handbag in pearlized white is a super cute bargain at around $15.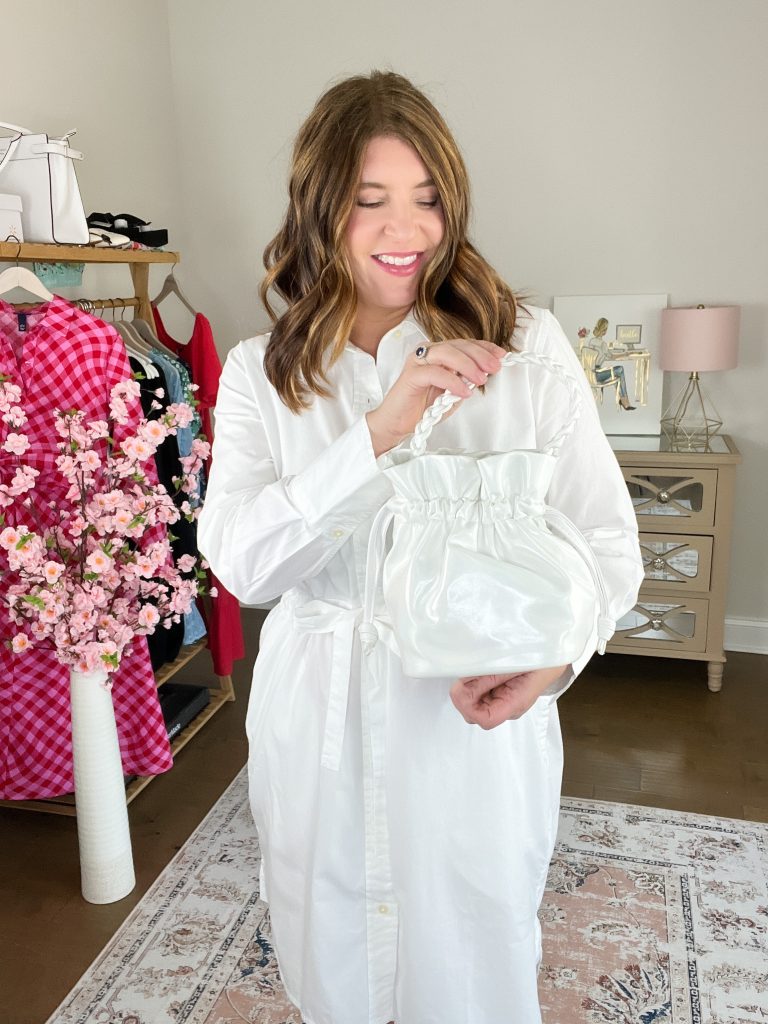 It comes in 3 other colors/patterns so click the link to see all the options.
Shoes
The spring shoe selection at Walmart is so good! I picked up four pair to show you, but I could have picked several more. You will see these with the different outfits below, but here they are all together.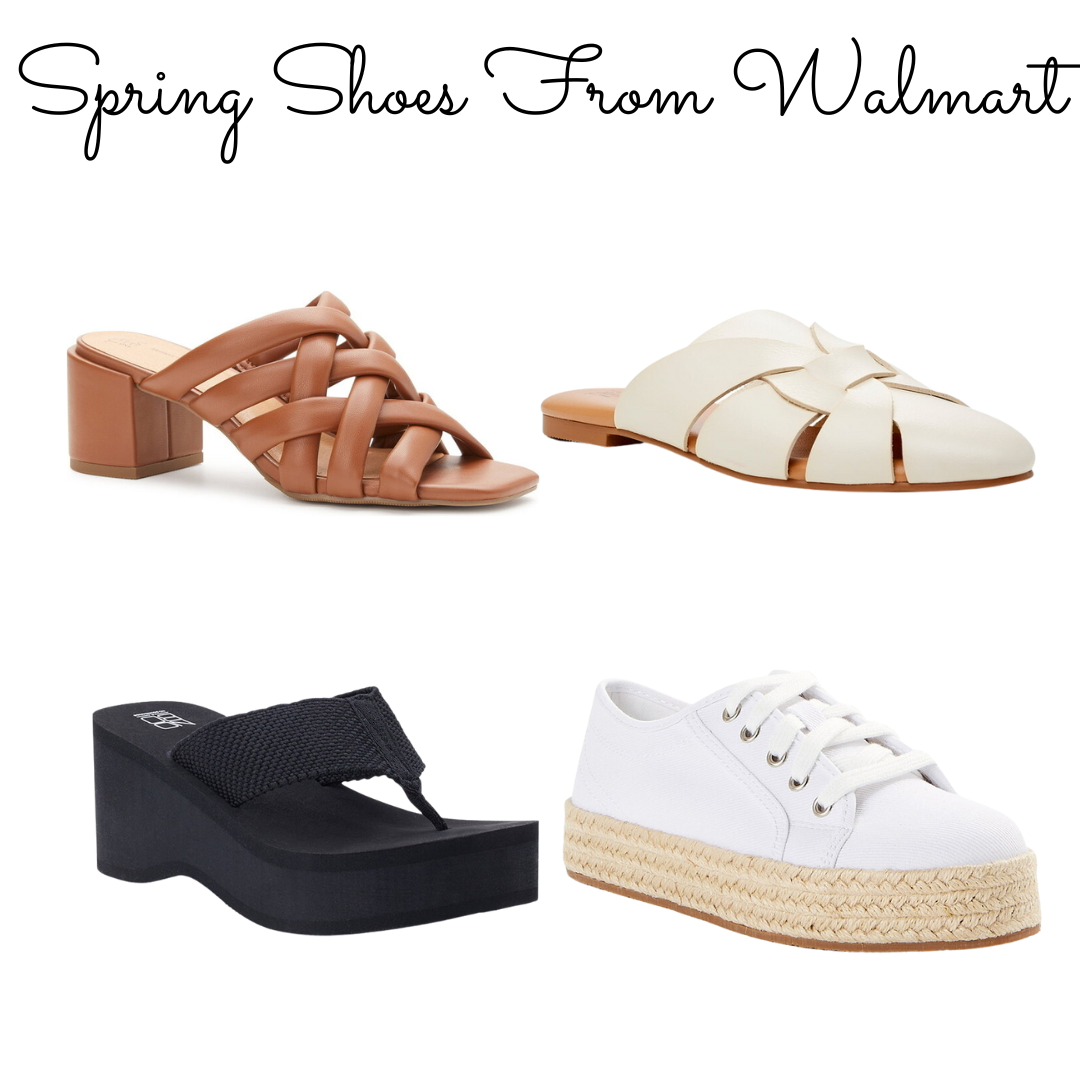 Dresses
I love dresses in the spring and summer, so I was excited to see what Walmart had to offer. I had some fails this time around mainly because of fit, not quality. I will explain what I mean starting with this side knot shirt dress by Scoop.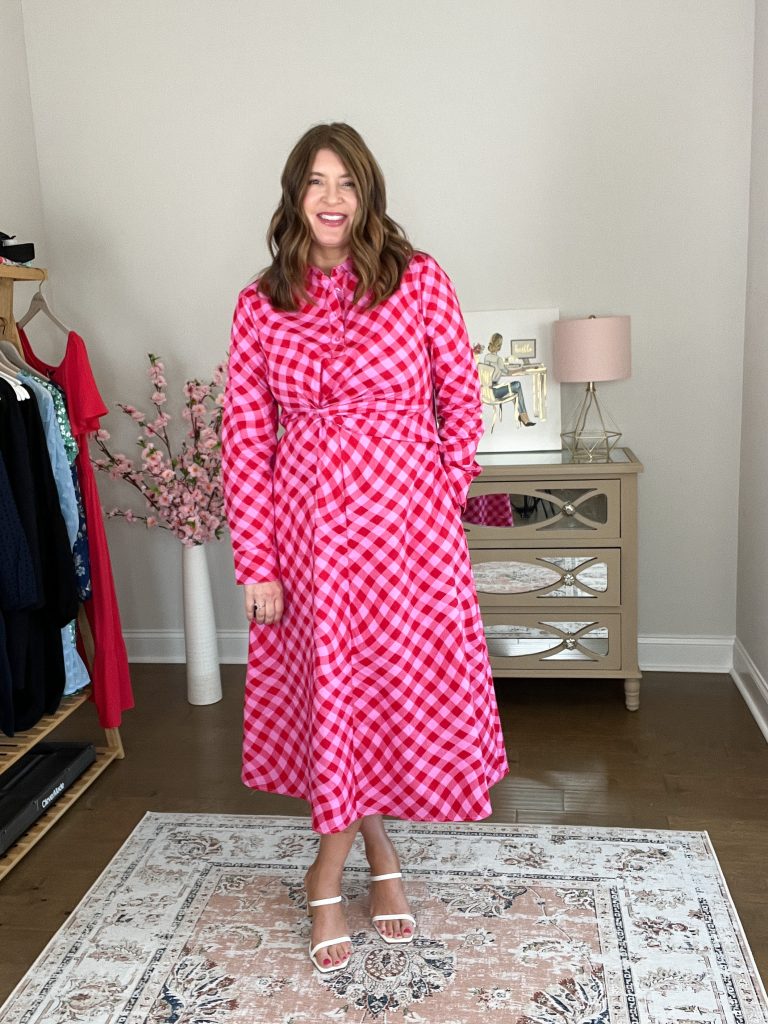 Okay, this is a really pretty dress with the bright pink colors. Also, I'm always in favor of a cinched waist so I had high hopes for this one. Unfortunately, the fit is all wrong for my body and that makes it very unflattering on me.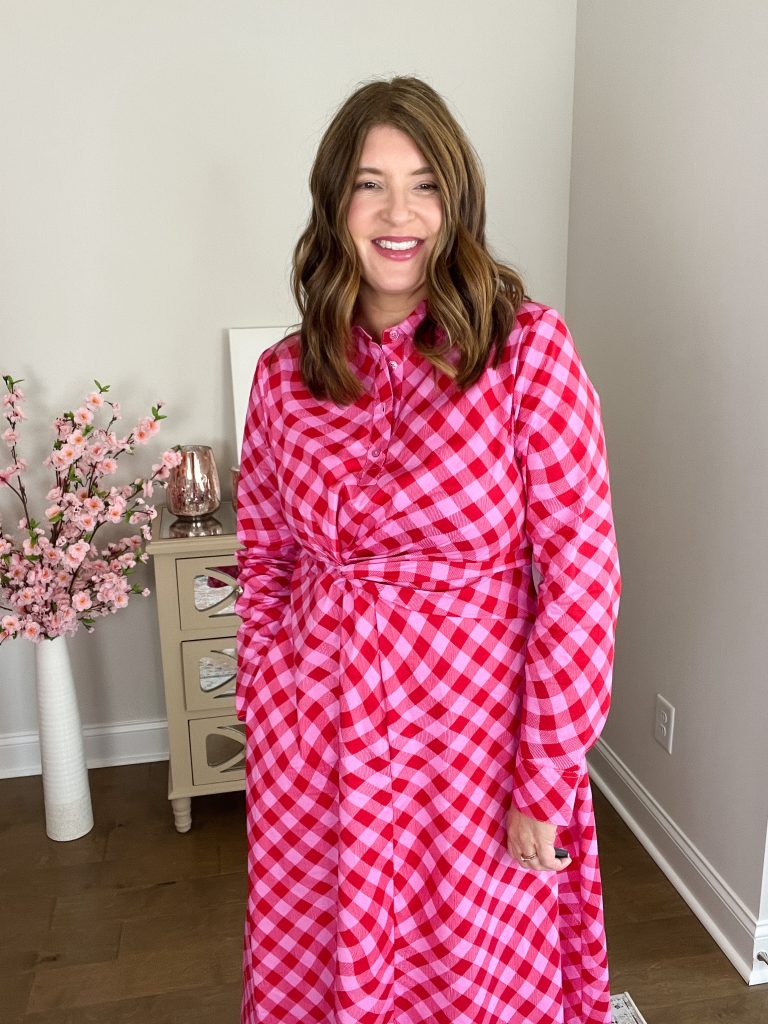 Shirt dresses are tricky for busty women like myself, so I always size up to make sure there is room up top and no buttons are gaping. I wear a medium or a large in most things, so I went with the size large. Here is what went wrong: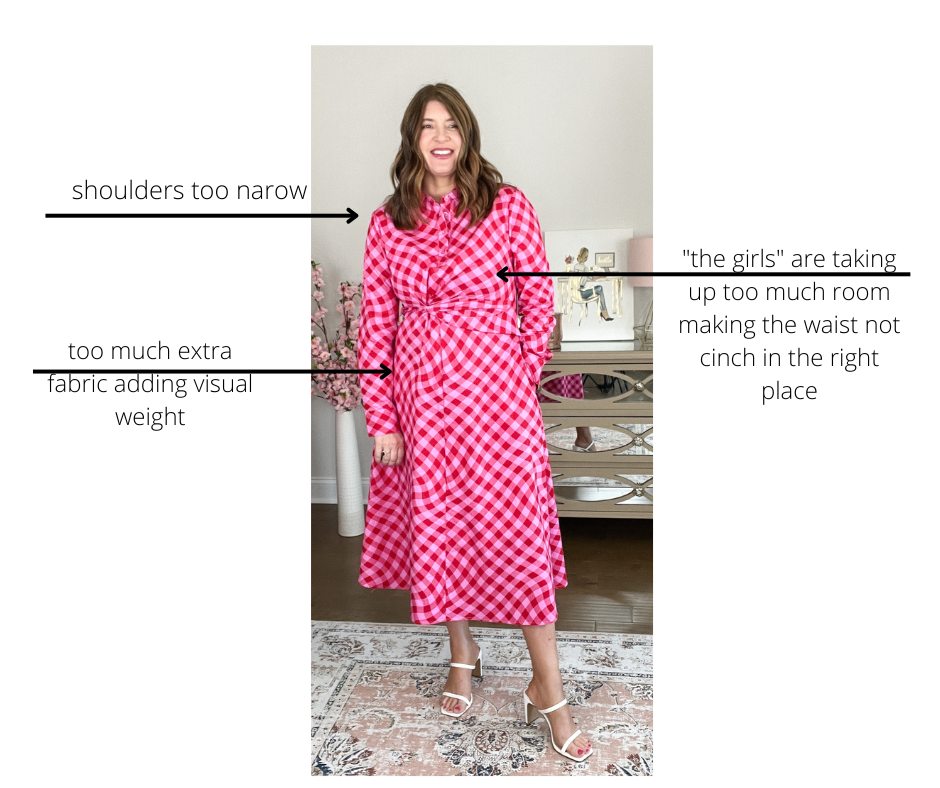 Here is the dress from the Walmart website on a different body type.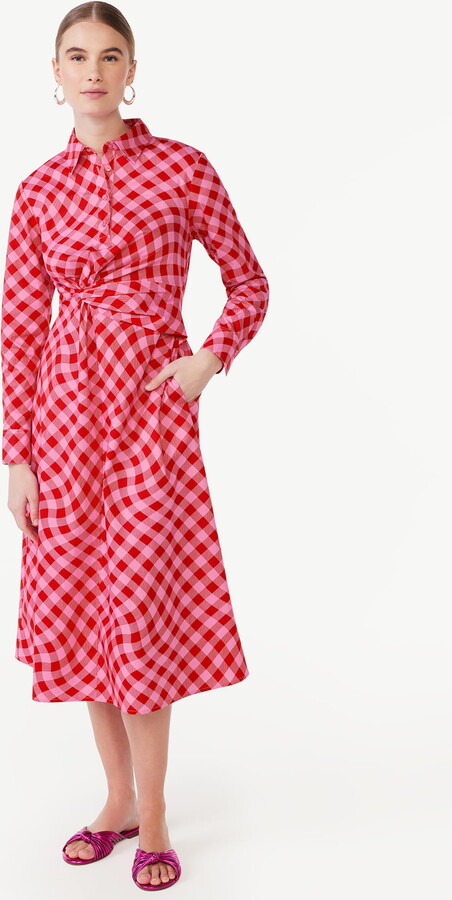 It's not just that this model is thin. It's really more about her proportions and shape. If you are smaller up top I think this dress could be very flattering. It would accentuate your waist and even camouflage any extra fluff in the hips. It also comes in three other colors.
This next dress is a similar style with a cinched tie waist and a shirt dress style, but the fit is much better. This dress is by Free Assembly and comes in this solid white as well as a blue stripe. I'm also wearing this in a large.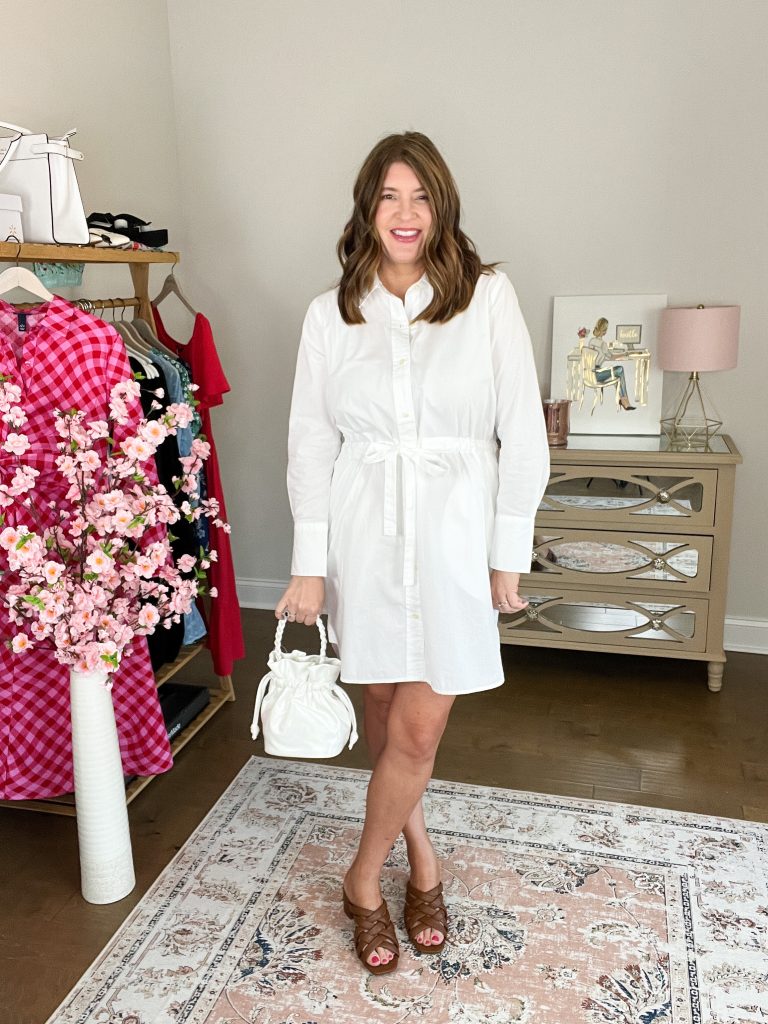 The top fits much better and I probably could have cinched the waist just a little more. For accessories I chose the white bucket bag and the City Woven Sandals by Time and Tru. These sandals are very comfortable and have a nice stable block heel.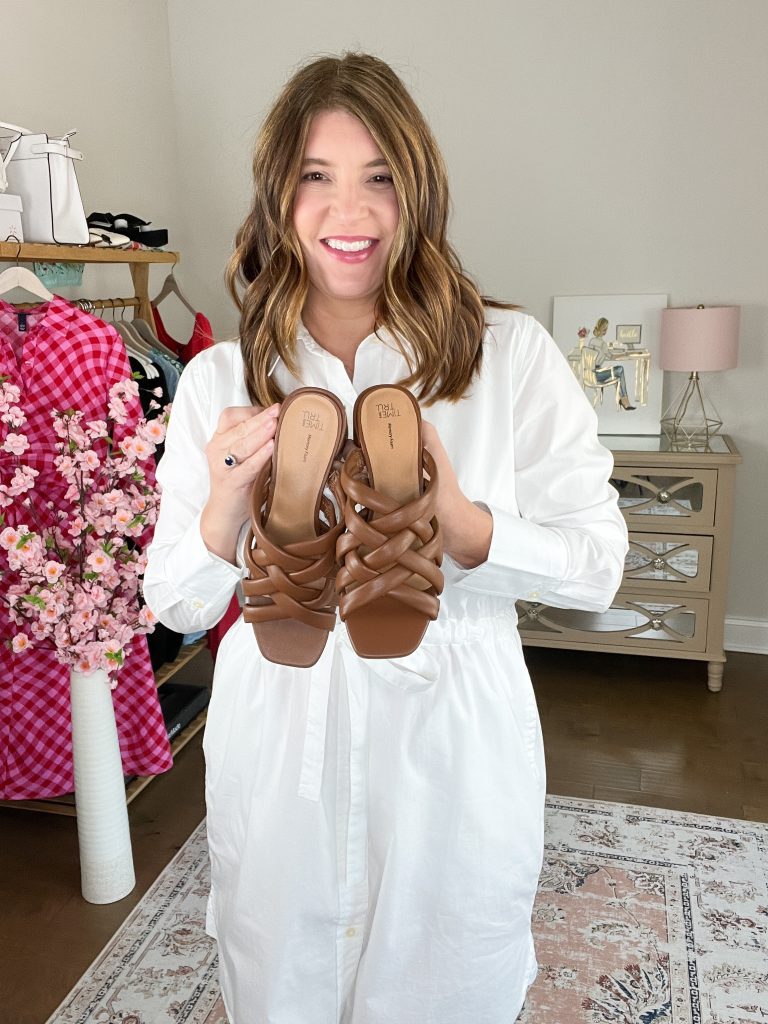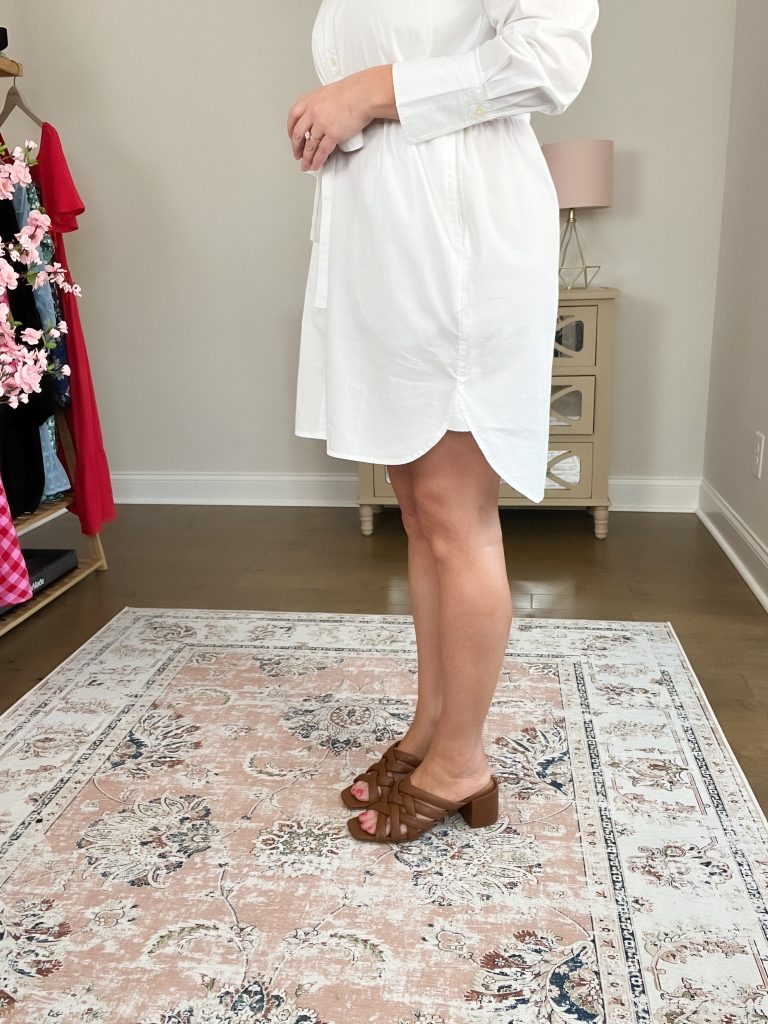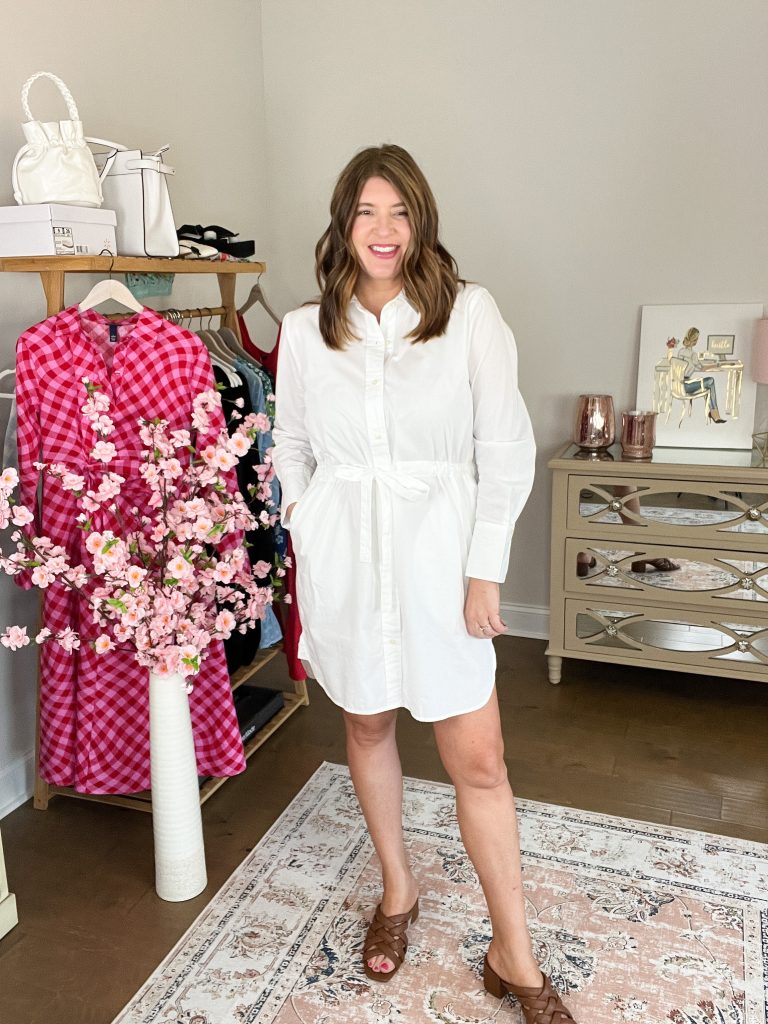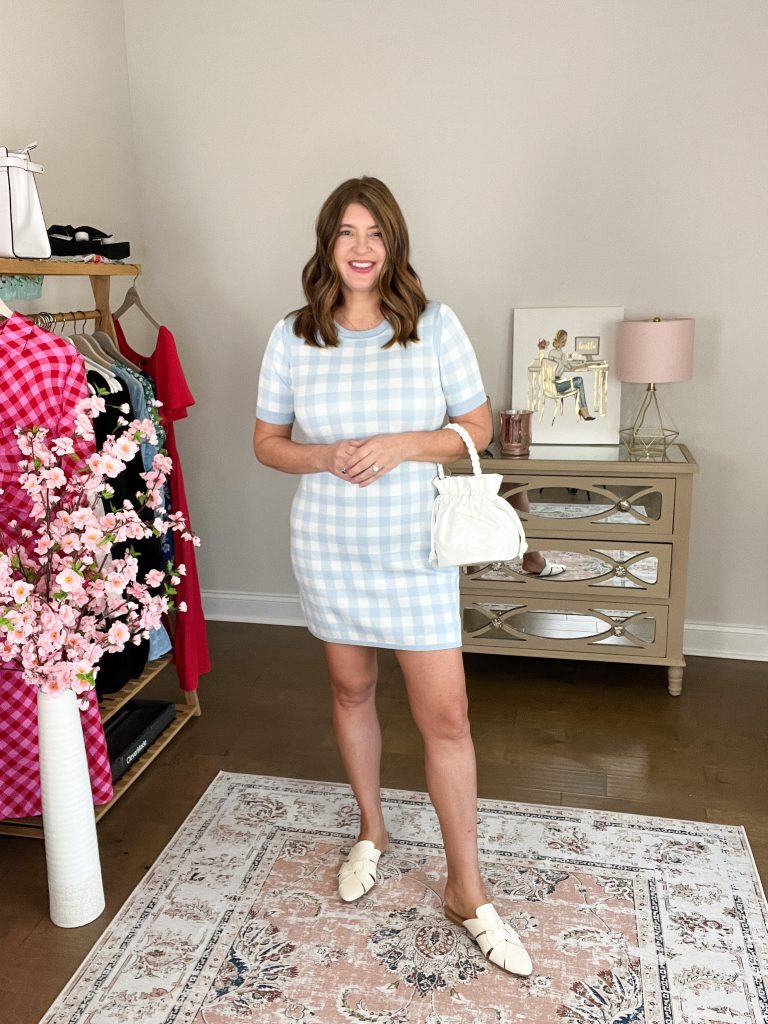 Next, is this sweater mini dress by Free Assembly. I would say this is a near disaster. They weren't kidding when they said, "mini dress". Again, this is a fail because of the fit, not because of the dress itself. I am wearing the medium, but I'm not sure if the large would have looked much better.
I think it is a pretty dress and I love the color. It is just WAY TOO SHORT and it also is too small in the chest. I'm 5'7″ so if you are 5'5″ or less this might work fine for you.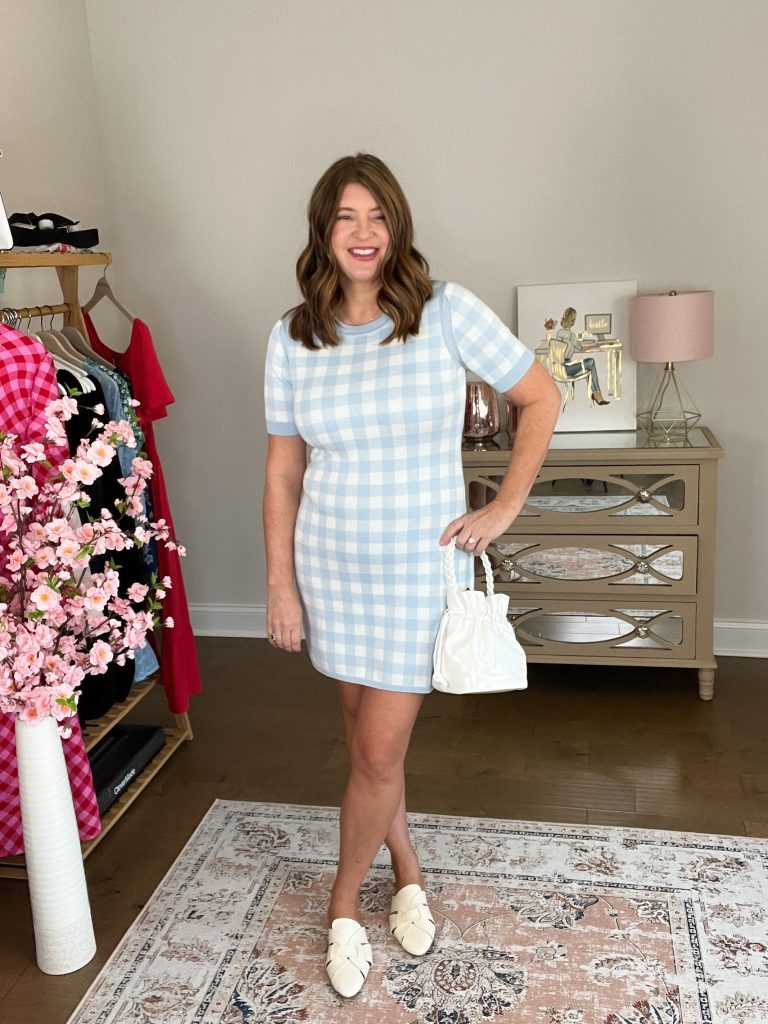 Let's set aside the ill-fitting dress and talk about these adorable cut out mules! I recently moved and in cleaning out my shoe collection I got rid of a couple of pair of mules that were just worn out. I thought these would be a nice spring shoe for the days when it's just a little too cool for open toed shoes.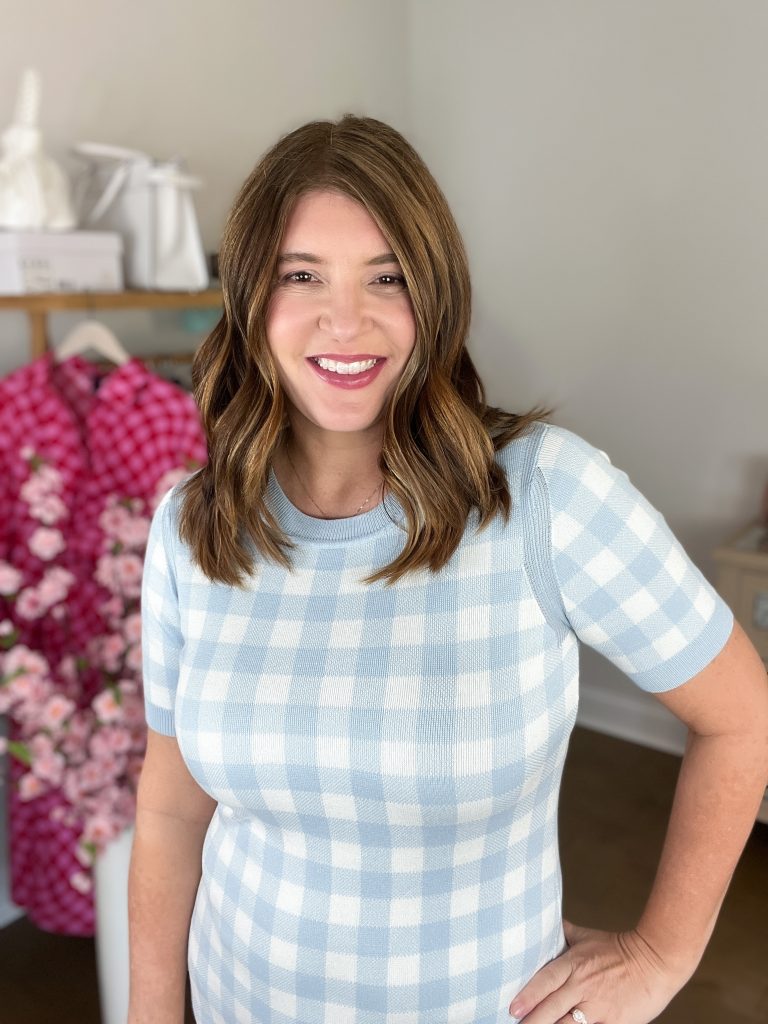 One last point about this dress is a style tip for you busty girls out there. When wearing a print such as this gingham or particularly stripes, you never want a print to expand and distort over the bust like you are seeing in the photo above. Either pick a different style or stick to a solid.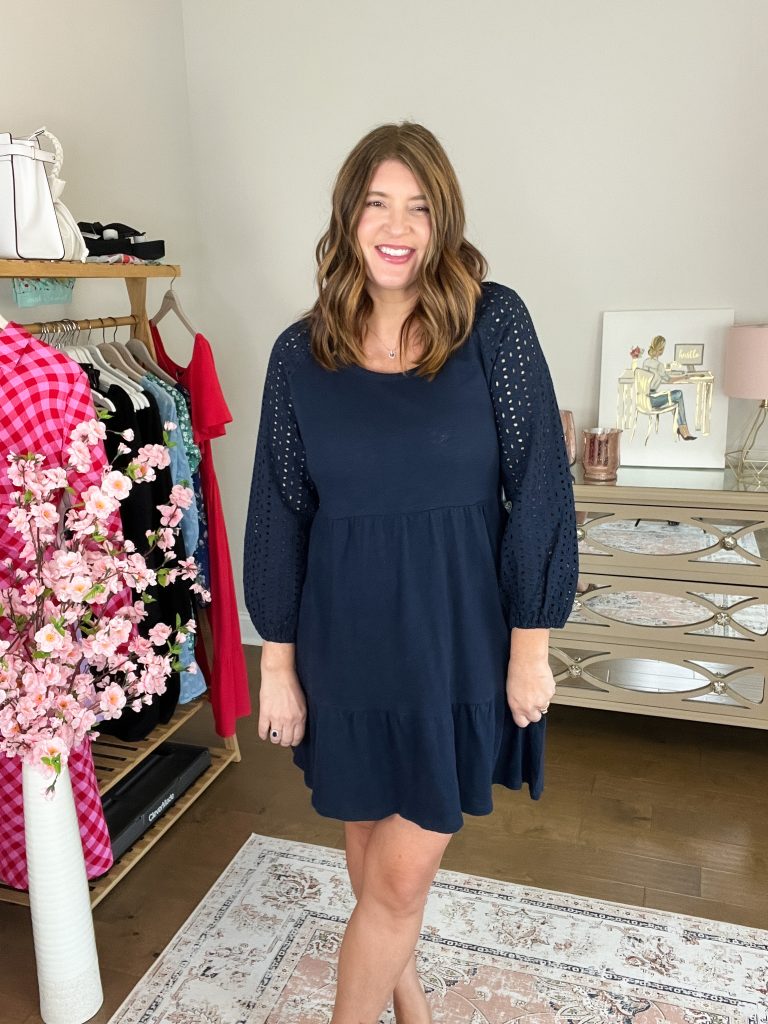 This navy eyelet sleeve dress had me feeling redeemed! This is a casual knit/cotton dress with feminine detail on the long sleeves. I'm wearing a medium and this dress fits well. It also comes in several other colors, but I always love navy.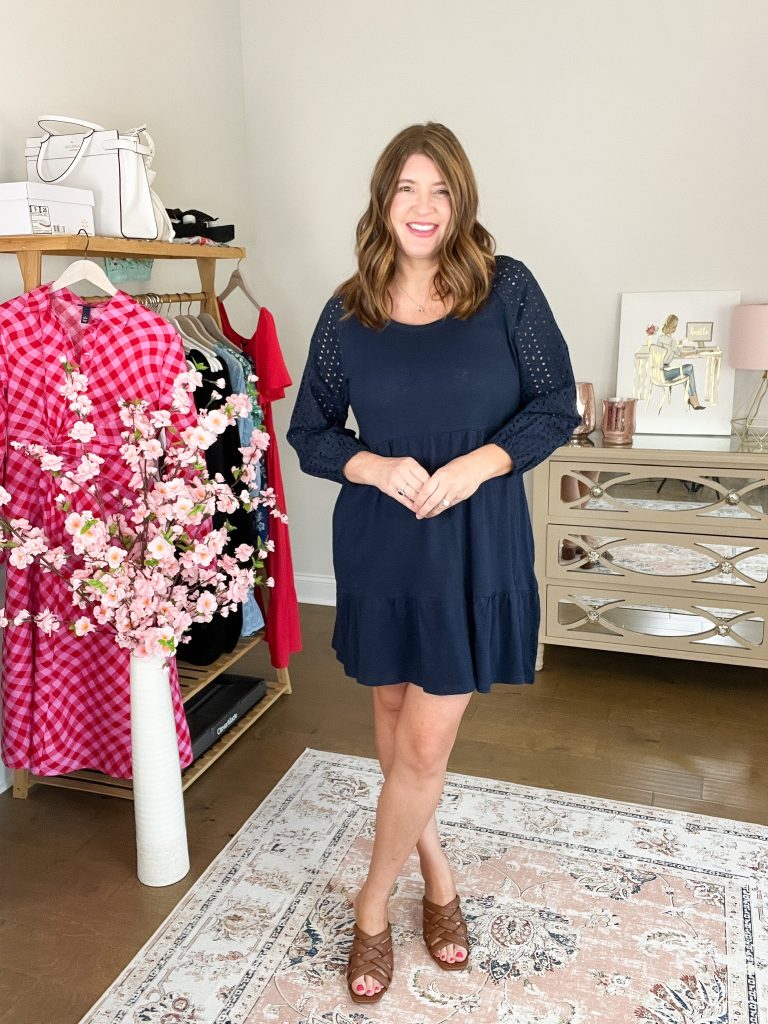 For this outfit, I went with the brown sandals again. You could also dress this down with sneakers.
Athleisure
My love of the athletic skorts continues with two finds from Walmart!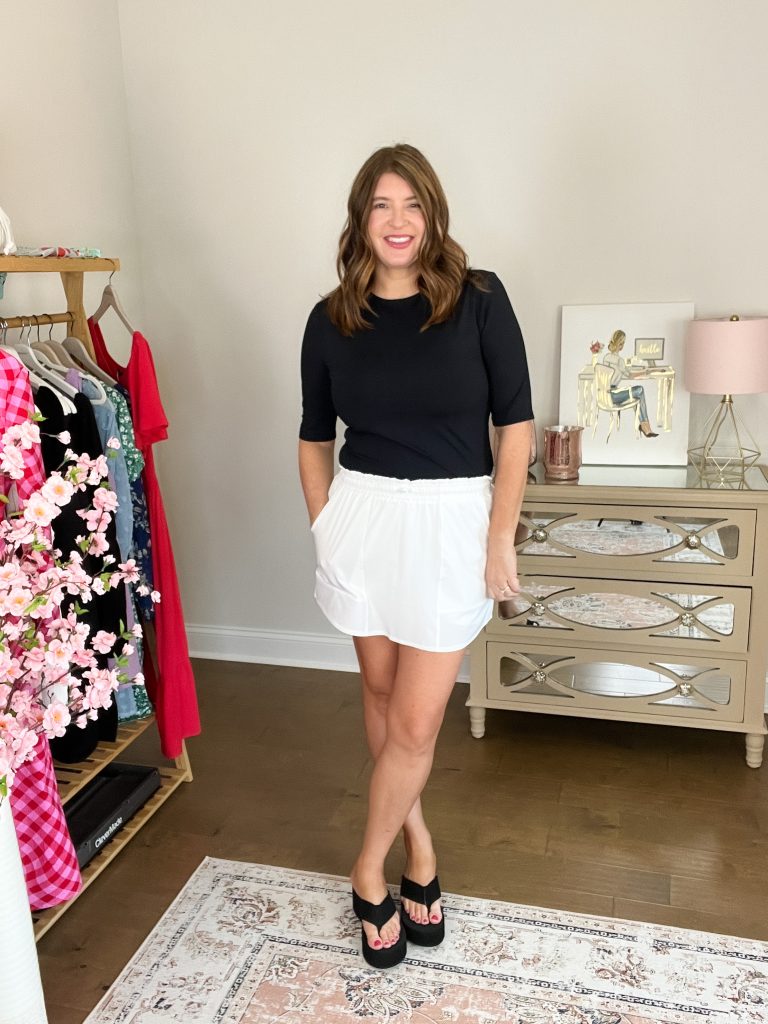 First is this white rip stop skort by Avia. I'm wearing a medium and it fits comfortably. It does have shorts built in underneath and the pockets are on the outside. I chose a black elbow length tee that I purchased last year from J.C Penney, but any black tee or tank could recreate this outfit.
This top has some compression to it…similar to Spanx but at a great price.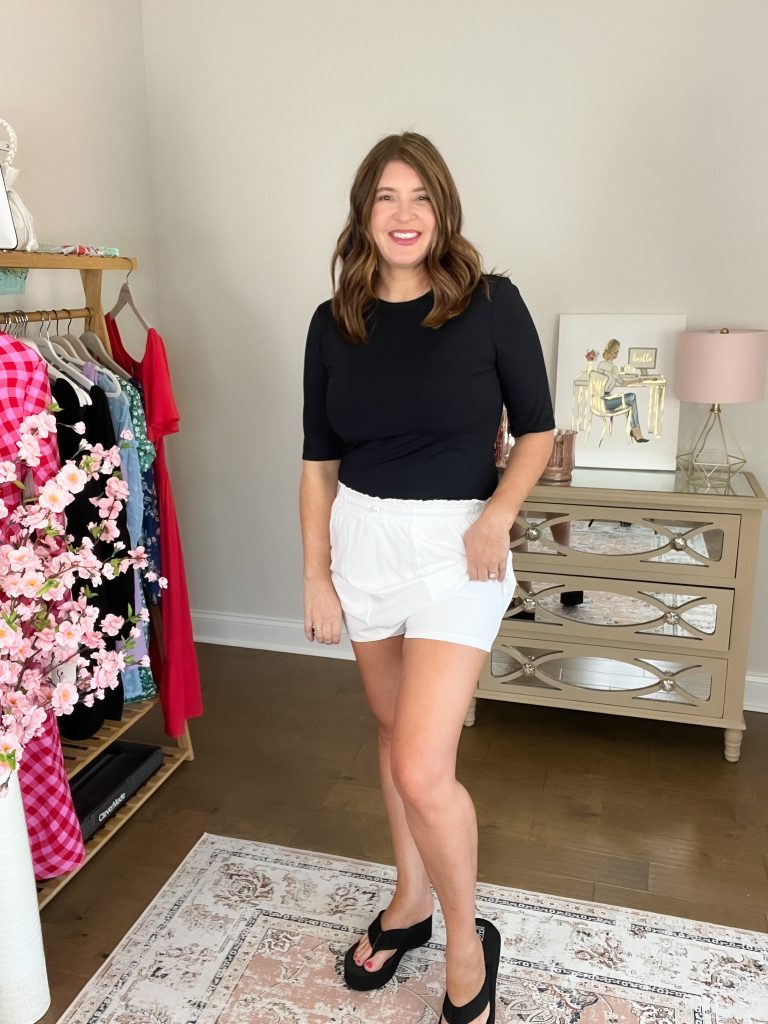 My shoes are the wedge thong sandals by No Boundaries. They have a 2 inch platform that is soft to walk on. If you like to add some height to your frame, then you will love these.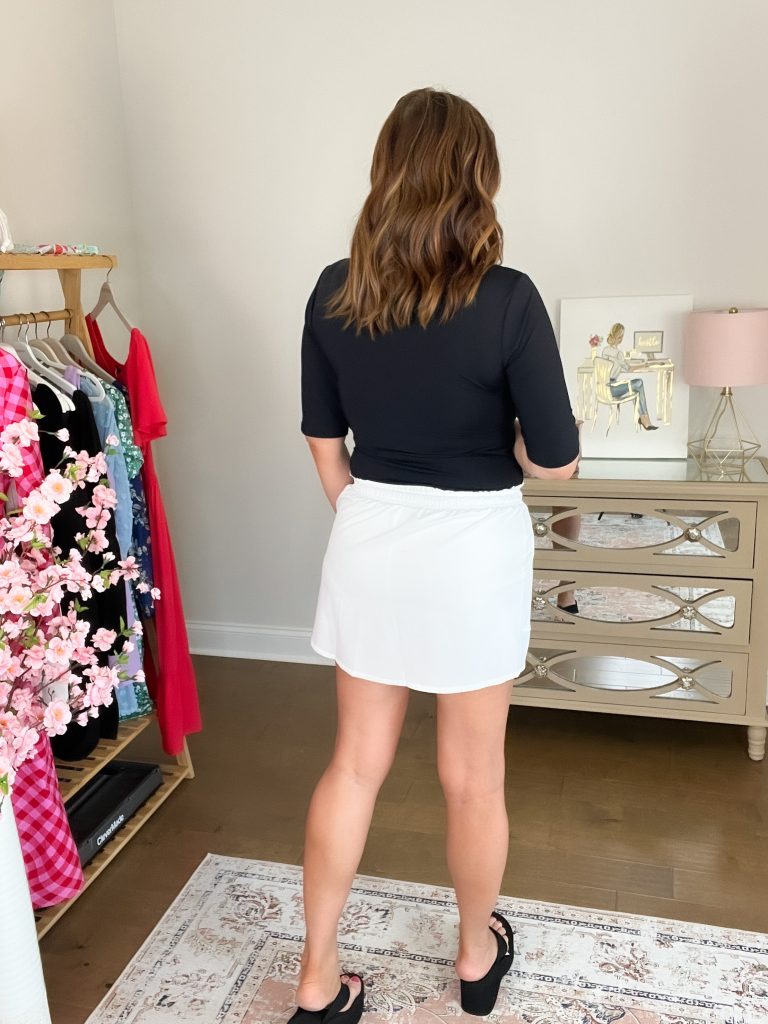 As an alternate look, you could pair the Avia skort with a lightweight sweatshirt. This ruffle style was a T.J. Maxx find and is the brand Shabby Chic. I actually found it online, so I could link it for you. Here I switched out the shoes for these Espadrille Sneakers by Scoop.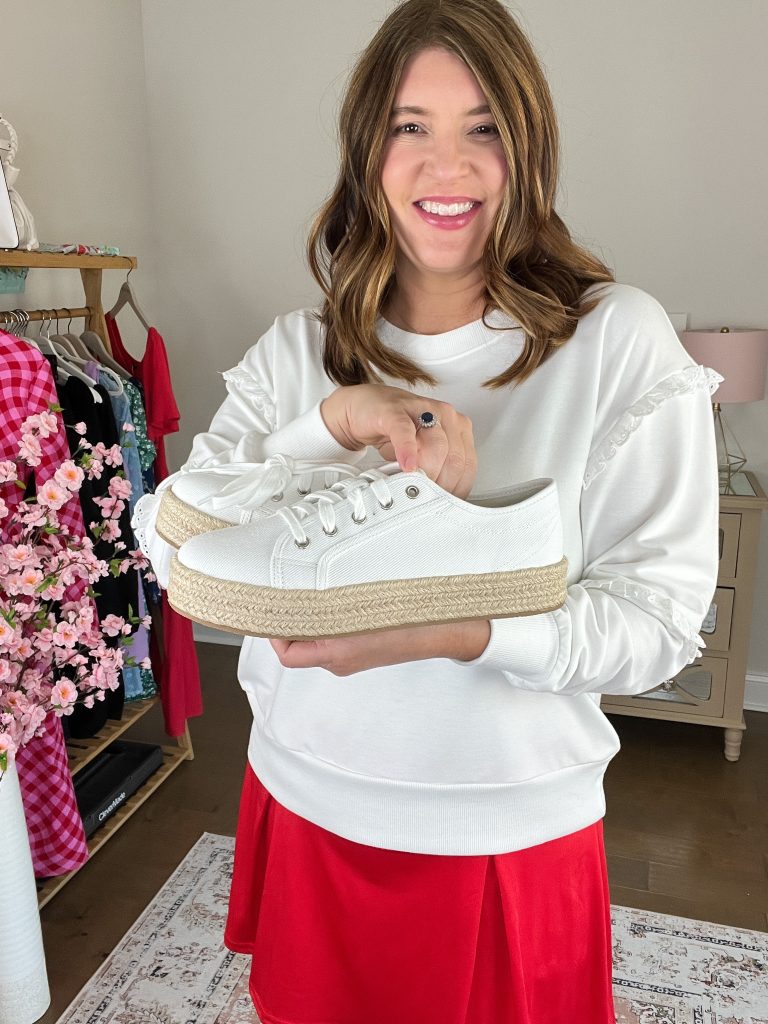 I ordered my usual size 9 in the shoes, but they were too big. They also seem to run a bit wide, so keep that in mind. I reordered a size 8 1/2 to see if they fit better.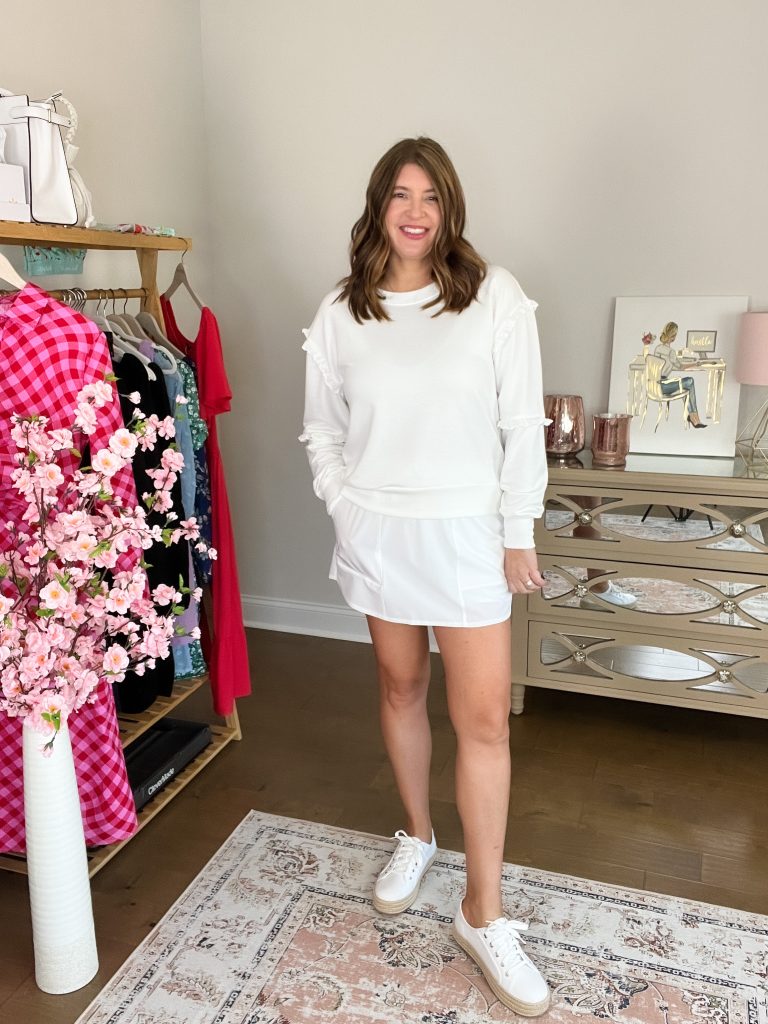 The skort has a nice straight fit if you are not a fan of the more pleated and flirty style skorts. It also comes in several other colors.
Skort #2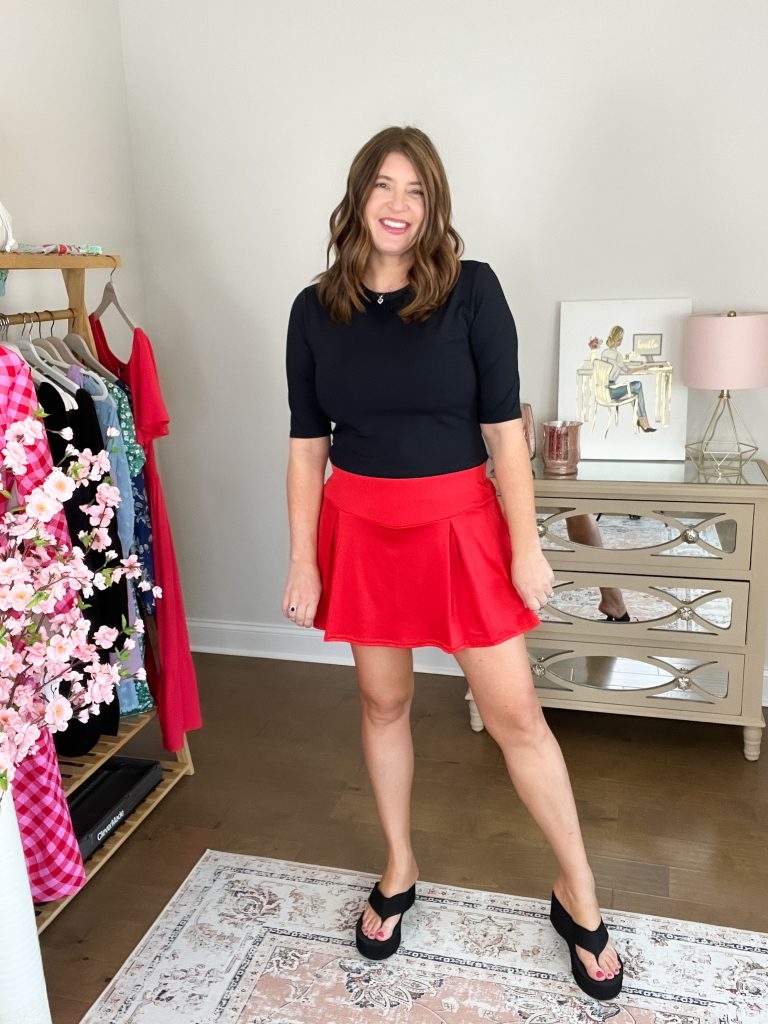 Speaking of more flirty styles, this red athletic skort is just that. I told my husband that if we go to a Georgia Bulldogs football game this year, this will be my outfit. I love the fit of this (size large) and it also has the shorts underneath.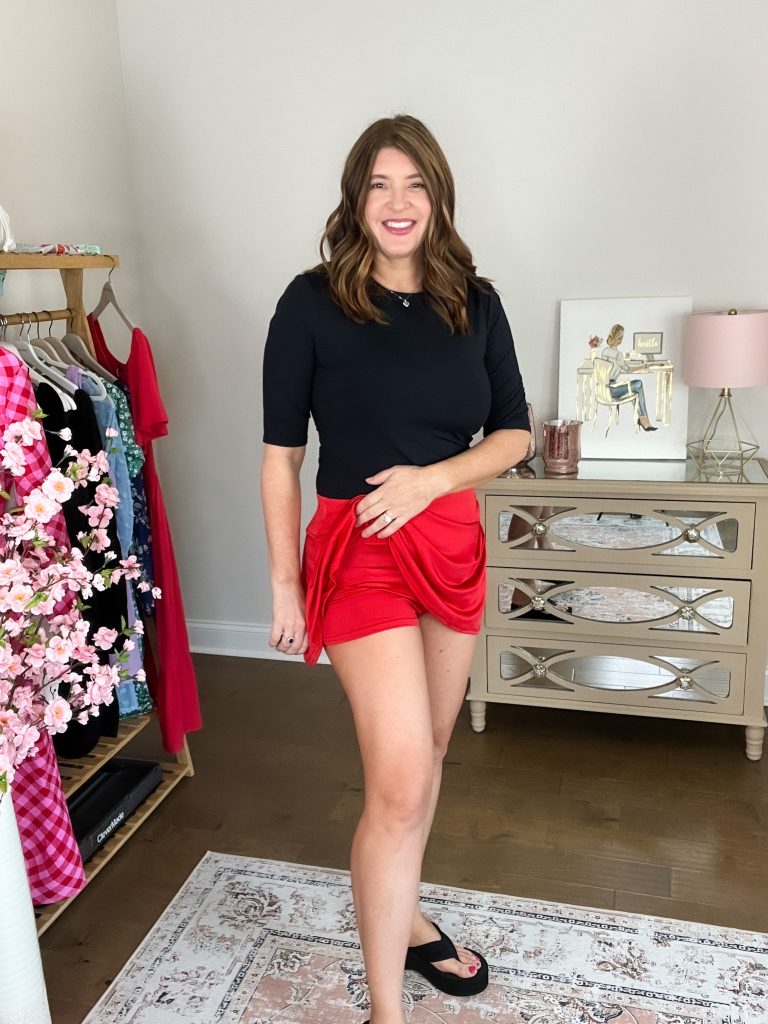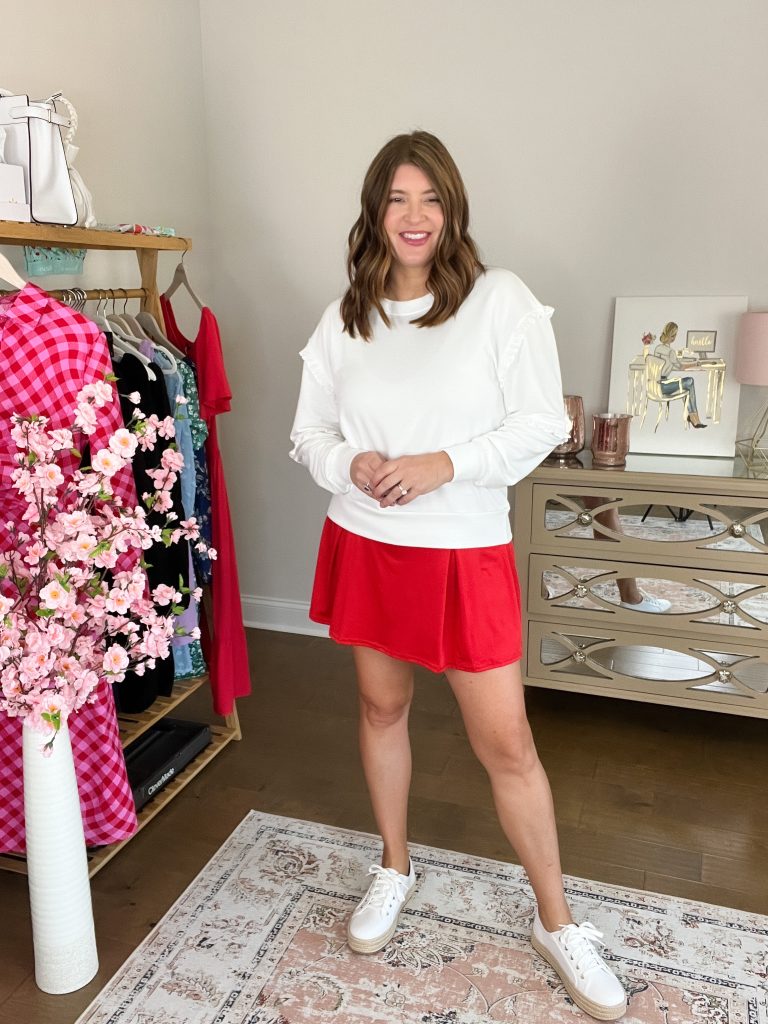 Here it is styled with the white sweatshirt and the espadrille sneakers.
Lounge/P.J.'s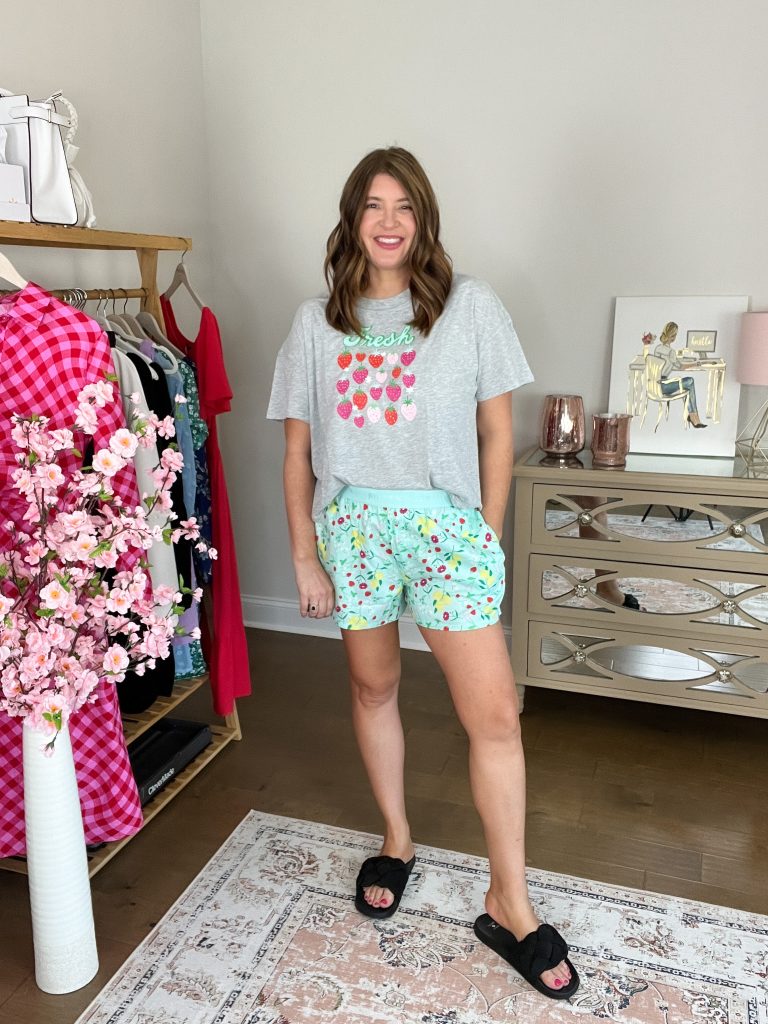 The last item in my spring Walmart try on are these cute P.J.'s by Joyspun. This line has replaced the Secret Treasures line that I loved so much at Walmart. I ordered a size large and the shorts were a little big, but I needed the room in the top. By the way, my black slides are from Target and you can find them here.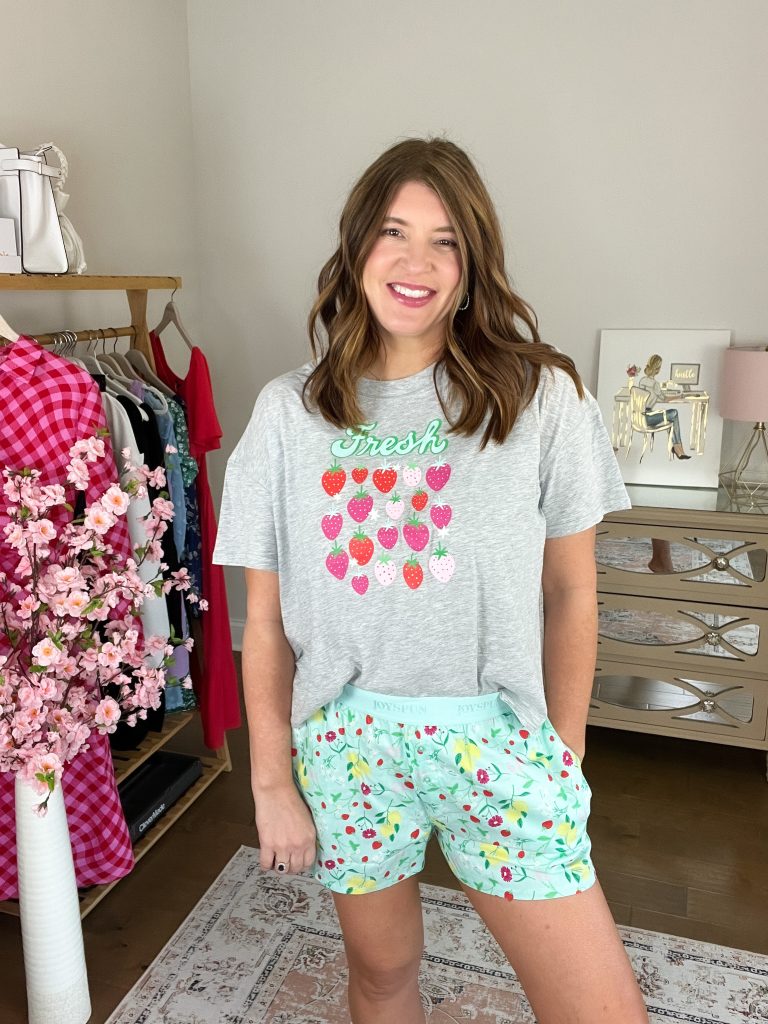 I'm a sucker for anything with strawberries on it, so I think these P.J.'s are a keeper.
I hope you enjoyed this spring Walmart try on. As always thank you for being here, and I hope you get a little tidbit of helpful information with every post.