Is it just me or does it seem like people are generally more angry these days? There is a palpable tension in the air when I go out and about that is different from any other time in my life. A spark just waiting to ignite. There are many reasons why people could be on edge…too many to even list. 2020 and specifically COVID-19 is the gift that keeps on giving, right? I too have felt frustrated and I long for things to just be normal again. So how can we go about showing kindness in a world that isn't always kind to us?
Everyday Life
I was in Marshalls the other day, and a lady said something to me that really made me mad. She was being snarky and I was the lucky recipient. The younger me would have said something just as snarky right back to her. The older and wiser me ignored her and kept walking. I knew it would only make things worse if I said anything, and I certainly wasn't going to change this woman's outlook on life. Now, before you go thinking that I'm all sweet and nice let me just tell you that in my head I was letting her have it! I'm an introvert by nature, but if you poke me with a stick I'm not going to just stand there and take it.
Was it easy to just walk away when someone was unkind to me? NO! It was very difficult. In fact, I left the store sooner that I had planned because I didn't want to risk running in to her again. Sometimes showing kindness is as simple as withholding your wrath towards someone. That woman doesn't even know that I actually showed kindness to her. More accurately, I showed her mercy. Mercy is when you don't get what you really deserve. Kindness can be a form of mercy.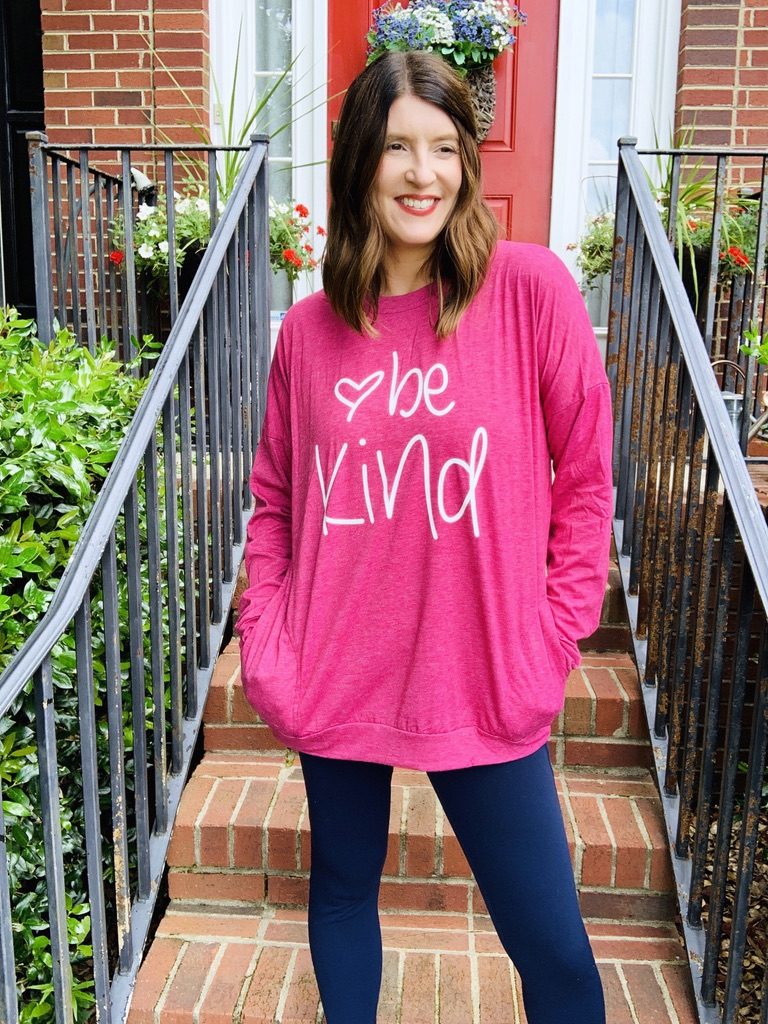 I came across this top long before the "marshalls incident", but it is a good reminder to simply be kind. This is the women's crewneck sweatshirt top with pockets. It is described as a sweatshirt on Amazon, but the fabric is thinner than a traditional sweatshirt, which I like for this time of the year and into early fall.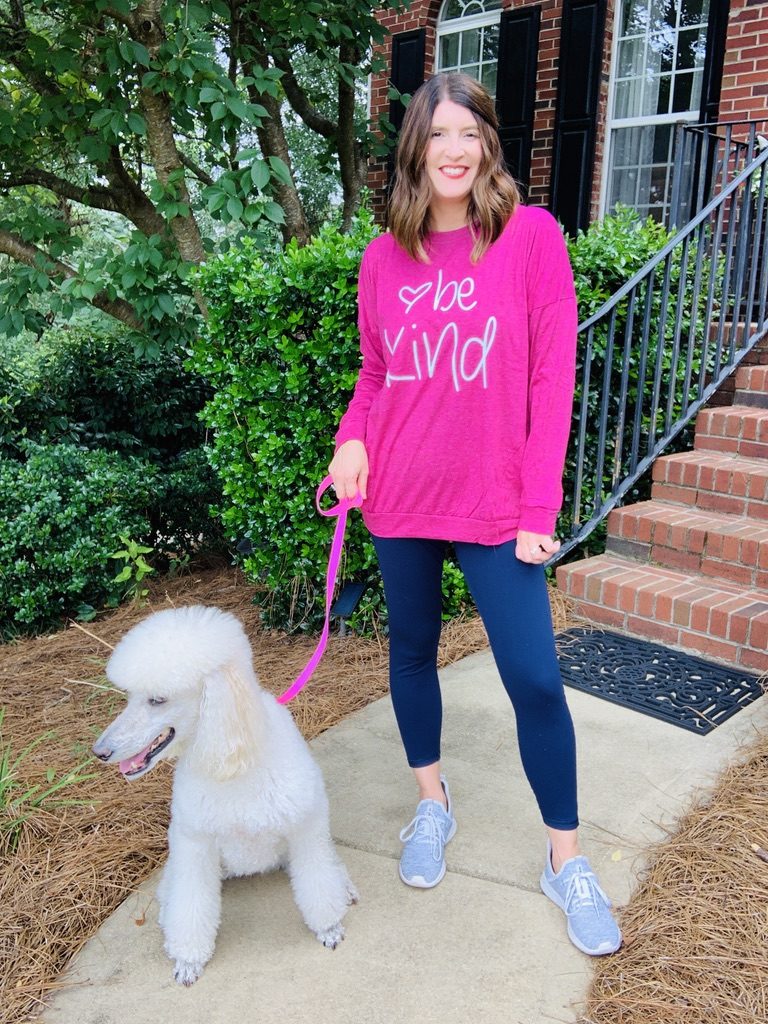 It comes in five colors. I chose this bright purple, but it looks more like magenta pink in the photos. It is tunic length, so I paired it with leggings. The leggings in these photos are from Old Navy. I purchased them back in the winter months, so I'm not sure if this exact style is still available. I will tell you that these leggings are great quality! They are high waisted and comfortable, while holding you tight in all the right places. I highly recommend them! I linked a pair that are currently available that look very similar.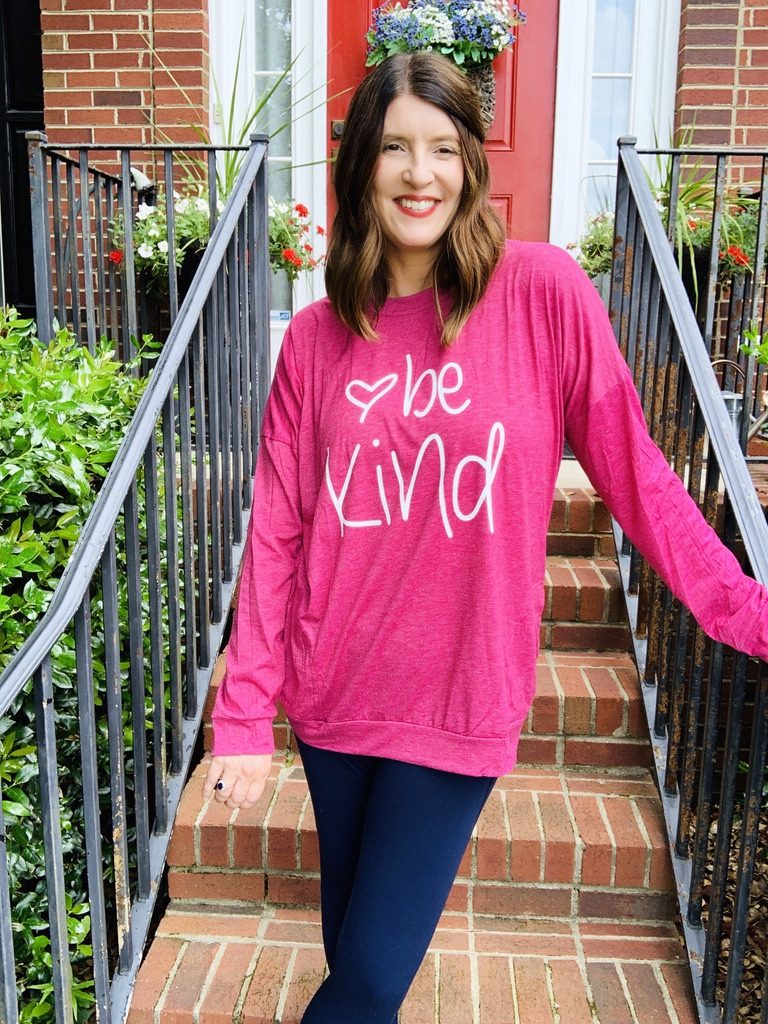 Go with your regular size in the sweatshirt. I wanted a slightly oversized fit and I am wearing a size large. My shoes are Adidas and I will link them down below.
What The Bible Says About Showing Kindness
In John 15, Jesus speaks about loving one another. He does not present this as a suggestion. It is a commandment!
"This is my commandment, that you love one another as I have loved you"

John 15:12
In verse 17, Jesus again commands us to love one another. If He said this twice in the same passage, it's probably pretty important. Wow, that's tough isn't it? Loving others especially when they are unkind to you is one of the hardest things in the world to do. In my younger days, I rarely did this…just being honest. Now that I am approaching 50 in a few months, I'm not good at it but at least I try. Loving one another certainly involves showing kindness.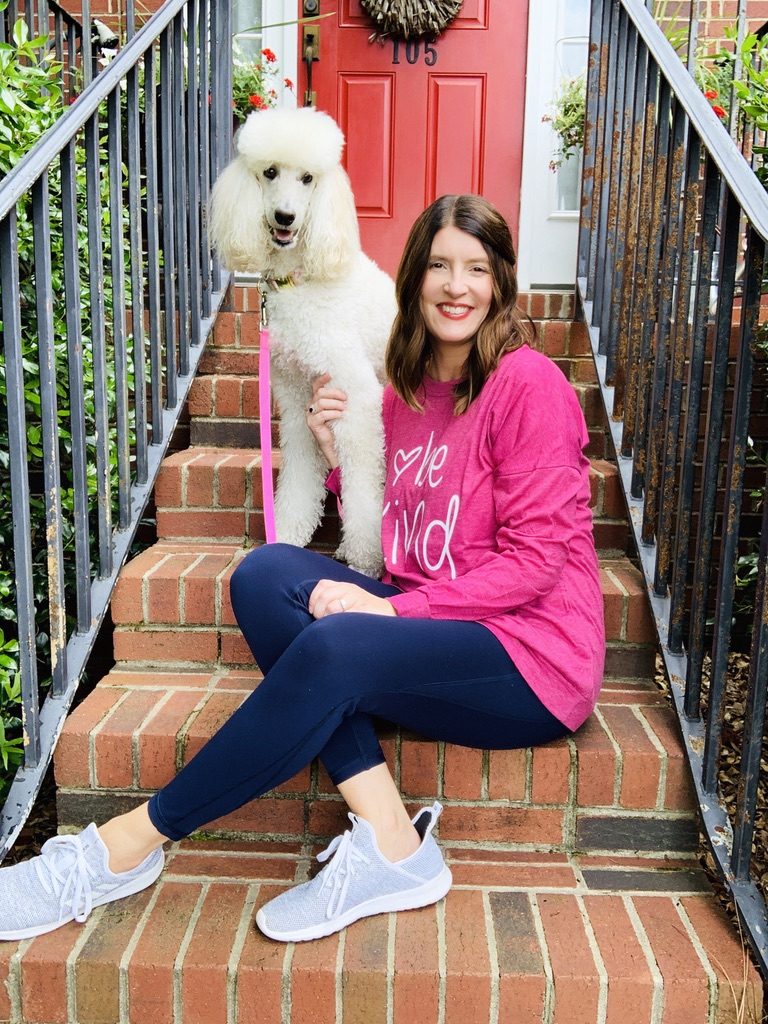 I adore my dogs. We have three total, and this is Lily in the photos. I can always count on them to be kind and nothing is more soothing after a tough day than snuggling up with my dog.
What are some ways that you can show kindness to someone today? Maybe it is as simple as a text or phone call to encourage someone. Whatever it is, the point is that showing kindness makes the world a little bit brighter, and I think we all could use a little kindness in the times we are living in.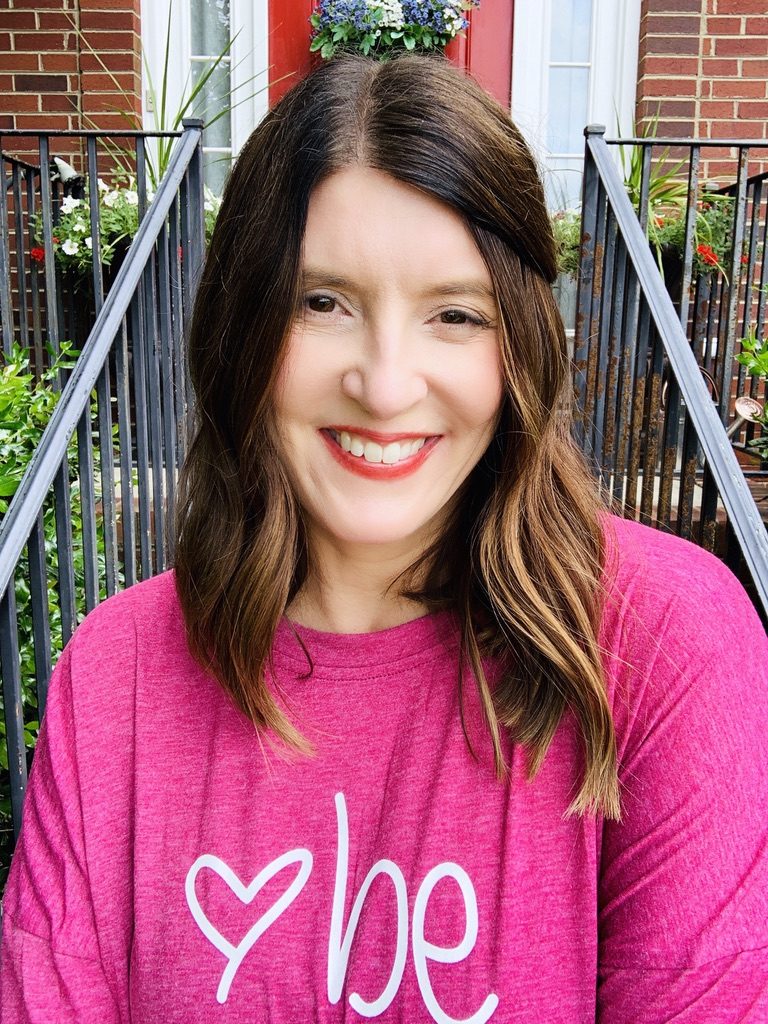 You may also enjoy these posts. Classic Style and Four Ways To Transition Your Wardrobe Into Fall.