I recently placed a pretty good size Amazon order in search of some good transition to fall tops. Today I'm sharing what I found! Amazon is such a good option for reasonably priced pieces that can be a little trendy and fun. I may only wear some of my Amazon purchases one or two seasons, but that's okay because they are so inexpensive. For wardrobe basics that last year after year I would recommend higher end brands, but for today let's have some fun with an Amazon try on.
Waffle Knit Peplum Top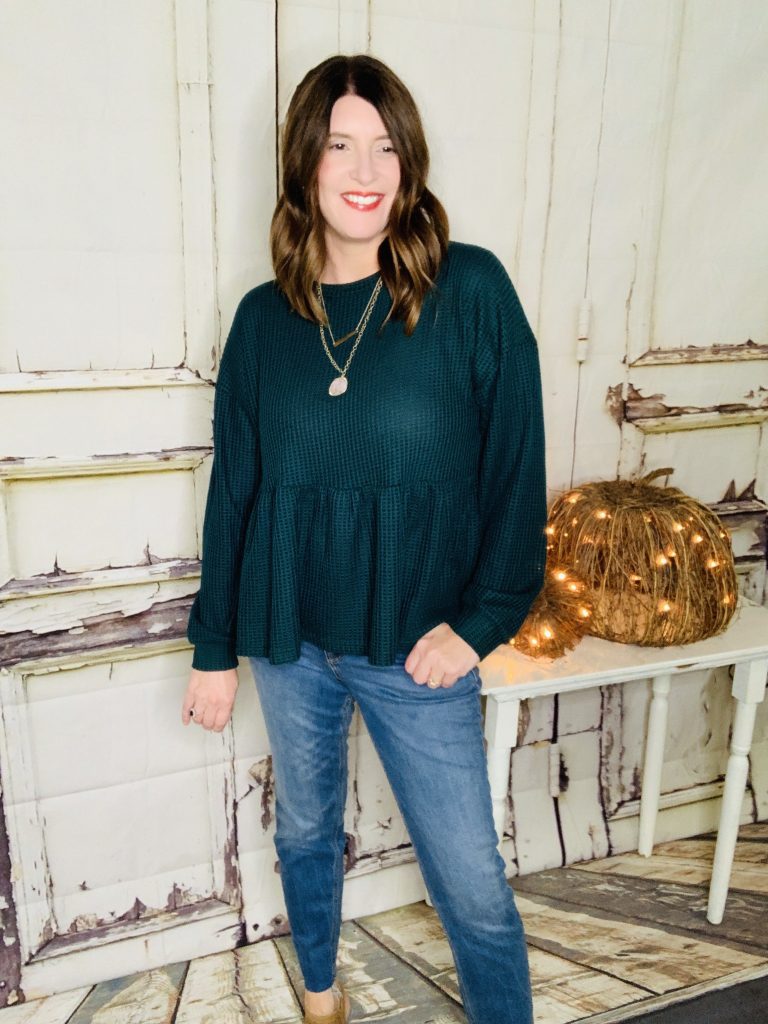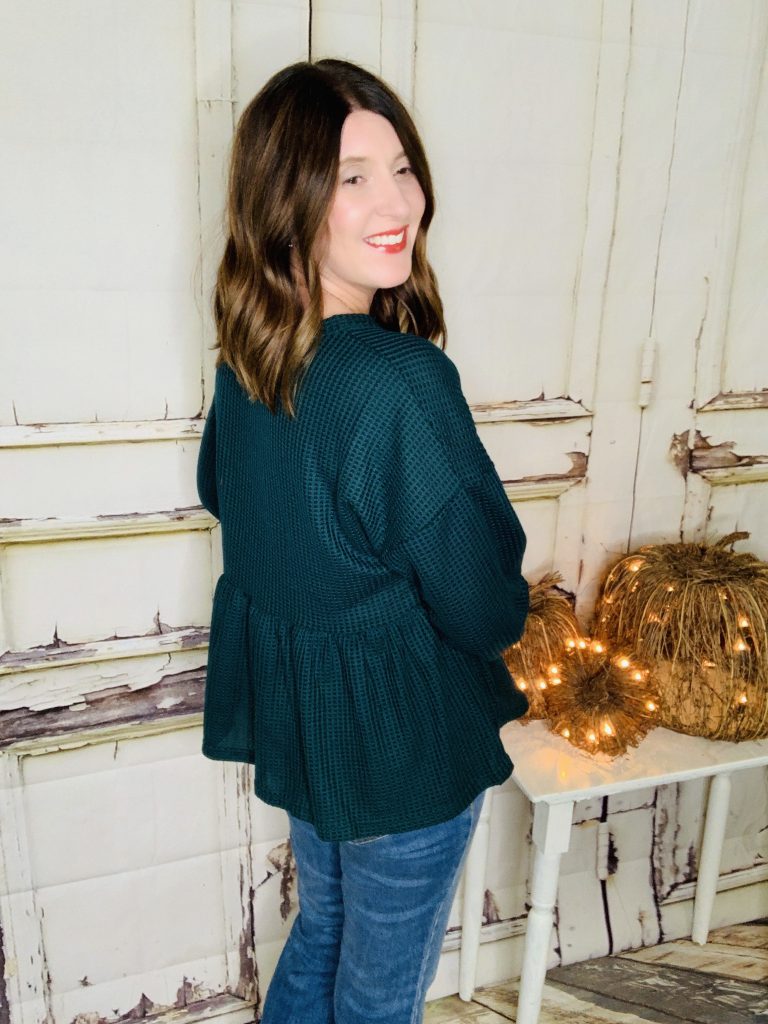 This waffle knit peplum top might be my favorite of all. I just love the dark green color! As with most Amazon tops, it comes in a variety of colors. Waffle knit is still very popular for fall 2020, but personally I am tired of the typical knotted or tie waist waffle knit tops that are everywhere. I like this top because it is different and it will be very cute for fall.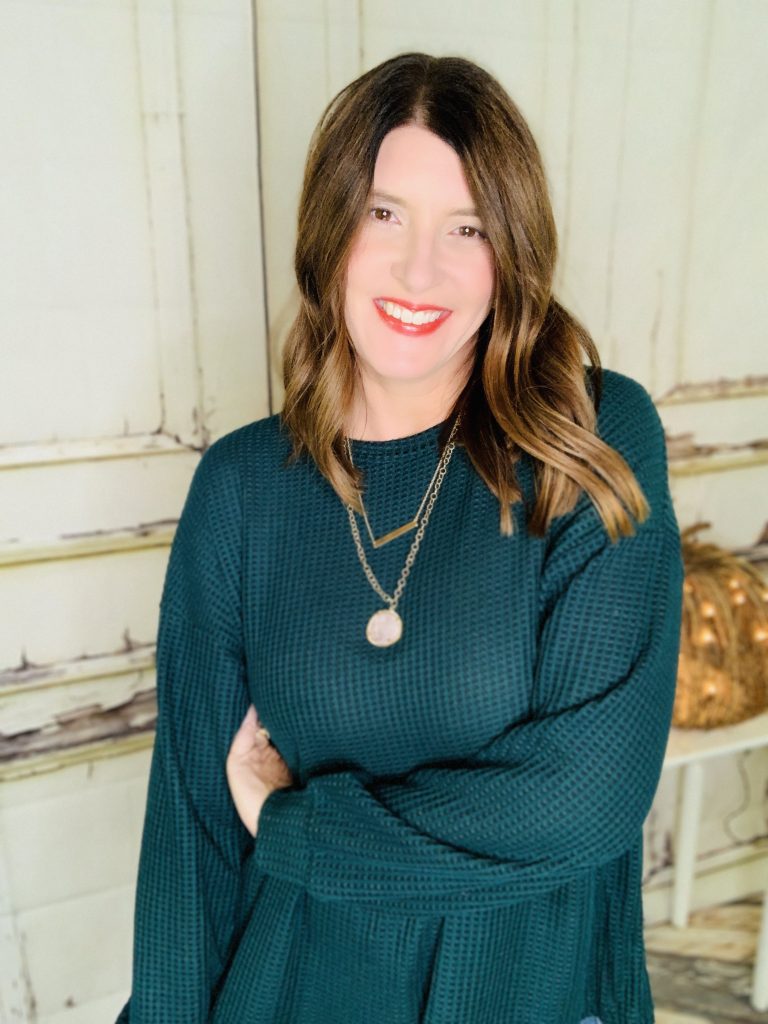 For sizing, I would say go with your normal size. This is supposed to be an oversized look and I am wearing a large. The texture of this knit is very soft. I also like that the sleeves are full, but not over the top balloon like sleeves. The layered necklaces really add a nice touch to this outfit. Mine are old, but they are easy to find. You can buy them already linked as a set, or just layer your own based on what you already have.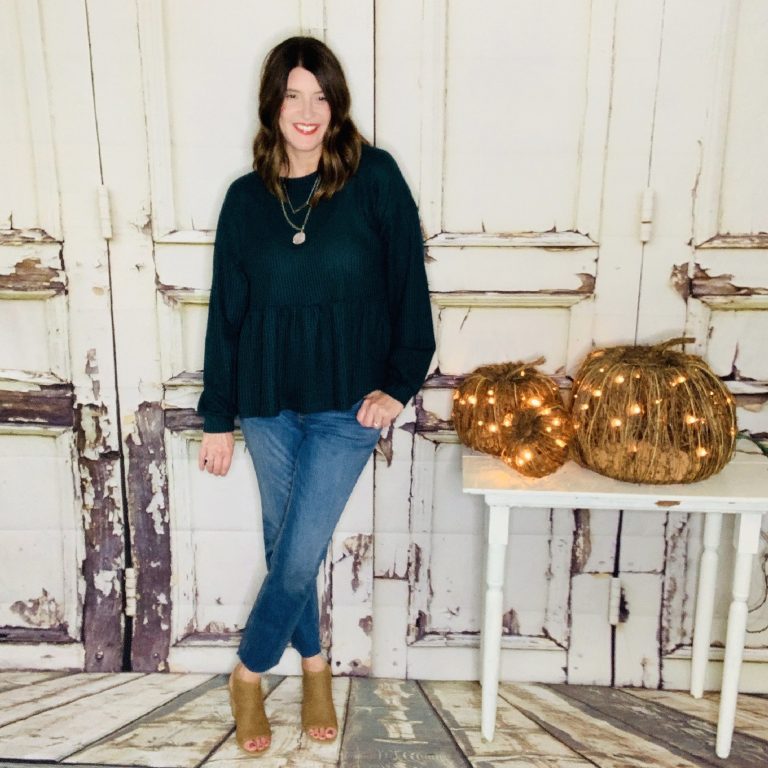 The jeans in this outfit are the High Waisted Power Slim Straight Jeans from Old Navy. These are a new purchase and so far I'm liking them. They run true to size. This particular style has not distressing and a raw hemline. I paired them with my open toed booties, which are old.
V-Neck Waffle Knit Pullover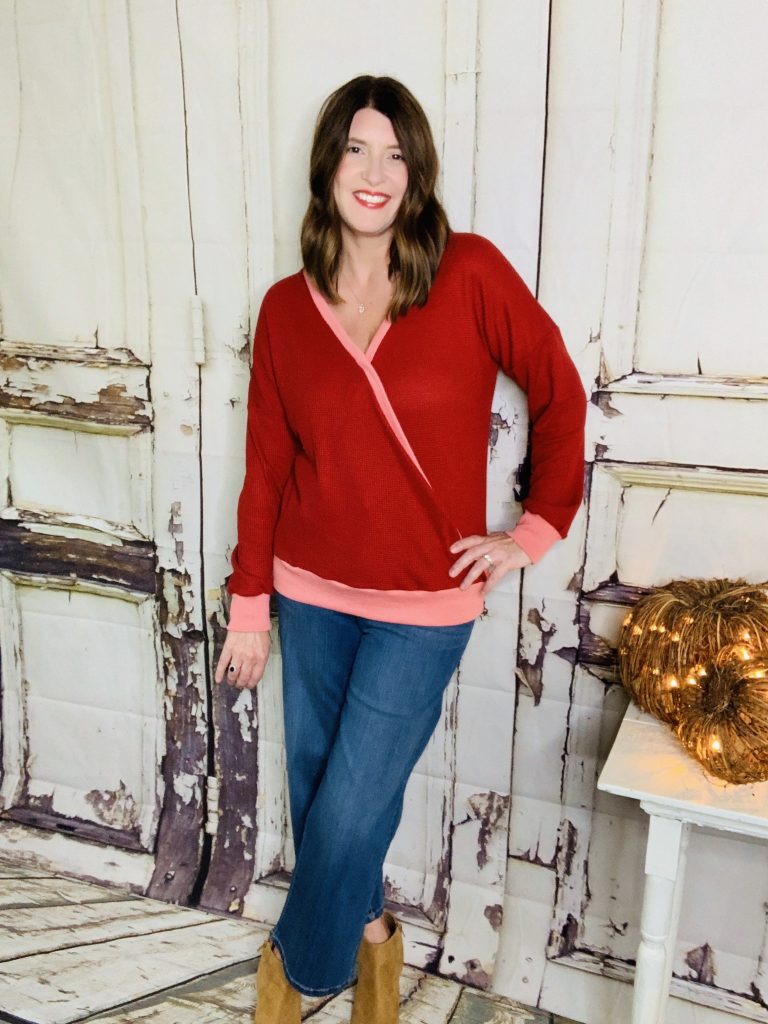 This is another unique twist on the waffle knit style. This top has a wrap style with a deep v-neck. One word of caution about this top…the criss cross part of the top is not stitched together. On the Amazon website model, it looks like it would be secure but it is not. I used some two sided fashion tape to secure it together or you could always wear a cami underneath.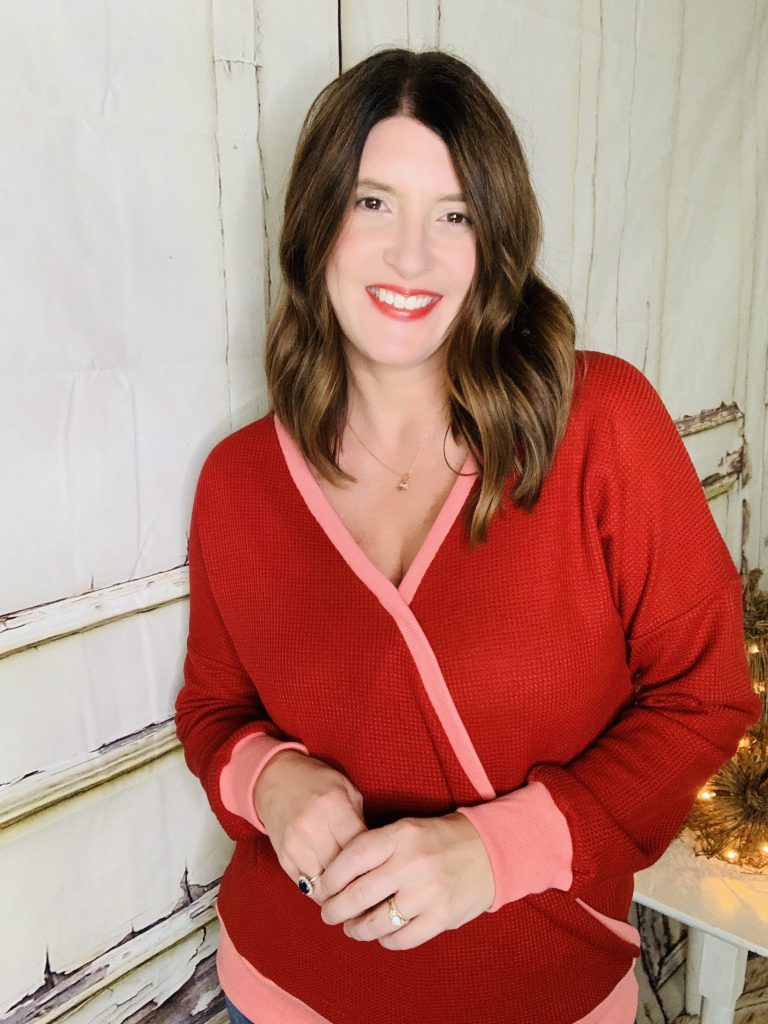 I chose a size medium in this style, and I think it was the right choice. I think the large would have been too oversized and the wrap would have been more difficult to manage. Again, this one comes in several color combinations.

My jeans are the Louisa Wide Leg Crop Jeans by Sophia Vergara. These are very on trend for a reasonable price. They are a high waisted style and the fabric has some stretch to it. I am wearing a size 8.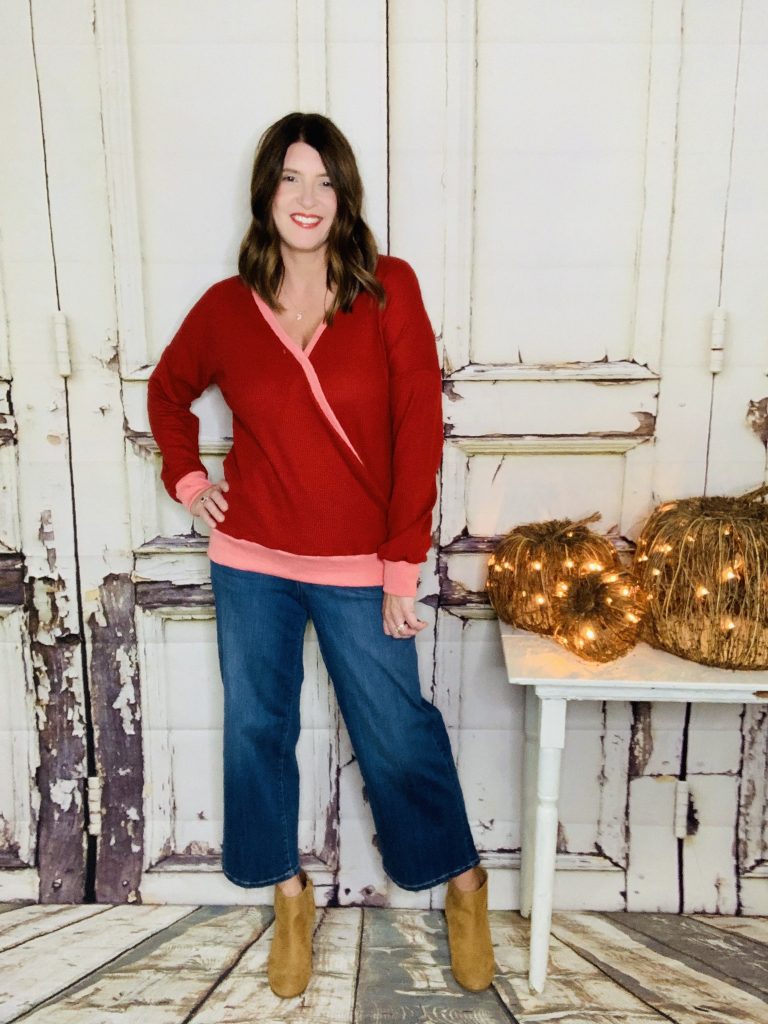 I love it when a piece can be styled different ways, and I think it's pretty cool that this top can be worn with the V in the back! Then there is no worry about the front showing too much and you can wear a pretty bralette if you would like it to show in the back. I was wearing a regular bra in this photo, and it did not show.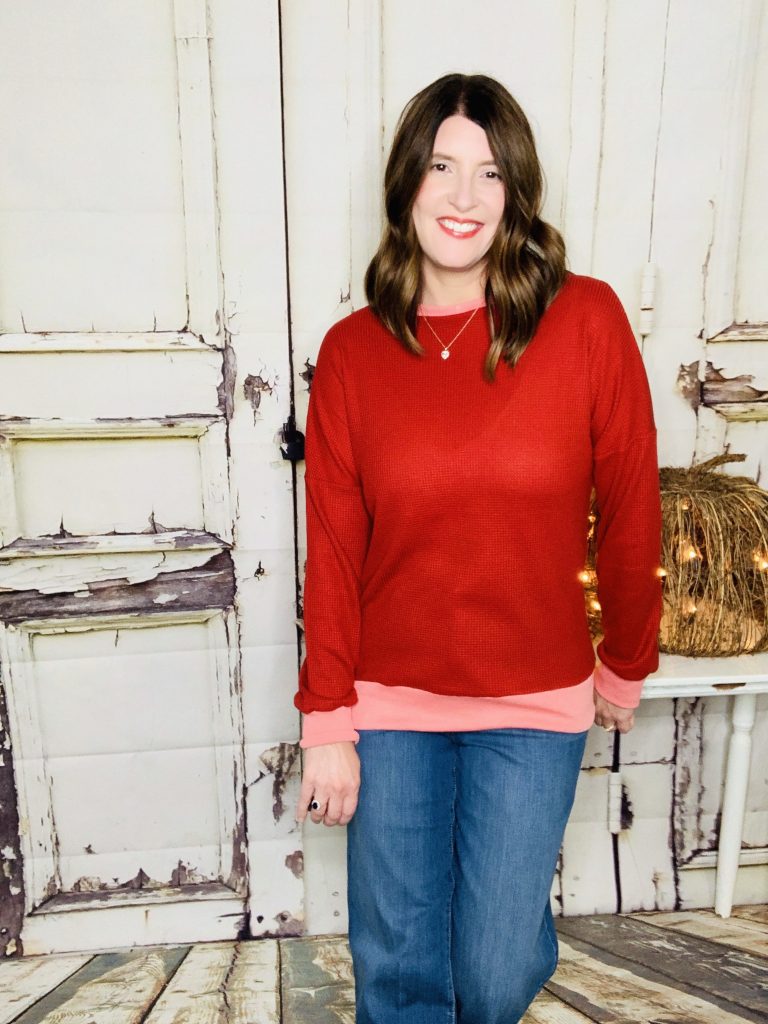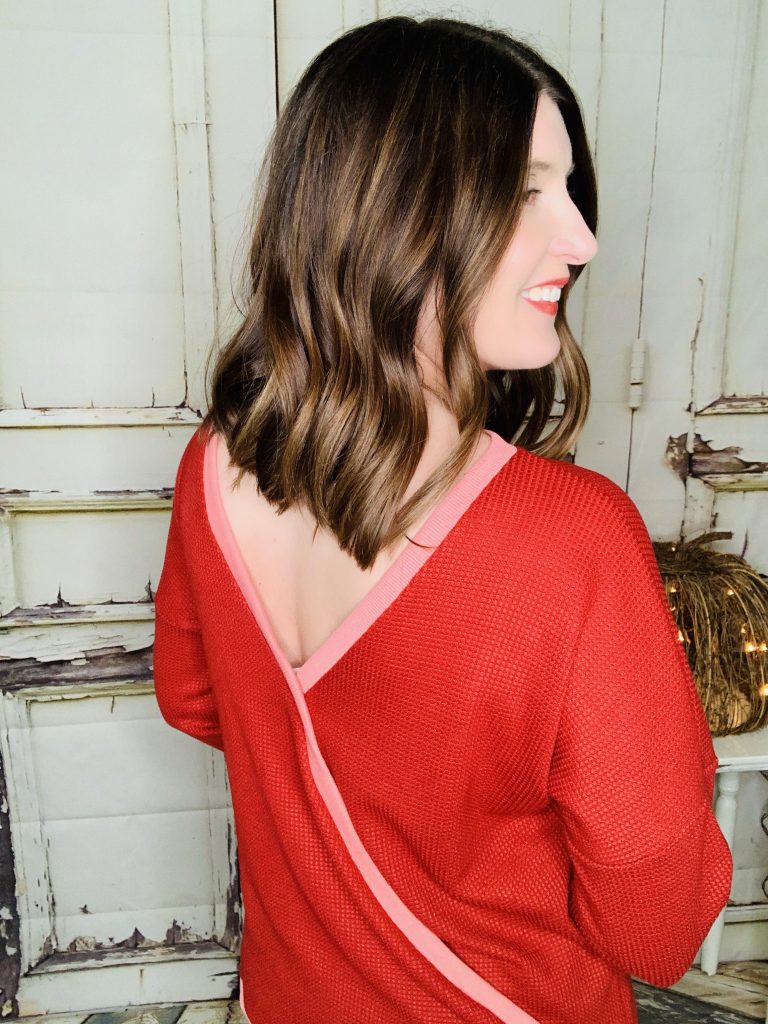 I also changed out the booties for a nice flat loafer with this look. These are by Steve Madden and I purchased them during the Nordstrom Anniversary Sale. The sale is still going on, so I will link these but I can't guarantee they are not sold out.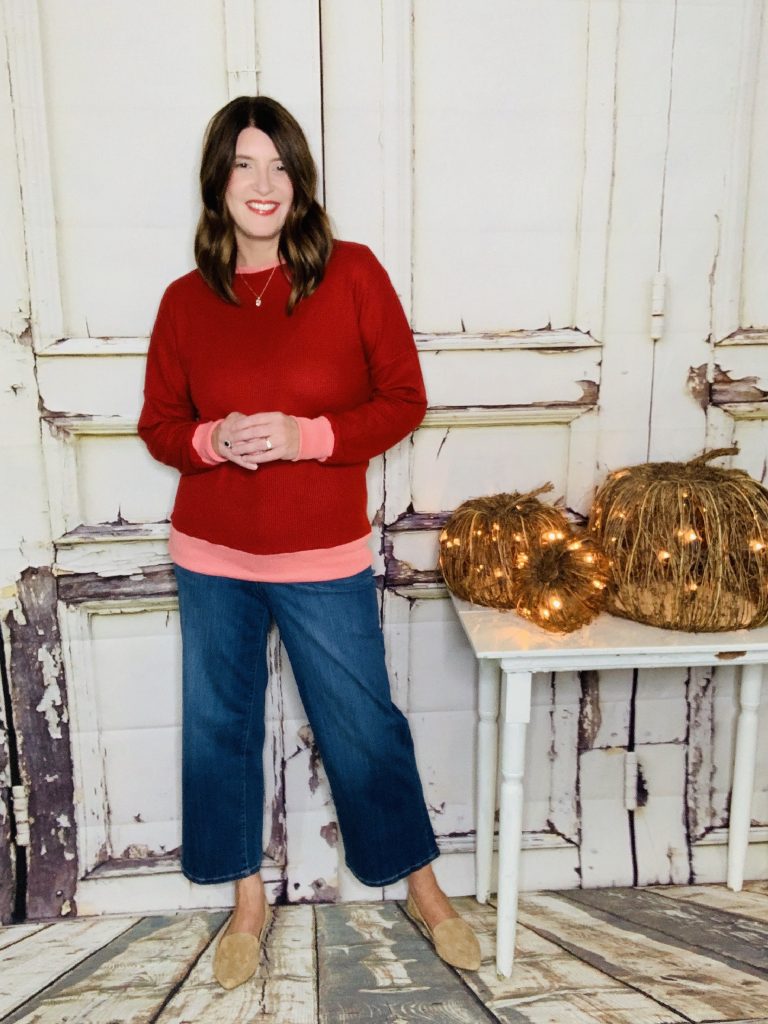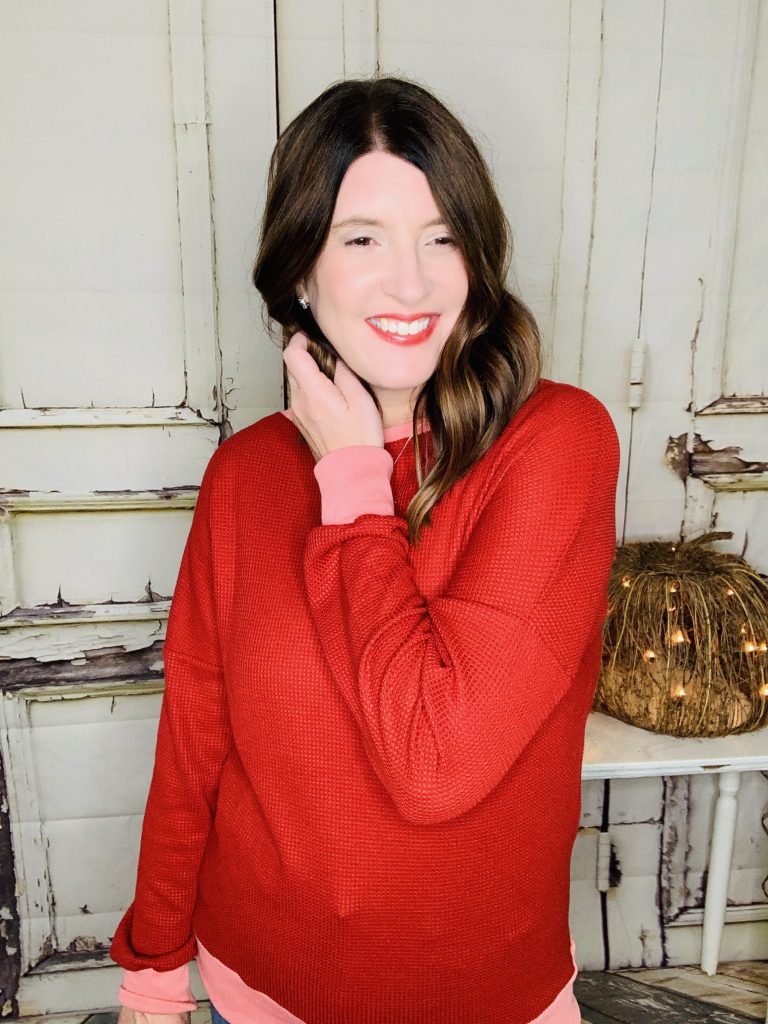 Long Sleeve V-Neck Top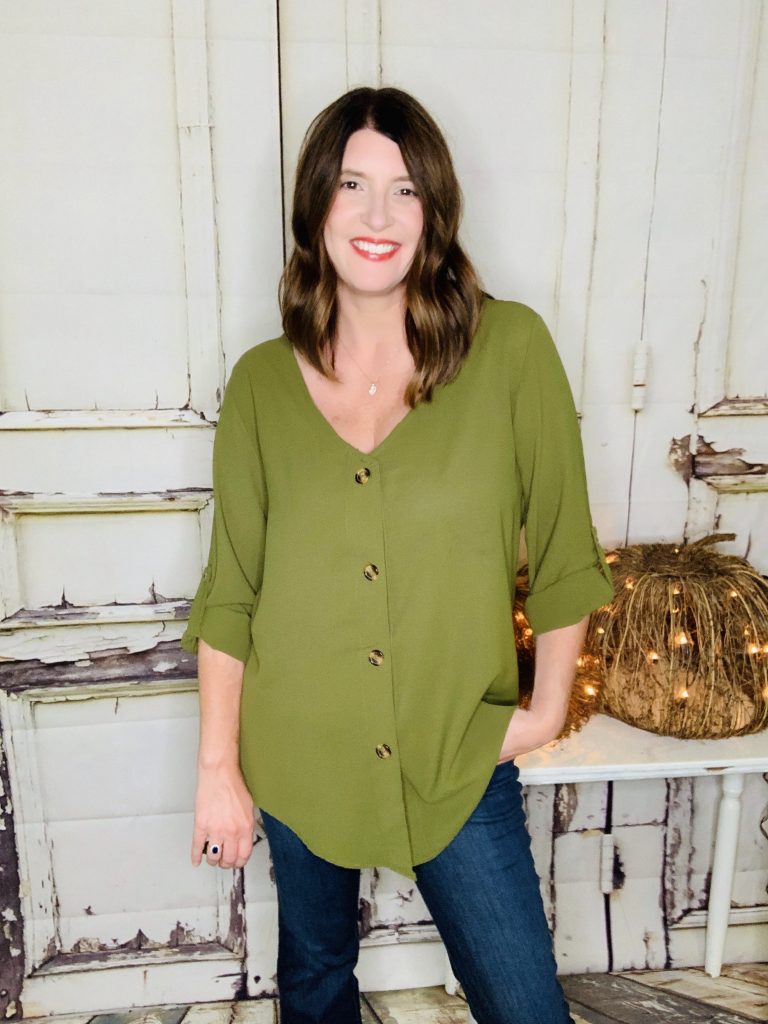 This long sleeve v-neck made my transition to fall tops list because the fabric is lightweight and the sleeves can be worn 3/4 length or full length. I thought this olive green was a nice fall color. There are five other colors to choose from including a really pretty floral pattern.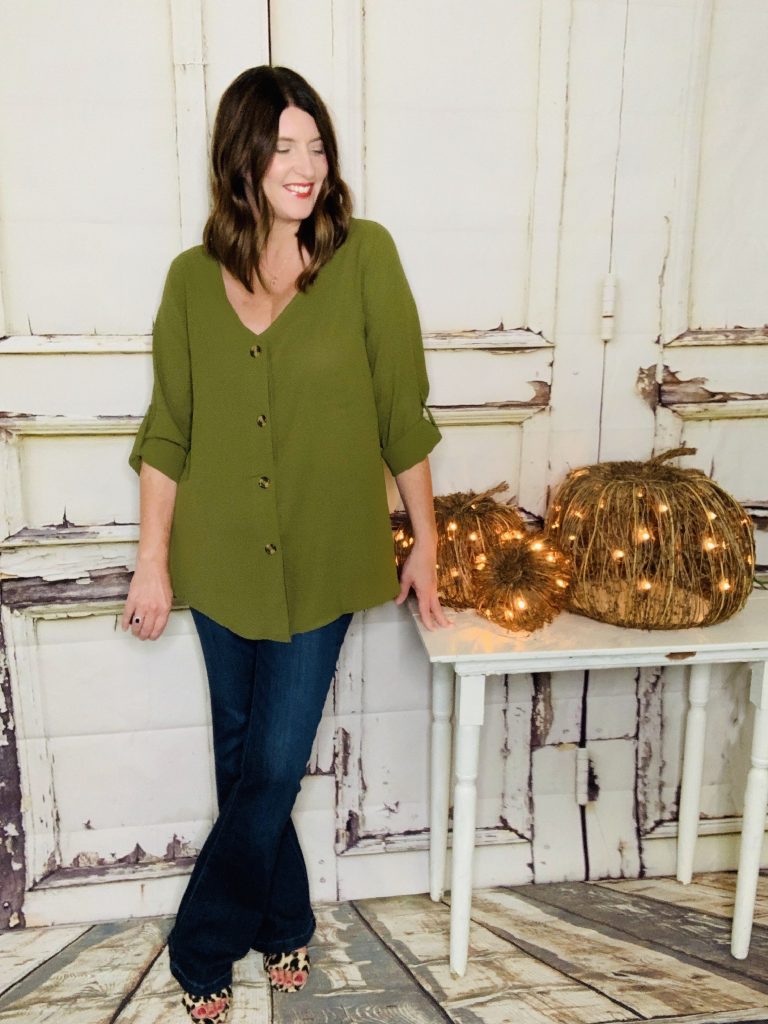 I styled this top on the dressy side with my Sophia Vergara Flare Jeans and leopard print block heel sandals. I need to mention these jeans because they fit like a dream and they are less than $30! They pull on and it feels like you are wearing yoga pants. Ultimate comfort! Since they are a pull on elastic waist, you will want to pair them with a top that does not tuck in.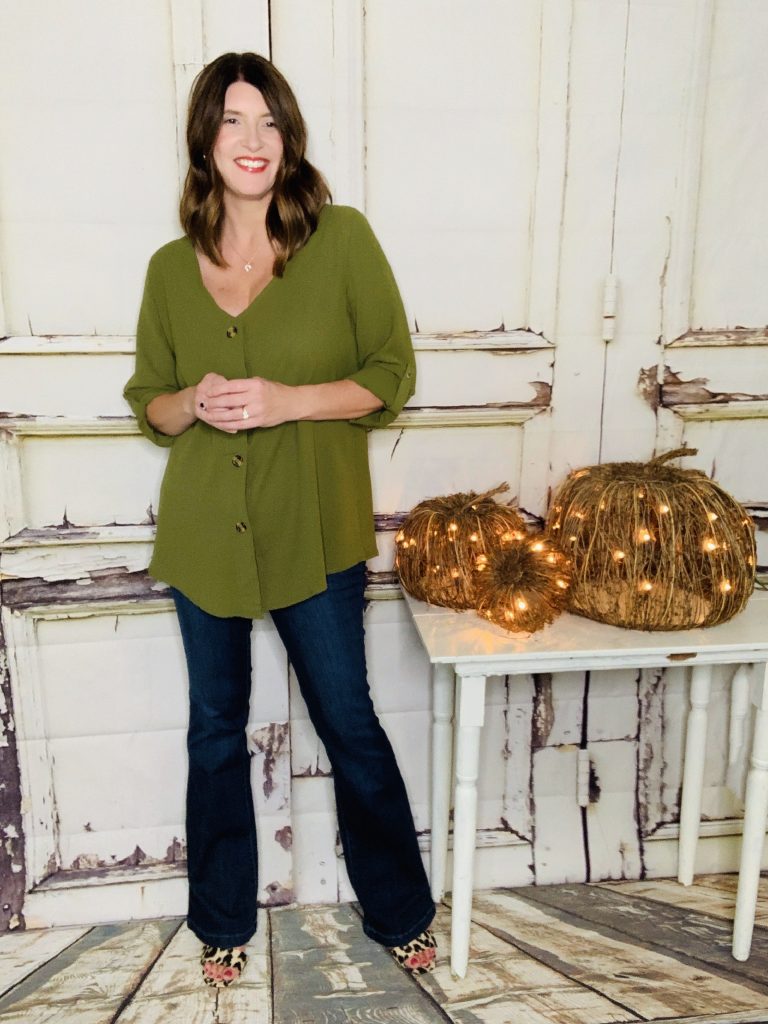 I think this top would also be good with leggings since it is longer. If you wanted to tuck it in, you could do a little front tuck to define your waist with a pair of high waisted jeans.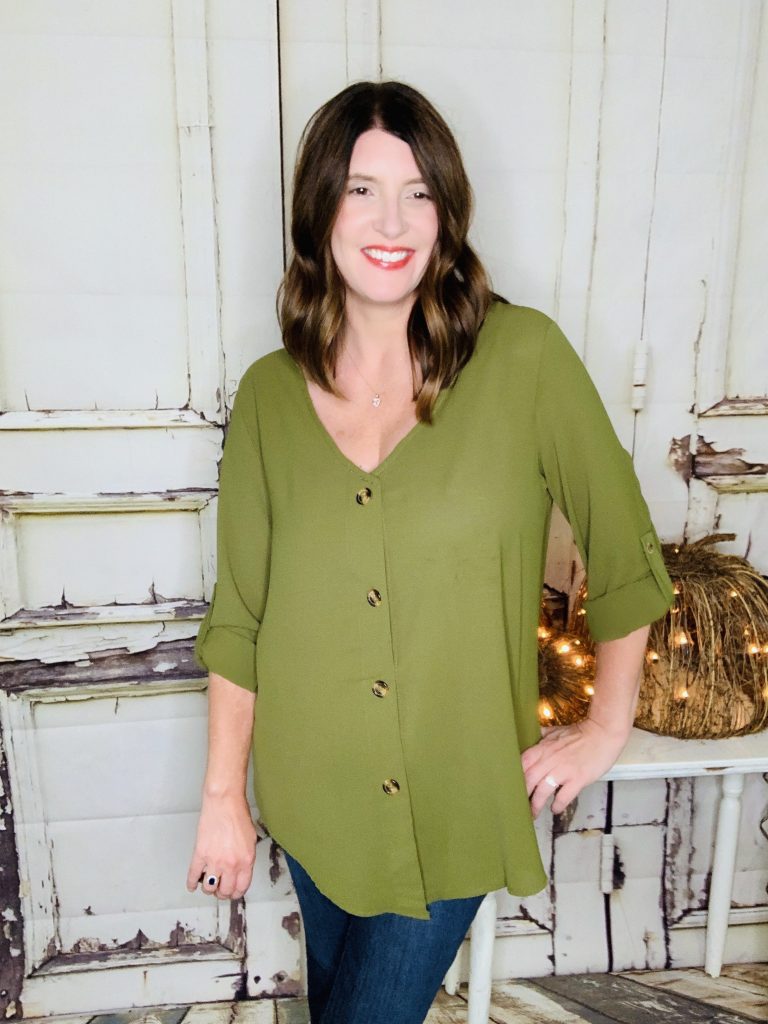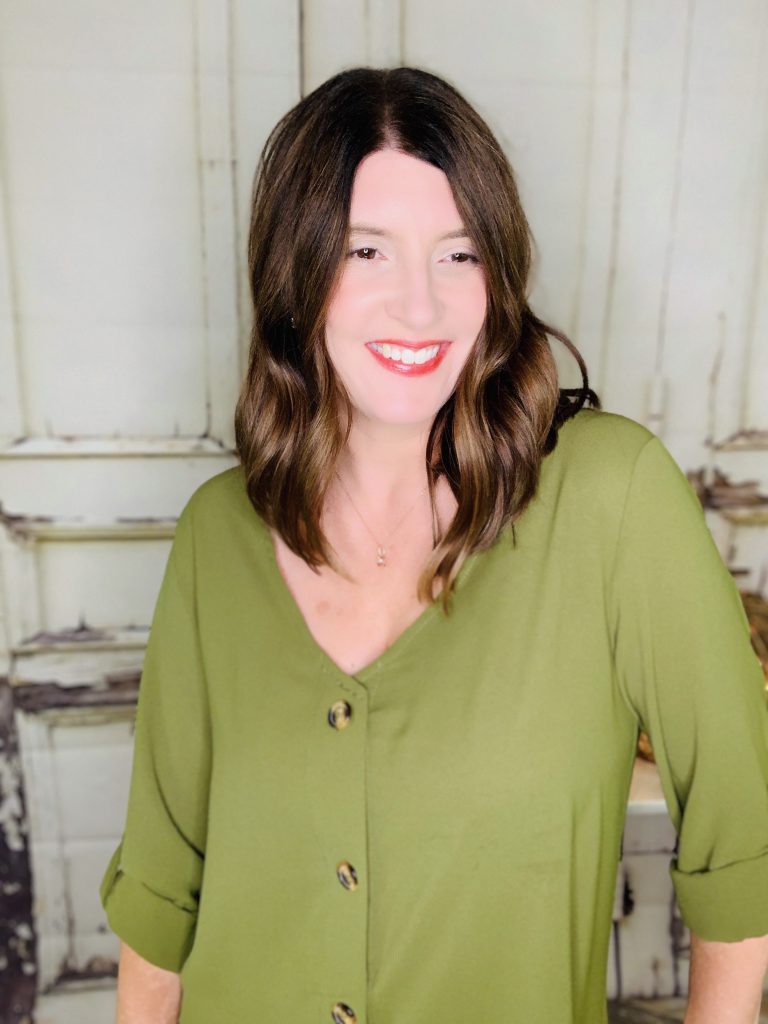 Have you started shopping for fall clothes yet? It's hard to think about fall when it is still so hot outside, but it will be here before you know it! These transition to fall tops will be a great addition to your wardrobe.
If you enjoyed today's post, don't forget to hit the share button and post this to your social media. You probably have lots of girlfriends who would enjoy it too! Be sure to check out my post on how to transition your wardrobe to fall. You can see it here.