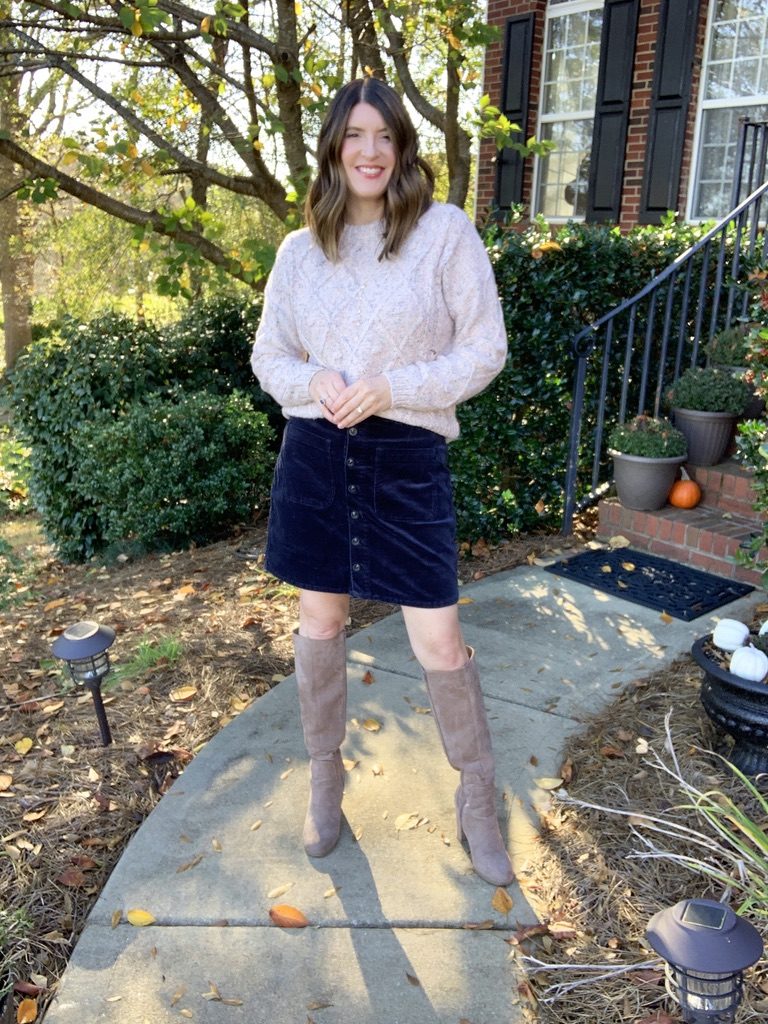 I thought I would take a break from gift guides today and show you this cute corduroy skirt outfit. I think this look could work for so many different occasions, but Thanksgiving came to mind as soon as I tried it on!
Cable Knit Sweater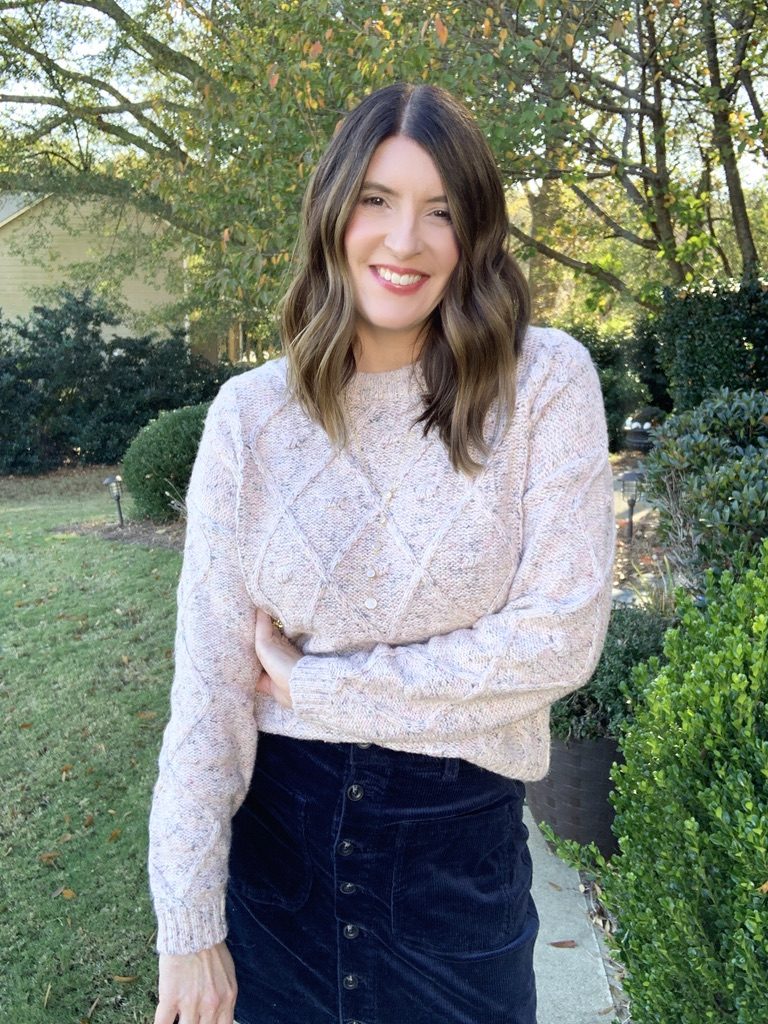 The crew neck sweater is by Time and Tru, which is my favorite Walmart brand! This cable knit style comes in three color combinations…pink, white, and blue. I am wearing the pink, but as you can see the colors are very muted and understated. There are specks of several colors that would make it easy to pair this sweater with many different things.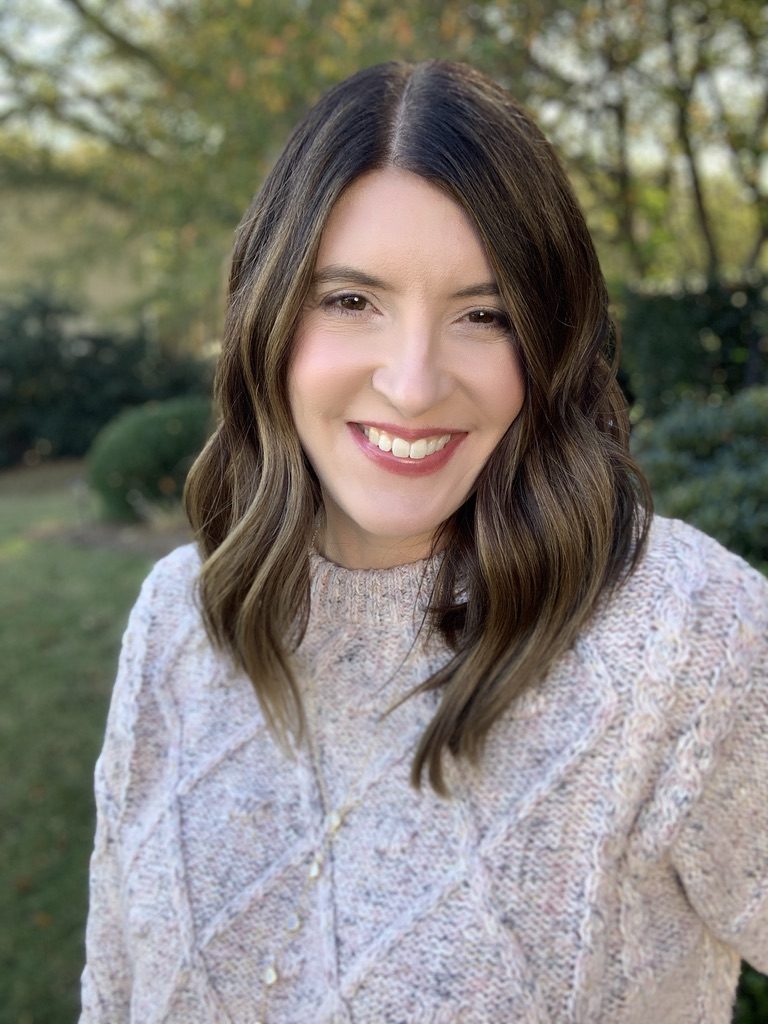 I am wearing a medium and the fit is slightly oversized. Chunky knit sweaters can sometimes make you look chunky yourself, so I have to be careful since I am bigger up top. The weave of this sweater is perfect and I think it is flattering, and it is under $20!
Corduroy Skirt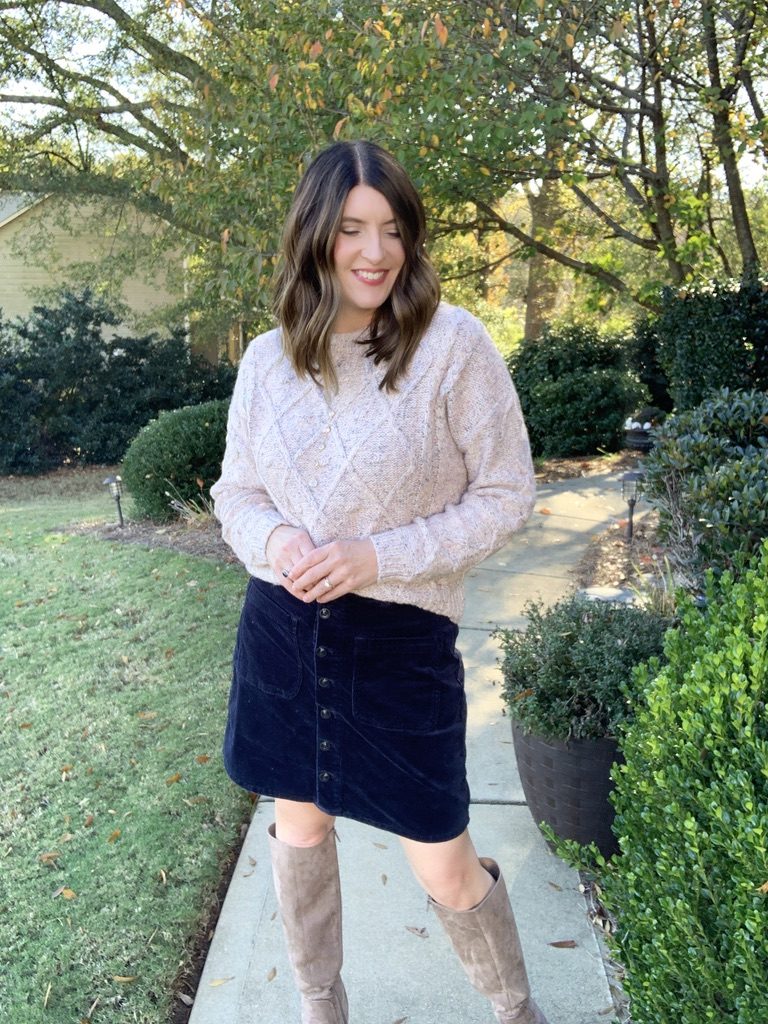 The corduroy skirt is also from Walmart. It is by the brand Free Assembly which is new to me. This is not carried in stores, and is only available online. I was disappointed to see that it has nearly sold out. The navy is only available in a size 2 or 12, and the brown is only available in a size 2.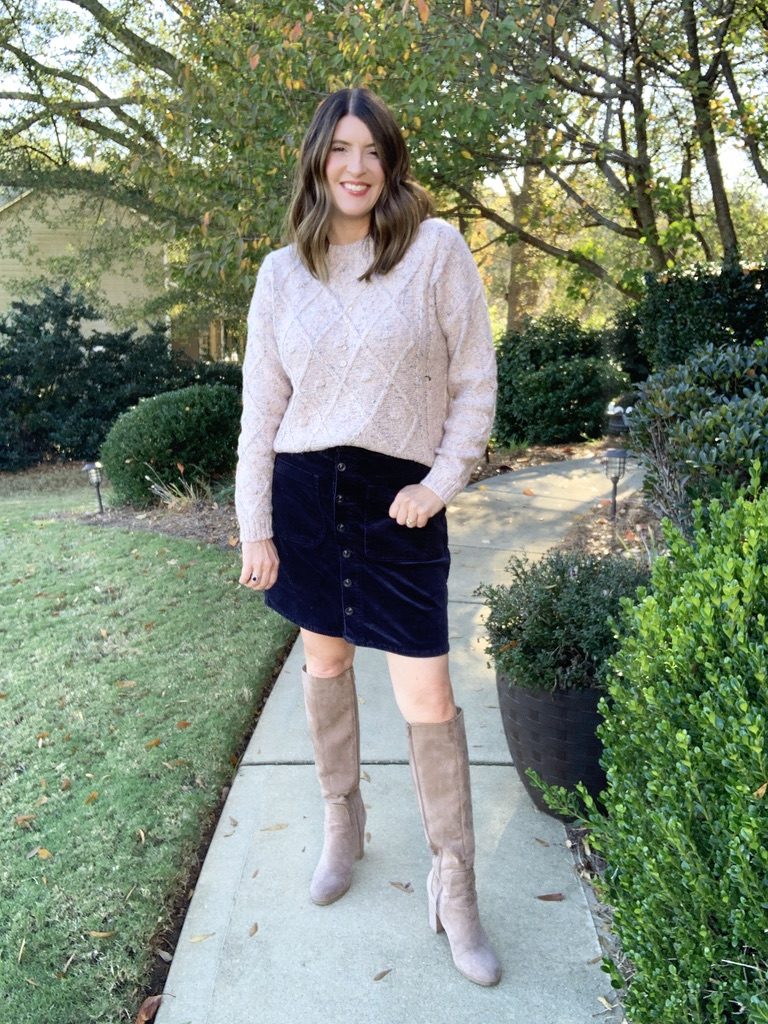 I just hate it when this happens, because this skirt is such a great find! I am wearing a size 8 and it is a little loose on me, so if you do purchase this you may want to size down. The fabric does have some stretch to it. I will keep my eye on this one and let you know if they restock it. I usually share updates like this on Instagram, so be sure to follow me there!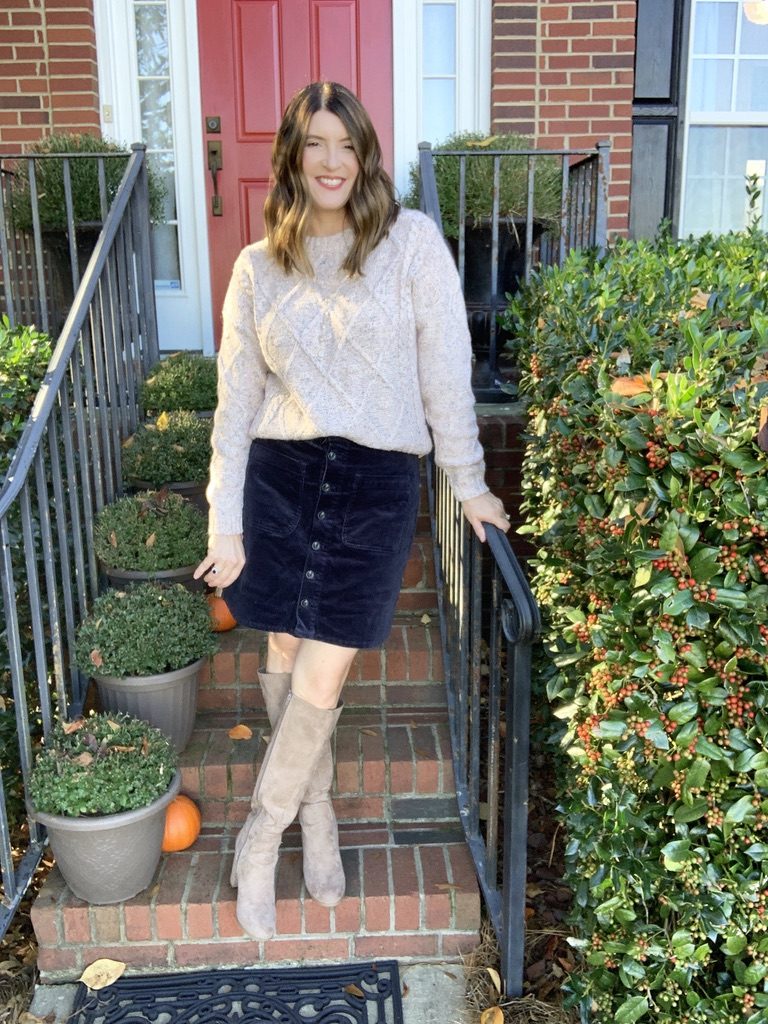 In the meantime, I was able to find several skirts that are very similar. If you prefer a skirt that is a little longer, this one from Talbots is very pretty. You could also recreate this look by wearing a faux suede skirt like this one that I featured a while back. If you would like to see that blog post, you can see it here.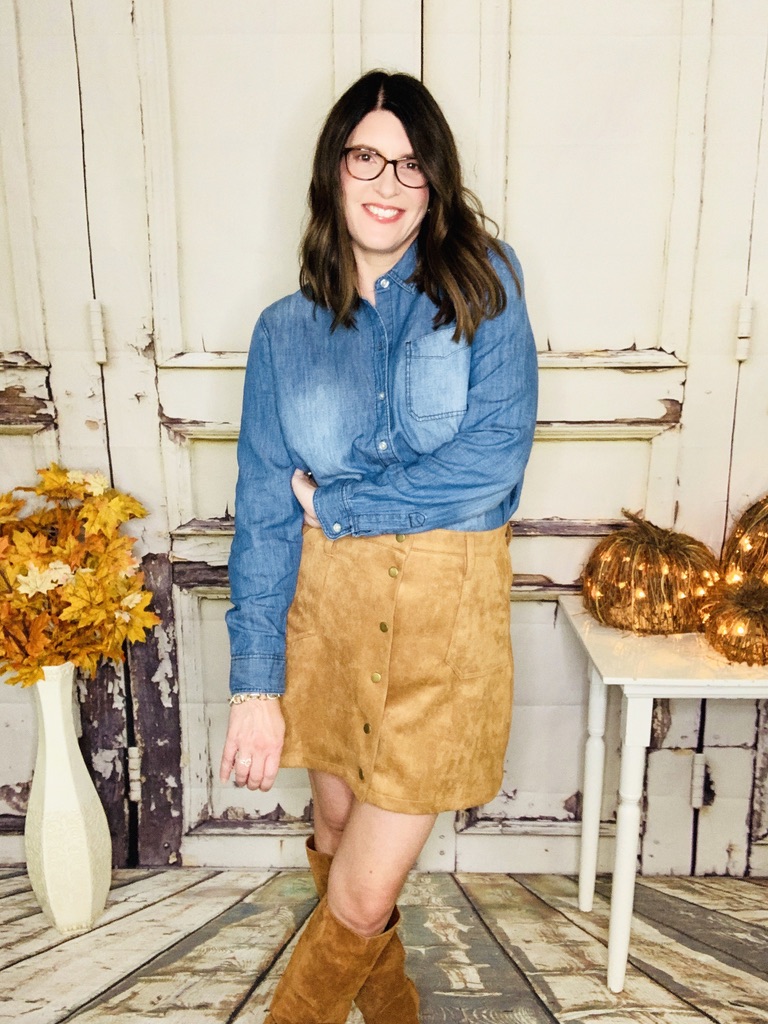 Boots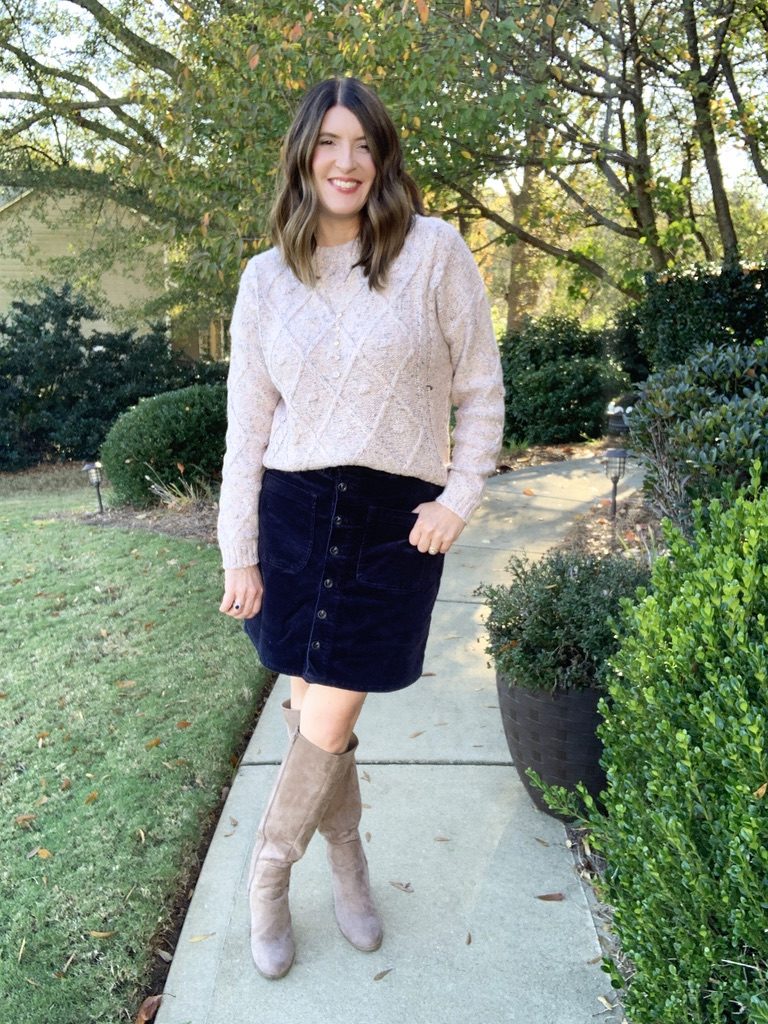 You could wear ankle booties or flats with this corduroy skirt outfit, but I prefer the look of the tall boots myself. I am wearing my faux suede boots that I have had since last year. I have linked several similar options. Also if the weather is very cold, you could always add some tights for a chic wintery look.
Thanks for joining me today! As this holiday week starts off, I encourage you to think of all that you have to be Thankful for. It's so easy to only see the negative going on all around us.
Tomorrow I will be sharing several ways to enjoy the holiday season and hopefully decrease your stress, so I hope you will come back for that one.