If I had to choose just a few key pieces for my wardrobe, a button down shirt would be at the top of my list. Besides denim, it might be the most versatile item in your closet! I feel like the button down shirt gets overlooked by women because they aren't sure how to style it. Some women may think they are only for workwear or dressy styles. That is simply not the case and today I'm going to show you several cute ways to style a button down shirt.
I've dug into my photo archives to pull out some of my favorite looks with button down shirts. You will see a variety of hairstyles and hair color as my look is always evolving in some way. I will link to items that are currently still available, and provide similar style options for things that are out of stock.
With Jeans And Dress Shoes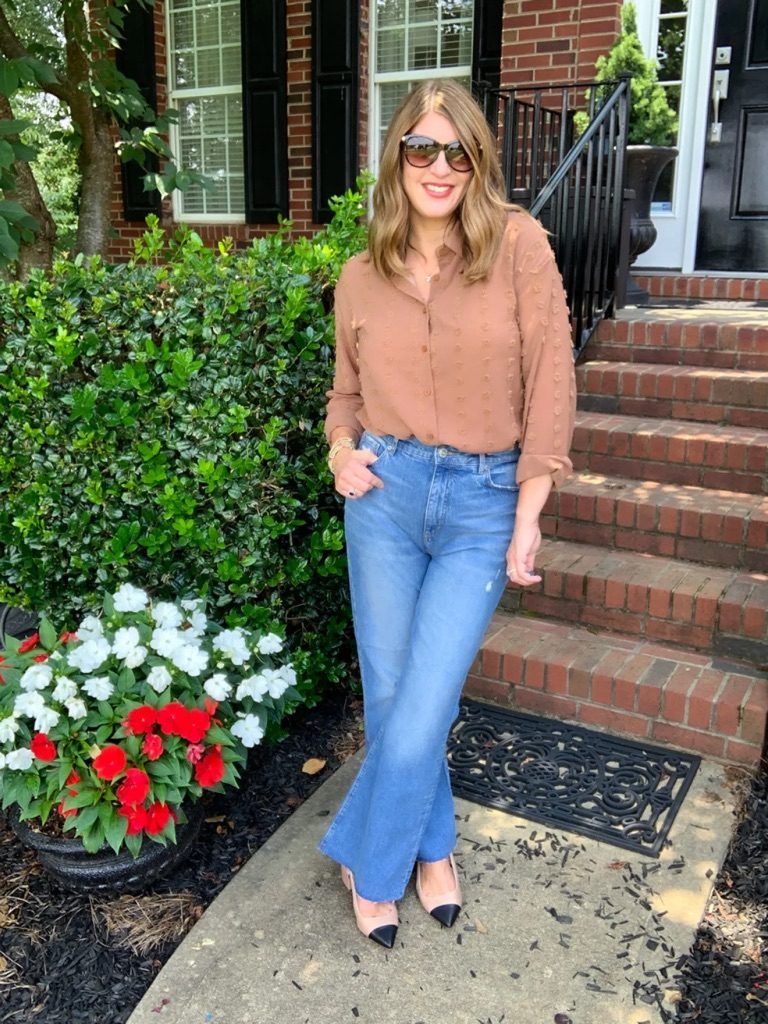 This first look is one of my all time favorites! An elevated button down top with jeans and dress shoes. This is a very casually chic style that can work for so many occasions. This chiffon pom pom blouse from Amazon was a hit when I first featured it last year. It is still available and comes in many different colors.
The capped toe pumps that I'm wearing are from Express. They are by far my favorite classic shoe and I wear them with so many outfits. This pair from Amazon is very similar. My jeans are a flare style from Loft (also from last year). This pair is similar.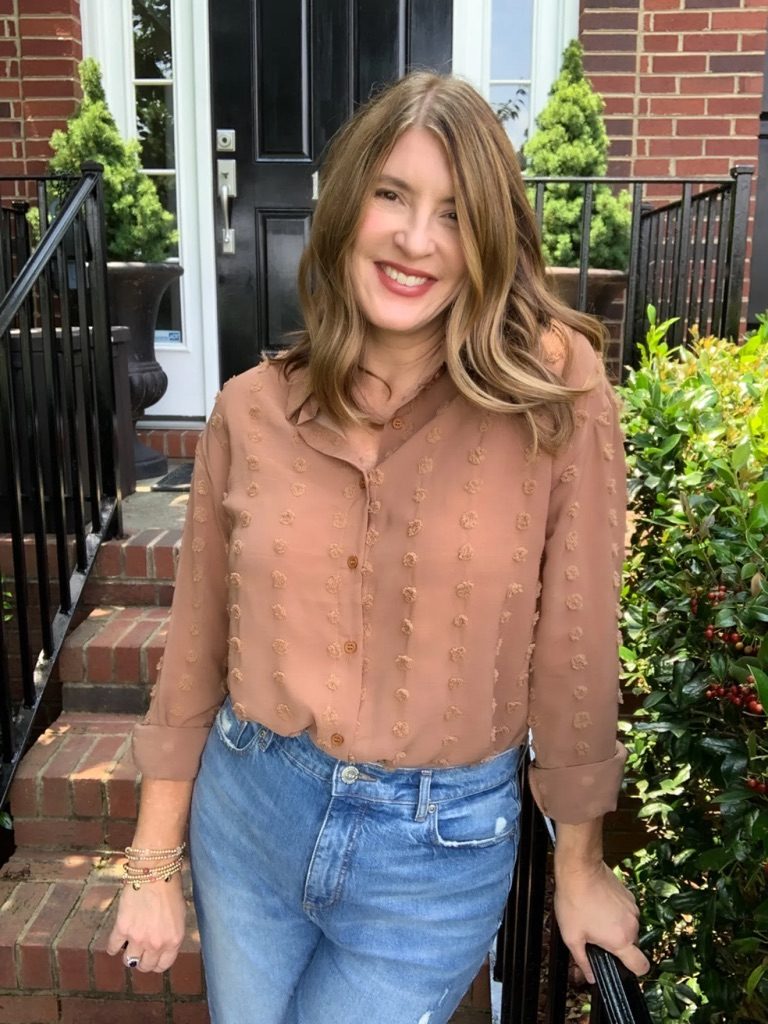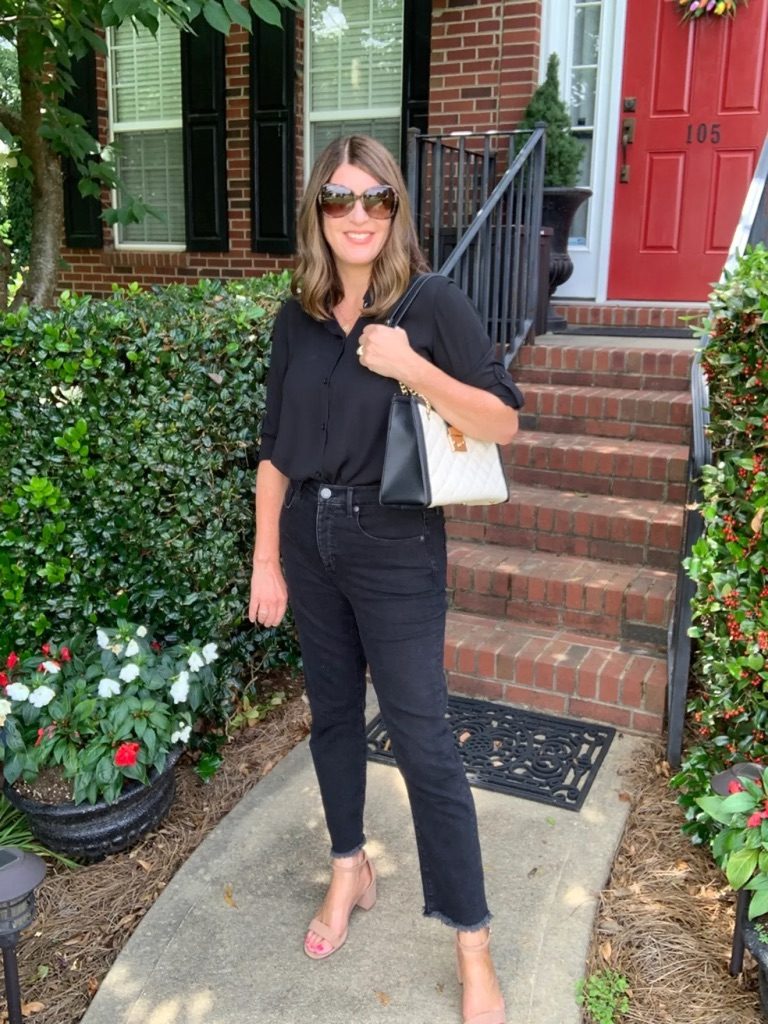 Another cute way to wear a button down shirt is with the same outfit formula, but in a monochromatic way. Here is a basic black button down that I have had for years. I paired it with a straight leg cropped style denim and a nude sandal.
Similar Top//Similar Jeans//Similar Shoes//Similar Bag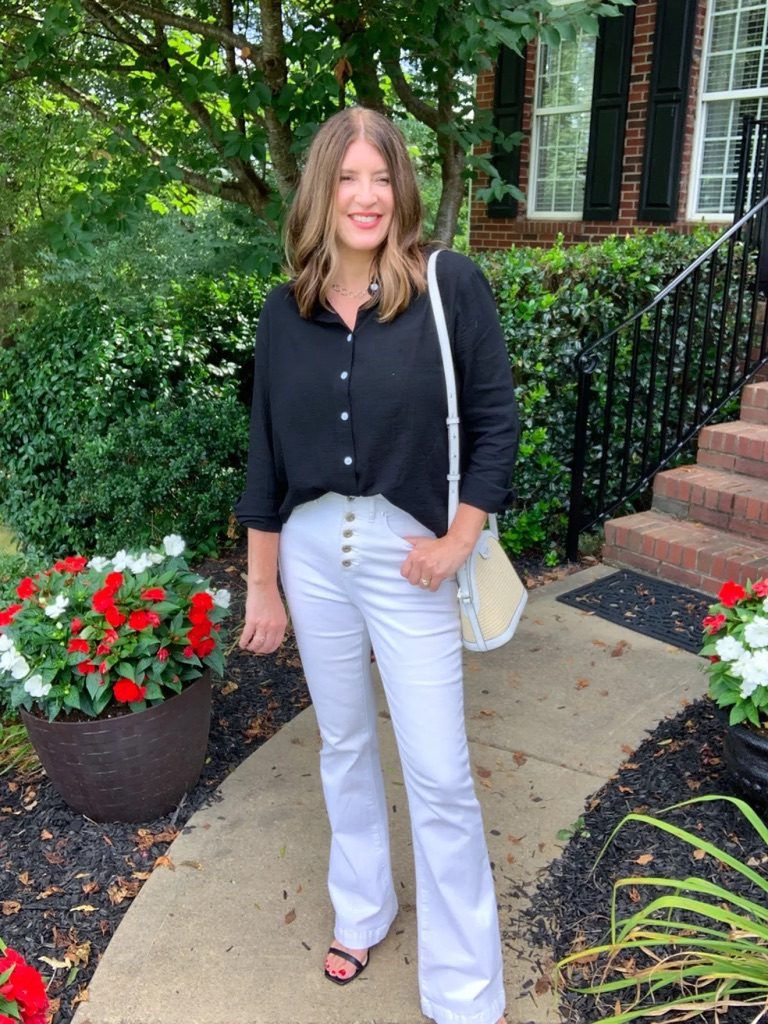 Another combination would be the same black button down with white flare jeans and black sandals. These jeans are the Melissa Flare Jeans by Sophia Vergara.
Button Down Shirt Tied In A Knot
A simple way to change up the look of a traditional button down shirt is to knot the shirt at the bottom. This makes the outfit appear more casual and takes away the need to tuck your shirt.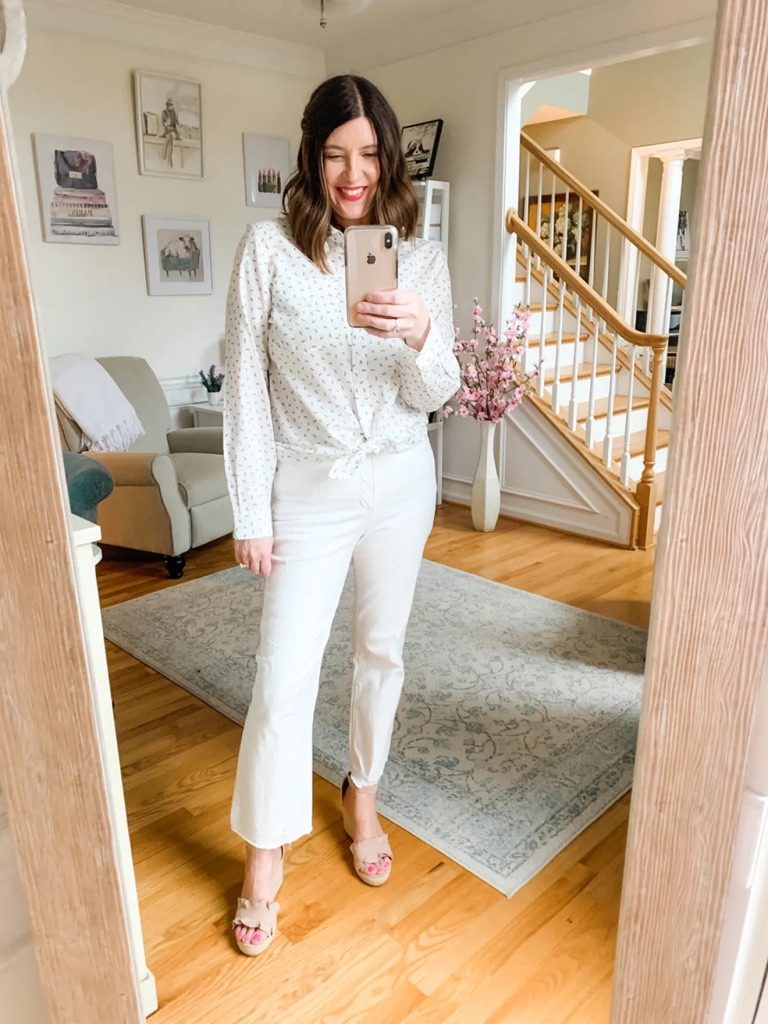 This top from Amazon was another top seller, and I paired it here with some flared crop denim in white. Wedge sandals complete this look.
Similar Top//Similar Jeans//Similar Shoes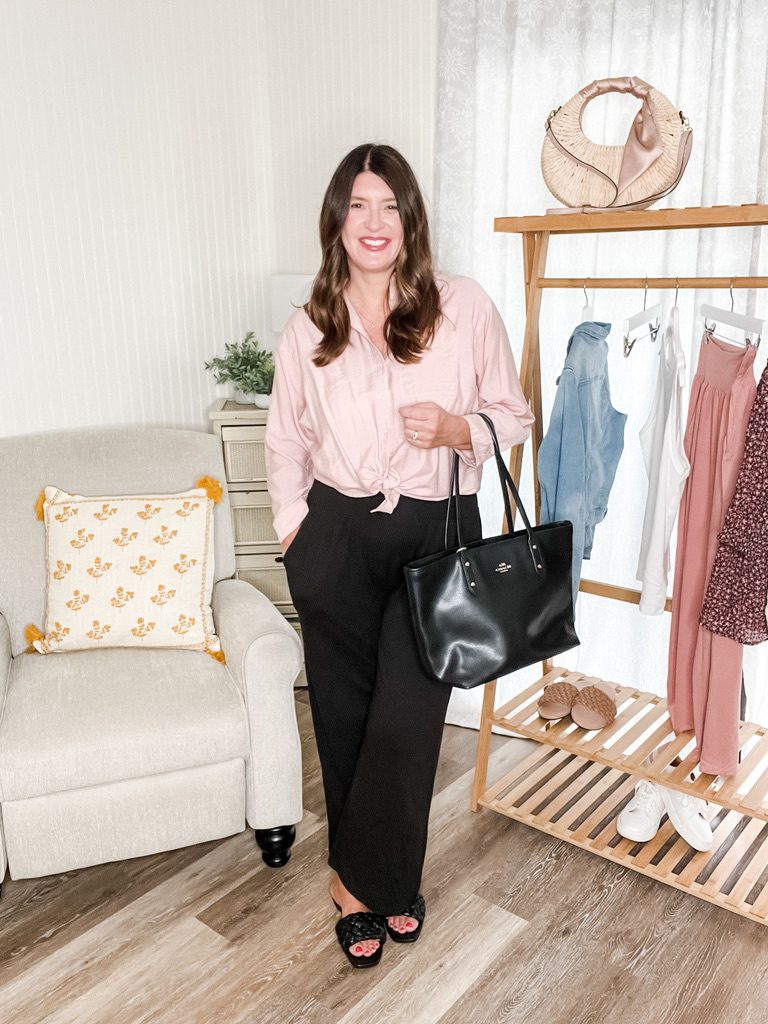 You may remember this outfit from my "perfect pants" post a few weeks ago. A button down shirt tied at the bottom can elevate yoga pants to a new level. See the post here for all the links.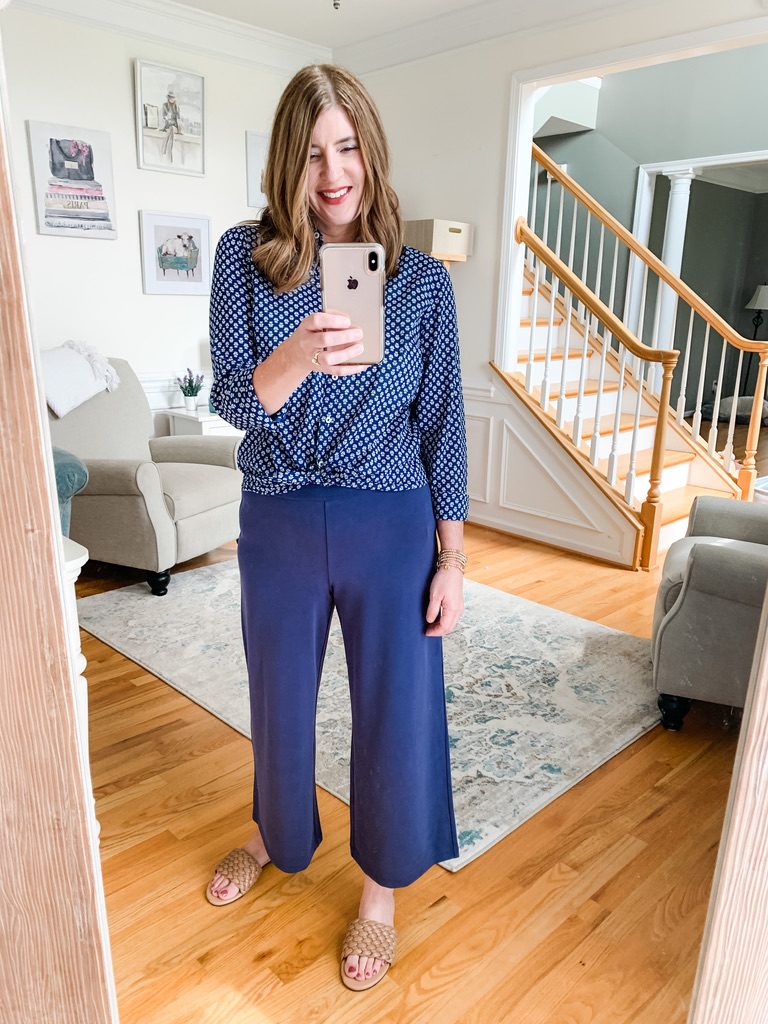 These wide leg pull on pants are from Loft (2020) and the top is from Talbots (also old). This is a great look for work or travel since it is so comfortable.
Similar Top//Similar Pants//Sandals
With Shorts
Another cute way to wear a button down shirt is with shorts. I love the juxtaposition of the long sleeve top with shorts.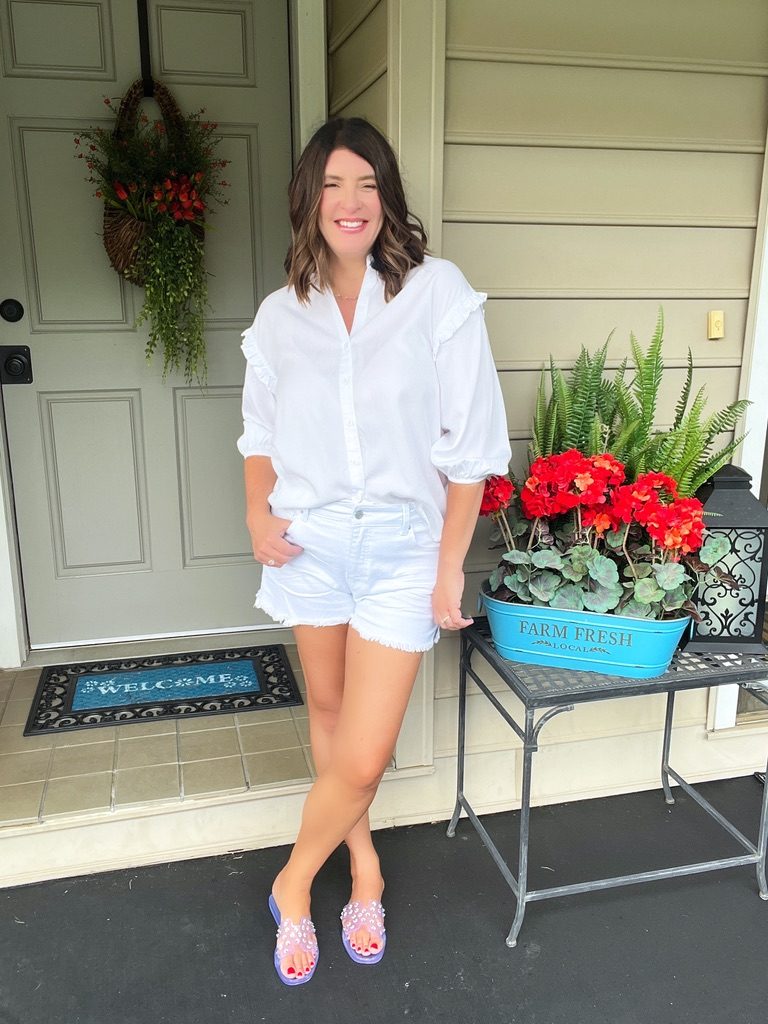 This outfit is from a recent Walmart post. You can see it here. This is the ruffle sleeve button down from Time And Tru, and the white denim shorts are also by Time And Tru.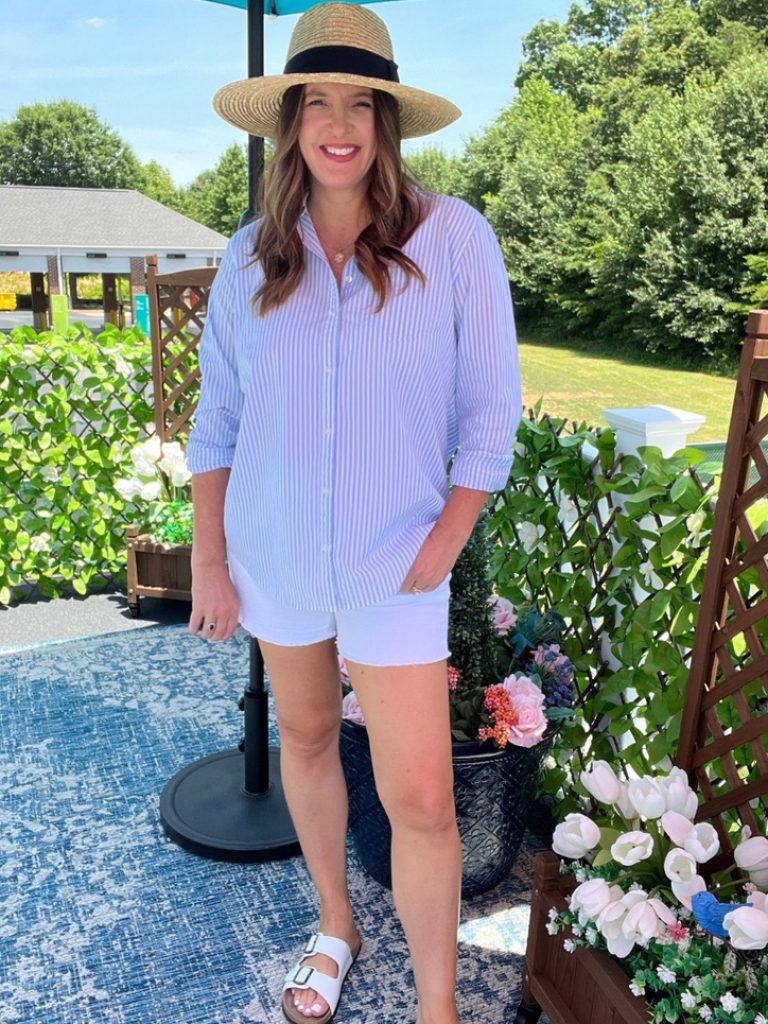 Here is another example of this look from the Coastal Grandmother post I did a while back. This is my most popular post so far this year, so if you missed it you can see it here.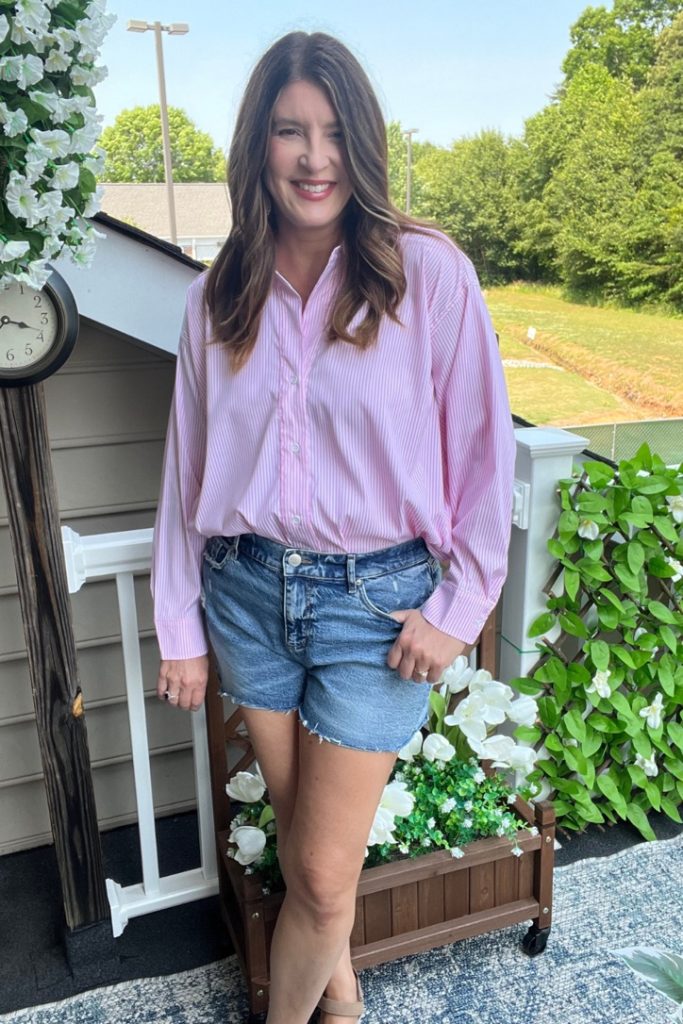 Tunic Style Button Down
Tunic style tops may not come to mind when you think of a button down top, but they certainly qualify. This top from Belk paired with some skinnies makes a nice and easy outfit.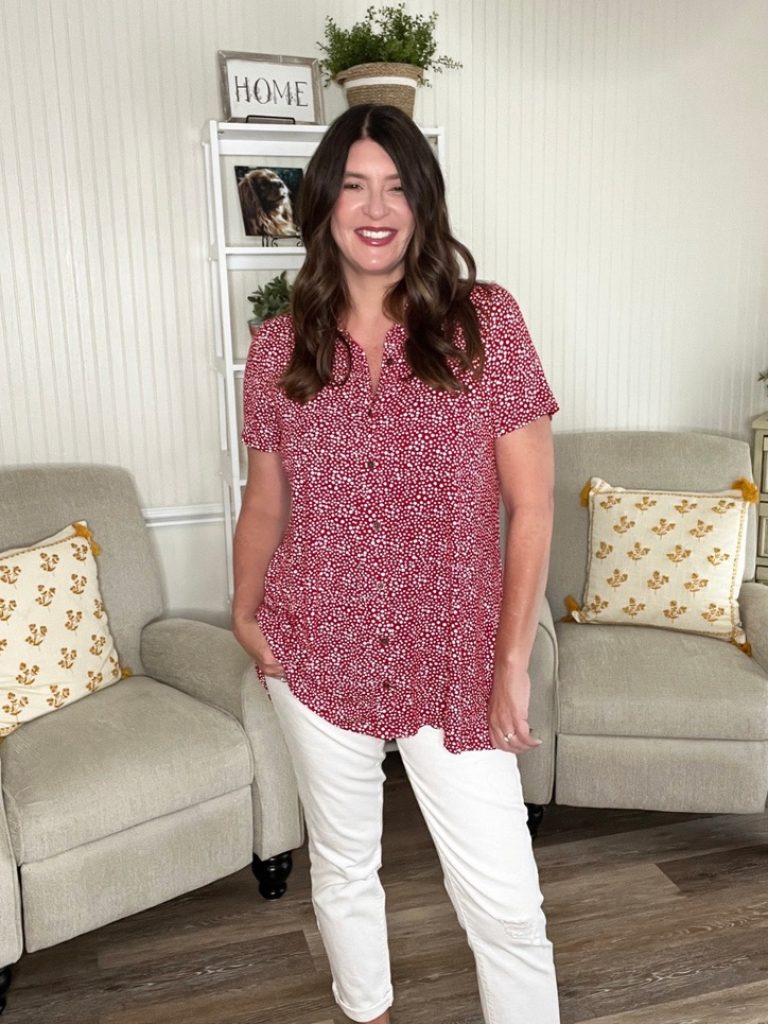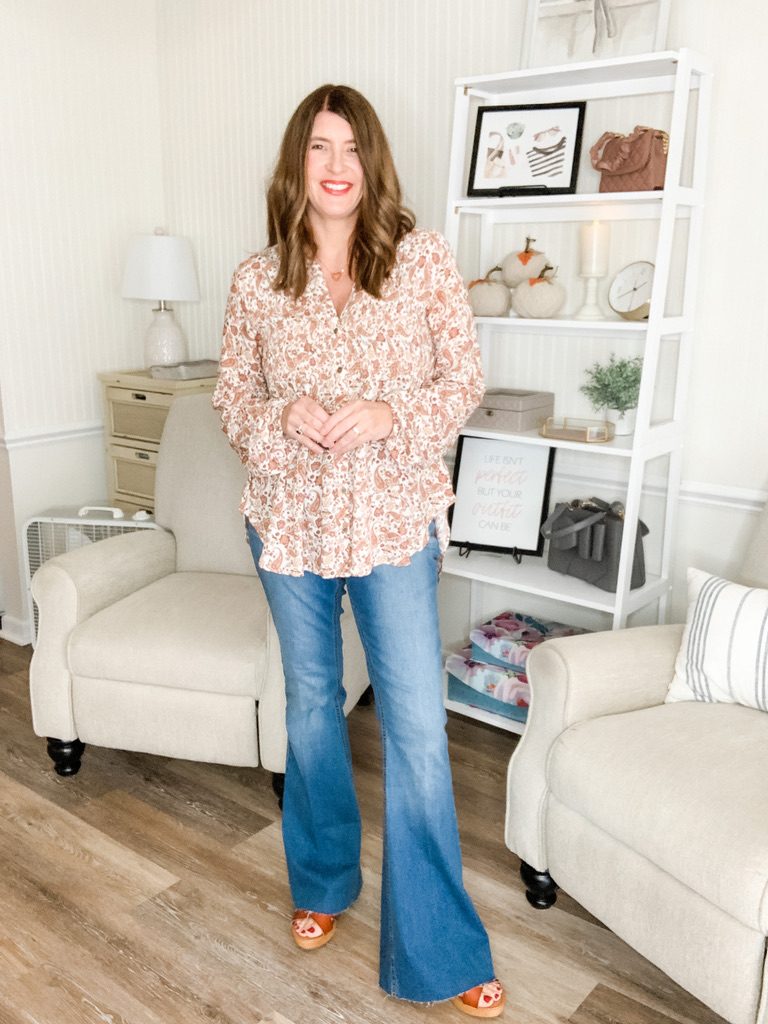 This paisley tunic length top with flares gives a more boho style. This is a Target find from last fall, so I linked a similar style for you in the highlighted text below.
Similar Top//Similar Jeans//Similar Sandals
Worn Open As A Jacket
Button down shirts make great layering pieces. The outfit below is a good example for warmer weather. See similar styles here.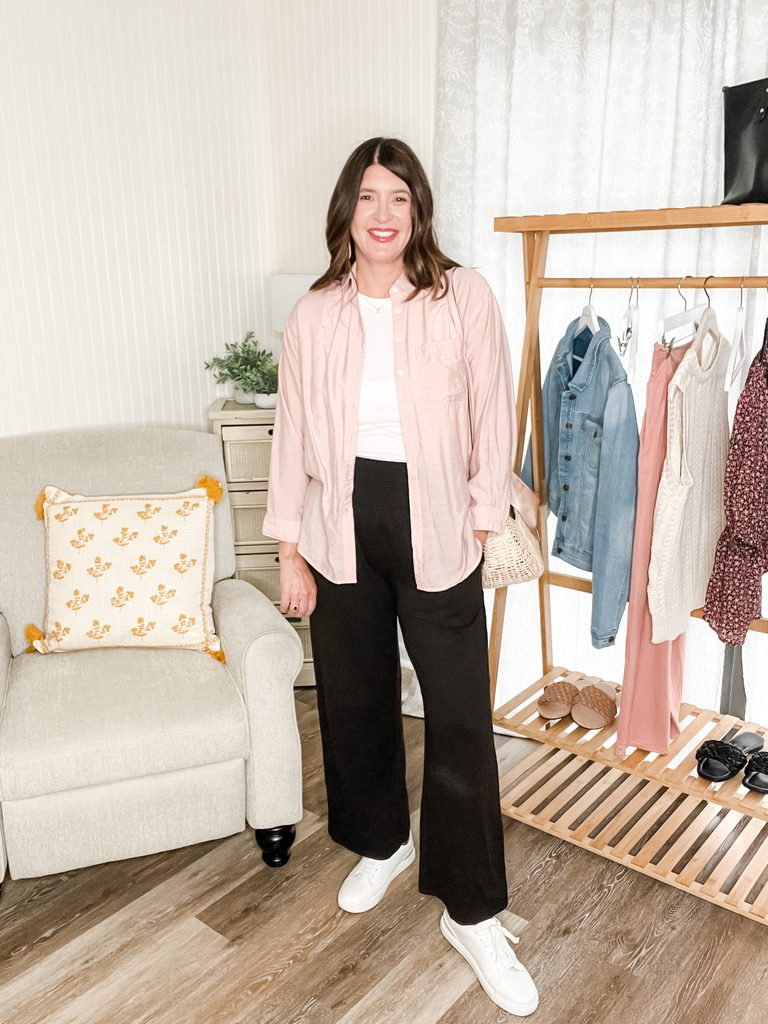 For cooler weather a more tradition button down "shacket" can be worn open.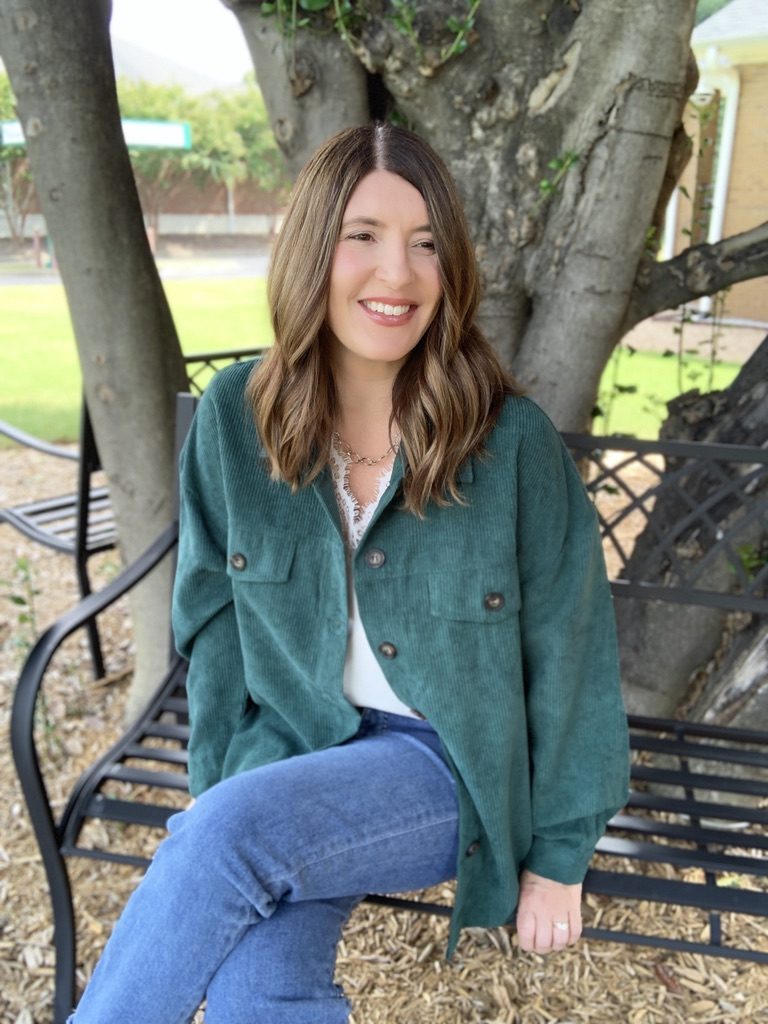 With Wide Leg Pants
Wide leg pants make a great pairing with a button down shirt. Wide leg pants come in a wide variety of fabrics from linen to dress pants to denim. Here are some examples.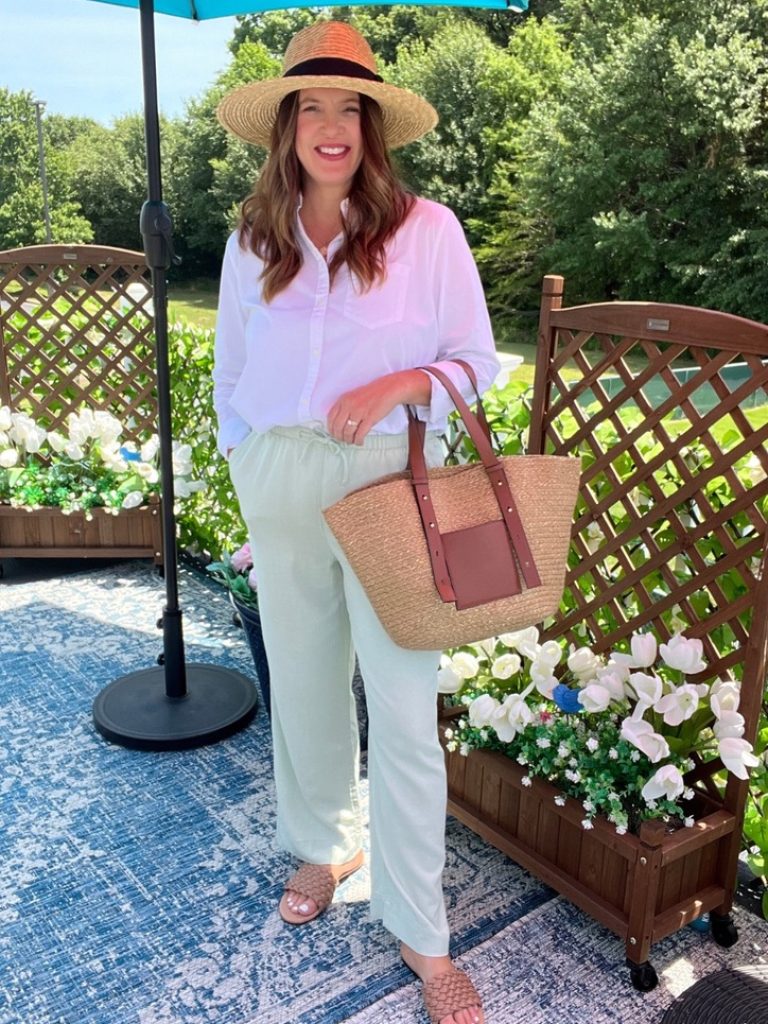 The photo above is a summer look. A plain white button down with linen pants. See all the outfit details and links to similar items here.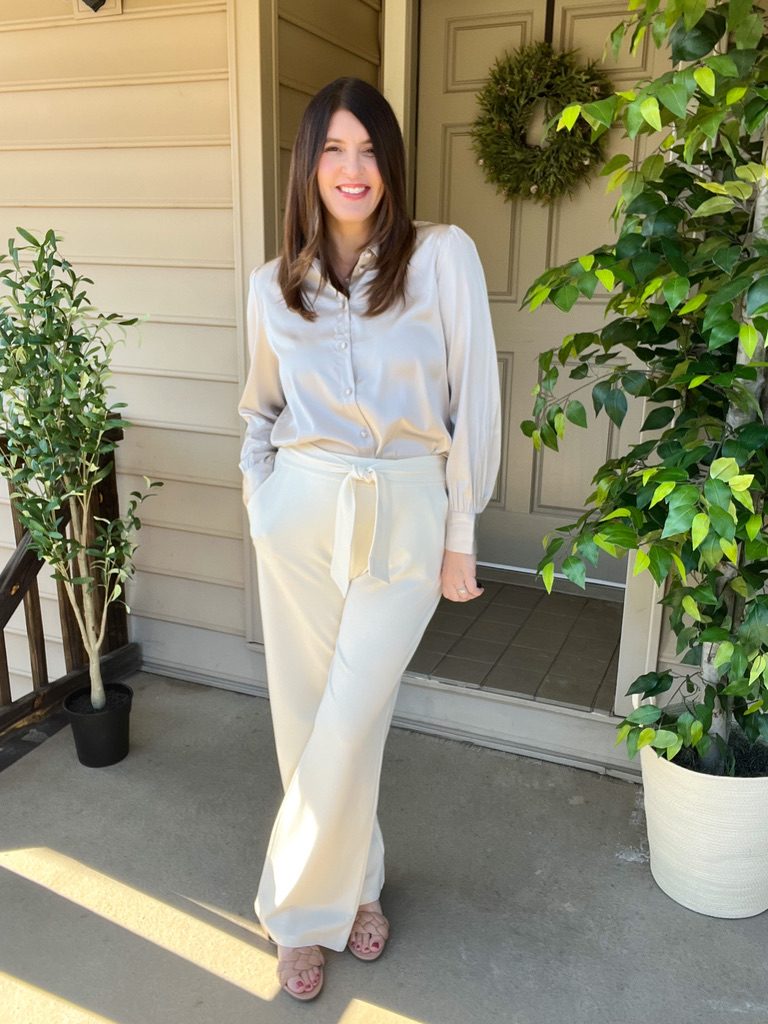 The look above is much more dressed up with my favorite satin blouse from The Drop Collection on Amazon. The pants are from Cato (last year).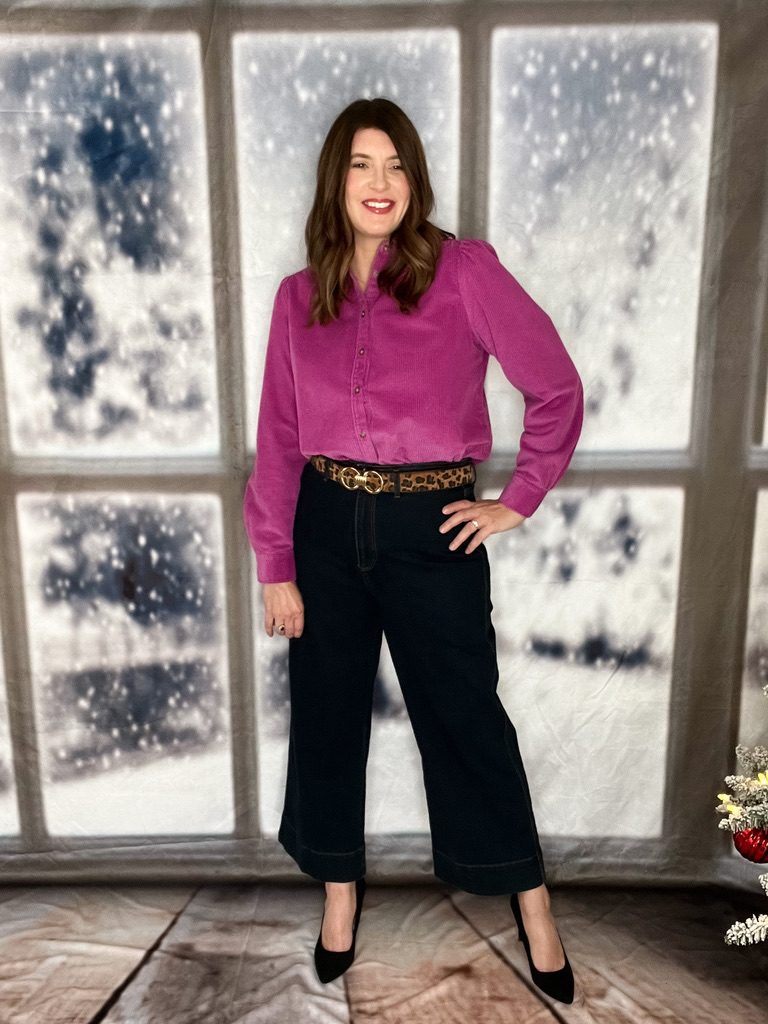 Here is a winter look with a corduroy button down shirt and dark wash wide leg jeans. These are both from Loft and no longer available.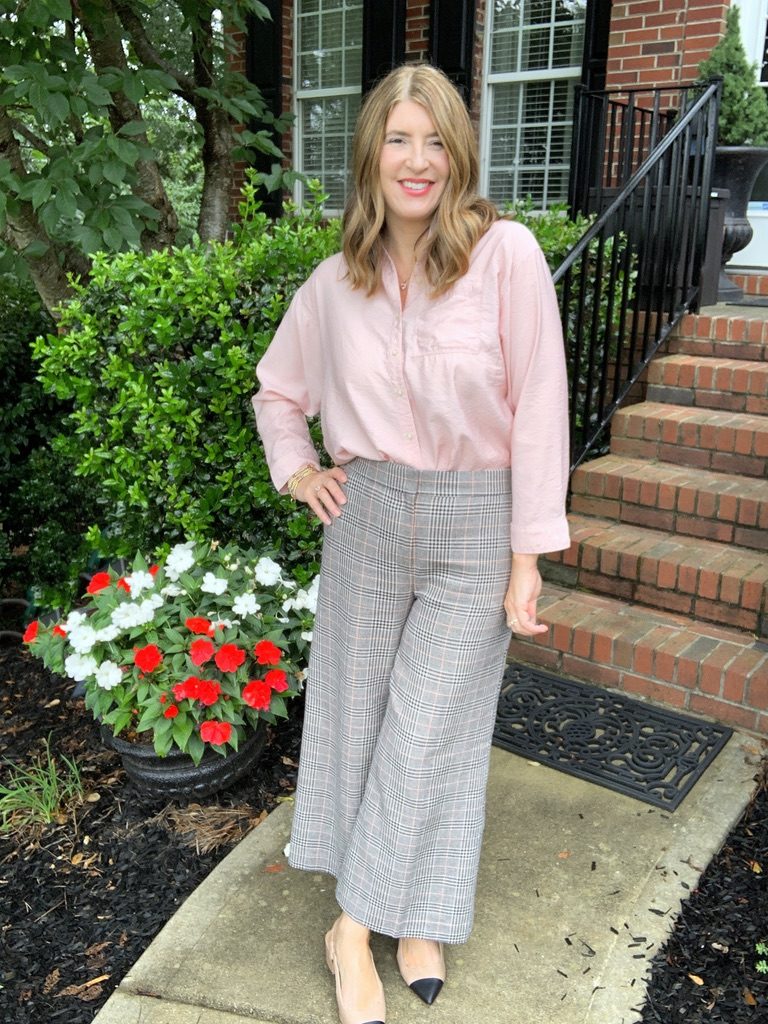 Here is another workwear look with a blush pink button down shirt and plaid wide leg pants.
With Joggers
Want a chic way to wear joggers? Pair them with a button down shirt. Here I'm wearing a simple white top with this fall's popular olive green pants. You could choose a heeled shoe or a flat.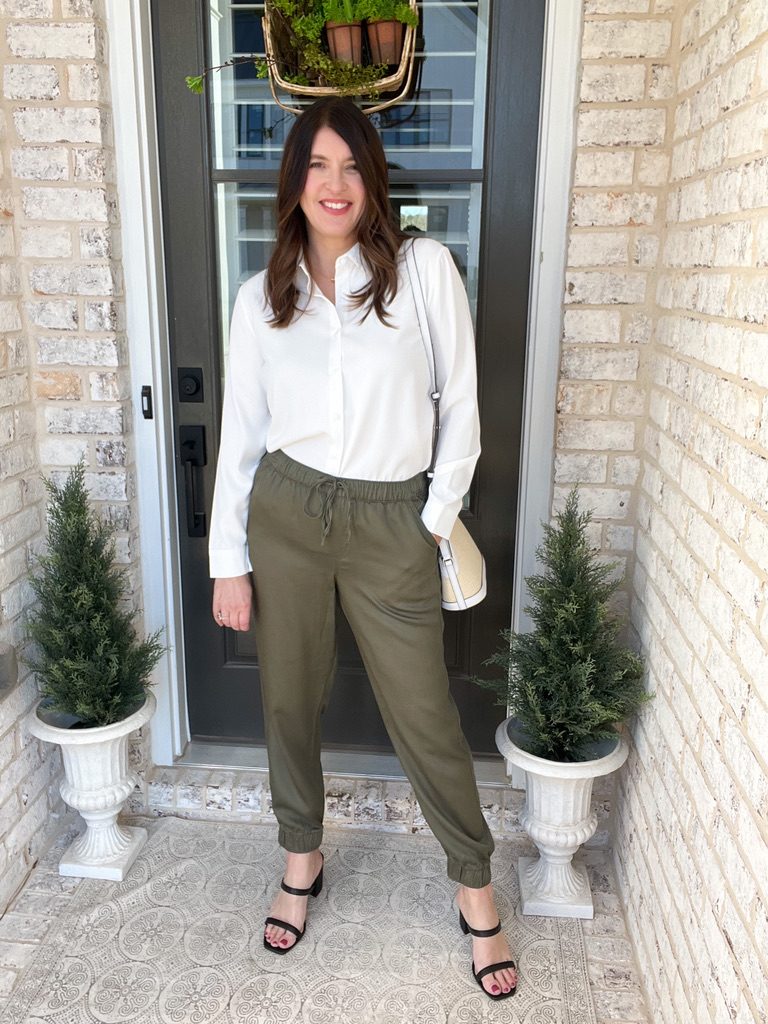 Oversized Plaid
When the weather turns cold, nothing feels more cozy than a button down plaid shirt. Whether it's traditional plaid or buffalo plaid like I"m wearing in the photo below, you will want a version of this for the winter months.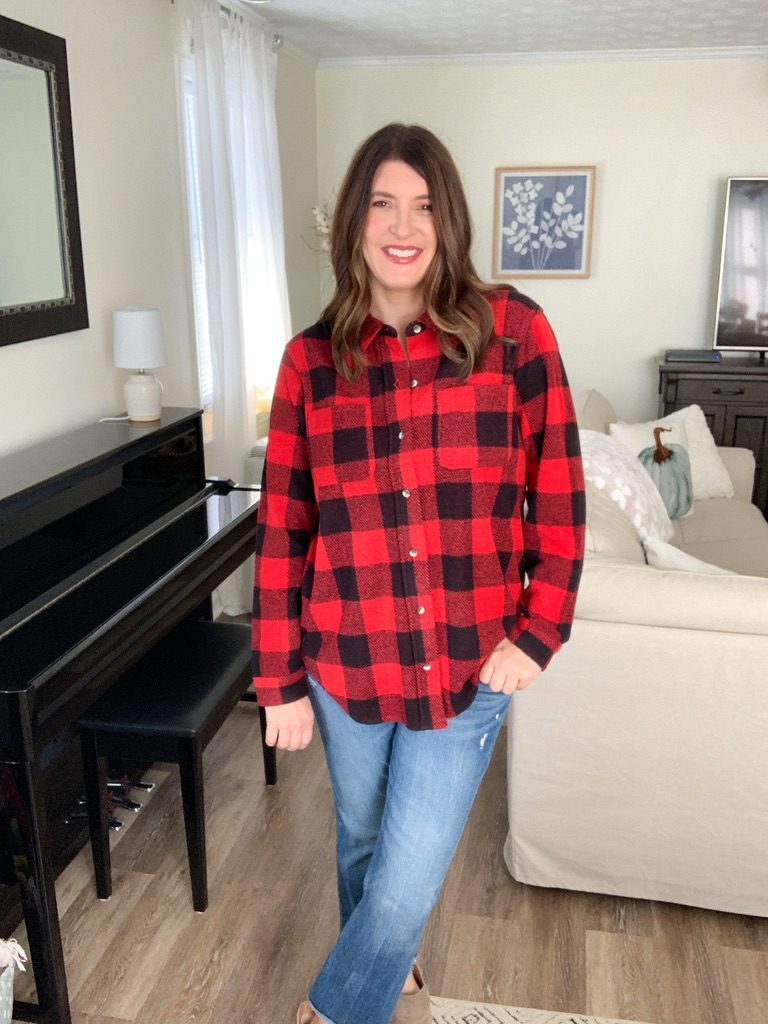 With A Maxi Skirt
I love this next outfit because it is so unexpected. A white chiffon button down with a flowy, floral maxi skirt. This would be a great wedding guest outfit.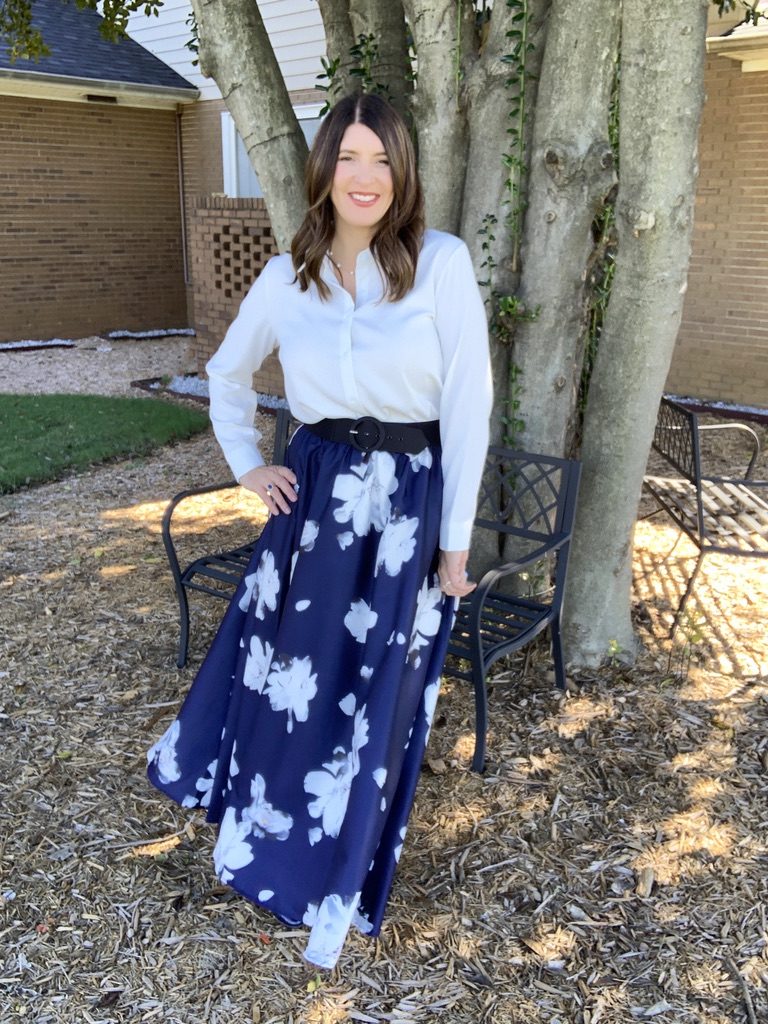 Under A Sweater Vest
Sweater vests are still trending for fall 2022. I good neutral sweater with a white button down underneath is a classic look suitable for the office or for casual occasions. The vest in the photo is from Target (last year).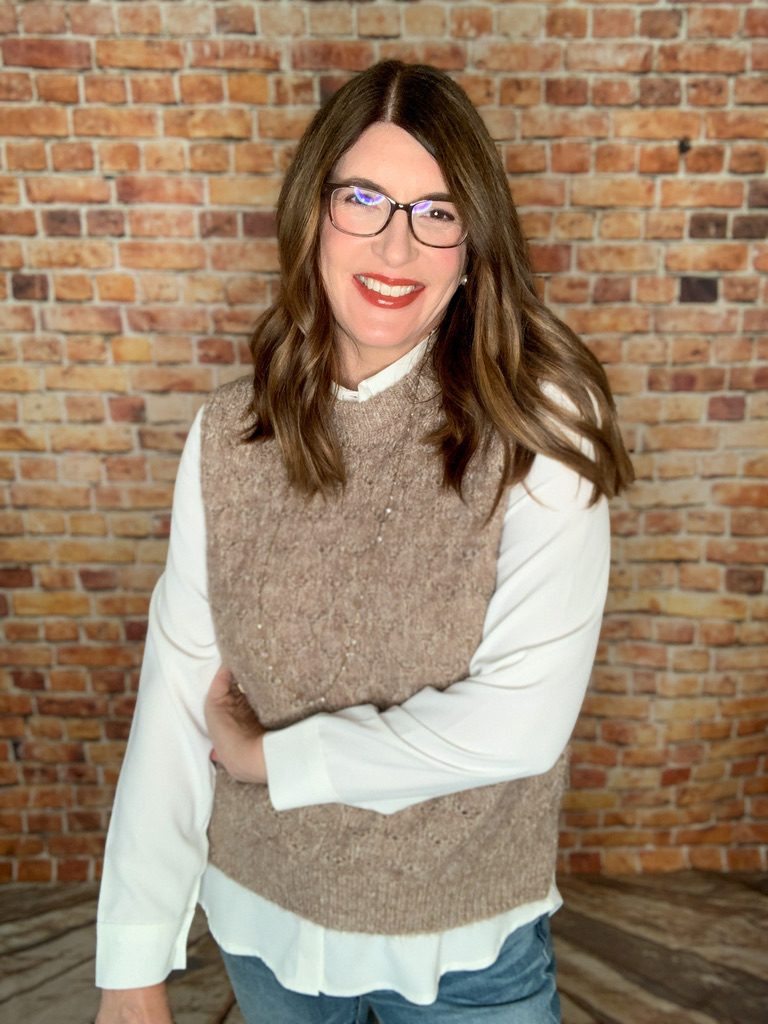 Similar Vest//Button Down Shirt
As An Outer Layer
An oversized button down shirt can also be worn as an outer layer. Here I buttoned the top and belted it over a dress for a fall look. This green shacket is from Amazon and is still available. It also comes in several other colors.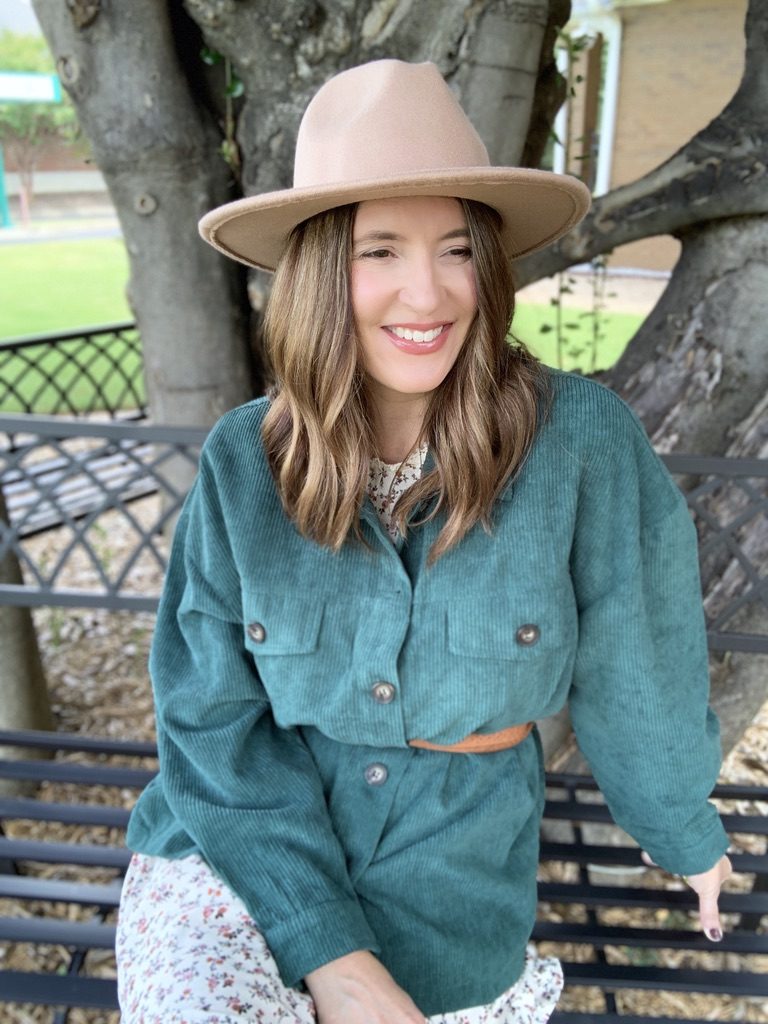 Lace Detail
The final cute way to wear a button down shirt is to find one with feminine lace detail. This type of sleeve is on trend again this year. This top comes in several colors and is still available on Amazon.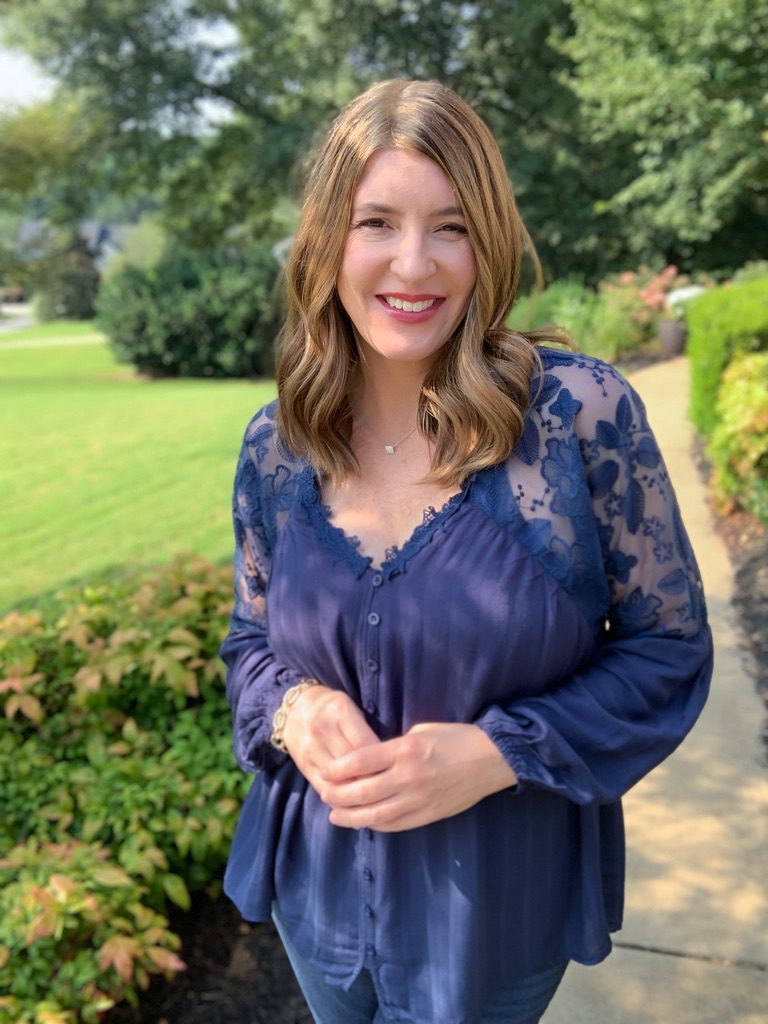 I hope this has given you some ideas on how to style a button down top that you might already have in your closet.