In general, fashion is fast. Trends come and go and just when you think you know what is in style…it changes. I think that is why we usually cringe when we look at old photos of ourselves. The style then was so different than the current style that our eyes don't like what we see. Well, I have some good news! There are trends that linger for several seasons, and even several years. As I have been prepping for spring fashion topics, I have taken notice of some looks that are on repeat from last year. Yipee! There are many similarities, but I have chosen three trends that will carry over in 2021 and you probably have some or all of these in your closet already!
In order to keep this post from being too long and overwhelming, I have decided to divide it into three parts. Today we will look at the first trend that will carry over in 2021, and then parts 2 and 3 will be later this week. I will show you how to take these pieces that were on trend last spring and summer and style them for this year.
Trend #1: Paper Bag Waist

Higher waistlines have been trending for the past couple of years. The paper bag waist pants and shorts are a high waisted style with a signature gathered and scrunched waist. They are typically tied with a wide ribbon in a bow or a belt.
This can be a tricky style to pull off depending on the length of your torso. If you have a very short torso, this can really throw off your proportions. On the positive side, this style can also make your legs appear longer.
Most of what I am showing today came from my closet. I did purchase one new pair of shorts from Target.
Paper Bag Waist Pants
The Grace Karin paper bag waist pant was a top seller on Amazon last year, and continues to be a popular style this year. I first purchased the red ones, and I liked them so much I added a black pair to my wardrobe.
Outfit #1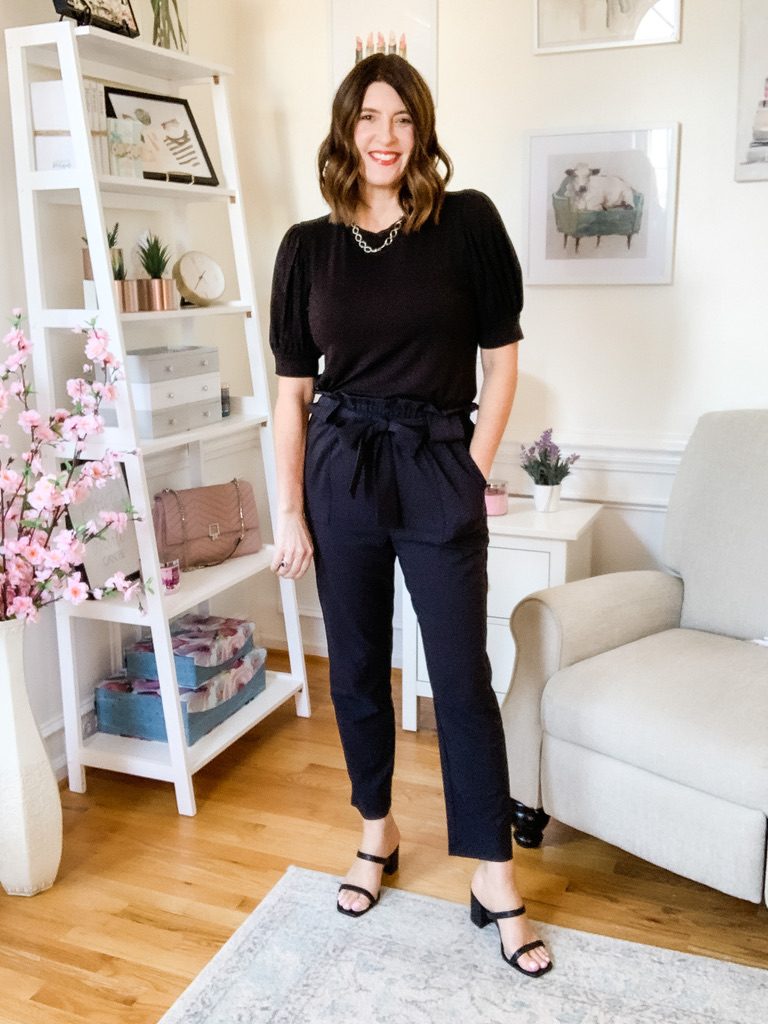 For this look, I chose a monochromatic look with a black puff sleeve t-shirt. When styling this type of pant of shorts, you will want to at least partially tuck in your shirt or it will look awkward.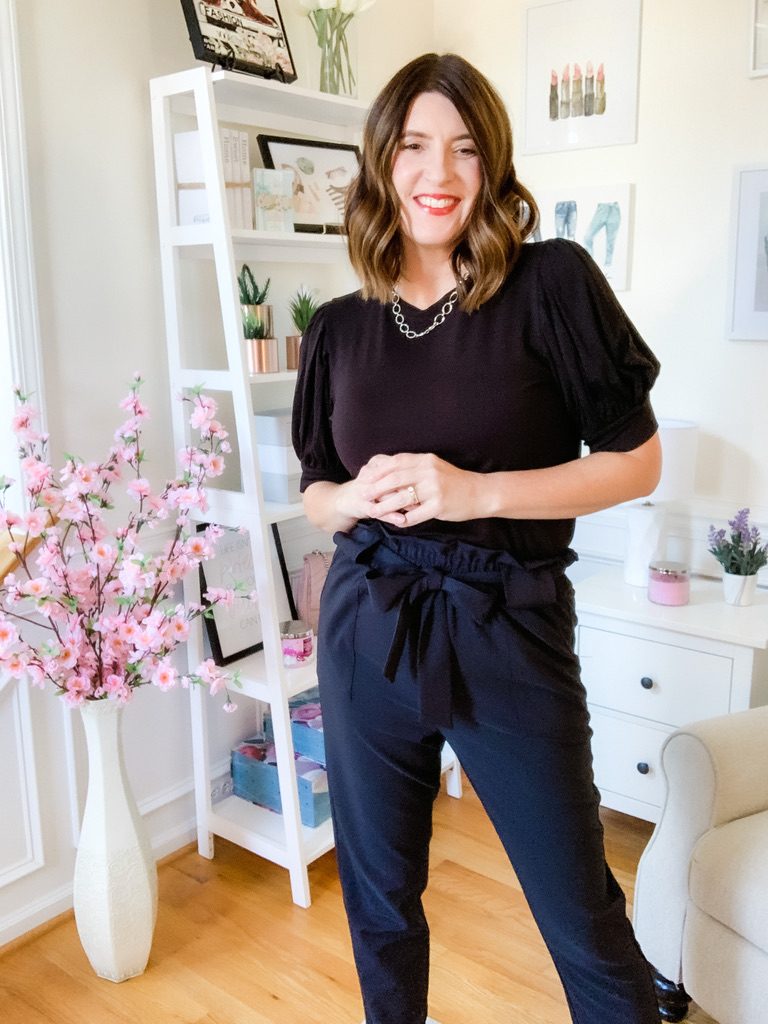 Outfit #2
Another way to style the black pants is with a more fitted mock turtle neck for a colder day. For this outfit, I chose the snake print shoes to give it a little more interest.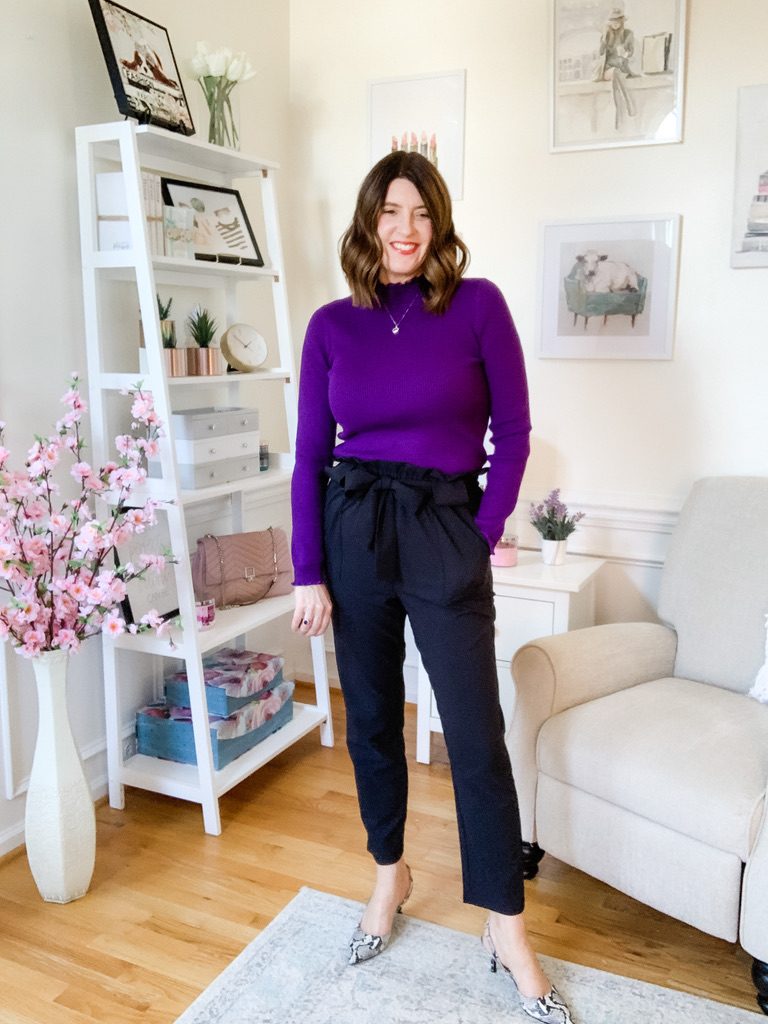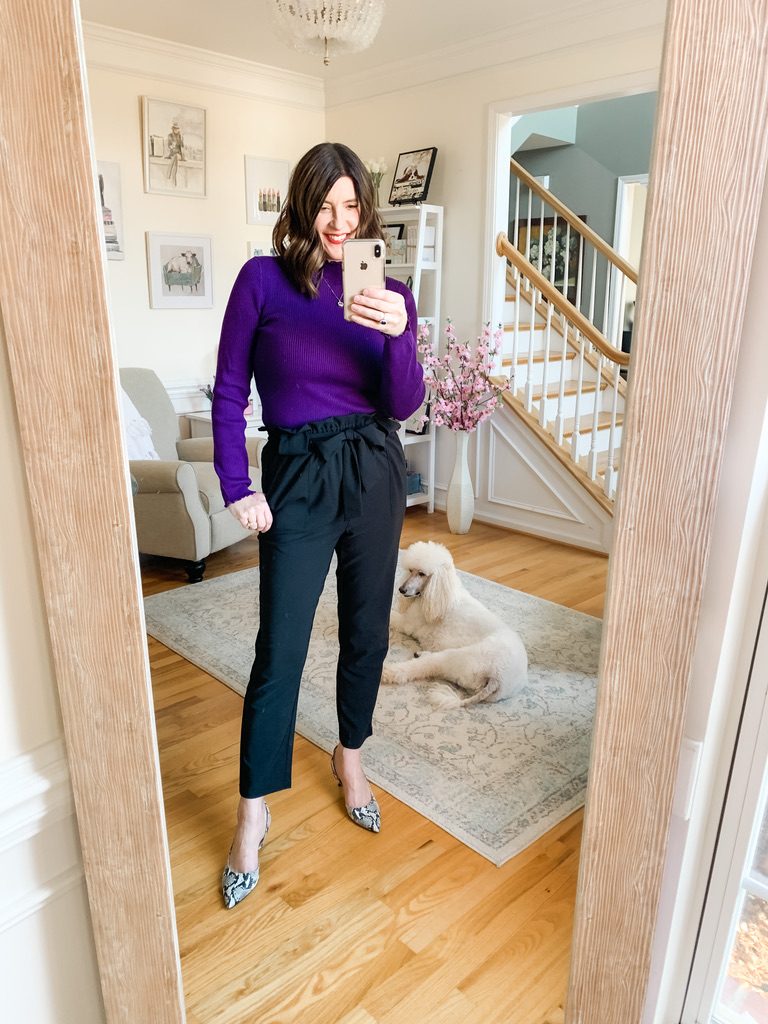 Outfit #3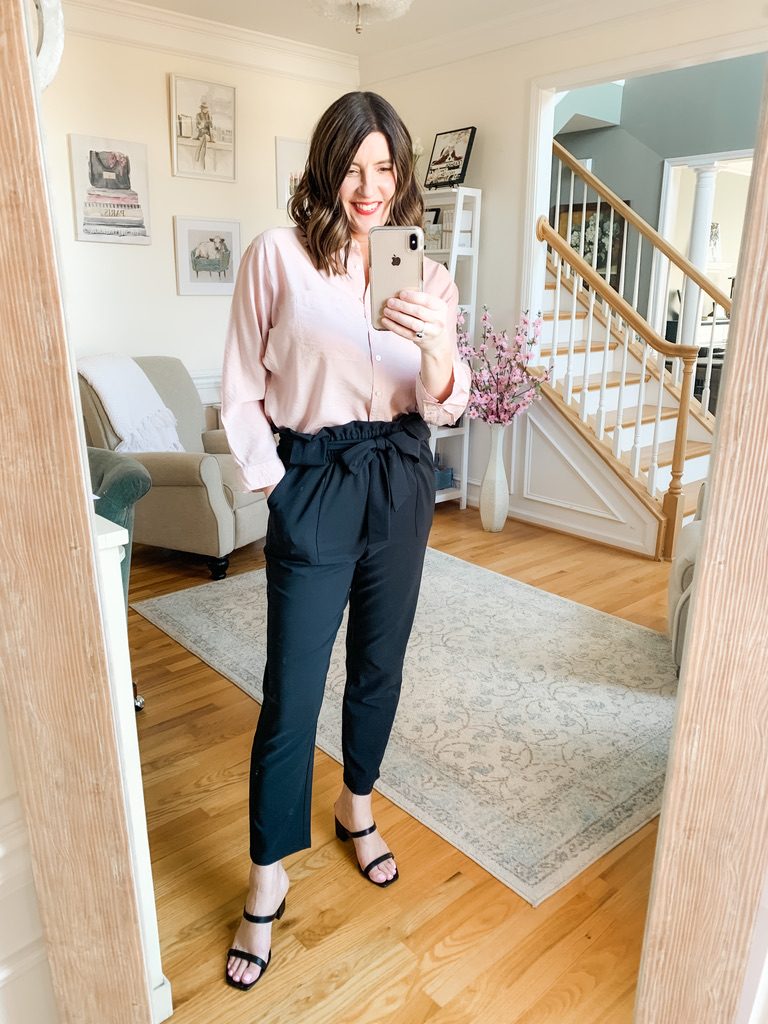 Outfit #3 is a classic look that would be a good work wear options. The muted pink button down blouse tucks nicely into the paper bag waist pants. My top is from Loft (last year). Similar style linked here. A simple black sandal completes the look.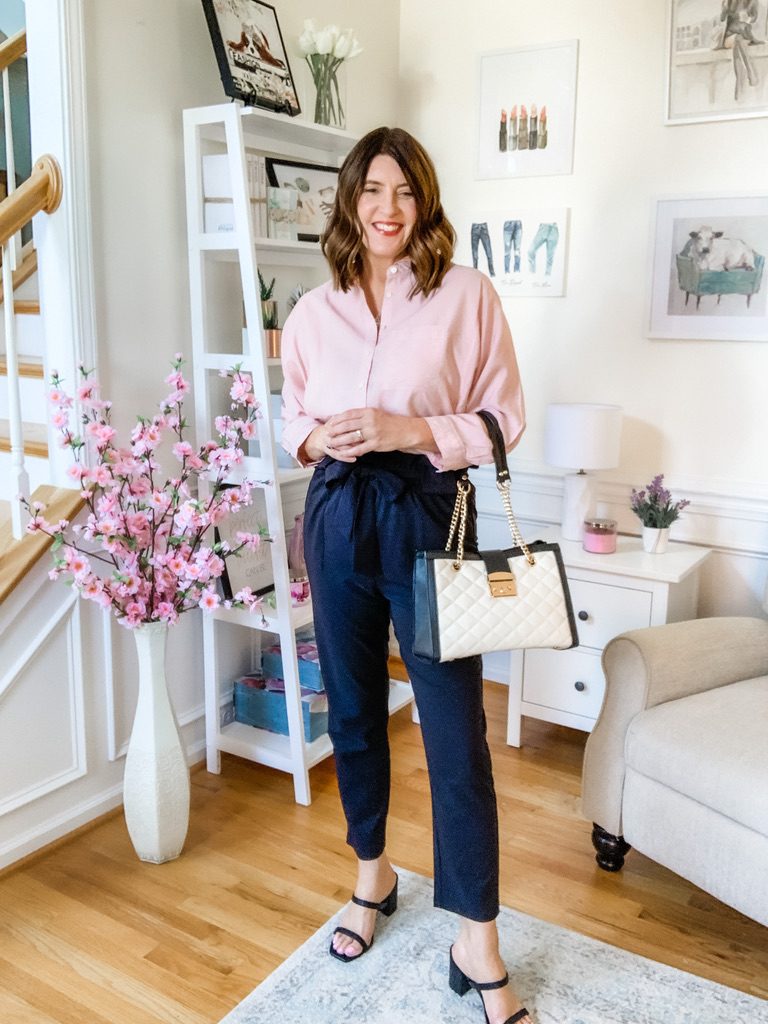 Outfit #4
Now for the red version of the same pants. I kept this look a little more casual.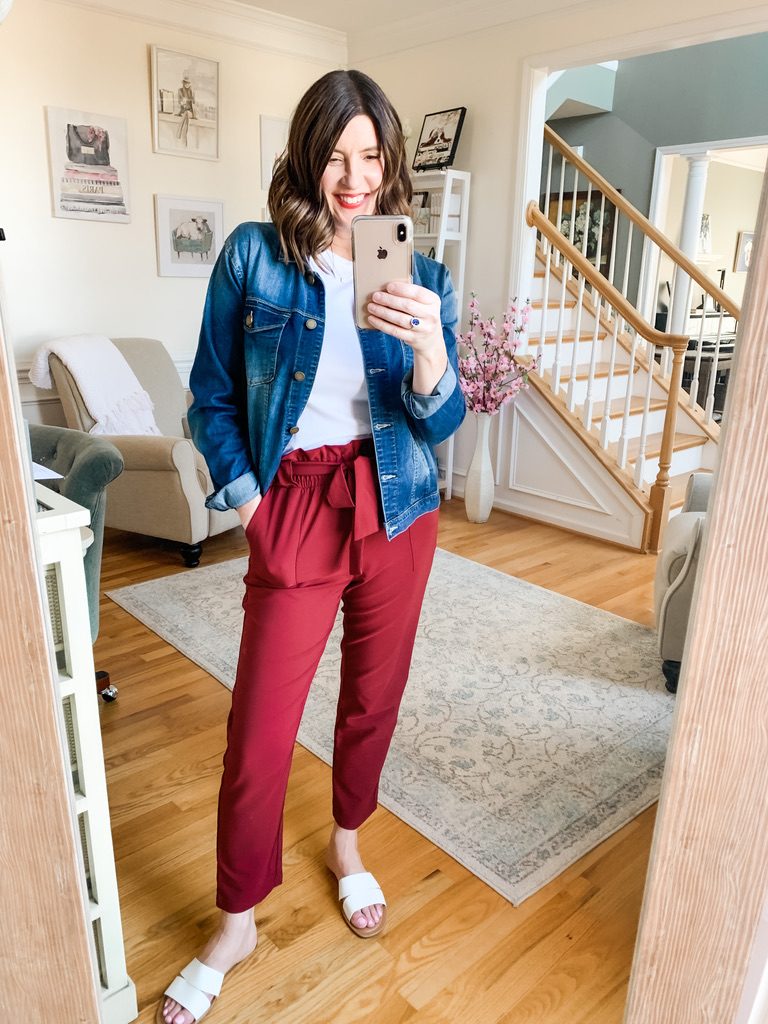 A simple white tank tucked in and layered with a denim jacket creates an outfit that could be worn for just about any occasion. Flat white slides will take you from spring to summer.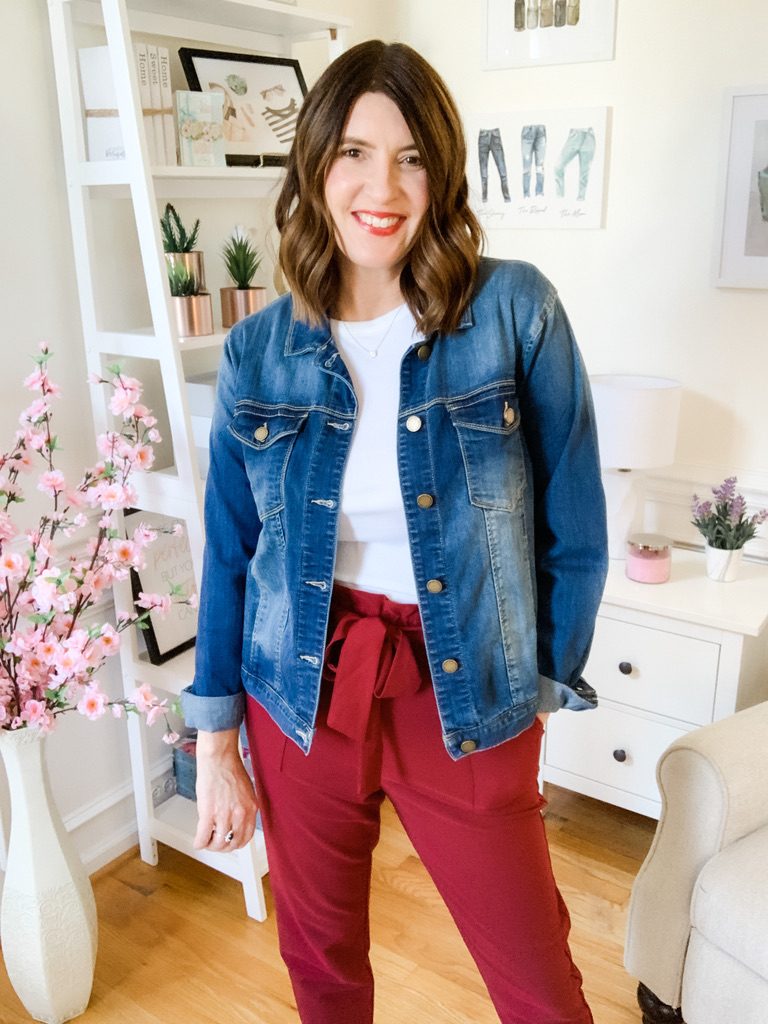 Paper Bag Waist Shorts
Outfit #1
If you wear shorts, this style is easy to dress up for a date night or special occasion. They look great with wedge sandals or flats.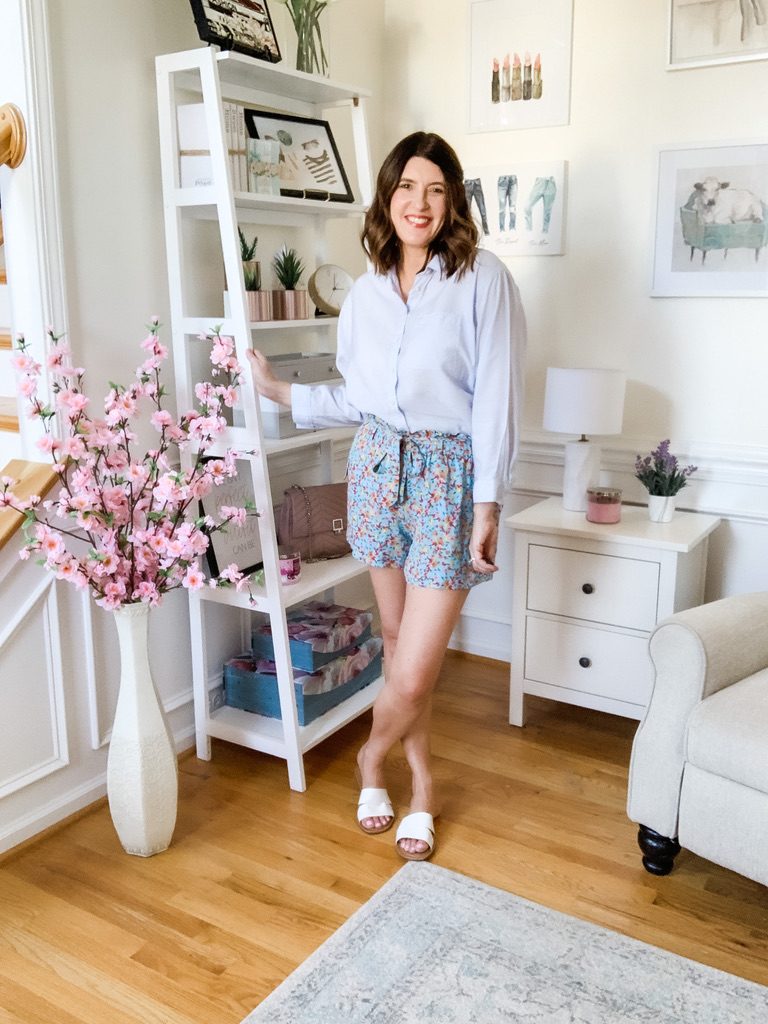 This first pair is a floral style that I purchased last year from Loft. Florals are still on trend for this year, so I will get to wear these again this summer.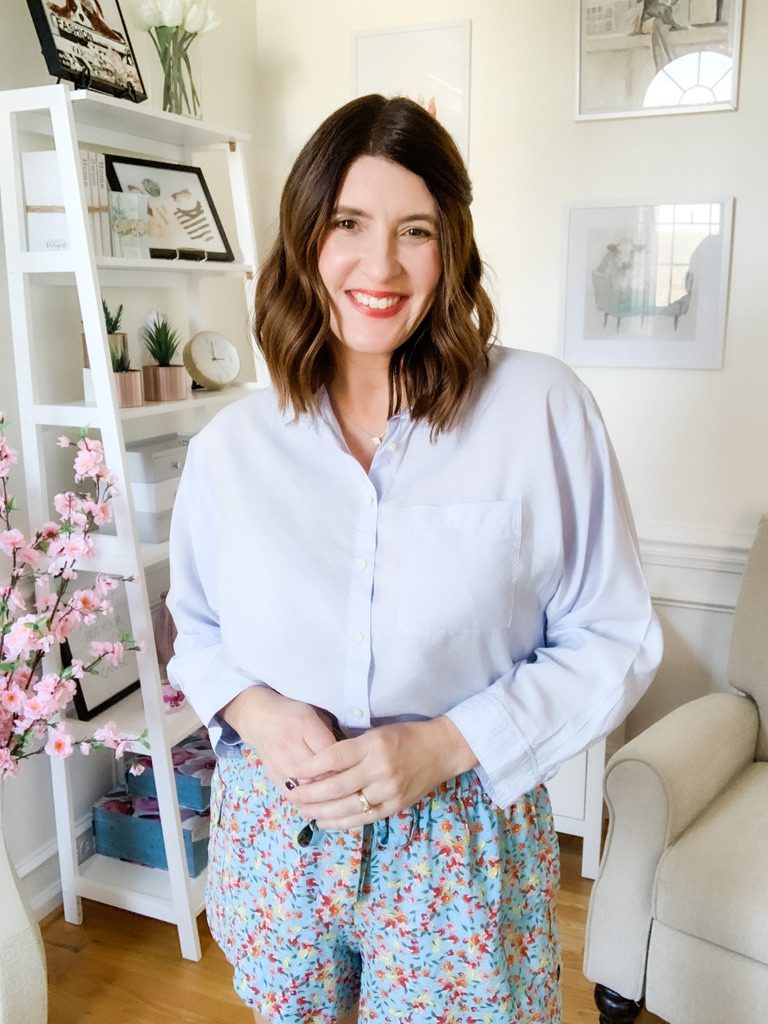 Outfit #2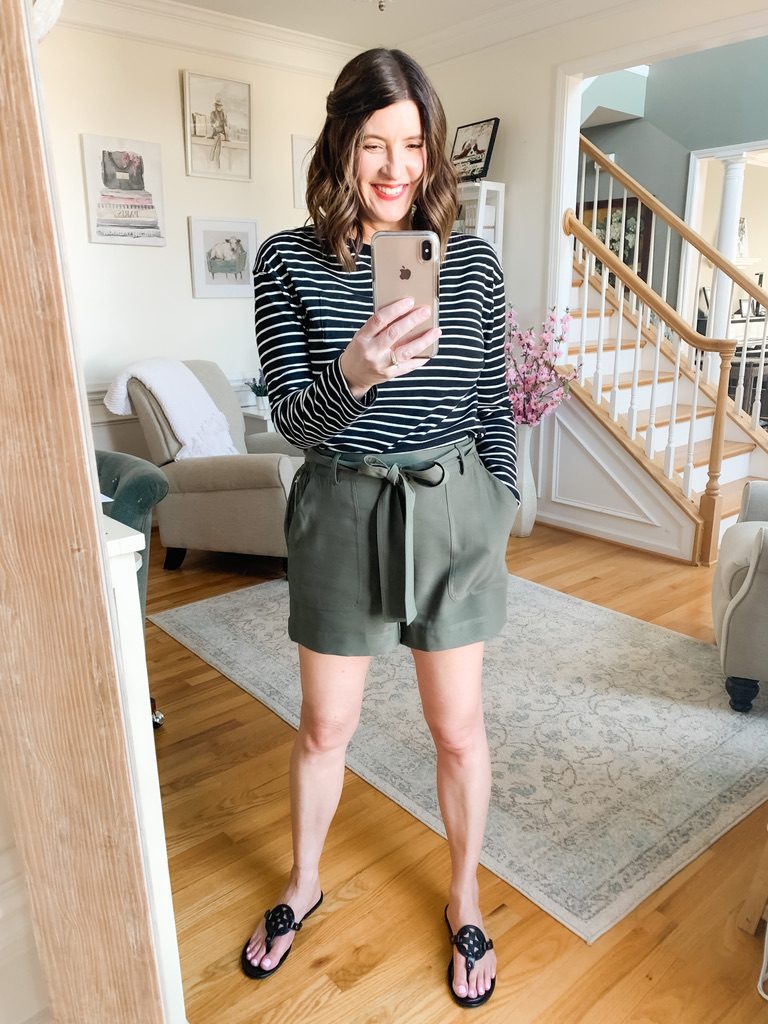 The next pair is a new purchase from Target. I chose the olive green, but there are other colors available. I don't really like the way these particular shorts look on me. Although I think they are the right size, they add a lot of visual weight in my opinion.
My waist seems to get lost, and the pocket placement makes me look wider than I am. Any opinions on these? Let me know in the comments.
Outfit #3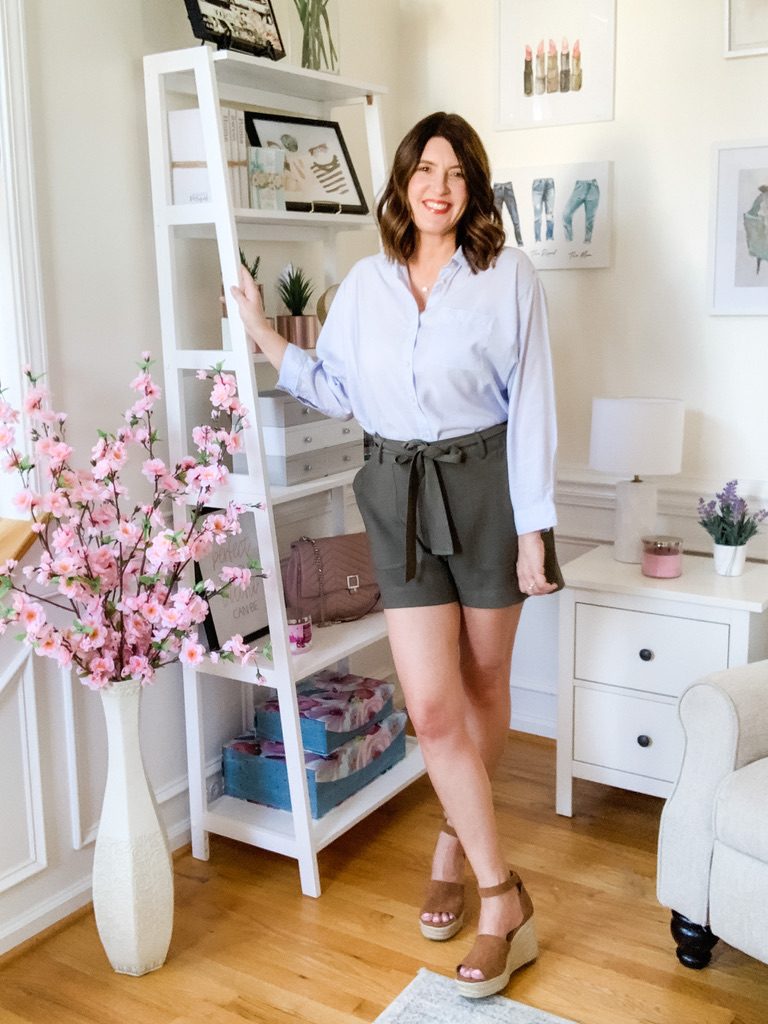 For this look, I kept the same shorts and switched back to the button down shirt and some wedge sandals. This is a good way to dress up a pair of shorts. I like the concept of this outfit, but I just don't think the shorts are doing me any favors.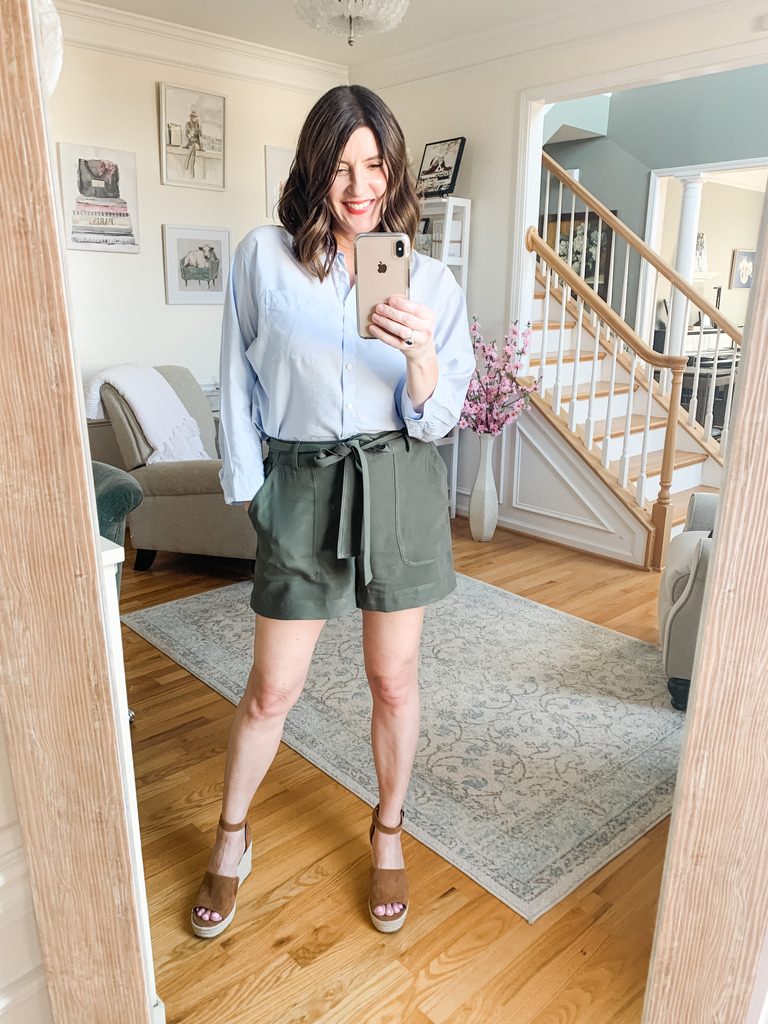 Sometimes you just have to play around with different styles to see what works for you. As you can see, the floral shorts are a similar style and they look nice on me, but the green shorts are not for me.
Always remember you can pass on any trend that you do not like or one that does not work for your body type. Someone who has a good sense of style knows when to say no, even if everyone else is wearing it!
This is one trend that will carry over from last year. What do you think of it?
The next trend that will carry over in 2021 involves tops. Can you guess what the trend is? I will cover it next time.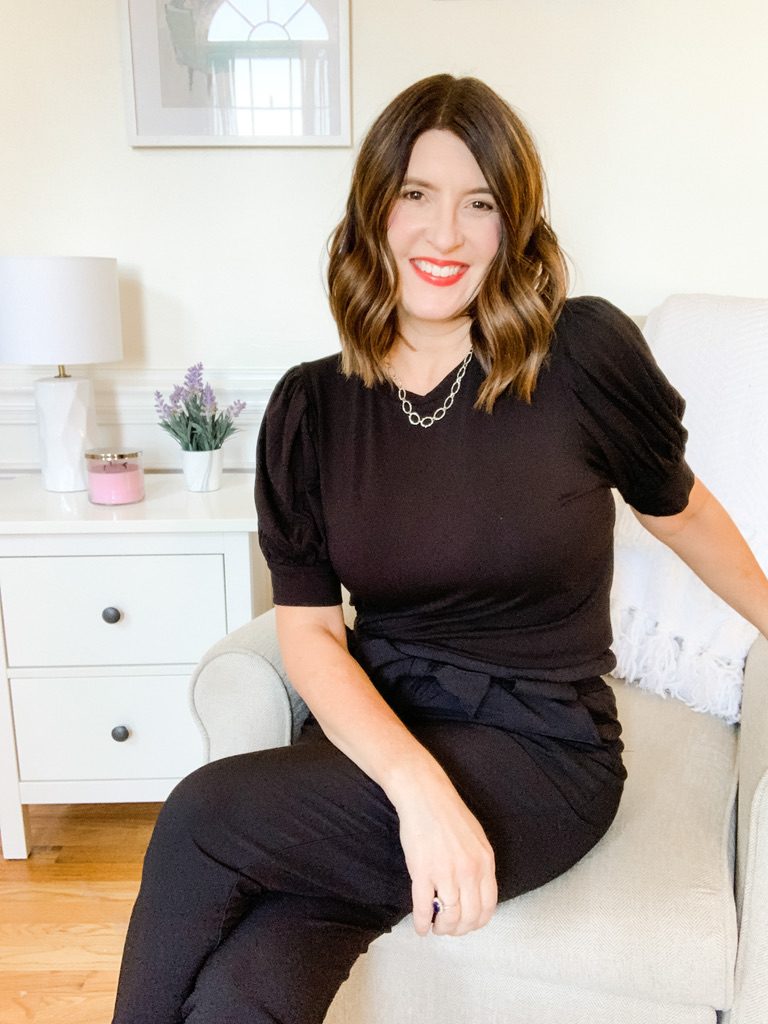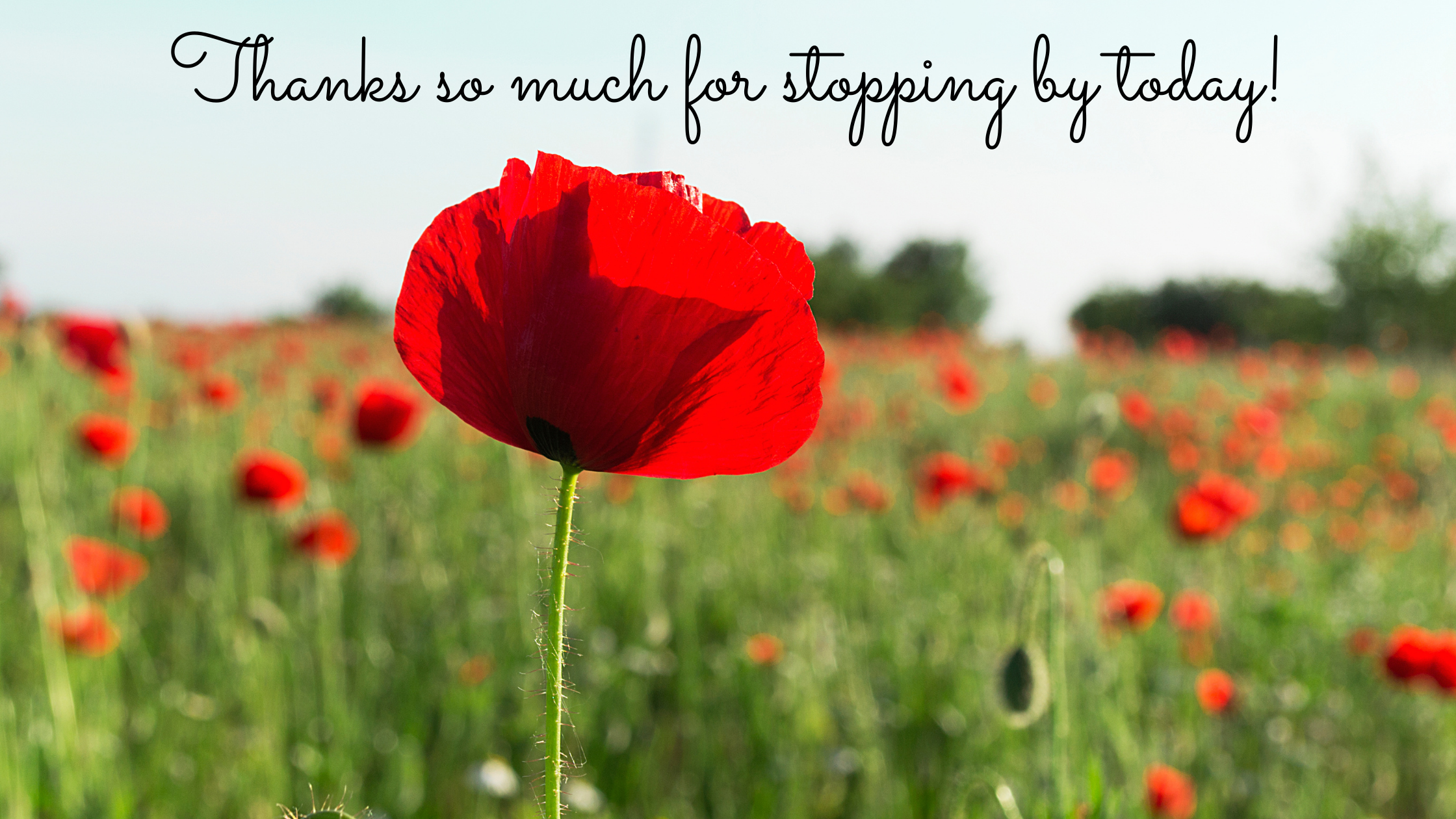 You might also enjoy this post!