Aren't you glad that some trends carry over for several seasons or even several years? Otherwise, it would be impossible to keep up! This is part 2 of the Trends That Will Carry Over In 2021. If you missed part one you can see it here. If you have spent any time at all shopping lately, you probably already know that another trend for 2021 is puff sleeves & ruffles! In fact, they have even gotten bigger this year.
For some of you, that might be right up your alley and others may be cringing. Hopefully I can help you navigate this trend and make it work for you if you choose to wear it.
Style Tip:
Puffy sleeves and ruffles are not easy to pull off. As a 50 year old, I don't want to look like a little girl. For me personally this is a trend that doesn't flatter my body type. I have broad shoulders and I usually try to downplay my top half instead of adding bulk to it. That being said, I do gravitate towards feminine and romantic style tops so the key is finding the right amount and placement of the trendy details.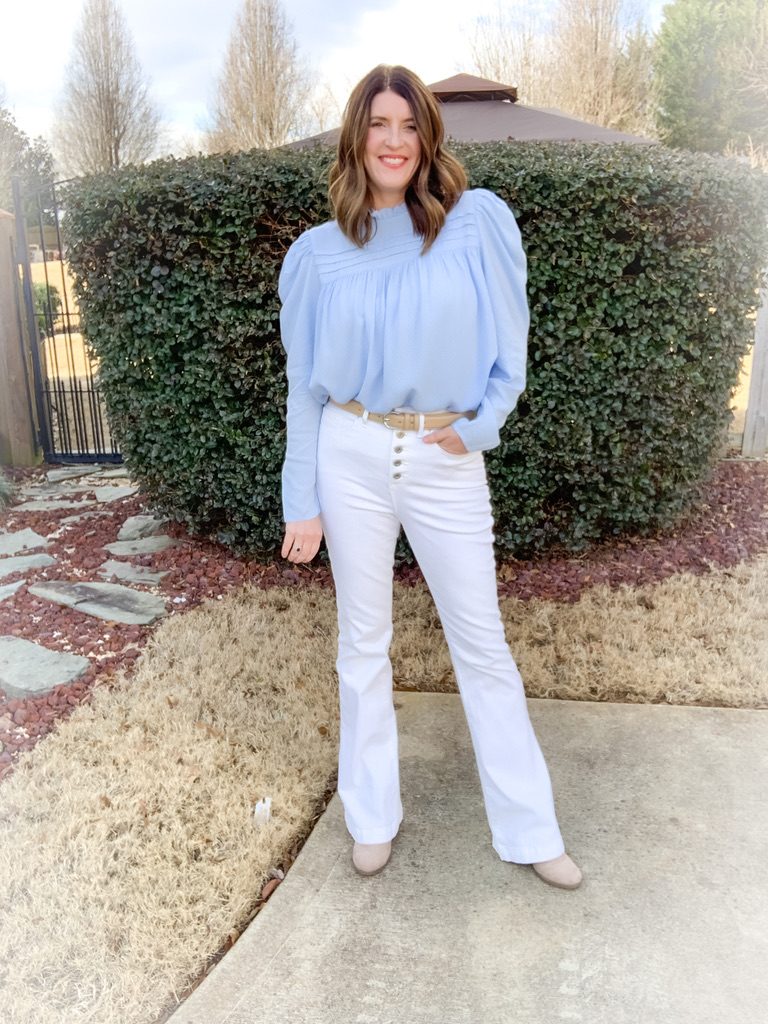 I have used this example before, but in case you missed that post the photo above is an example of how not to wear this trend if you are built similar to me. The top is adorable….but, I look ridiculous in it! The puffy shoulders could not be in a worse location. I look like a football player.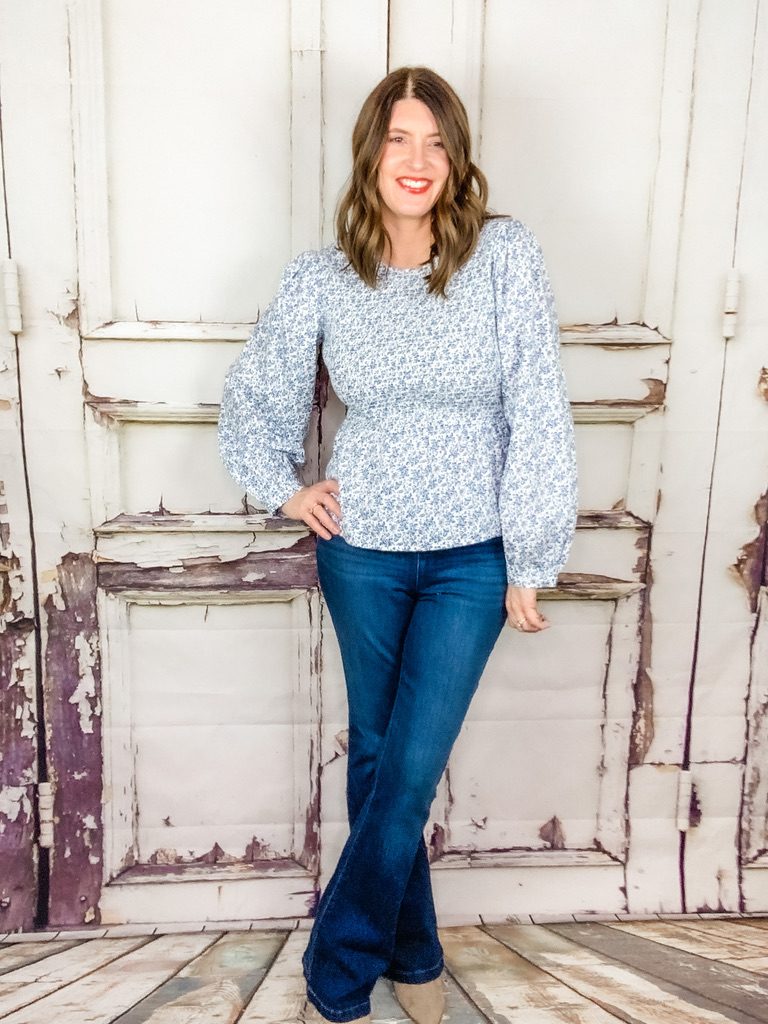 In contrast, this top works much better for me because the poof is more in the arms rather than the shoulders. There is a slight puff at the shoulder in this top, but not nearly as large as the first top.
Also the smocking helps create a waist that is more flattering on me. I have not sacrificed the overall style of the top, but by having the puffiness in the right place it works.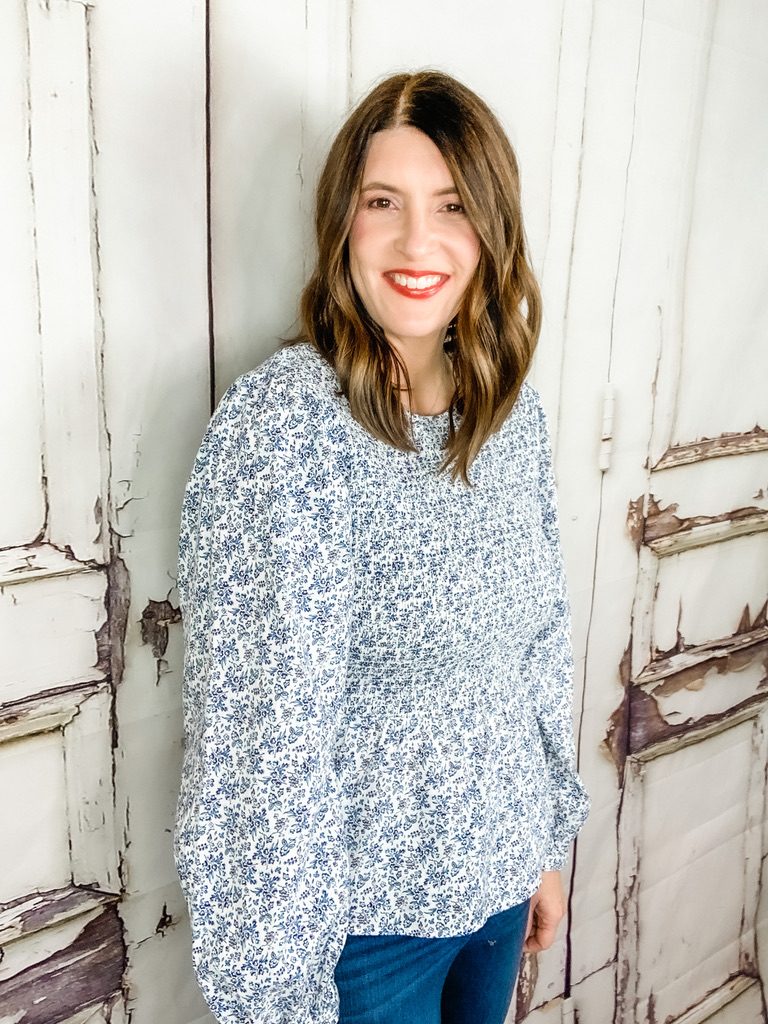 So, if you want to wear a trend that doesn't necessarily do you any favors, try to find a modification that will work for your body type.
Sleeveless Top With Ruffles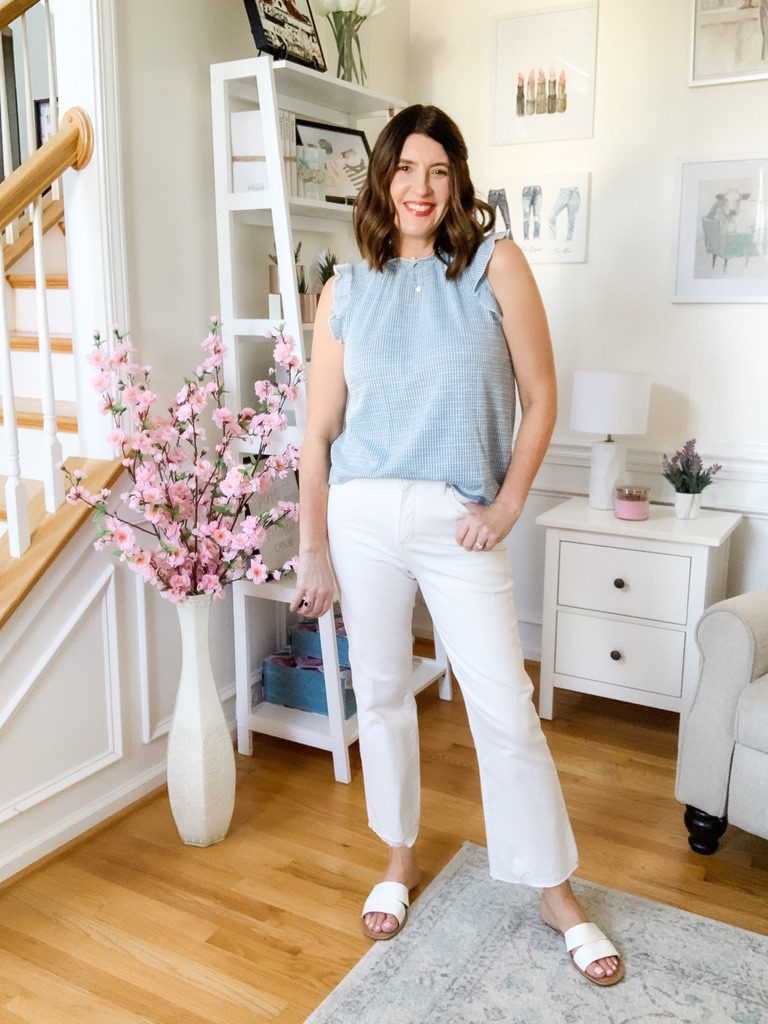 This is a summer top that I picked up at Marshall's recently. Having the ruffle right at my shoulder was a risk, but since this ruffle is small and lays down I think it works.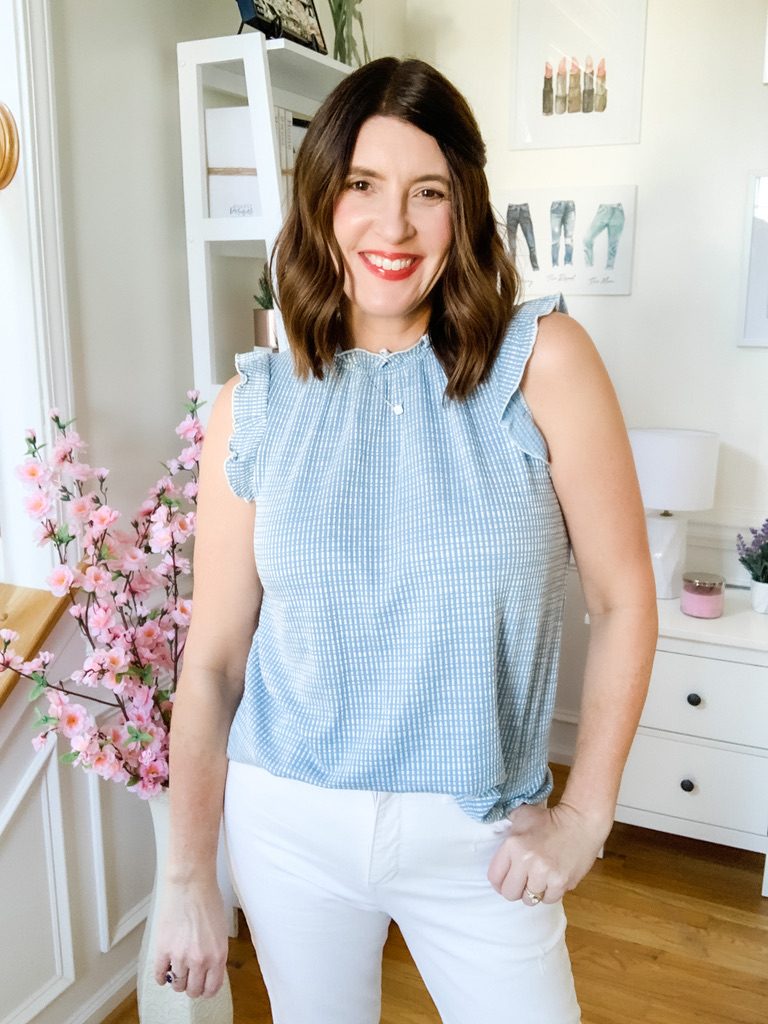 This style of top will be plentiful this spring and summer and here are some similar styles in the shopping widget below .
Cropped Length With Ruffles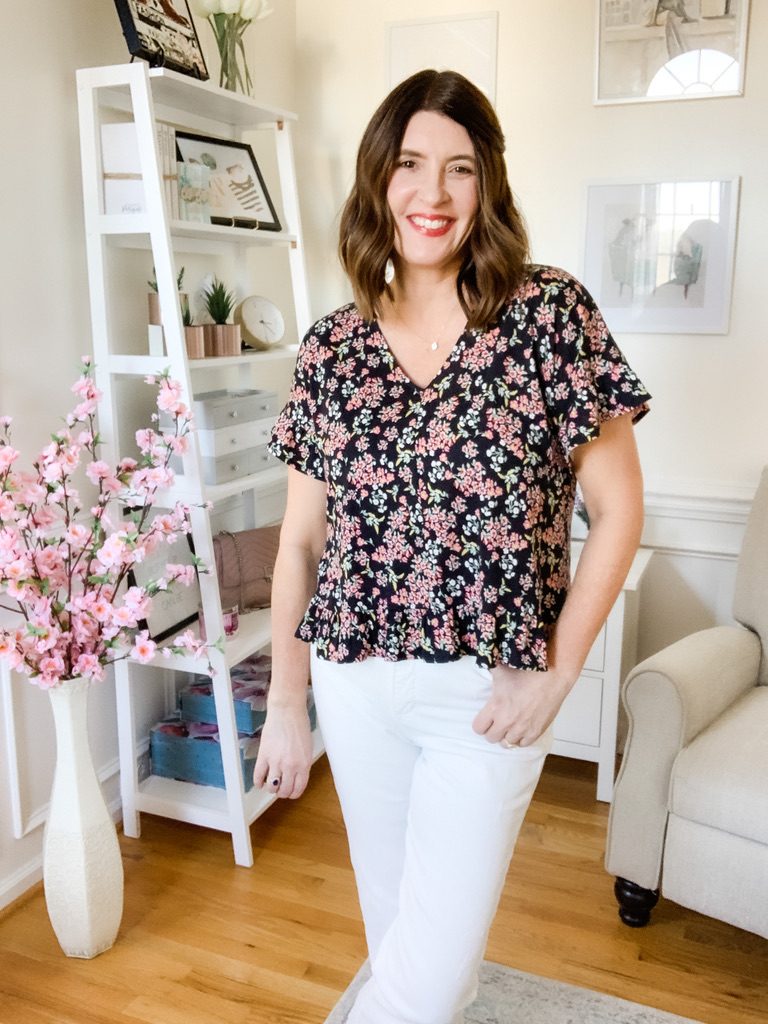 I don't know about you, but at my age cropped tops are not part of my vocabulary. In fact, even when I was much younger I wasn't a cropped top girl.
Another trend in tops is that they are getting shorter and have a more boxy cut. Cropped does not mean you are showing skin. Here is an example of a very feminine "cropped" length top with ruffles and a floral pattern.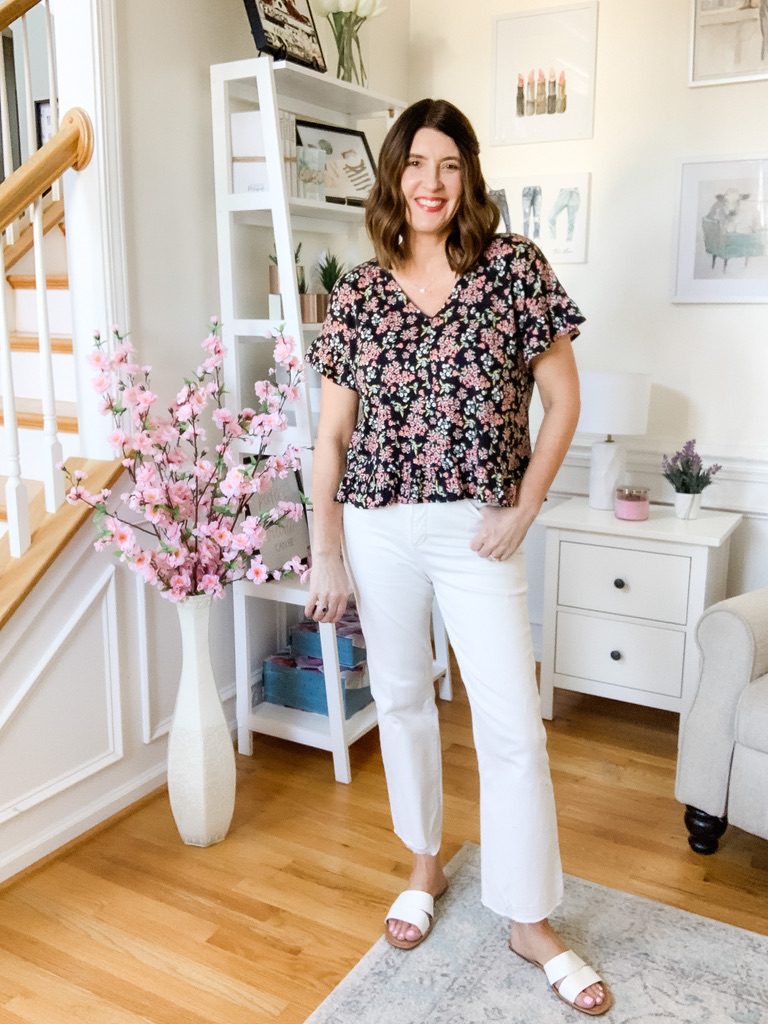 What makes this a wearable trend is the high waisted jean or pant. Also a shorter top makes it easier to give it a little front tuck without having a lot of bulky material to deal with.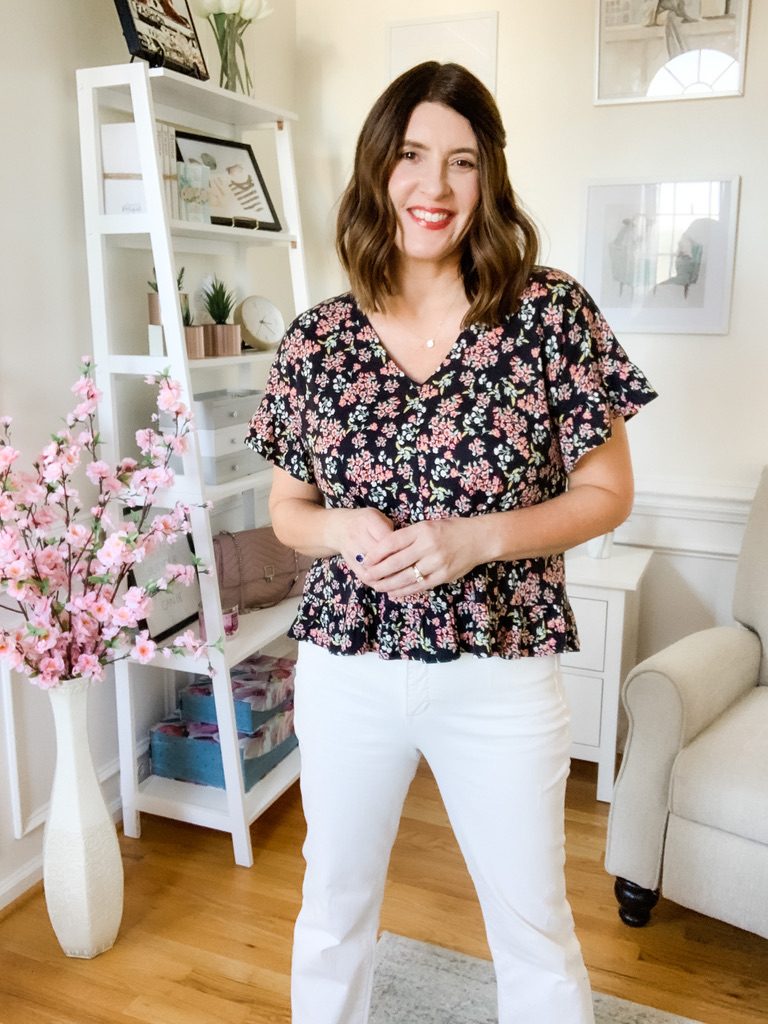 The V-neckline of this top also helps it to be more flattering. By pairing it with high waisted white jeans, I do not feel exposed. There are some cropped length tops that are just a no, but I wanted to show this as an option for us more mature girls. This top is from Loft (last year). I will try to link some similar style in the shopping widget at the end of the post.
Feminine T-shirt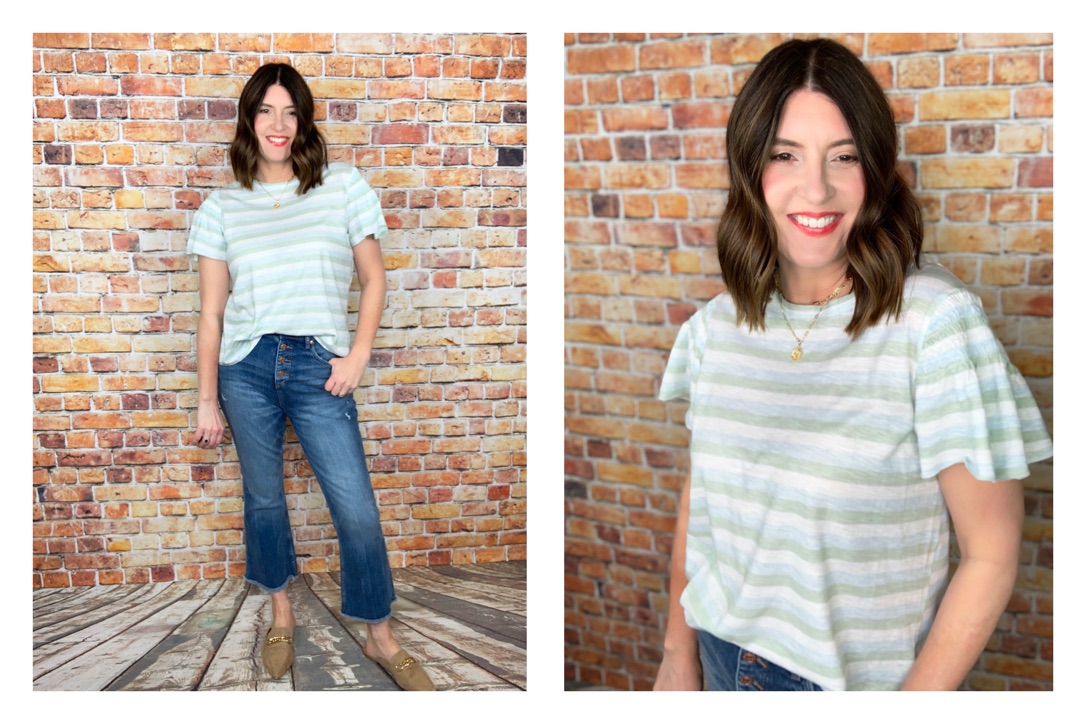 This striped tee is from the Lauren Conrad collection at Kohl's. Her line has a trademark feminine style and if you like ruffles and puffy sleeves, you will love these pieces.
Here are some other Lauren Conrad pieces you might want to take a look at.
Stripes And Puff Sleeves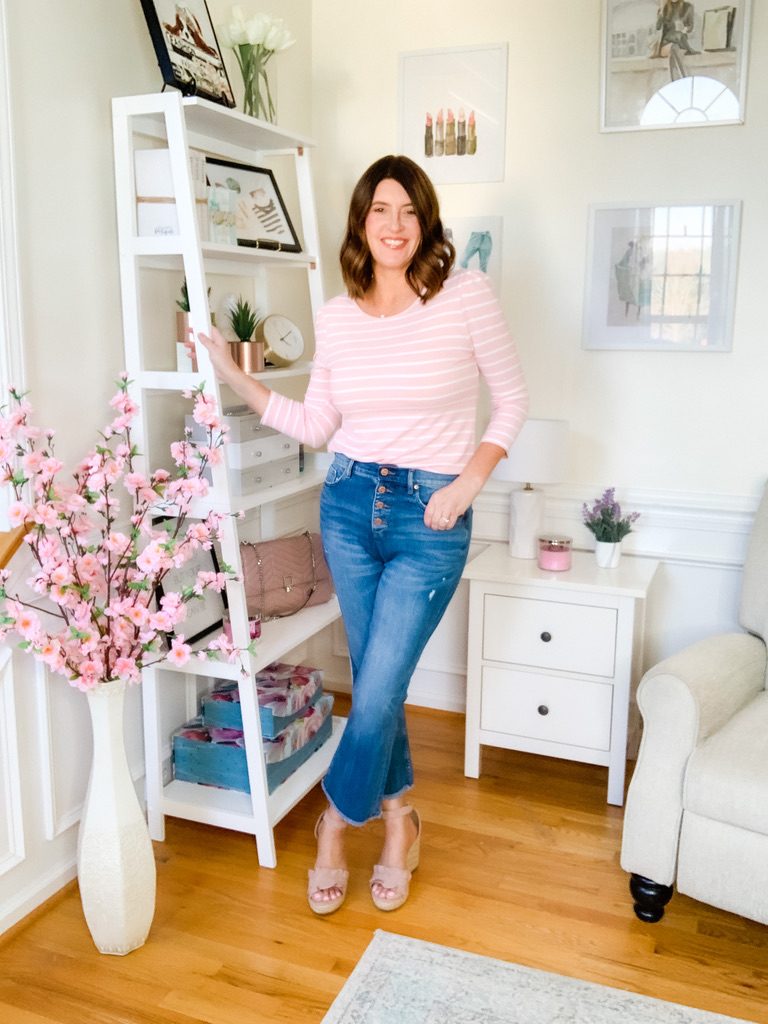 Again, keeping the trend more subdued with this striped puff sleeve t-shirt by Time and Tru. This is from last spring and I will link a similar style from this year.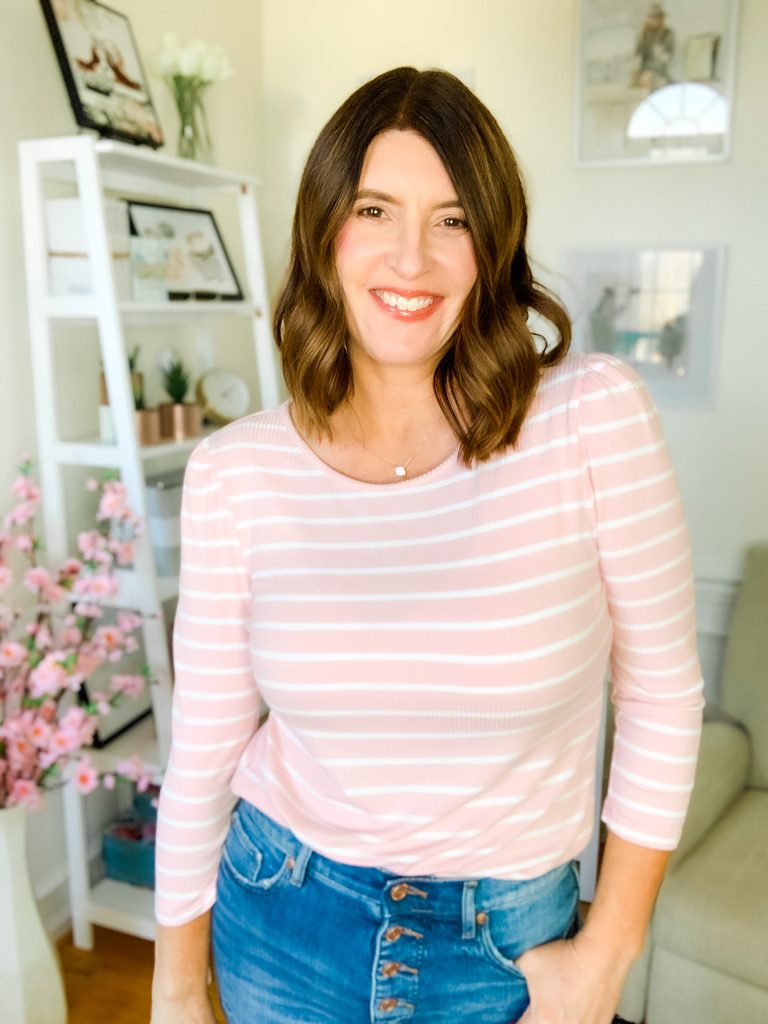 Puff Sleeves And Smocking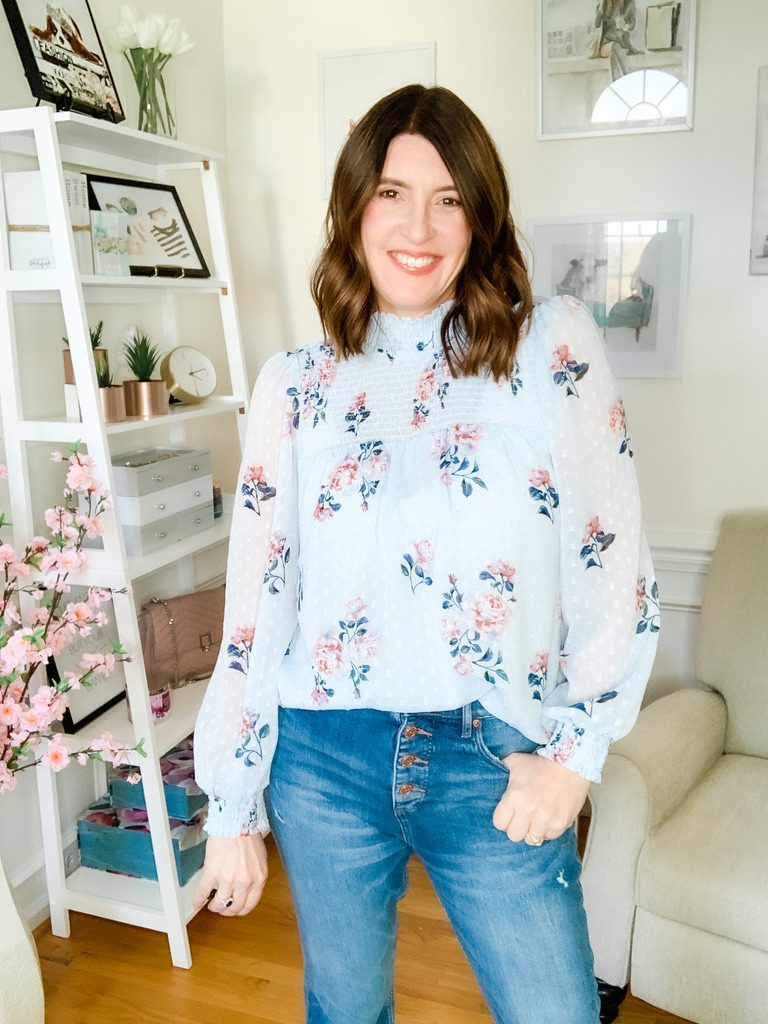 The last example of the puff sleeve and ruffle trend is this floral top. It has all the elements of a very feminine, spring looking piece. Other than the puffy sleeves, this top is also an example of the see through fabric trend that you will seeing lots of this year.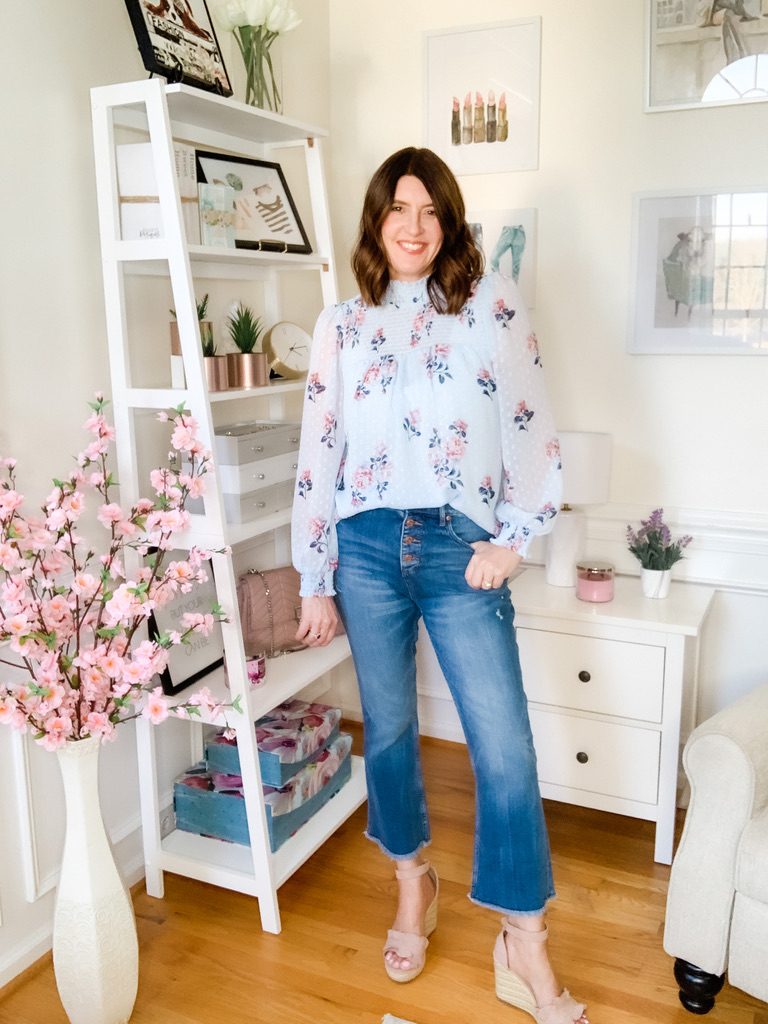 I found this top at Marshall's, and that is a great place to look for inexpensive trendy blouses. Even though high necklines aren't the best choice for busty women like me, I just love them so I wear them on occasion.
More Puff Sleeves & Ruffles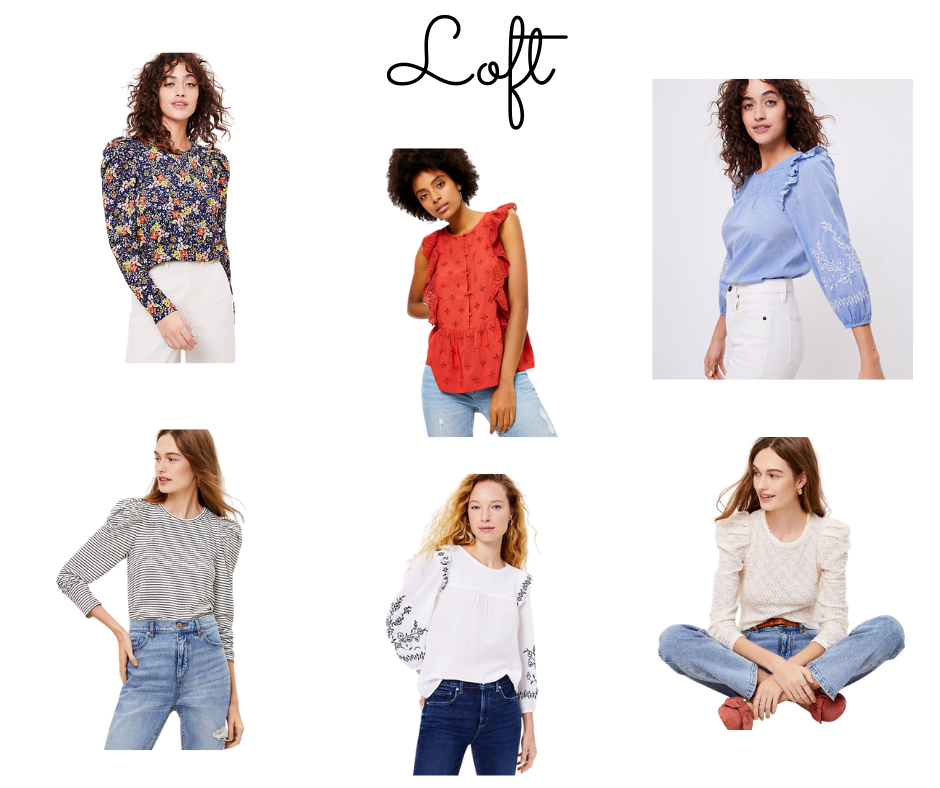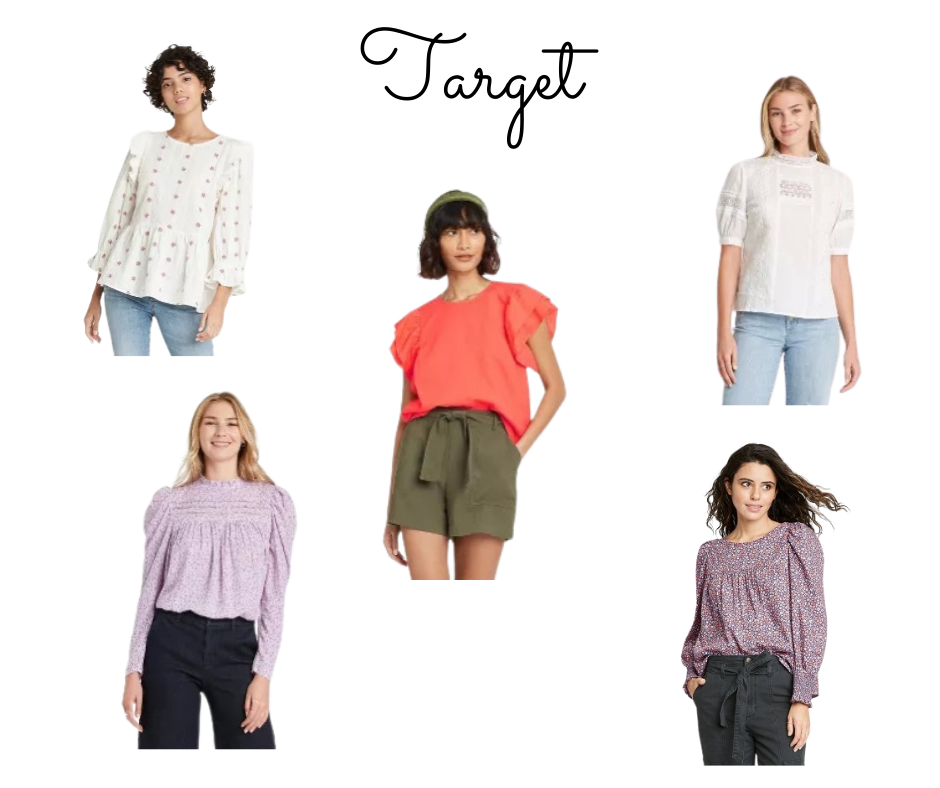 What do you thing of puffed sleeves and ruffles? Is this a trend that you will be wearing this year? Let me know in the comments below.