Today I'm resuming my weekly Walmart finds: Vol. 6. In looking back over the analytics for 2021, you ladies seem to enjoy these Walmart posts and I love putting them together for you! I have some great pieces to share with you today, so let's get started.
Striped Sweater Dress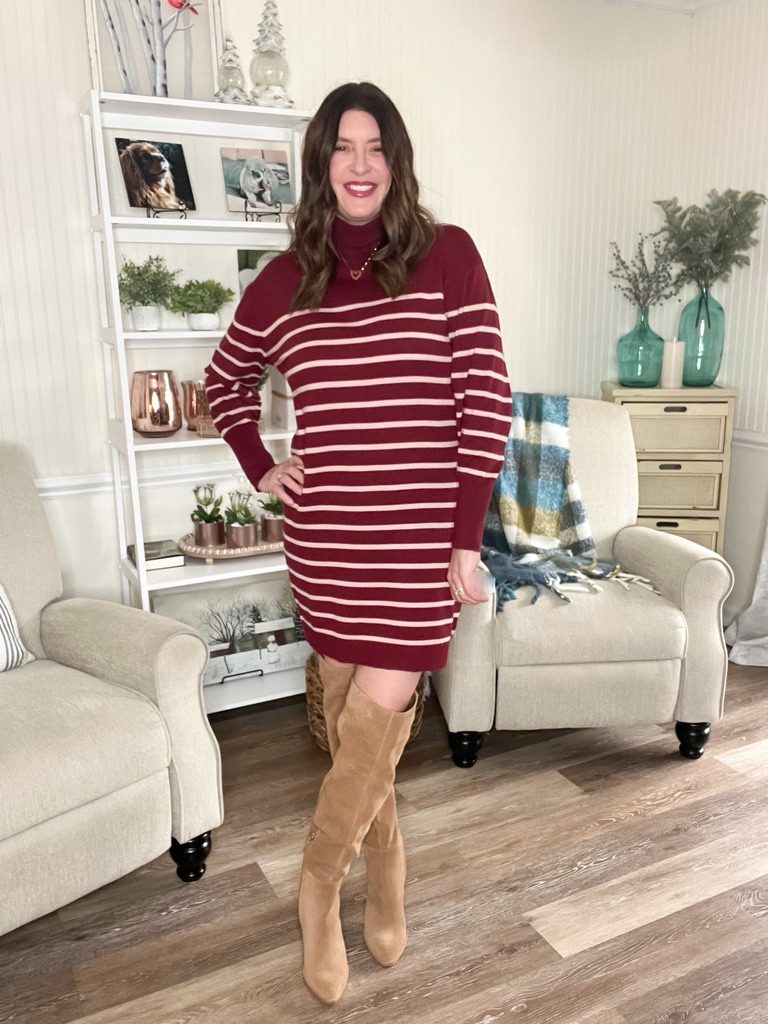 The first piece for this week's weekly Walmart finds is this turtle neck sweater dress by Free Assembly. This is a thin knit, so you won't get too hot in this one if you live in a milder climate.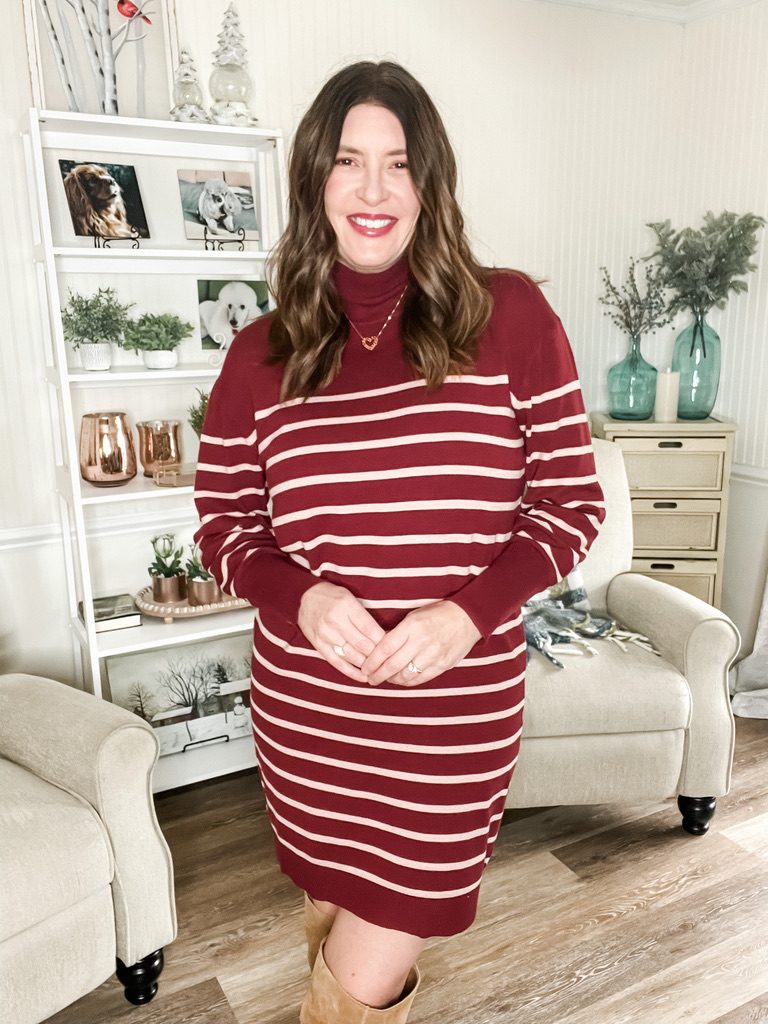 I really like this red and pink stripe, but it also comes in a navy stripe as well as three solid colors. Ladies, this is a great little dress for only $16! I'm wearing a medium for size reference.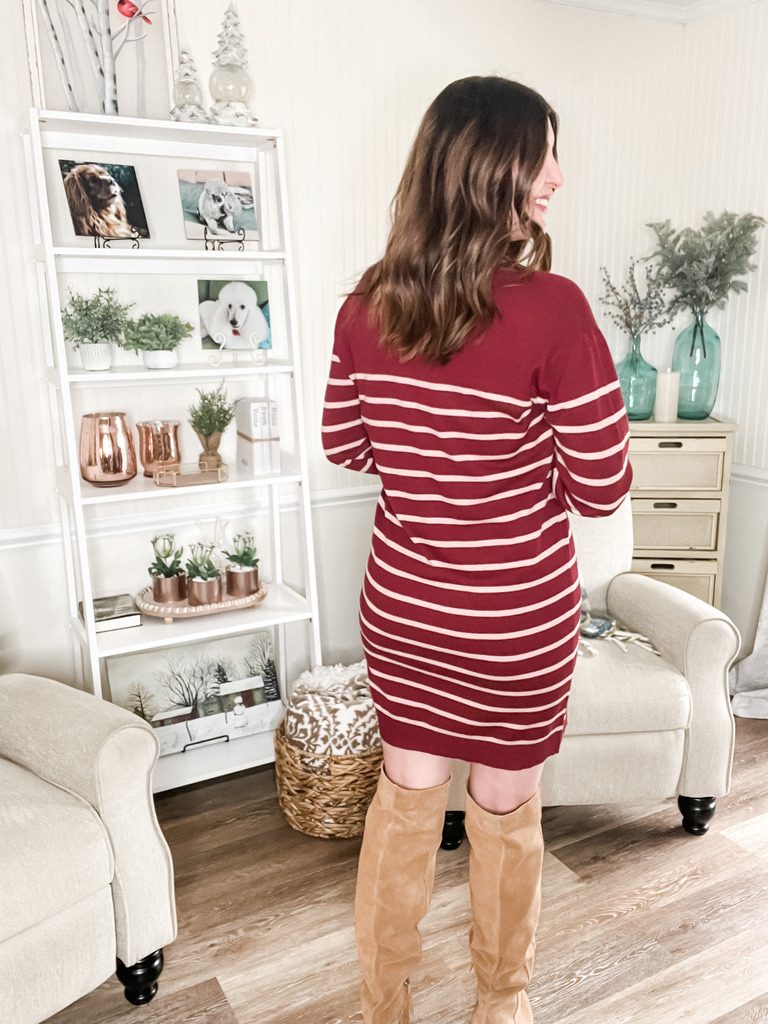 V-Neck Sweatshirt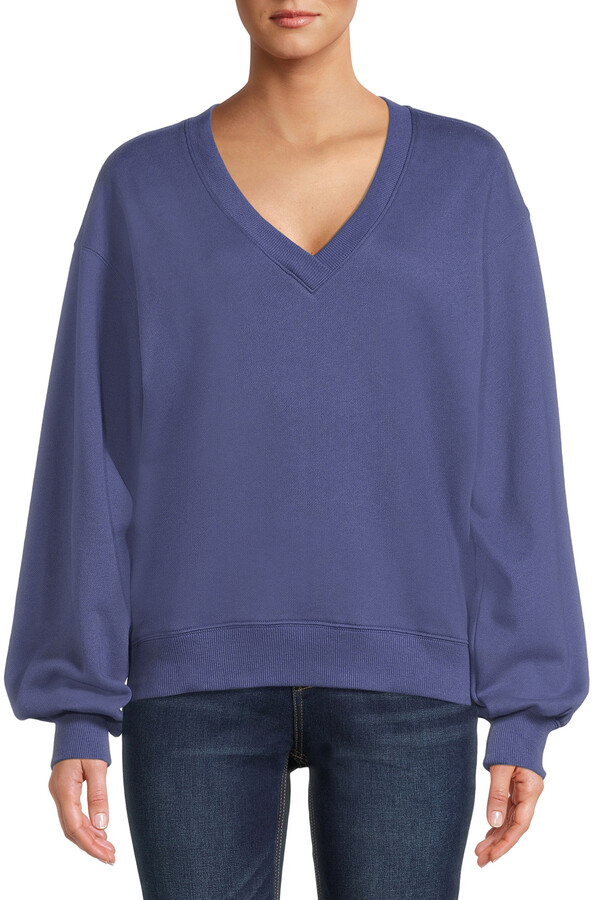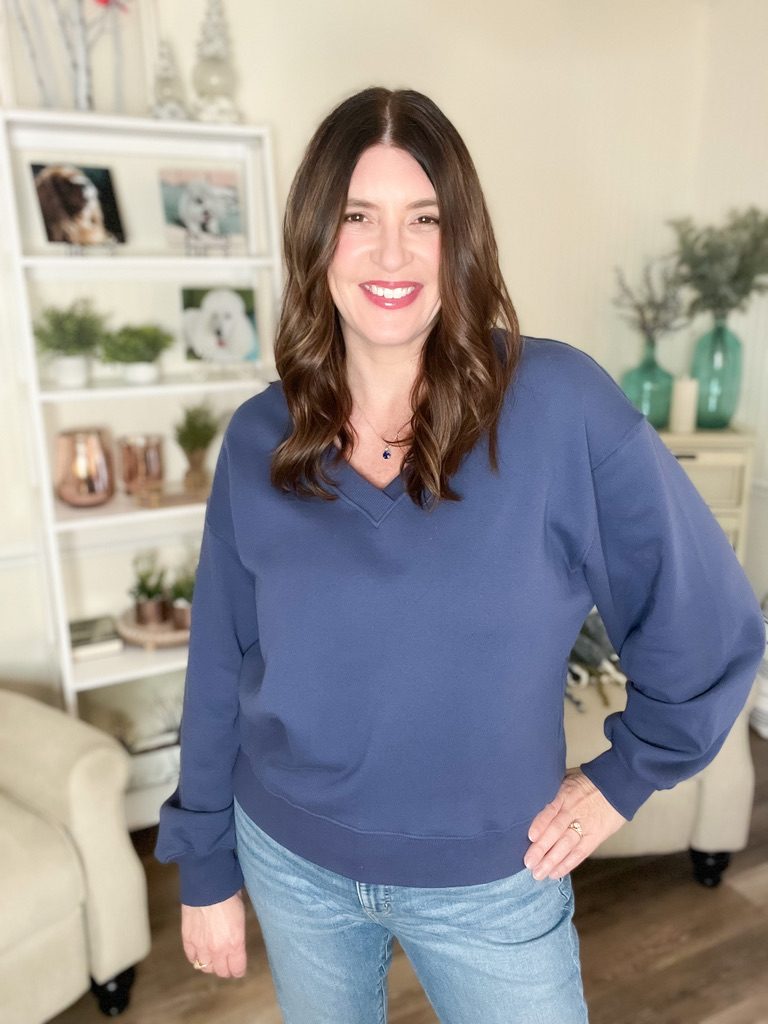 V-neck styles are universally flattering, but v-neck sweatshirts are hard to find. I was excited to try this one by Time and Tru. It has trendy balloon sleeves and has an oversized fit. I'm wearing a medium. It comes in four colors, but the blue seems to be the only one currently stocked. That's okay with me since it was my favorite color anyway.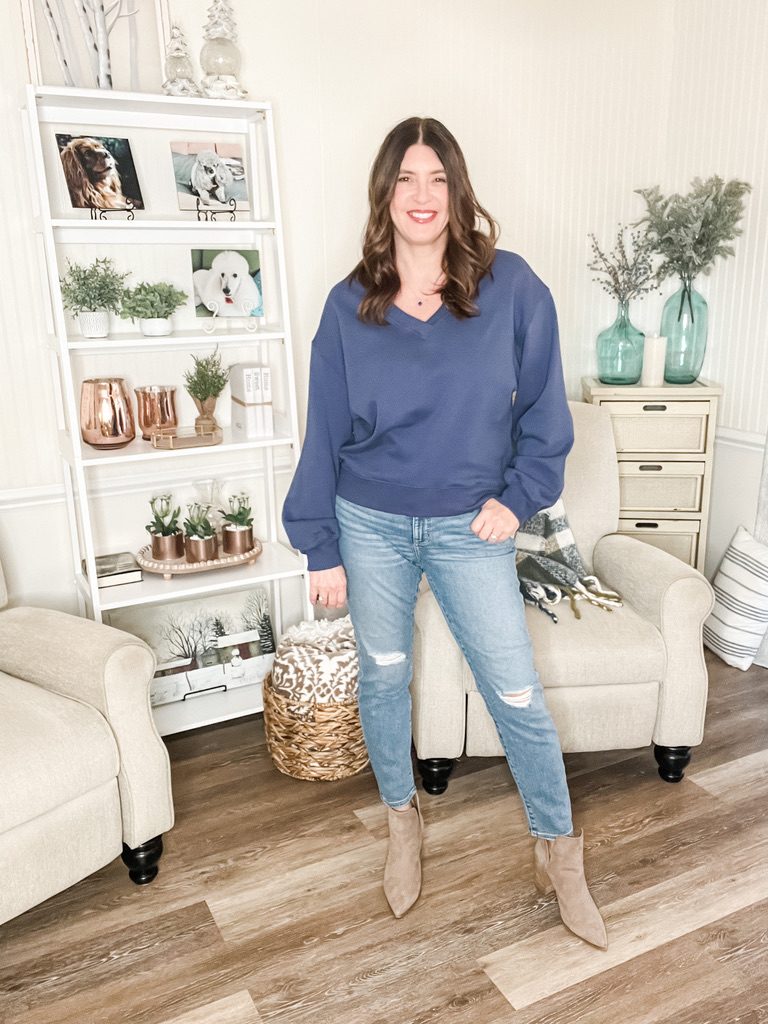 I paired the sweatshirt with my new high rise skinny jeans from Loft. I'm in love with these jeans! I tried the curvy fit this time in a size 8 and they fit perfect. Currently these are on sale, so be sure to check them out if you need some new denim.
Button Cuff Turtleneck Sweater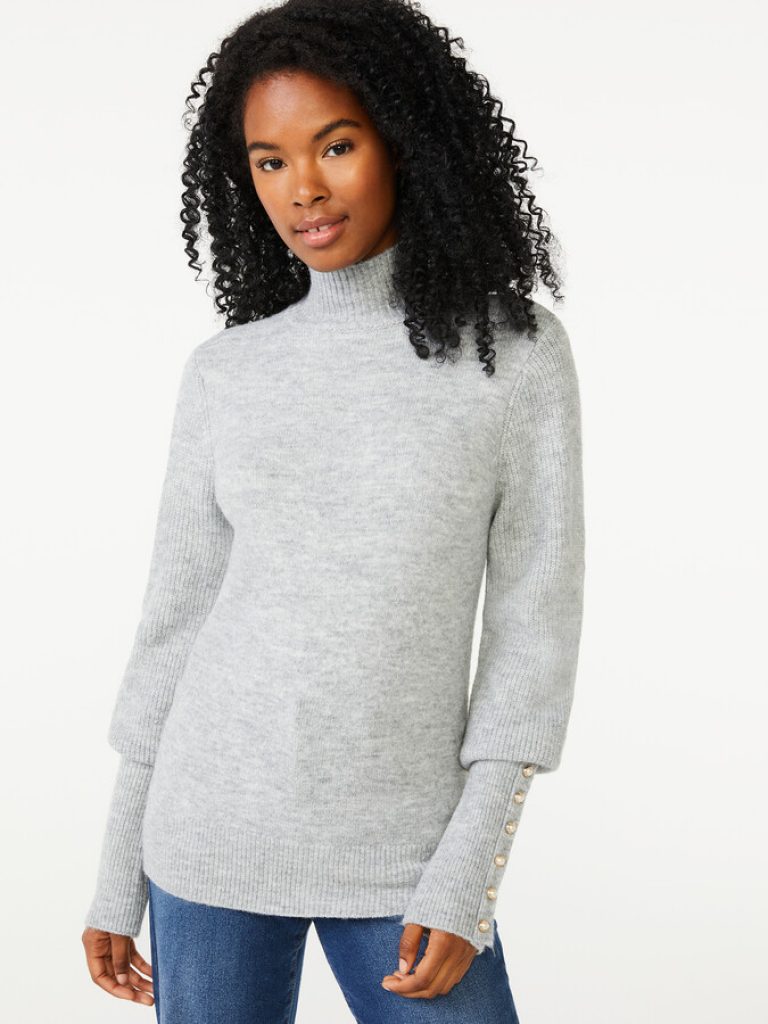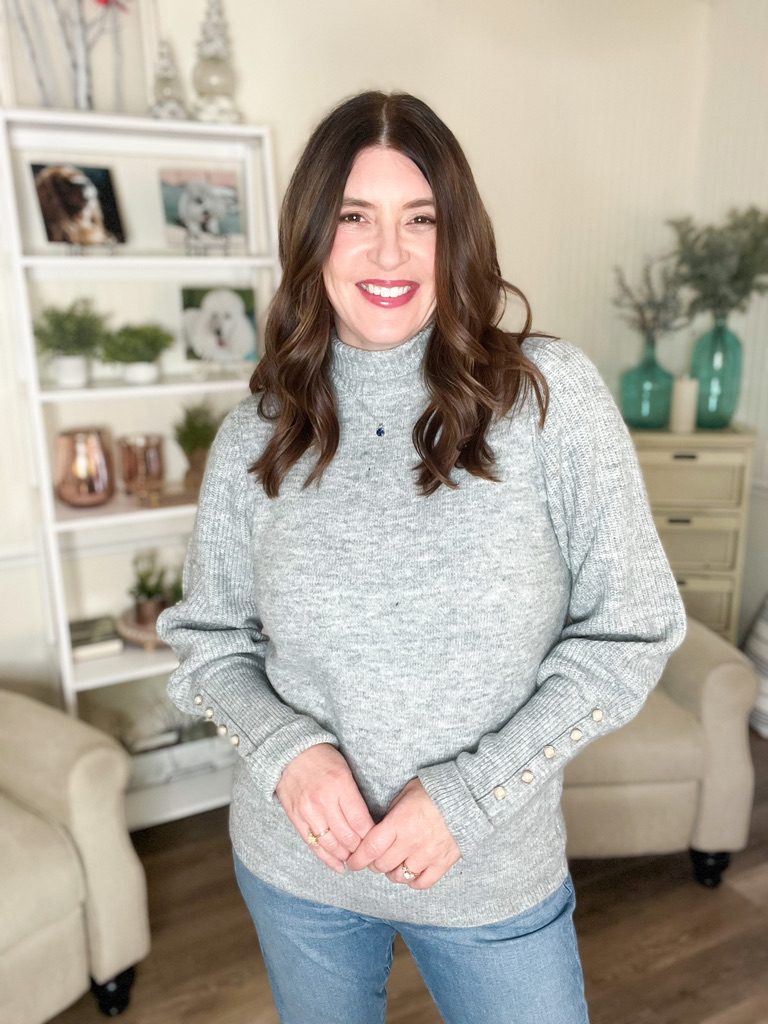 This button cuff turtleneck sweater is one of those pieces that seems much more high end than it actually is. It is by scoop and it's probably my favorite piece from this try on. The button detail on the sleeve is so feminine and the sweater is just overall very flattering. I'm wearing a medium and I would say it runs true to size.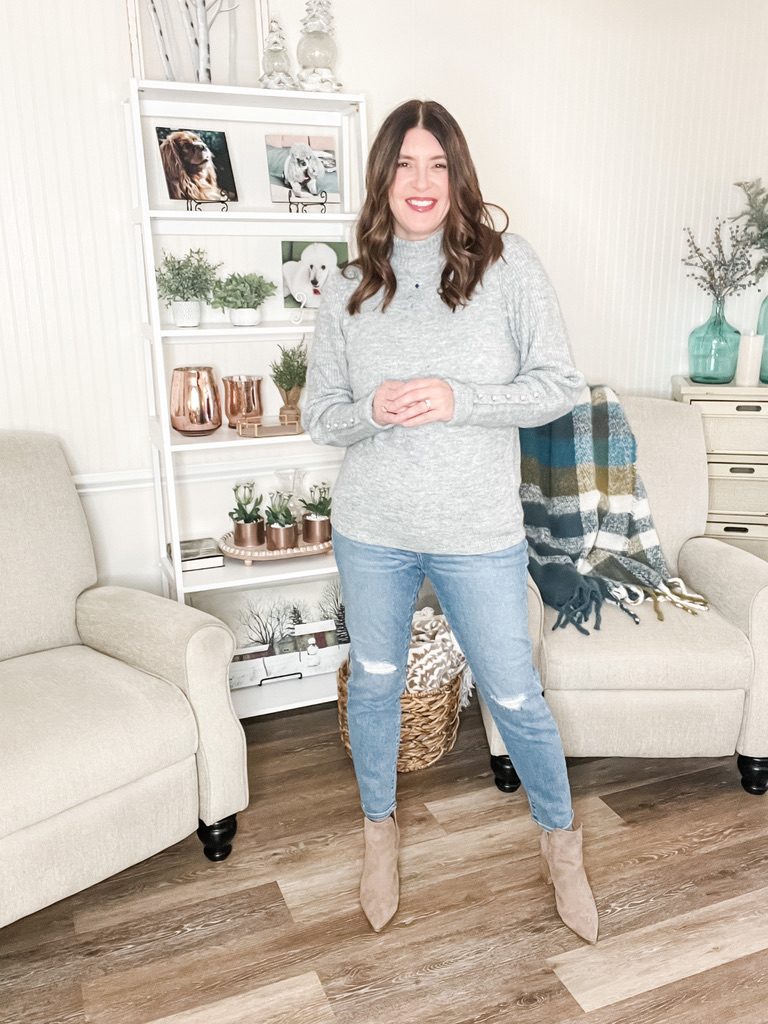 Ribbed Swing Dress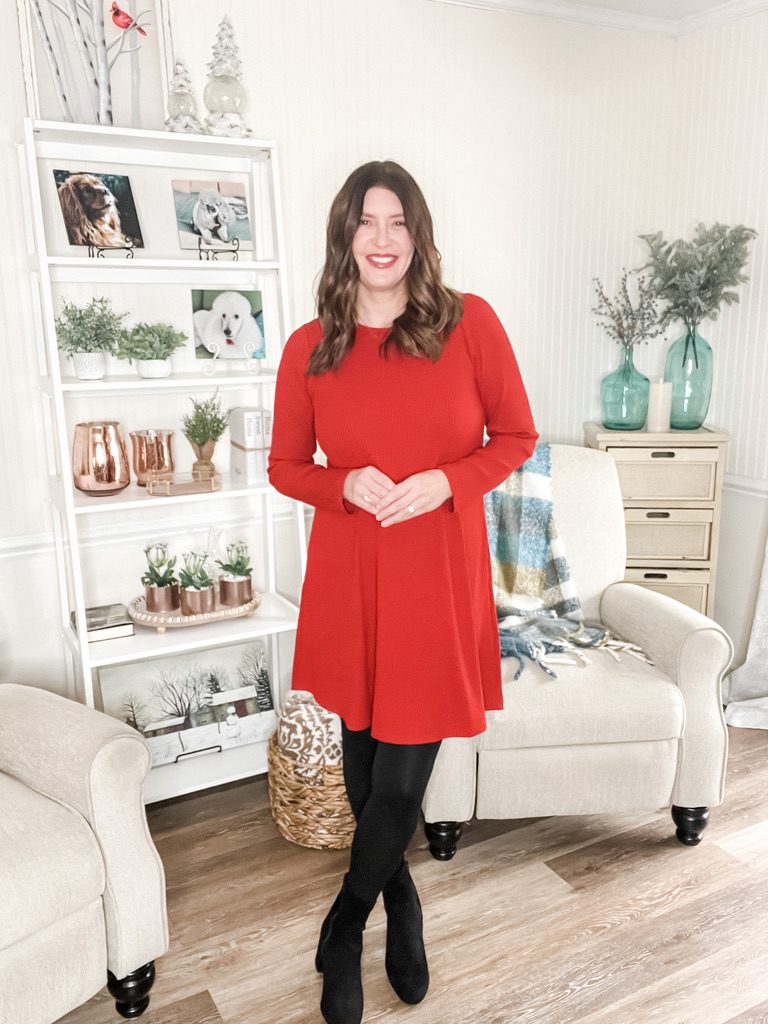 Here is another cute dress by Free Assembly! A swing dress is one of the most versatile styles you can have in your wardrobe. This is also a very affordable dress for $12. You can style it for winter as I have here with tights, and it would also be a good spring dress.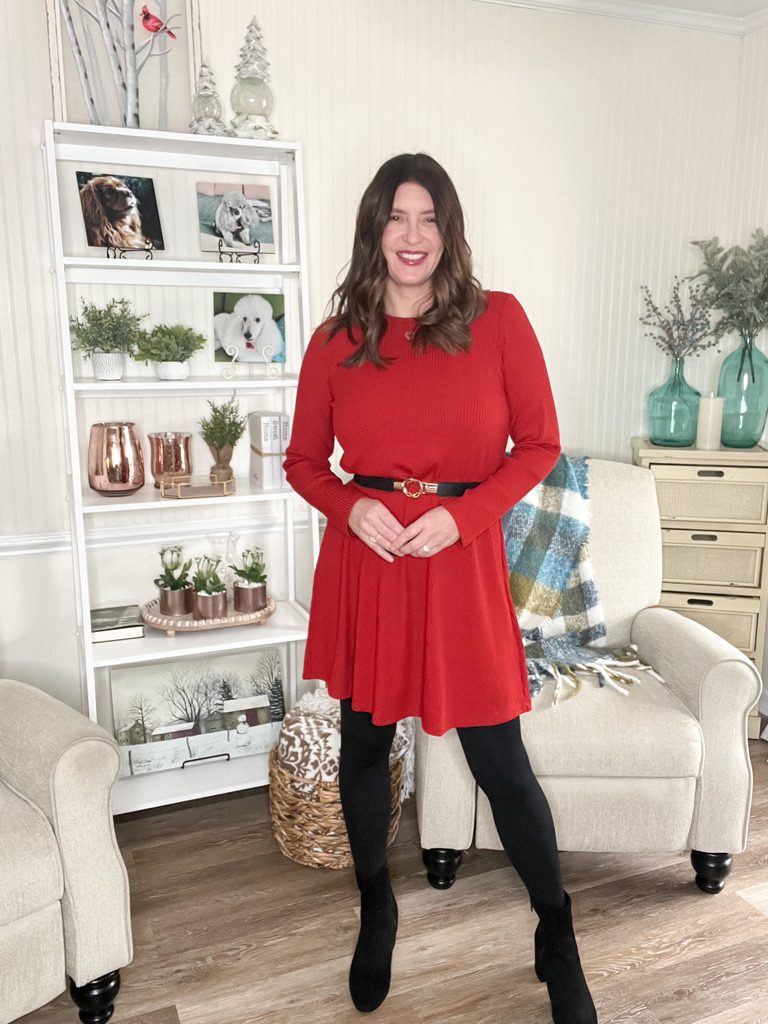 This red would be a good Valentine's Day outfit, but it also comes in other colors. It runs true to size, and I'm wearing a medium. I'm showing it with and without a belt. Depending on your shape, you can choose to wear it either way. I personally think that my body typed looks better with the dress belted.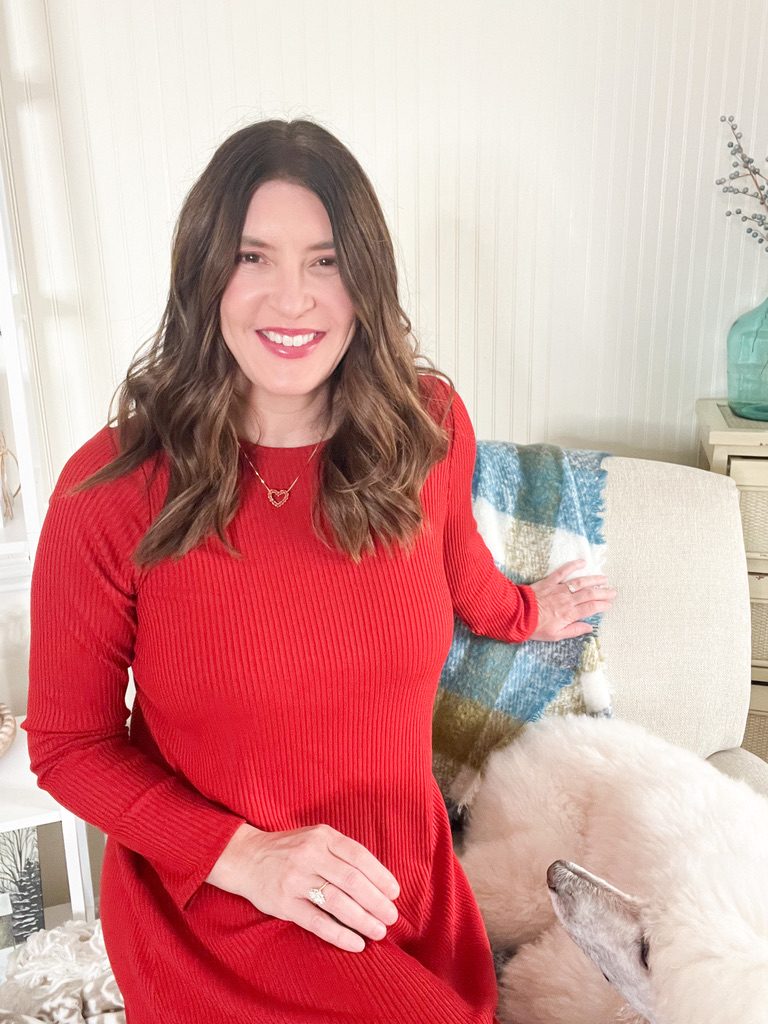 Velvet Puff Sleeve Top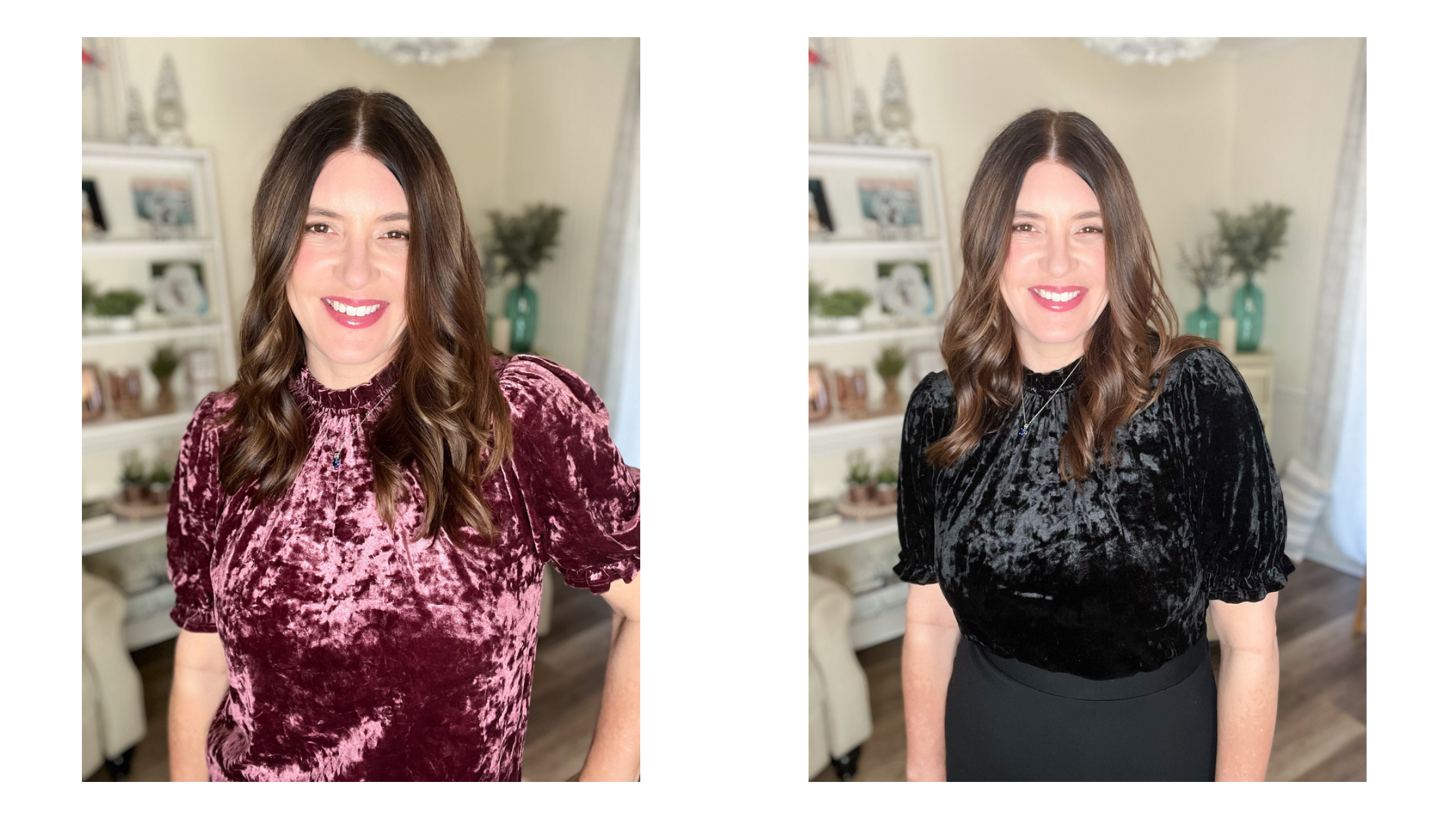 This velvet puff sleeve top is a romantic looking piece that would be perfect for a date night or special occasion! I bought it in two colors since it was on sale. The burgundy is a size large and the black is a size medium. I couldn't tell a big difference in the sizes, but the large did fit me better through the chest.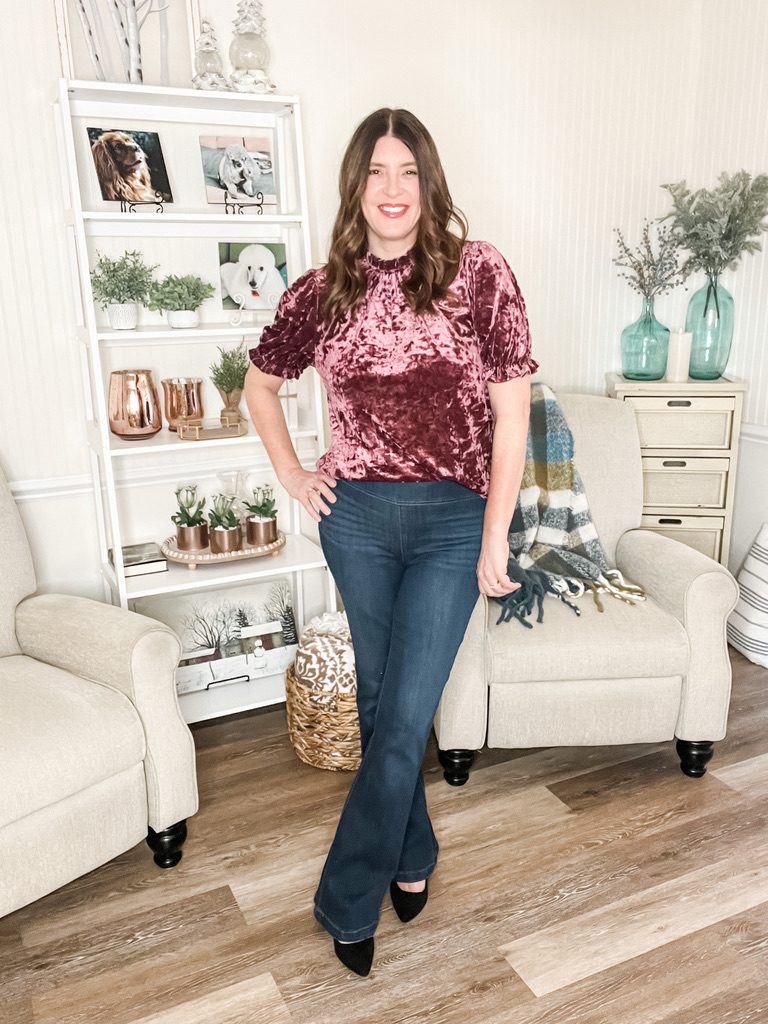 Here are a couple of examples of how to style this top. Above, I chose my Sophia Vergara flared jeans with some black heels. Below, I stepped in up a bit with a monochromatic look featuring a black skirt, tights, and black tall boots.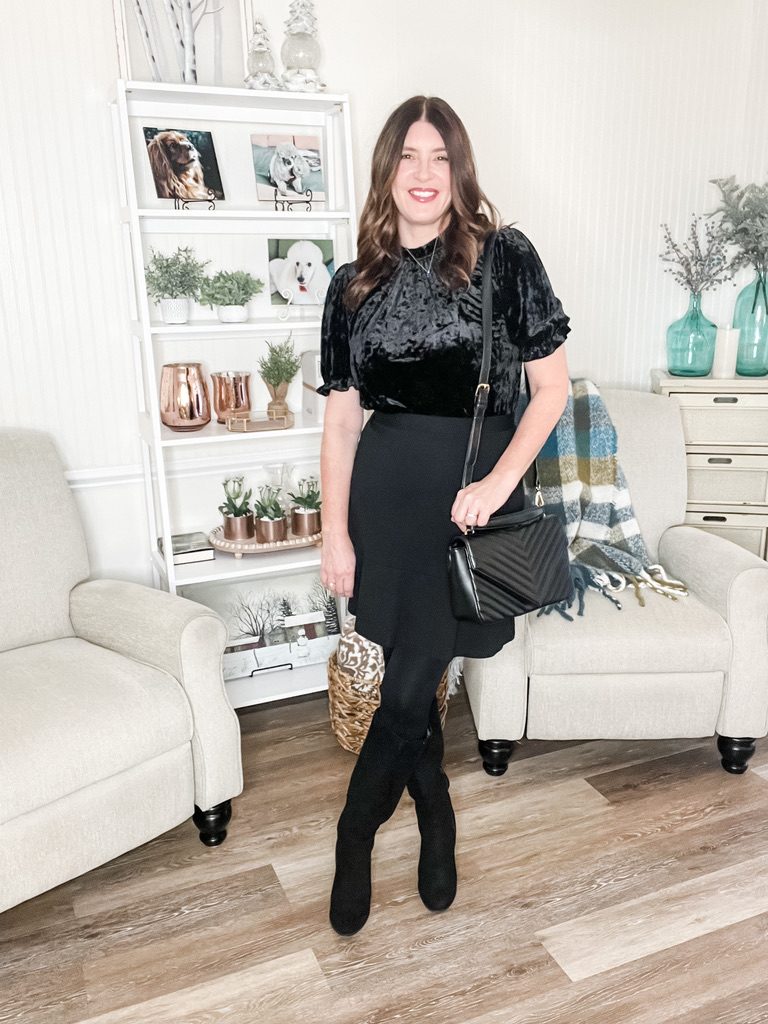 Time and Tru Sweatshirt Dress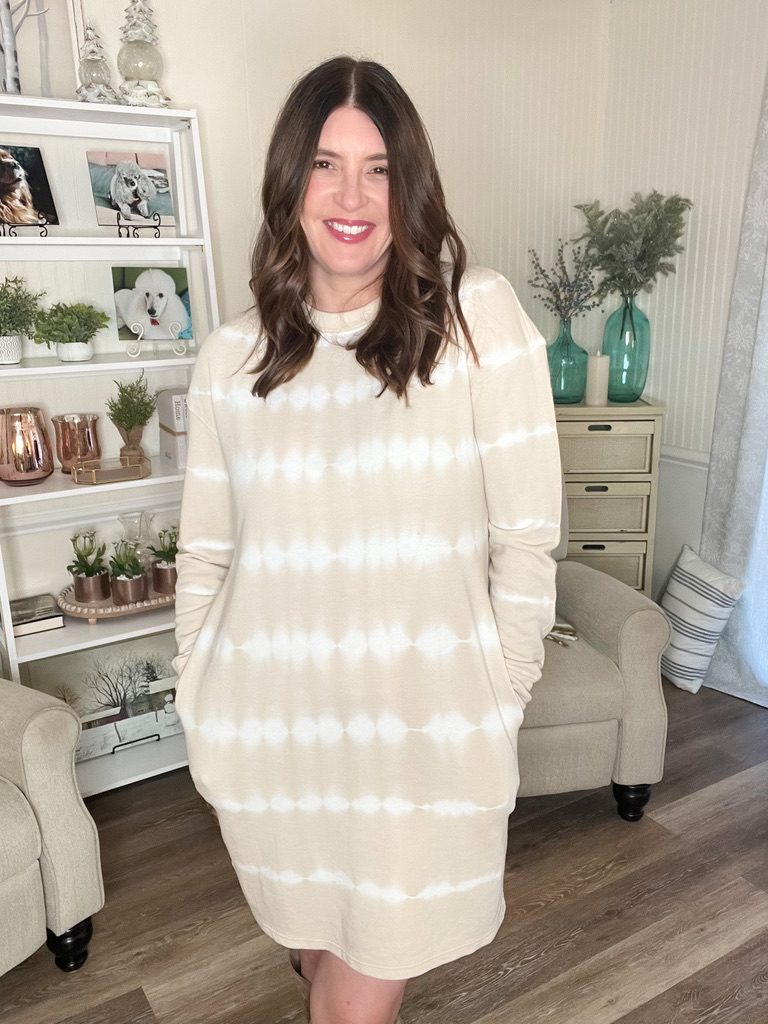 Although I'm not personally a big fan of tie dye, I am a big fan of a sweatshirt dress! I saw this dress in my local Walmart store, and since the colors are light neutrals, the tie dye did not bother me.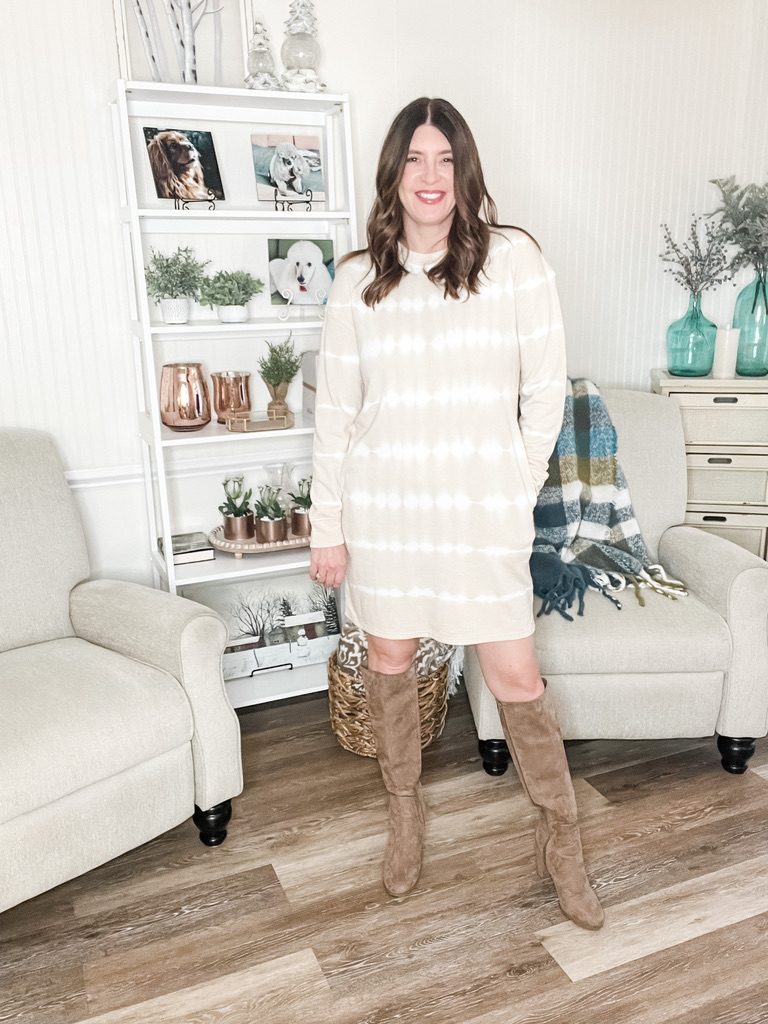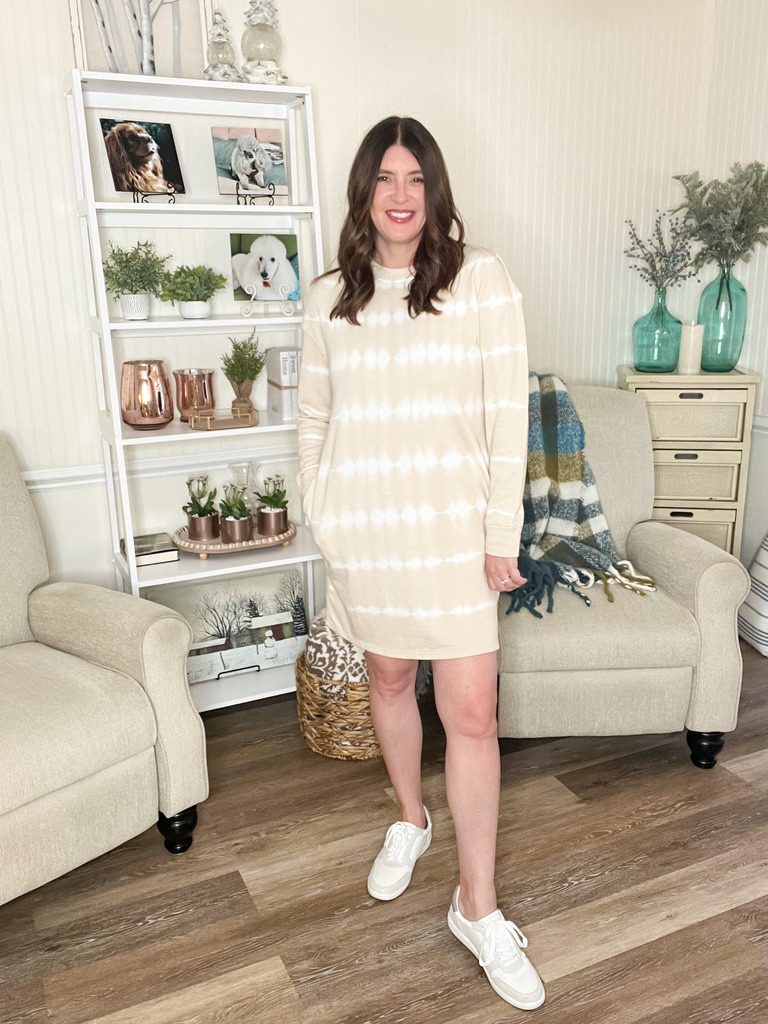 This is one of those pieces that can almost take you year around…I styled it here with sneakers and with boots. I love a piece that is casual, comfortable, and stylish at the same time. This does come in two other colors. I'm wearing my usual size medium.
Velour Lounge Top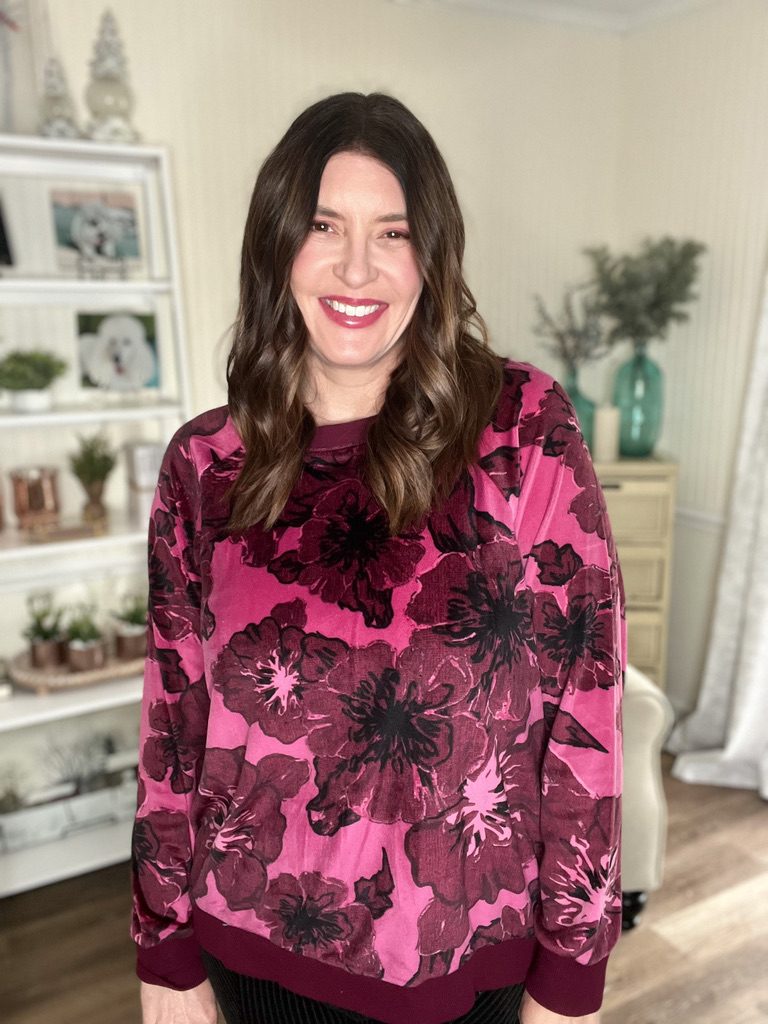 Next, I have a velour lounge top by Secret Treasures. I'm showing this pink and black floral, but I also have this same top in several solid colors. It's amazingly soft…like all secret treasures pieces are and you could easily wear this piece out of the house if you want to.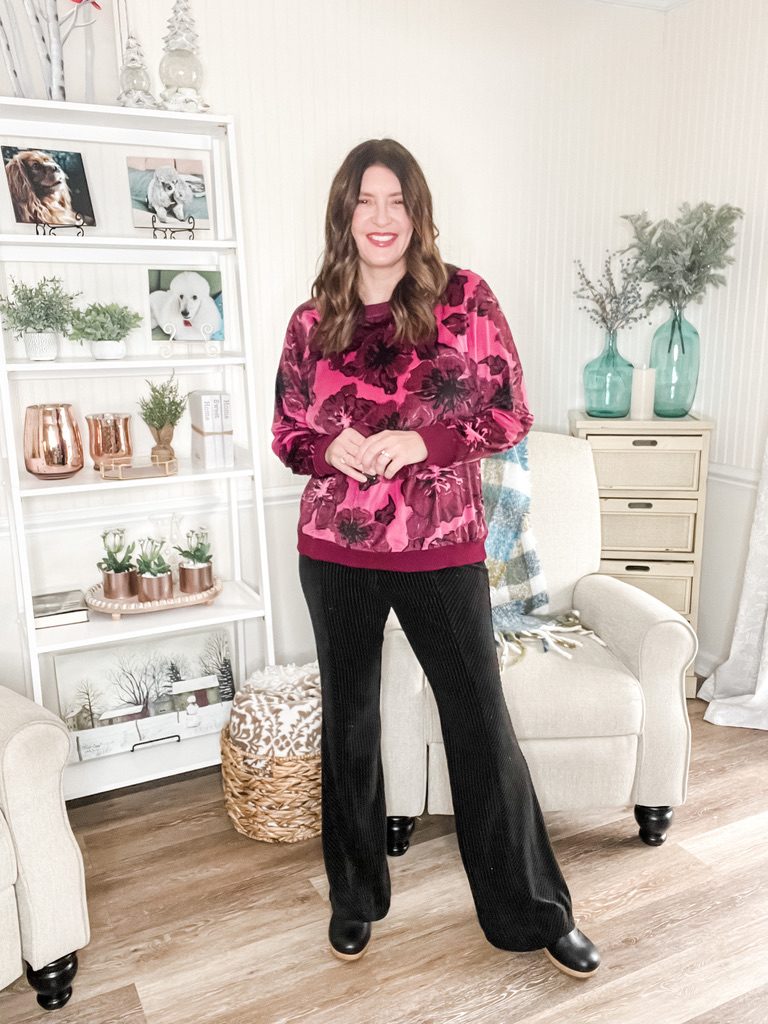 Here, I styled it with my corduroy flare pants by No Boundaries. I sized up to a large in these since they are a junior brand.
Puff Sleeve Sweater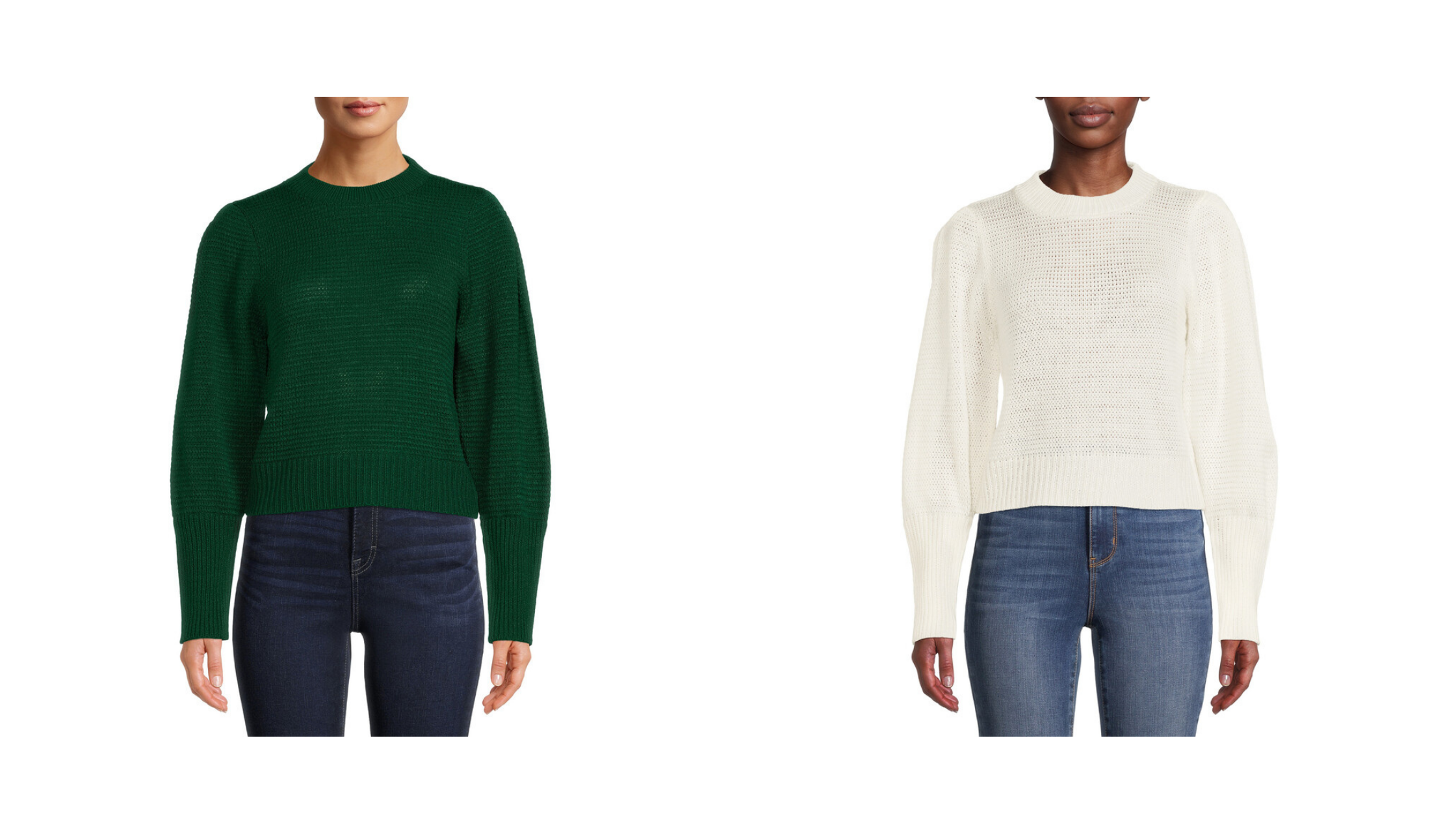 The last clothing item in my weekly Walmart find for today is this puff sleeve sweater by Time and Tru. Currently, it is on sale for $6! I normally wear a medium in Time and Tru, so I ordered this sweater in two colors in a size medium. I realized when they came that they run small and are more cropped than I realized from the online photo. I decided to just give them a try and see how they looked.
Green Puff Sleeve Sweater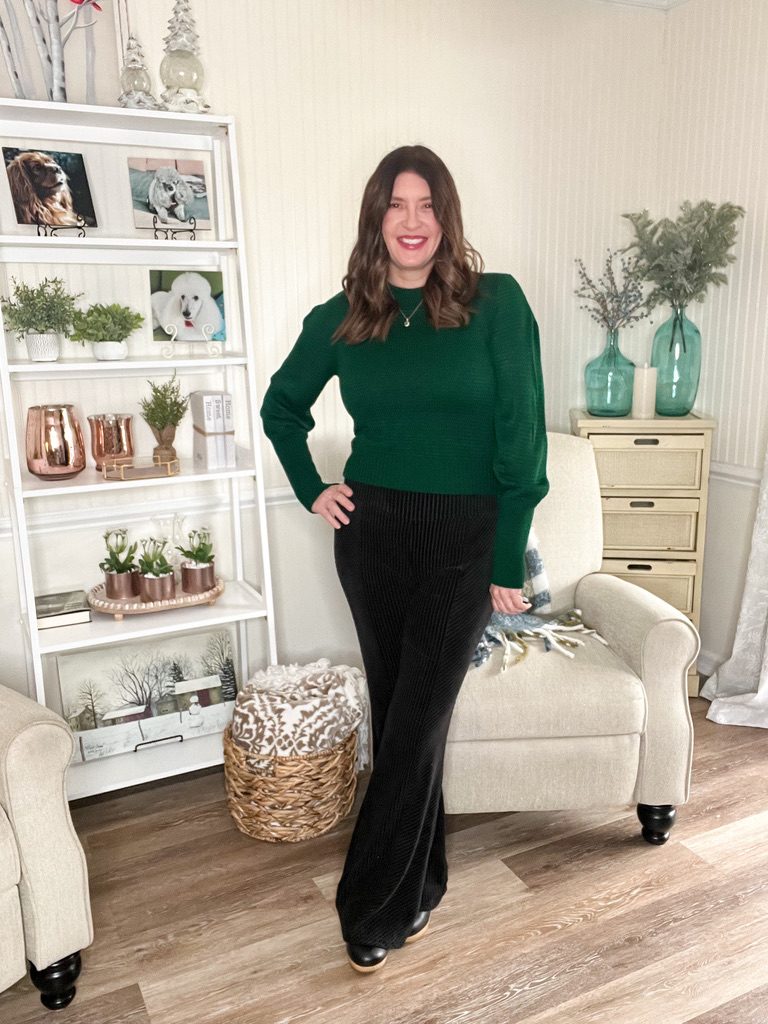 First, is this dark forest green. I paired it with the same flare pants from the previous photo. Since this sweater is cropped, I needed to wear some really high waisted pants. I realize this style is not for everyone, but if you like a cropped style this might work for you.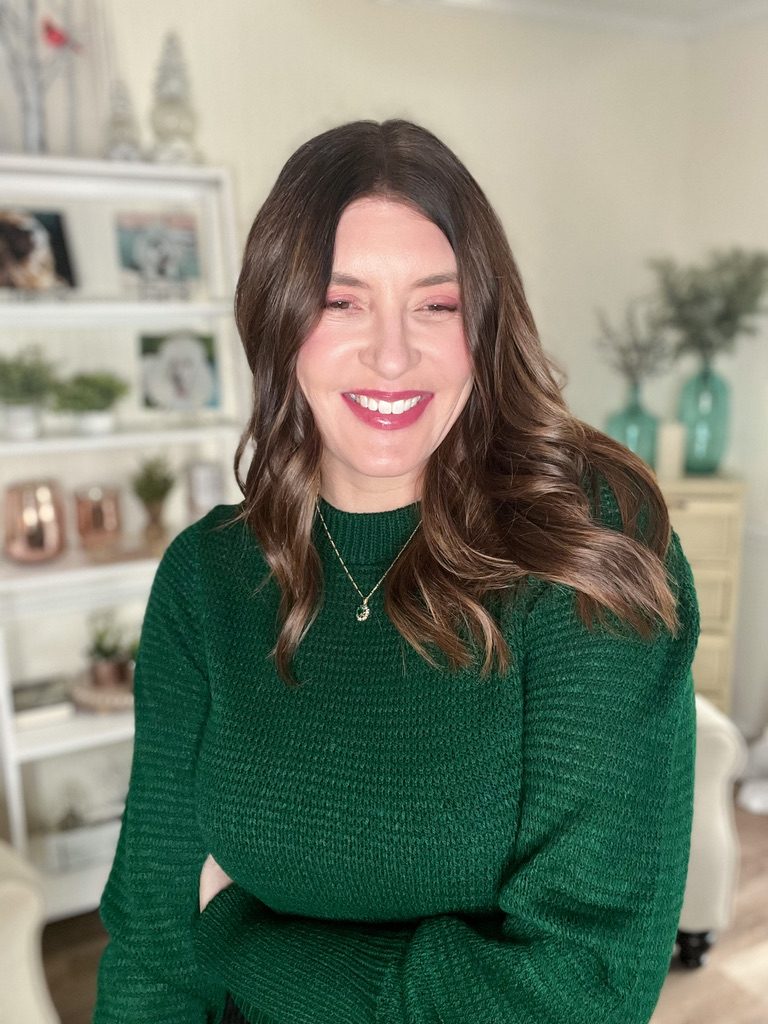 Also, you need to know that these sweaters have a very loose knit, and are see through. I wore a black bra and cami under the green sweater and that worked out nicely.
White Puff Sleeve Sweater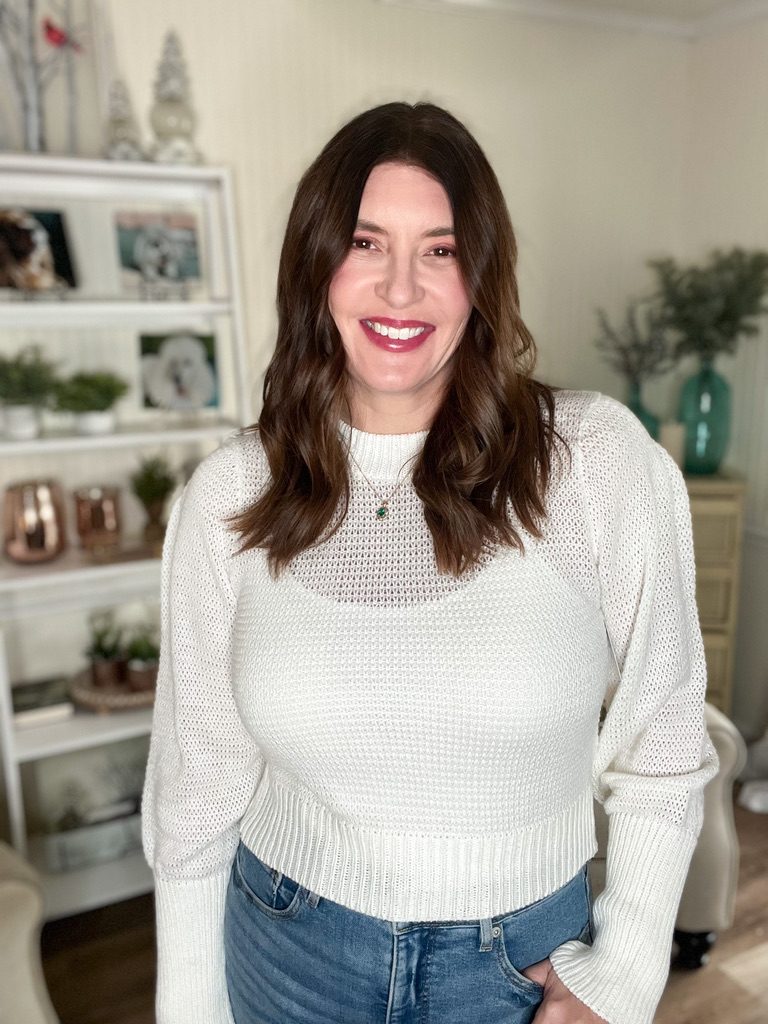 Here is the same sweater in white. You can really tell in this color how see through it is. This time I wore a nude bra and white cami, but you can still see the outline of the cam very clearly. For that reason, I'm not a fan of the white version. Also, keep in mind that I have a very long torso so this sweater may not be as cropped on you as it is on me.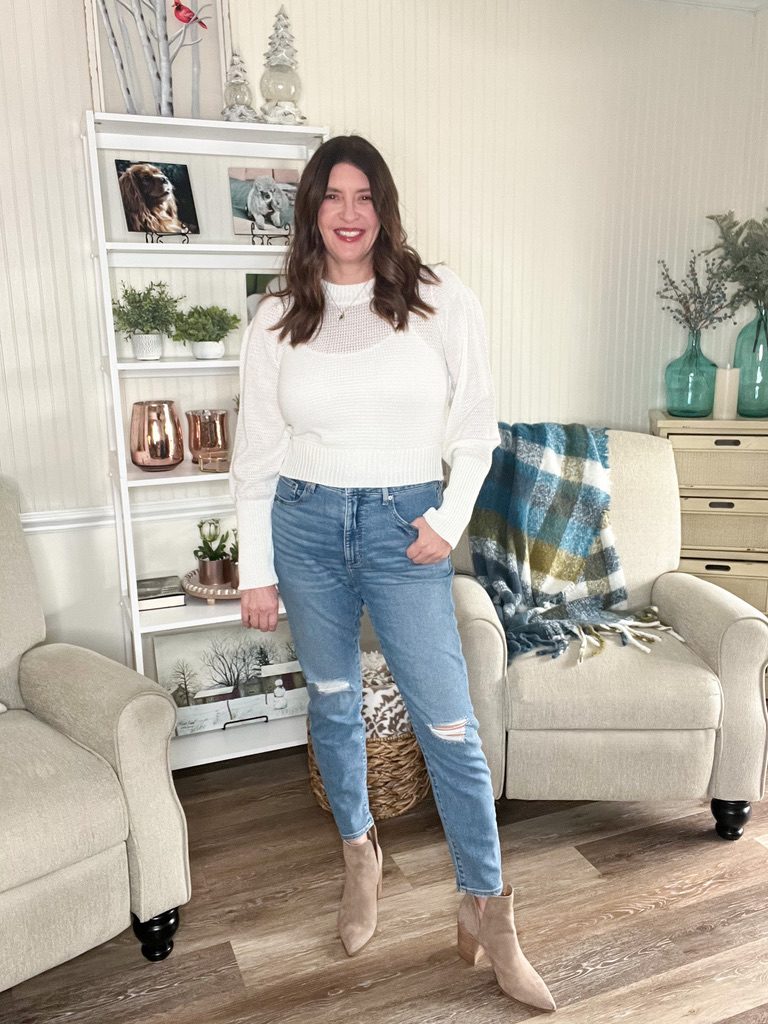 I paired the white sweater with some distressed light wash jeans from Loft.
I decided to return these sweaters and I ordered the green and a navy in a large. I'm hoping the larger size will fit a little better and the darker color will not be as see through.
Handbags
I have two handbags to share with you from Walmart. They are both tote style bags, but they look very different.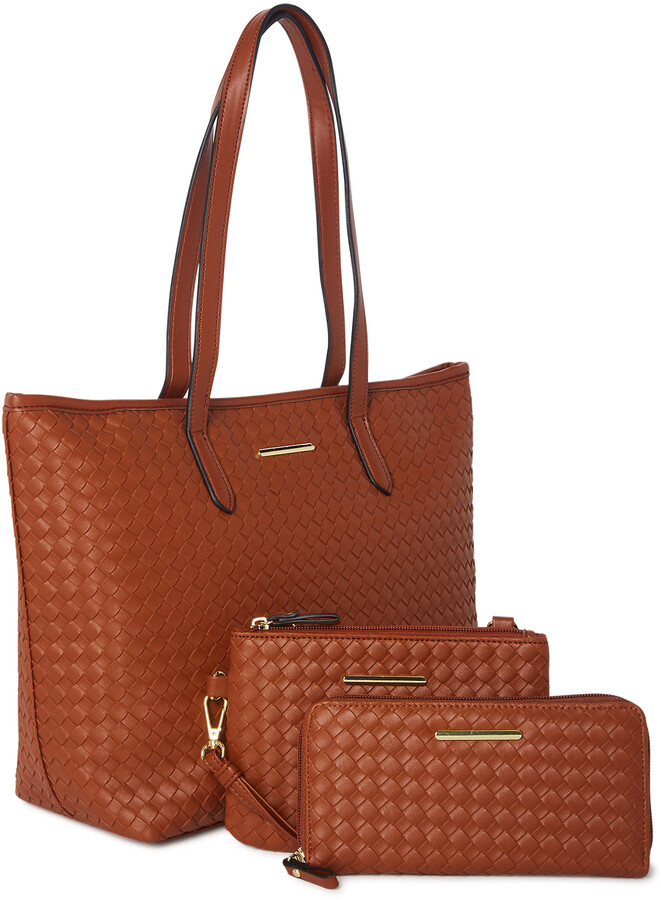 First is this 3-Piece Woven Handbag Set in Cognac. This is a great bag and such a bargain at $22.97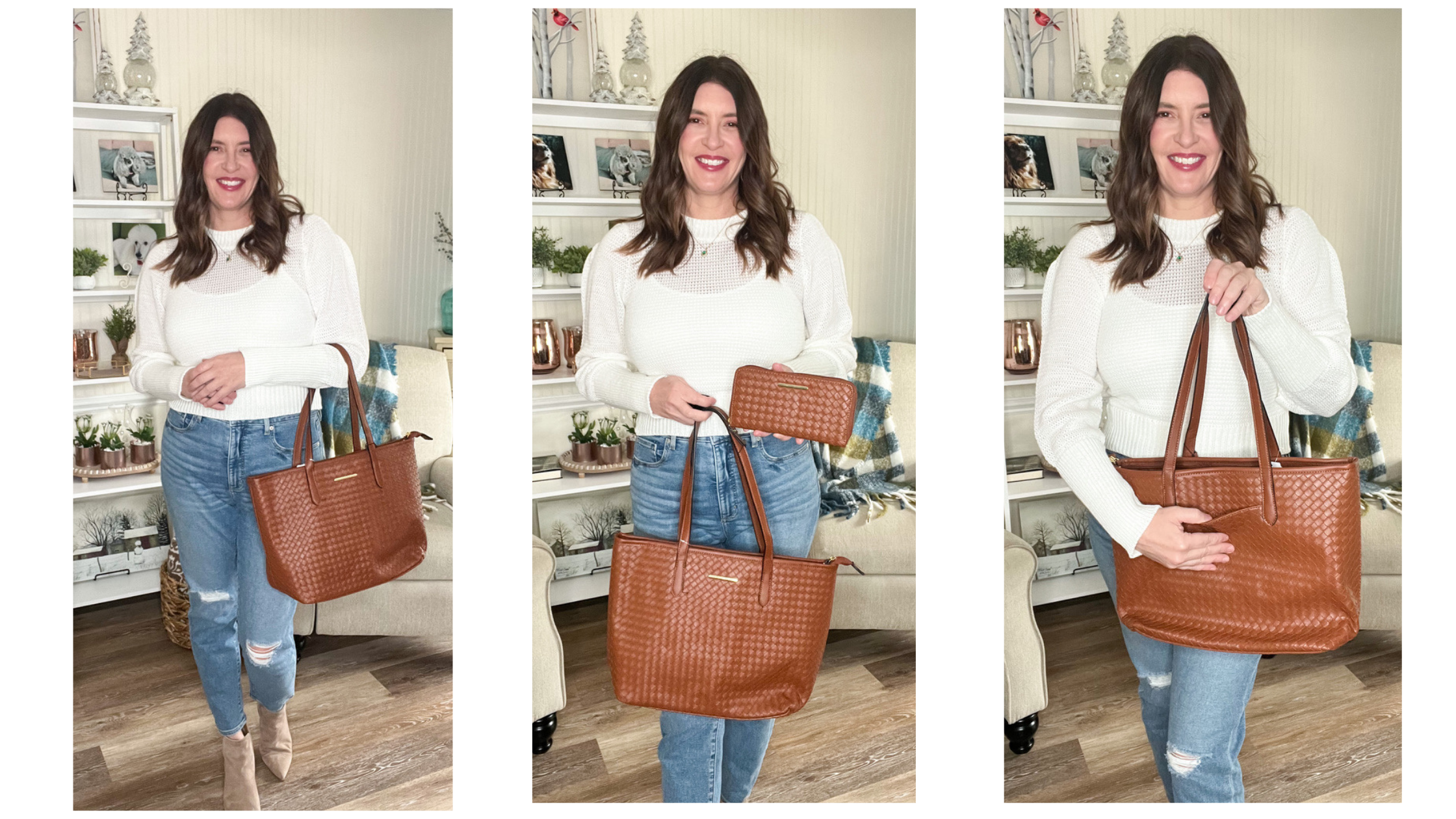 This set includes the tote, a wallet, and a wristlet! I love the Cognac and there are also several other colors to choose from.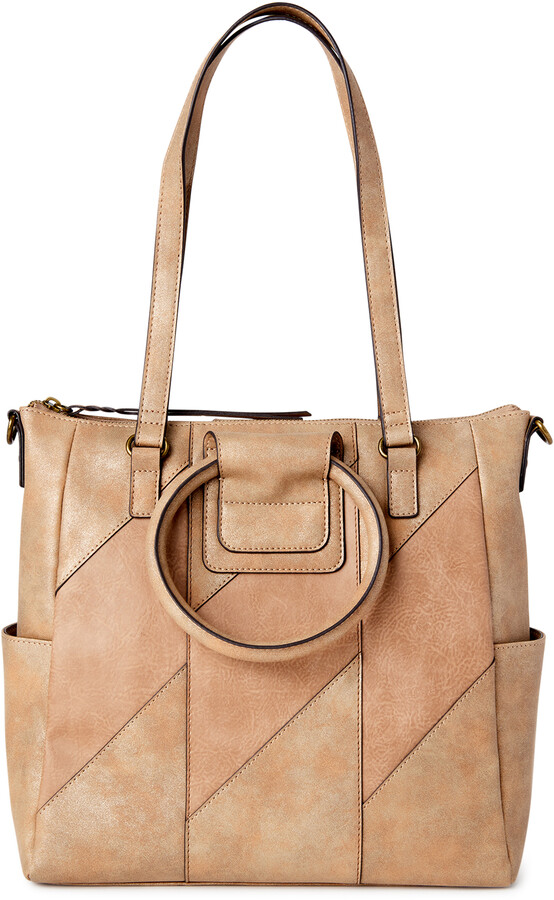 Giselle Convertible Tote Bag: This bag can be worn three different ways, depending on which strap you use. I chose the light neutral tone, but it also comes in Cognac and Black.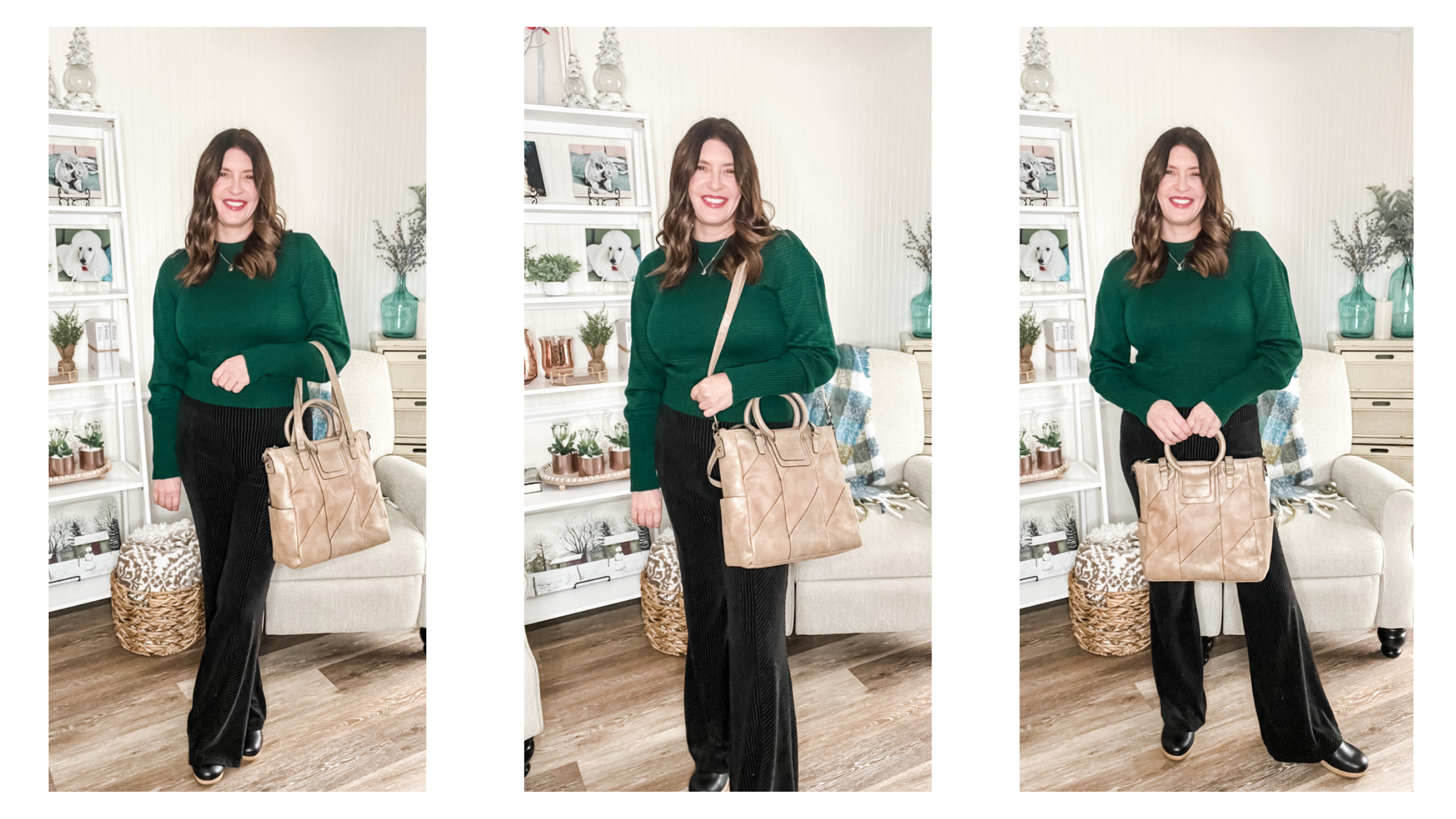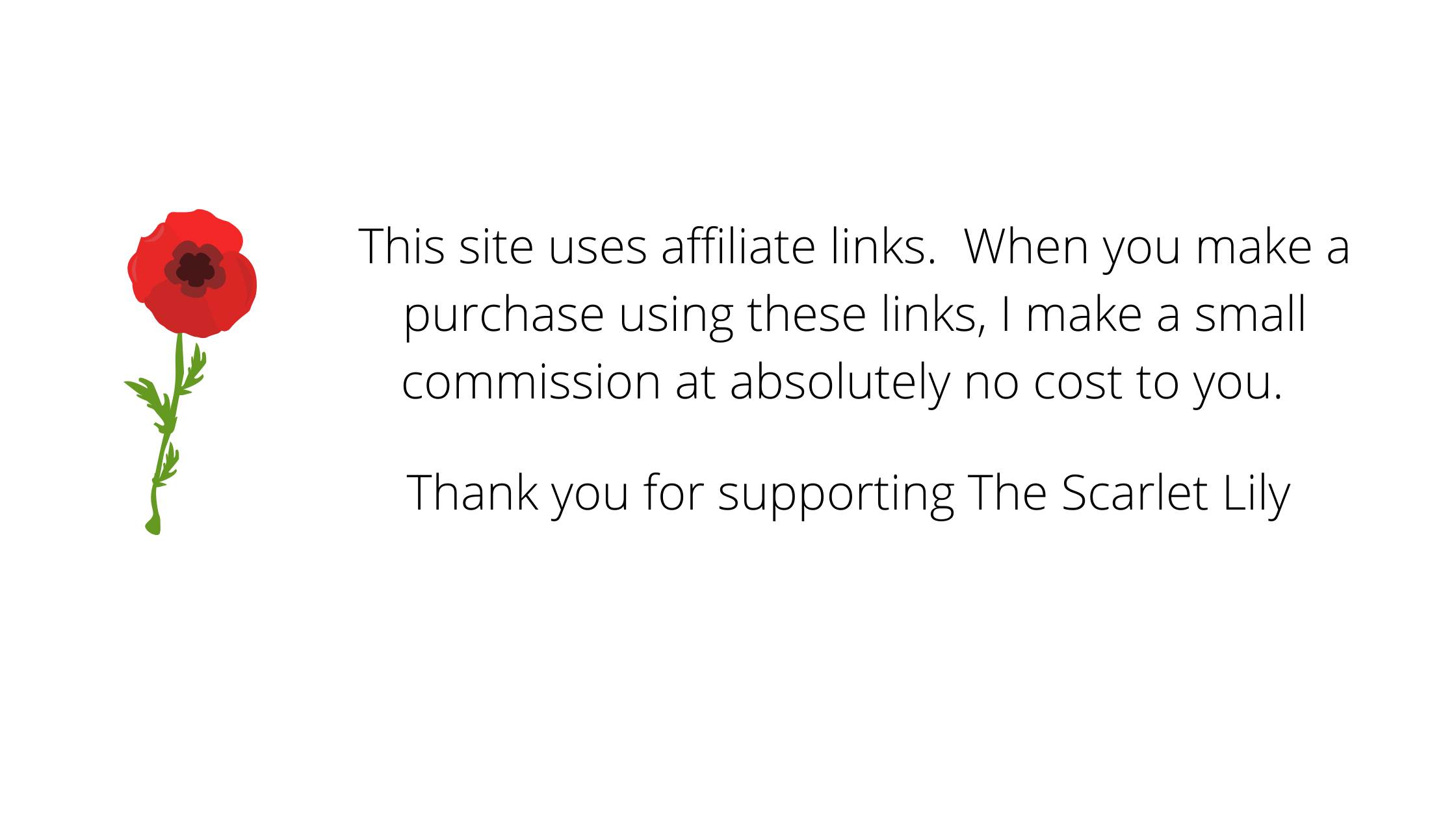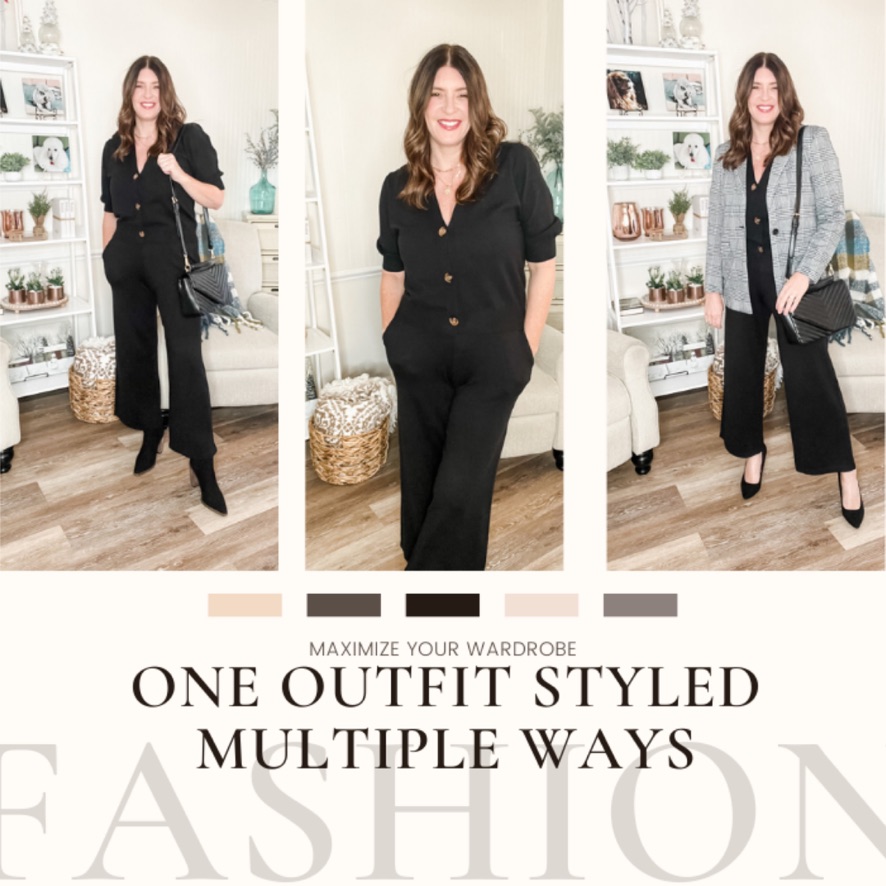 If you missed last weeks post, be sure to check out several ways to style this cute outfit from Walmart.