Our homes can look pretty sad after all the Christmas decorations have been taken down and put away. Although getting rid of some of the clutter can be refreshing, things can look a bit bare and depressing as we head into the coldest months. Here are some ideas to brighten up your home decor for Winter.
General Tips
If some of your Christmas decor is more "winter" themed, then leave it up and enjoy it for a couple more months.
Add in some bright colors to brighten the room
Plants…either real or artificial always brighten up a space and can lift your mood
Cozy pillows and throws will create an inviting space
Open the blinds and let the sun shine in your home
Use candles and accent lighting
Re-arrange the furniture for a fresh look
I concentrated on two rooms when I updated my decor for winter, so I'll show you those spaces which are my office space and our living/dining area.
My Home Office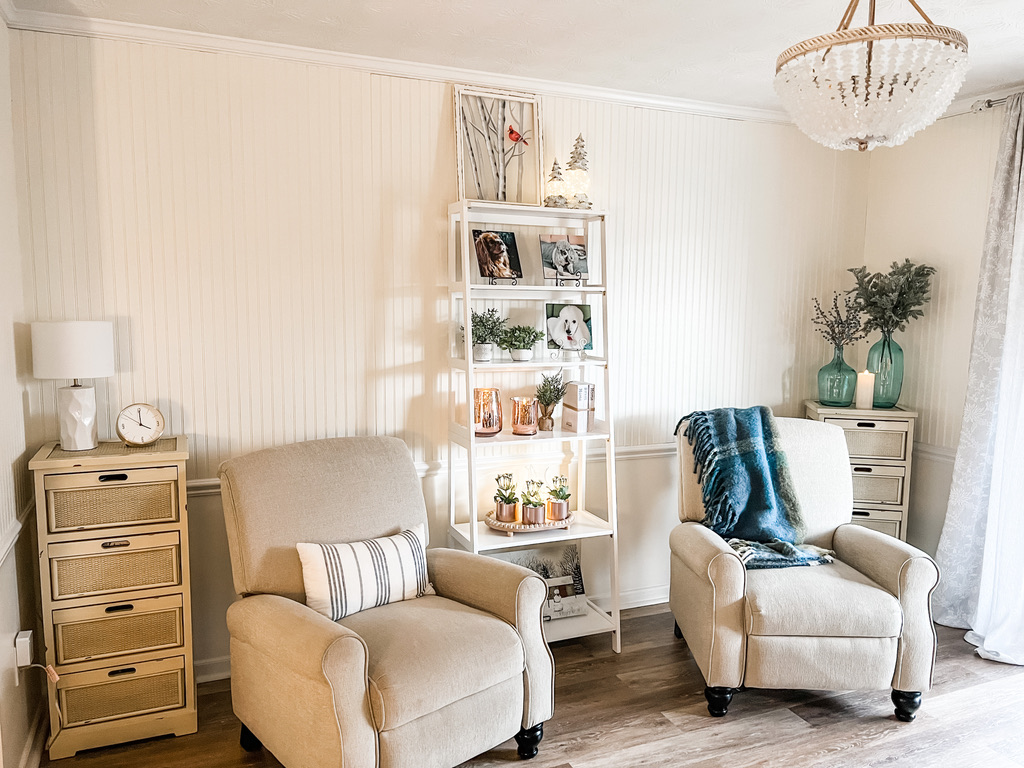 My home office in our new home is technically the dining room, but I chose to use it for my office since our living room is open and quite large. I put the dining table on one side of the living room and the sofa, tv, ect. on the other side, which you will see in a bit.
I take a lot of photos in my home office space, and I do all of my blog work here; however, since it is out in the open it also needs to function as part of our living space and it needs to look nice and neat. My desk and workspace is on the opposite wall, but this wall functions as a sitting area.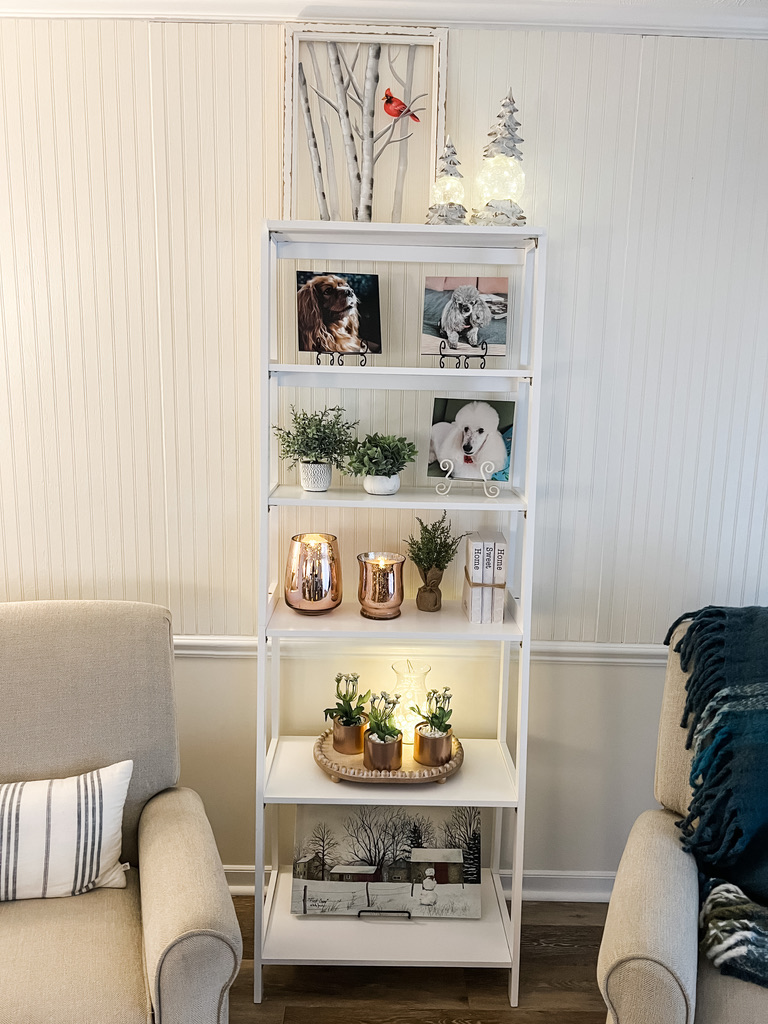 The main focal point is my 5 tier white bookcase, so I spend most of my time and effort decorating it. It came from Amazon and I love it because it is nice and tall. It has seen many looks since I got it last year.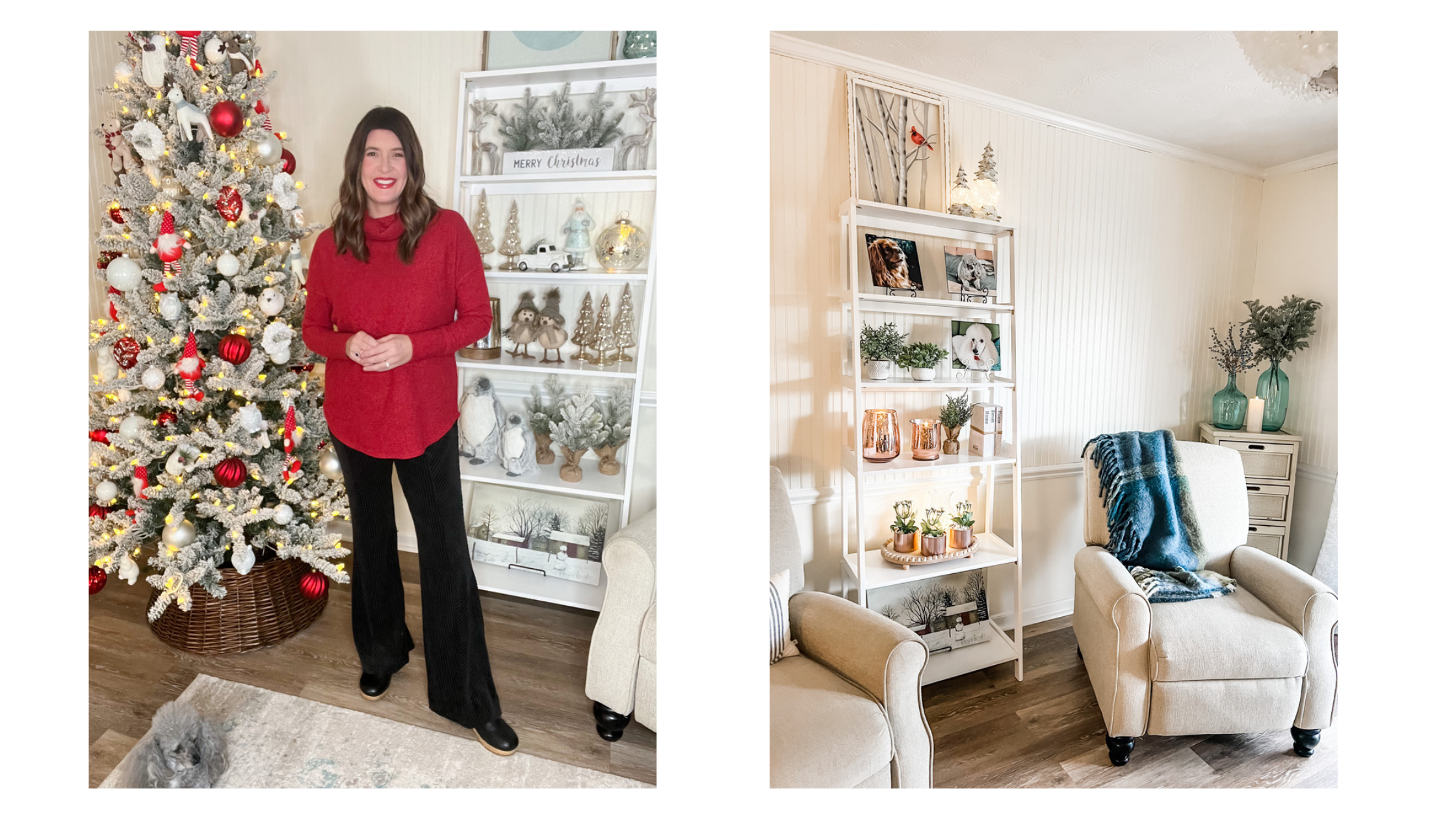 Here is how I had it decorated for Christmas and then how I have it now. I added some new pieces that I got for Christmas which include: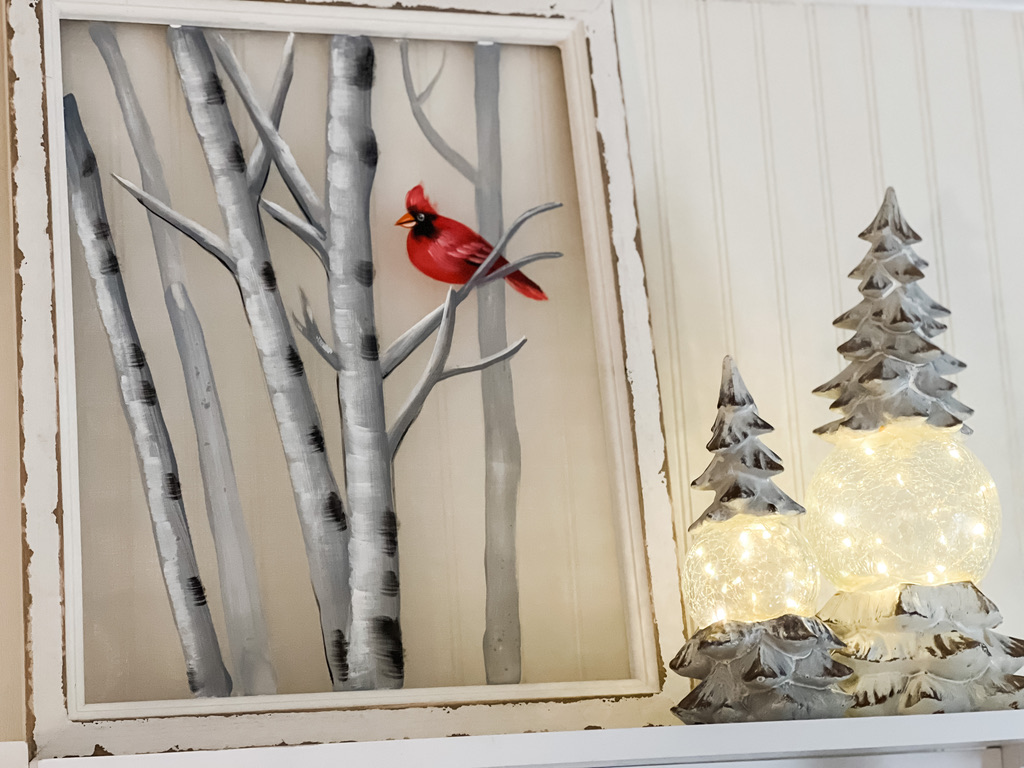 This winter scene with the red cardinal and the two light up trees were a gift from my husband. They came from one of my favorite home decor stores called New Blue Home and Gift. It is located in the quaint town of Blue Ridge, Ga. If you are ever there, be sure to check it out. Here is a link to their Facebook page.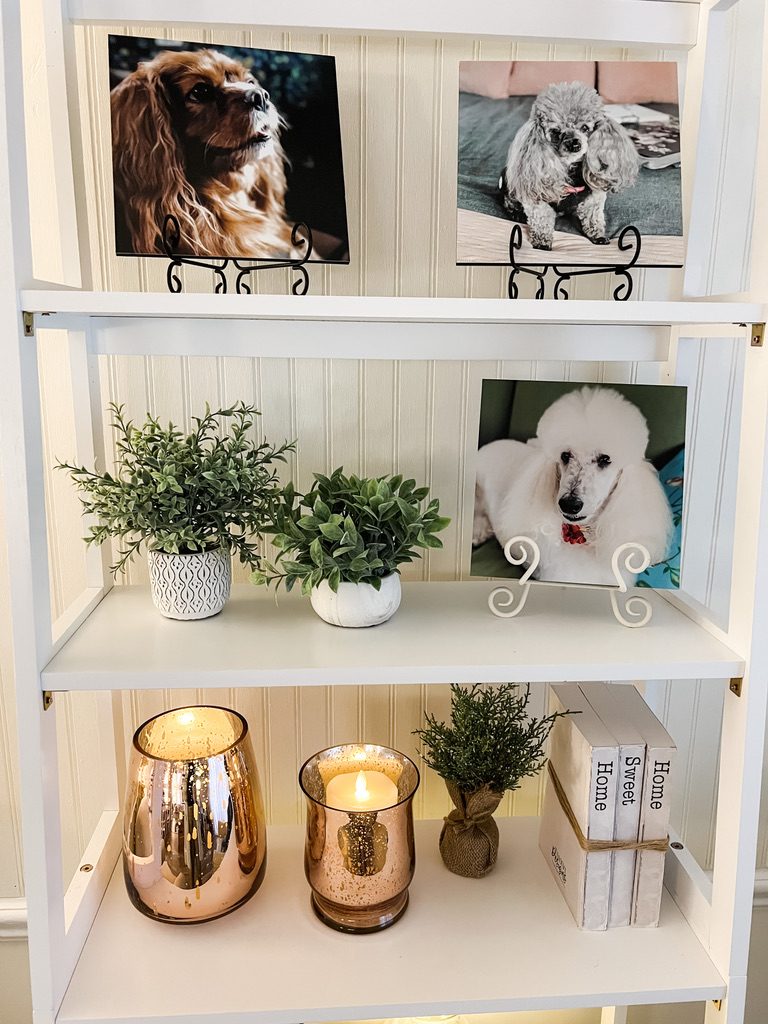 Notice the portraits of my sweet dog children! My daughter had these printed for me for Christmas and I just love them. She ordered them from Snapfish.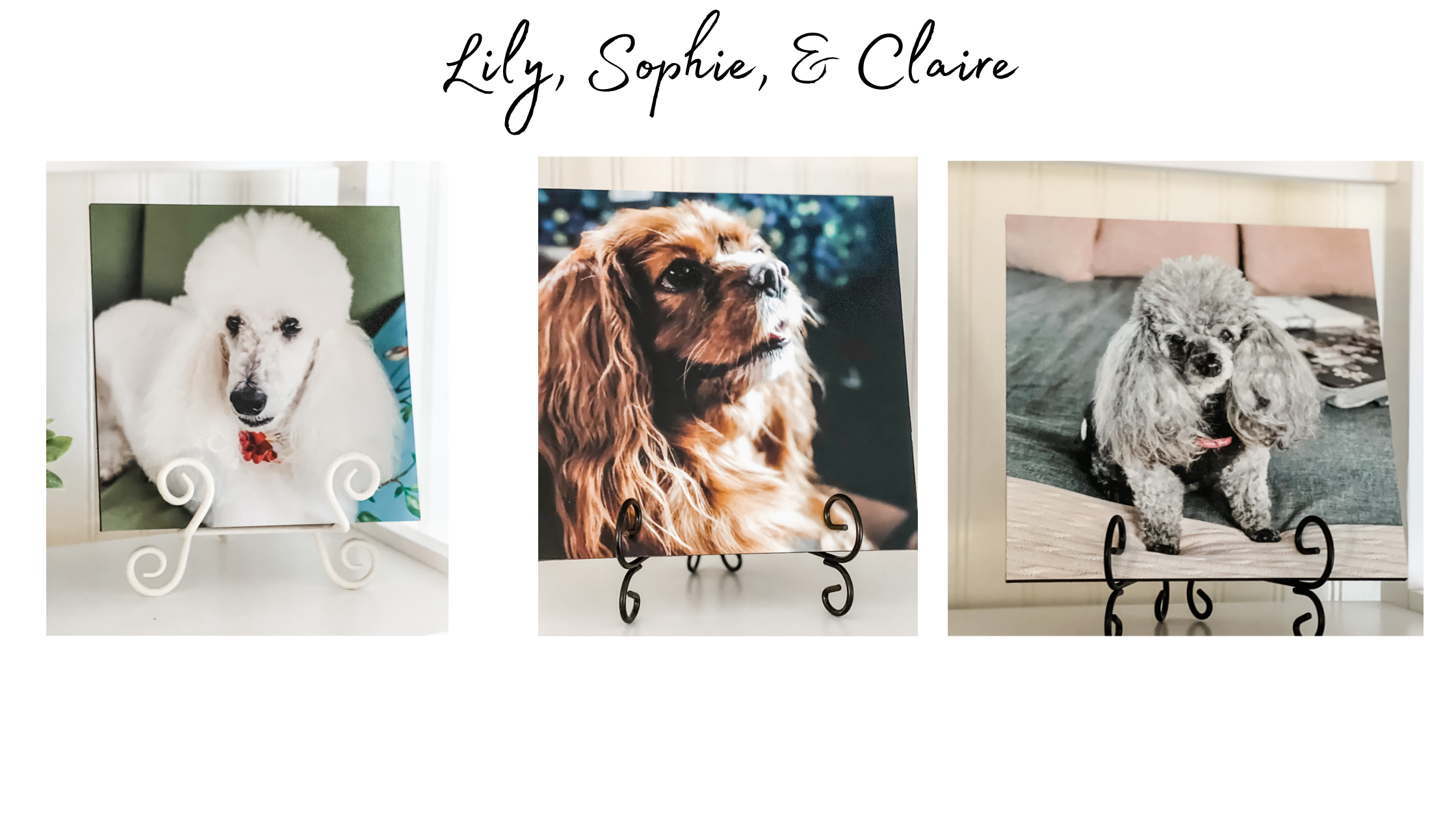 The rest of the shelf decor is a mixture of some faux plants, candles, and some pink vases.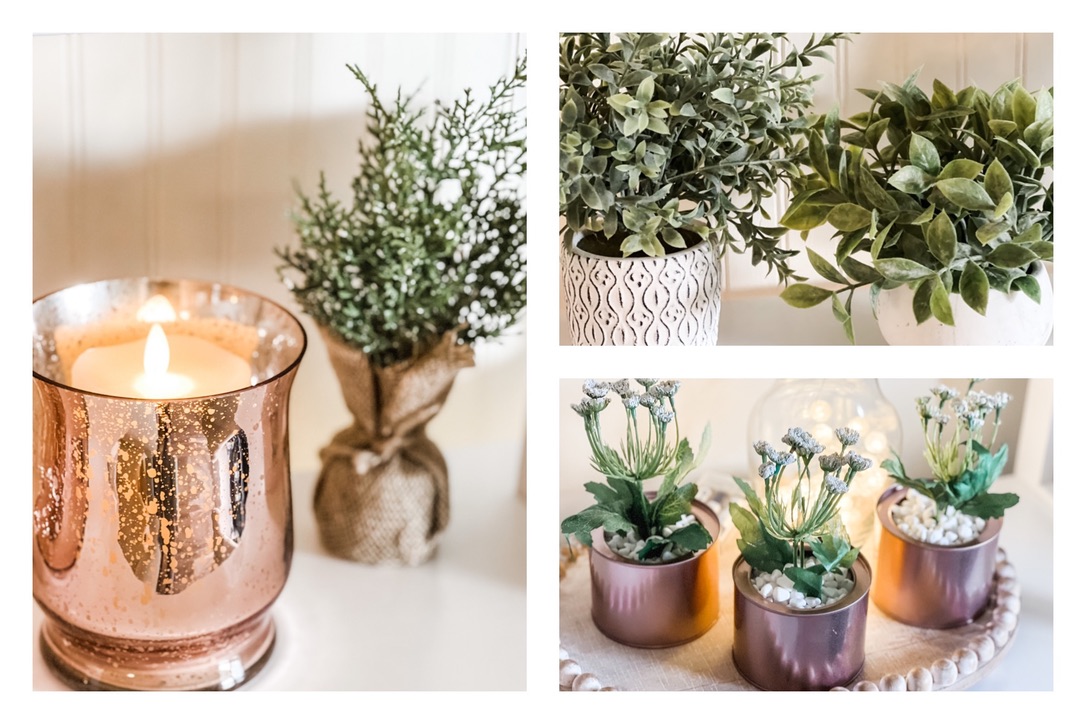 In the corner, I just put some winter floral in my favorite blue glass vases. To compliment the blue, I found this pretty blue and green plaid throw at Home Goods.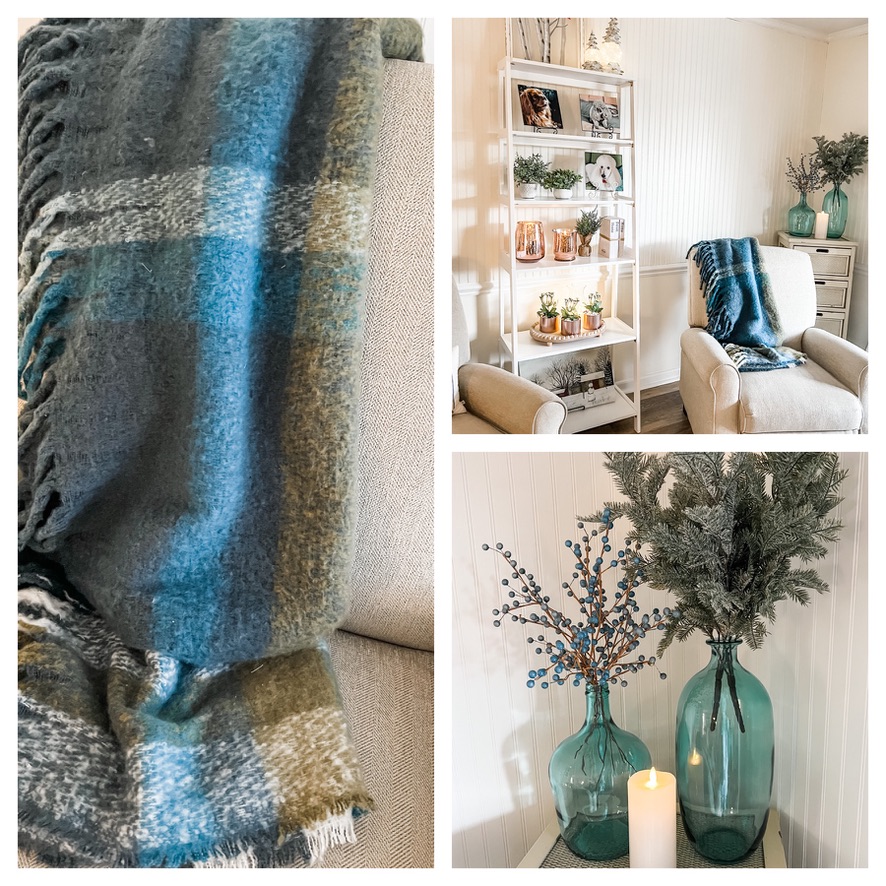 Living/Dining Area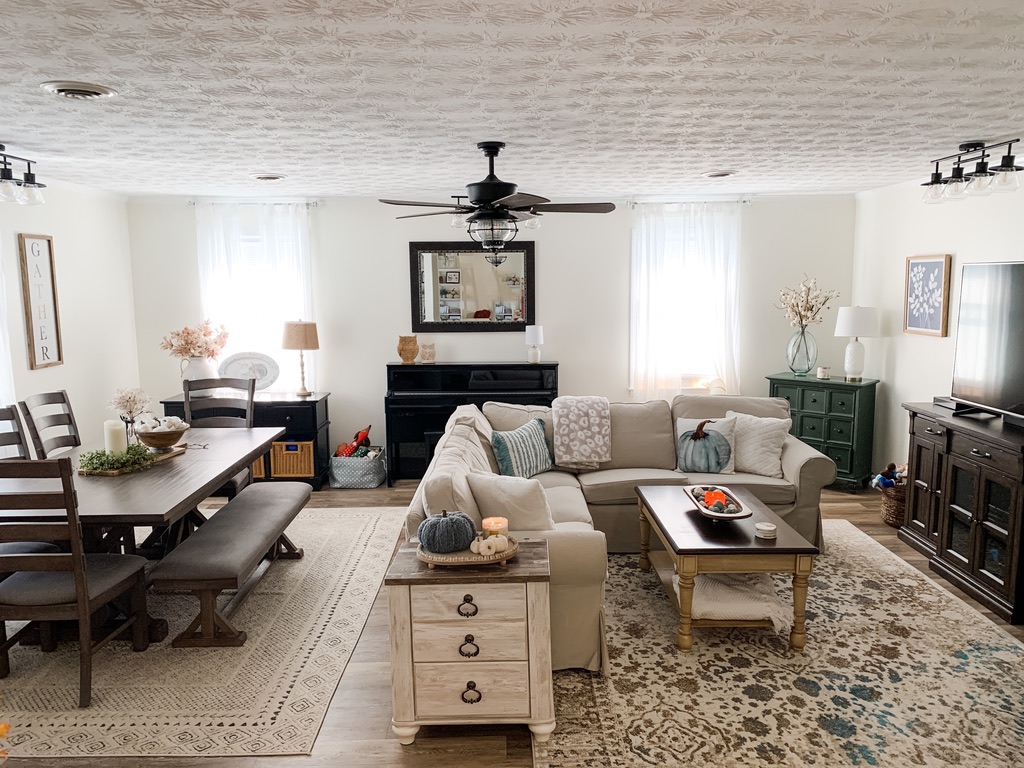 This is our living/dining space. This photo was taken back in the fall, but it gives you a pretty good view of the room although the camera angle makes it look a little bit smaller than it really is. Also the lighting isn't the greatest, but oh well.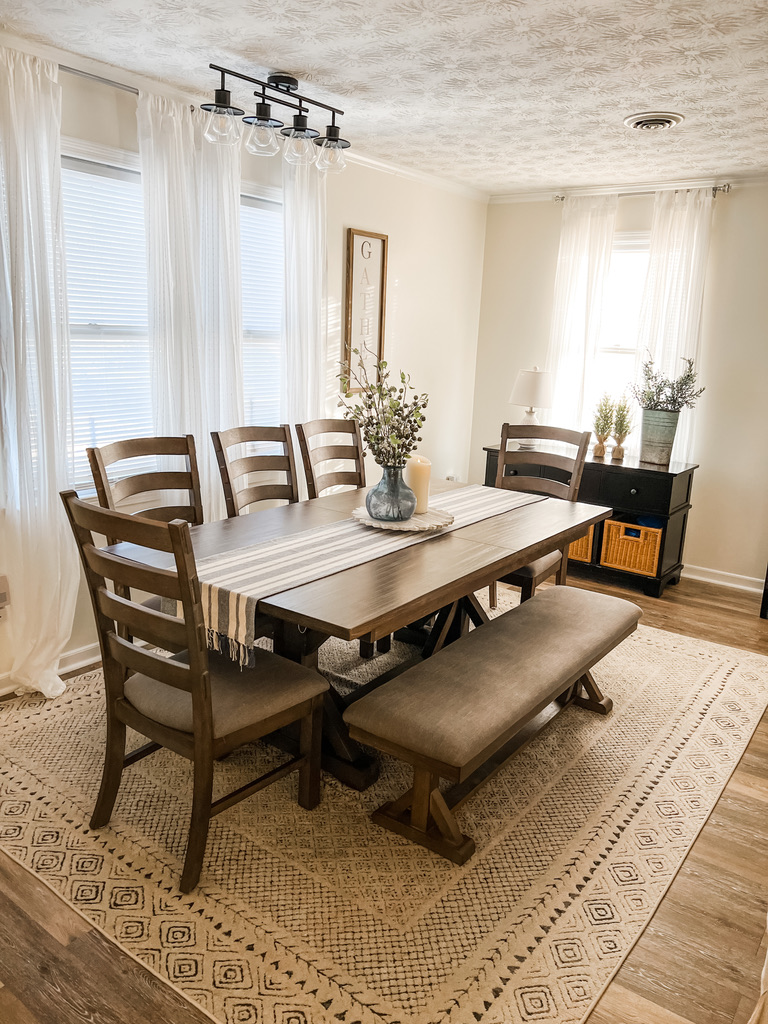 To brighten up this space after Christmas, I started with the table centerpiece. My mom gave me this pretty blue vase and table runner for Christmas, so I knew I wanted to use them. I used some winter stems in the vase and my favorite flickering candle on the marble pedestal.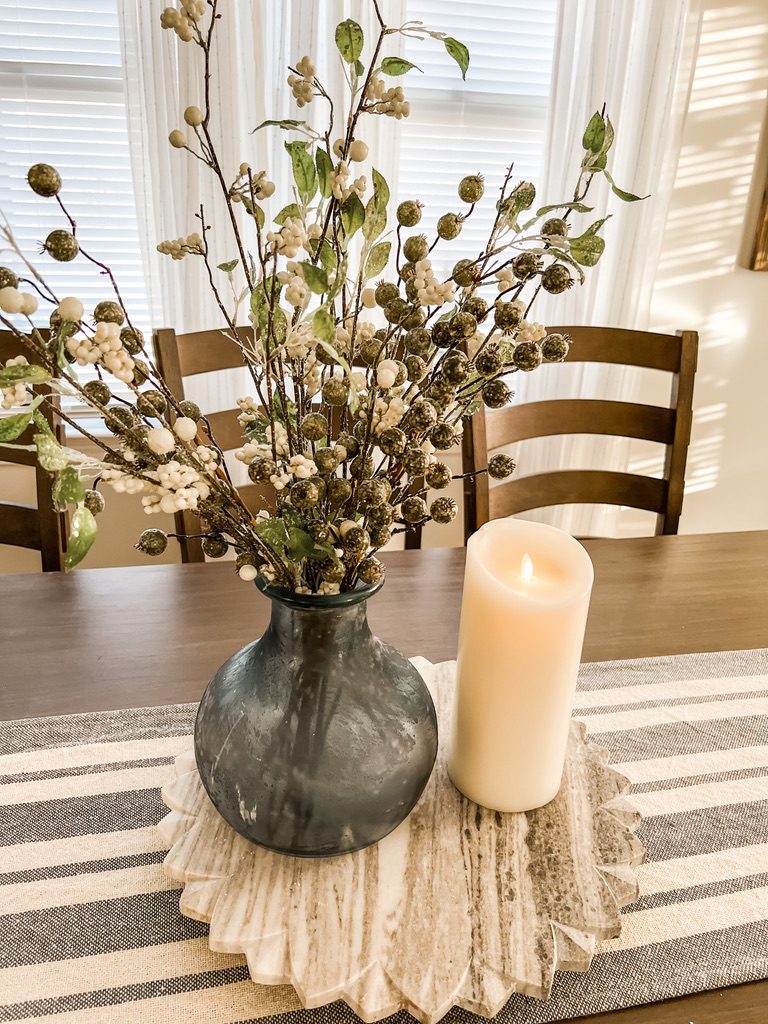 My farmhouse style table is relatively new. It came from Wayfair and is currently out of stock, but I linked it in case they restock it. They do have several other dining sets that look very similar.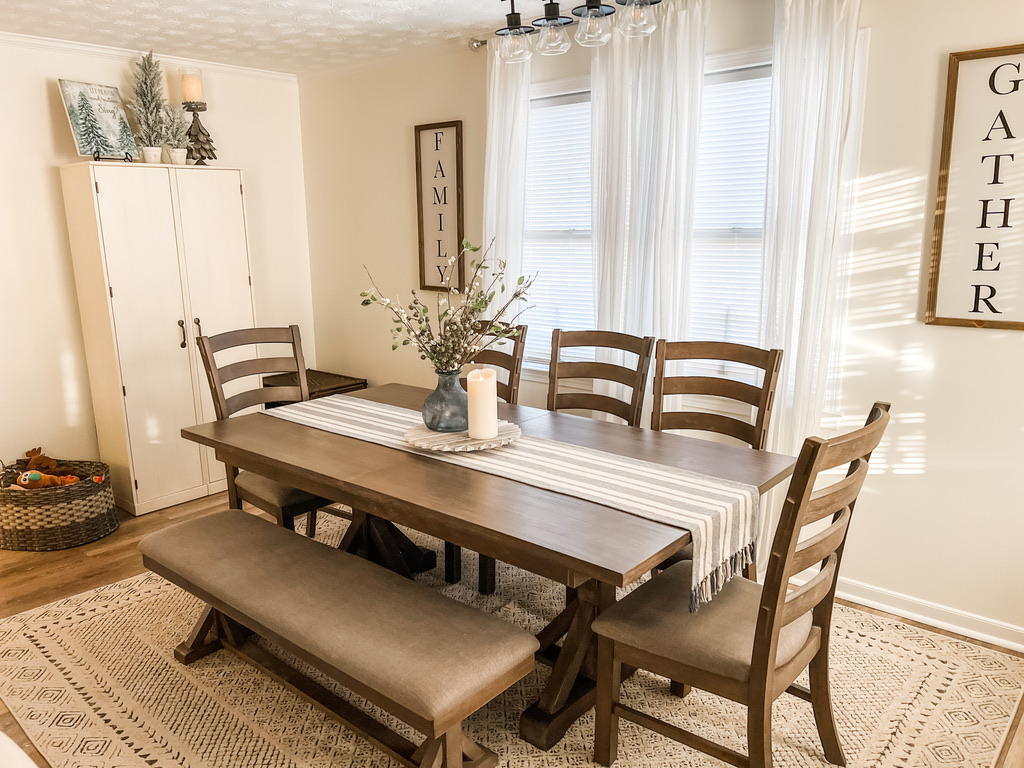 Next, I turned my attention to the top of the white cabinet seen in the photo above. I always put something a bit dramatic up there, so I decided to go with another wintery piece of art that my sister gave me for Christmas. I paired it with some snowy faux trees and I candle for some light.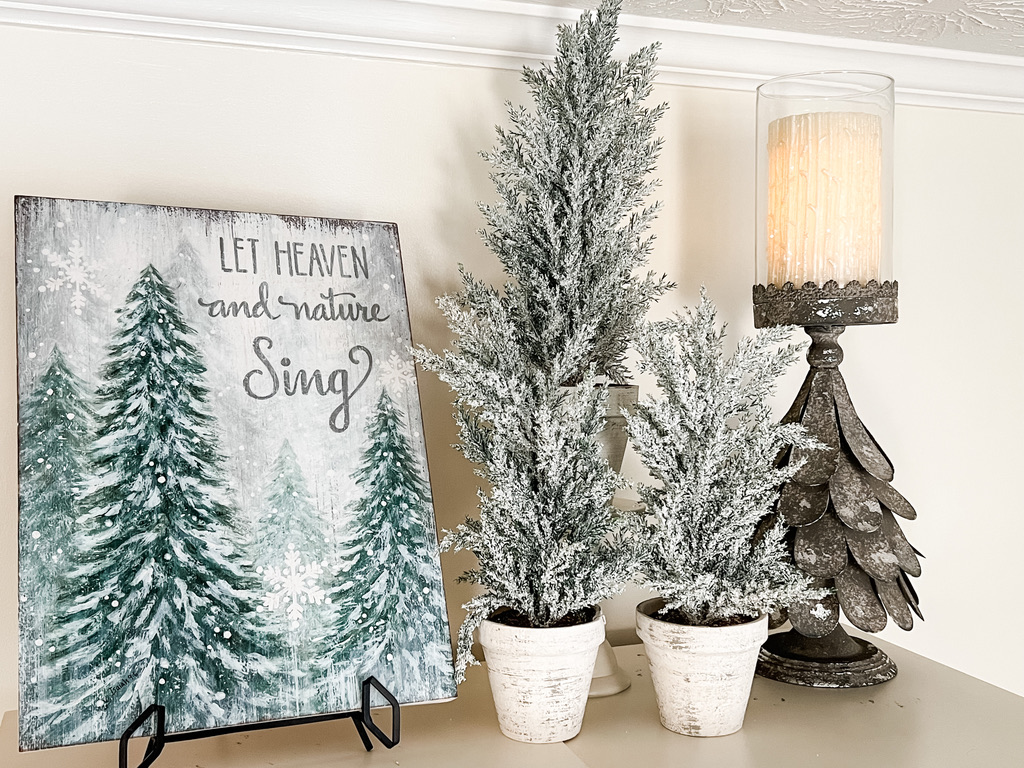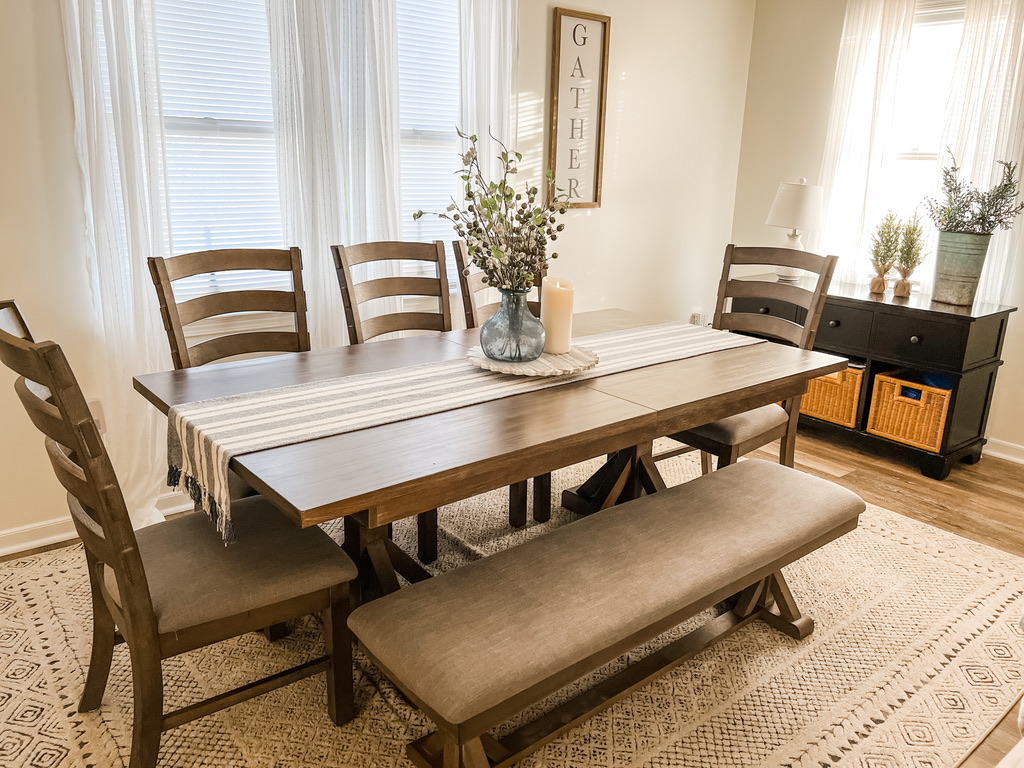 For the black accent table under the window, I kept it simple with this arrangement.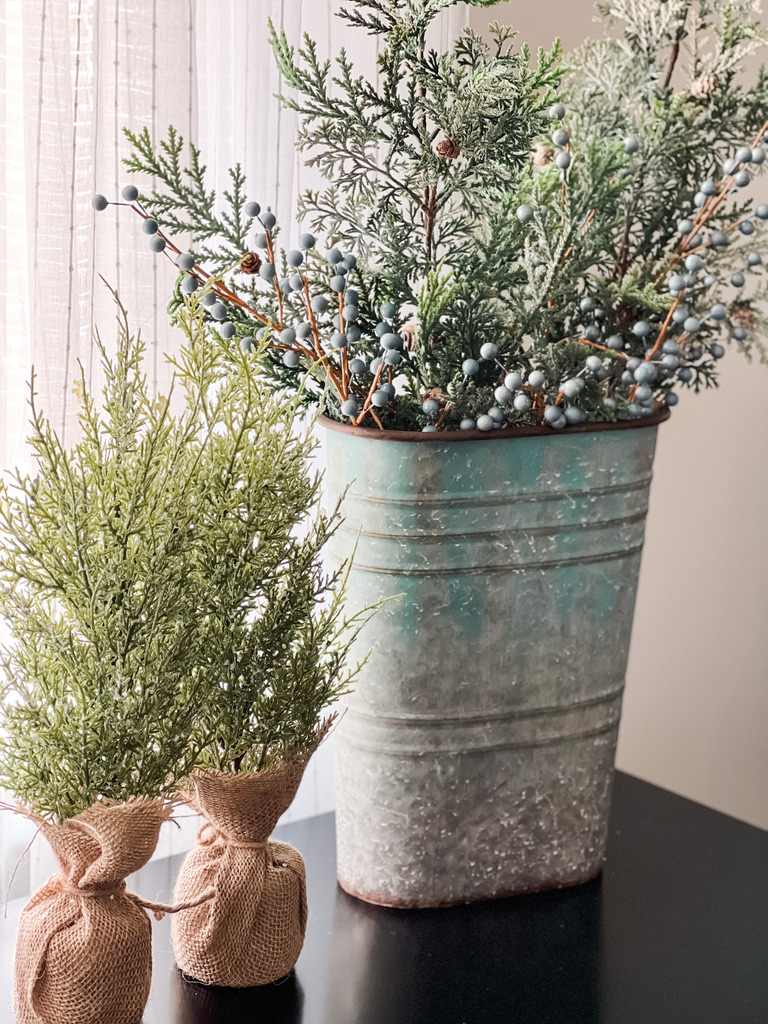 Living Room Decor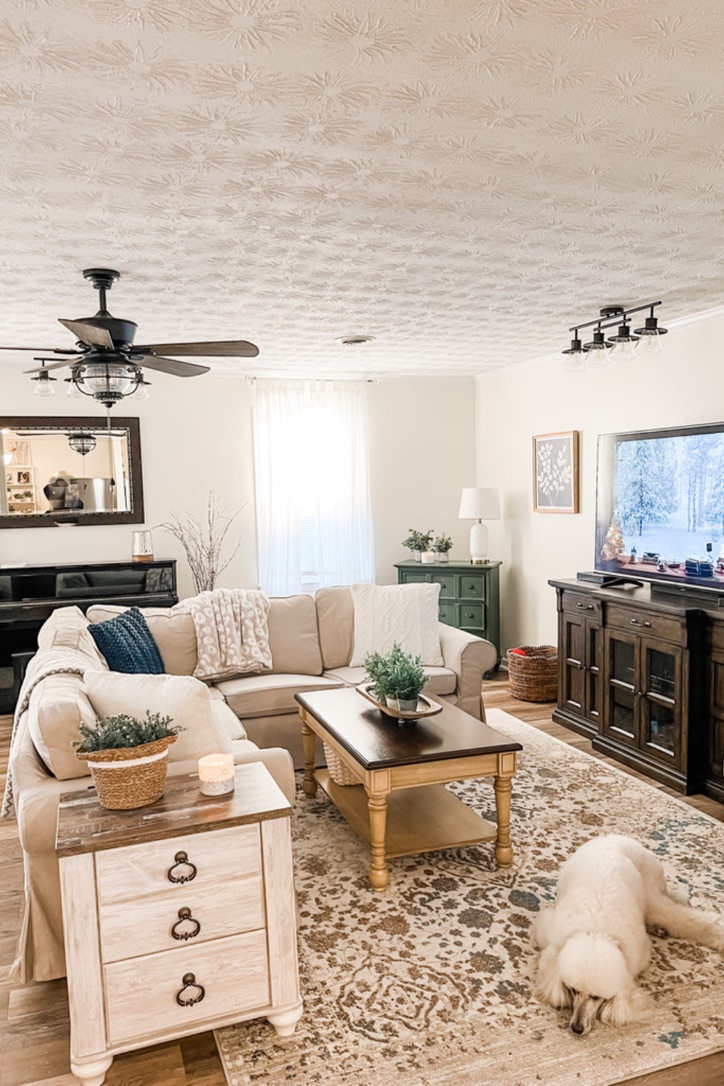 Sometimes after Christmas I crave neatness and simplicity, so I kept the accessories to a minimum in the living room.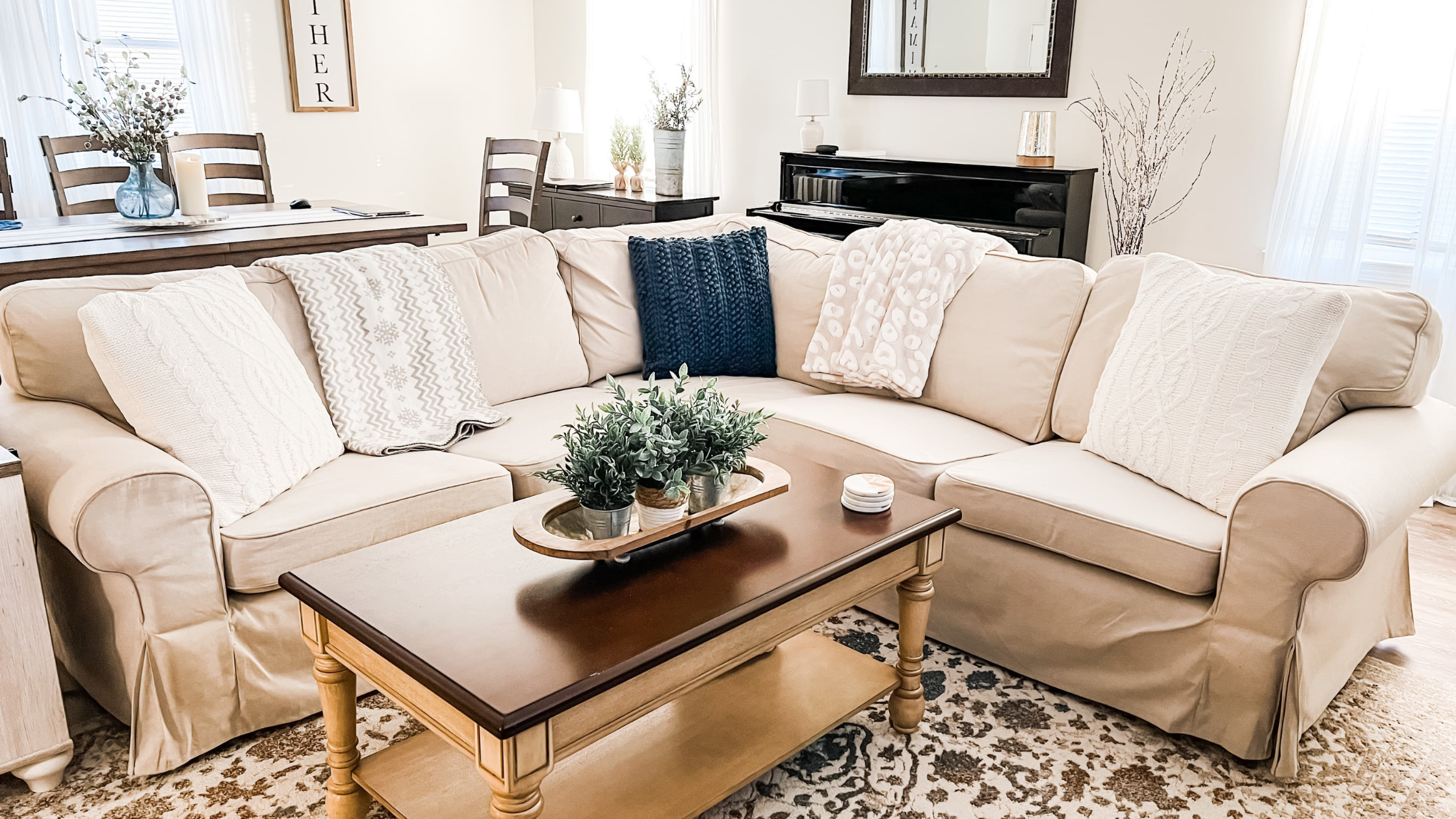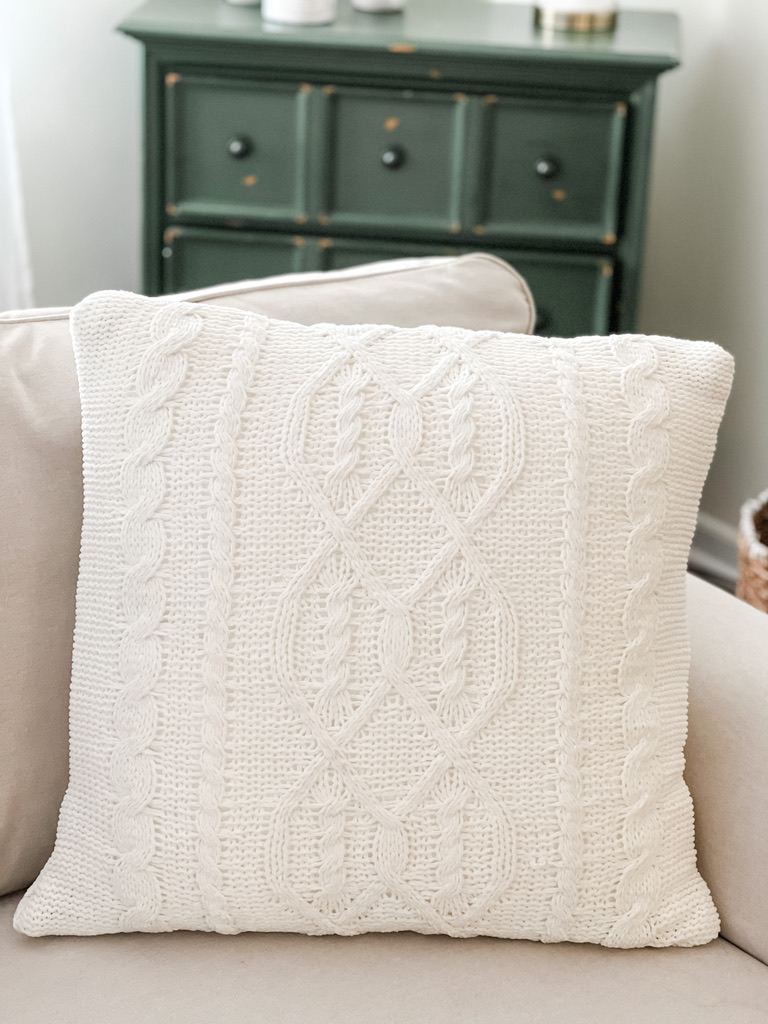 My mom also gave me some new accent pillows for Christmas from Target, and I'm really pleased with how they look on the sofa. The other decor is just some simple green faux plants and some candles. My plants come from all sorts of places…mainly Ikea or Marshall's, but I have found some at Target as well.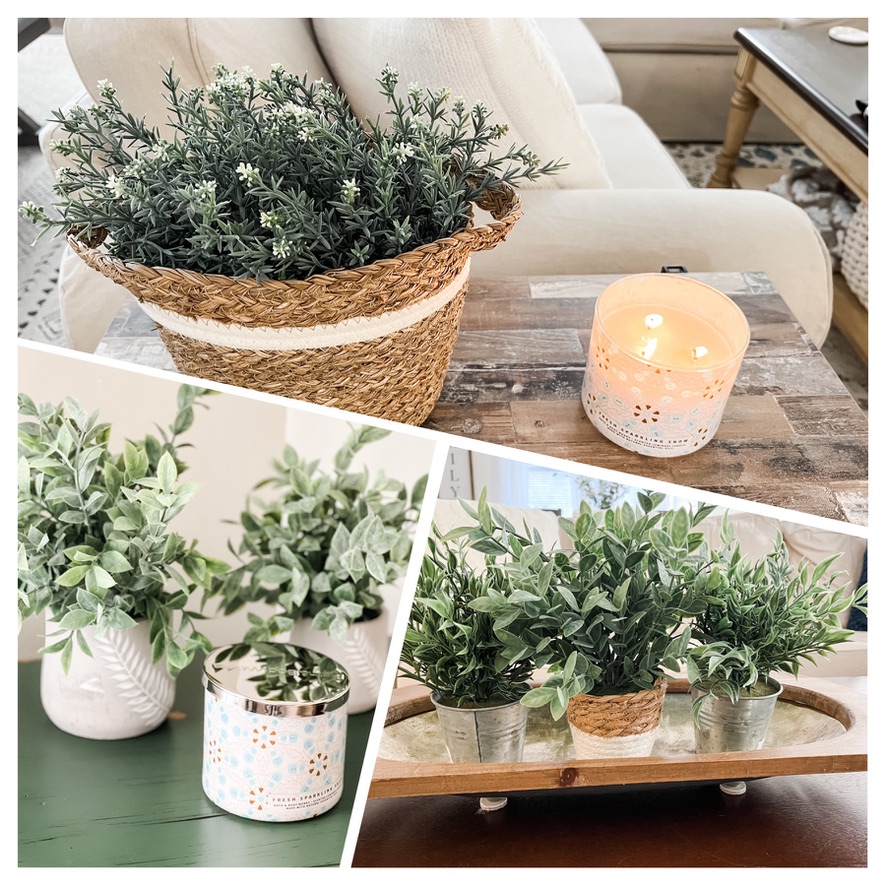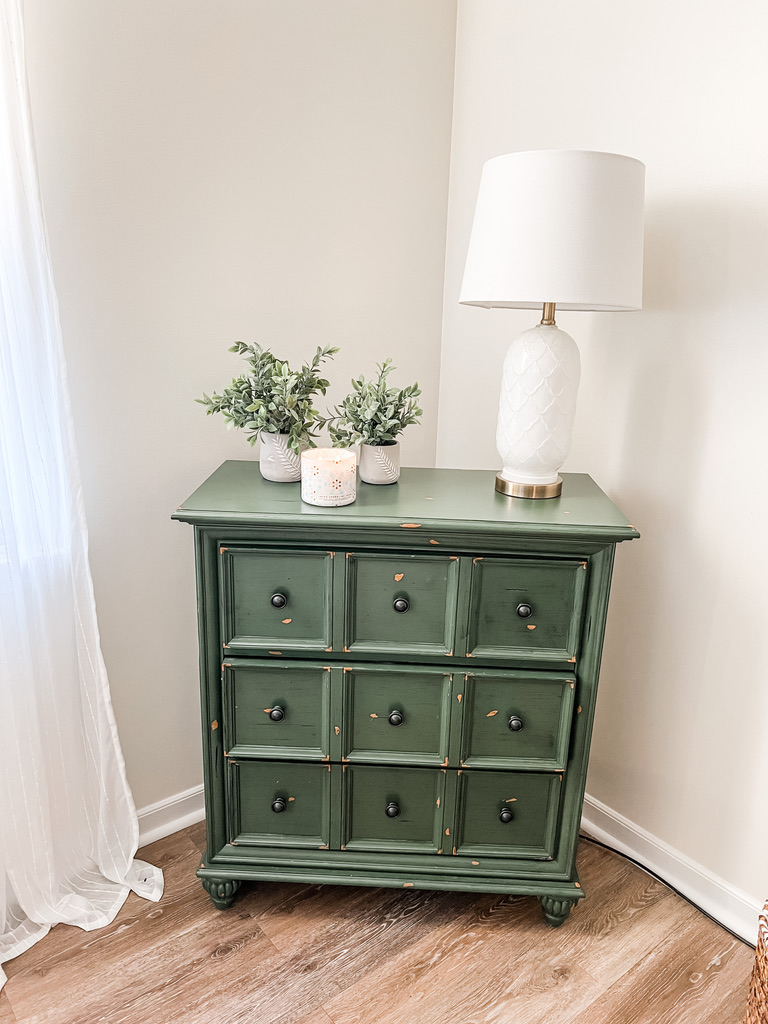 Another style tip that I like to keep in mind, is that when I buy a new throw for the holiday season I don't buy a Christmas themed one. Instead I look for something winter themed so I can use it longer. This snowflake blanket is a good example.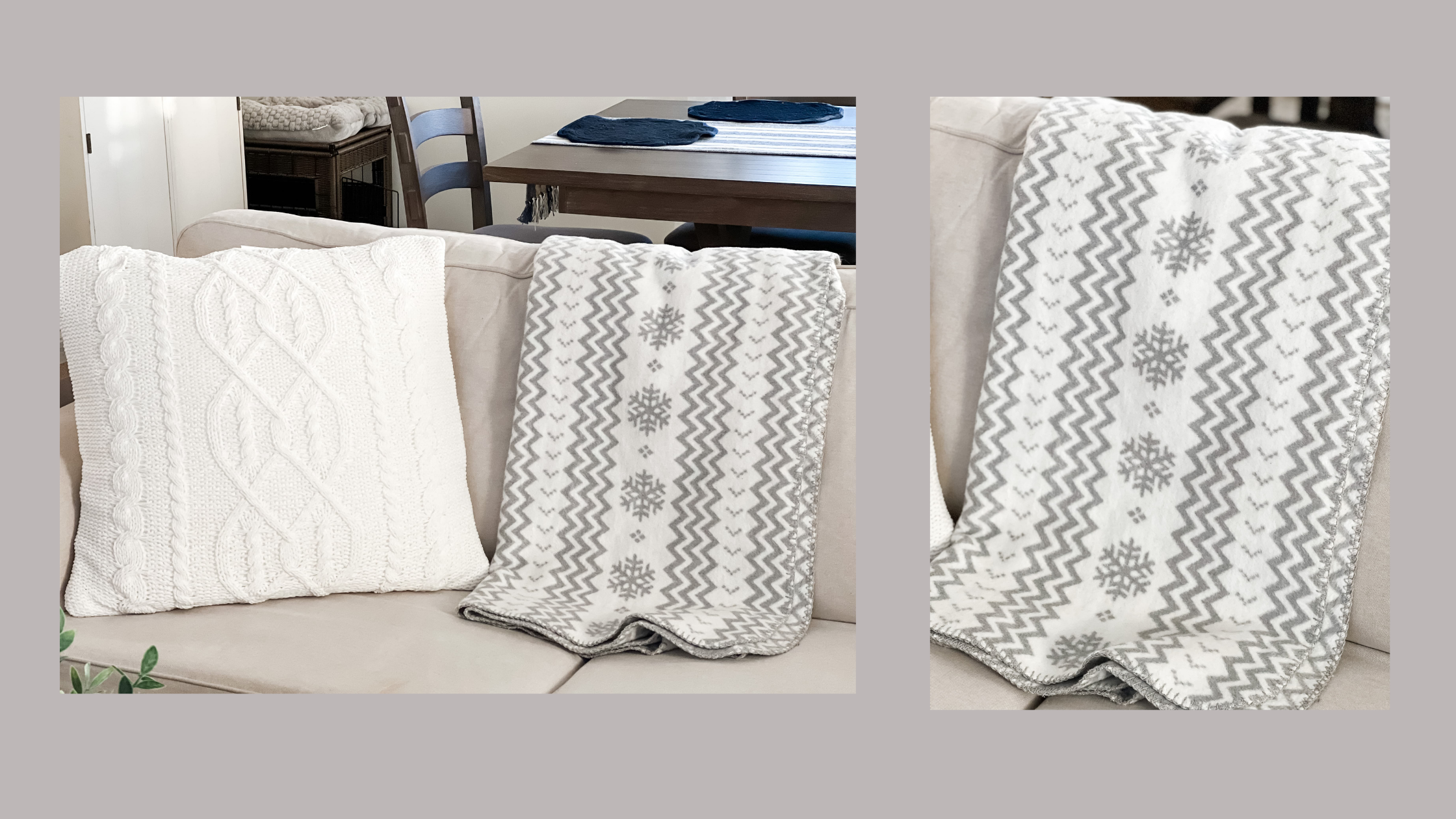 I hope you enjoyed today's post. If you would like to shop some items to brighten up your home for winter, I have linked some items in the shopping widget below to help you. Some of them are exact, but most are similar items.