One of the best ways to maximize your wardrobe is to learn how to style one outfit multiple ways. Today I'm taking a two piece set that I found at Walmart and showing you how to change up a few accessories which will totally change the look to suit different occasions. This is really a key concept to master if you want to really have a wardrobe that works for you. It will also help you to declutter your closet, and only keep the pieces that work together.
Cardigan Sweater Pants Set

The outfit that I am using in this post is an absolute winner! It's a cardigan sweater and pants set by Time and Tru. Ladies, this is such an adorable set, and as you will see there are so many ways to style it. It also checks all the boxes for flattering fit, soft & comfortable texture, affordable, and versatile. It comes in four colors and retails for only $24.98!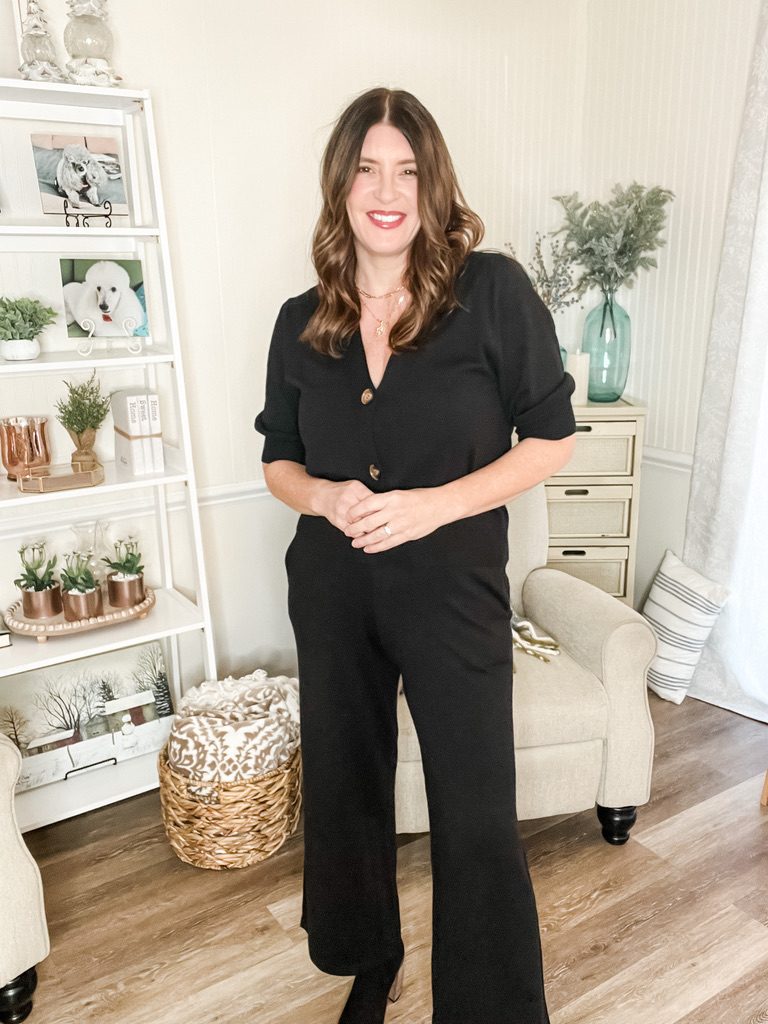 Accessories
Changing your accessories is the easiest way to make an outfit take on a different look. Consider these things when putting together an outfit:
handbag
jewelry
shoes
outer layer such as a jacket or blazer
Other Things To Consider
Hairstyle – wearing your hair up, down, or partially pulled away from your face can change the look of your outfit.
Makeup – do you want a casual/natural look or do you want an elevated more bold makeup look. This can make a difference even if you are wearing the same outfit
Tucking/Untucking Top
Look #1: Set w/ ankle boots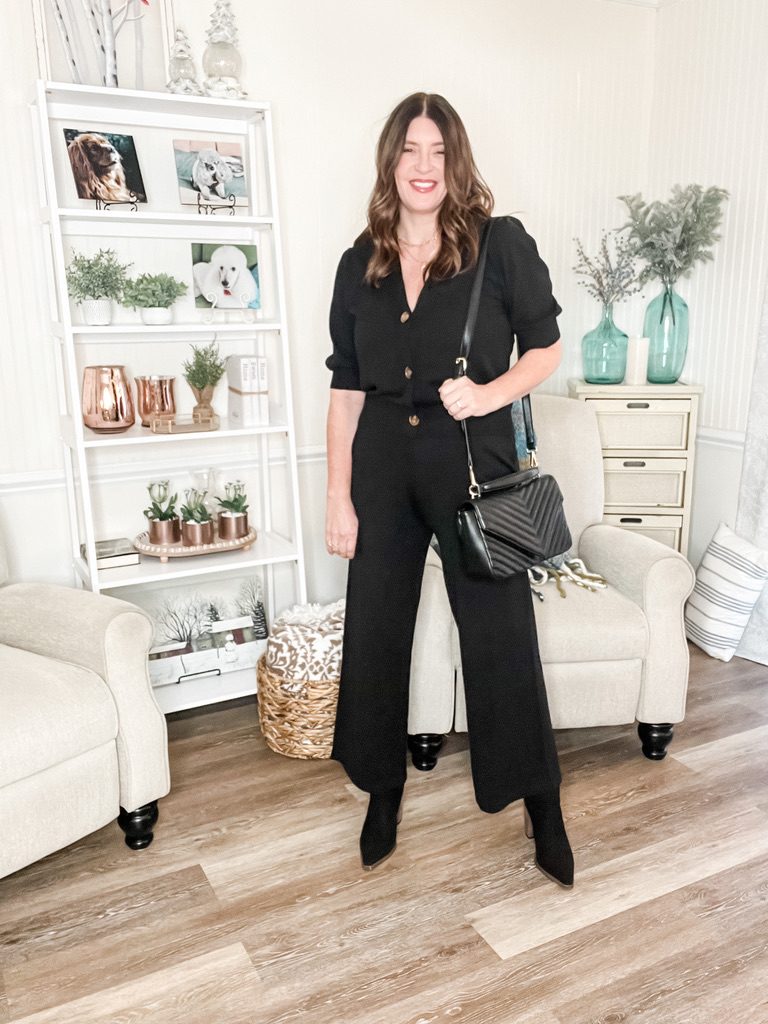 For the first look, I simply wore the cardigan and pants set with a pair of suede ankle boots. These are wide leg cropped pants, so ankle boots work perfectly. For jewelry, I chose my gold initial pendant layered with a gold chain. This is a set from Amazon. My handbag is also from Walmart.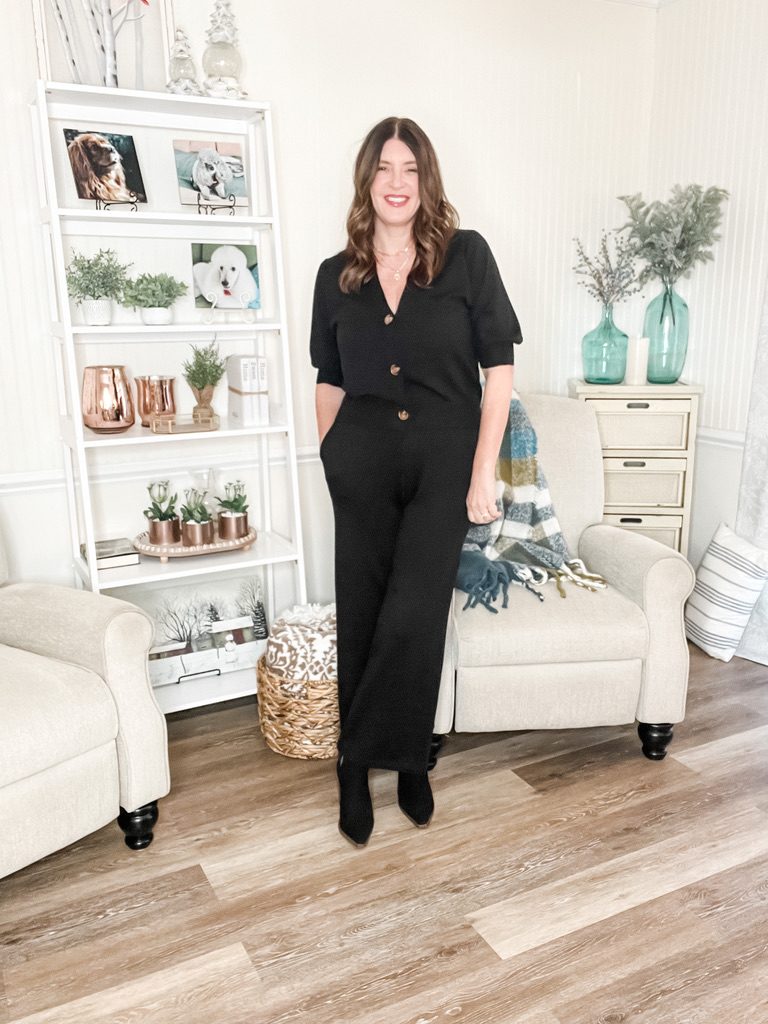 My boots are from Nordstrom, but are sold out so I will link some similar options. I'm sure most of you have a pair of black ankle boots, but if not now is a good time to find a pair on sale.
Look #2: For The Office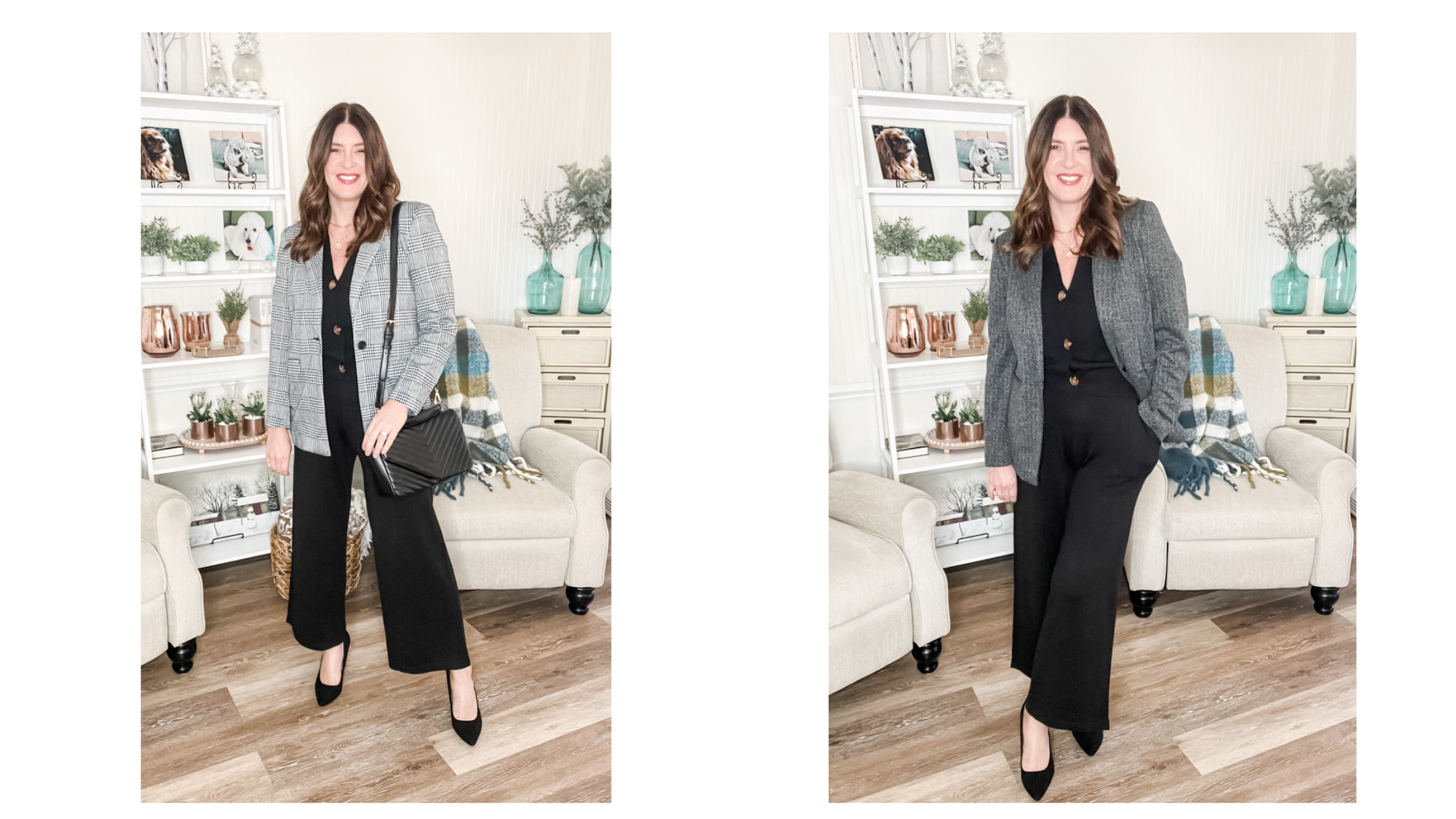 This outfit could also be styled for the workplace. For this look, I changed out the boots for black suede pumps, and added a blazer. The first blazer is a more relaxed cut plaid style that I purchased at Marshall's. The second blazer is a bit more fitted, and is from Loft. I will link some similar style blazers since these are no longer available.
Look #3: Casual Look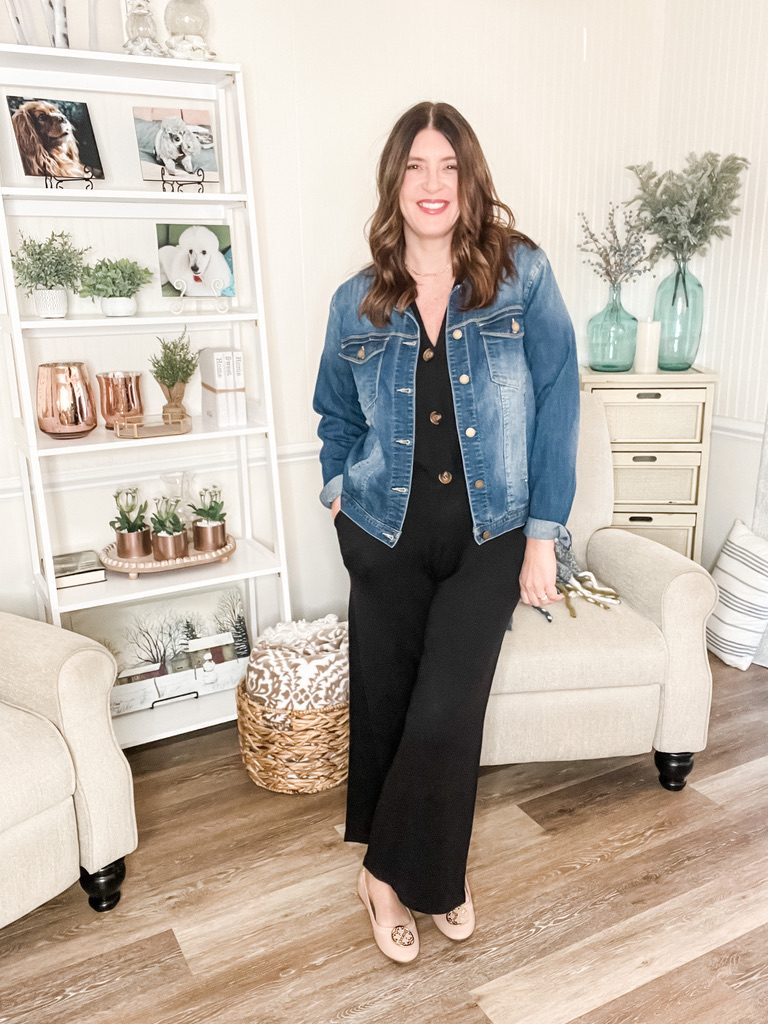 Want to make this look even more casual? Consider a denim jacket and flats. Here I'm wearing a midwash denim jacket and some blush pink ballet flats. Any denim jacket will do…mine by Democracy is old. My blush ballet flats are by C.Wonder (another Walmart brand). These are a knock off of the Tory Burch ballet flats that run upward of $200. These are also sold out, so I have linked some similar options.
I would encourage you not to get frustrated if the exact thing I'm wearing is sold out. The point of these types of posts is more about the concept than the exact item. You could switch out the pink ballet flats for any color flat shoe you have in your collection and achieve the same goal.
Look #4: For A Warmer Day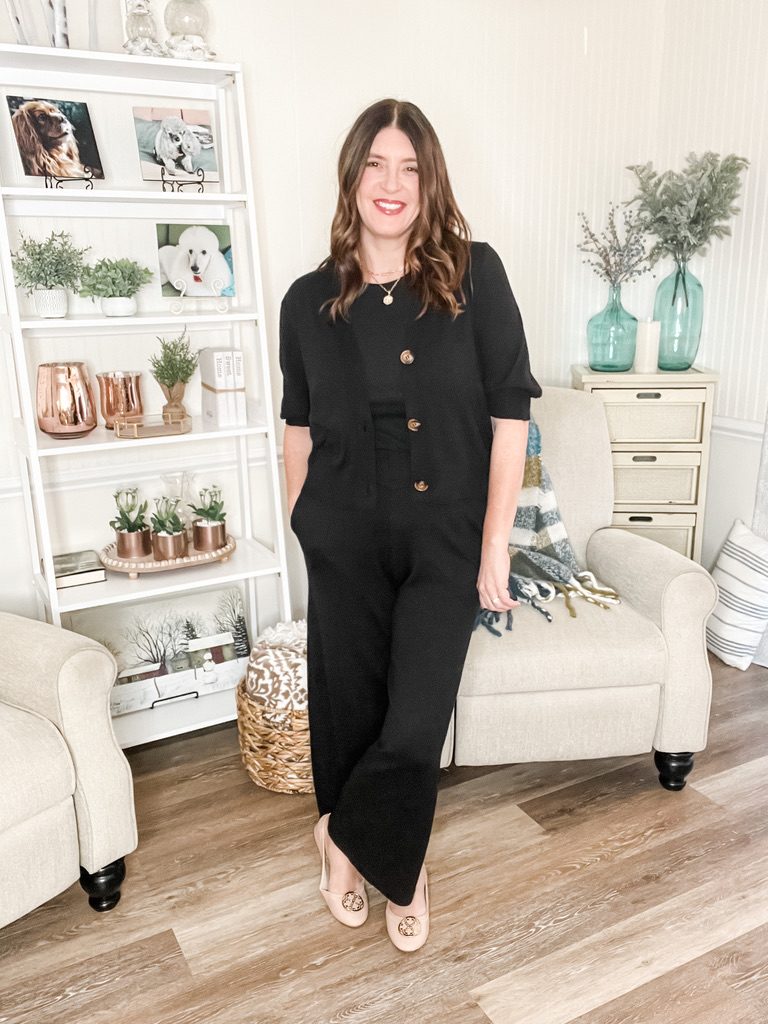 Another thing I love about this sweater and pants set is the long season of wear that you can get out of it. Depending on where you live, you could possibly wear this set from early fall to late spring. Here in South Carolina where I live, that is certainly the case.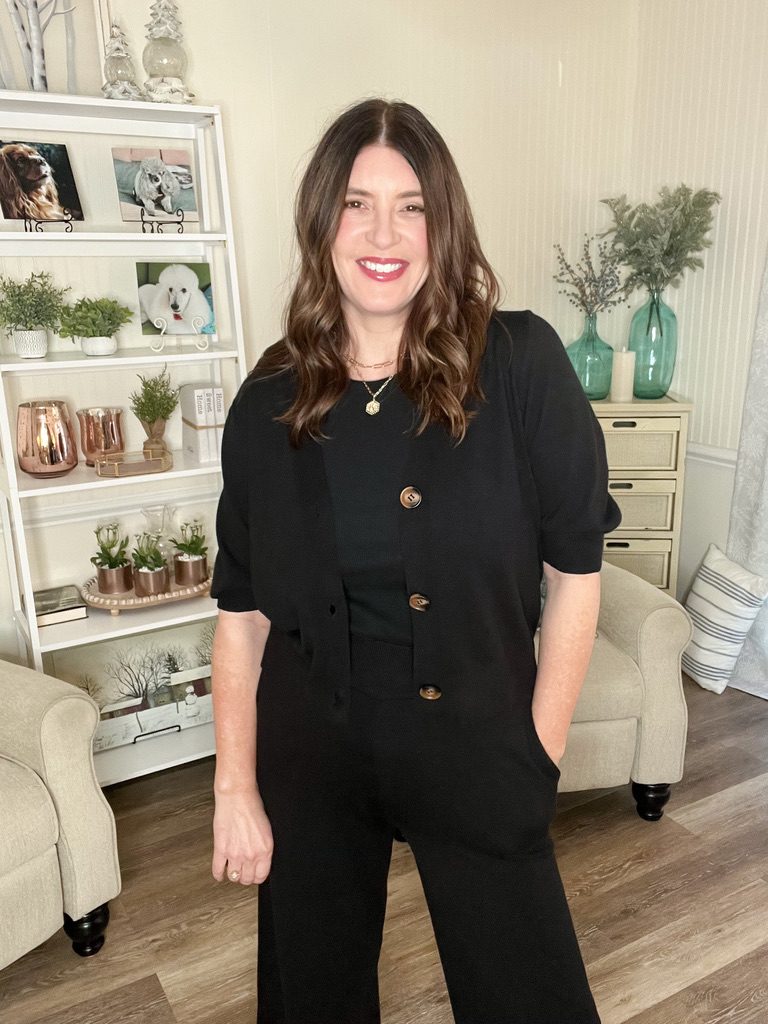 For this look, I unbuttoned the sweater and wore a black tank underneath. This gives the sweater a true cardigan look and you could also switch up the color tank for even more variety. I kept on the same ballet flats, but the possibilities are really endless for shoe choice.
Look #5: A Cold Day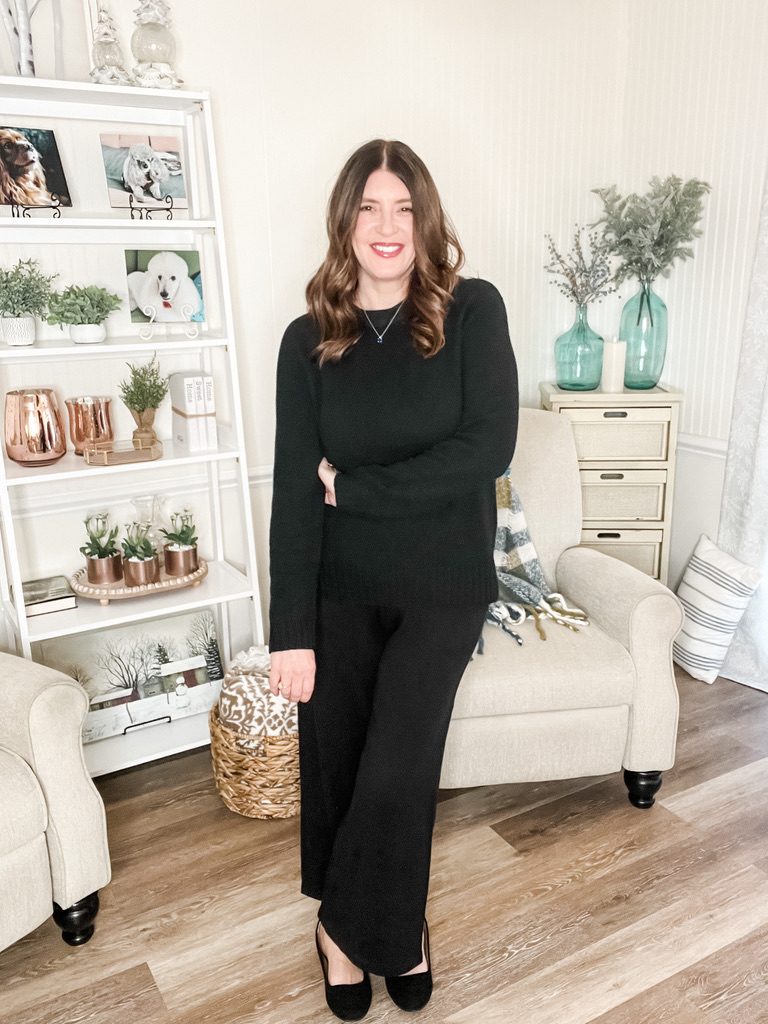 I know what some of you are thinking…there's no way I can wear short sleeves this time of year! I get it. For those really cold days, just switch out the top for a warmer pullover sweater like this one by Time and Tru.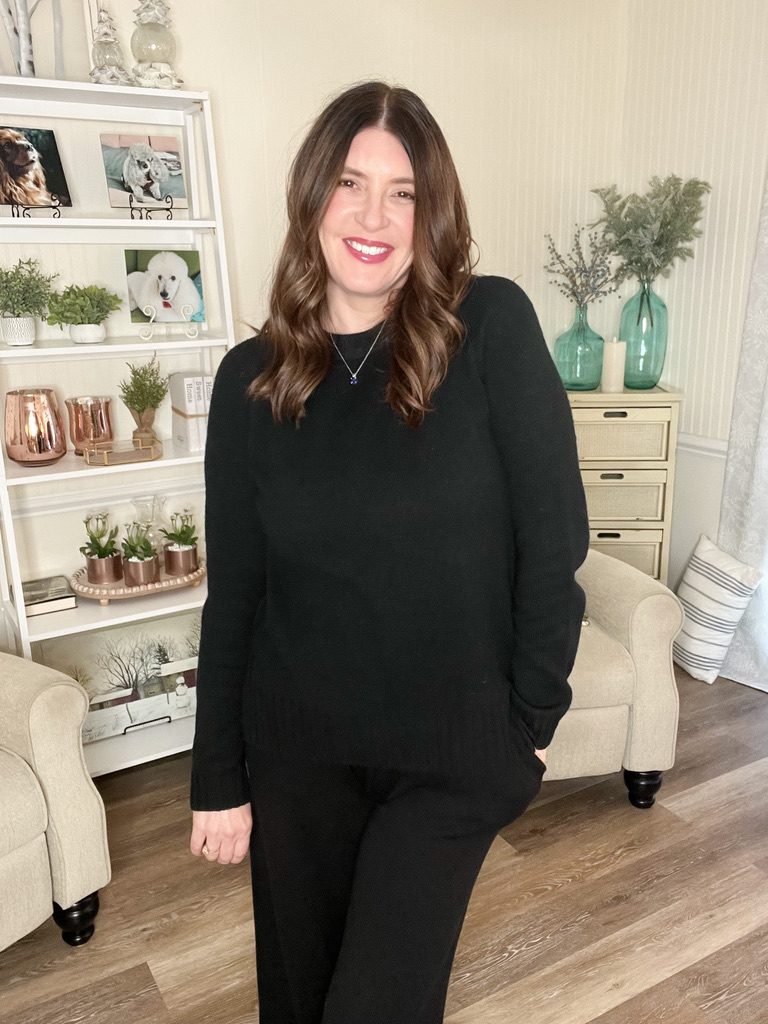 This is a cozy look that is also classy. Whether you are staying home or out running errands, this would make a great outfit. For this style, I went with a classic black ballet flat but you could certainly switch those out for a warmer boot.
Same Outfit In Green
I try not to make a habit of buying multiples, but if I find something that I truly love and I know I will wear it a lot I will buy multiple colors of the same item. I decided to purchase this set in green as well as the black. Honestly, I was tempted to get the grey but I resisted the urge.
Here are a few ways to style the green set using the same principles as before.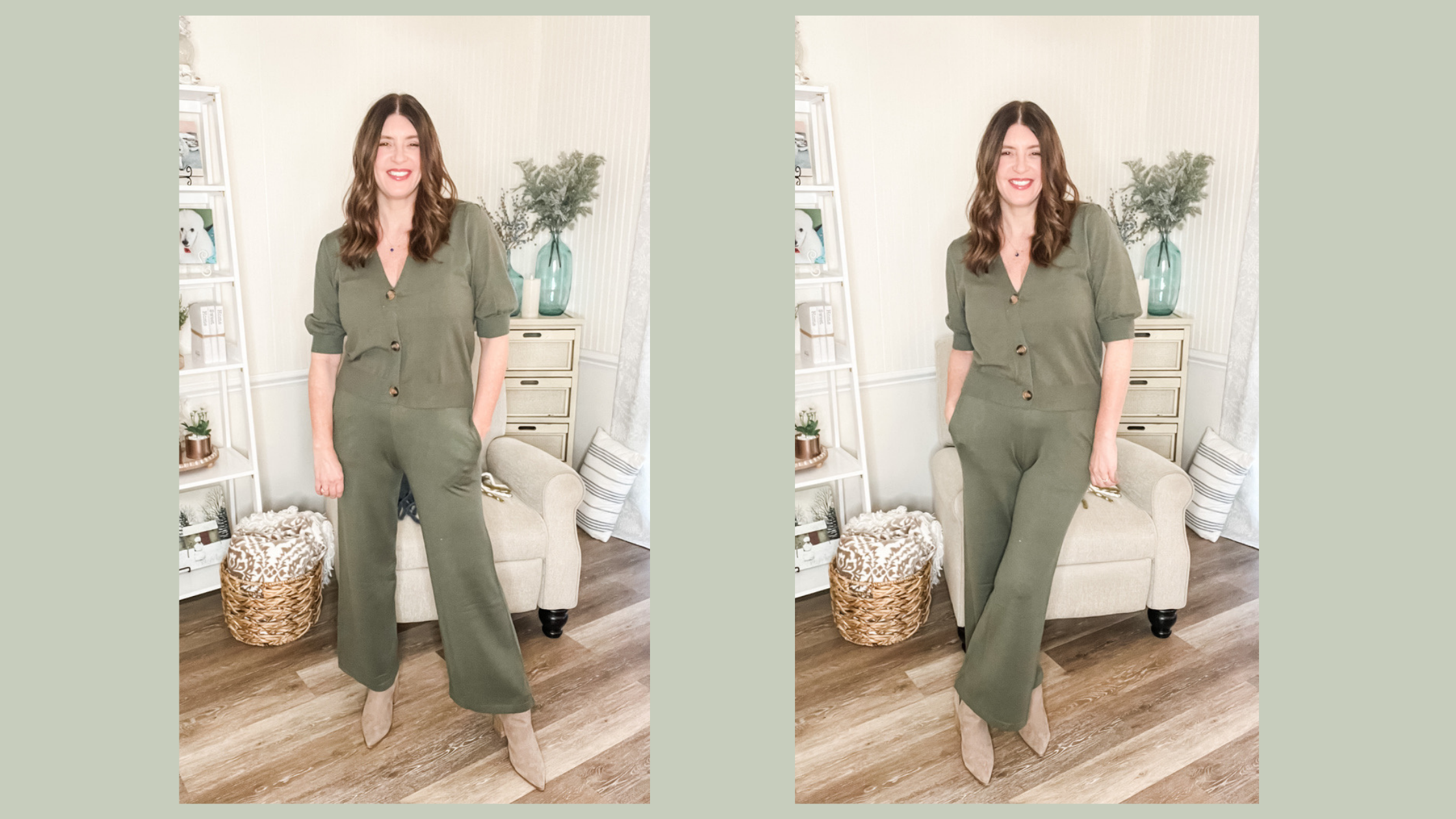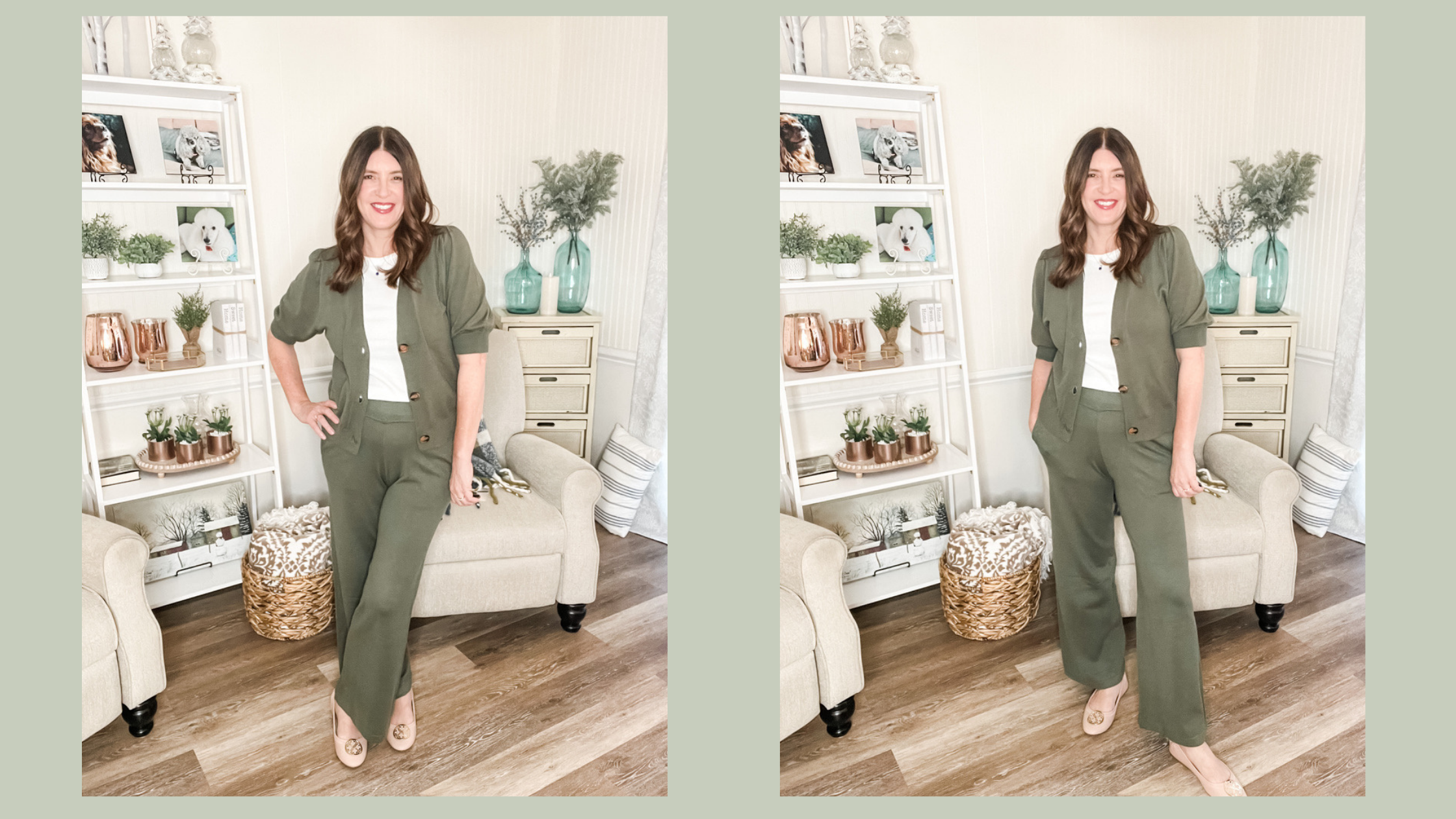 Which ever color you choose, I think this cardigan and pants set would be a great addition to your wardrobe! It runs true to size, and I am wearing a medium. I hope you enjoyed to today's post. What is your favorite look? Let me know in the comments down below.