If joggers were not on repeat in your wardrobe a year ago, I'm willing to bet they are a regular staple now. With that in mind, today I want to show you 3 interesting ways to wear joggers!
Even though I work from home, the pandemic has changed the way I dress for everyday life. I've always loved my lounge clothes, but 2020 has taken loungewear to a new level. I long to dress up and go out somewhere or to travel, but for now things are not a whole lot different in 2021 than they were in 2020. I am optimistic that eventually we can go out without a mask, and travel again but it's going to take a while.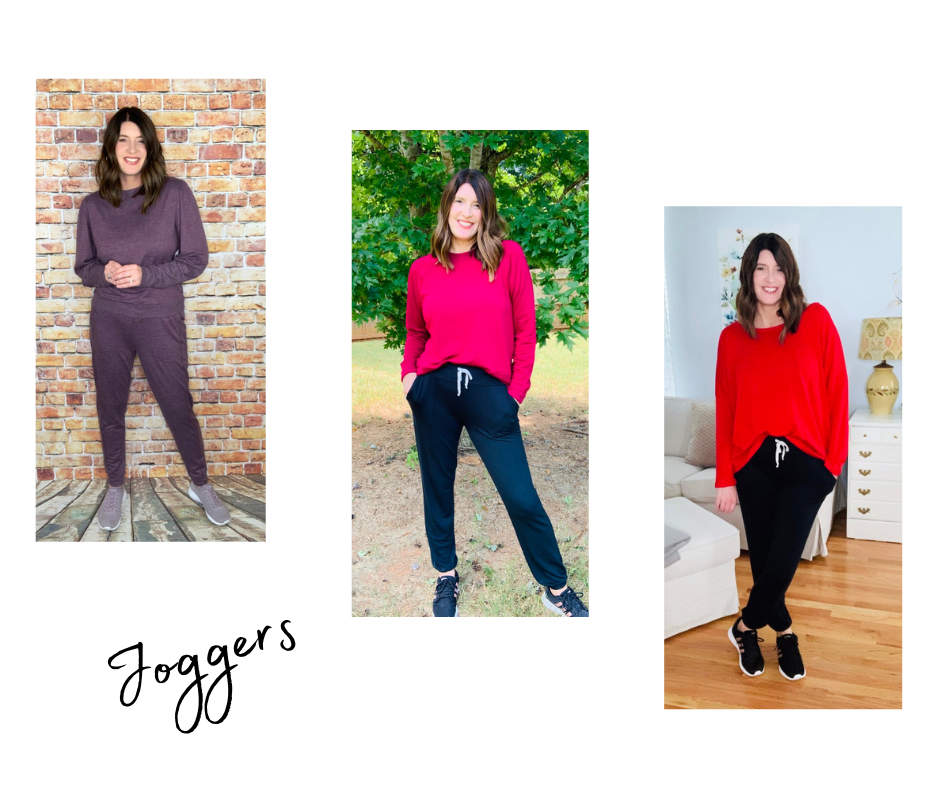 Fashion will adapt, just like we will adapt. This year, you can expect to see loungewear taken up a notch. The concept is really appropriate for the times we are living in. Comfy, casual, wear at home clothes will be elevated to give you a more put together look so that you can leave your house and not be in your pajamas!
Joggers

When I saw these joggers for spring, I was excited to see something practical and a little bit different than your everyday joggers.
These are the Sonoma Goods For Life Joggers from Kohl's. This is a utility style jogger with a cuffed hem and a zipper. They also have a wide and comfortable elastic waist with a drawstring.
On the Kohl's website, this color is called Mauve, but they are actually a very unique color. I really don't know what to call it, but I would not describe them as Mauve. As far as fit, they run large. I sized down to a small from my usual medium, and I don't own anything in a size small.
They come in ten different colors. I also ordered a pair in black. So let me show you what I consider 3 interesting ways to wear these joggers.
Joggers + Puff Sleeve Tee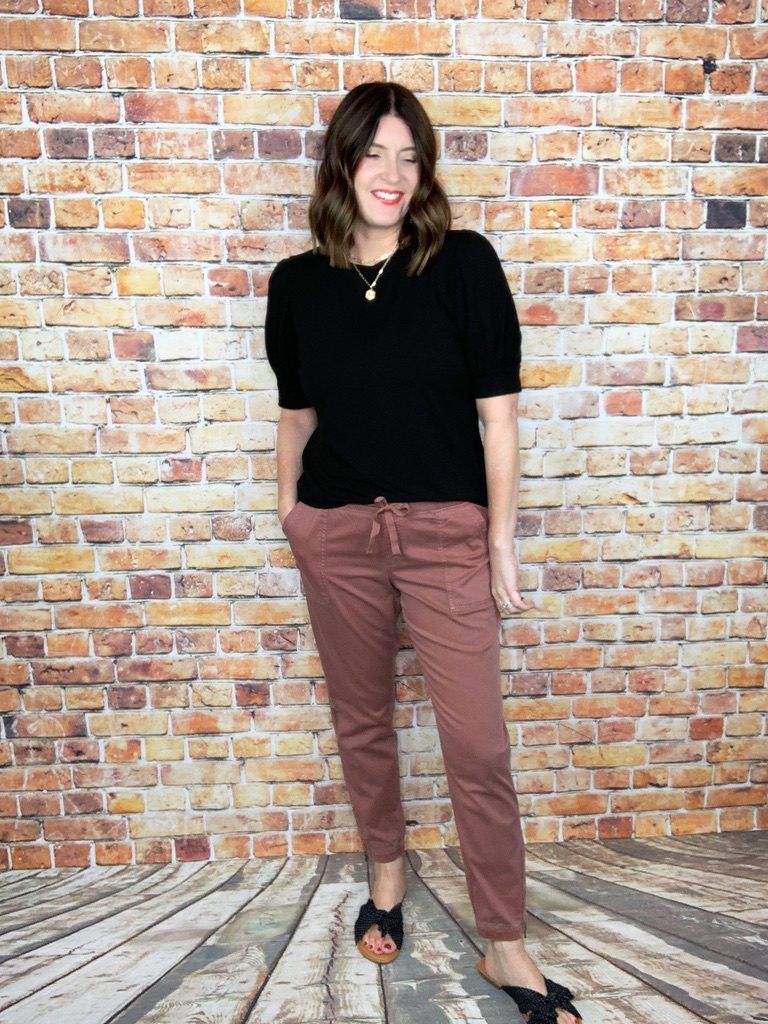 The first interesting way to wear joggers is to pair them with an on trend t-shirt. Of course you could pair these with any style tee, but this puff sleeve t-shirt by Time and Tru makes the outfit look, well….more interesting!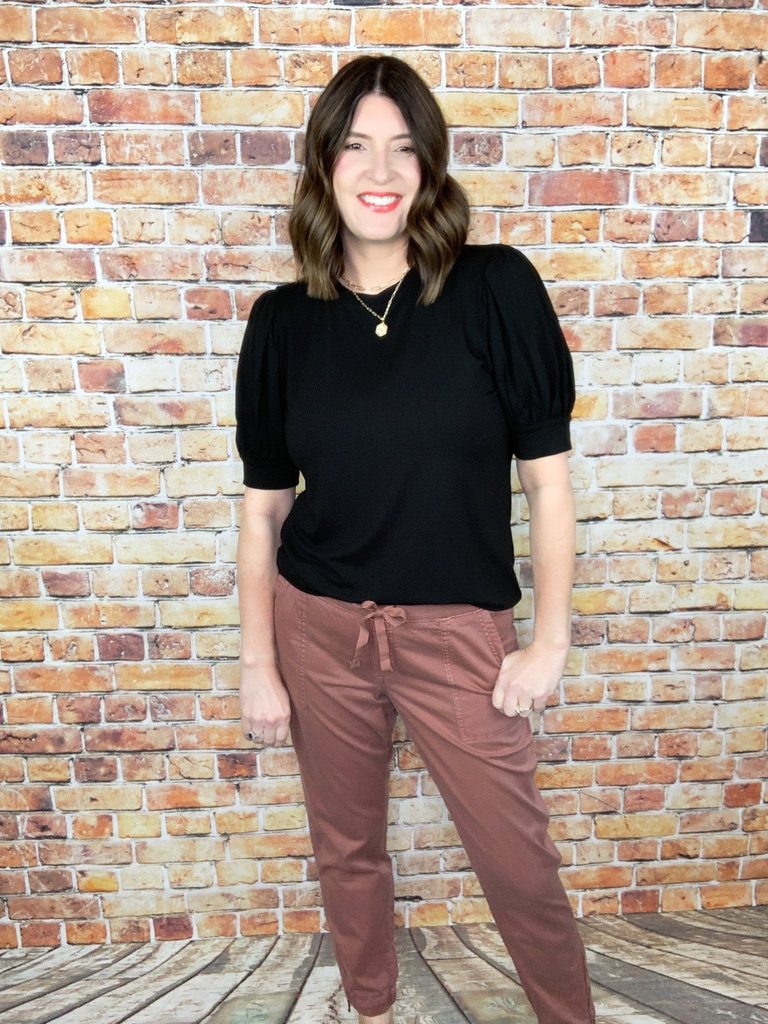 This is a very flattering style t-shirt and the quality is great. The knit is thick and the fabric drapes nicely.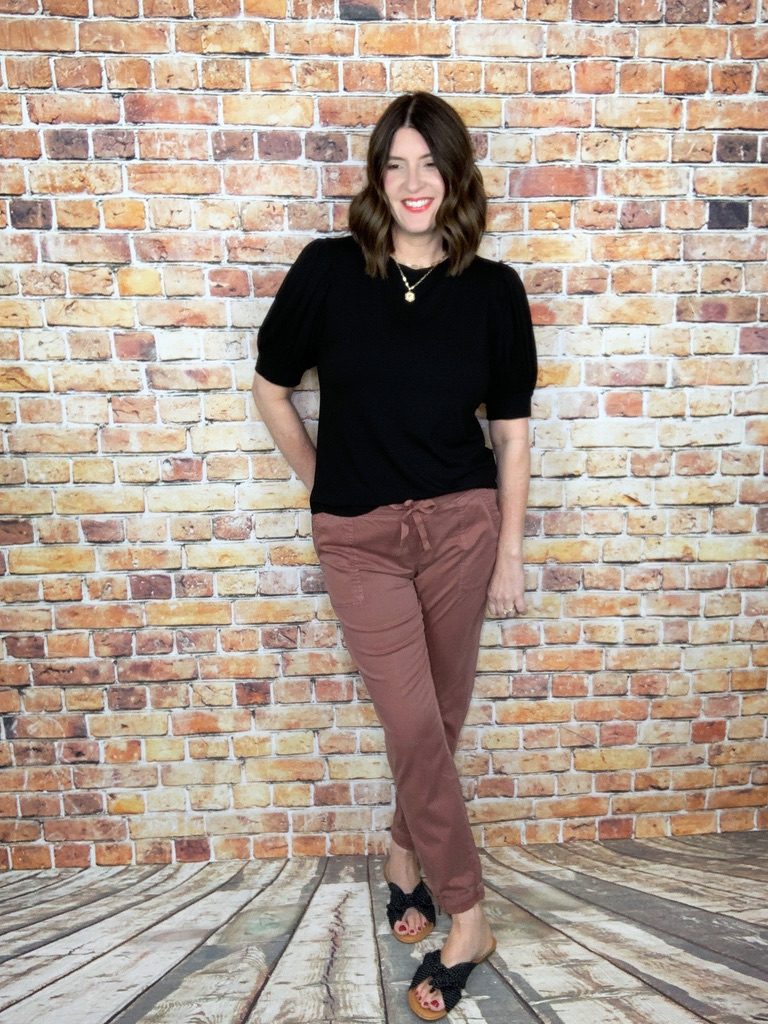 My bow slides are from last year. When the weather warms up a sandal would be perfect for this outfit. In the meantime, sneakers would be warmer and give the outfit a more casual vibe.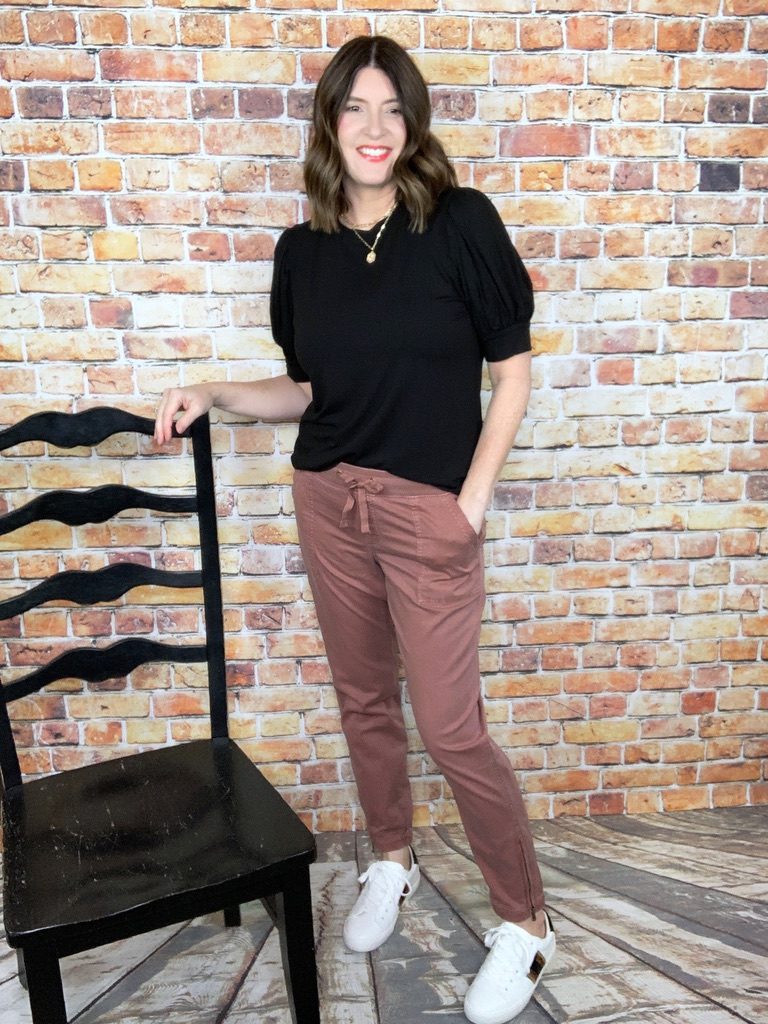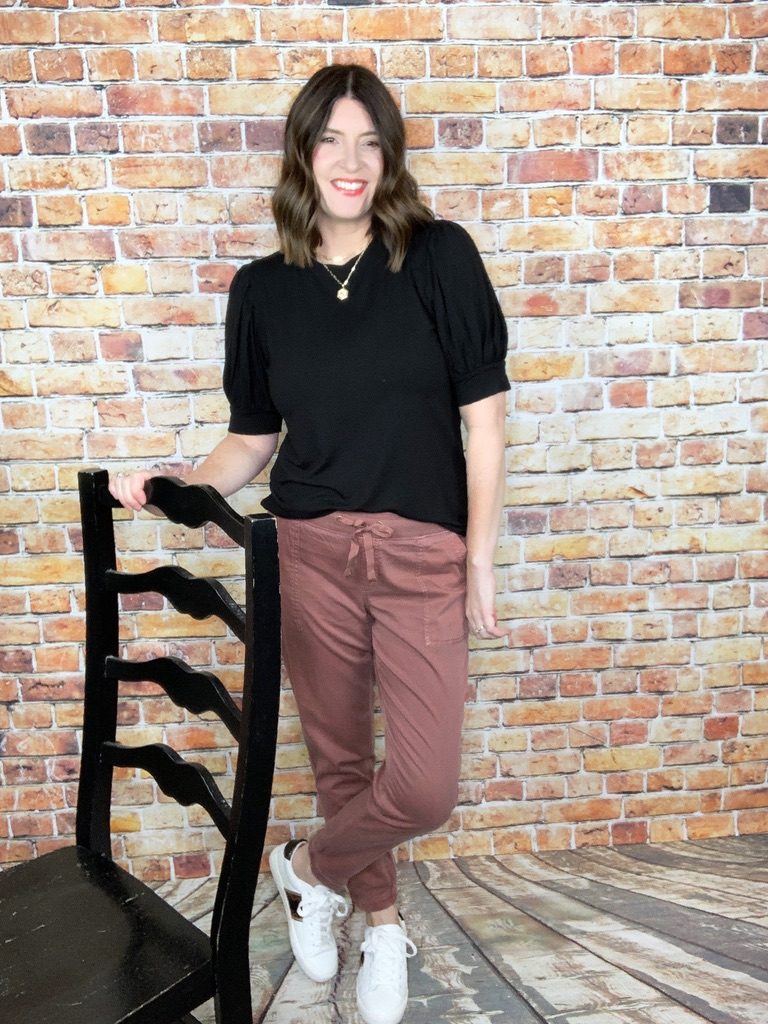 Joggers + Chambray Top
The next way I have styled these joggers is with a dressier chambray top. This is the Lauren Conrad Flowy Dolman Top, which is also at Kohl's. If you like very feminine looking styles, you should check out this brand.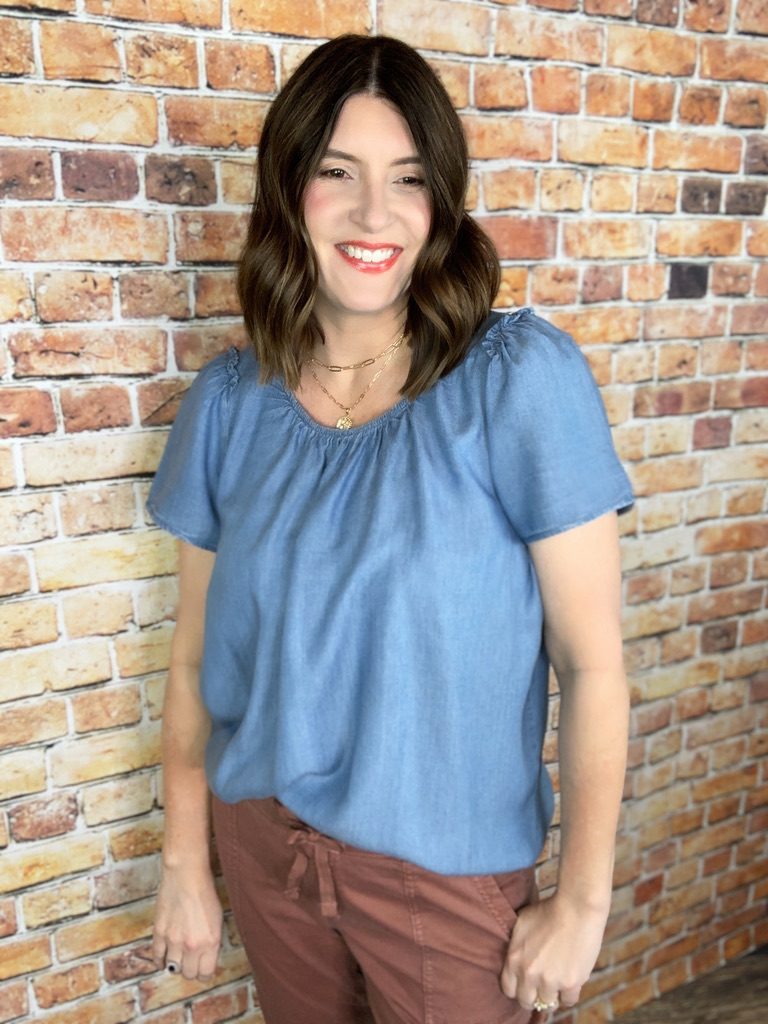 There is a small ruffle detail on the shoulder, but not so much that it adds bulk. I'm also wearing a new necklace set that is very affordable. You can customize it with your initial.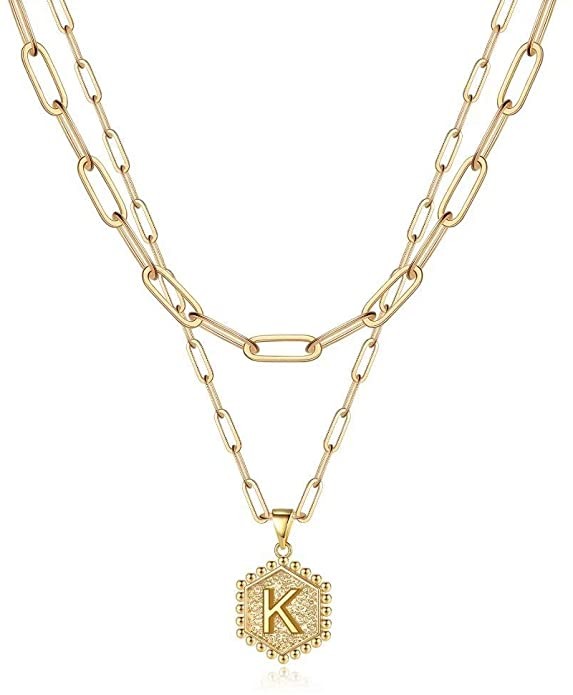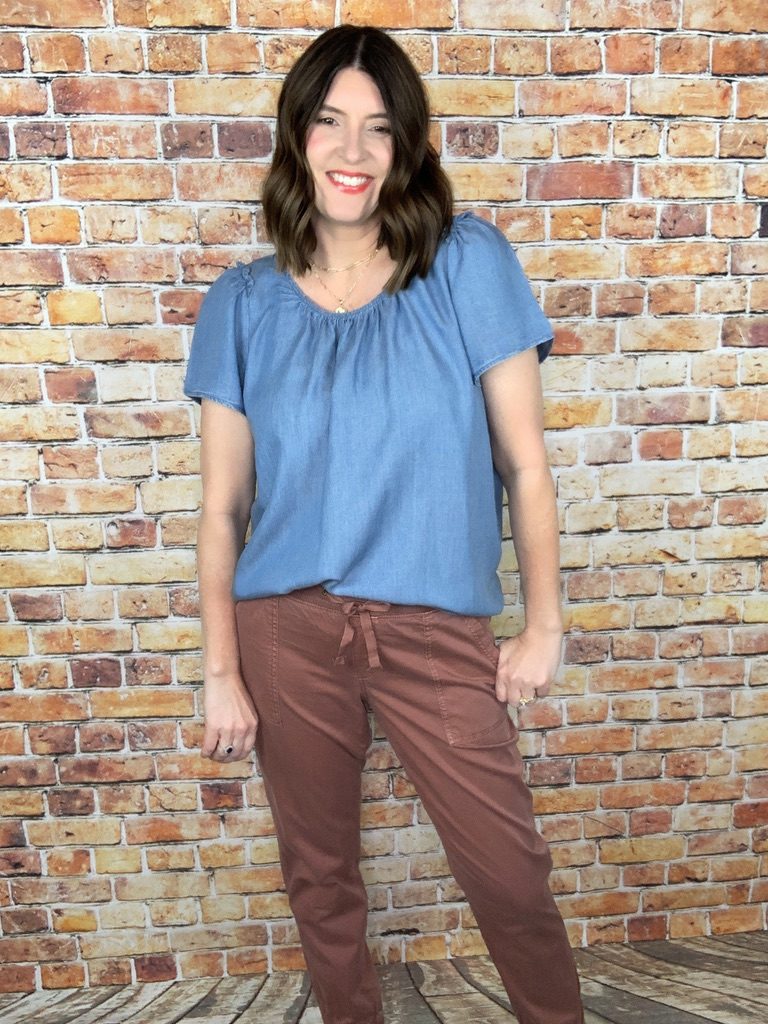 An open toe bootie is a good transitional shoe. Mine are at least three years old. This combo would also look nice with some flats or a sandal.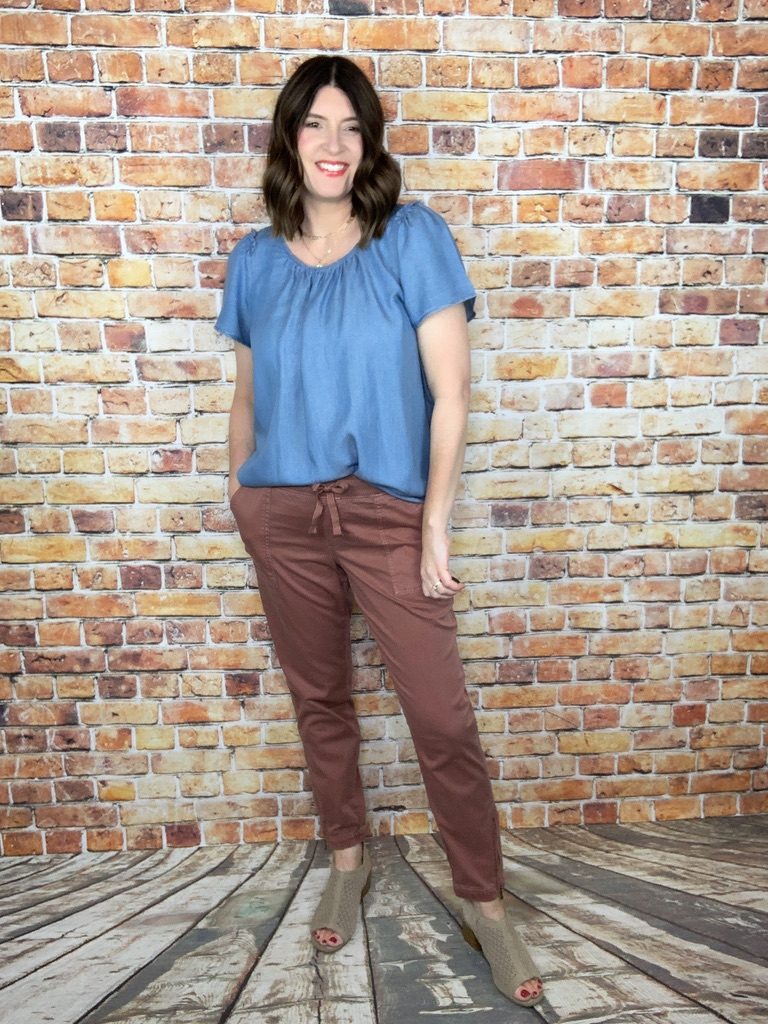 Joggers + V-Neck Cardigan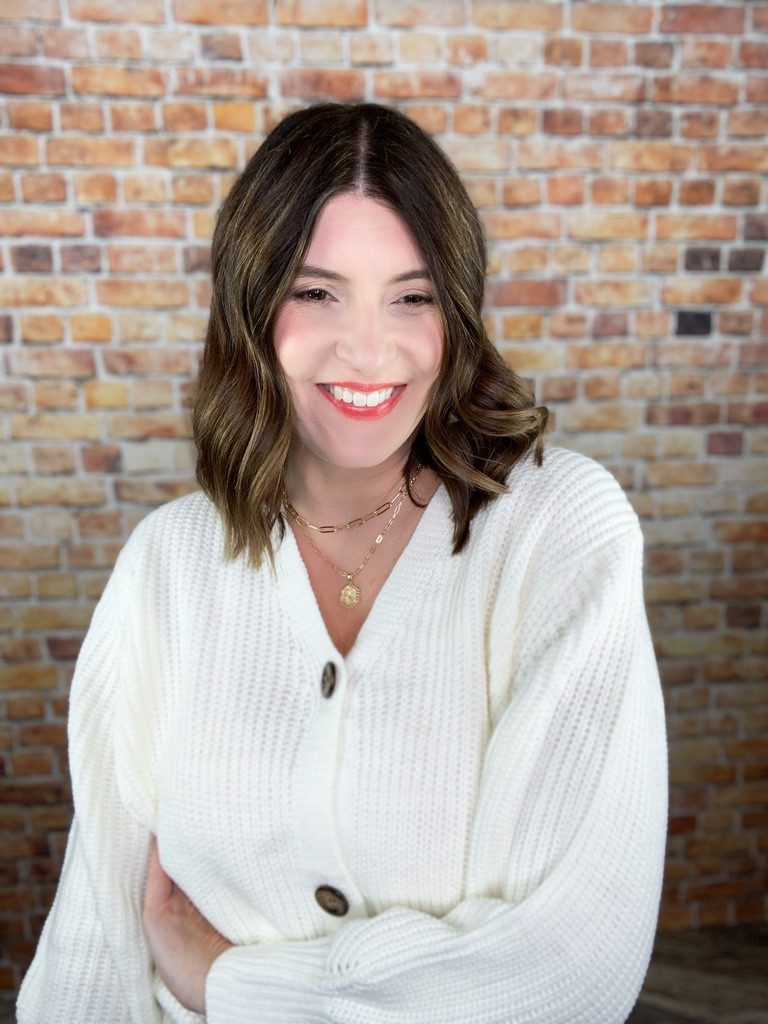 This next look is something you will be seeing a lot of this year. Get ready for shorter length V-neck button front cardigans. Every retailer that I shop has a version of this style sweater.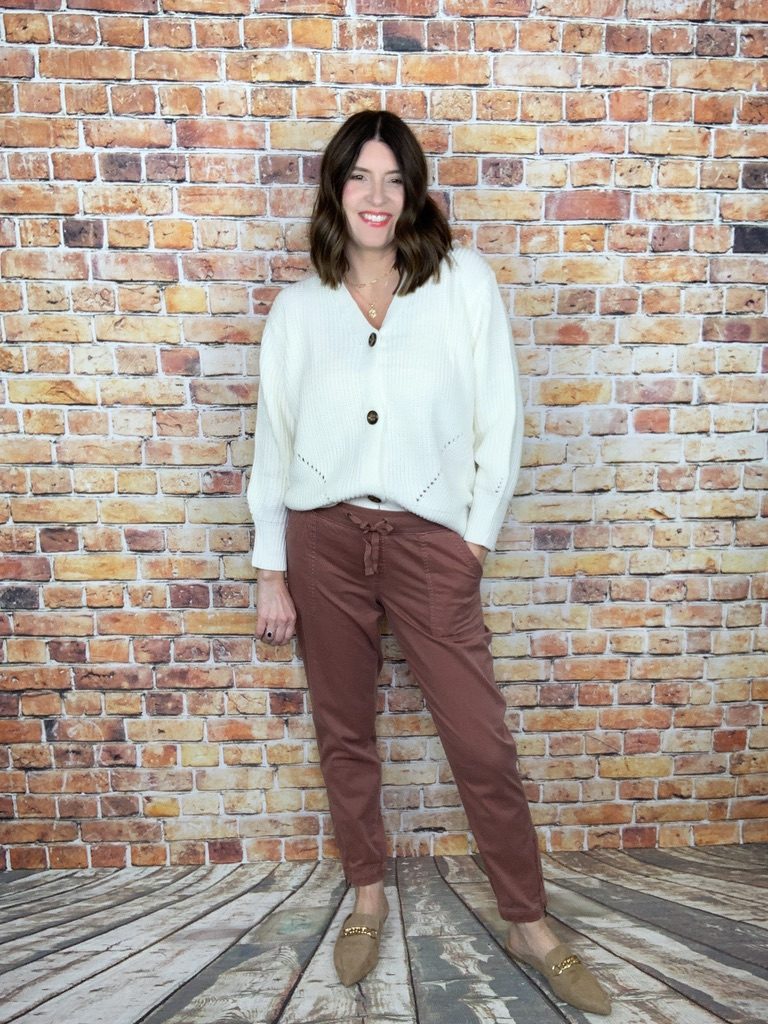 The shorter length of the sweater makes it easy to half tuck if you want to. It can also be worn untucked like the photo below.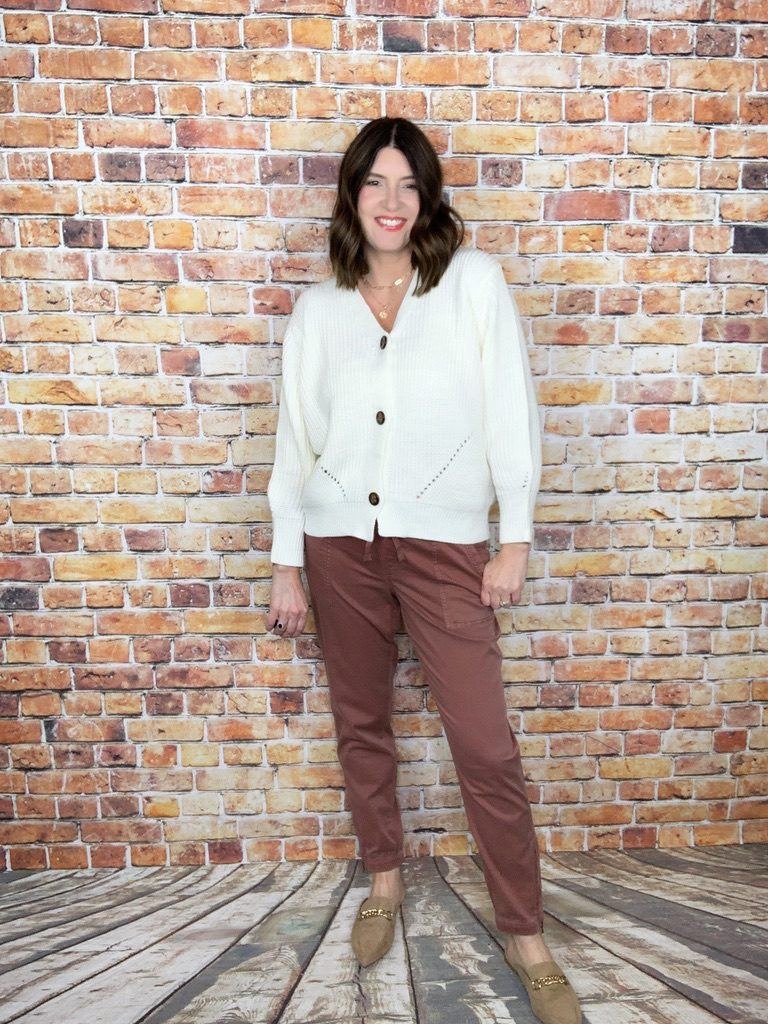 My sweater is from Amazon, and it comes in several other colors as most Amazon pieces do. It runs big, and I am wearing a medium.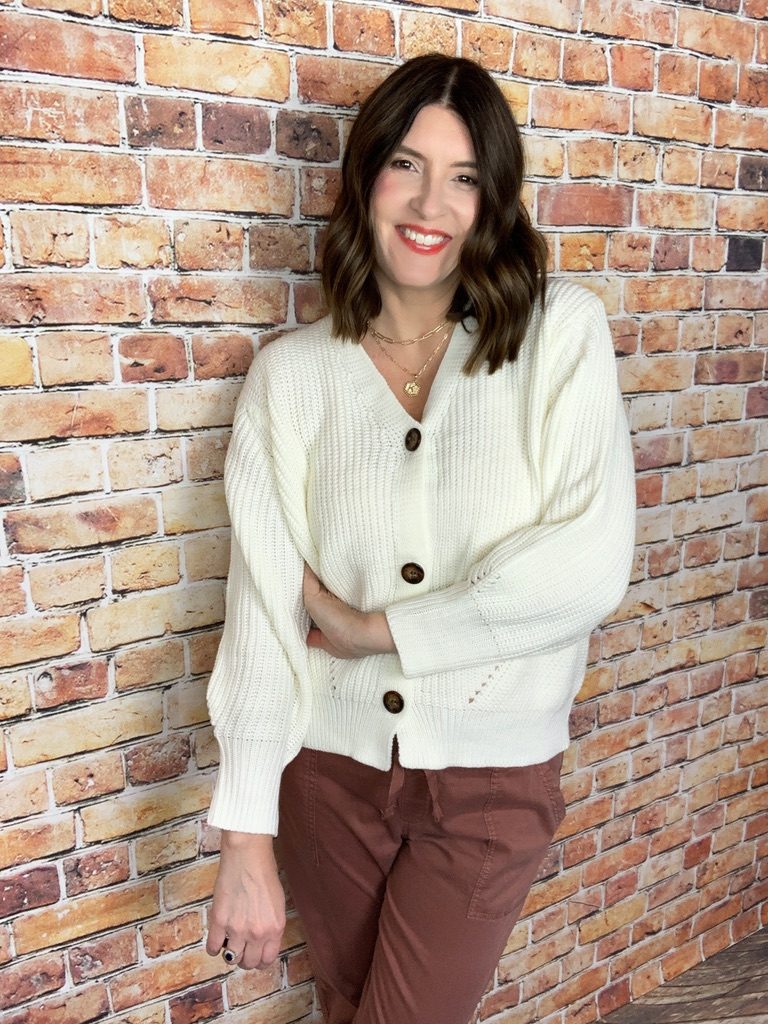 Tucked or untucked, I think it makes an interesting outfit paired with joggers. I chose my neutral colored mules for this look.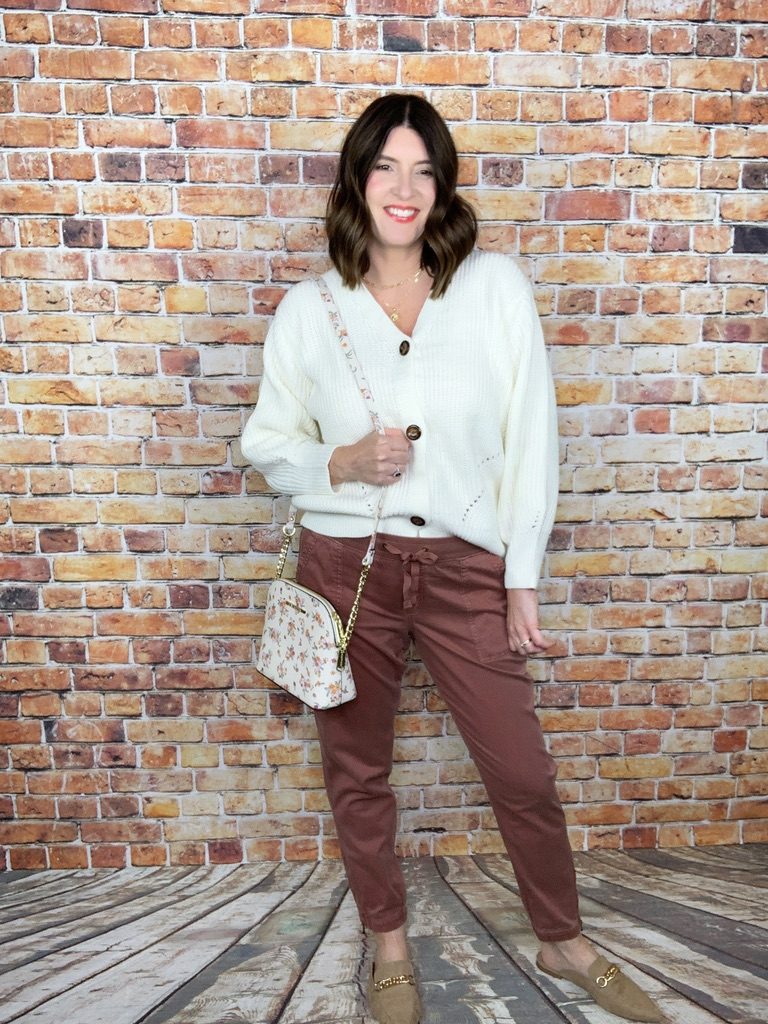 For some other outfit ideas with joggers, you may like this post.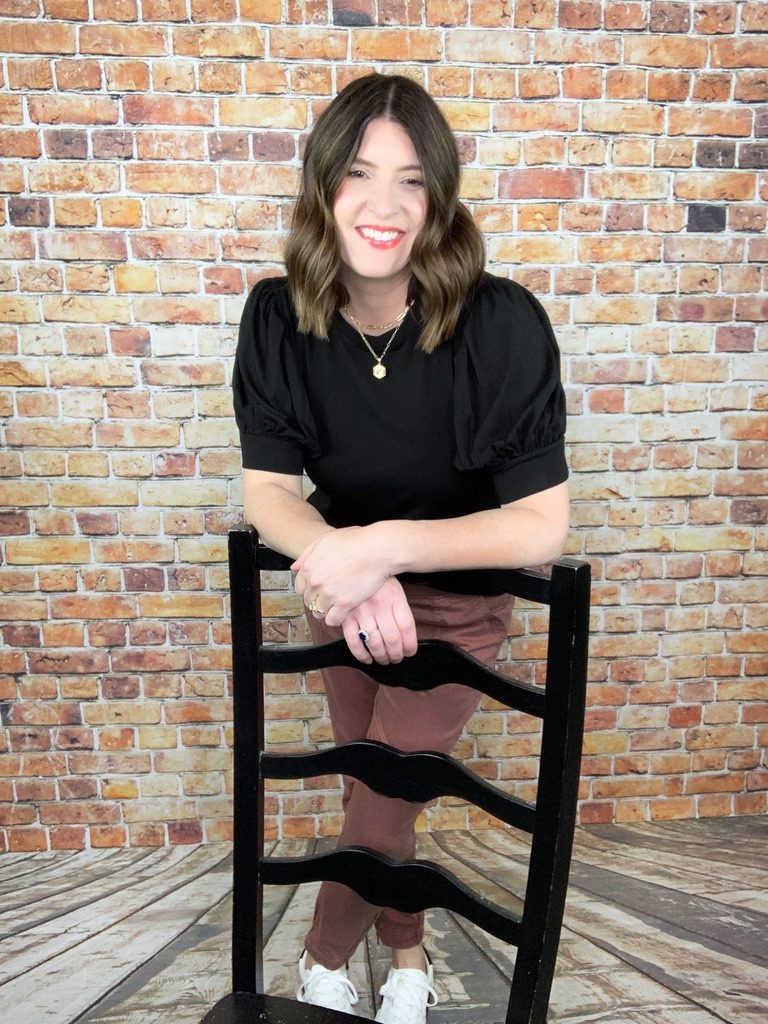 I hope you enjoyed today's post! Try to think of some interesting ways you might want to wear joggers this spring.