One of my main goals here is to provide helpful tips to make your life easier. Sometimes we just have trouble finding something to wear because we run out of ideas. That is why I love outfit formulas. What is an outfit formula? It's a basic guideline that allows you to put together outfits based on what you have in your closet. I'm going to start sharing outfit formulas on a regular basis and today I'm starting with a formula that you may not have ever considered… Long Sleeve Tops + Shorts.
As we come to the end of summer and the beginning of fall, transition is the key to dressing comfortably. For some, the transition is very slow. Here in the South where I live, it stays hot well into October. If you live in a cooler climate the transition will most likely take less time. Either way, we all experience some type of transition from warmer temps to cooler temps.
The long sleeve top + shorts outfit formula is a way to blend the summer and fall look into one outfit. Personally, this has become my go to outfit these days. There is just something about the opposites that make these outfits interesting. Also, I have a tendency to get cold and I like to have my arms covered so this is a practical outfit for me.
If you hate shorts and never wear them, then don't check out just yet. These outfits can be worn with jeans if you prefer. You may still get some outfit ideas that you can use for yourself. So, what does this outfit formula look like? Let me show you several ways to style this Long Sleeve Top + Shorts formula.
Long Sleeve Tee + Shorts
This is the combination that I wear the most these days. It is simple and casual. I recently picked up some new long sleeve t-shirts at Target in some basic colors like grey, black, and white. I really like the quality of the Target tees for the price. Of course you could also wear any print that you like.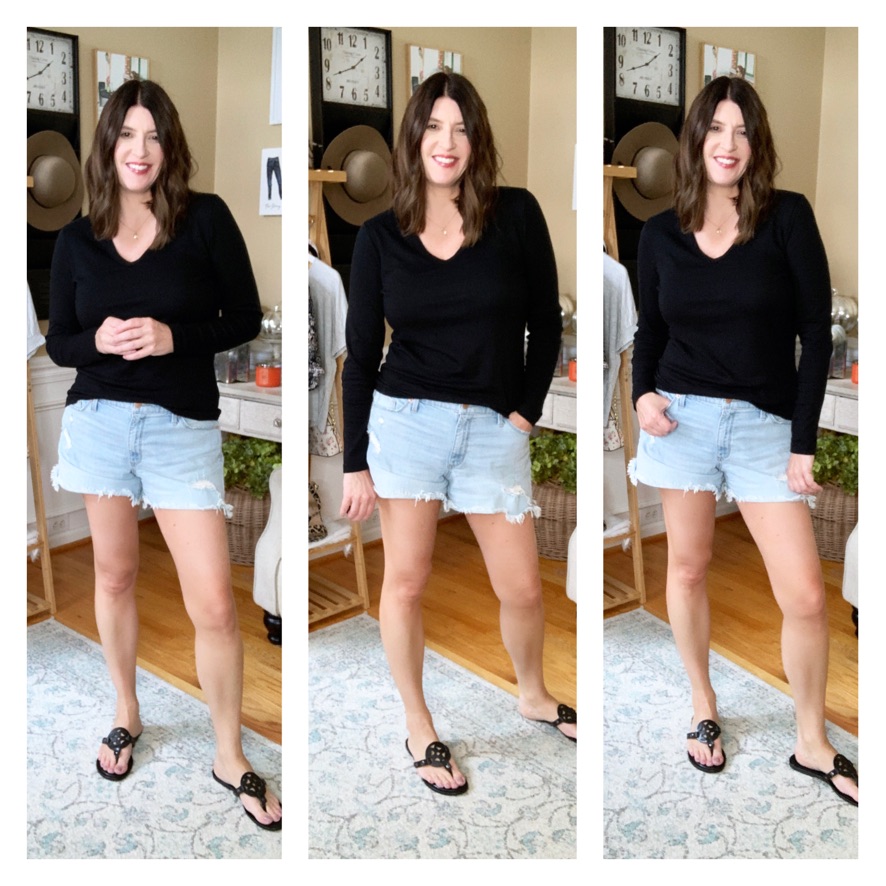 For this look, I chose a black v-neck tee and my distressed light wash denim shorts. My black sandals are still getting a lot of use and they go well with this outfit.
Pointelle Sweater + White Denim Shorts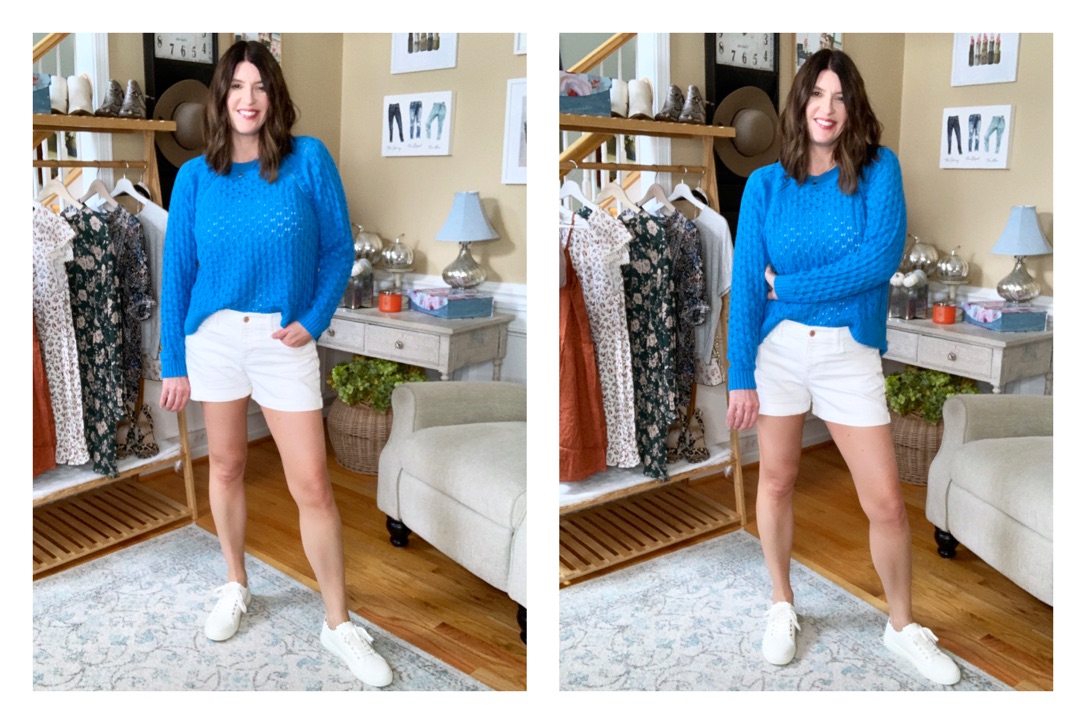 Pairing a sweater with shorts is also a good way to transition from summer to fall. A pointelle sweater is a good option because they are cooler. My blue sweater is from Loft . It is currently on final sale and is only available in a size medium, which is the size I am wearing. I will also link some similar styles. My white shorts are from Old Navy. Plain white leather sneakers are very on trend this year. They are easy to find at many different price points. I linked a pair from Old Navy.
Blouse + Elastic Waist Linen Shorts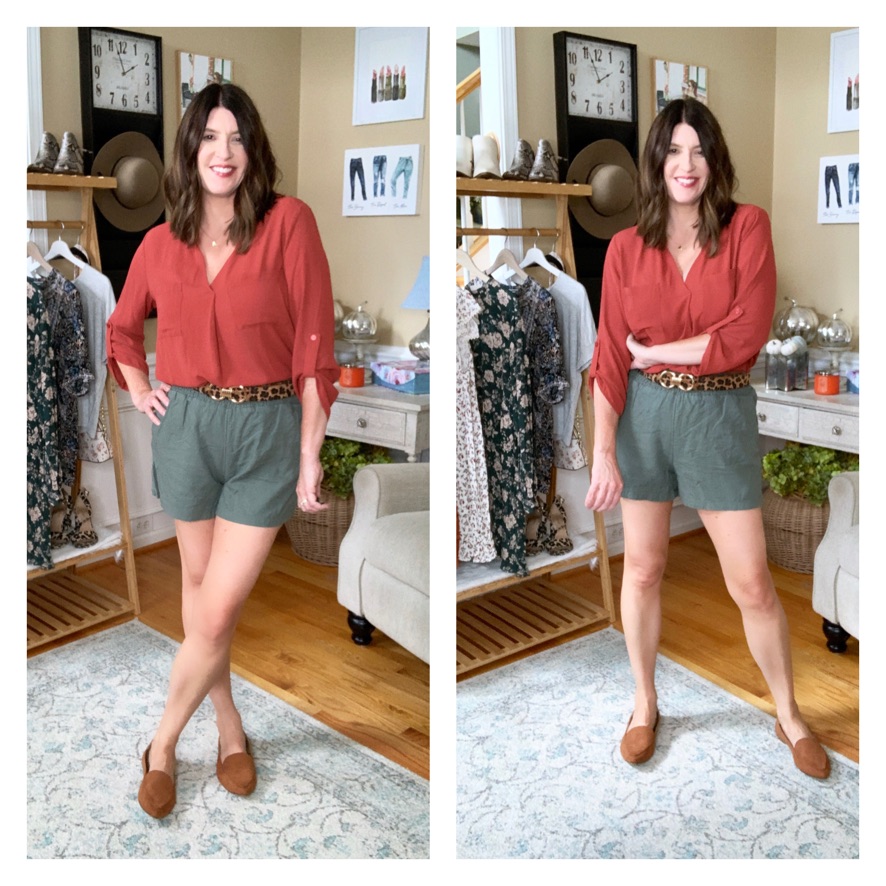 This next combination uses summer fabrics and fall colors to create a transitional outfit. The burnt orange top is old, but this one from Amazon is similar. My linen shorts are from Target. They are still available, and I would recommend sizing down. I am wearing a size small, and I normally wear a medium.
The shoe choice for these outfits really makes a difference. You could certainly wear sandals, but to make these outfits more fall -like I tried to wear other styles like these pointed toe loafers. They are from Walmart and are very reasonable. The leopard print belt ties everything together. I linked a similar one from Amazon.
Blouse + Denim Shorts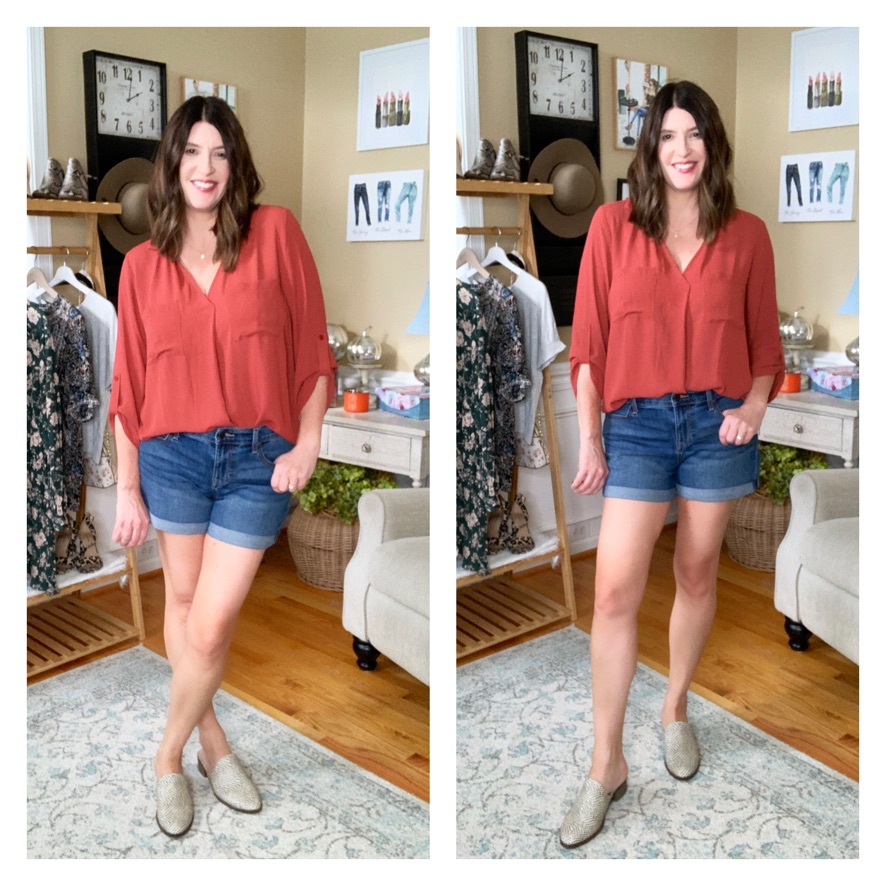 For this look, I kept the same blouse and switched out the shorts for a pair of denim shorts. My denim shorts from Old Navy are no longer available. I linked a similar pair from Target. The other thing that makes this outfit different is the shoes. For this look, I chose my animal print mules. Mules are a great shoe option for transitioning from summer to fall.
Button Down Blouse + Denim Shorts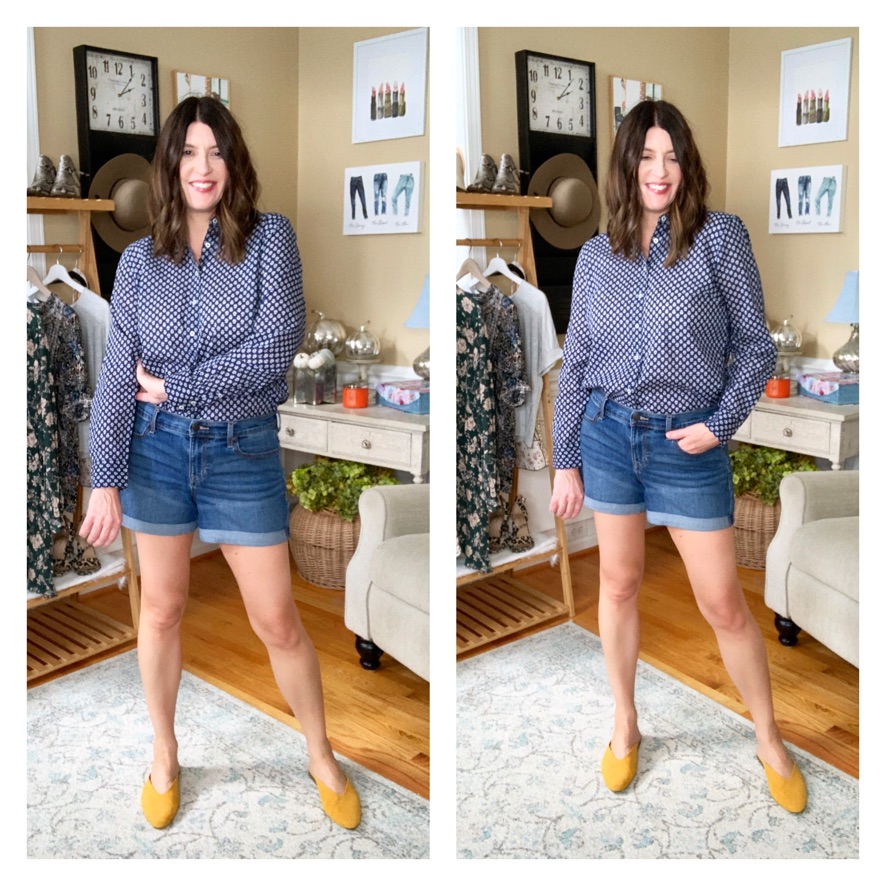 You may recognize this navy geo print button down from Talbots. I shared in another blog post a few weeks ago. This is a classic look, so I chose the darker denim with no distressing. For shoes, these gold flat mules give the outfit a fall look. Again, my shoes are old so I will link a similar pair.
Oversized Sweater + Denim Shorts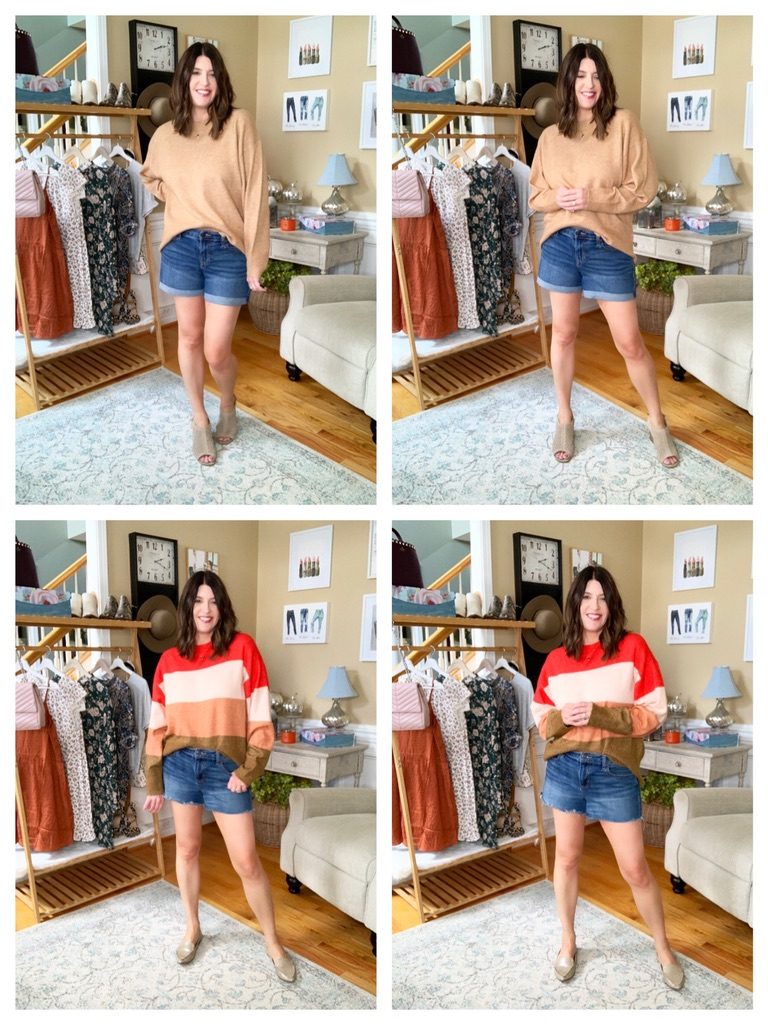 This sweater and shorts combination is similar to the blue sweater and white shorts in the above example, but in this outfit the oversized sweater is what makes it seem casual and effortless.
These sweaters are the exact same style in two different colors. The solid camel color is a wardrobe basic. I recommend having at least one camel colored sweater on hand. They are classic and flattering! The colors in the striped sweater are oh so fall.
For shoes, I chose an open toe bootie in the first combination and a pointed toe loafer in the second outfit. Both pair of shoes are old, so I will link some similar styles.
These sweaters are from Target and they run big. I am wearing a medium in both and you can see that it still gives me an oversized look. Here is how the sweater looks with jeans.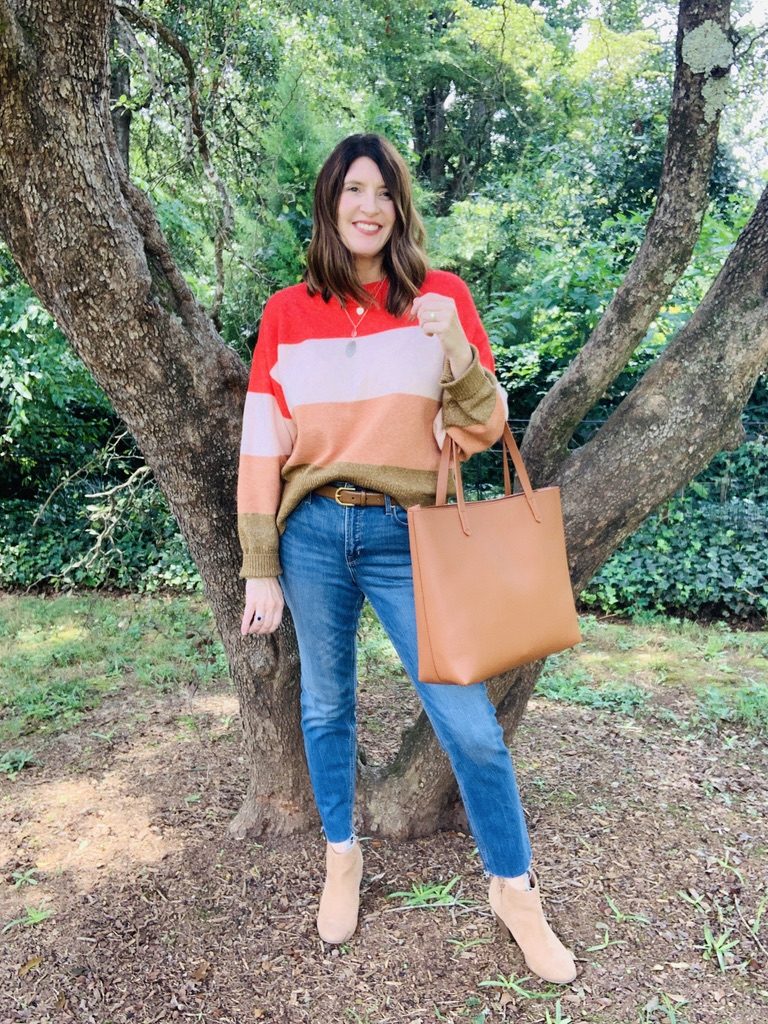 White Eyelet Blouse + Denim Shorts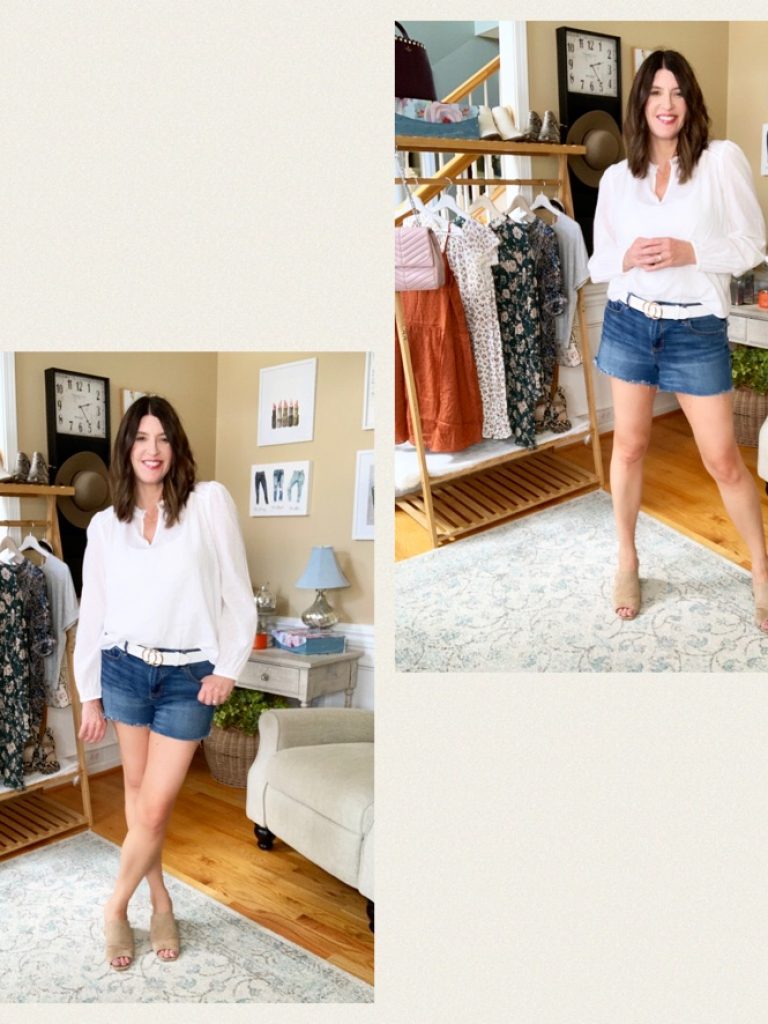 This is a classic and very feminine looking style. I love a sweet white eyelet blouse! The blouse in the photos is from Loft and is sold out. This one from Old Navy is very similar.
I'm wearing the same cut off denim shorts with a pair of faux suede mules. Keeping the shoes a neutral color helps elongate the legs. I wouldn't recommend wearing a dark shoe with this outfit.
Waffle Knit Top + Denim Distressed Shorts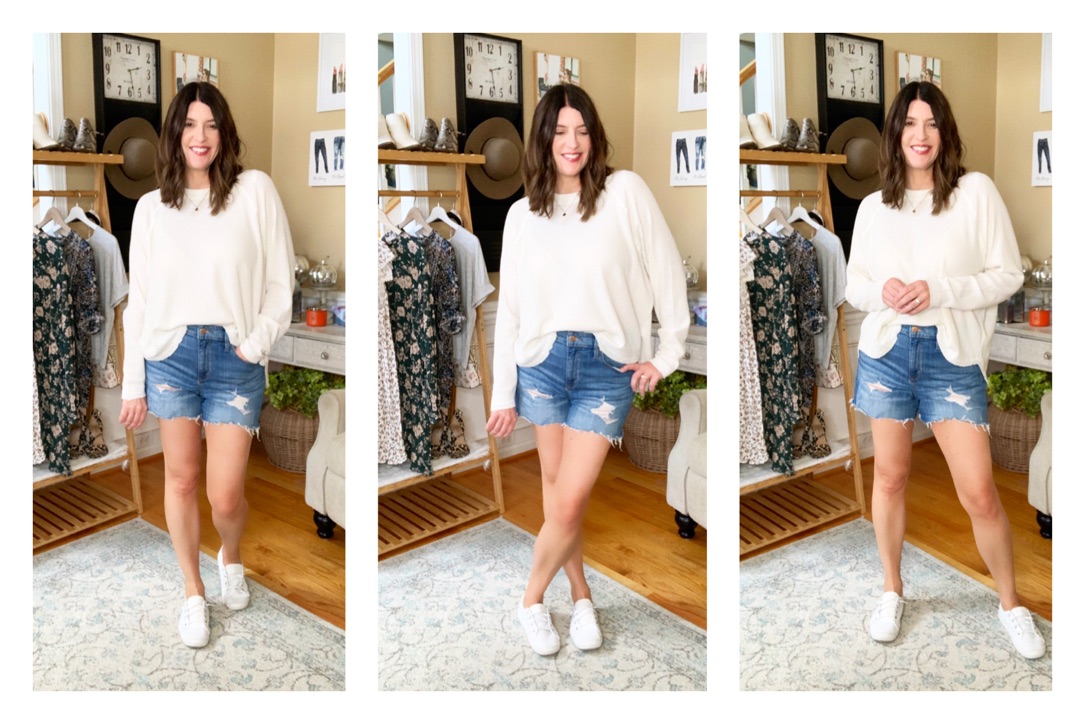 Waffle knit tops in every possible style are as popular as ever. For this outfit, I am wearing a simple white crew neck waffle knit top from Target. It is a recent purchase, but I could not find this particular top on the Target website. It is by Knox Rose if you want to keep an eye out for it in your local Target store.
There are so many variations of this outfit formula. Color and style of the top can be anything you have or which ever style you like best. To achieve this overall look, your top should be oversized.
Distressed shorts and white canvas sneakers complete this outfit.
Sweatshirt + Denim Shorts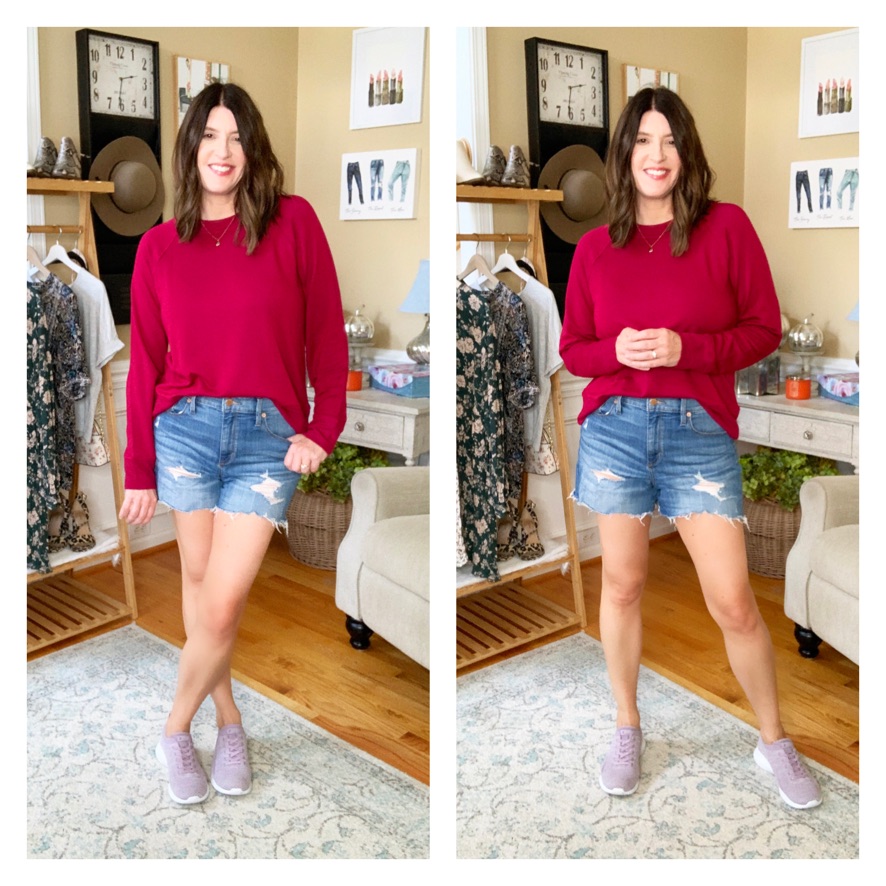 My favorite way to wear denim shorts is with a soft, cozy sweatshirt. This fushia colored one may look familiar from my previous post on Fun Ways To Wear A Sweatshirt. This is a great sweatshirt for the start of cooler weather and it is from Target.
My Lavender sneakers are by Sketchers. I found these at Target recently and I have been so impressed with how comfortable they are! The price is good too.
Cardigan + Tank + Denim Shorts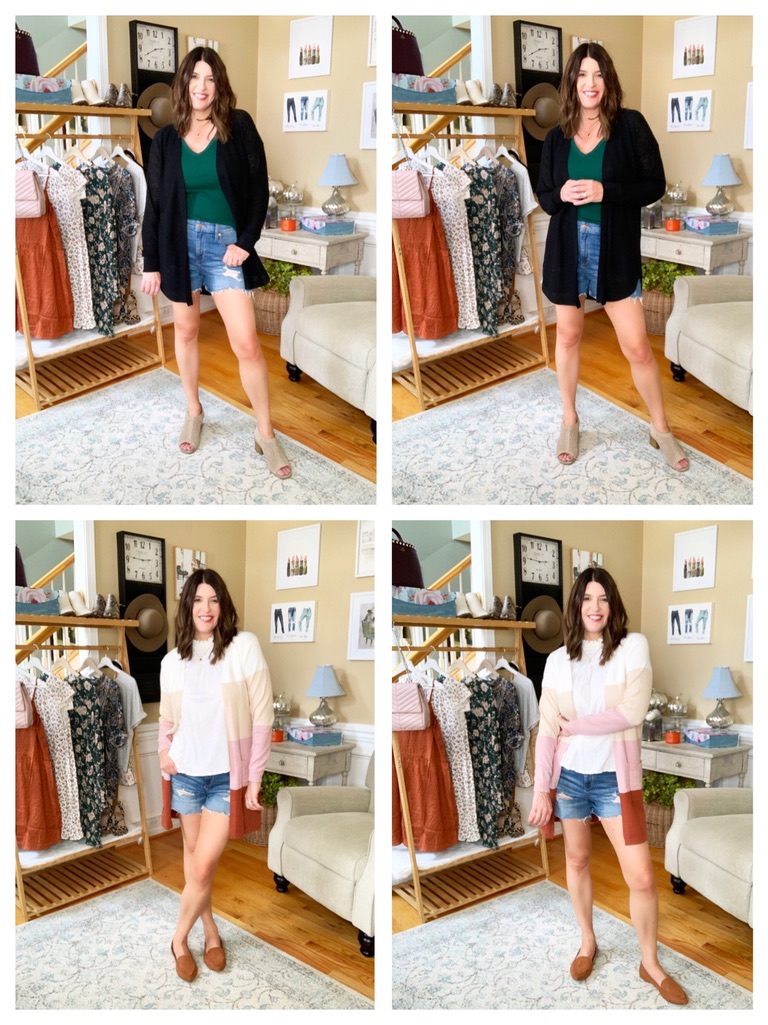 The last outfit formula also has endless possibilities. I have two examples that contain a cardigan sweater over a tank top paired with shorts.
The first outfit is centered around a dark green tank from Old Navy. The black cardigan is from Loft and is lightweight for this time of year. I linked some other black cardigan options from Old Navy since my exact sweater is sold out.
The second outfit mixes lighter neutrals with a very fall -like pumpkin color. My striped cardigan is from Amazon. I am so happy with the quality and the softness of this one! You will definitely be seeing this cardigan styled several ways in the future. I am wearing a medium and it also comes in several other colors. My shoes pick up on the darker stripe of the sweater.
I hope you enjoyed this first outfit formula! I encourage you to use these examples and shop your closet to put together some fun outfits as we transition into fall.