Like most of 2020, this holiday season is going to look a little different. I'm hearing from most people that staying home and being more casual is the trend this year and I completely understand that. There are some, however, that will still get dressed up for a holiday party or event. If you are planning to dress up this year, I want to offer some affordable holiday dresses as options. Everything I am showing today is from Amazon, so not only is it affordable but shipping is quick if you need a dress in a hurry.
Red Dress #1
Nothing says Christmas like a red dress! I have two styles to show you. I kept the first one for myself this year. I will wear it on Christmas Eve to church and then out for dinner afterwards.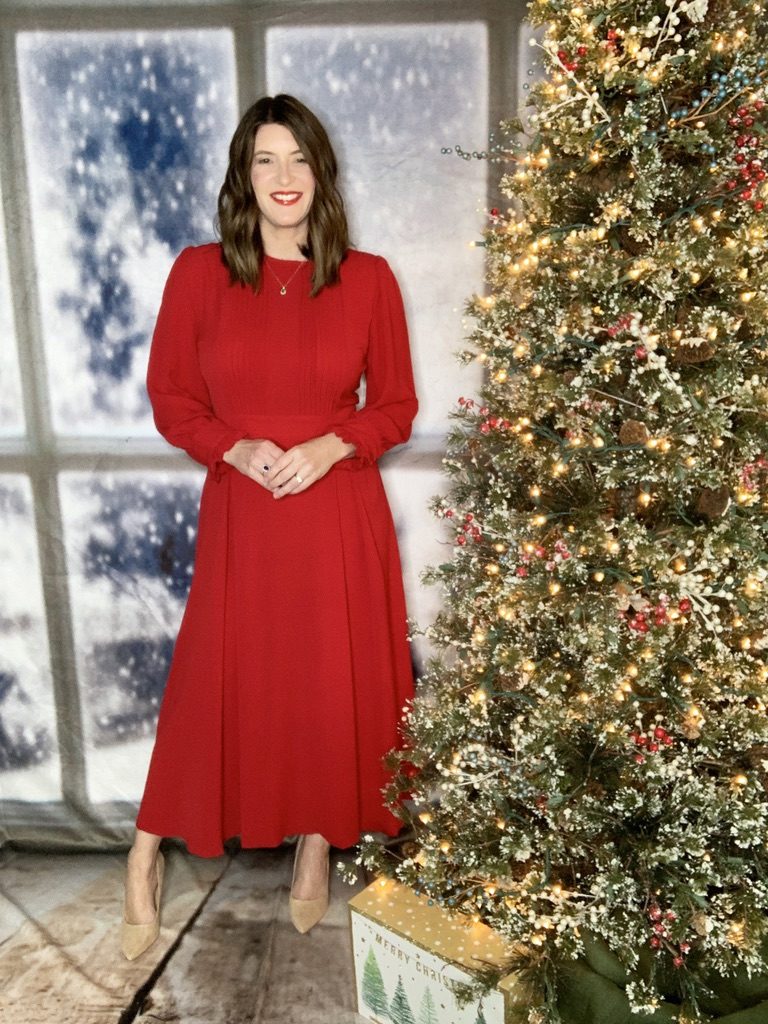 The first affordable holiday dress is the Milumia Women's Elegant Frilled Long Sleeve Pleated Fit and Flare Dress. The pleats on this style are very figure flattering. The fabric is light enough to be worn all year, but I really like the long sleeves for winter.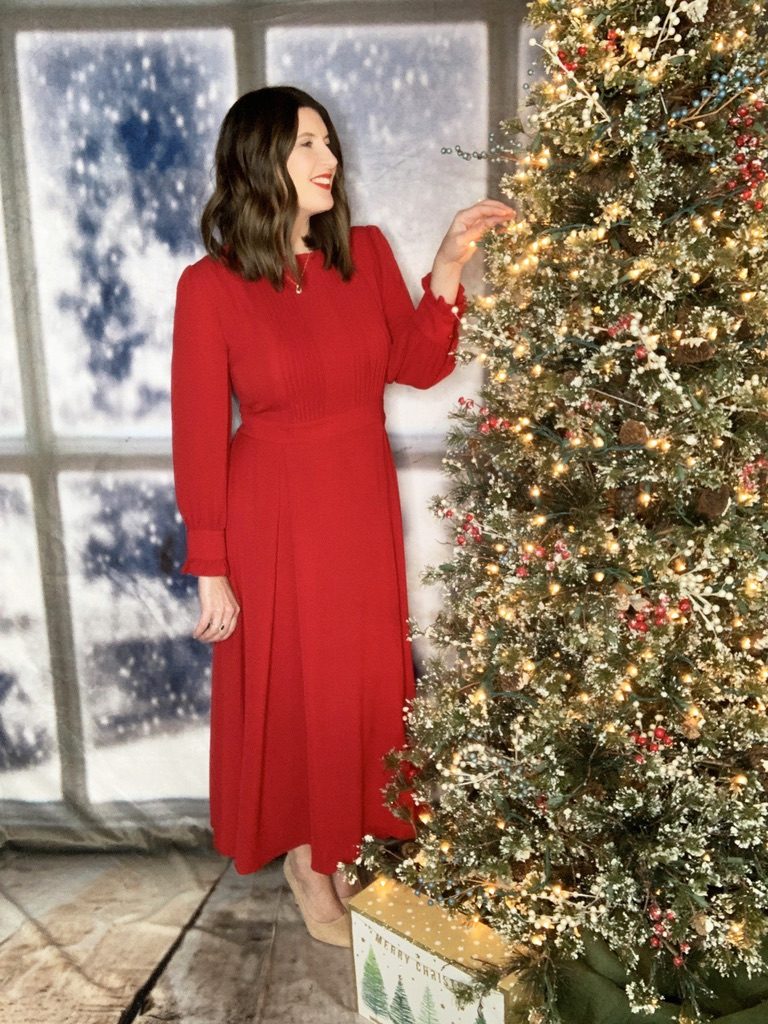 My nude pumps are also from Amazon. I always recommend wearing a shoe that blends in to your skin so your legs are one long silhouette.
These earrings would also look nice. I'm not wearing them in these photos, but they are on my Christmas wish list.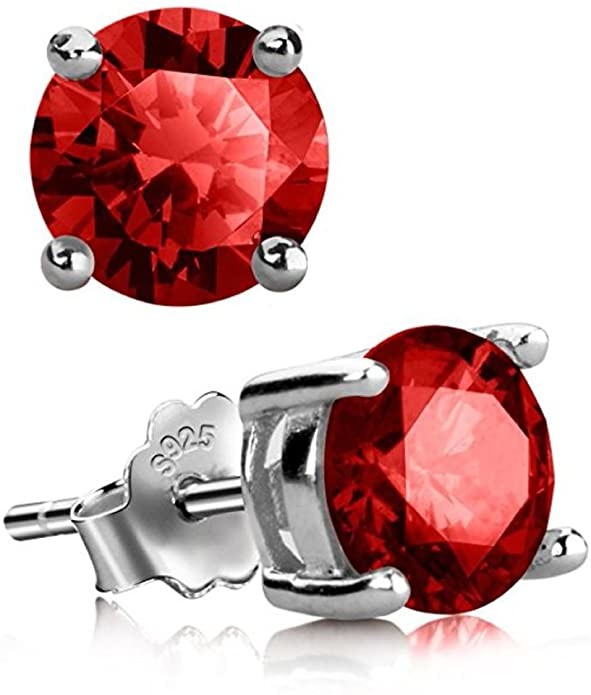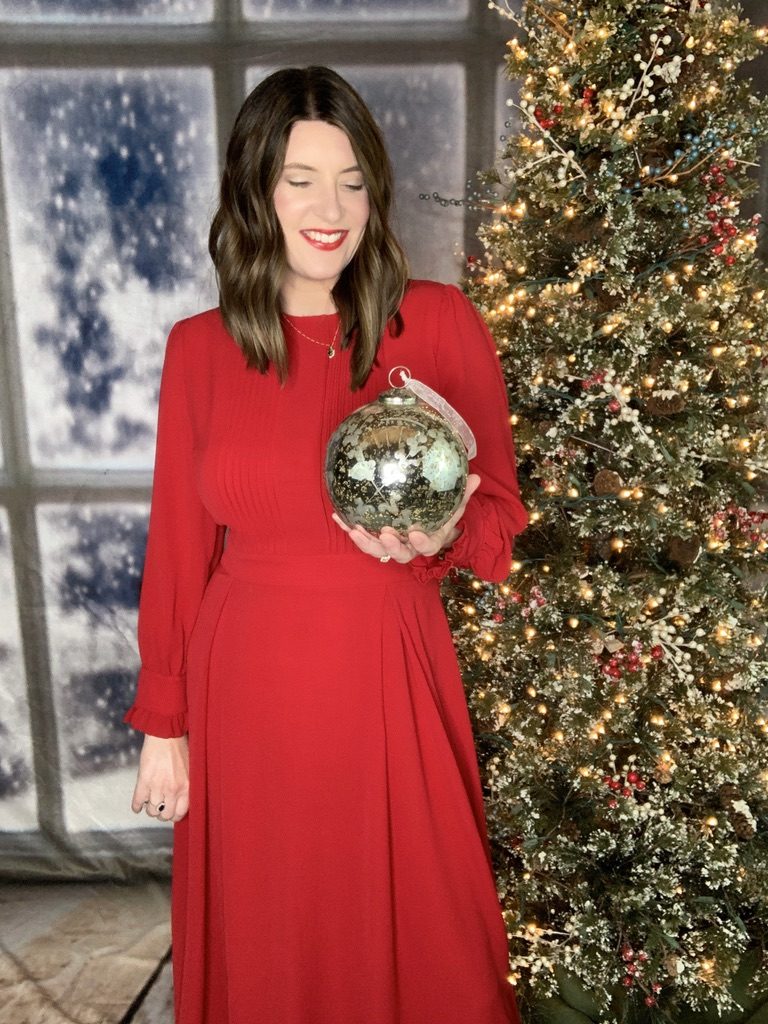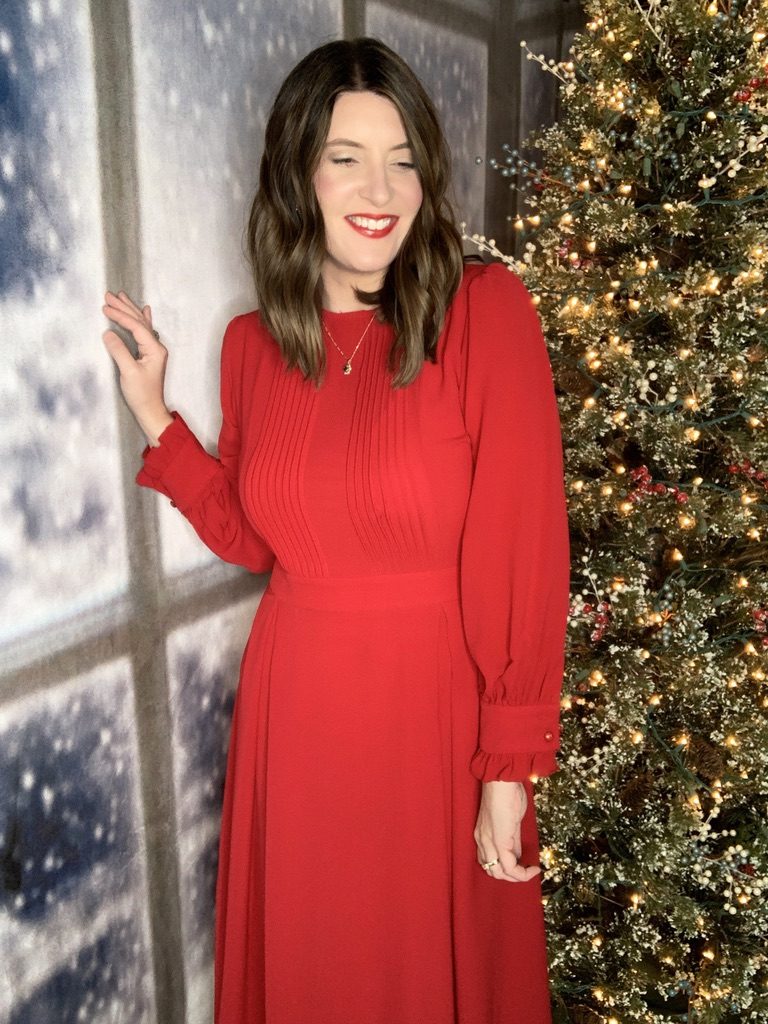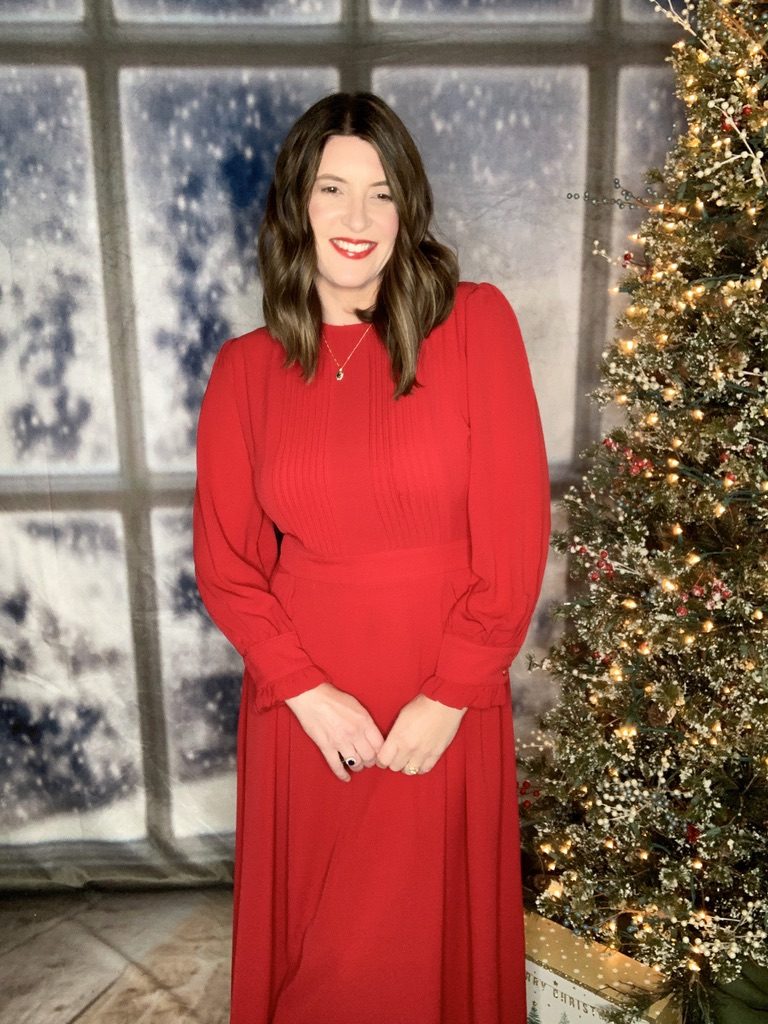 I am wearing a size medium, so I would say it runs true to size. If you are petite, this might not work for you length wise unless you have it hemmed. I am 5'7″ and it is a longer mid-length for me.
Red Dress #2
The second red dress is another affordable holiday dress that could be worn for other occasions as well. This is a V-neck floral lace dress. I went with a size large in this style, and I'm glad I did because it was a little tight through the chest.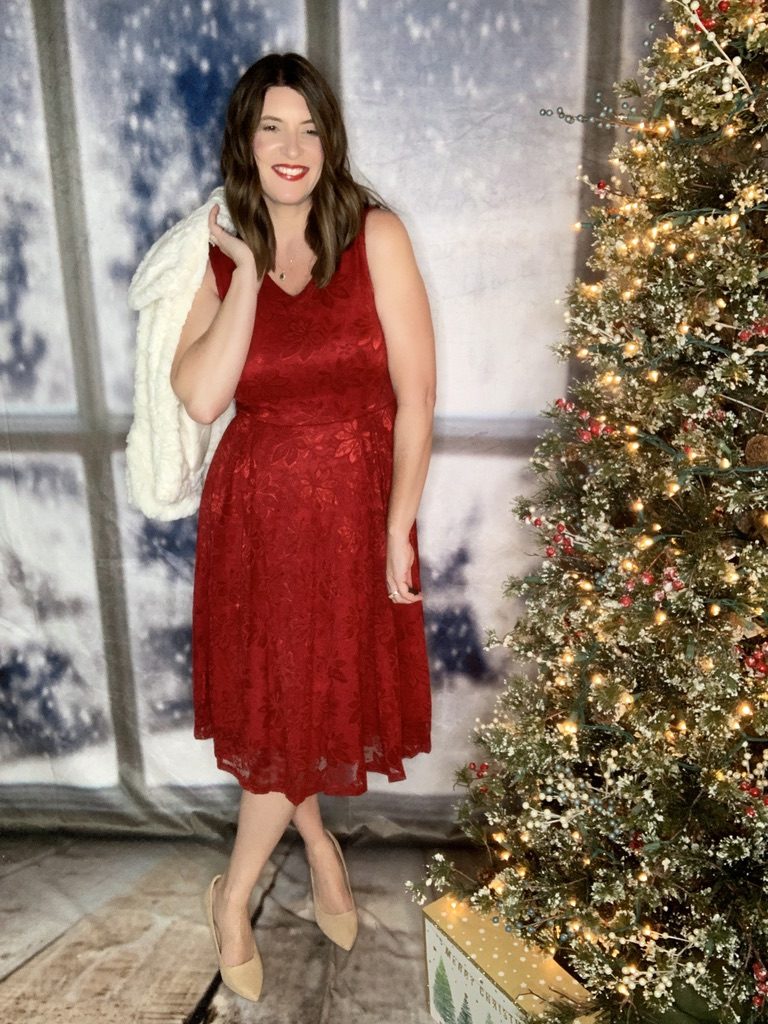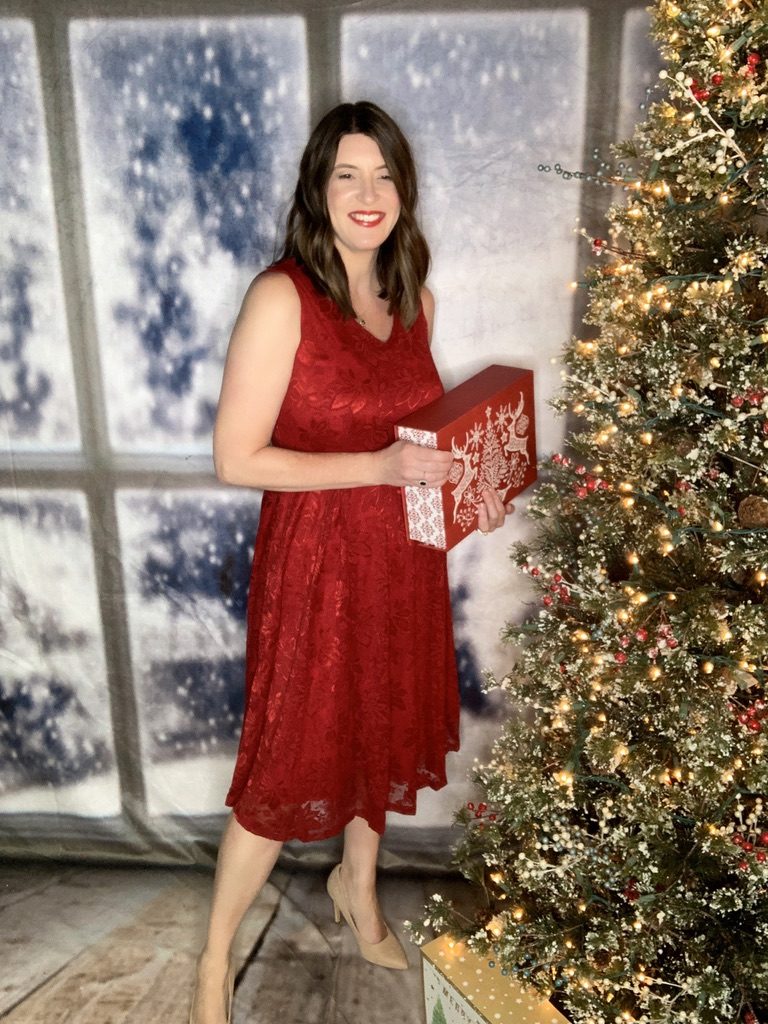 This might be a better option if you are more petite since it is not quite as long as the first red dress.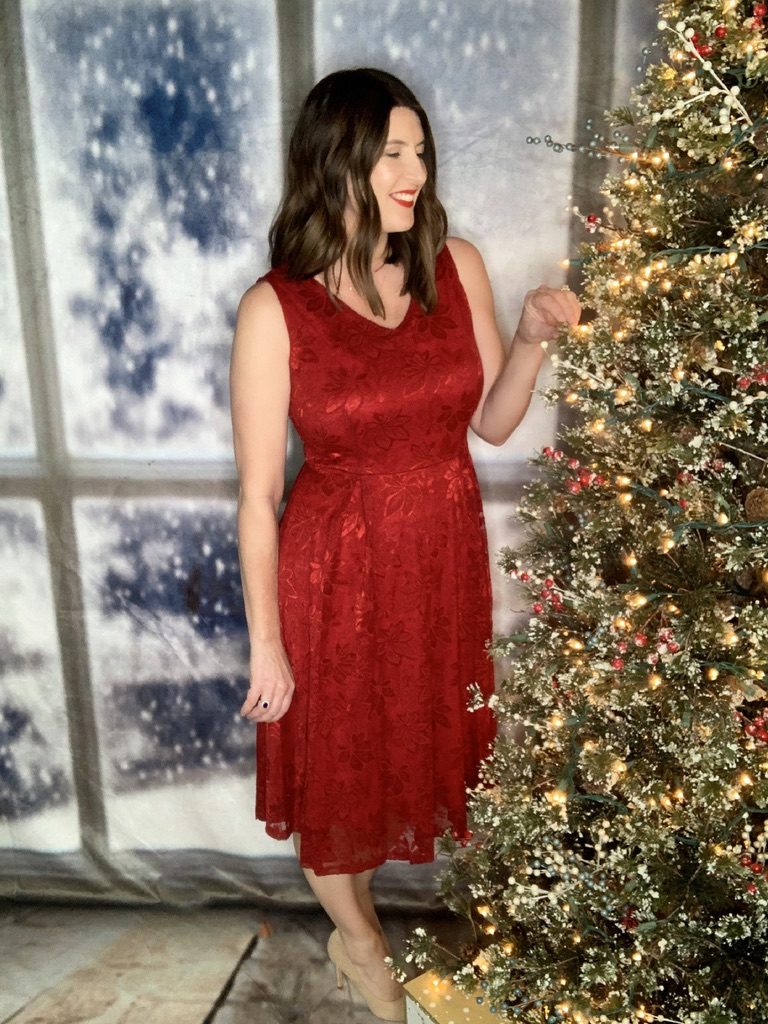 My faux fur wrap is old. I wore it several years ago for my sister's wedding. It is still very much on trend. Here is a similar style.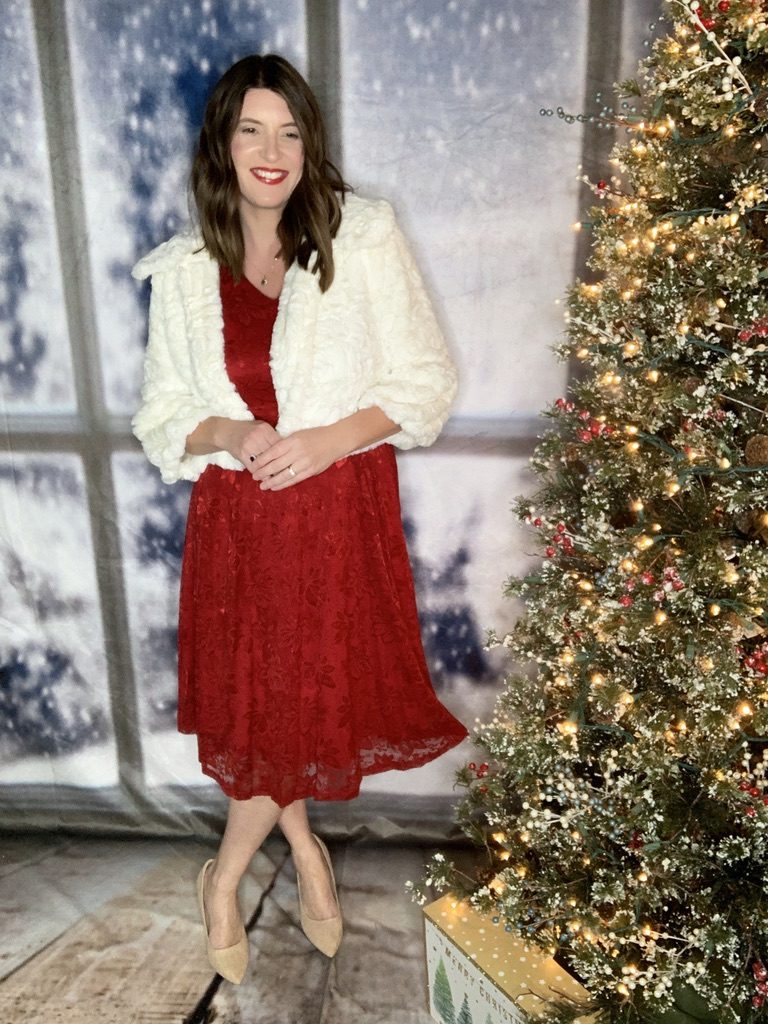 My necklace is an emerald pendant that my husband gave me several years ago. Here is a pretty and less expensive style that would look nice with this dress.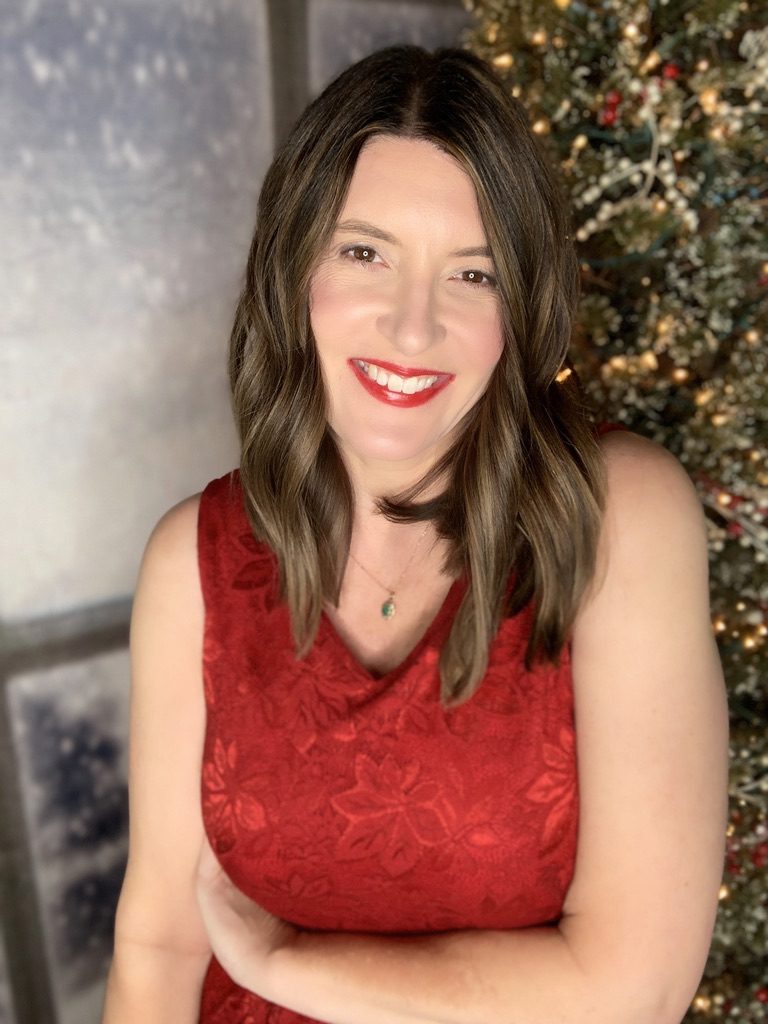 Dress #3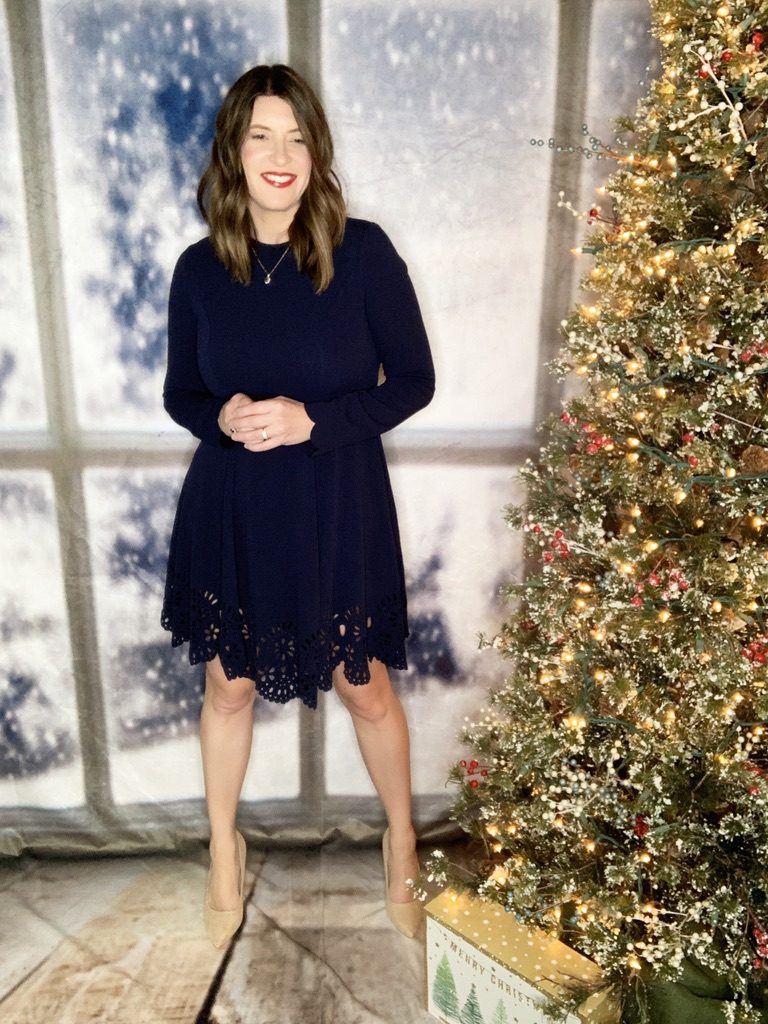 The last affordable holiday dress is this navy A-line dress with a beautiful scalloped hem. The fabric is not the best quality, but for the price of $31.99 I think the detail is nice.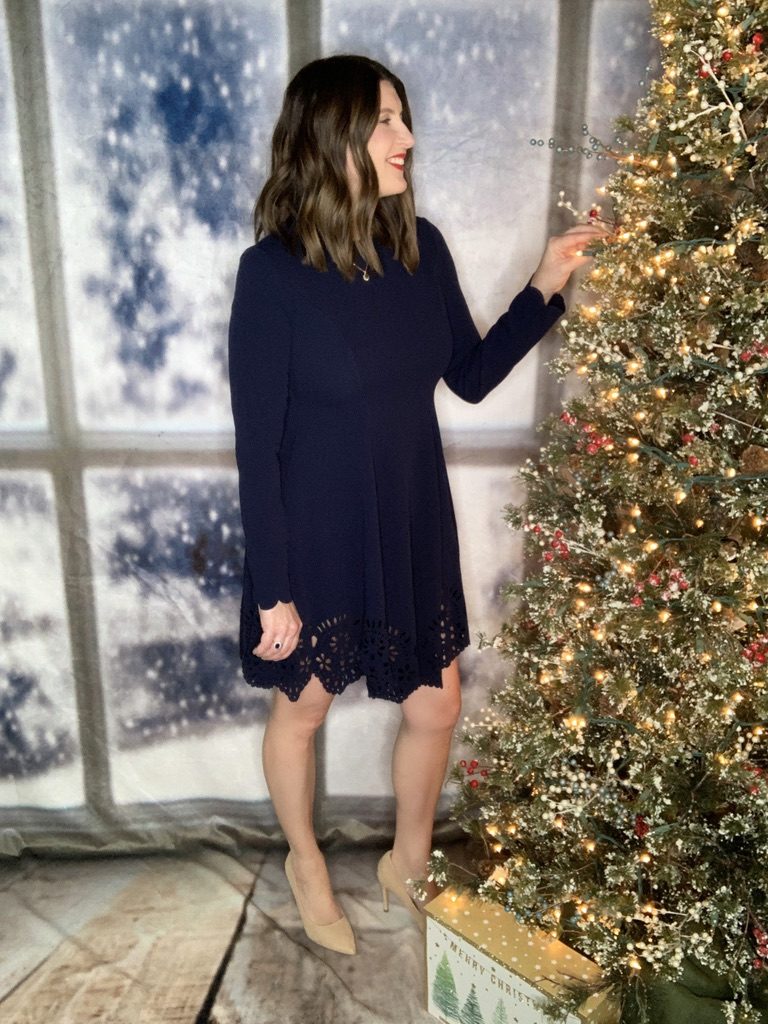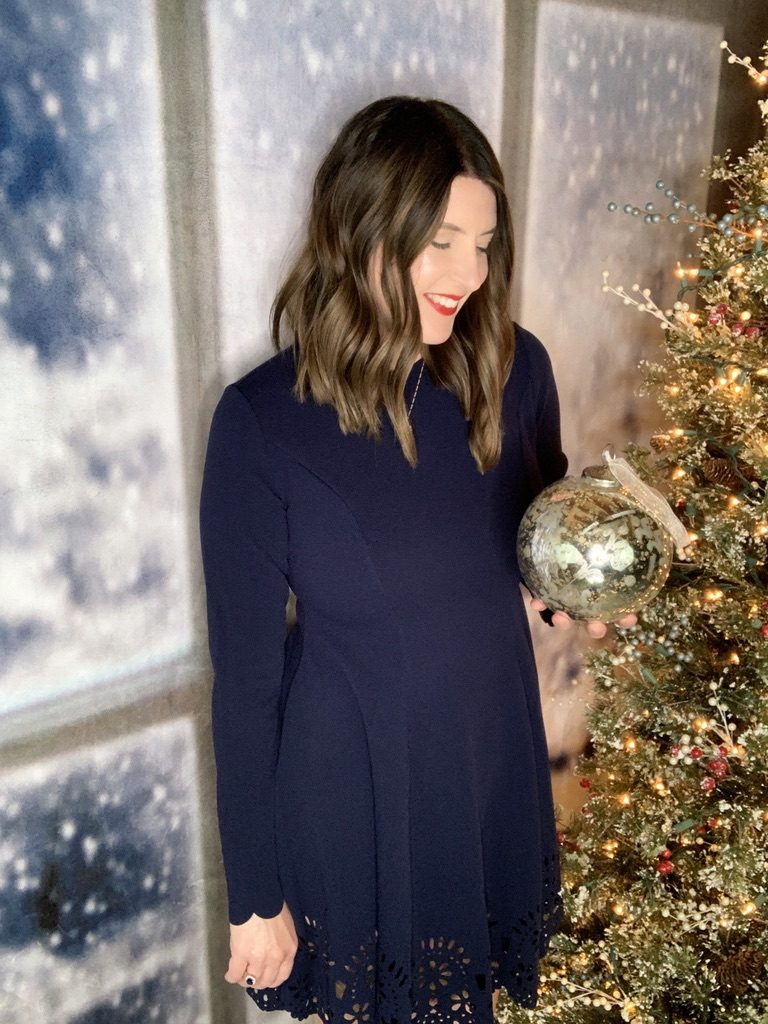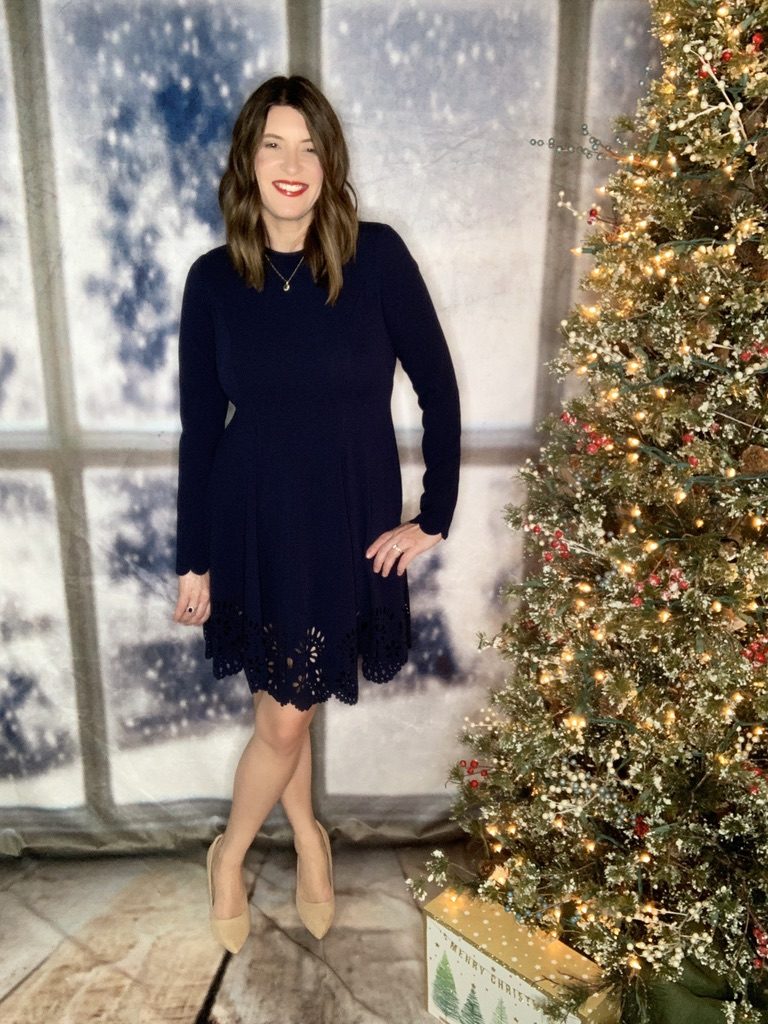 This would be a good dress just to have in your wardrobe for any occasion. It is a very forgiving style and fit. I am wearing a size large.
Sparkle Holiday Outfit
This is an outfit that I featured last year, but this skirt is still available this year. I think it is a classy way for us more mature women to wear a sequin skirt. I am wearing a size large in the skirt.
The key to pulling off this look is to wear black tights with black boots or heels. The leg really needs to be one long line here. Also the high neckline of the top balances out the shorter skirt.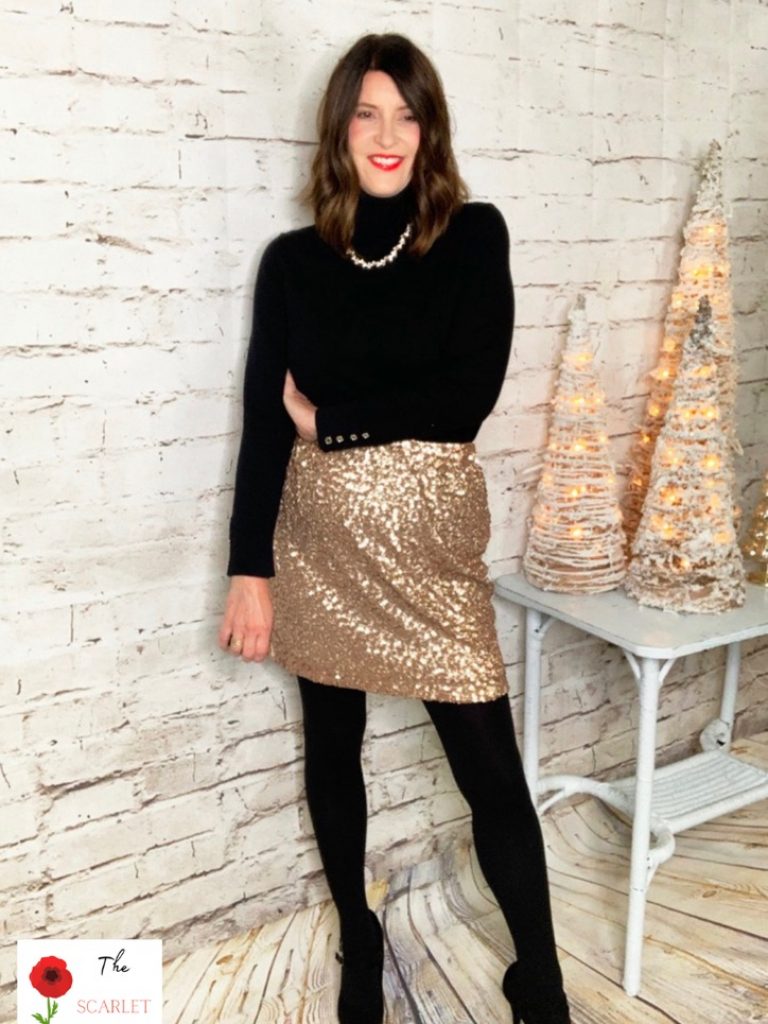 I will also link a few more styles that would be affordable holiday dress ideas in the shopping widget. I hope you enjoyed today's post. Don't forget to share The Scarlet Lily with your friends if you think they would enjoy it too! Be sure to check out some other holiday outfits here.