Transitioning from one season to the next can be frustrating. If you are like me, I get tired of wearing summer clothes, but it is still very hot here in the South. If you live in an area that cools off a little earlier, it can still be confusing when trying to figure out what to wear. Today I have four ways to transition your wardrobe into fall that should make summer to fall a little easier.
Wear Darker/Fall-like Colors
When the weather is still hot and you want to wear fall clothes, the best way to accomplish this is by color choice. Remember a while back I wrote a post on how to find your best colors? If you would like to read it, you can see it here. Keeping in mind the colors that flatter you the most, choose colors that are more fall-like.
A sleeveless top in a deep fall color will give you the variety you may be wanting while still keeping you cool. Later on when the weather is cooler, you can just add a cardigan and still enjoy your sleeveless top.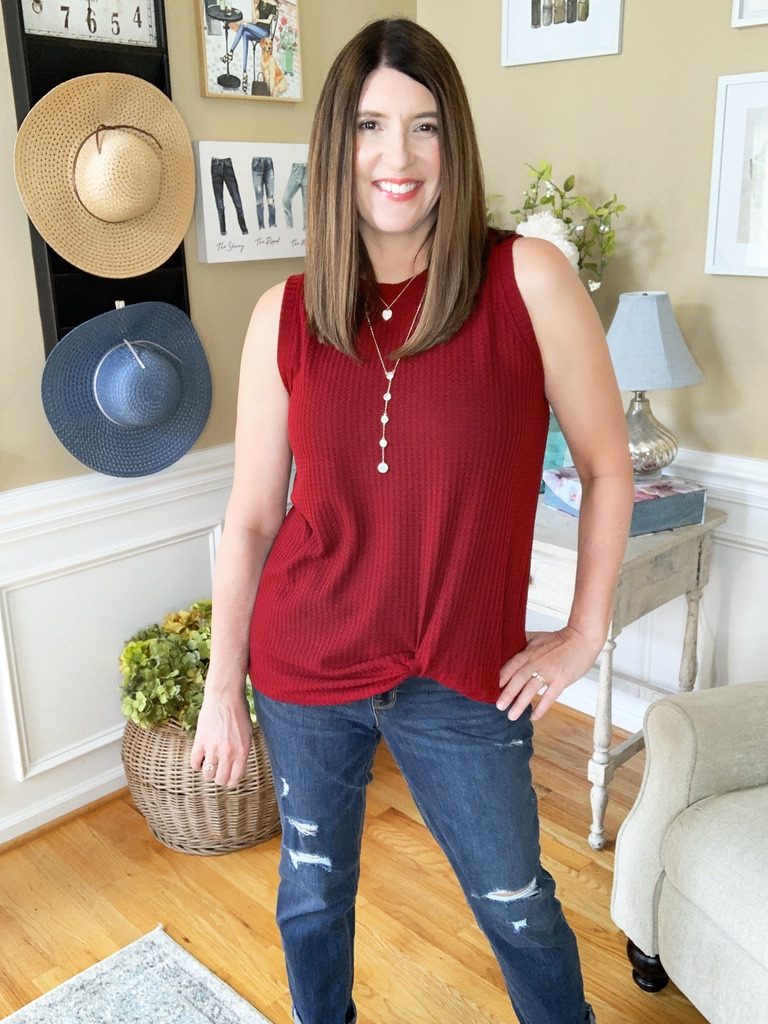 This short sleeve top paired with a deep wine colored faux leather skirt is a good example of using color to look like fall without being too hot.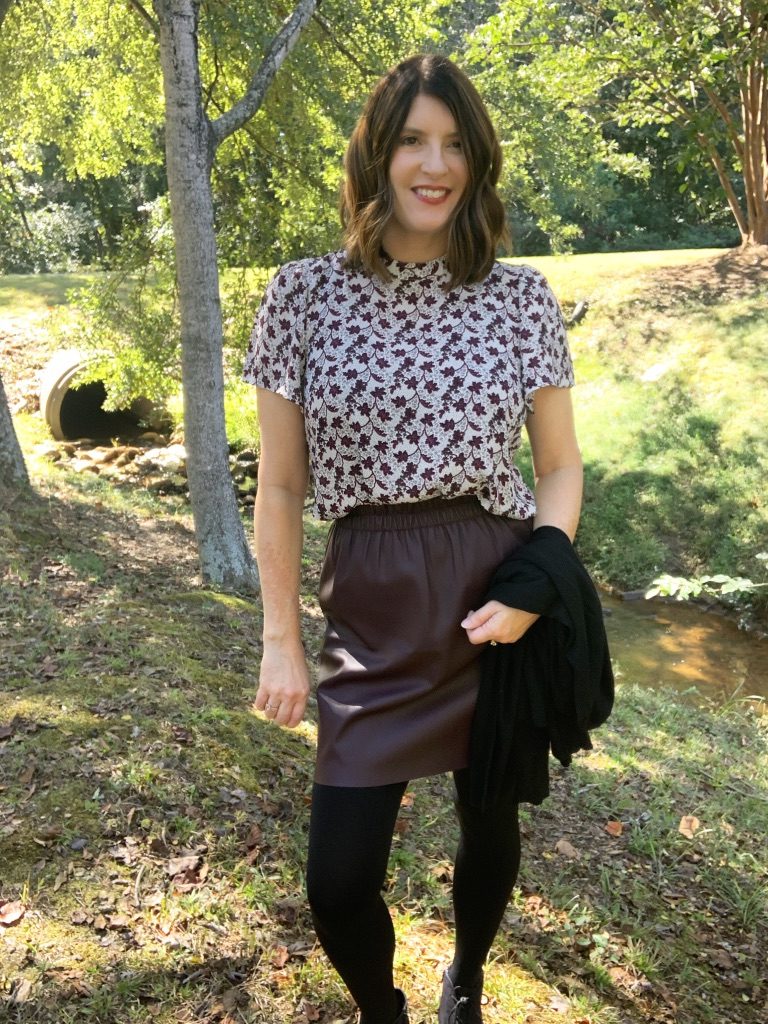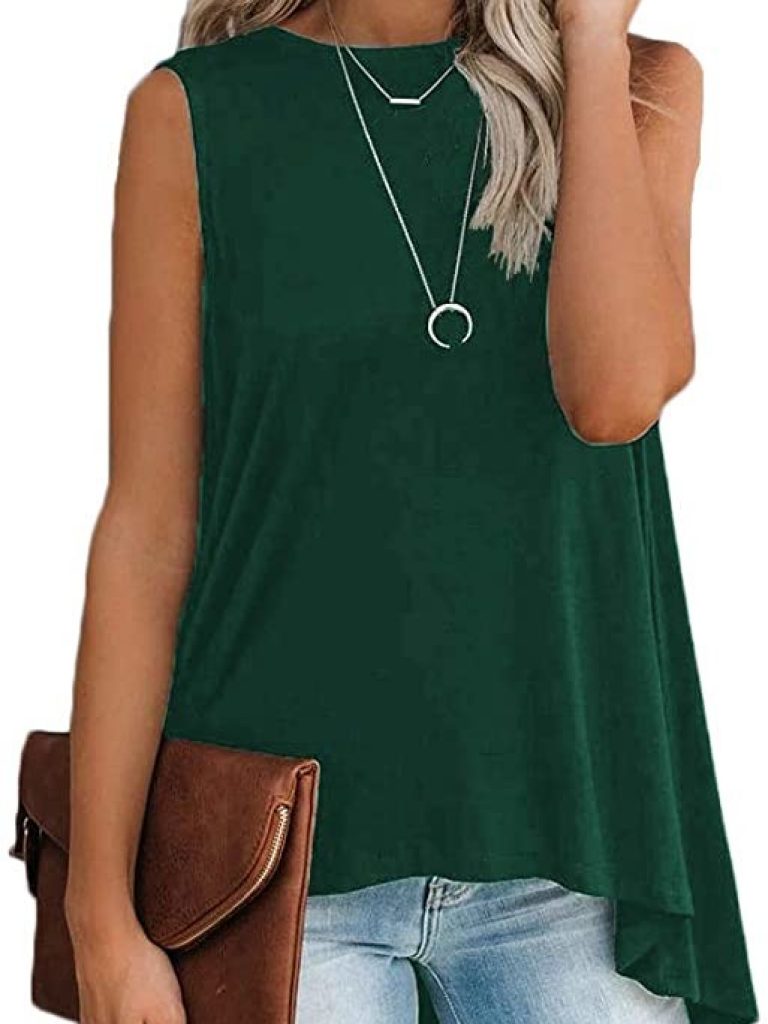 One of my favorite fall colors is this deep green. This flowy tunic length top is from Amazon and also comes in several other colors. I am wearing a large, but I think a medium might have fit a little better.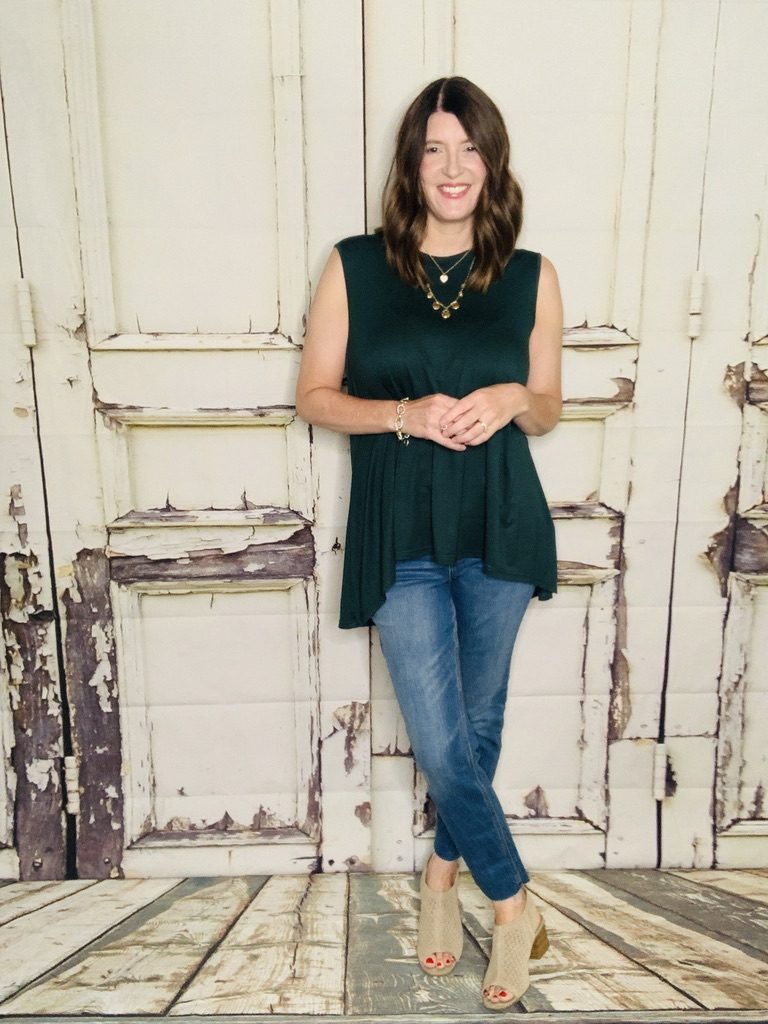 This top can be styled alone with sandals while the weather is still hot.
When the weather cools off, it looks nice with ankle boots and a cardigan.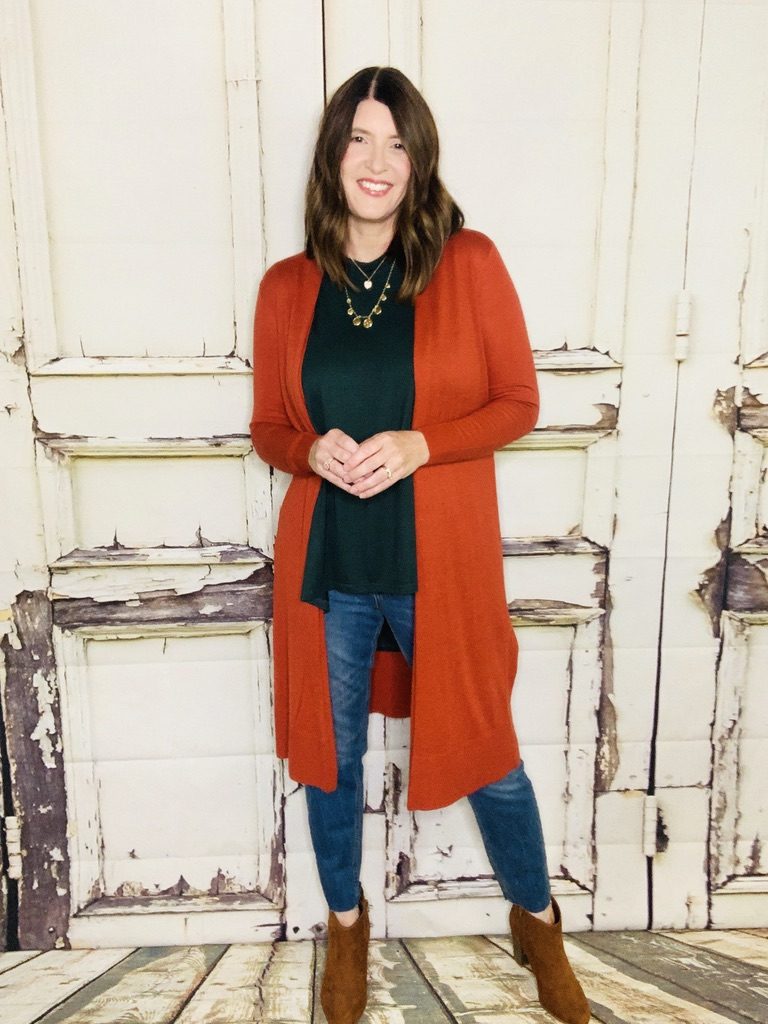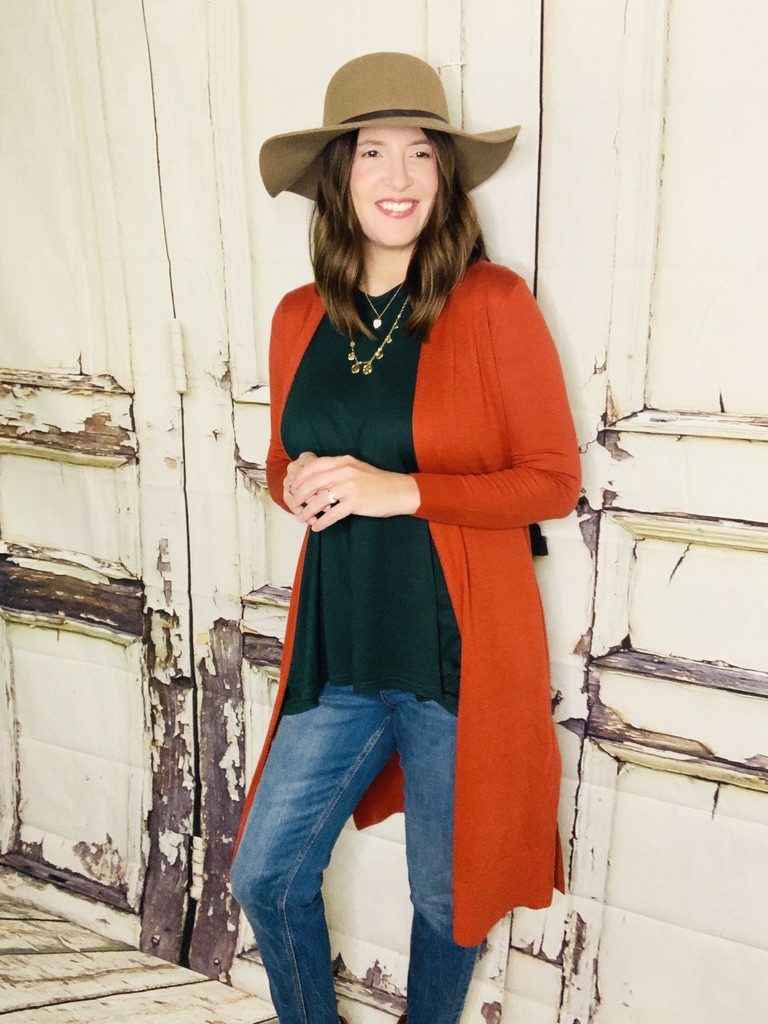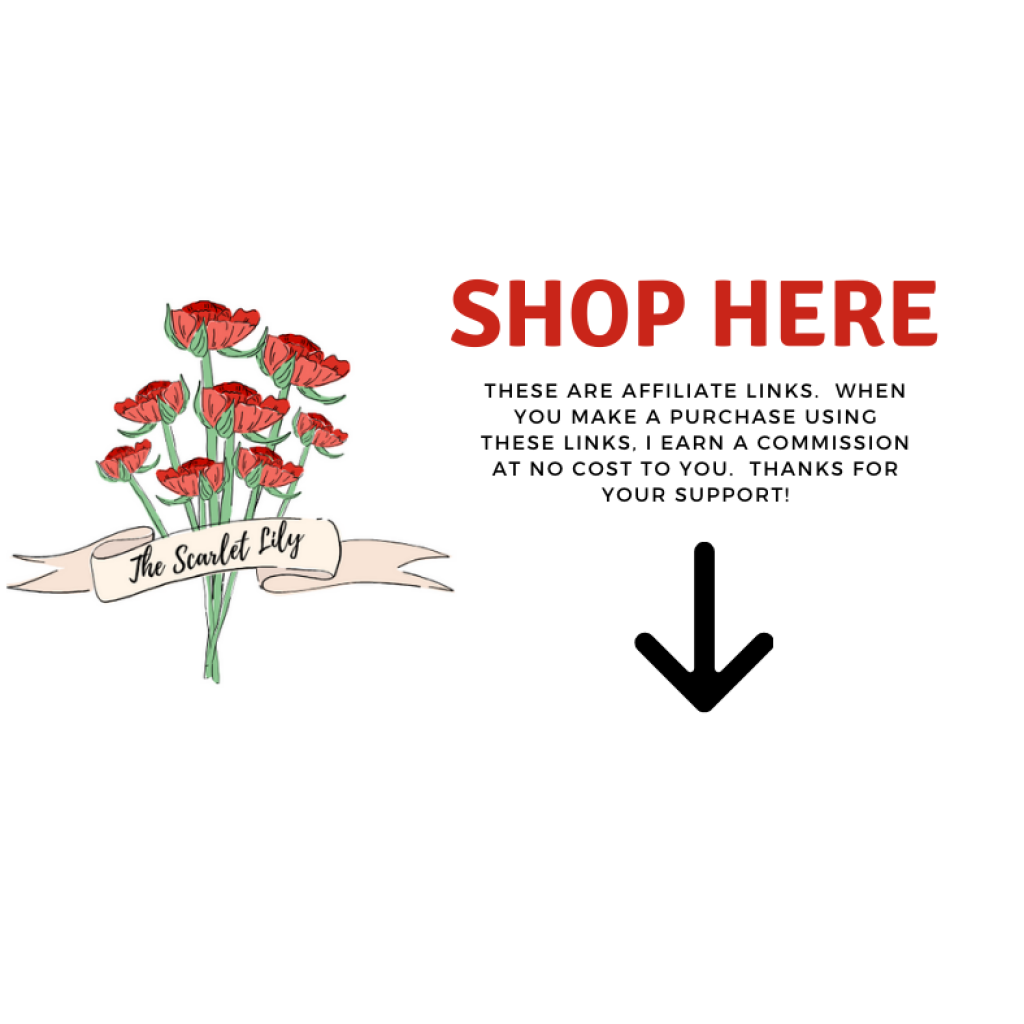 Choose Lightweight Fabrics That Can Be Layered With A Sweater or Jacket
Another way to transition your wardrobe into fall is by choosing lightweight fabrics that can be layered later on in the season.
This black knit jumpsuit is from Amazon. It makes a great layering piece since it is short sleeved. Here I added a long cardigan in a fall color and a denim jacket.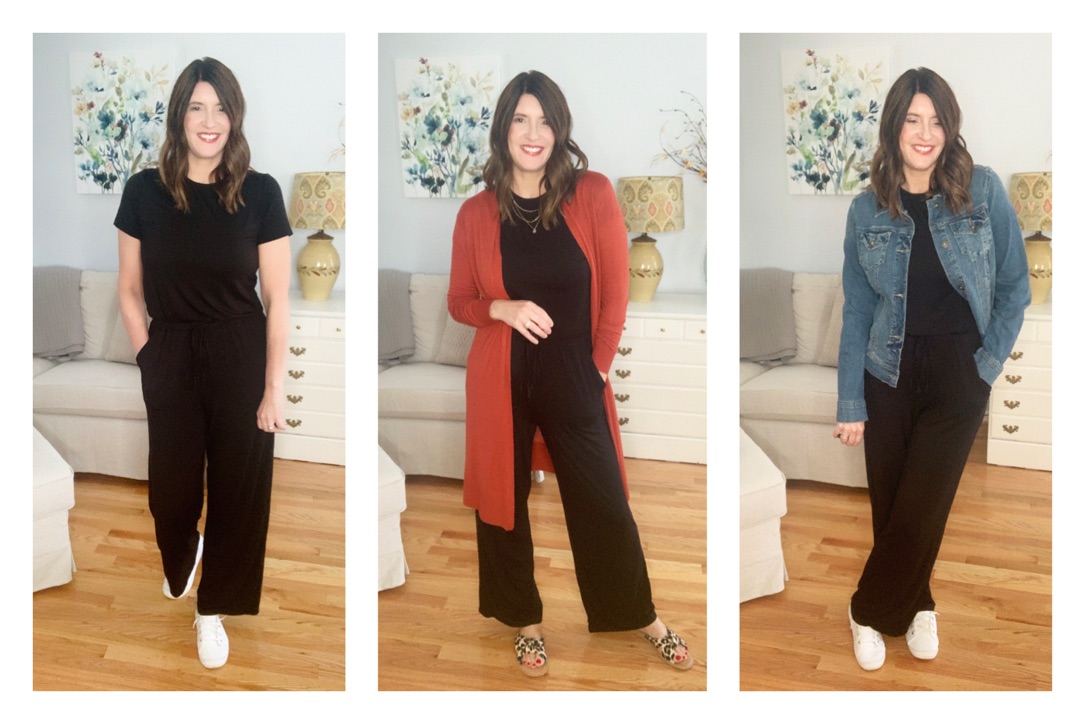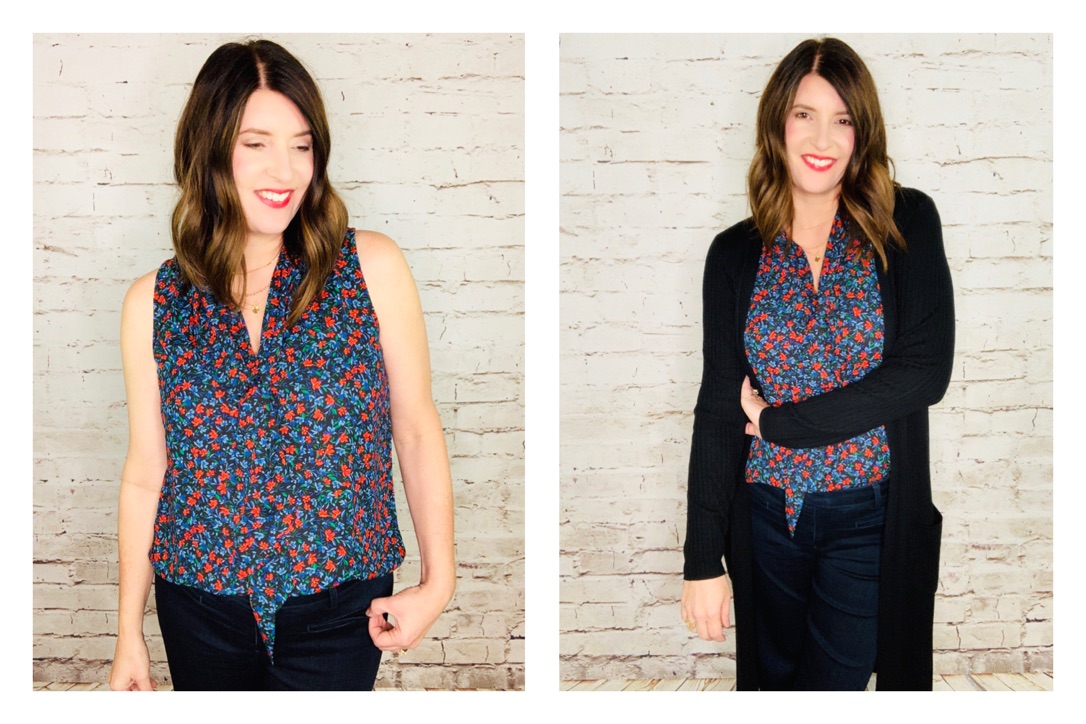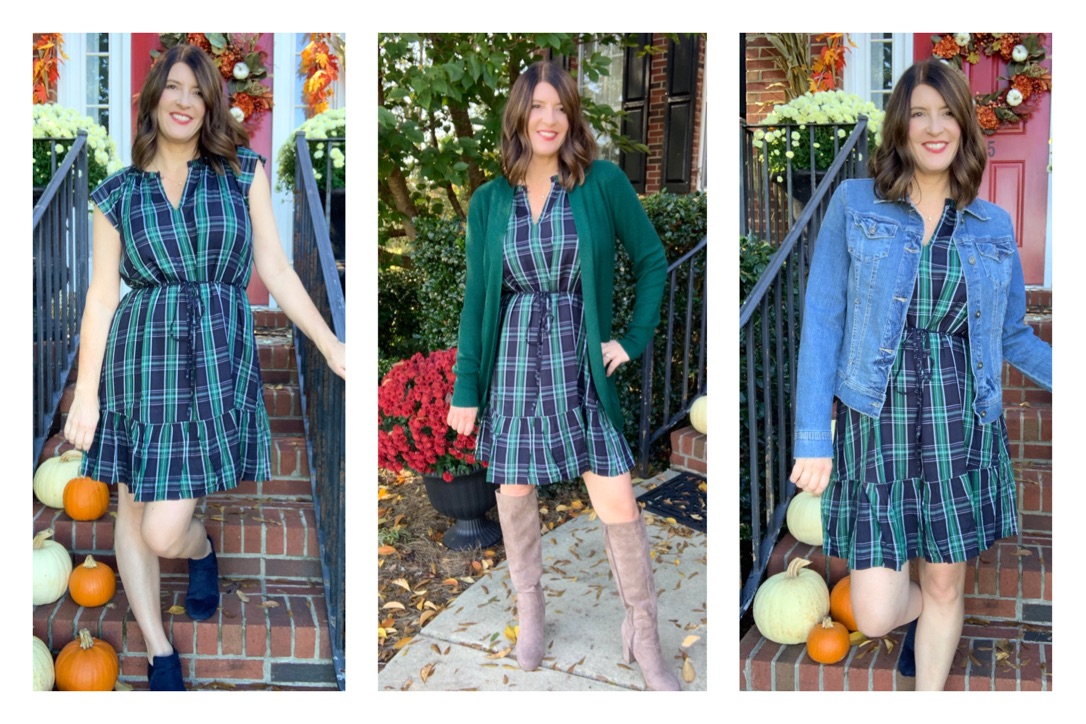 My plaid dress is from Loft (last year), so I can't link it for you. If you have a summer sleeveless dress that you enjoy wearing, try using some of these other pieces to transition it into fall.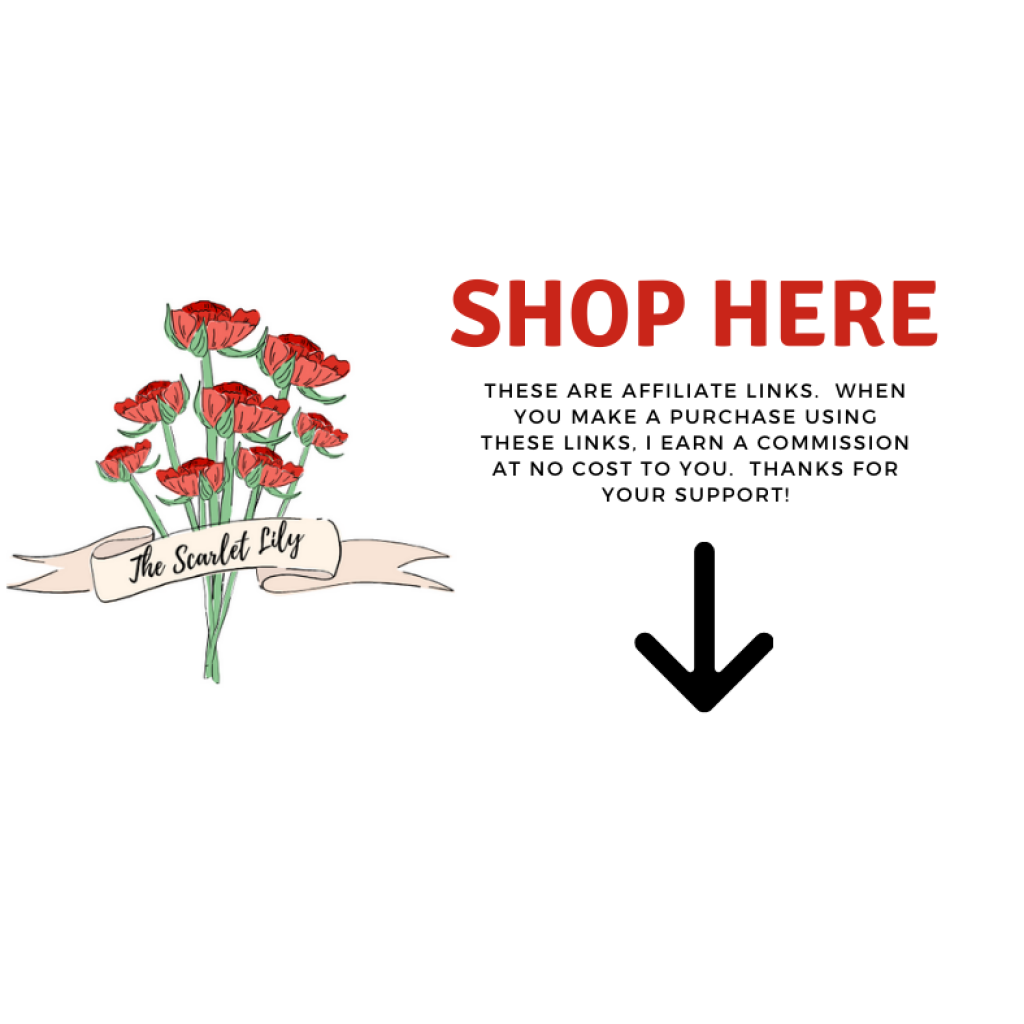 Change The Style Of Shoes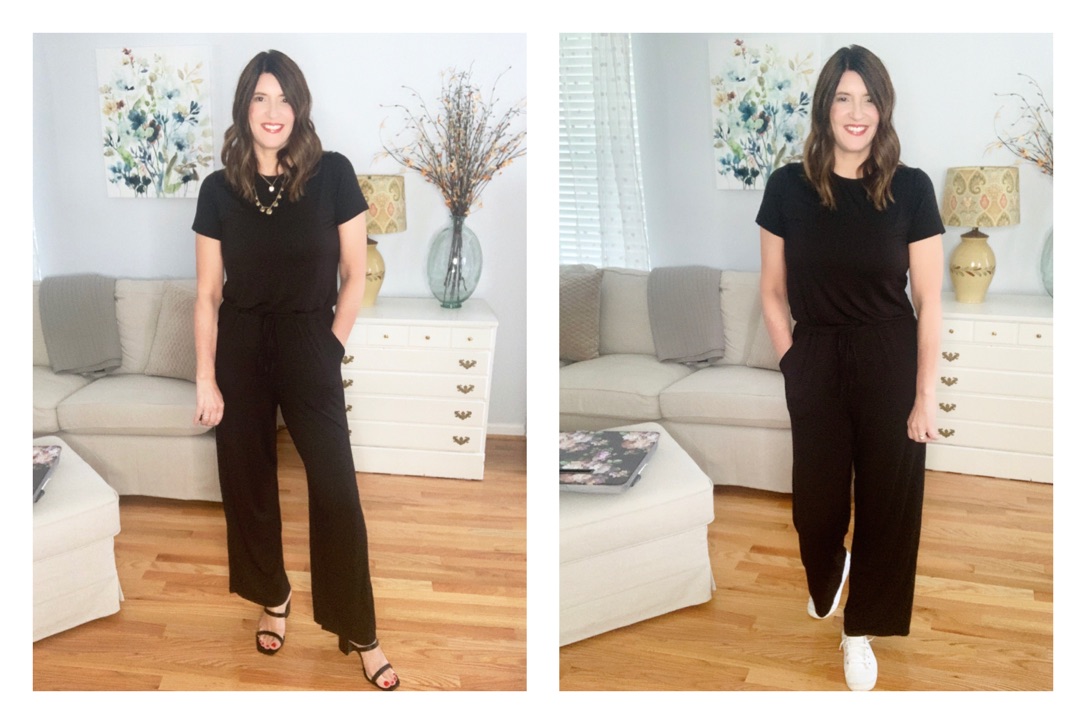 When transitioning from summer to fall, one way to make your outfit fresh is by changing the style of shoes. Instead of the flip flops, and sandals you have been wearing for several months, consider slowly switching over to flats, mules, sneakers, and booties.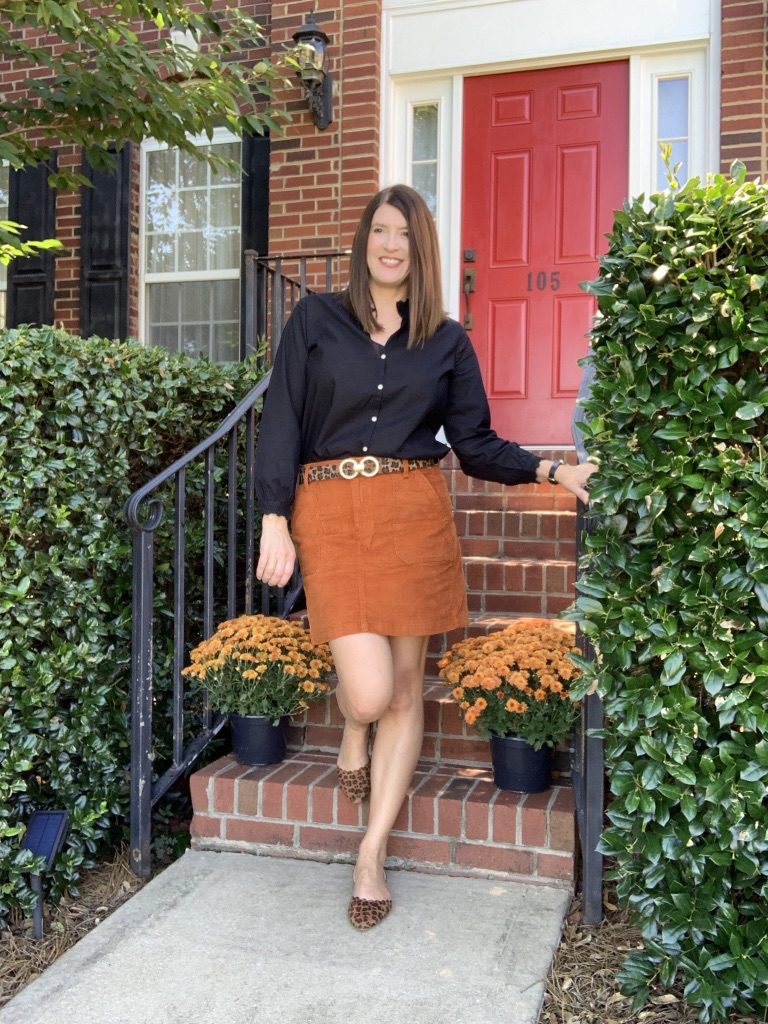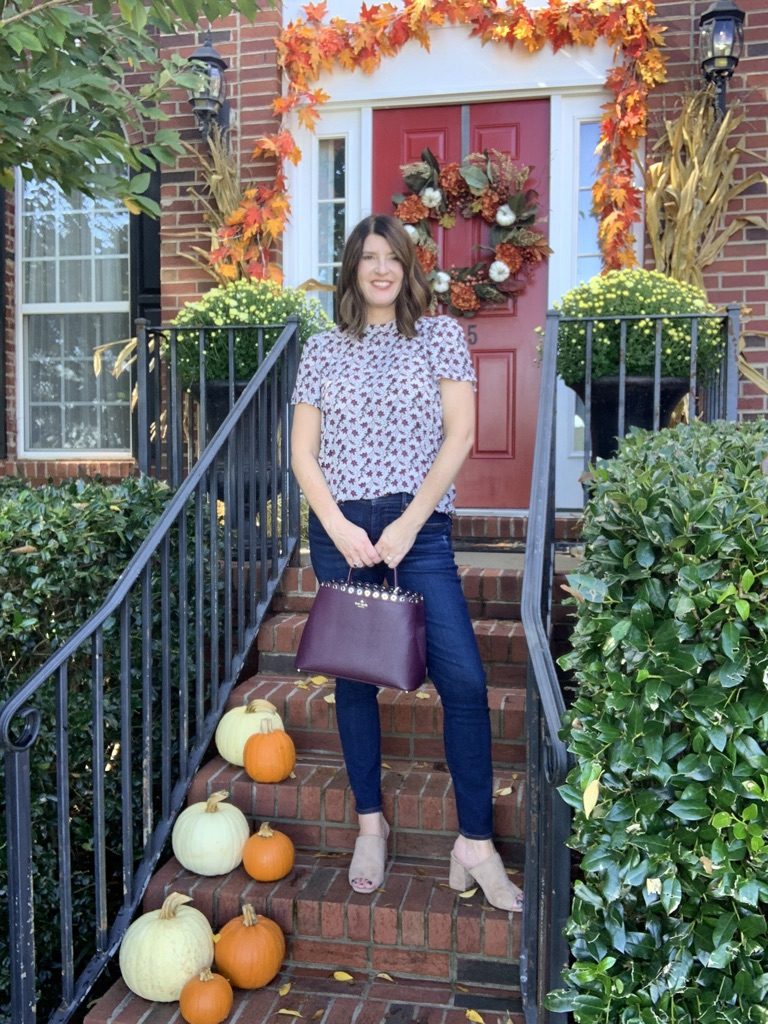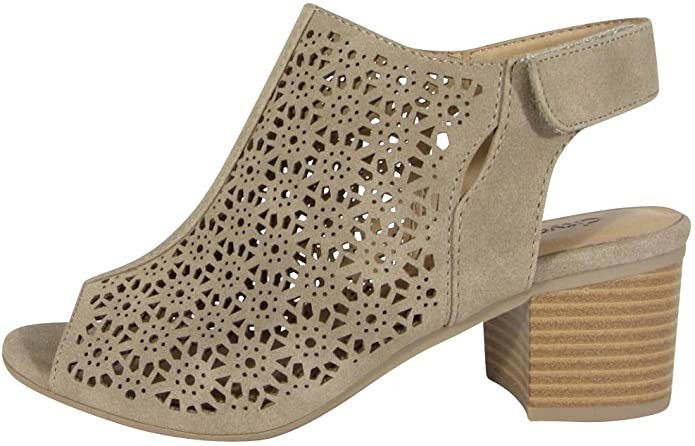 Open toed booties are great for transitioning your wardrobe into fall because they are cooler, yet still give the overall look of a boot. I typically wear mine a lot during September and October.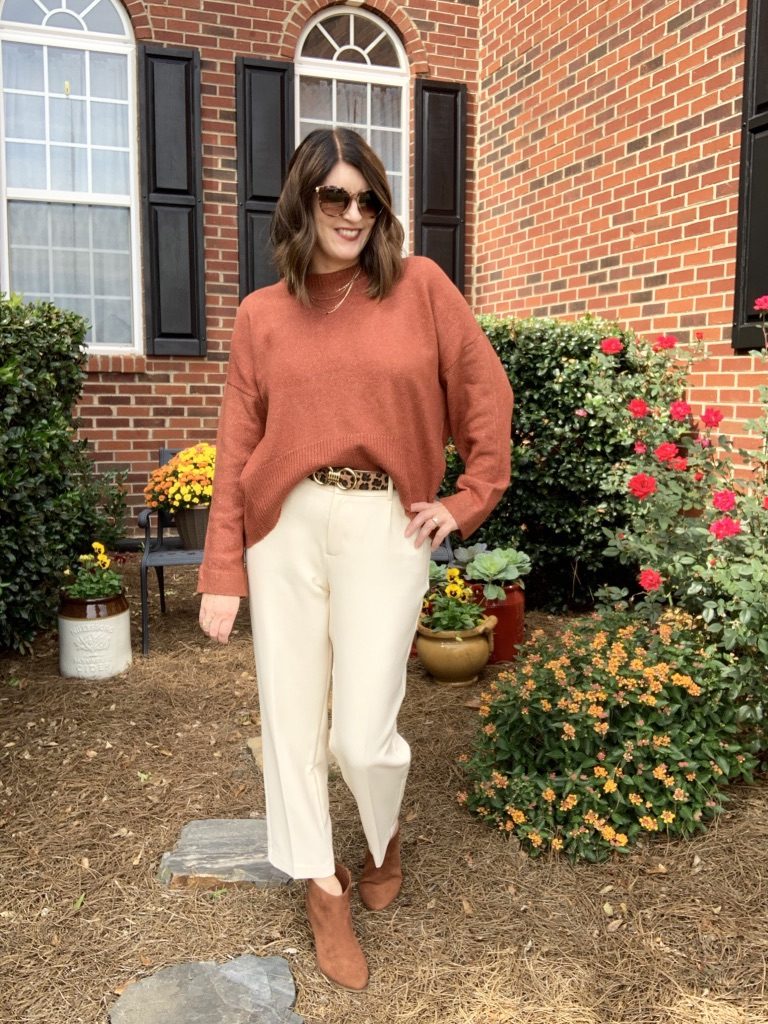 Finally there are the traditional ankle boots that look nice with cropped dress pants as I have shown in the photo above. We will be seeing a lot of ankle boots with cropped denim for fall 2020.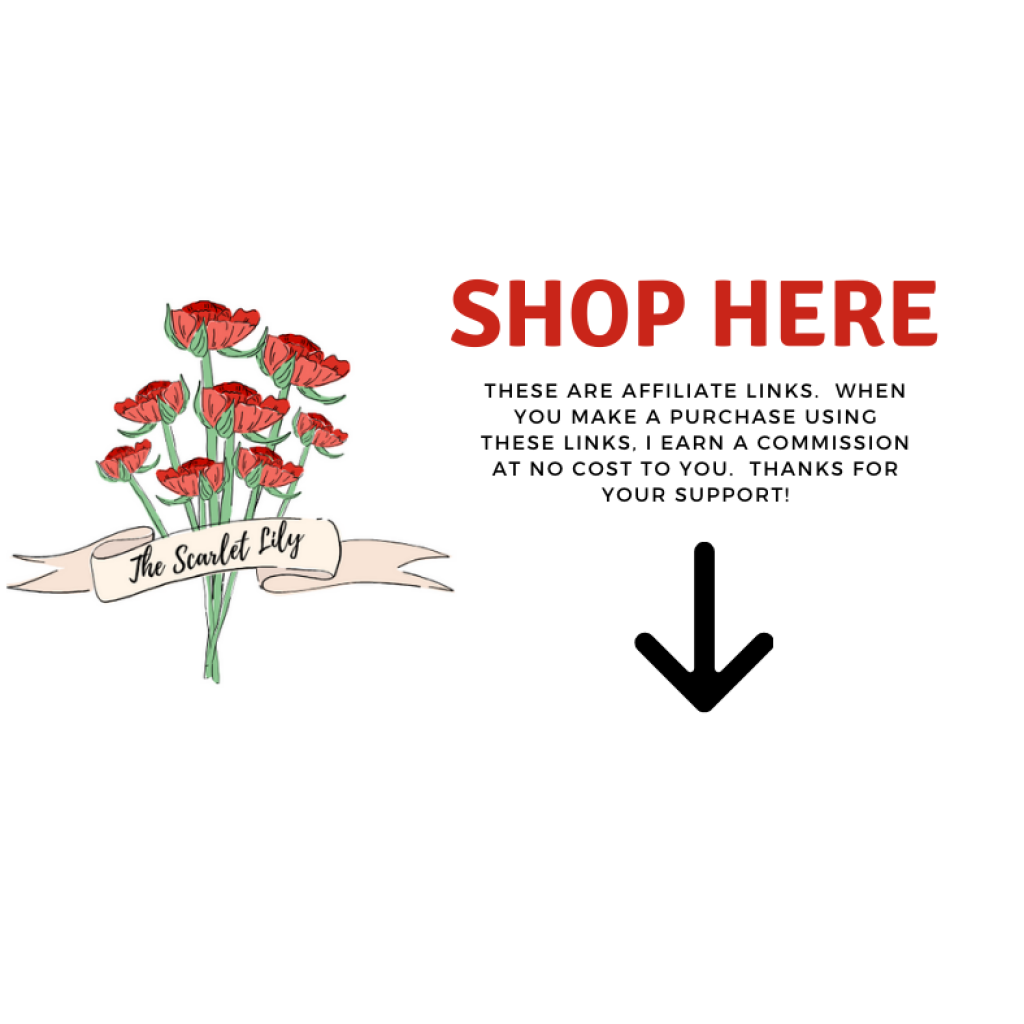 Change Out Your Handbag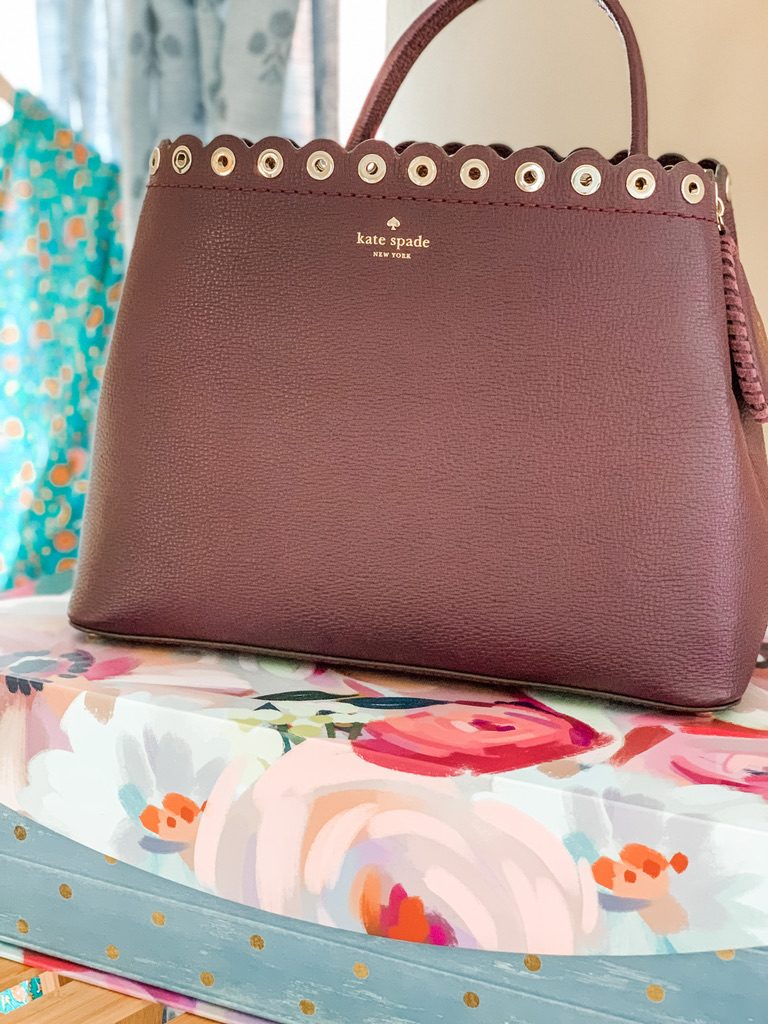 Another way to transition your wardrobe into fall is by changing out your handbag. Move away from traditional summer styles like straw, canvas, woven, crochet, and pastels.
Think more in lines of leather or faux leather. Colors like Cognac, or other dark richer colors. The style of the bag does not really matter as much as the color and material used to make the bag. Here are some examples that will be linked in the shopping widget.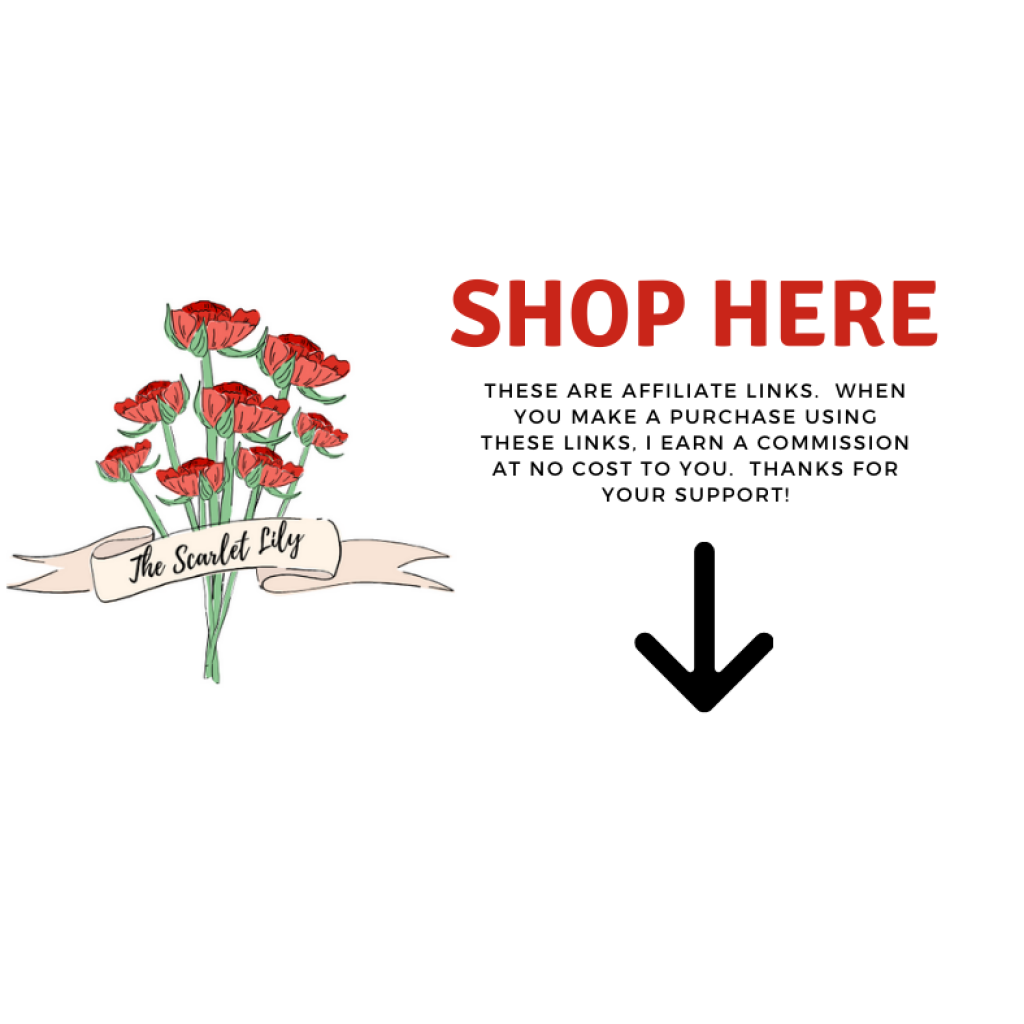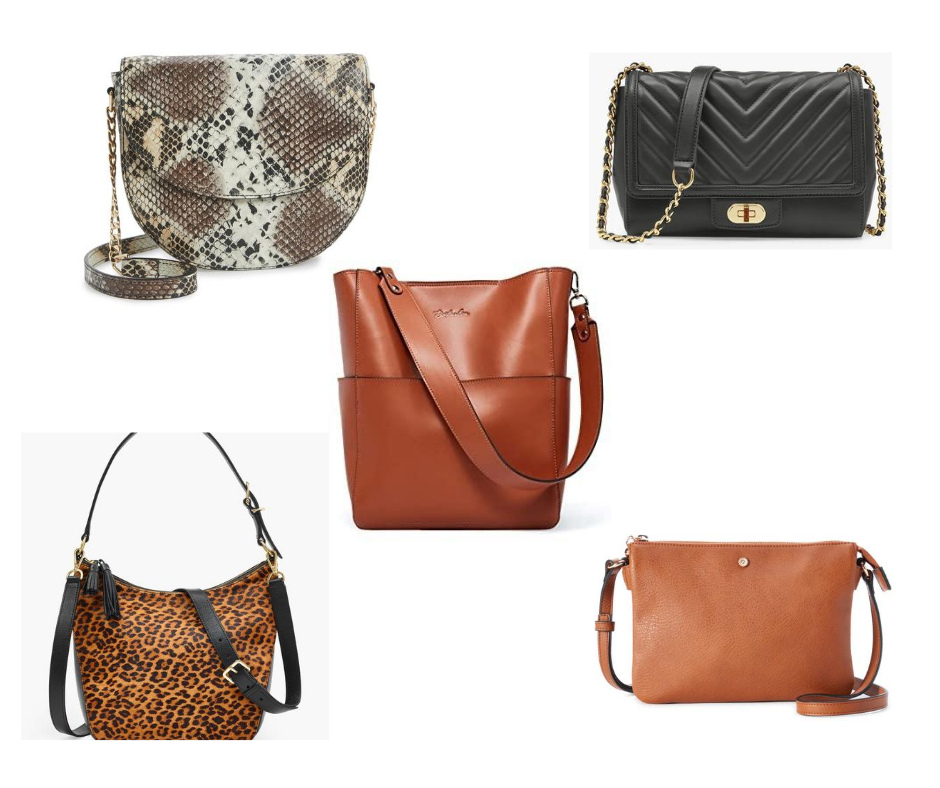 So there you have four ways to transition your wardrobe into fall! Did any of these ideas inspire you to shop your closet? I encourage you to try these tips. You will be surprised how many outfits you can come up with!