Fall does not officially start until September, but I always start early. Fall is my favorite season, so I usually get in fall mode around August. It will still be 1000 degrees here in South Carolina for quite a while, but I have had to learn to just accept it and deal with it. I spend a LOT of time in my home office, and many of you may be working from home more these days. I wanted to add just a touch of fall to my work space without it cluttering up my office. I thought I would share my home office touch of fall as well as a great transition to fall dress that I am loving!
Fall Floral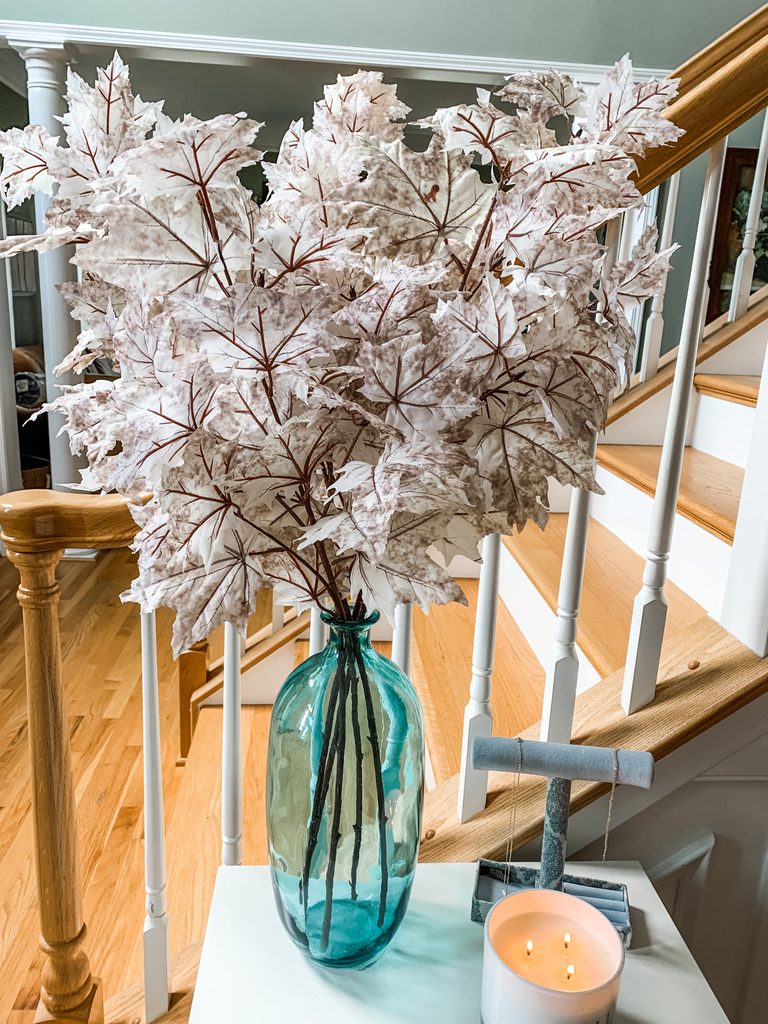 My home office touch of fall started with some fall leaves. I always incorporate a floral element to my home decor. To me, it just makes the space seem more vibrant and inviting. Now, I can kill just about any live plant in a week's time, so I am referring to artificial floral stems! It is important to buy good quality floral, even though it costs more. Cheap plastic artificial floral just ruins the look of the room.
I try to find floral that is on sale. In fact I rarely buy it at full price. Hobby Lobby usually has their floral on sale for a week on and then a week off. I try to check before I go to make sure that it is a floral sale week. The good news is that their seasonal floral is always 40% off.
My neutral colored leaves are a new purchase from Michaels. Michaels is another one of my go to retailers for floral and seasonal accessories. It is obvious that COVID-19 has had a major impact on retail. Normally Michaels will have 40% off on their seasonal floral, but this year it is only 30% off. I also noticed that the selection was not as plentiful.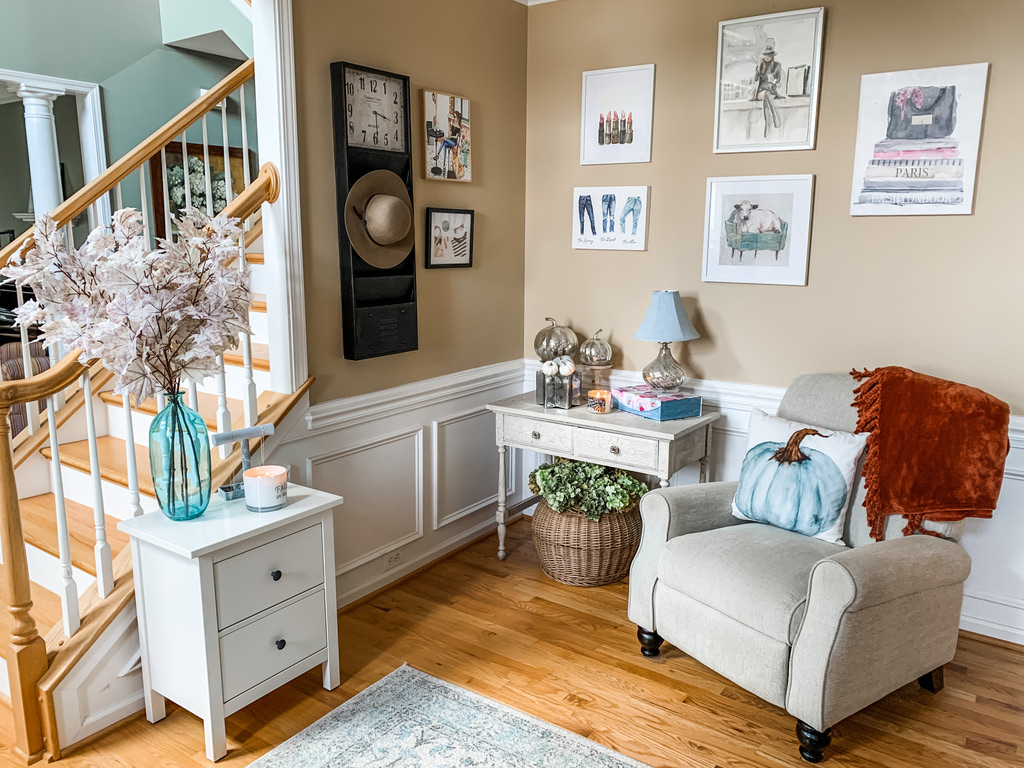 The basket of hydrangeas under the desk have been there for a while, and I will leave them there for now. They add a nice pop of green to the room and strategically hide the lamp cord.
This corner of my office is where you will find me every morning having my coffee and checking my email. It is one of my favorite spots of my home.
Pumpkins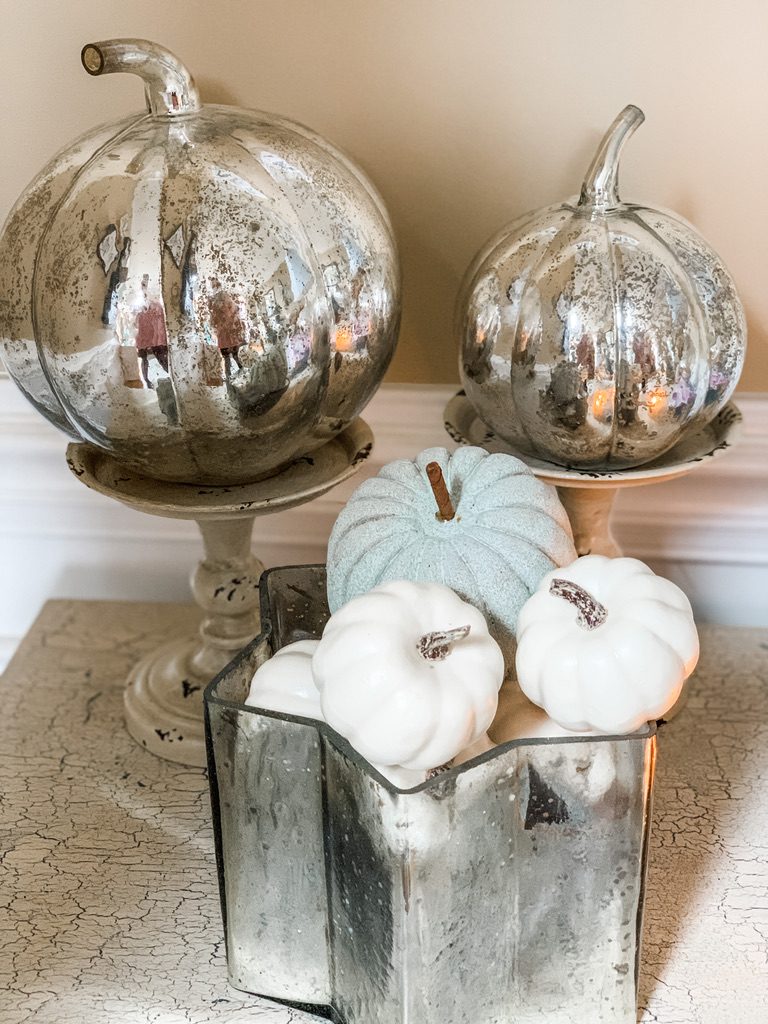 No fall decor is complete without pumpkins. You can find them in all sorts of colors and finishes to coordinate with your home decor. My office has just a little bit of a glam/girly look to it, so I choose the shiny mercury glass pumpkins to go with the mercury glass lamp and container.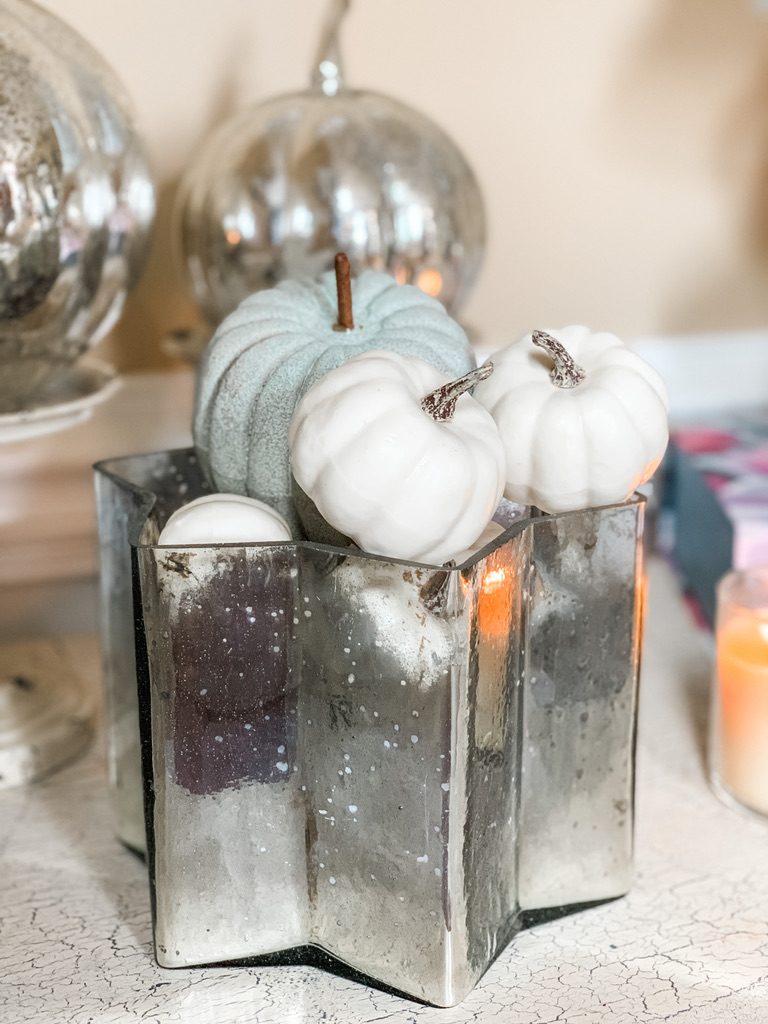 I also chose some blue and white pumpkins that compliment the blue and neutral colors of my office decor.
Candles
Another way to add a touch of fall to my home office was to use some fall scented candles. I love the fall scents, and I literally burn these candles everyday while I am working. They create such a calming mood.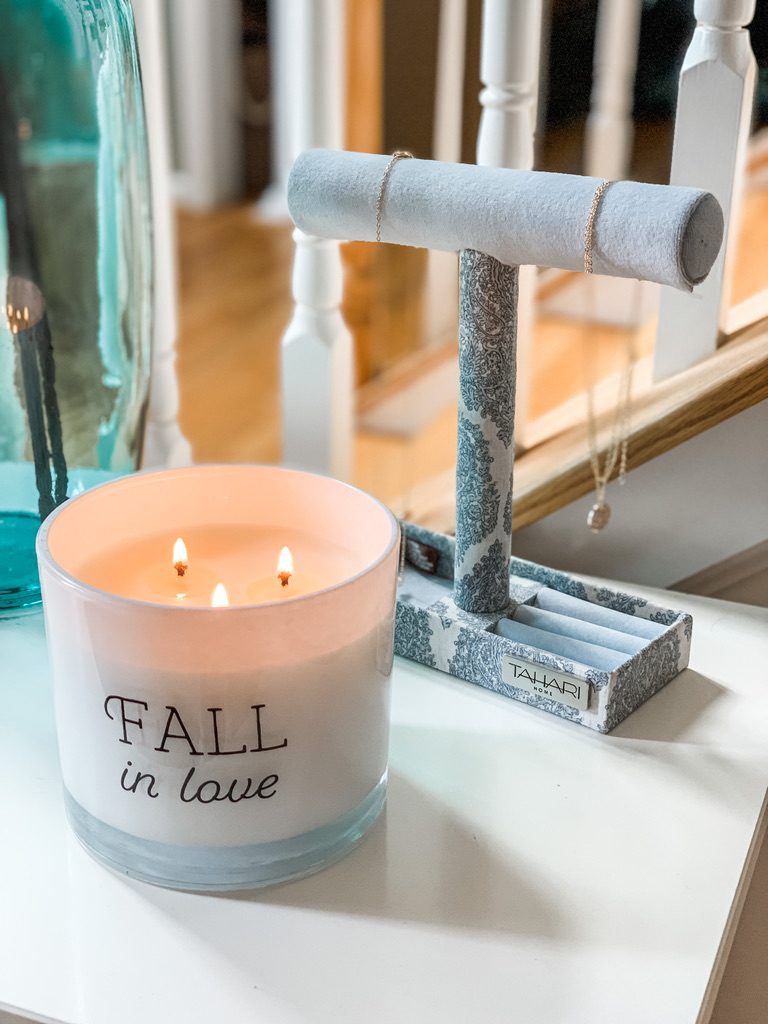 This "Fall in Love" candle is from T.J. Maxx and it smells like a mixture of apples and leaves. T.J. Maxx and Marshalls are great resources for candles. They are reasonably priced, but the quality is good and they actually give off a noticeable scent without being overwhelming.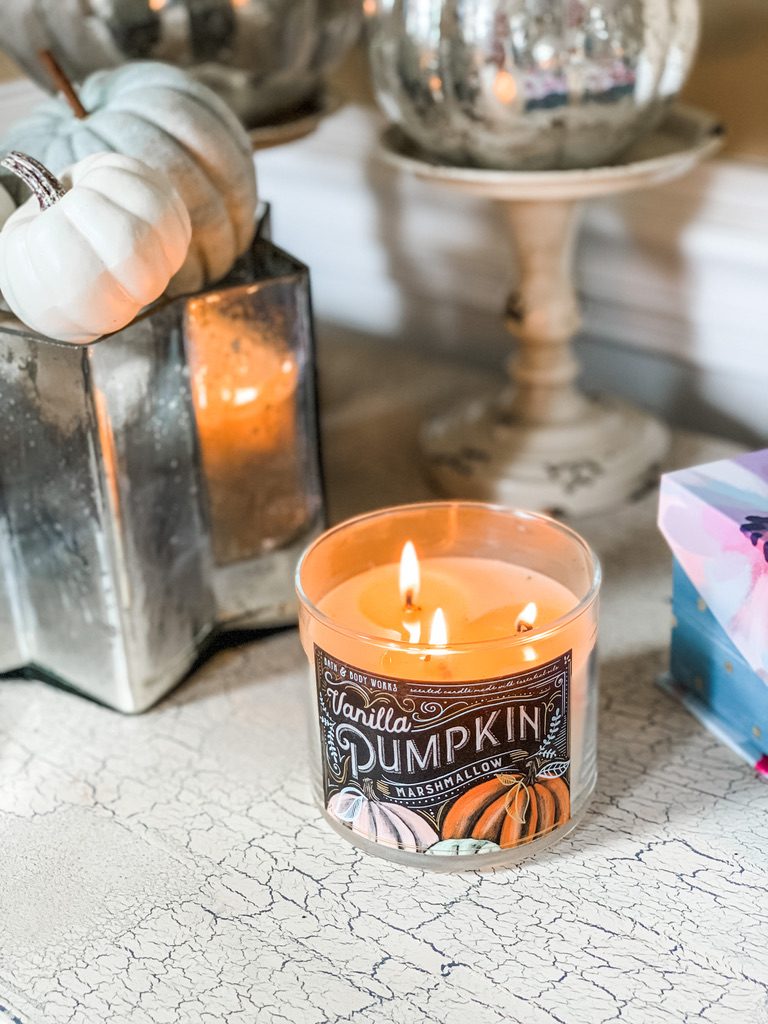 My other favorite retailer for candles is Bath & Body Works. I happened to be at the mall a couple of weeks ago when the fall candles were on sale. I bought three! Other than pumpkin, vanilla is my favorite scent, so this vanilla pumpkin is just perfect. This scent is heavier on the vanilla and light on the pumpkin.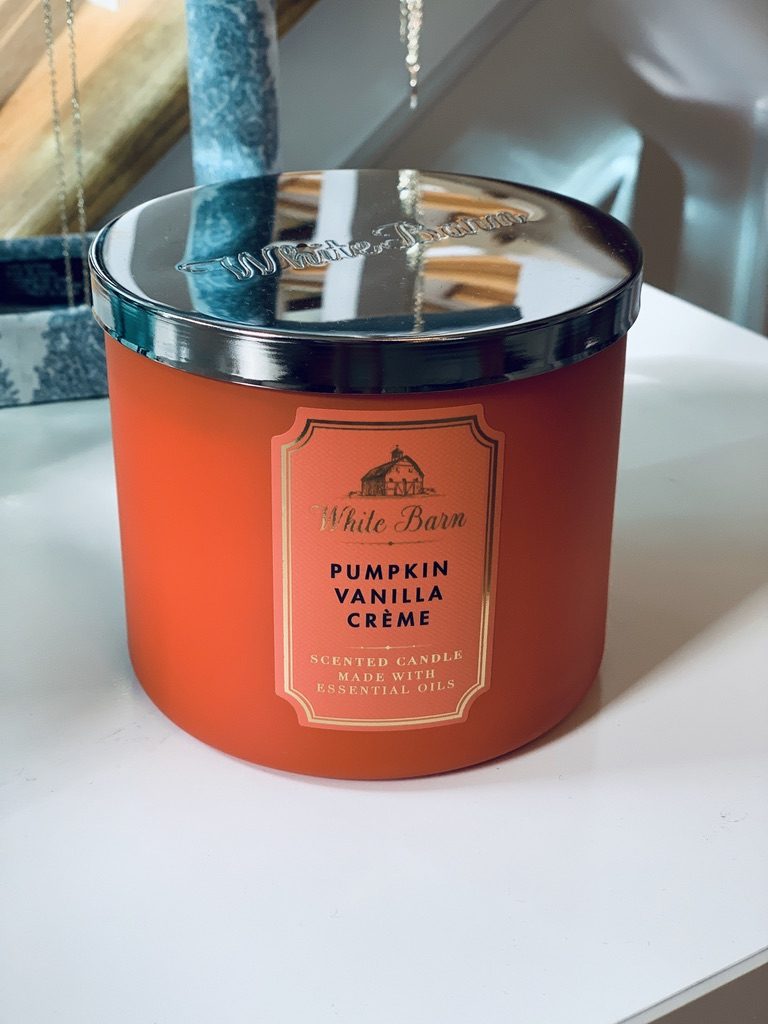 There is another scent called Pumpkin Vanilla Creme and it is just the opposite. Heavy on the pumpkin and lighter on the vanilla. I like them both!
Pillows & Blankets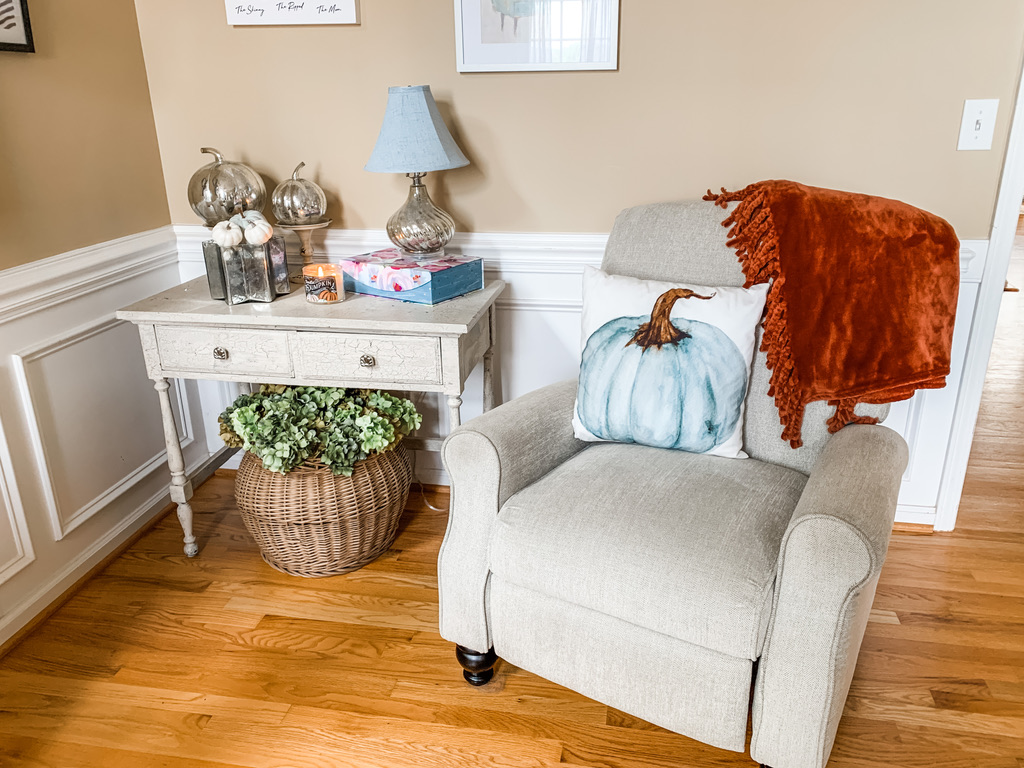 The last home office touch of fall that I added was pillows and a burnt orange throw. The throw is from Nordstrom. It is very soft and comes in several colors. It is part of the Nordstrom Anniversary Sale every year, and it will be included this year, except this exact color isn't available. If you aren't familiar with the Nordstrom Anniversary Sale, be sure to check out this post. I have all the important dates of when to shop the sale as well as some shopping tips and favorites.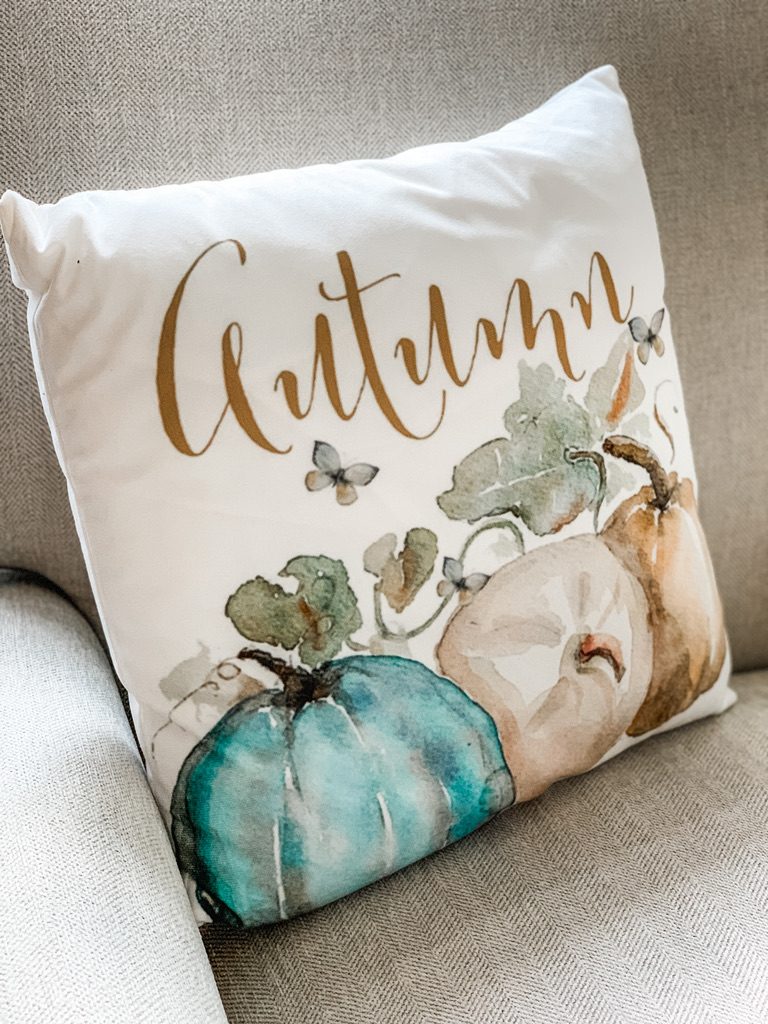 My Autumn themed pillow covers are from Amazon. I purchased them last year in a set of four and they are still available. They are such a great buy and are also some of my favorite fall accessories. I usually put them on my family room sofa, so I may end up moving these in there eventually. For now, I am enjoying them here in my office chairs.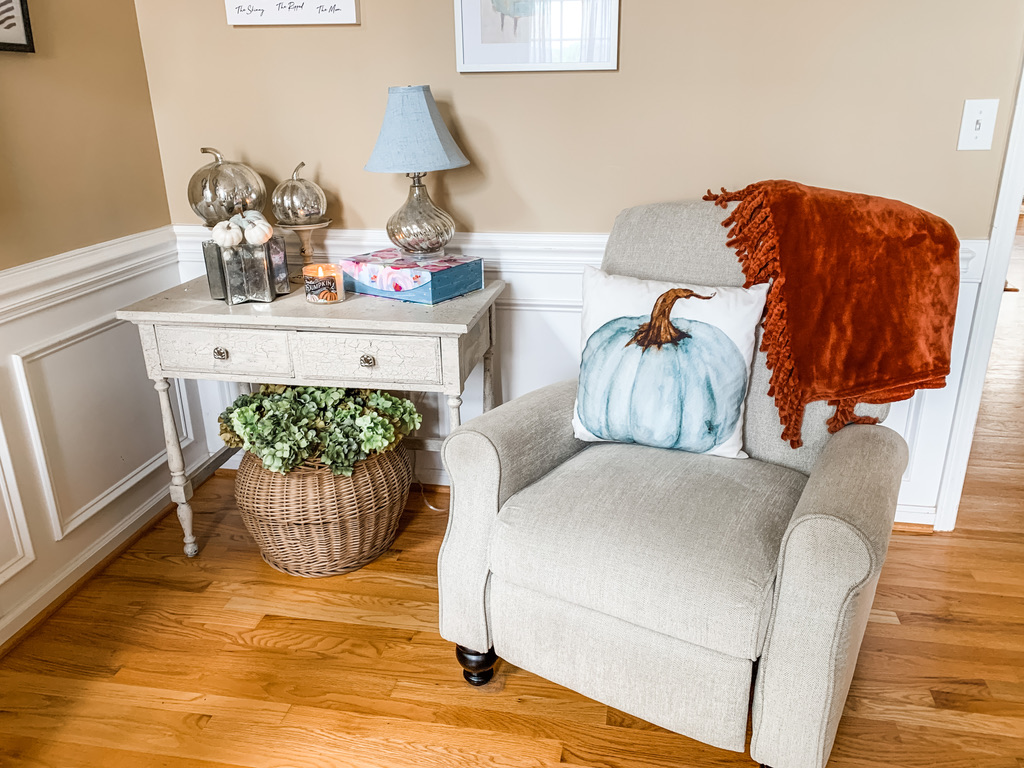 Clothing Rack
My clothing rack has been one of the best purchases I have made. It makes it easier to keep up with the clothes that I order for the blog and the returns I need to make. I like to keep my blog related pieces separate from my personal wardrobe. I found it on Amazon and I will link it in the shopping widget.
If you need some additional hanging space, this rack is a good option. Not only is it functional, but it is pretty. My office is directly off of the foyer entrance in my house, so I needed something that was nice to look at.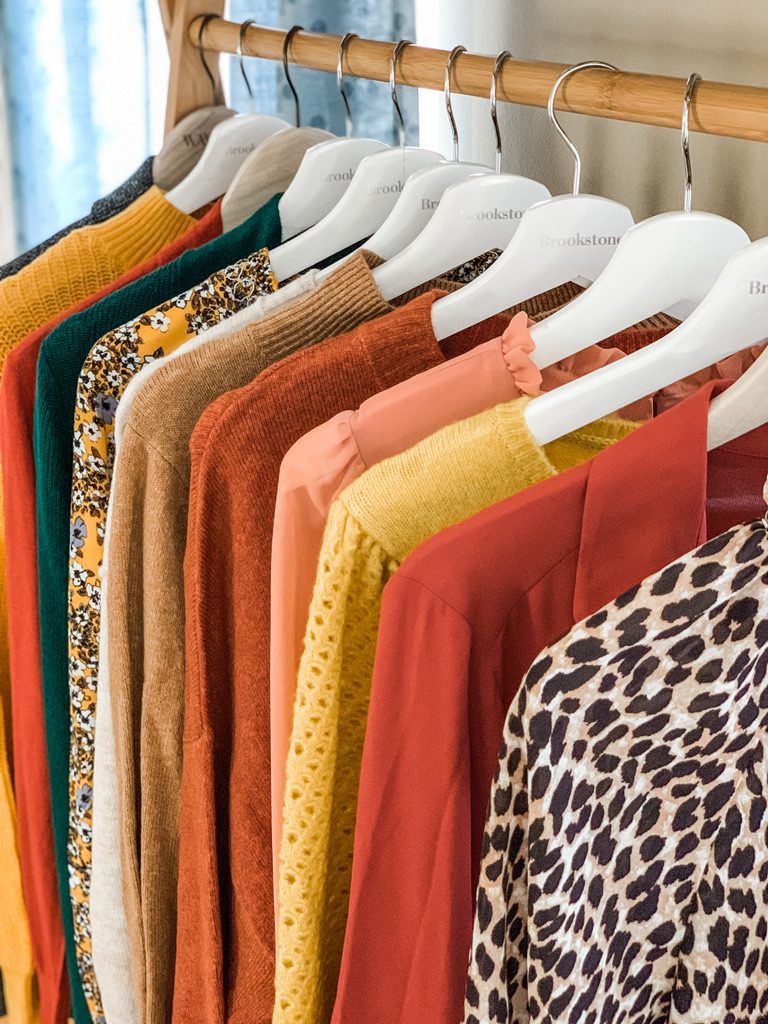 I recently did a closet clean out and pulled out some of my favorite fall pieces. Now is the perfect time to evaluate what you have from last year and what you need to purchase. If you missed my post on How To Clean Out Your Closet With Minimal Stress, you can see it here.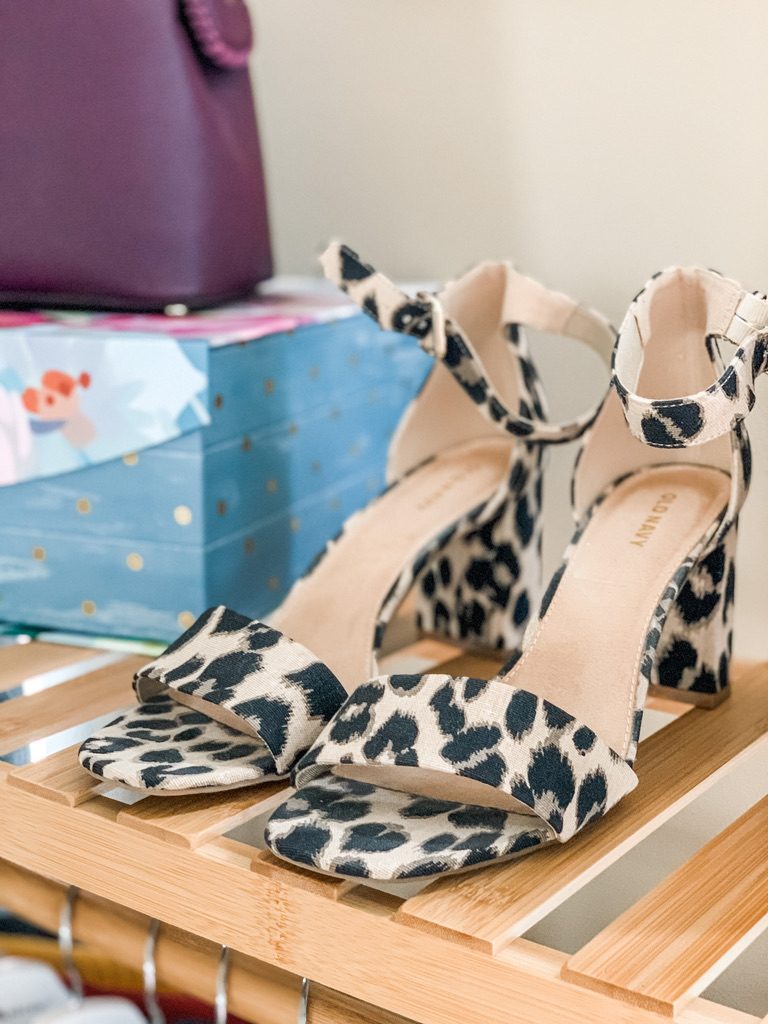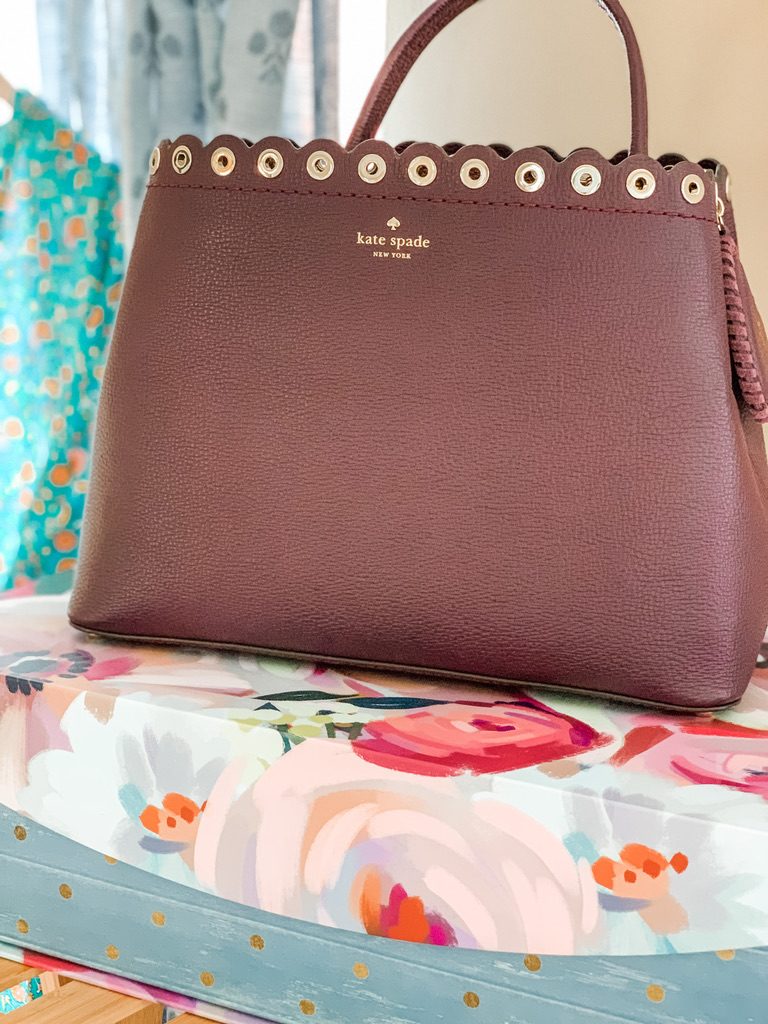 Transition To Fall Maxi Dress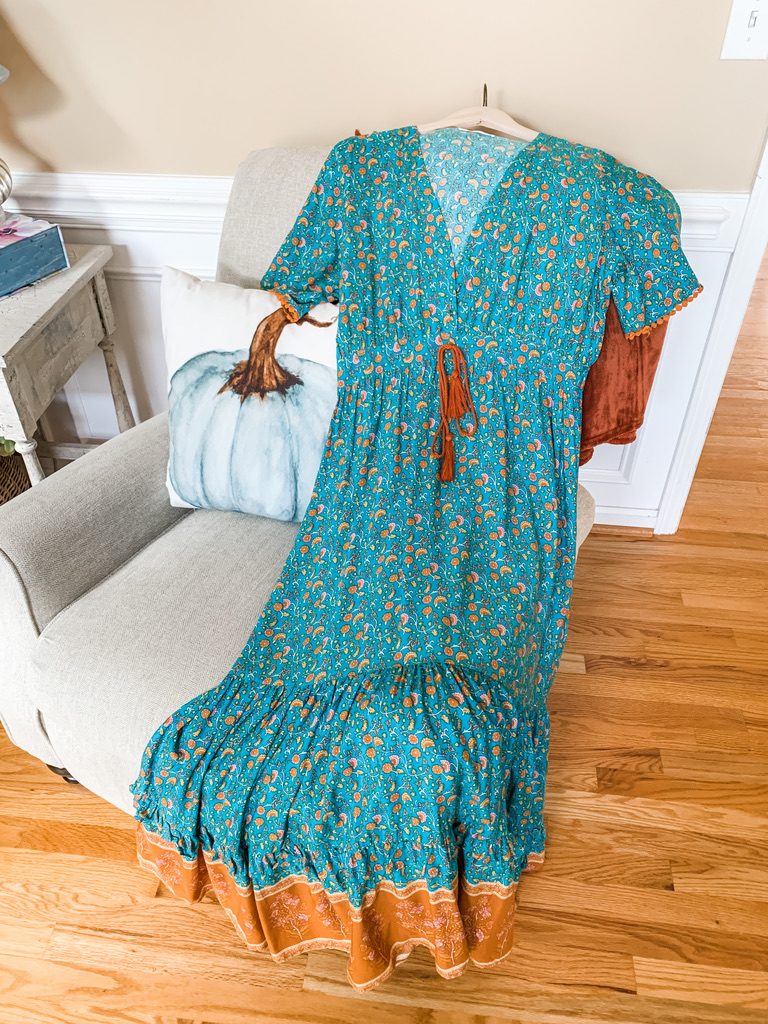 While I am on the subject of fall pieces, I want to share this Boho inspired maxi dress from Amazon. This has been a favorite since I purchased it at the beginning of summer. It comes in several colors, but this teal and orange color really says fall. It also comes in a long sleeve version that I will link as well.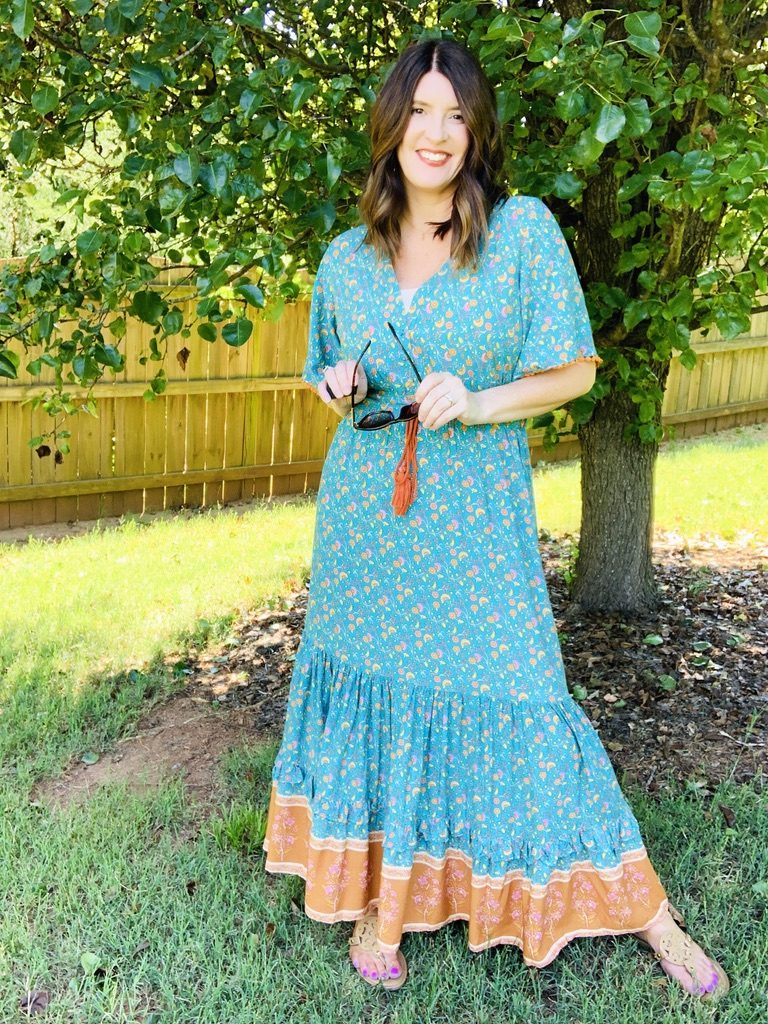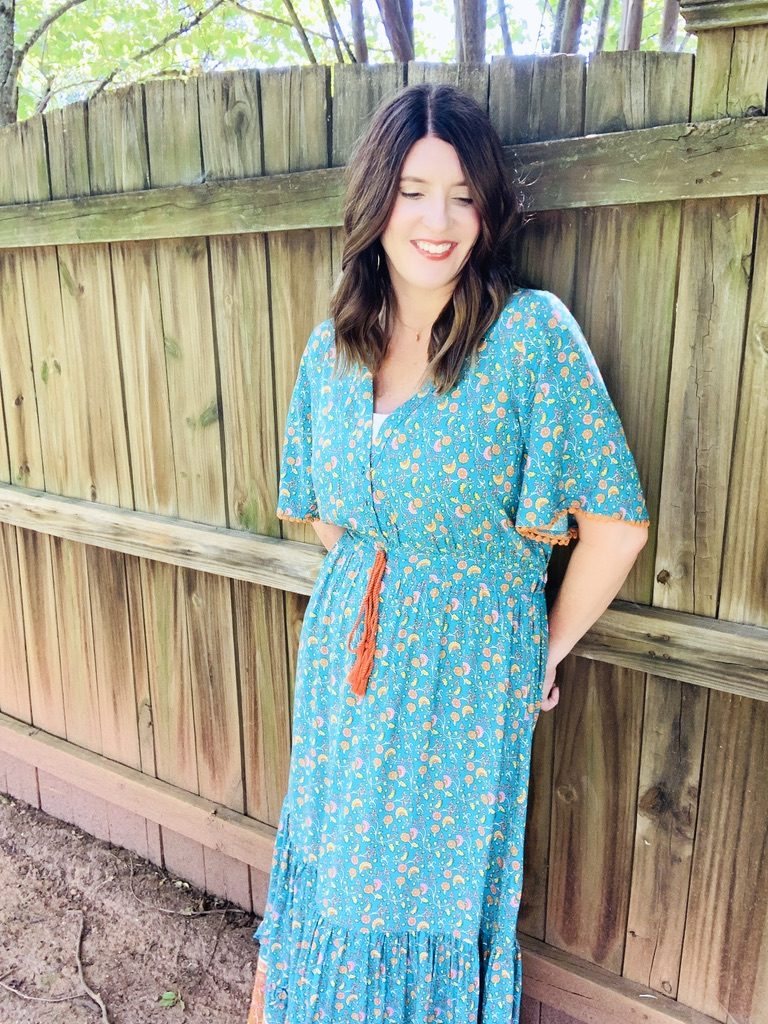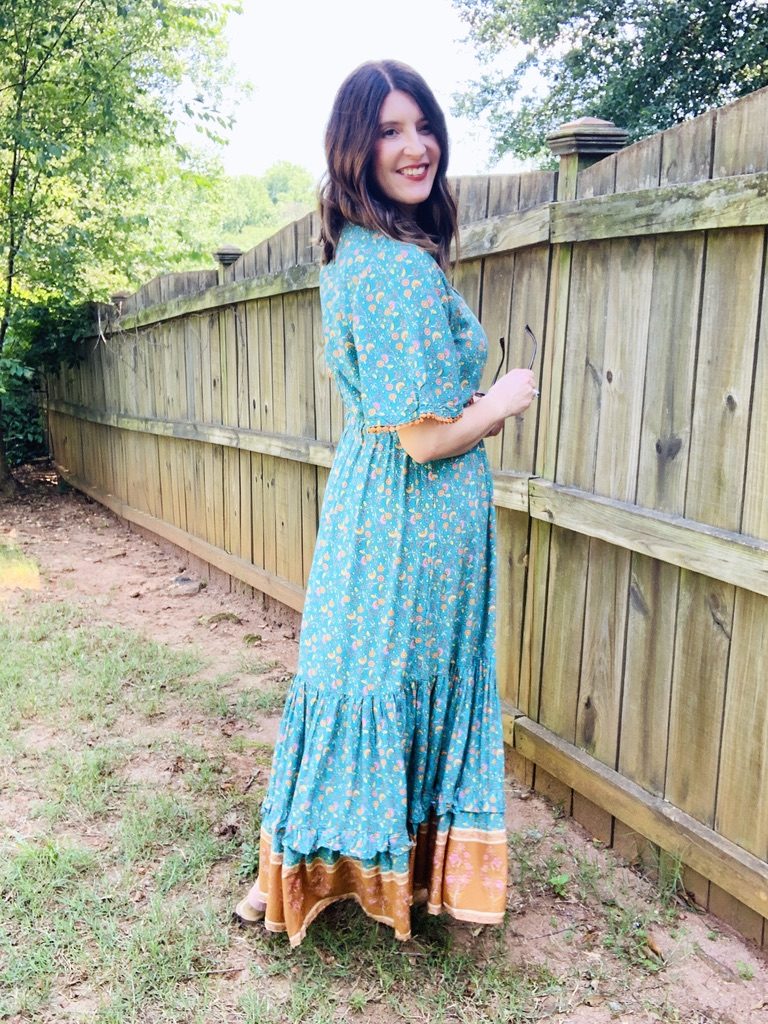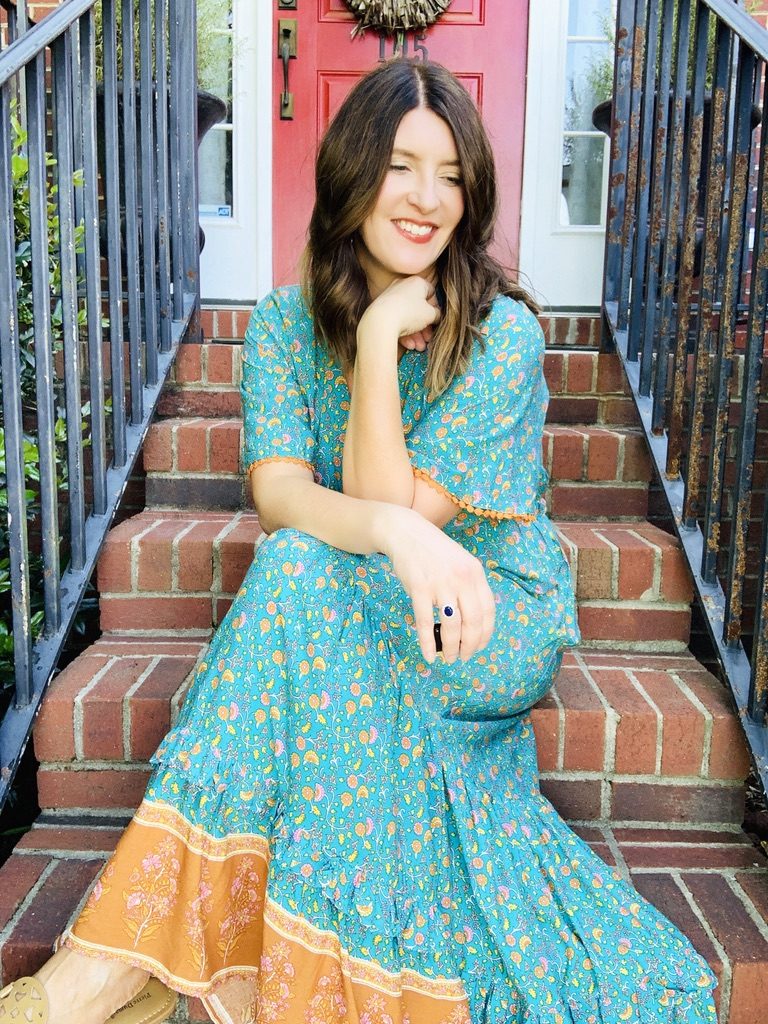 Work Area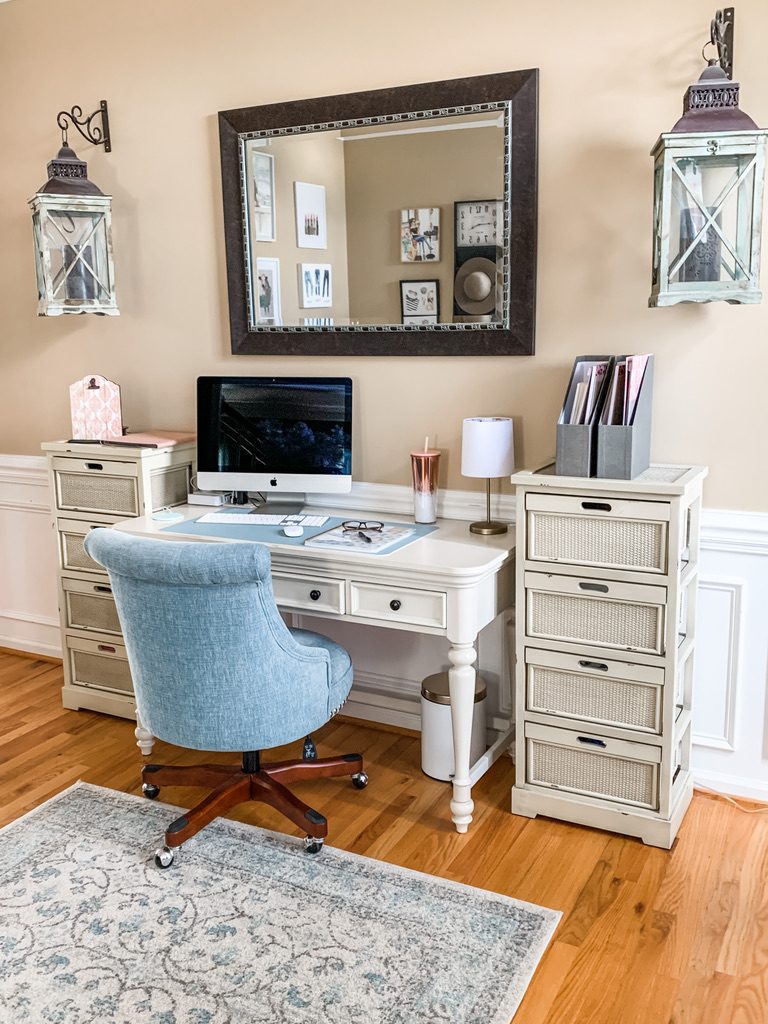 I like to keep my desk area as neat as possible, so I did not put any fall decor in this space. I did, however, find this really cute lamp at Target. The floral pattern inside the shade lights up when you turn it on. It came with the shade and base for $10.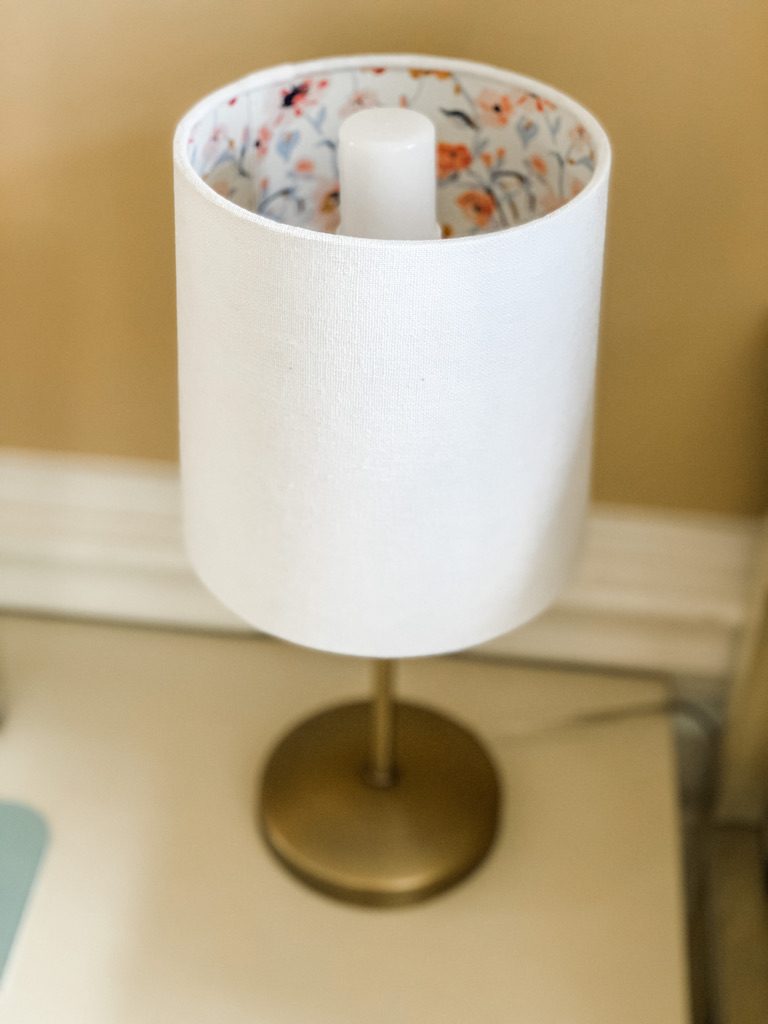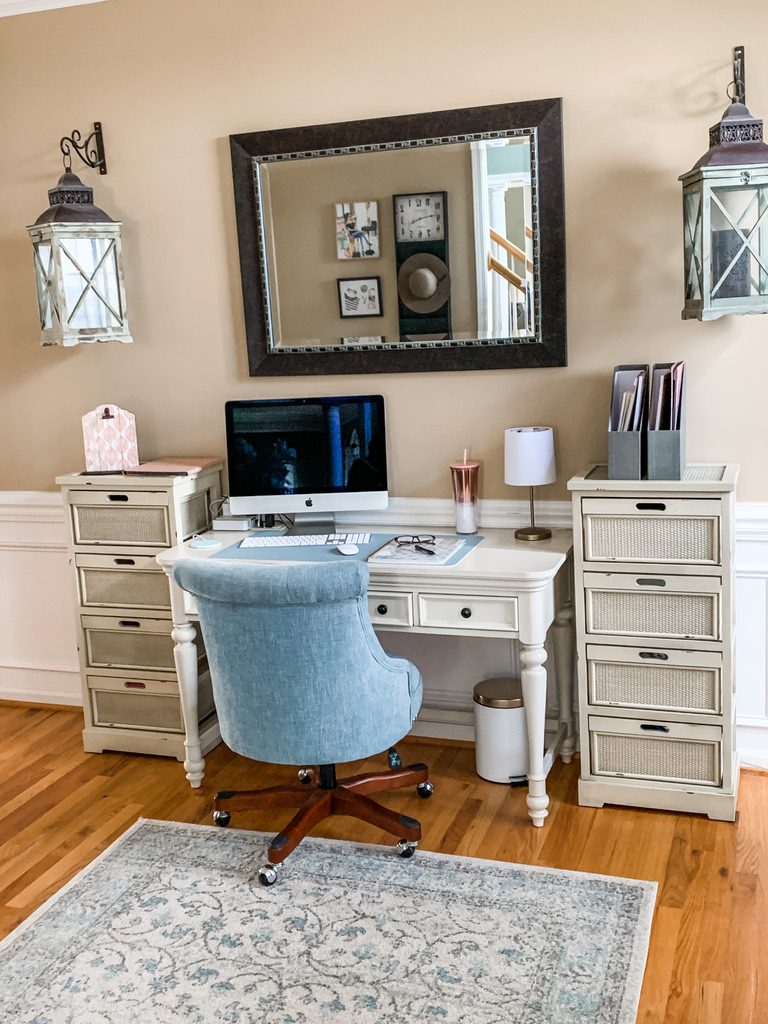 My desk and chair are from Wayfair.com and I am very happy with them. I will link the chair, but the desk is no longer available. The furniture on each side of my desk with the pull out drawers came from Hobby Lobby, but they are at least a couple of years old. The area rug is also from Wayfair.com and you can see it here or in the shopping widget.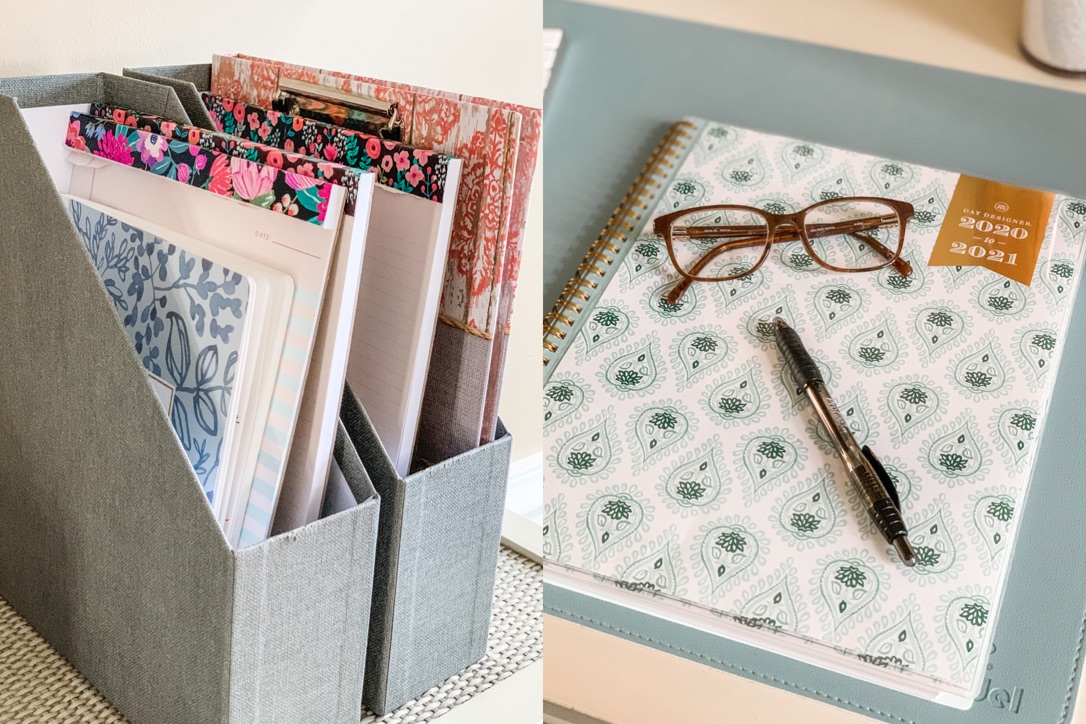 I also have a thing for pretty office supplies. My desk calendar is the most important! I plan all of my blog content with it as well as keep track of all the other family plans. Some people like to use their phone, but I still prefer a calendar that I can see everything at a glance. I just don't like my iPhone calendar.
When I go to Marshalls or T. J. Maxx, I always look for pretty note pads. These get a lot of use when I am planning or writing down ideas for blog content. Be sure to check out the other decorative office supplies I linked in the shopping widget below!