My mission here has always been to show women in their 40's and beyond how to dress their unique body type, while keeping it affordable. Today I'm featuring some stylish & affordable outfit ideas from a retailer that I have never shopped at before….Cato!
Cato has been around for a long time, but I never really paid them much attention until a sweet friend of mine showed me some pieces she had bought from there. She is a more mature woman who never lets age dictate her sense of fashion. She always looks modern and stylish, so I decided to place an order, and I was so impressed with what I got!
My online order came quickly without any issues, so let's get started with these stylish & affordable outfit ideas!
Tie Waist Dress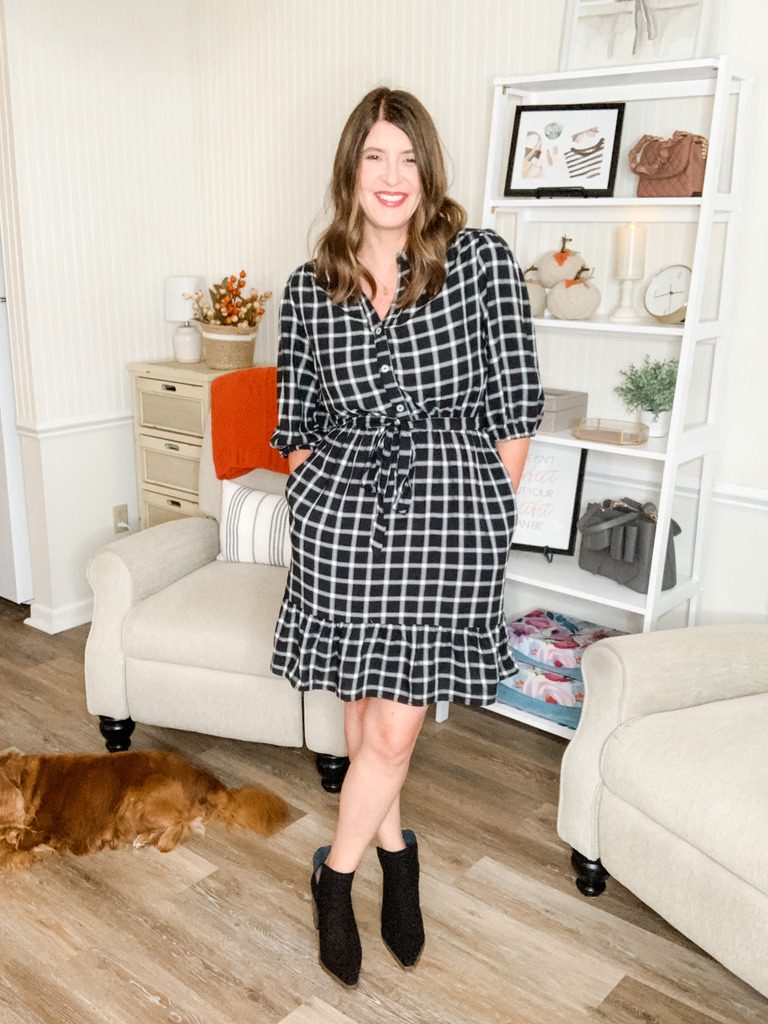 I love the look of this black and white plaid tie waist dress for fall. It can be worn now in the hotter weather, and will transition nicely to cooler weather by changing up the accessories or adding a layer.
You will have to excuse my dog for photo bombing most of these photos. She is determined to be right by my side most of the time, and I really enjoy having her there. If you are a dog lover, I'm sure you understand.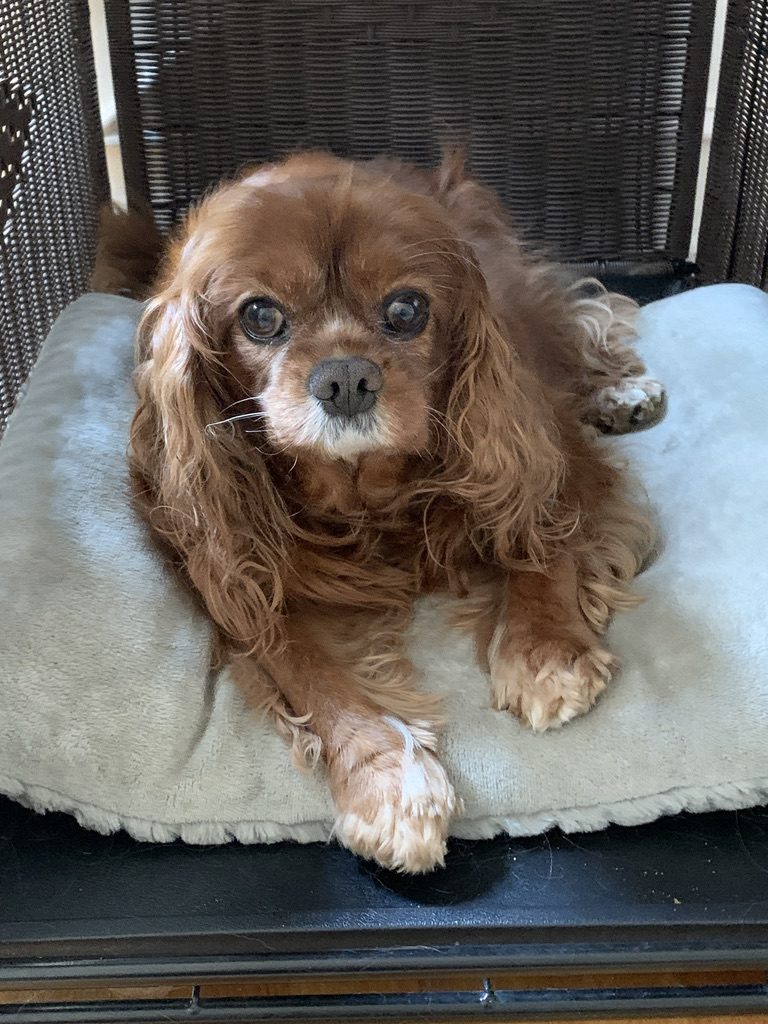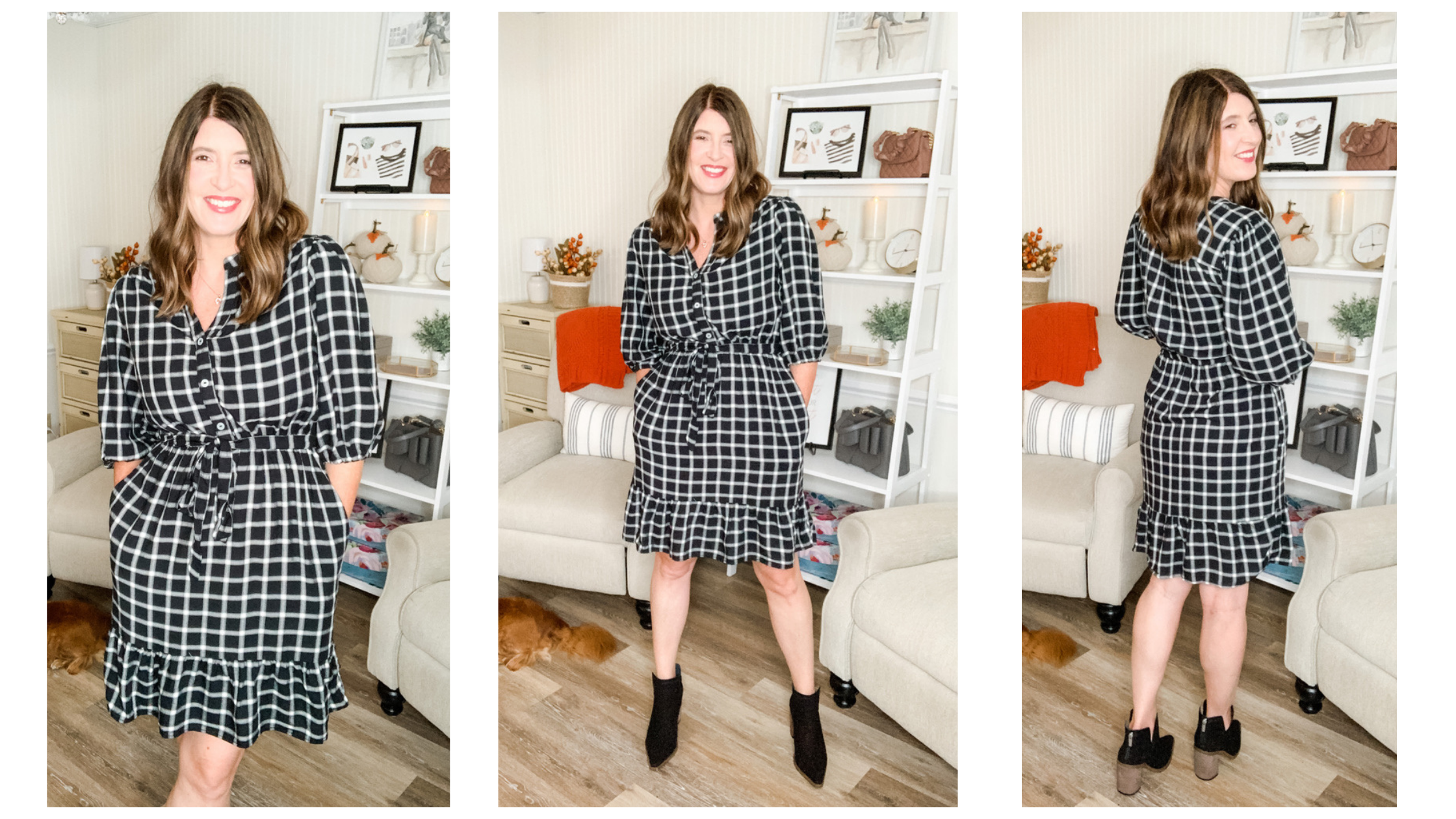 I am wearing a medium for size reference, which seems to be the correct fit for me. I chose my black ankle boots that I purchased in the Nordstrom Anniversary sale. I'm not sure if they are still available, but I will link them for you. I also like that this dress is slightly longer in the back which gives good coverage.
Tiered Tunic + Flared Jeans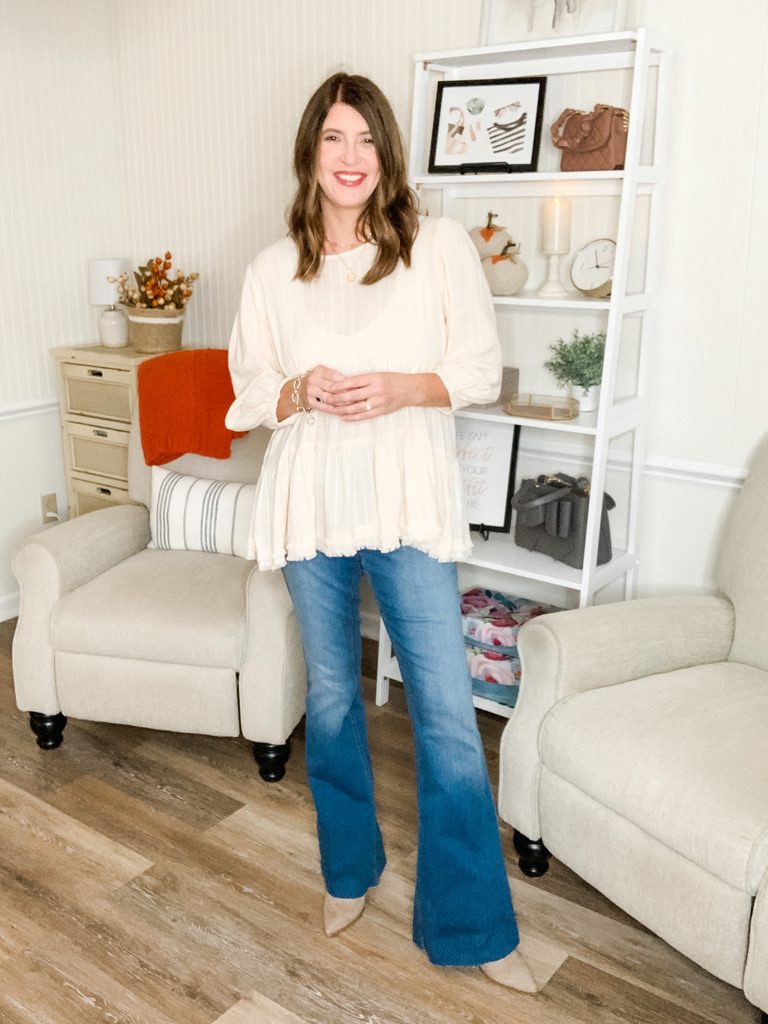 This next stylish & affordable outfit idea has a boho look to it. I love a flowy tunic, but they can be really expensive. This ivory tiered tunic looks much more expensive than the $22.99 price tag! Paired with these flared high waisted jeans, this is the perfect boho chic outfit.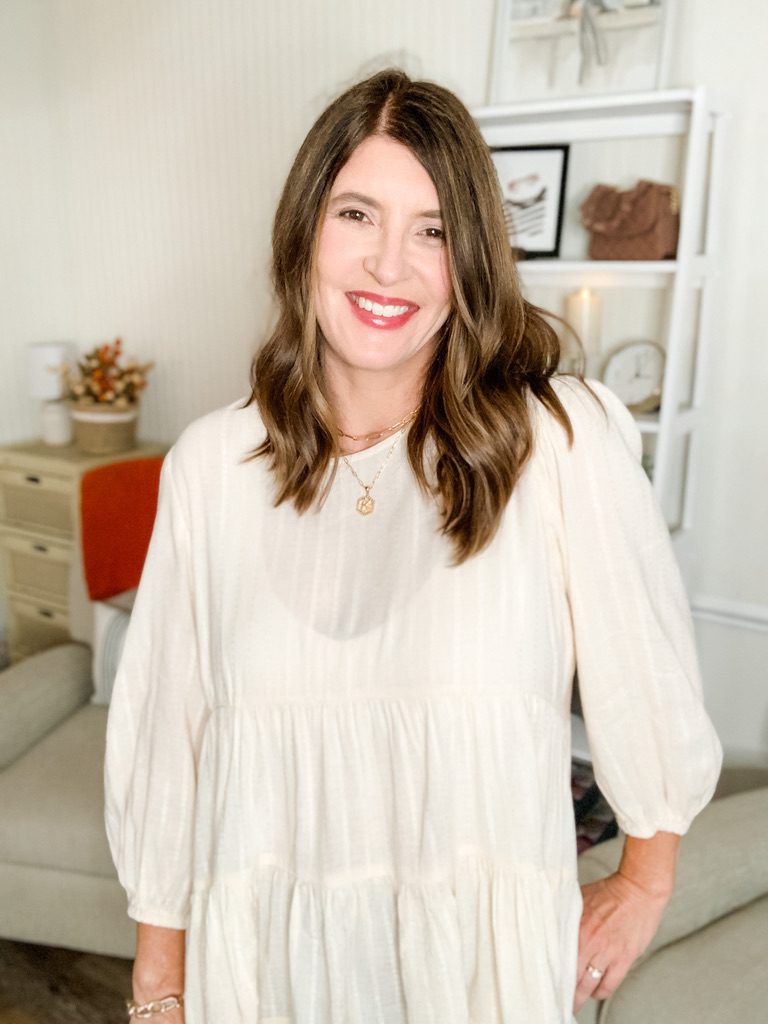 The top is slightly see through, but I did not see the need for a cami. I just wore a nude colored bra underneath. I went with a size large to make sure that it had an oversized fit. My necklace set is from Amazon, and I have shown it several times before. It is a great affordable piece to have and I wear it all the time.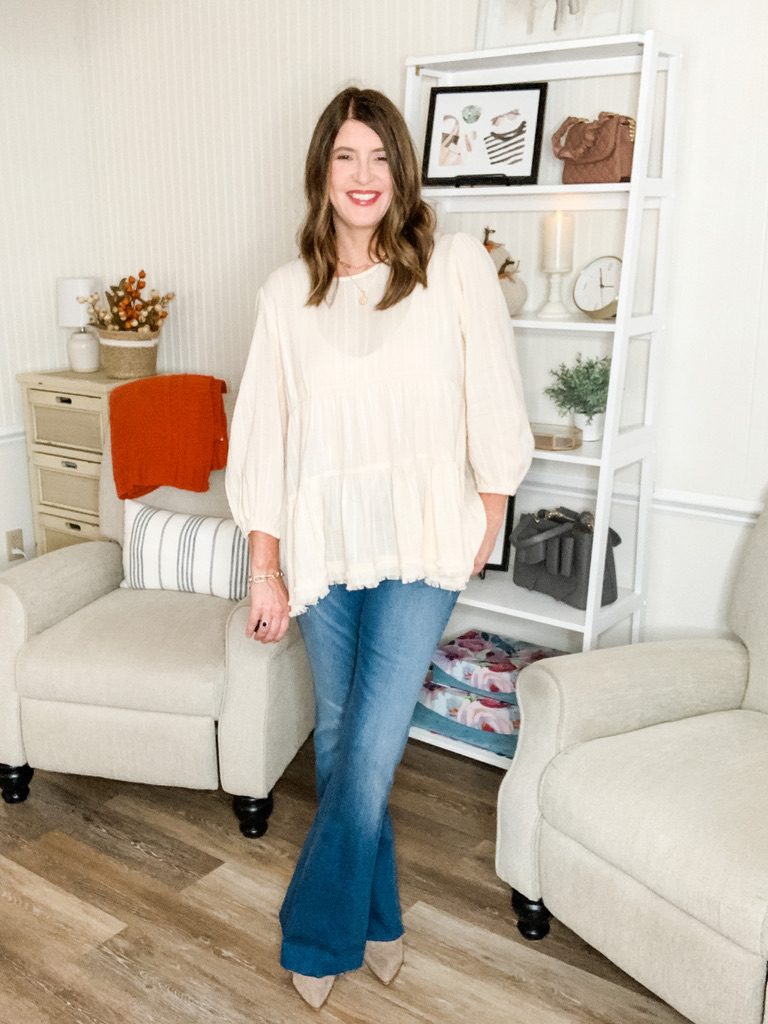 Since this was my first time ordering from Cato, I was really unsure about the sizing and I did a lot of guessing. I fluctuate in jeans between a size 8 and a 10 depending on the brand. I chose the size 10 in the flared style, but I should have gone with the 8 instead. The fit was not awful, but there was lots of extra room and the denim has stretch to it which would probably have bagged out by the end of the day.
These jeans are well suited for a mature woman's body, and I think had I chosen the right size, they would have been even more flattering. I would repurchase them in a smaller size for sure.
Sheer Sleeve Sweater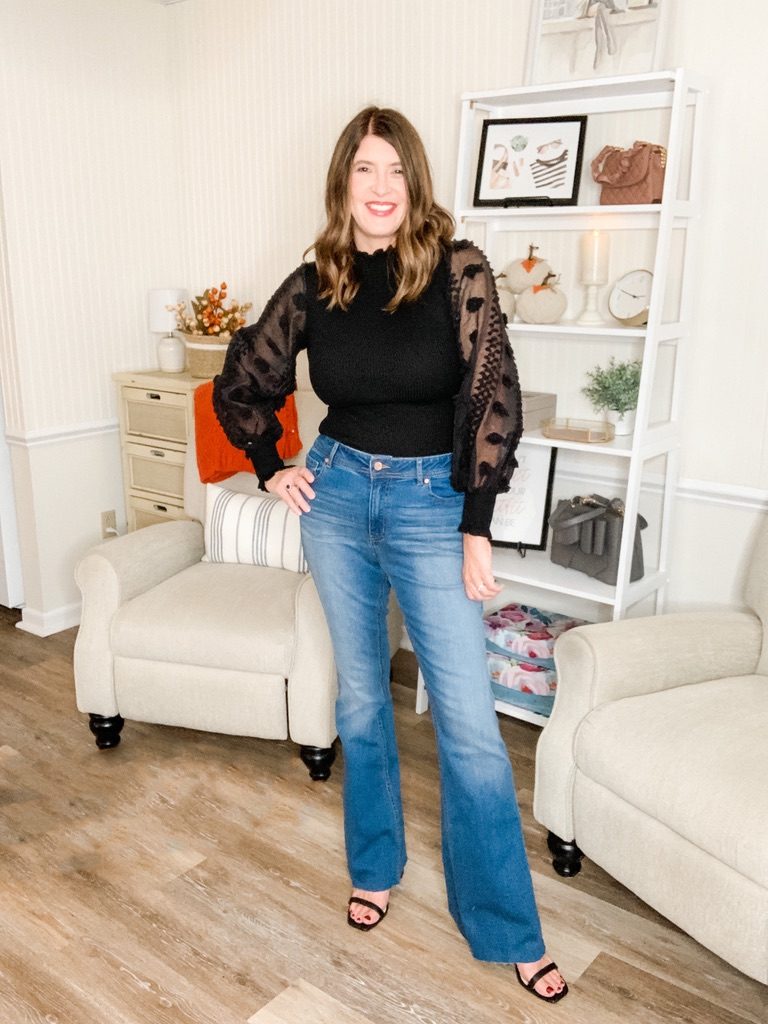 Shear sleeves are very on trend, and they elevate any look. This is a ribbed knit sweater with a mock neckline. This was another piece that I debated on size. I ultimately went with a medium, which would have been fine except for the chest. I think the large would have fit me better.
You can see the style of the flared jeans better in this photo since my shirt is tucked in.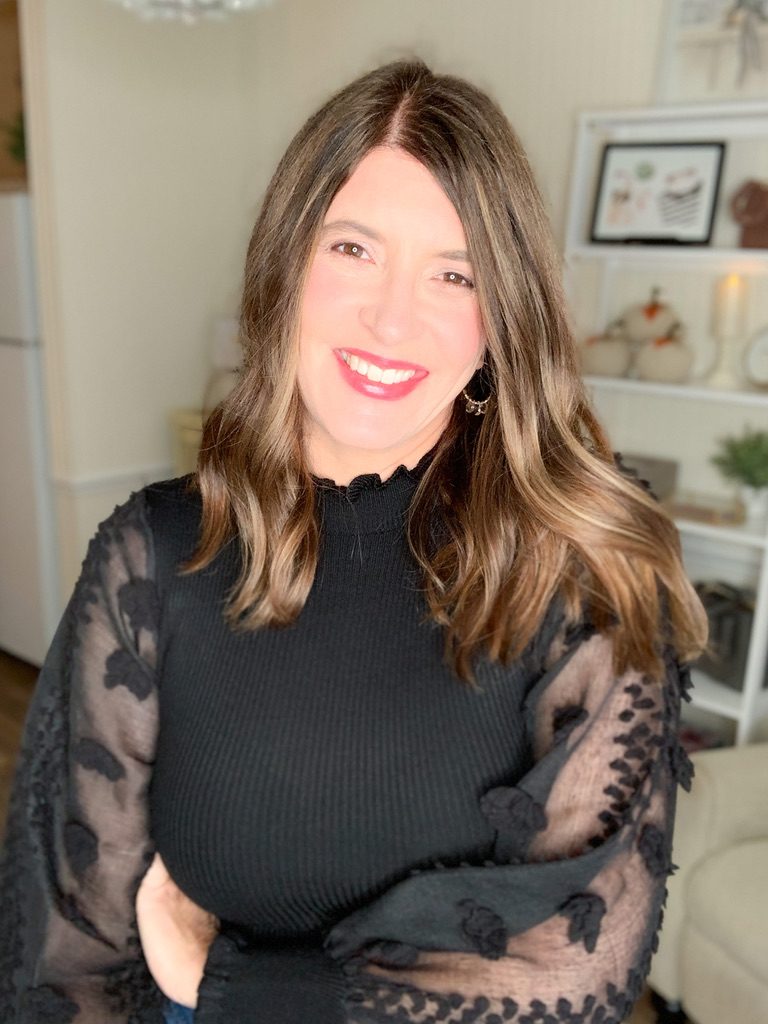 Lace Tiered Tunic + Leggings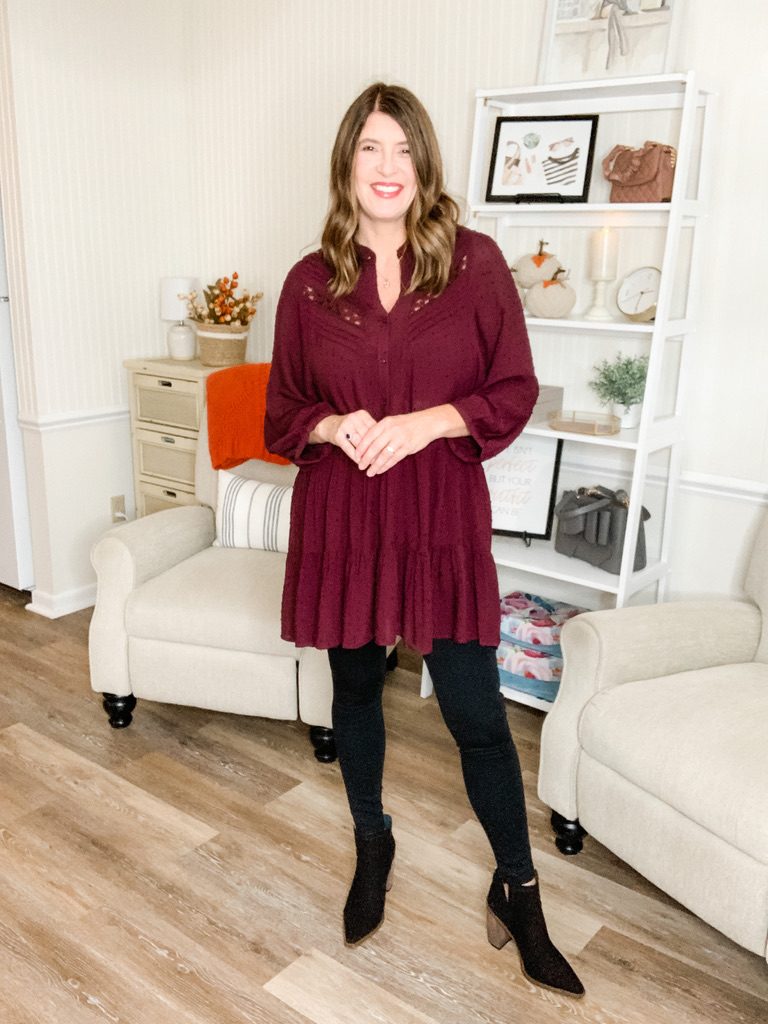 Tunics are versatile pieces for denim or leggings. This deep burgundy lace tiered tunic is perfect for fall. The length is very age appropriate if you like to wear leggings. I went with a size large in this top as well, and I like the fit.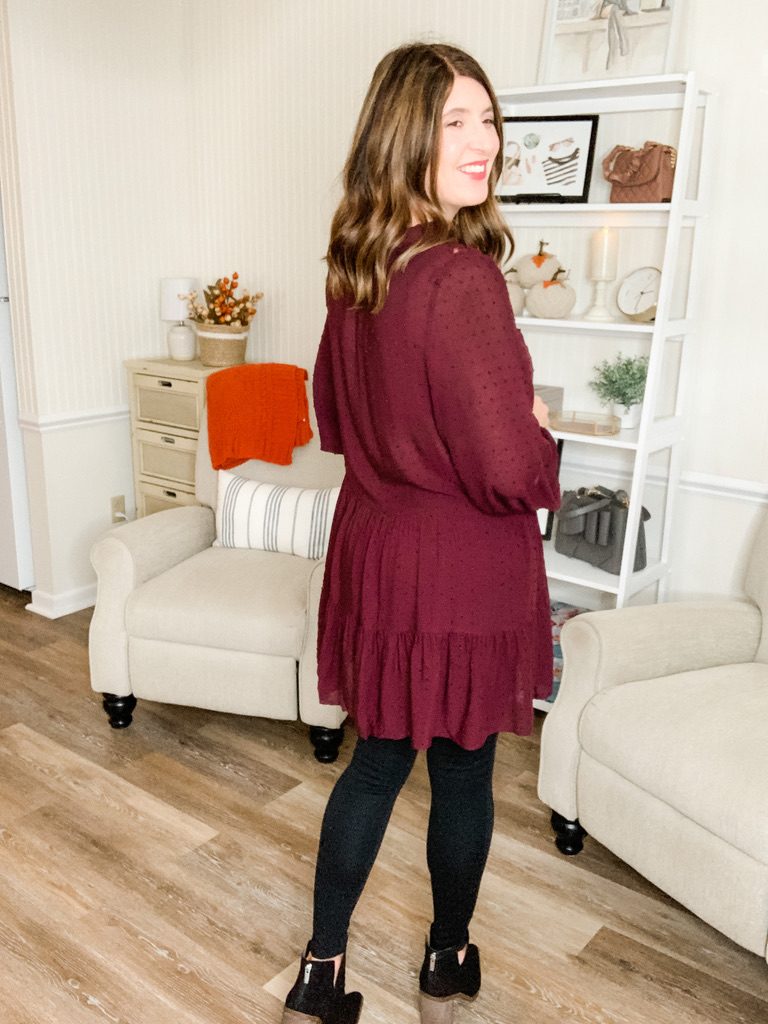 My leggings are the Red Hot by Spanx ponte leggings. I bought them last year and they are a favorite of mine. I would recommend sizing up one size as they run a little small.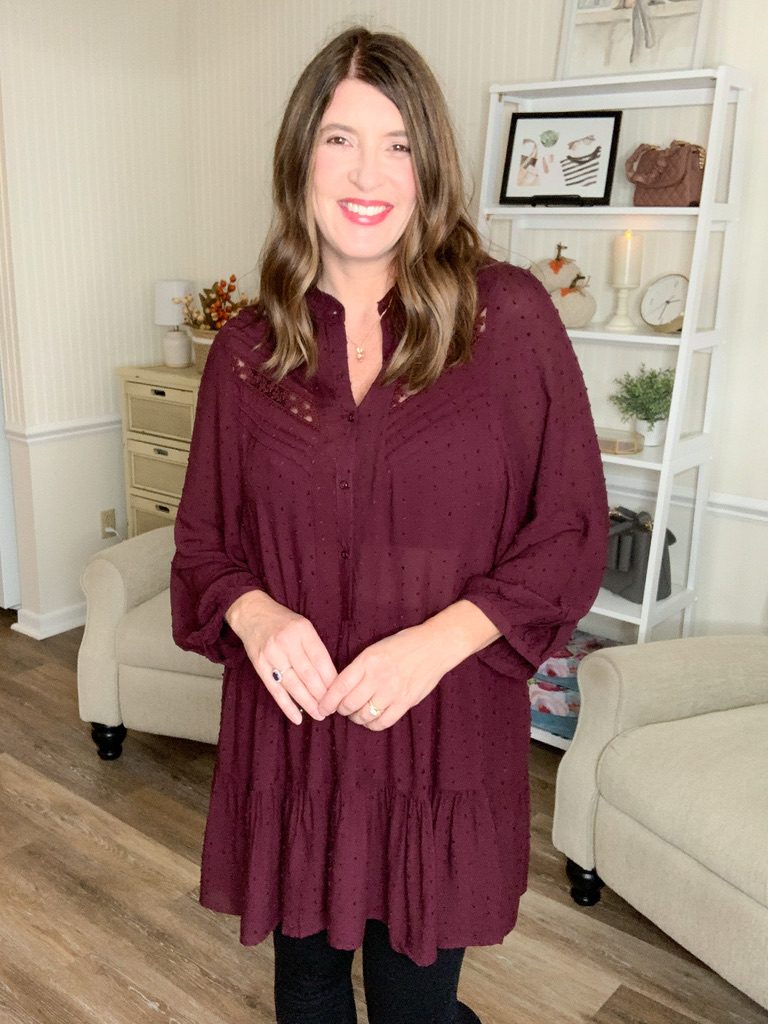 You will notice that the picture of the tunic in the shopping widget is white. It does not seem to be available in white anymore…only the burgundy but it is the same top. I like the darker color better for fall myself.
Belted Jacket & Plaid Pants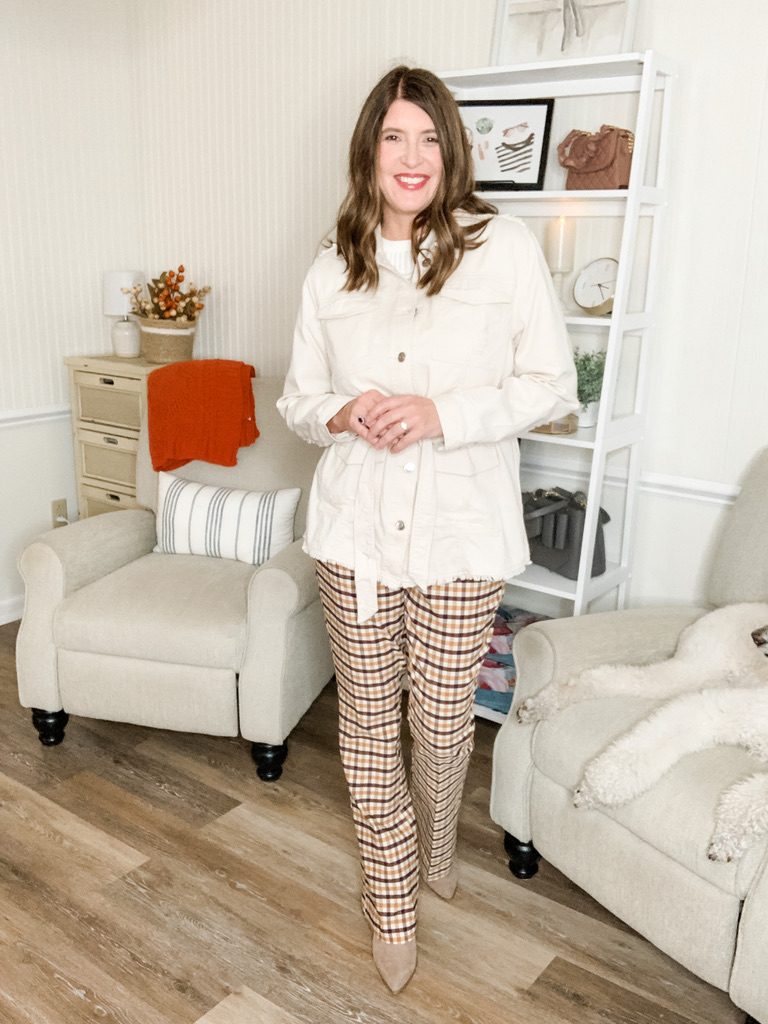 This next outfit would be a good workwear option. First, this belted jacket is the perfect transitional piece. It is a thin fabric that is just enough for a cooler day. The frayed trim and belted waist make it such a flattering and interesting completer piece. I'm wearing a size large.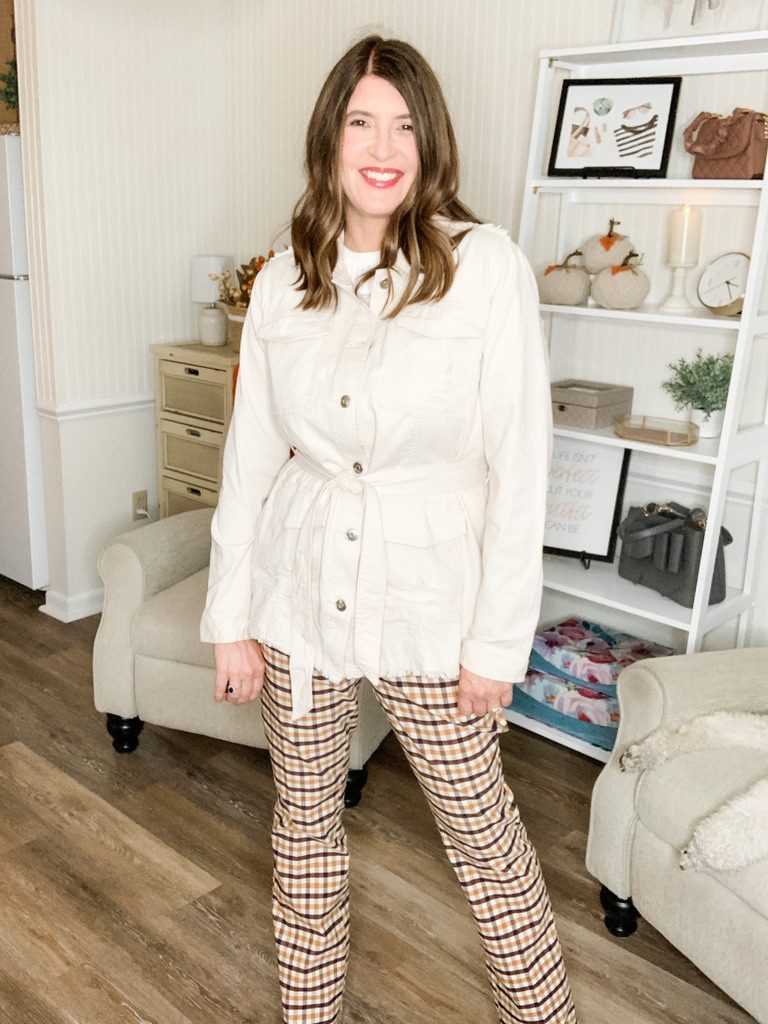 I paired the jacket with these plaid pull on style pants. They are a fun mix of autumn colors and have a slightly flared bottom making the fit very flattering. I ordered these in a size 10 and just like the jeans, they were too big. It was even more obvious in the pants as they bagged out especially in the legs.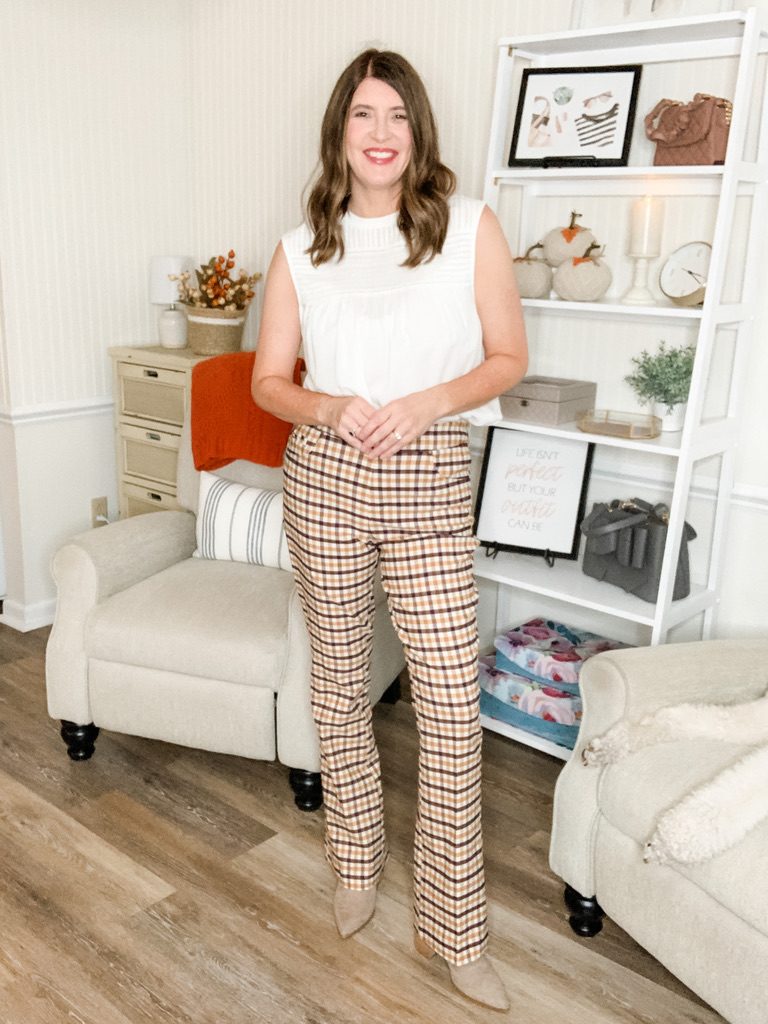 I still wanted to share these, because in the right size they could be really cute. The neutral shell is just something I already had in my closet from last year. I will link my favorite neutral cami from Amazon in the shopping widget.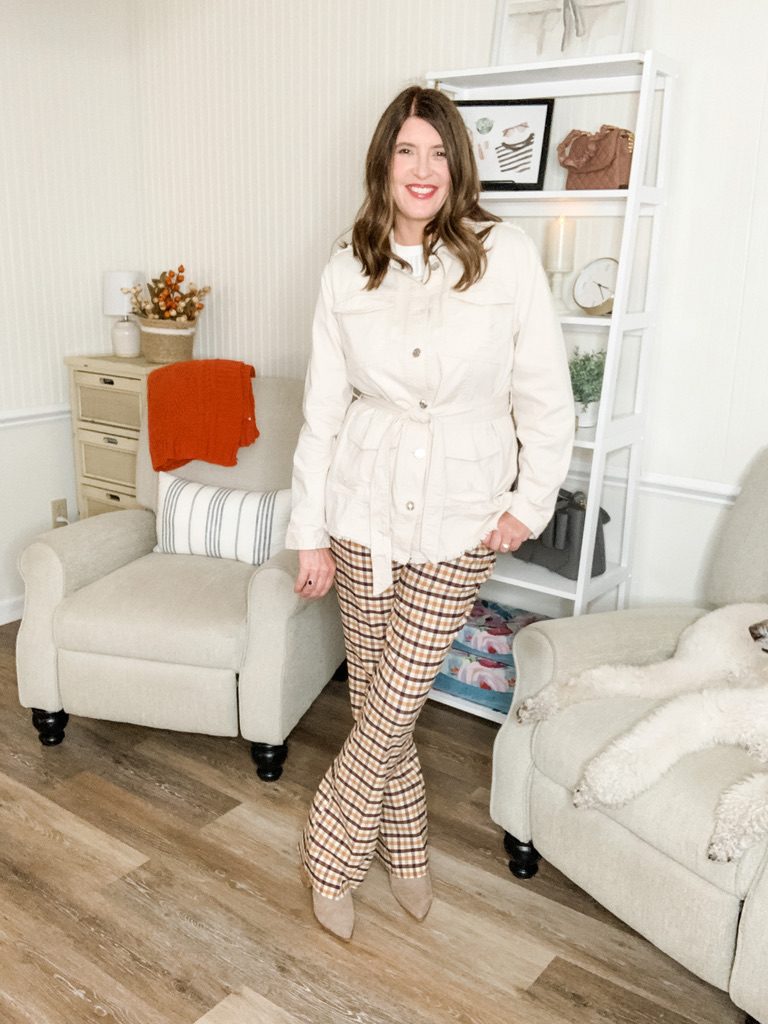 Lounge Clothes
My stylish & affordable outfit ideas would not be complete without lounge clothes. I have a true love for comfortable and flattering casual styles that I can work in at home while still feeling put together.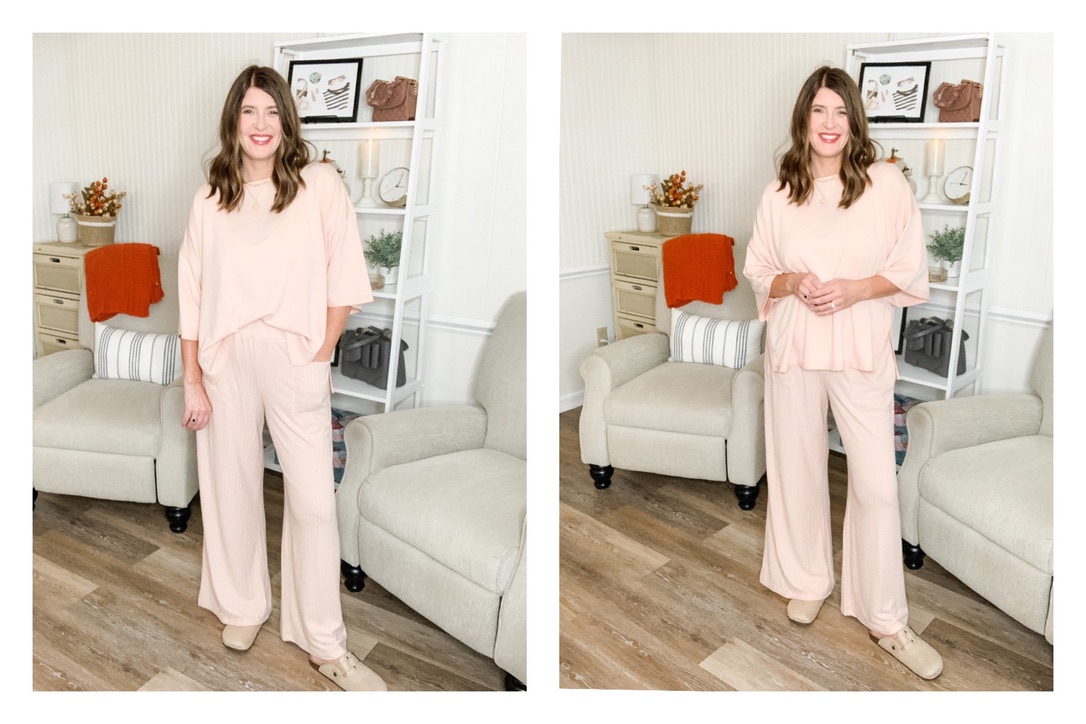 The first lounge outfit is this soft blush colored knit top and wide leg pants set. The top is a large and the bottoms are a medium. The top is oversized and can be front tucked or left out.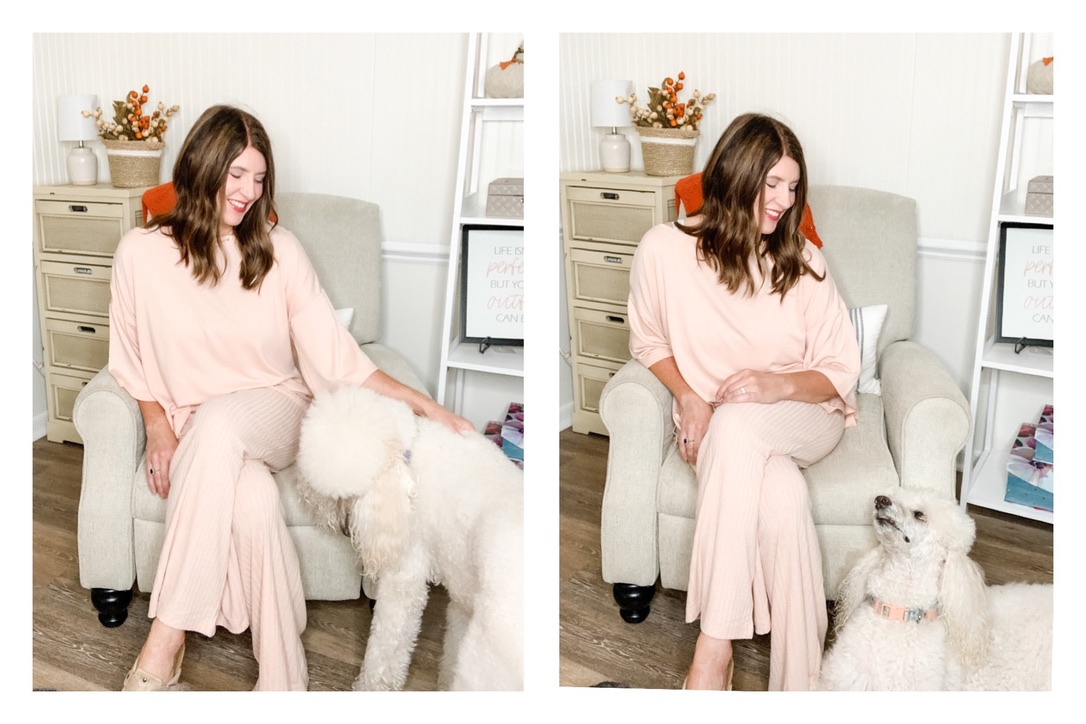 Lily approves!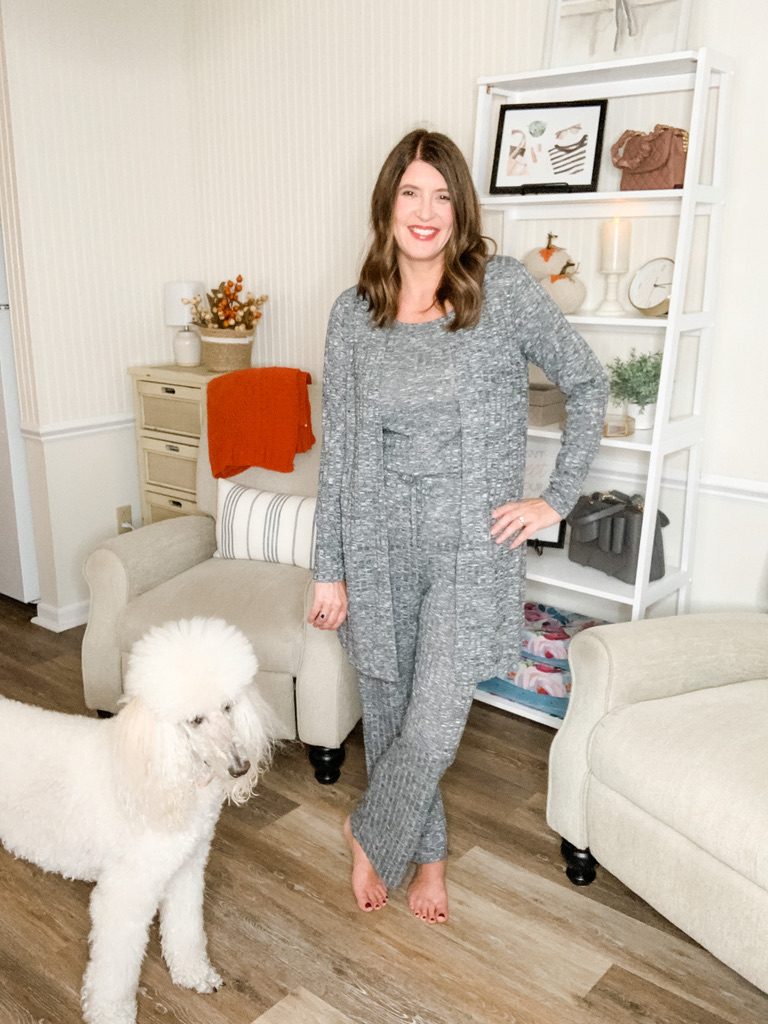 The last outfit is a three piece set. It is a ribbed knit material that I think any woman would love to have. Each piece is sold separately, so you could just omit the tank, and use a tank that you already have. I ordered a medium in all three pieces, and with the exception of the tank they all fit well. I should have sized up to a large in the tank.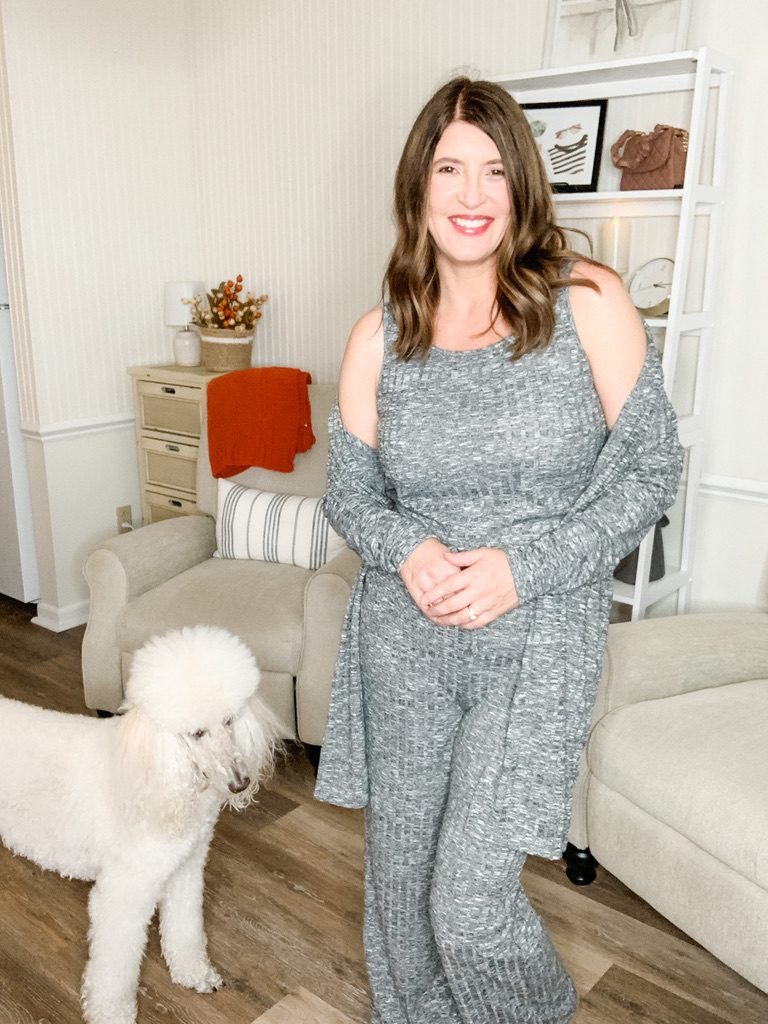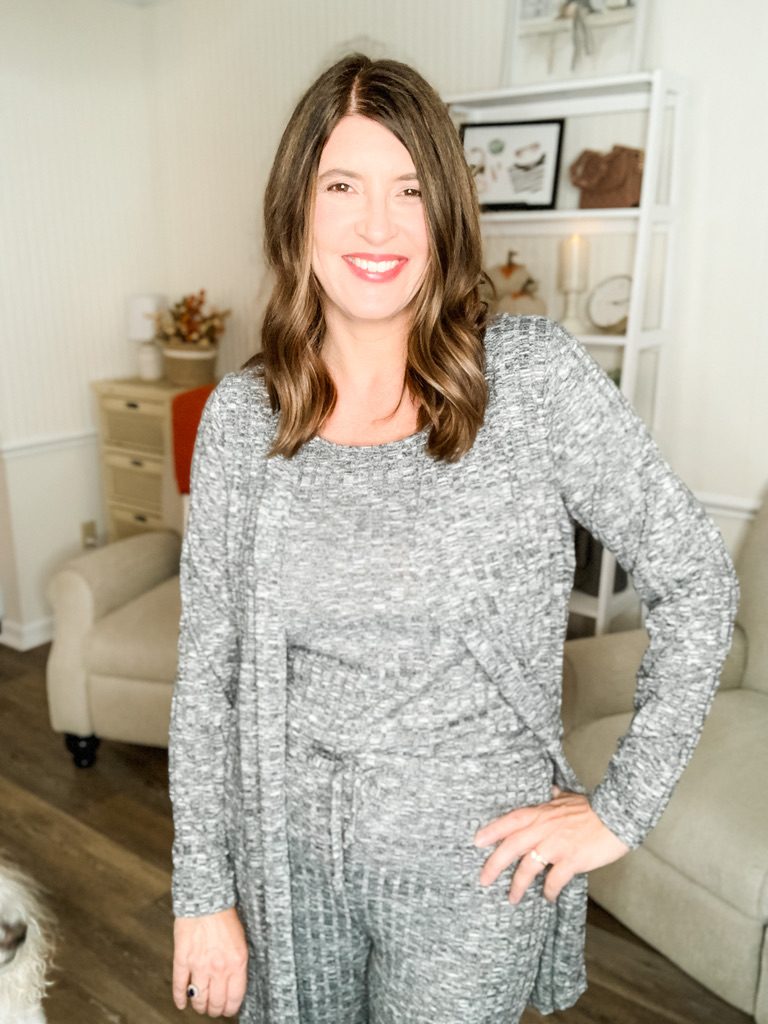 This is pretty typical of life around our house, and I wouldn't want it any other way.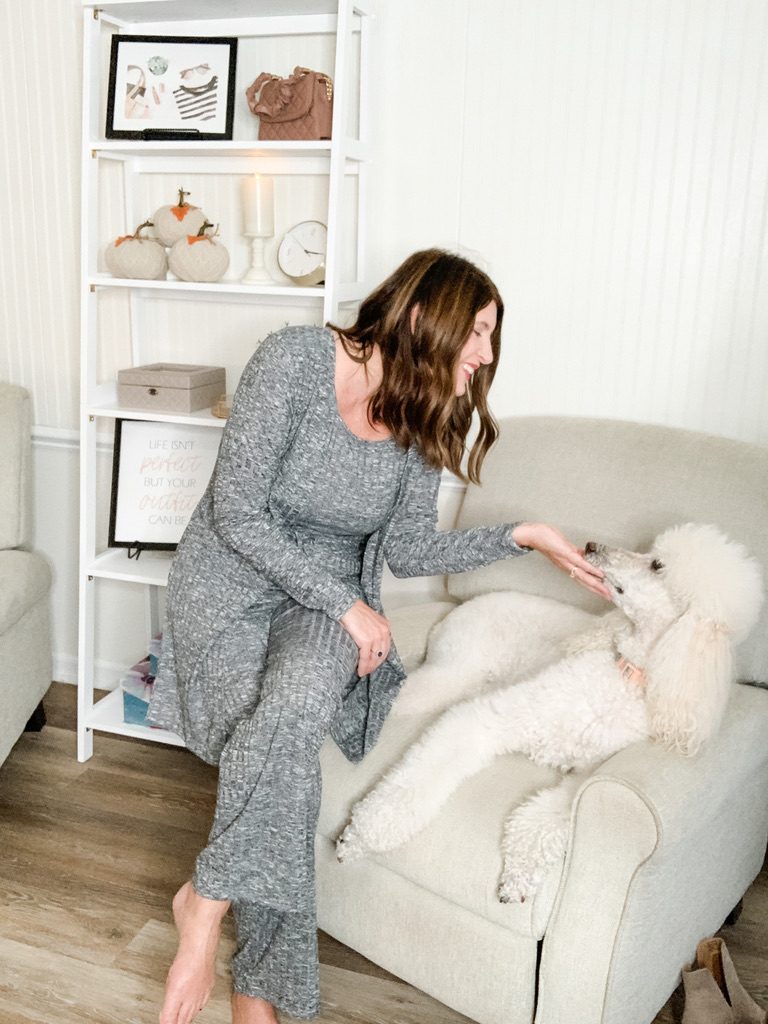 Final Thoughts
I enjoy trying new retailers, and I hope you enjoyed seeing some new pieces here today. Cato is priced affordably and is sized for women in a wide range including regular and plus size. The quality is comparable to Target, Walmart, and other similarly priced retailers, and the styles could appeal to women of all ages. This is not a sponsored post, and I purchased all of these pieces myself.
If you are wanting to incorporate some trendy items to your wardrobe, Cato would be a good option to try some looks while not spending a lot. If you missed Wednesday's post, I shared some great Walmart finds for fall. You can see it here.