Happy November! I'm hoping the holiday season of 2020 will go a little more smoothly than the first three quarters of the year. I never like to wish time away, but I think we are all ready for 2020 to be over! The first thing that pops into my mind at the start of November is Thanksgiving! Yes, I know Christmas overshadows Thanksgiving these days but Thanksgiving deserves some attention. That's why I want to share some Thanksgiving table decor ideas with you today.
For those of you who used to follow along on my previous blog, this may look familiar because it is an updated version of last years post. I didn't purchase any new fall table decor this year and I know most of you are new here, so this is pretty much how my table will look again this year.
I don't know exactly what my family is planning yet. My parents have been extremely cautious about being around people since the pandemic. It stinks and I have only seen them a couple of times over the past several months. They only live 2 hours away, so we usually see each other a lot more. I'm hoping that we can all be together!
The Table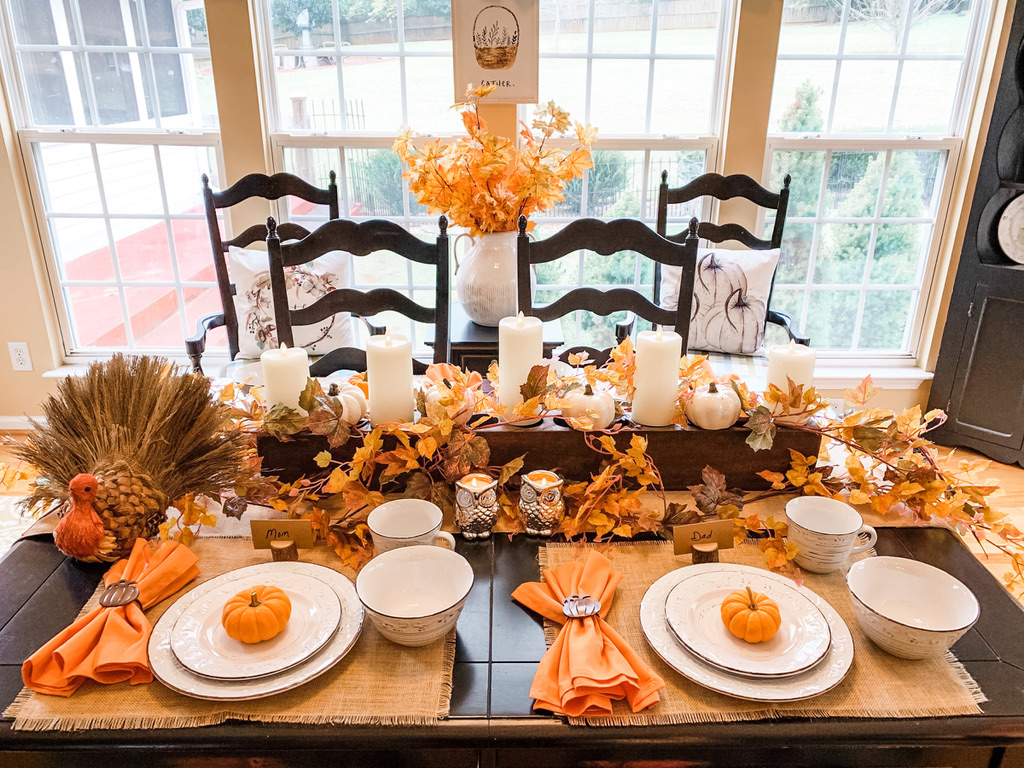 The overall look of this Thanksgiving table decor is rustic. Anchoring the table setting is a burlap table runner and burlap placemats. Most of the colors here are white and brown, and I added pops of orange and yellow for that traditional Thanksgiving feel.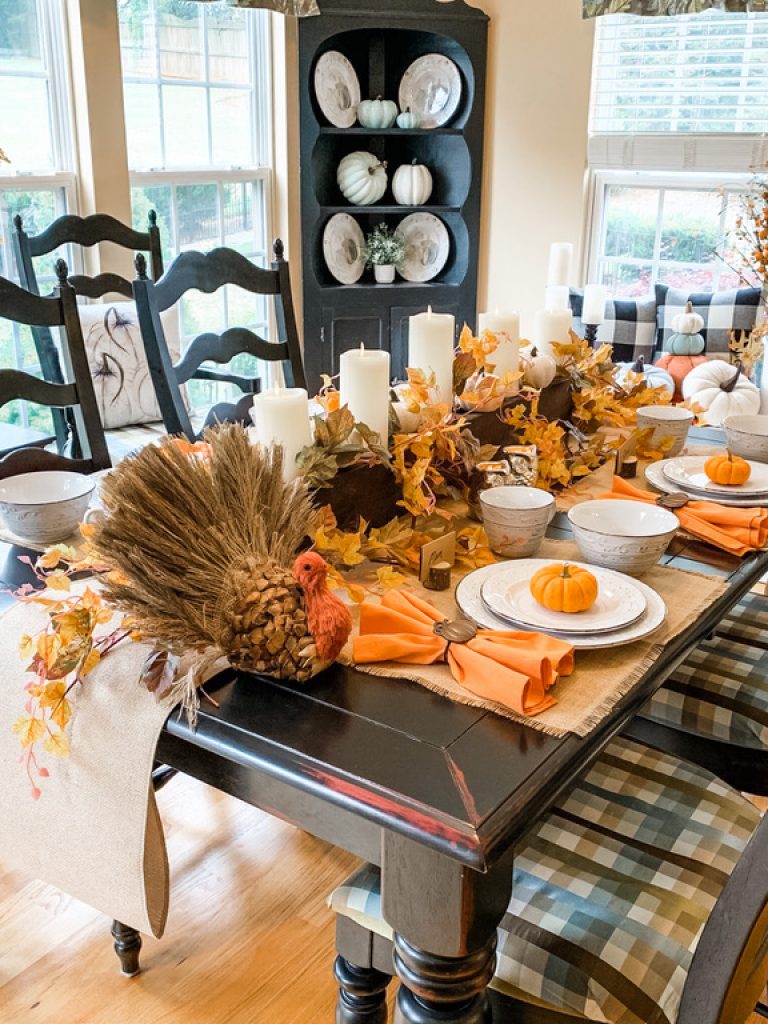 The Dishes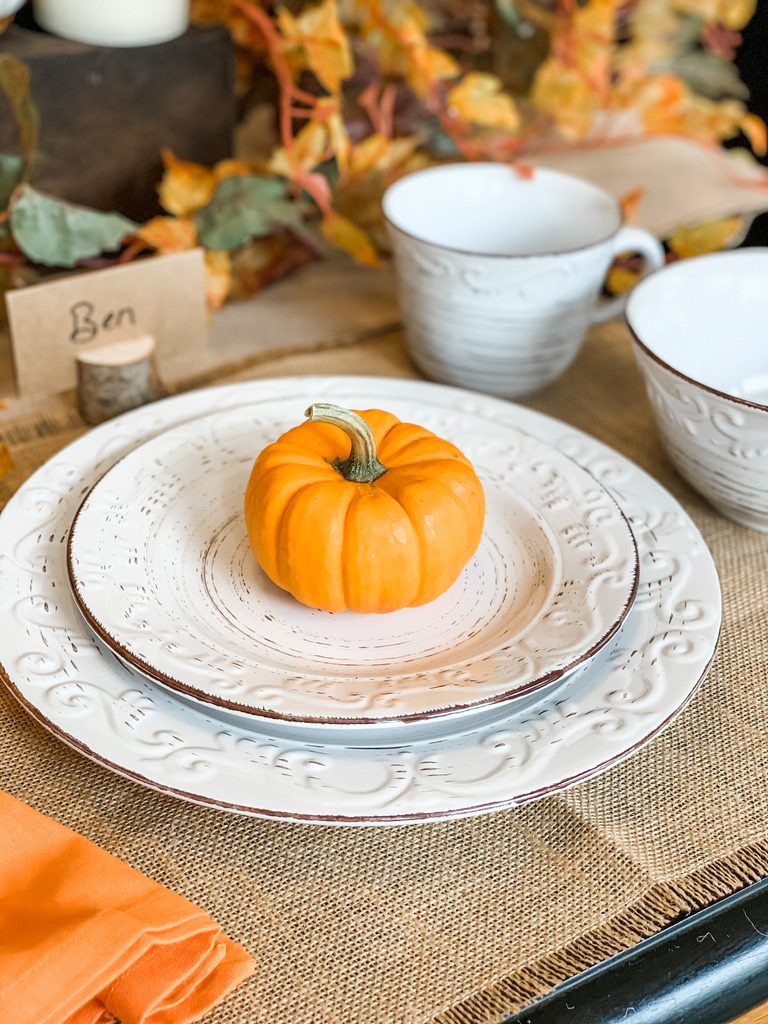 I chose these rustic white dishes by Pfaltzgraff. They come in a 16 piece set and are microwave and dishwasher safe.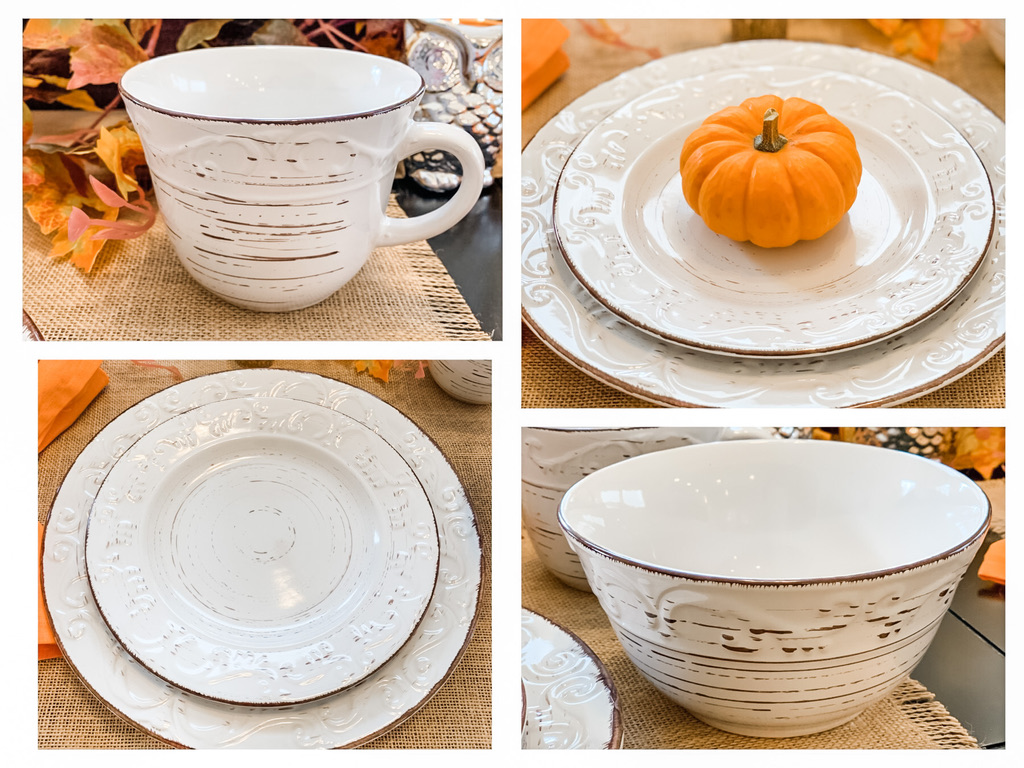 This set includes a dinner plate, salad plate, bowl, and mug for four people. I like the look of the white plates on the burlap placemats. White dishes are a good option because they can be used for any occasion. Holiday themed dishes are pretty, but they sit in the cabinet most of the year.
Napkins & Holder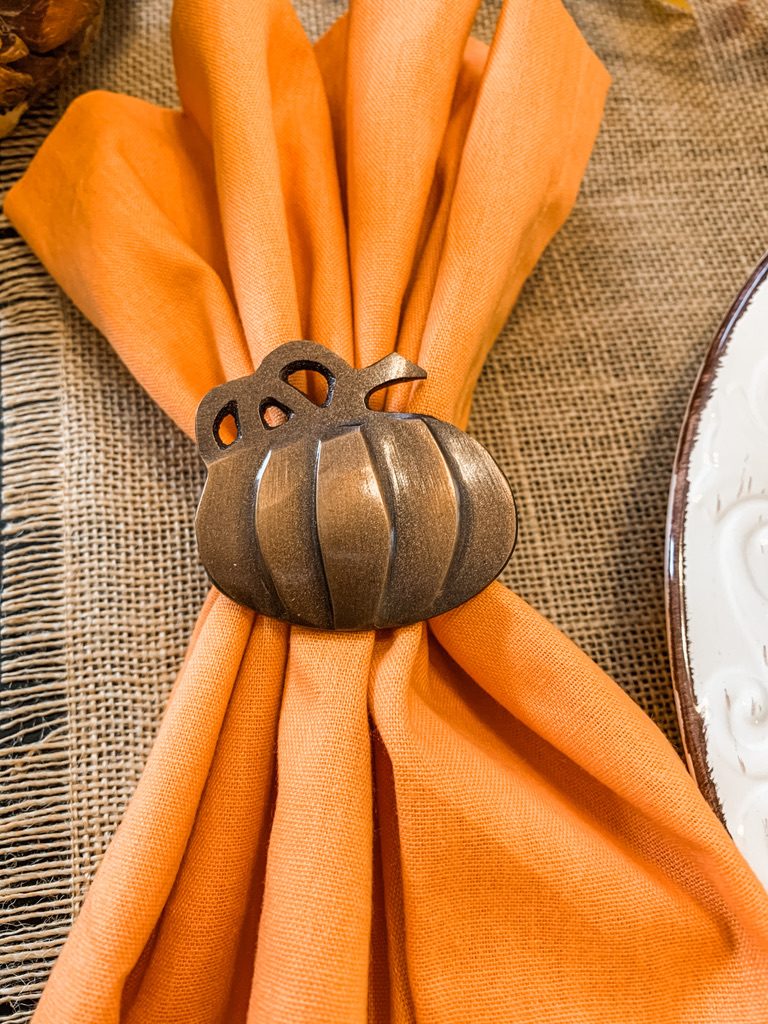 These bright colored cloth napkins add a pop of color and are displayed in these cute little pumpkin napkin rings. When you are creating a special Thanksgiving table, the little details like these really take it up a notch!
Place Card Holder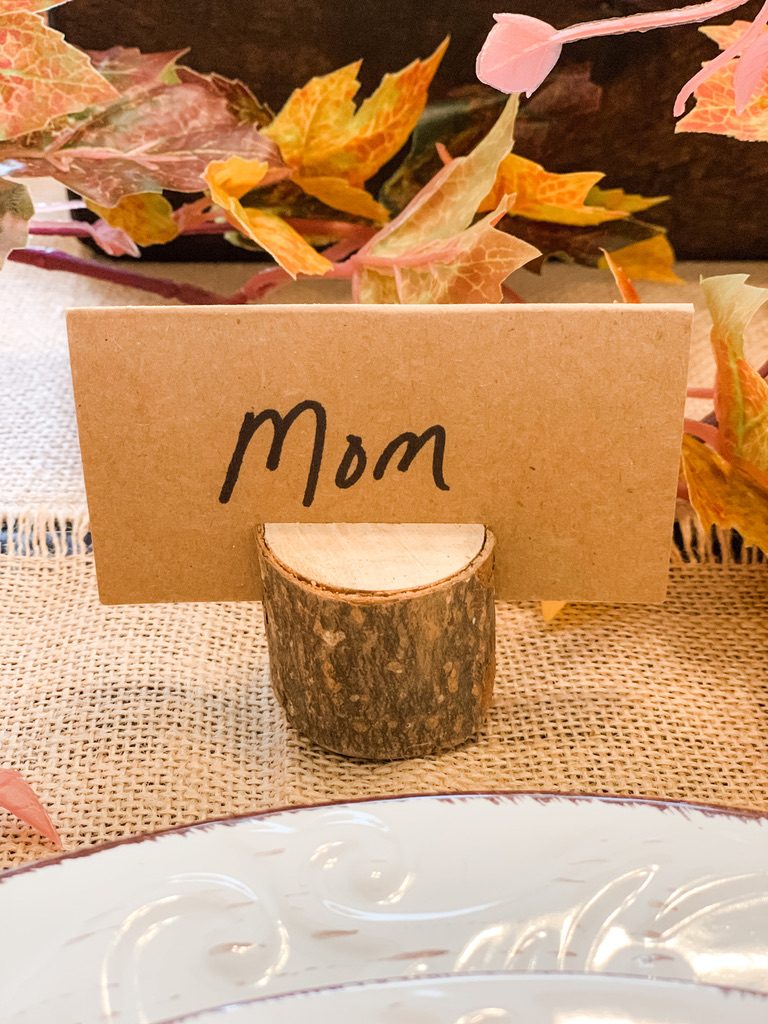 Speaking of details, these rustic wood place card holders might just be my favorite accessory on this table. They come in a set of 20 for $16.99 and the paper is included. If you are expecting a large crowd, this would be a great addition to your Thanksgiving table decor.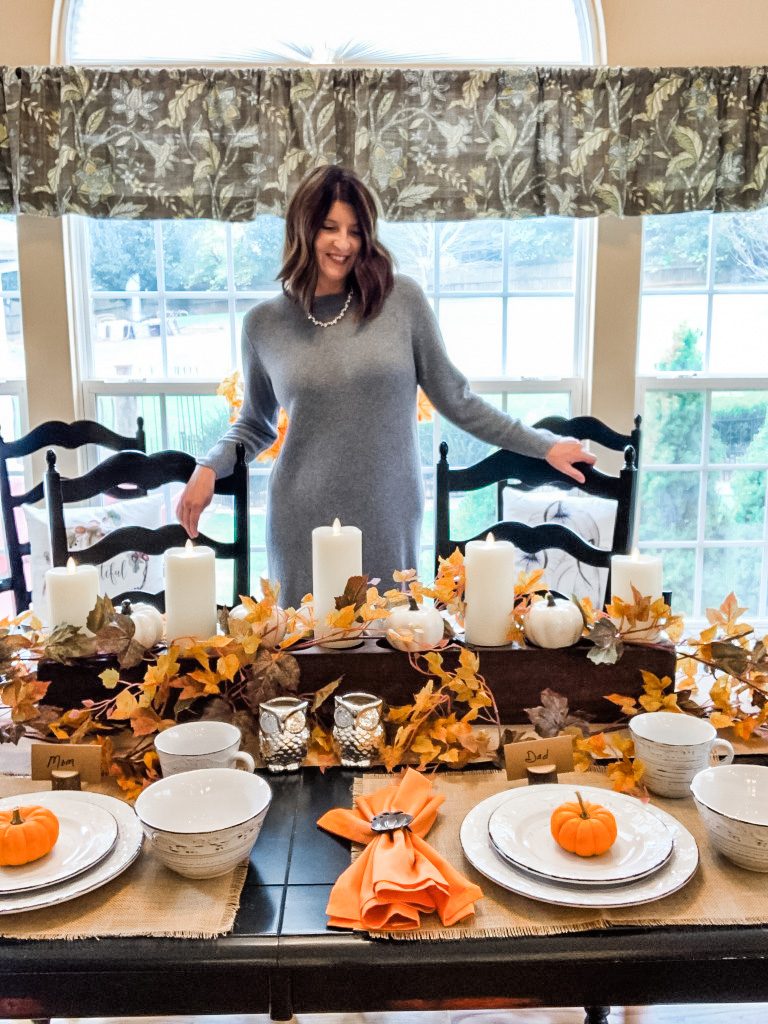 The Centerpiece
A key component of Thanksgiving table decor is the centerpiece! I like to have something that makes a statement without being so tall that guests cannot see each other. A huge arrangement looks pretty, but is very distracting during conversation. The wooden piece in the center is a piece that I found last year at an antique sale. It is called a sugar mold and you can actually purchase them new. Here is a similar option.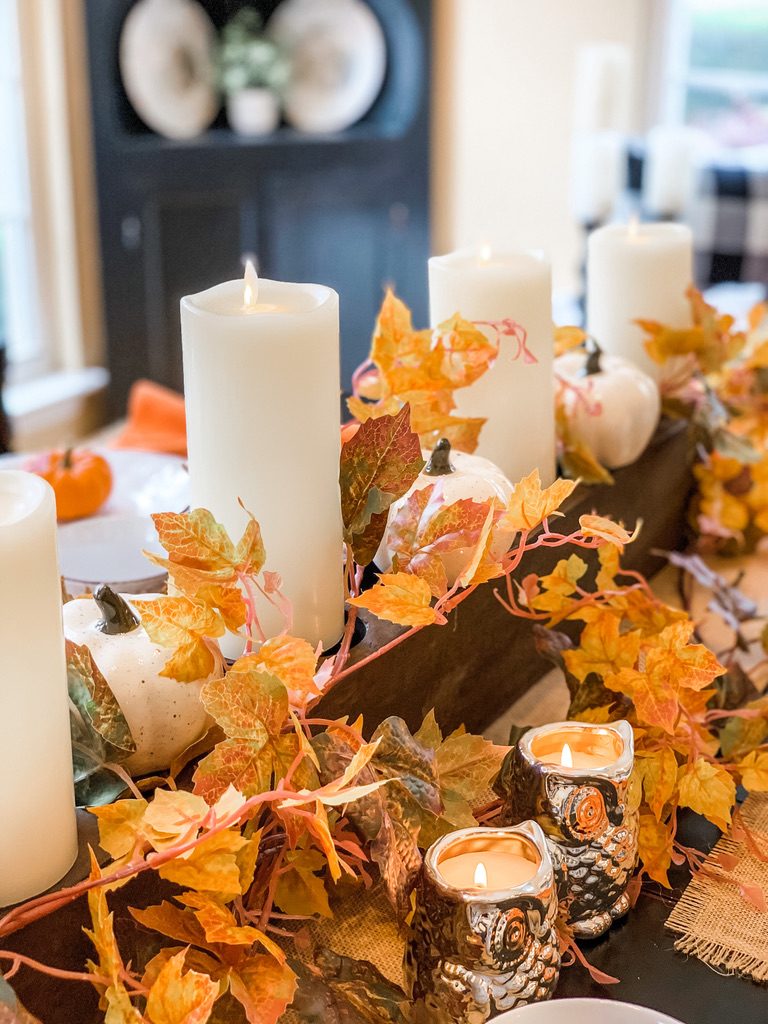 Instead of using a tall floral arrangement, I used these maple leaf garlands and just arranged them randomly around the centerpiece. These came in a 2 pack of 6.5 ft. garlands. I will link them if they are still available.
When using rustic decor, I like to add in just a little bit of shine to add variety and the shiny owl candle holders are the perfect little touch.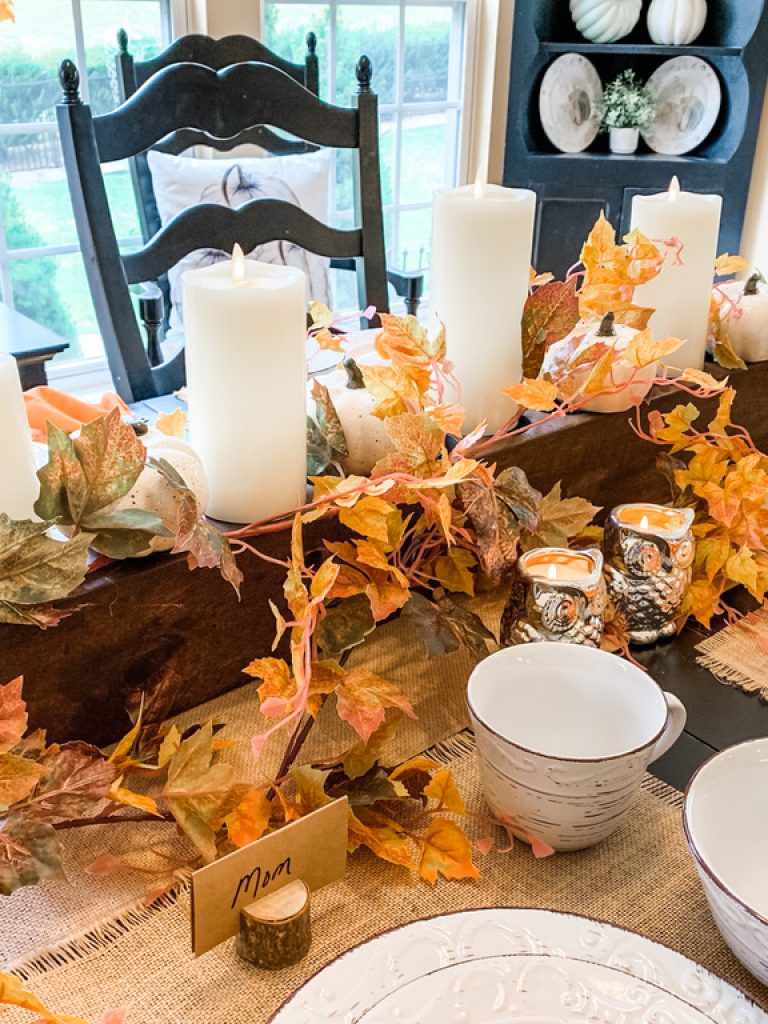 Candles are always a good way to create a warm atmosphere at your Thanksgiving table. These from Amazon are a nice option.
Others Accessories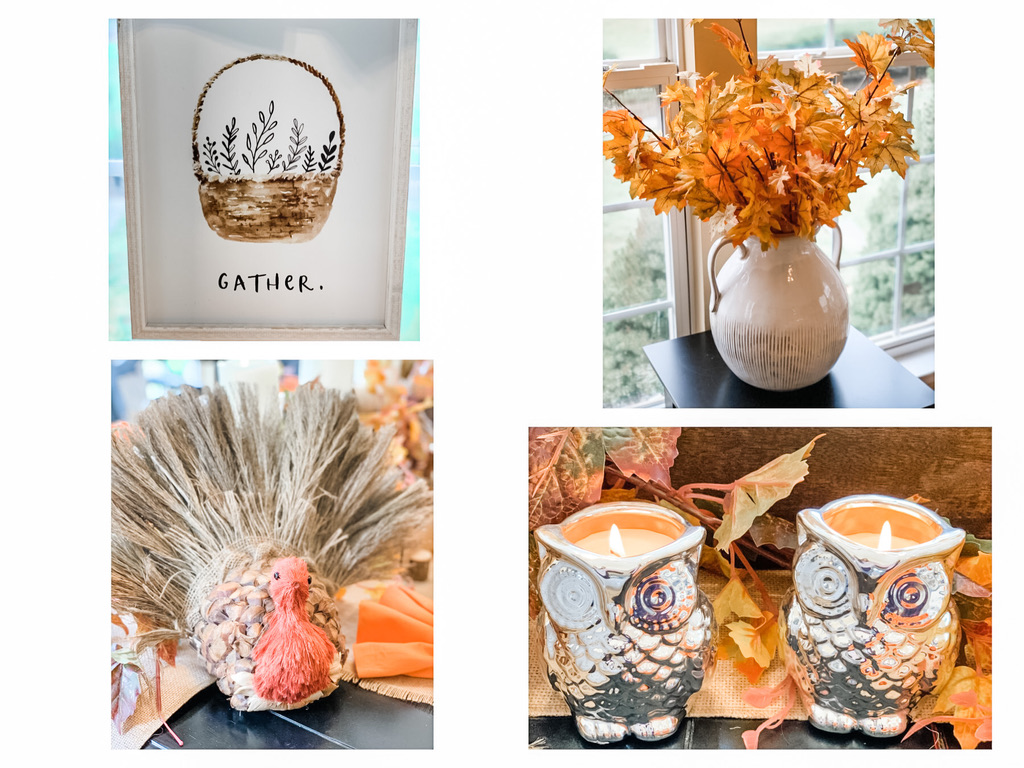 Smaller Table Ideas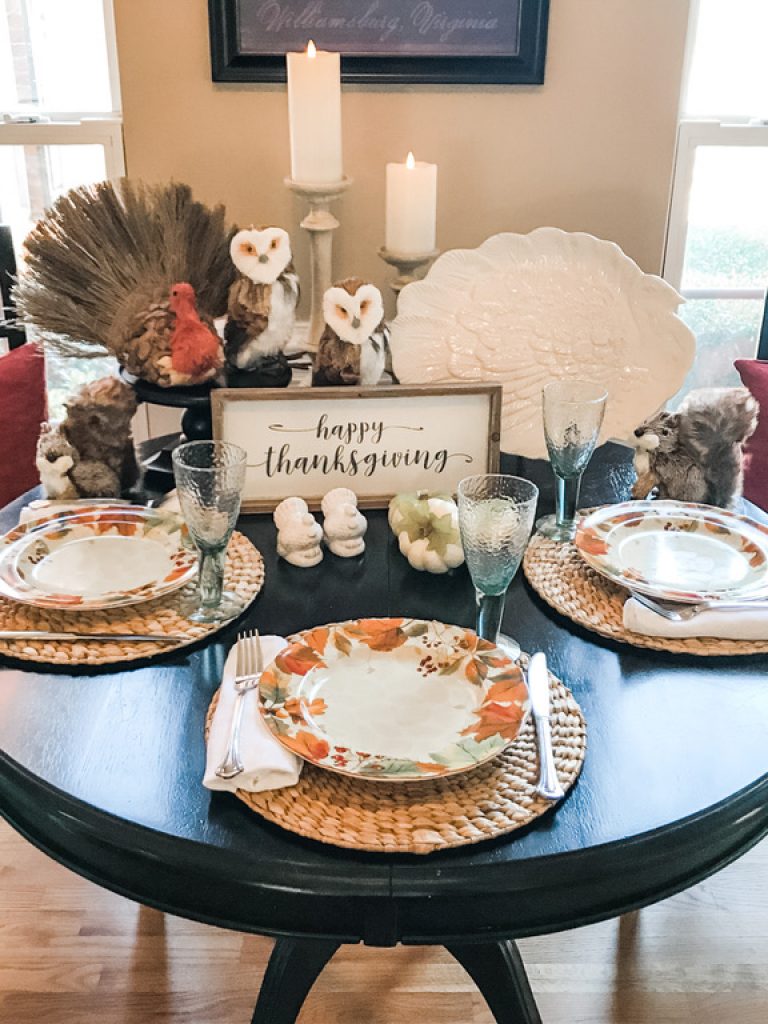 If your gathering is going to be small, then this Thanksgiving table decor may give you some inspiration. I did this one two years ago. Most of the accessories came from Marshall's. I will do my best to link some similar items to recreate this look.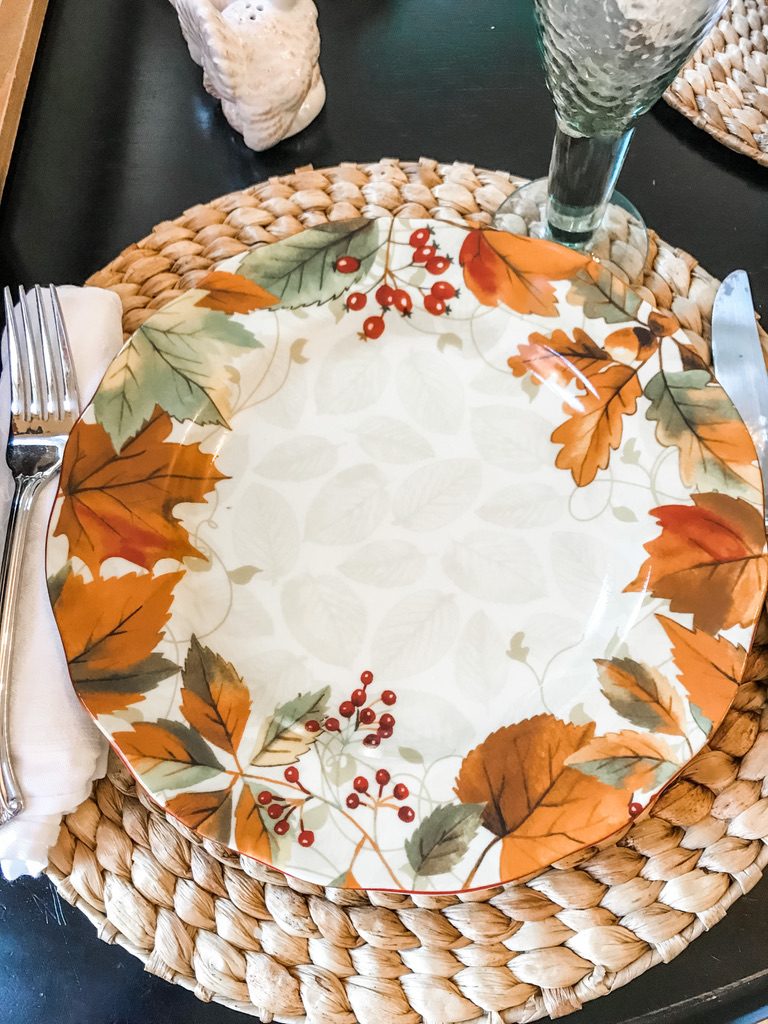 These plates are seasonal, but not just Thanksgiving. At least these could be used all throughout fall. The woven placemats add some interesting texture to the table setting.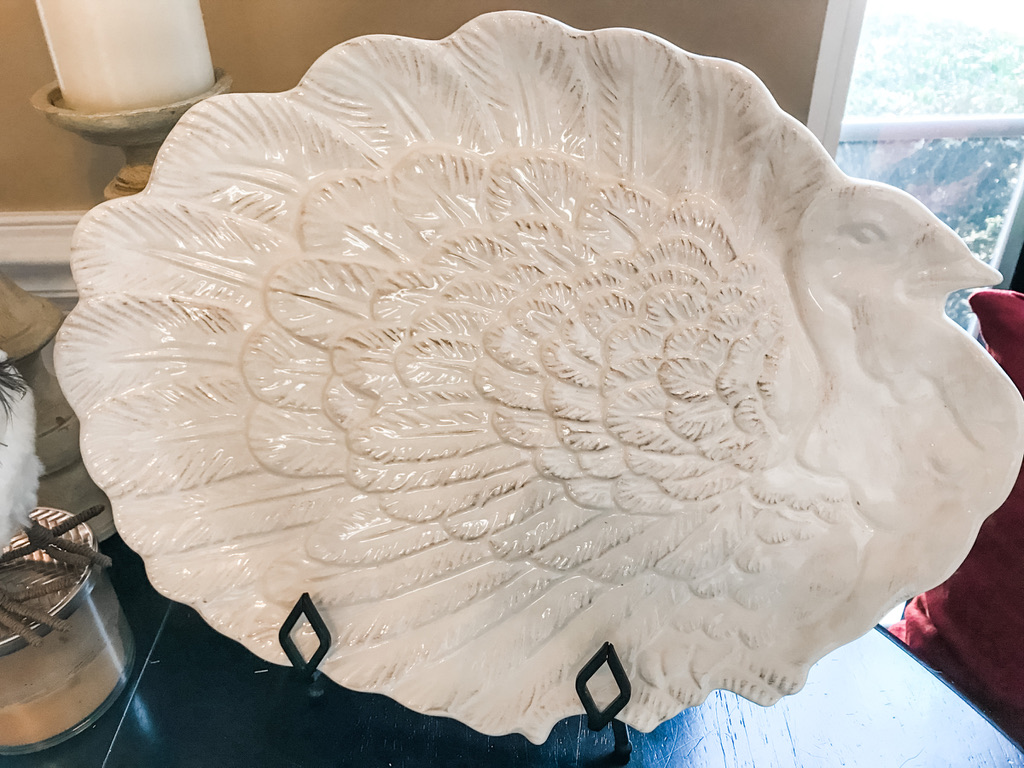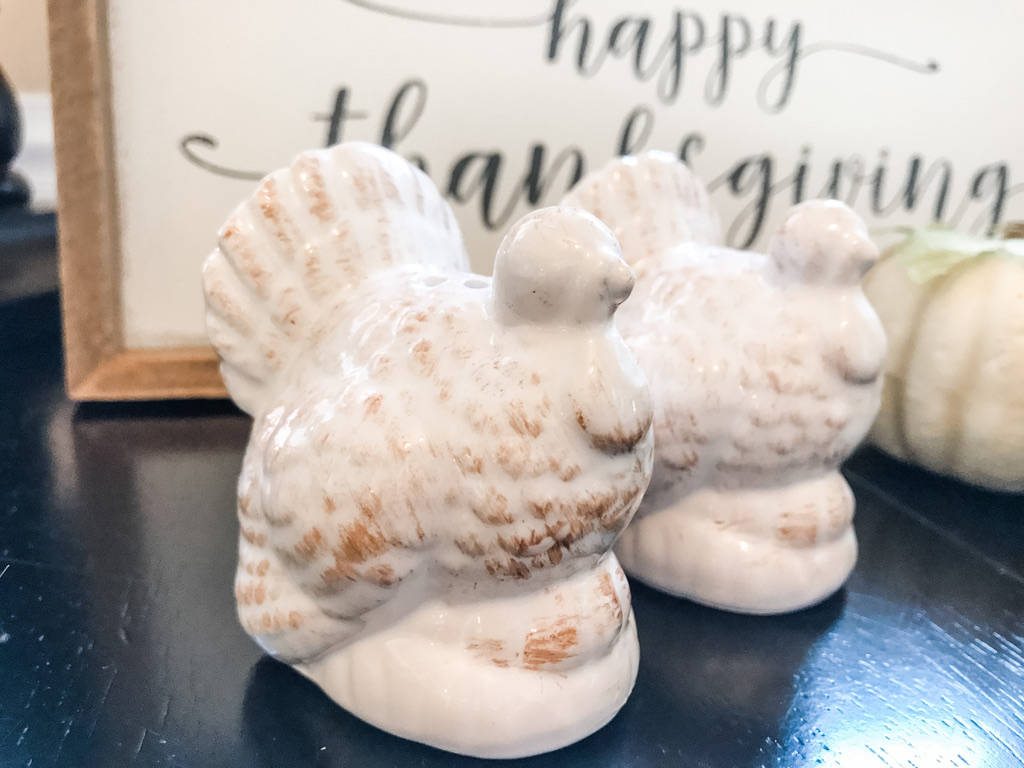 Nothing says happy Thanksgiving more than a big turkey platter. This could have a practical use as a serving piece, or it could just be decorative. The salt and pepper shakers coordinate with the platter.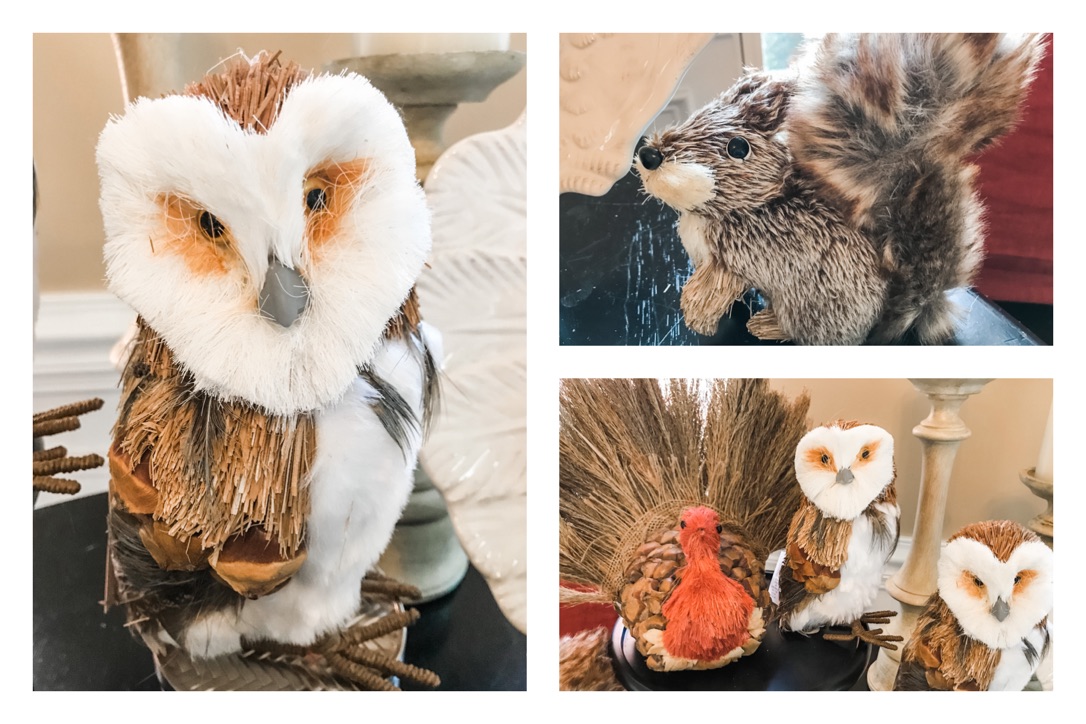 My love of animals is evident by the whimsical forest animals on this table. No matter how old I get, I just think they are cute and they give me some good holiday feels.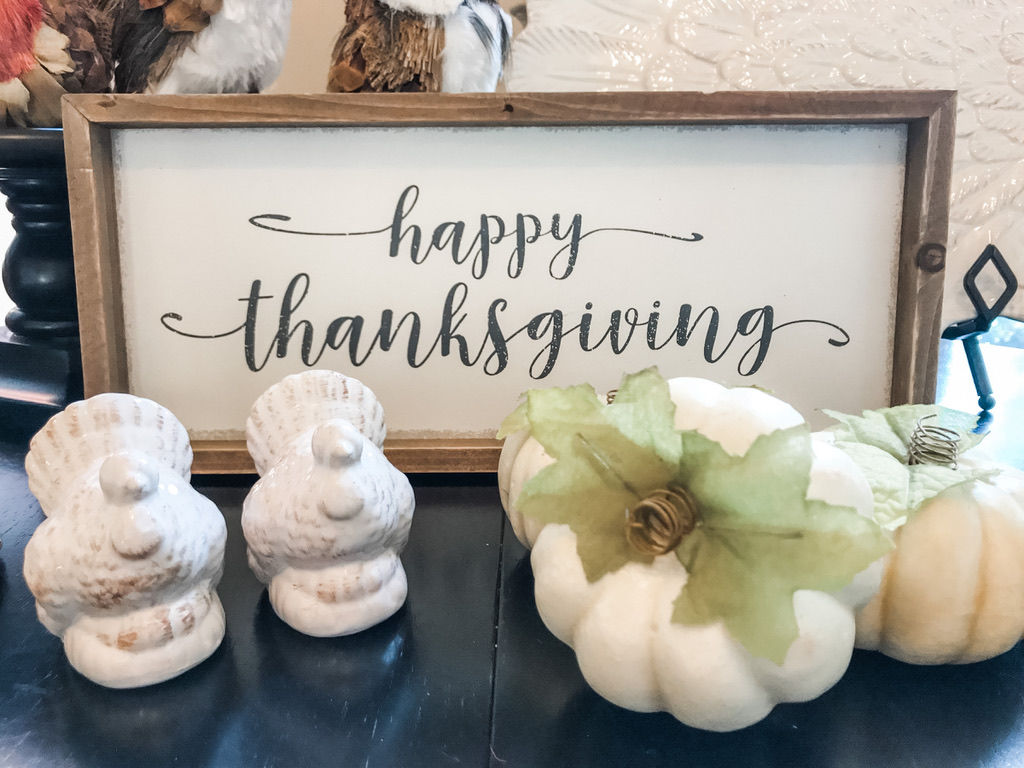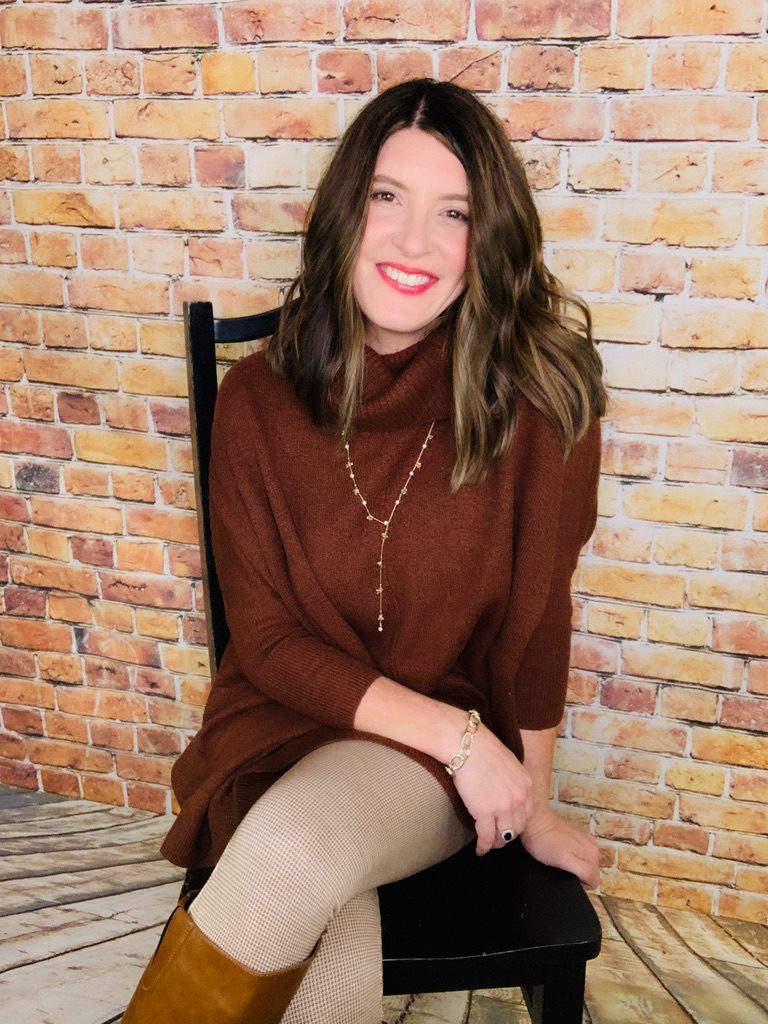 Thanks for spending a few minutes at The Scarlet Lily today. As you plan your Thanksgiving this year, things may not be the same as they have always been. That is hard. Traditions are what make holidays special. Regardless of our circumstances, we still have a lot to be thankful for, and I encourage you to focus on those things.
If you would like to shop some of these looks, I have done my best to link some similar options. Have fun picking out your Thanksgiving table decor!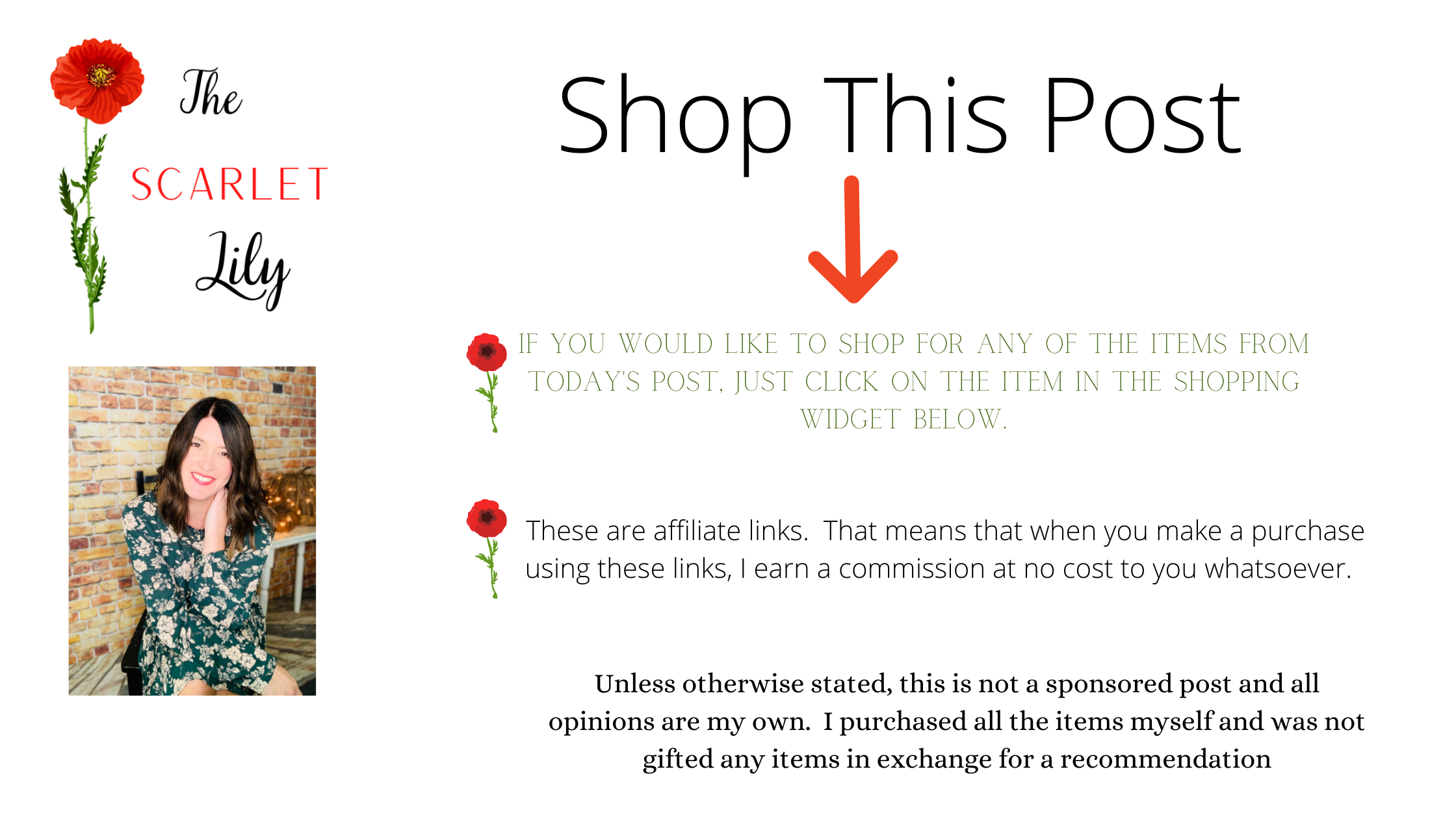 You may also enjoy this post.