Hi friends! I have another Weekly Walmart Finds post for you today. I've got a little bit of everything today from traditional workwear to transition to spring and summer options. We're all dreaming of spring, right?
Plaid Pants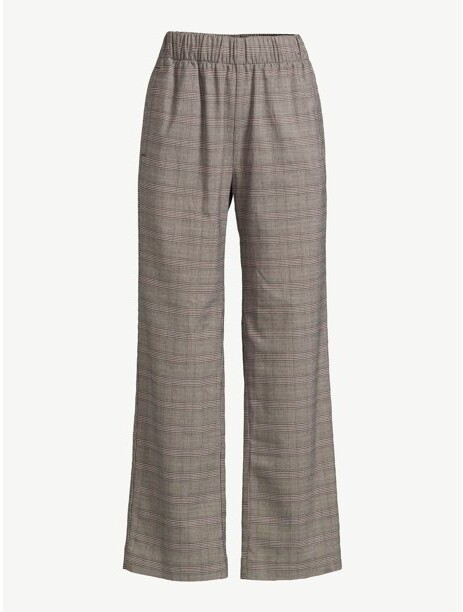 The first piece I want to highlight are these pull on straight leg pants by Free Assembly. They have been a top seller and have already nearly sold out, but there are still some sizes available. I'm going to keep my eye on them for a restock because I would like another pair in the solid black!
I'm going to show you a few different ways to wear these pants, but first let me address the sizing on these. I am wearing a size small, and I almost NEVER wear a small in anything. I'm typically a medium in pants or a size 8-10. I ordered the small because the medium was sold out, and I'm glad because they fit perfectly. So…size down at least one size in these and enjoy feeling a little skinnier!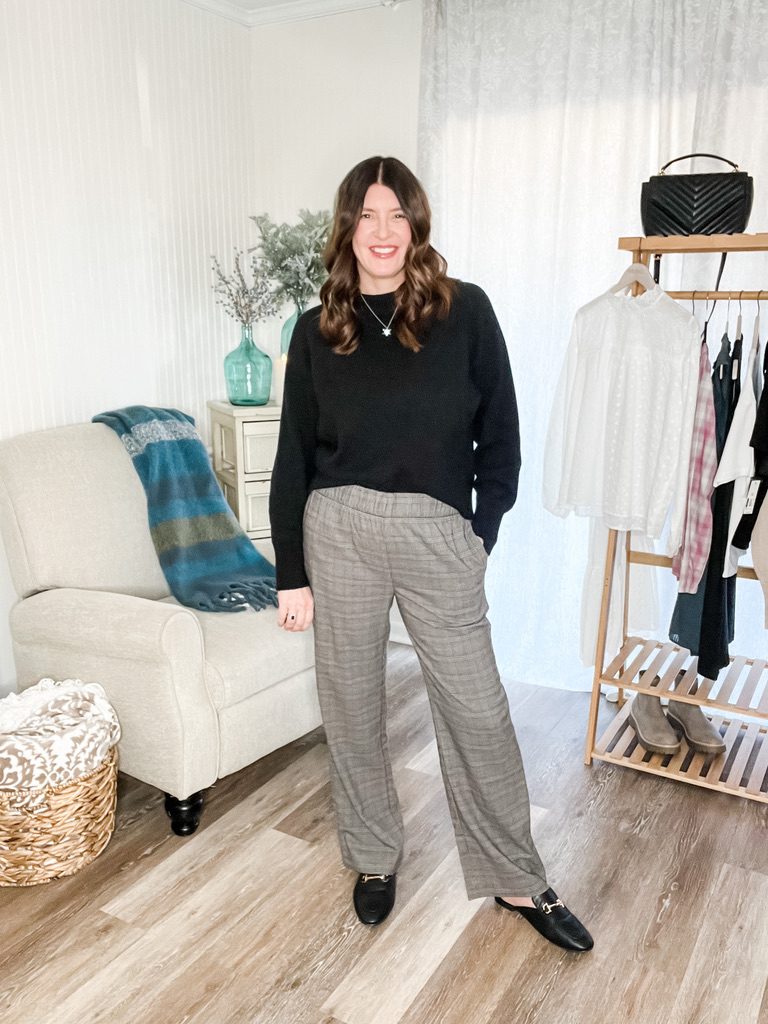 Loving these pull on pants with this simple yet classic black sweater, which is also from Free Assembly. I'm wearing a medium in this style and I like the fit. It's also a nice thickness and length for a little front tuck if you enjoy wearing your top tucked in.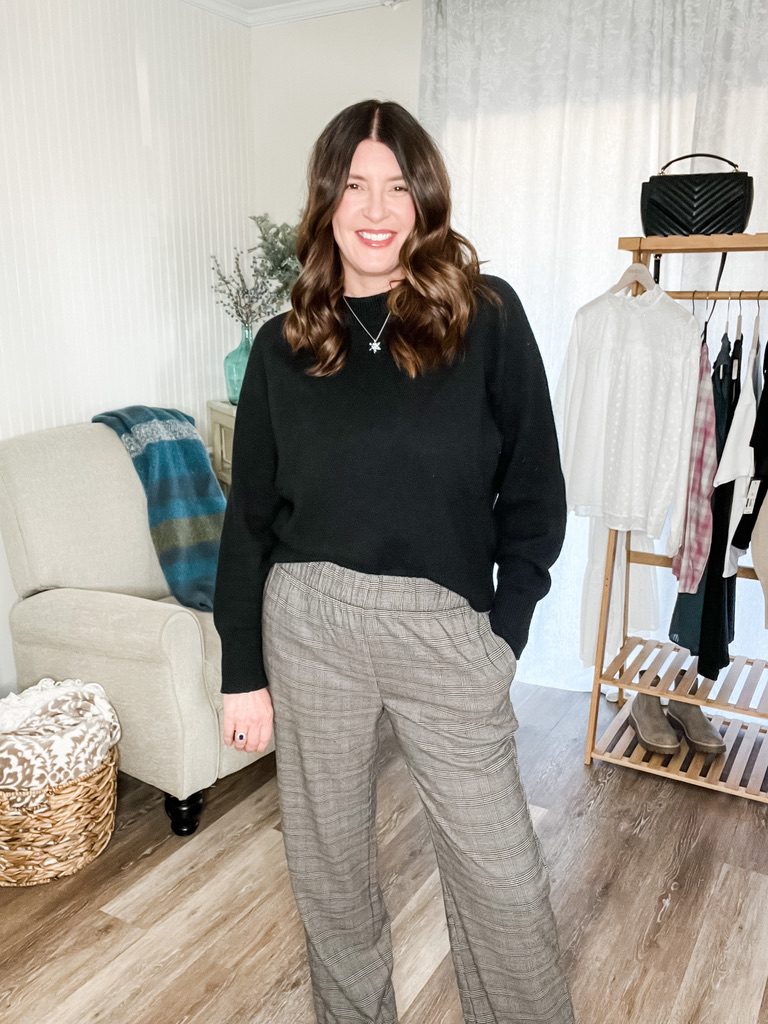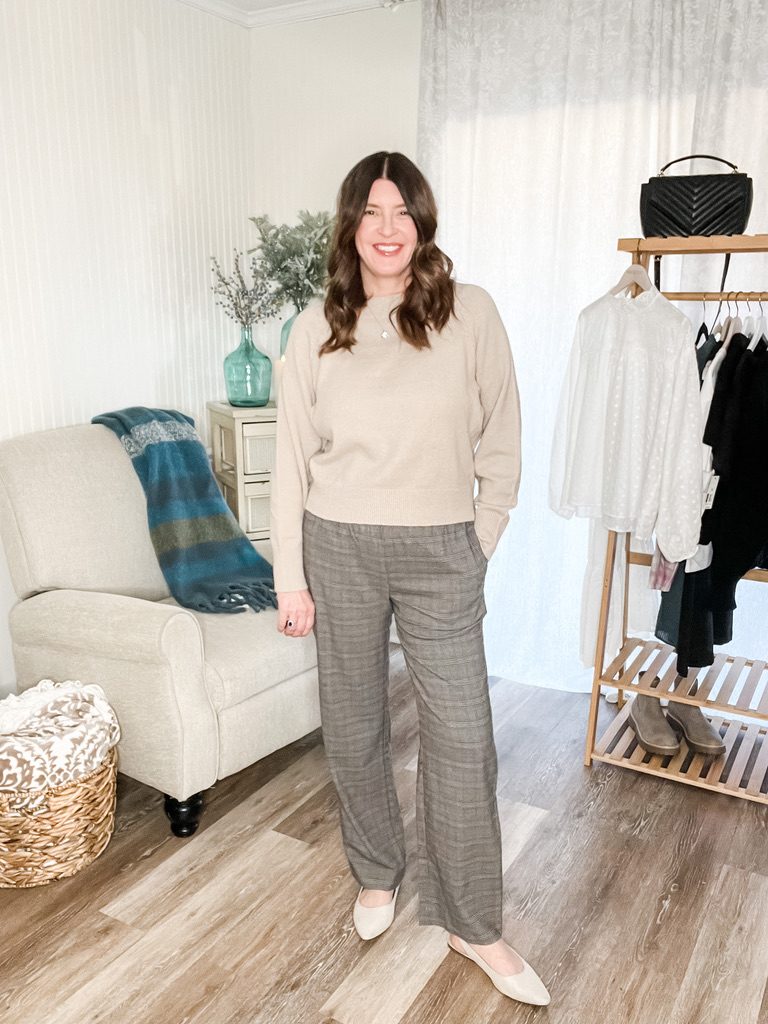 Here is the same sweater in another color. This time I left in untucked and changed out the shoes to a neutral flat.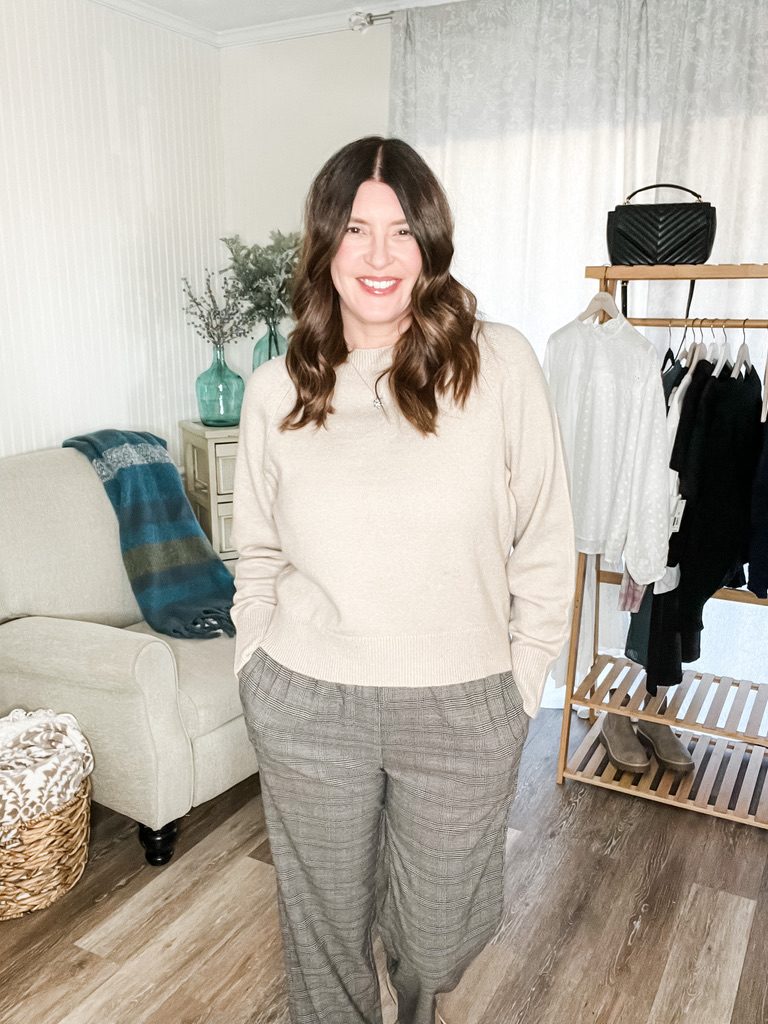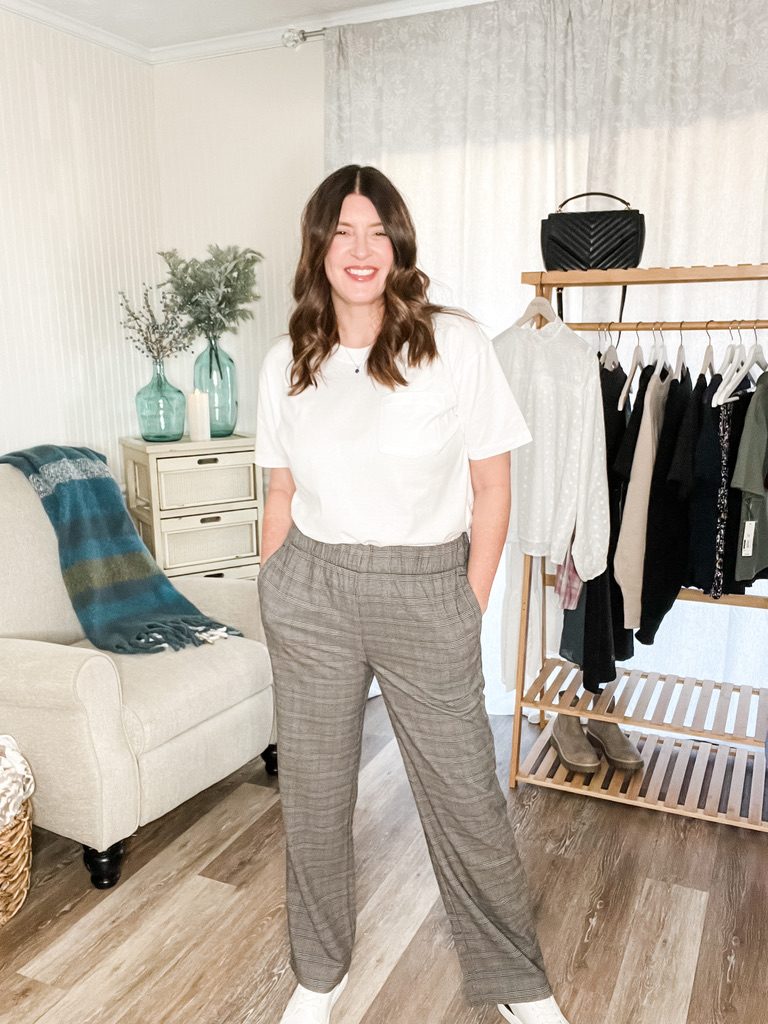 If you want to dress these pants down a bit, here's an example with a white t-shirt by Time and Tru. I really like the shape of this tee. It's slightly boxy, and has a shorter length for easy tucking. I'm wearing a medium. This outfit is finished off with some white sneakers.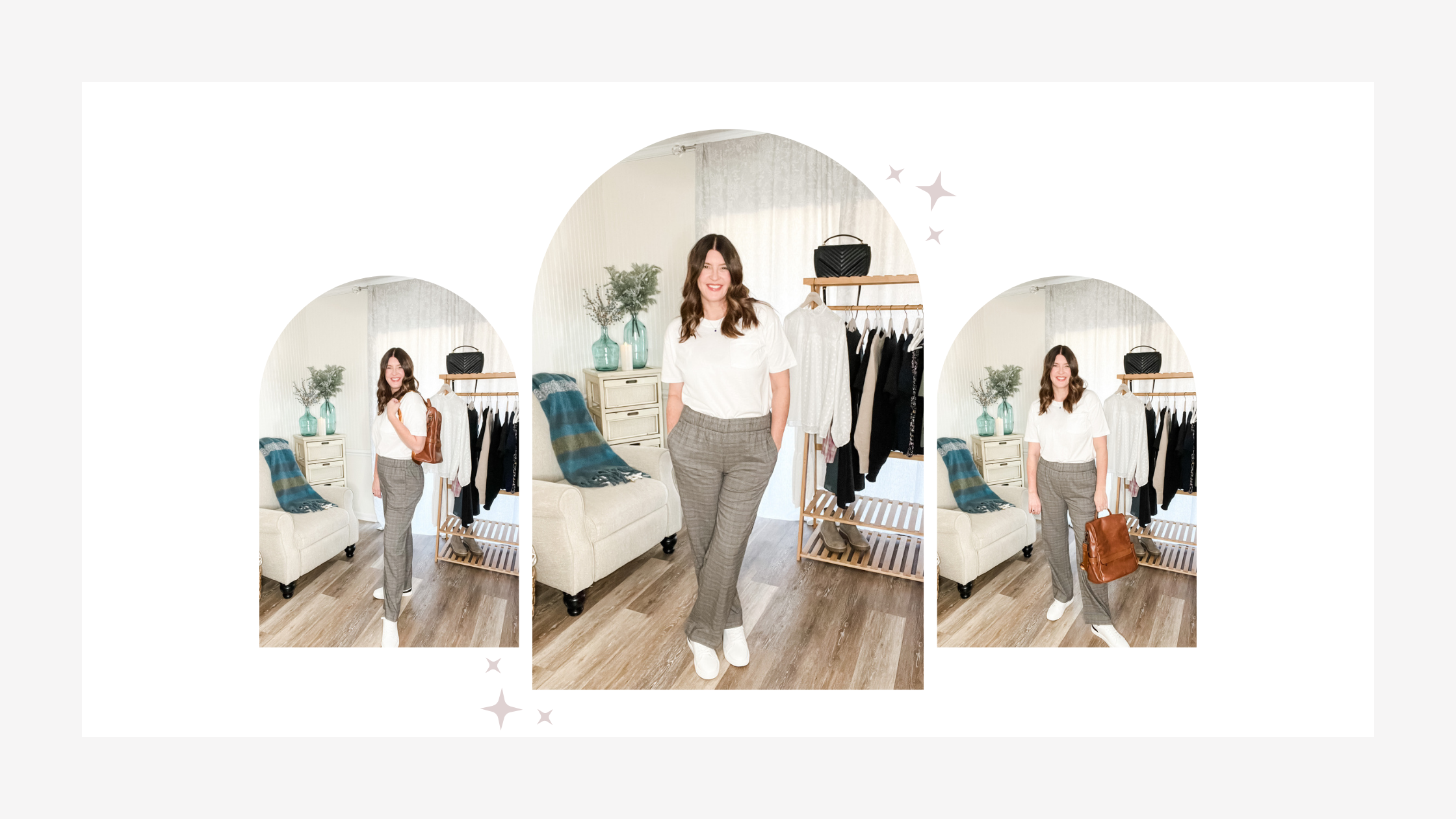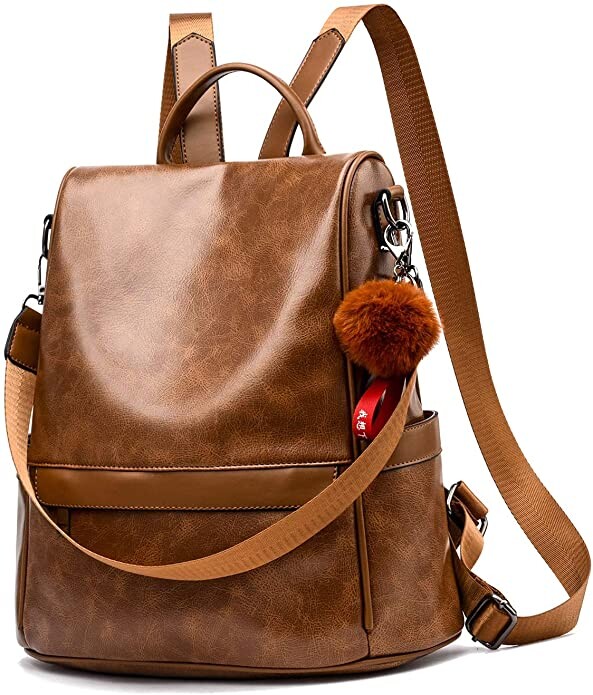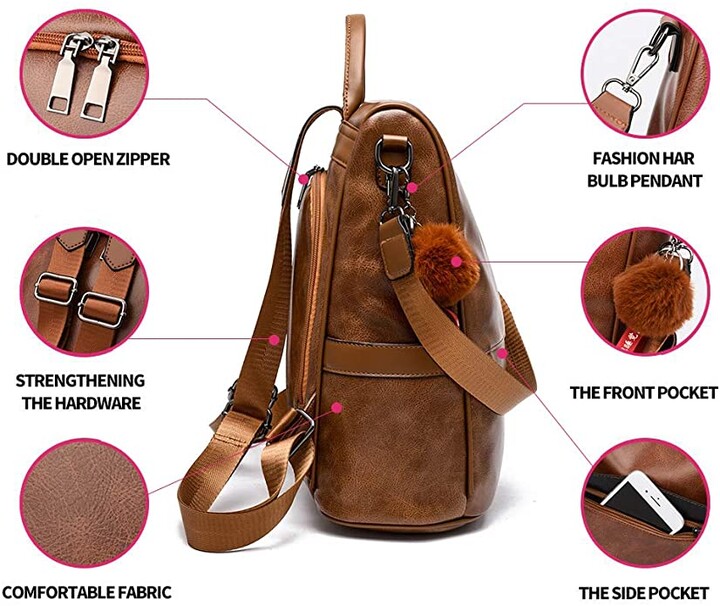 Notice my cute cognac colored backpack! This is a recent Amazon purchase that I'm really loving right now. It has multiple straps that are removable so it can be carried several different ways.
White Eyelet Top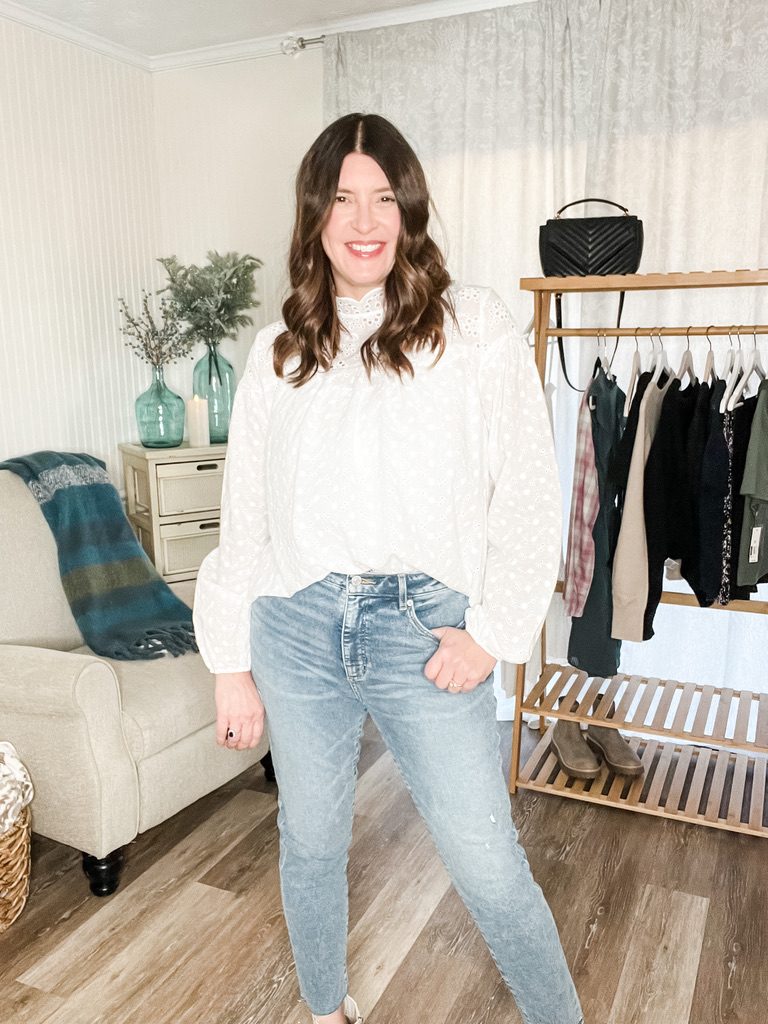 Switching gears to a very different look is this adorable white eyelet top by Time and Tru. This is a good winter to spring top and if you like feminine style…this is for you! The fit on this top did not work for me, but I think it will work for most body types. I sized up to a large, but the seam that goes across my shoulders was too tight. Unfortunately, I won't be keeping this one.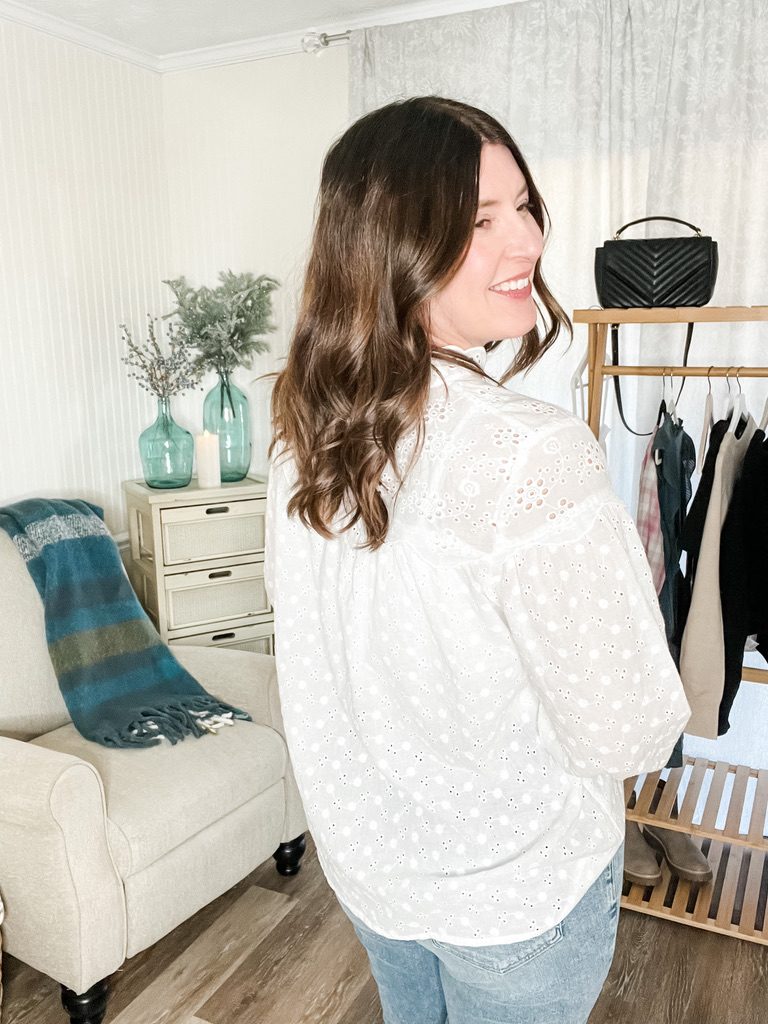 Notice the white boots which are also by Time and Tru. White boots can seem a little intimidating, but they look very chic when styled the right way. These are an affordable option if you want to try some white boots, which are very on trend!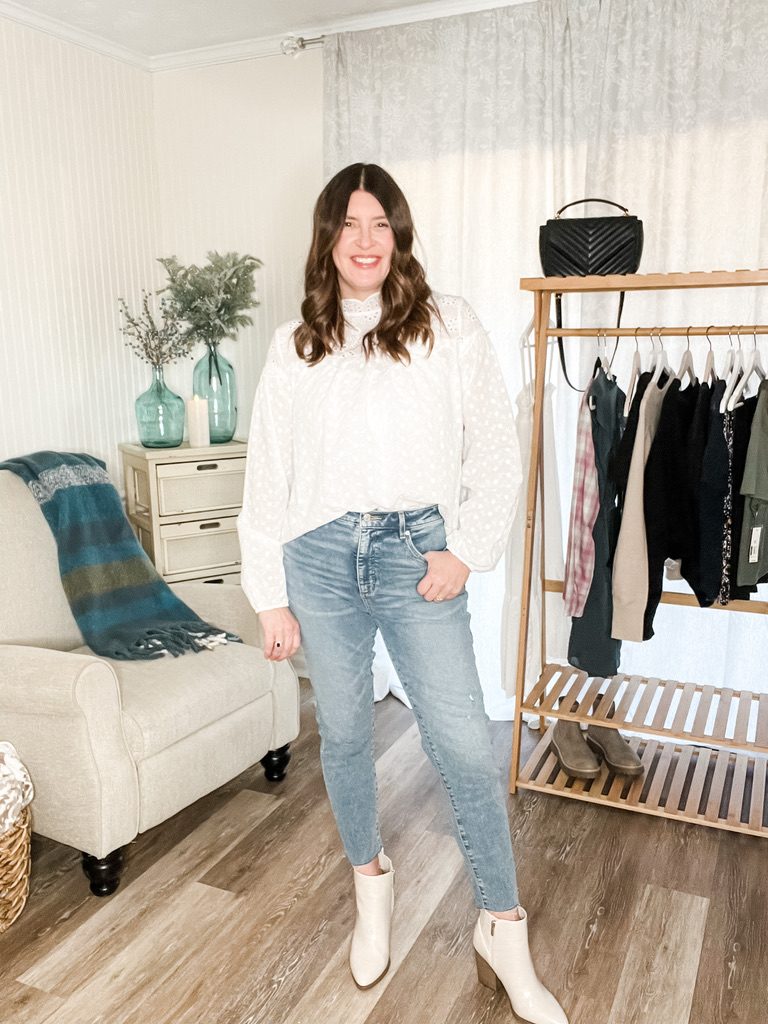 Mock Neck Swing Dress
Here is a spring inspired piece that is my kind of dress! This mock neck swing dress has a great fit and can be worn so many different ways. I'm going to show you how it looks by itself, and then how you could wear it now.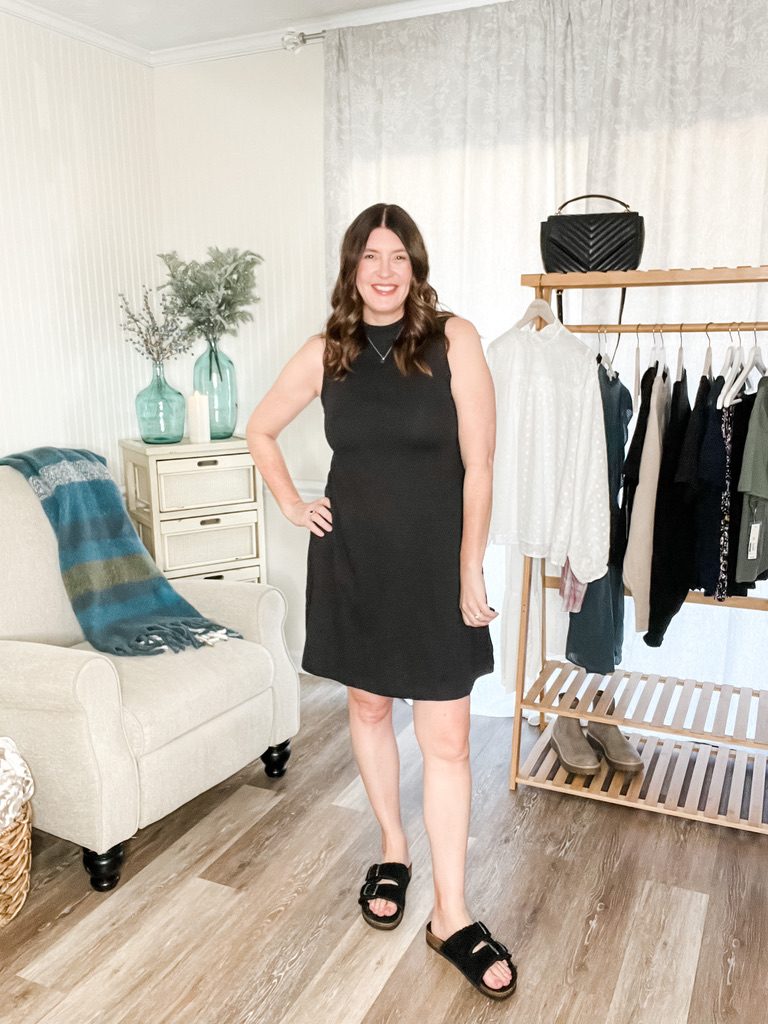 Here is how the dress looks by itself. This would be my go to style for spring and summer because I much prefer dresses over shorts. I paired it with some simple black slides, but shoe choices are endless.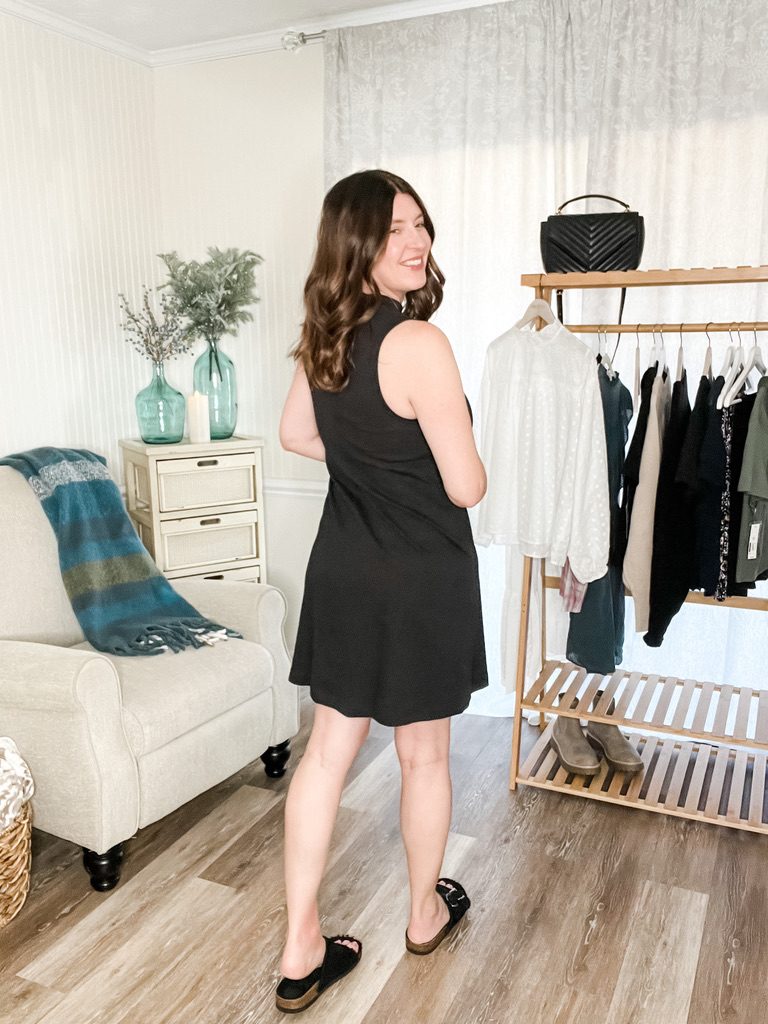 Here is a view from the back. As you can see, the length is perfect and covers the bum very well even on my taller frame. Also I would point out how well this dress fits under the arms. It is cut very tastefully as to not show the bra. I'm in love with this dress!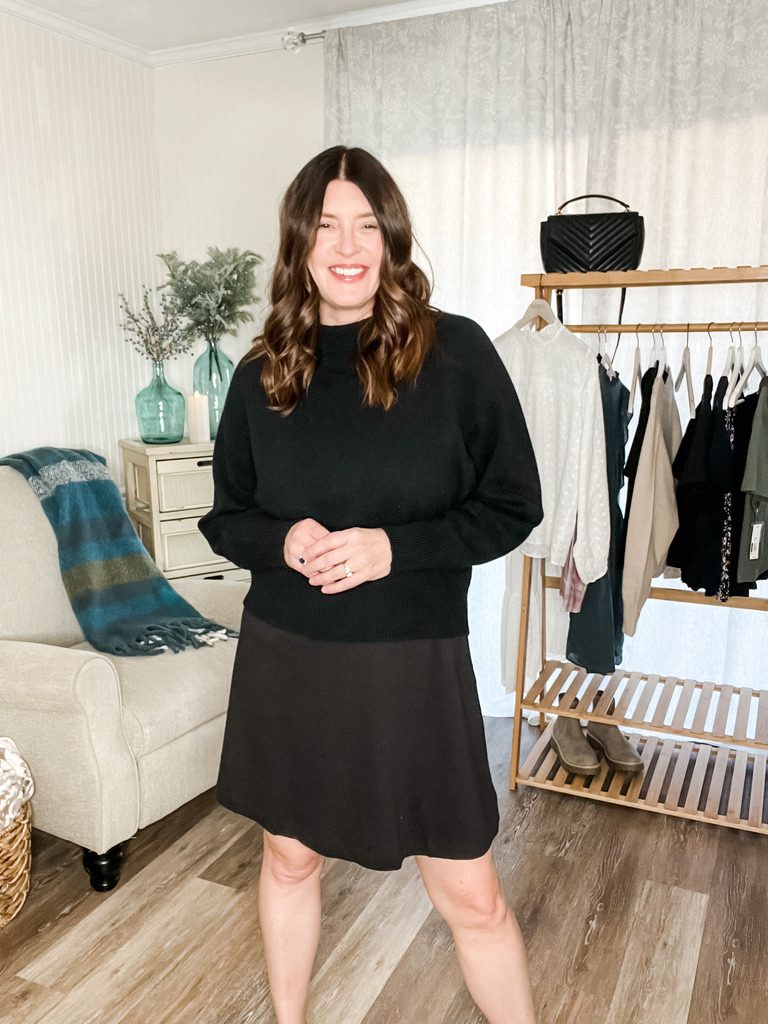 Here is an example of how you could wear this dress now and into early spring. I layered it with the same black pullover sweater shown earlier, and it takes on a sweater and skirt look.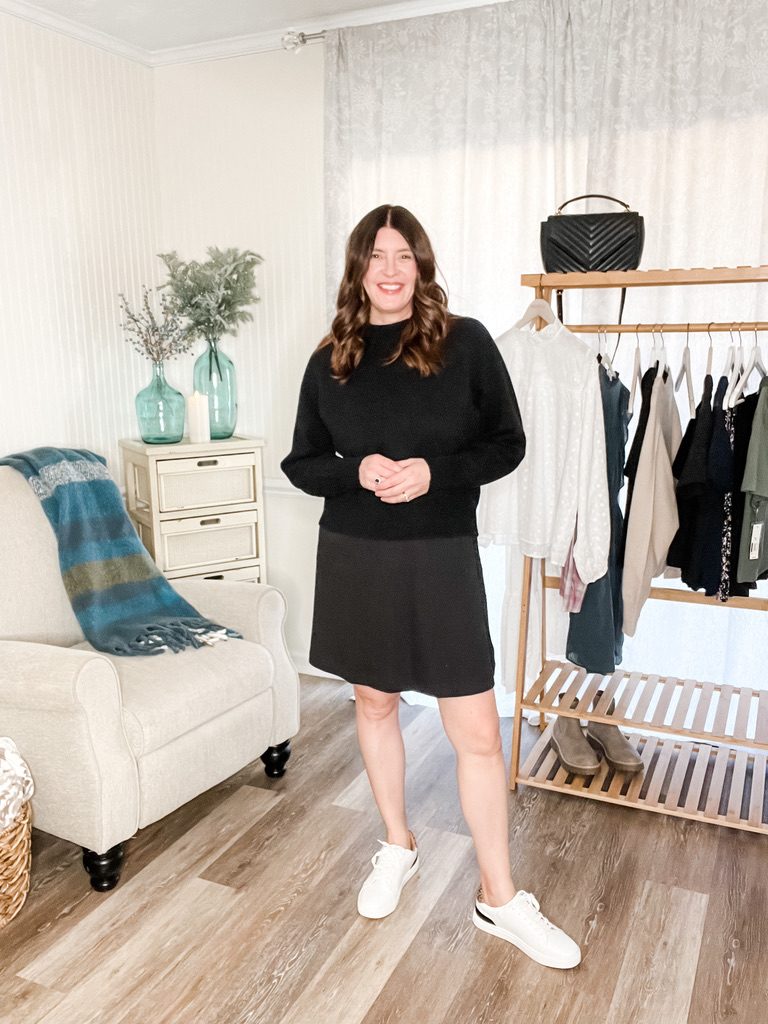 Here I kept it very casual with white sneakers, but you could also wear black tights underneath with some ankle boots for a cute and warmer winter outfit! I'm wearing a size medium, and it is available in several other solid colors. I will probably order another one…I'm eyeing the pretty light blue color called "Eventide".
Fun Lounge At Home Outfit
The last outfit I have for you today is this fun lounge at home outfit. I say lounge at home, but you could wear this out and about if you want to. The pants are a very inexpensive knit flare pant by No Boundaries. This is Walmart's junior brand, so keep this in mind with sizing. I always size up in this brand.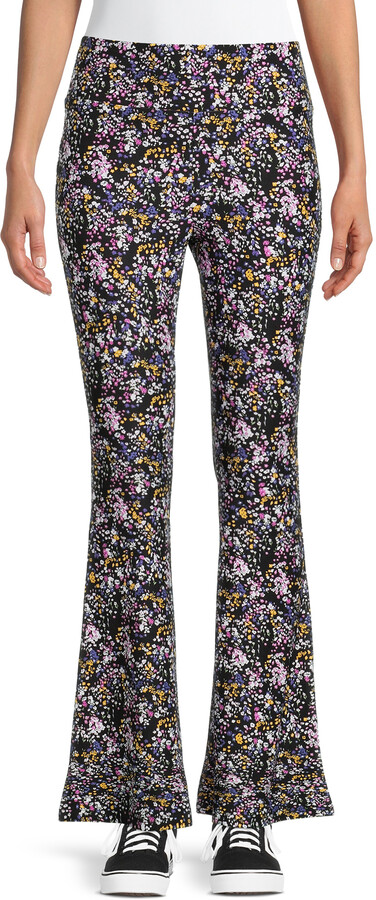 These cute floral printed pants are a size large. I have the same pants in solid black, and I love them so much I have four pair of them! At $7.98 you can afford several pair and they have washed and held up well for the price point.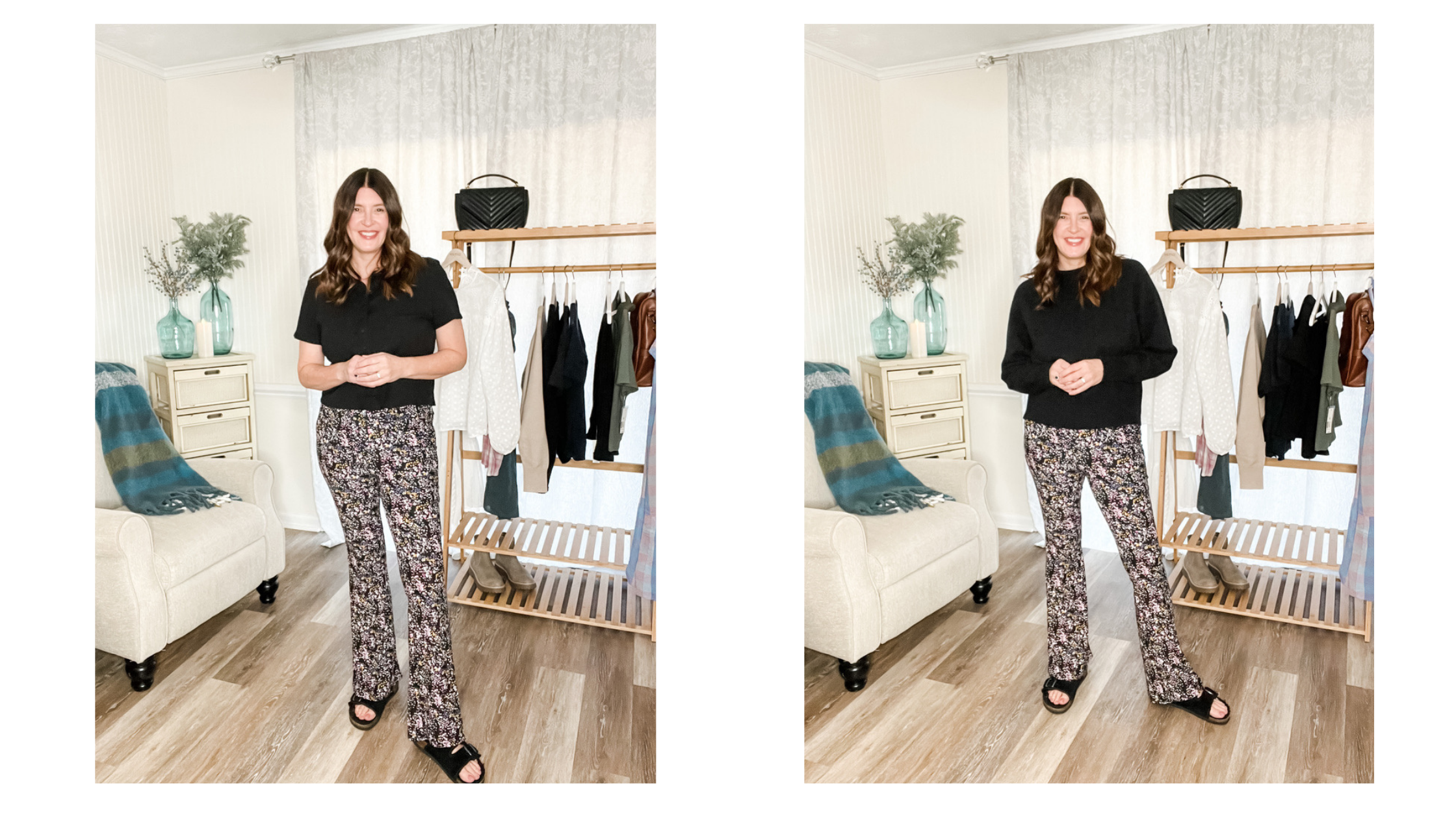 Here are a couple of ways to wear the pants. On the left is a warmer weather option with this ribbed button down top also by No Boundaries. I sized up two sizes in this to an XXL and it fit perfectly. It is more of a cropped length, but does not show any skin with high waisted pants.
For a wear now option, I put on the Free Assembly sweater in black and I love this comfy combination. In fact, after I finished these photos, I wore this outfit for the rest of the day.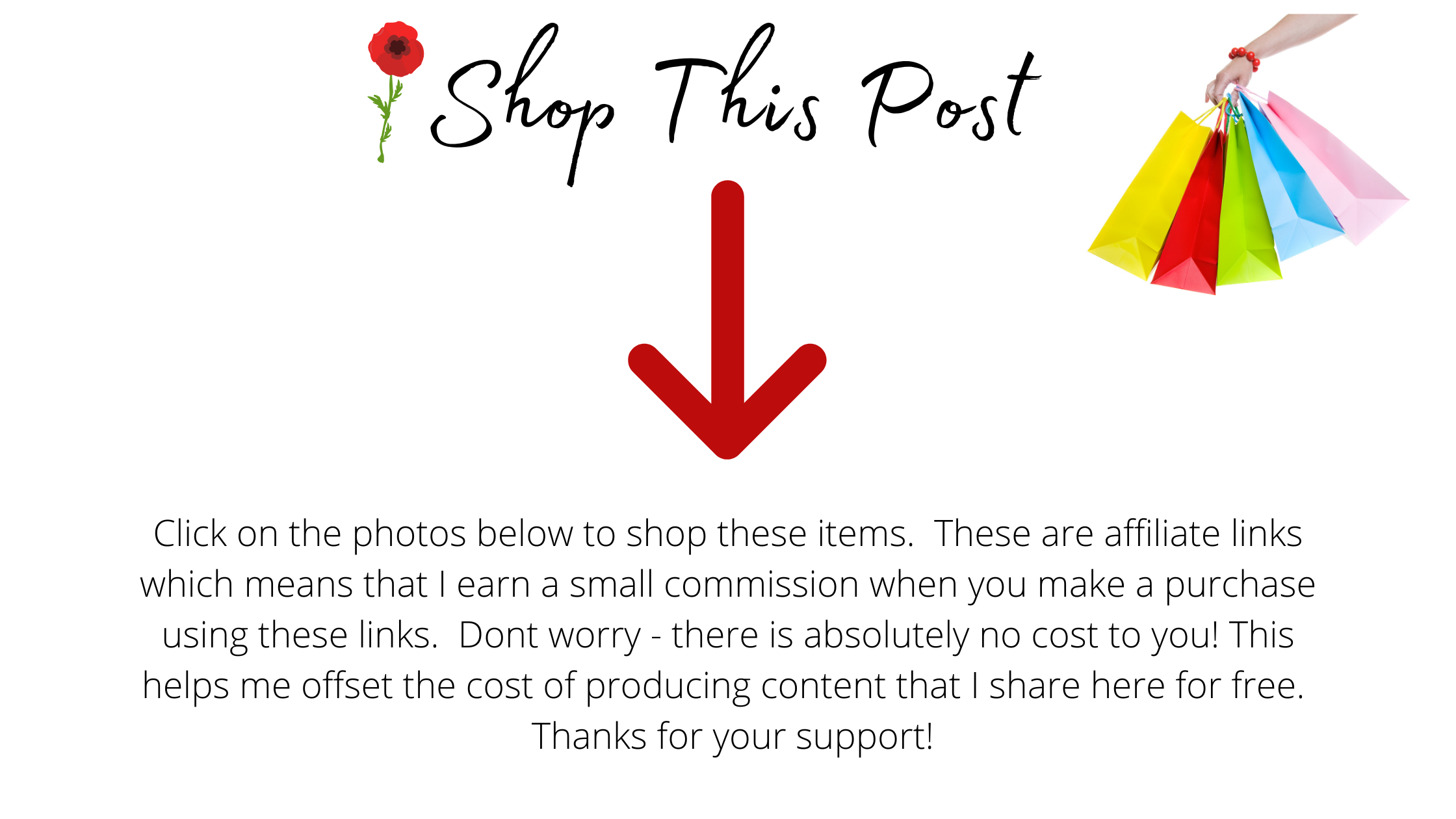 For more Weekly Walmart Finds posts, you might like this one or this one.