If you follow along on Instagram, you already saw a sneak peak of our recent trip to Colorado. This was a new adventure for me as I had never been there before, and it did not disappoint! Packing for this trip is probably the most difficult trip I've ever packed for…mostly because of the wide variations in temperatures and the unpredictable weather. I thought it would be fun to share what I wore in Colorado and how I packed for this trip in case any of you are planning a trip to the Rockies this spring or summer.
Where We Went
We flew into Denver and then drove about 3 hours northwest to Steamboat Springs. It's mainly known as a ski town, but there are also lots of things to do in the spring and summer if you like outdoor activities.
I knew that I needed to plan for every scenario and that layers would be key. We had days when it snowed, rained, and yes some sunny days. Even on the warmer days, (60's and low 70's) the nights get cold.
What I Packed
I would give myself a B on the packing, which is pretty good considering it was my first time in Colorado, and the forecast was all over the place. I went through several rounds of removing things from my suitcase in an effort to scale it down, but I still didn't wear several things that I took. Mostly I overpacked on shoes. I took two pair of sneakers that I never wore, which took up valuable space in my suitcase.
What I did well was taking several pair of leggings, lightweight pants, and a puffer jacket. I also wore my sweatshirts and long sleeve tees. Once we got into the warmer days toward the end of the week, I was able to wear some short sleeves but I did not wear any shorts. I opted for a skort and an athletic dress instead of shorts.
If you travel to Colorado later in the summer, you will probably find a need for more shorts and short sleeve tees than I did in early June; however, it can still be chilly in the evenings so plan for that. We experienced high temperatures from the 40's-70's and lows in the 30's-40's.
Outfit Ideas
Here are some outfit ideas that you might find helpful if you travel to Colorado. I tried on everything as I was packing, some of these photos were taken before I left. I wanted to make sure the things I was packing would look right together and mix and match for maximum use.
Leggings
As I mentioned, I was glad that I packed several pair of leggings. My favorite leggings are the Zen leggings from Sam's Club. I took this set with a matching jacket that I wore hiking on the coldest day with my Eddie Bauer puffer jacket over it. Then on another hike, I wore the navy leggings with a short sleeve tee layered with a sweatshirt.
Lightweight Pants
I really enjoyed these lightweight pants from Target. They are perfect for sightseeing, sitting on the plane or in the car, and hiking. I picked up this tan pair as well as a grey pair. Here I'm wearing them with my Columbia short sleeve white button down.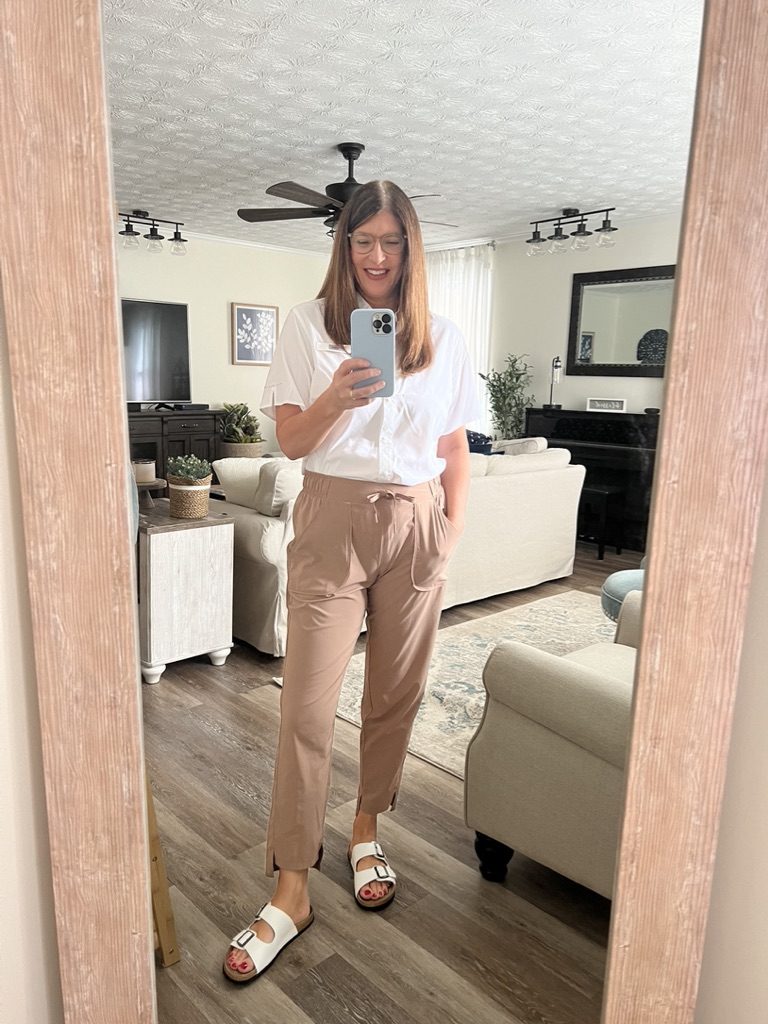 Here is a similar look for cooler temps with a white crew neck sweater from J. Crew Factory.
Here are the same pants in grey styled different ways. I picked up the same Columbia shirt in lavender as the white one shown above. Sorry , I can't find the lavender online. I layered this with a black sweatshirt for our visit to Red Rocks Park. On the far right, I paired the grey pants with a Calvin Klein sweatshirt. I did wear my black slides and my black sketchers several times.
Skorts
Skorts are having quite a moment and I'm not complaining about it. I've probably bought way too many, but they are just so easy to wear! I packed two for our Colorado trip and I only actually wore one of them. We had some really cold and rainy weather for the first 2-3 days of our trip; otherwise I think I would have worn them more.
The photo on the left is a black skort from Amazon that I have worn several times. I picked up the lightweight green sweater (Gap) from Sam's club before we left and I'm glad I took it. It was the perfect weight sweater for the weather we were experiencing. I also took a black one identical to the green one.
The outfit on the right is another favorite, but I didn't get a change to actually wear it. The top is from Old Navy (last year) and the skirt is from Sam's club. This athletic top from Amazon is similar. The white sneakers were one of the items I could have left at home because I never wore them.
Jeans
I went back and forth several times over whether to take jeans or not. At first I picked a black pair and a blue pair. Then I removed both of them because they were bulky and heavy. Then I finally ended up taking the blue pair which I did not wear!
If you love to wear jeans, then I wouldn't tell you not to pack them. For me, I just didn't have an opportunity that jeans seemed like the best option. I certainly would not wear them for hiking, and I don't like to travel in them. I thought I might wear them if we went out to dinner or something like that, but I ended up choosing other things that were more comfortable.
Here are the outfits that I planned for jeans if I had worn them.
Dresses
I took three dresses: a sweatshirt dress, a long sleeve floral dress, and an athletic dress. Again, if you travel in the summer you may experience warmer weather but for us it was too cold most days to wear a dress. I did wear the sweatshirt dress with tights under it out to dinner one night. I also wore the athletic dress in Denver where it was warmer to visit the Wild Animal Sanctuary.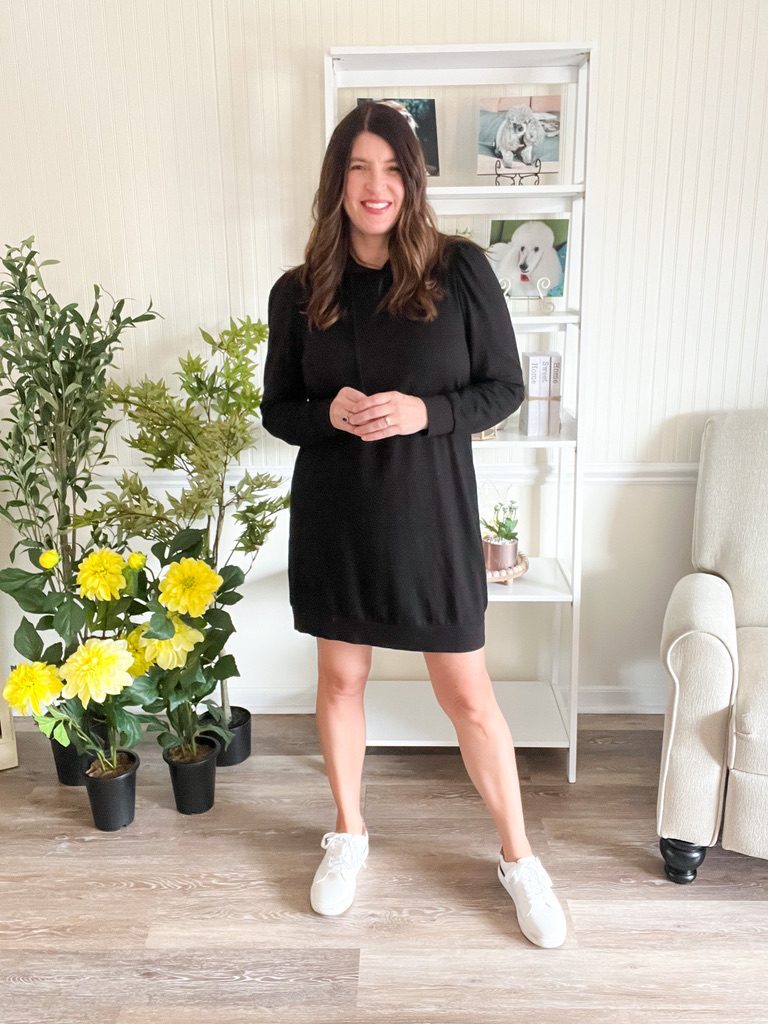 Shorts
I originally packed one pair of denim shorts and 2-3 pair of athletic shorts. Then when I saw the forecast (highs in the 40's the first 2-3 days), I removed all but one of the shorts. I took my Avia running shorts from Walmart, but I did not wear them.
Swimwear
If you travel to Colorado in the spring, then the water will be too cold unless you are wearing a wet suit. There was a river in Steamboat Springs that you can fish, tube, or paddle board in but that is not my cup of tea. I simply enjoyed riding bikes along the river to enjoy the scenery.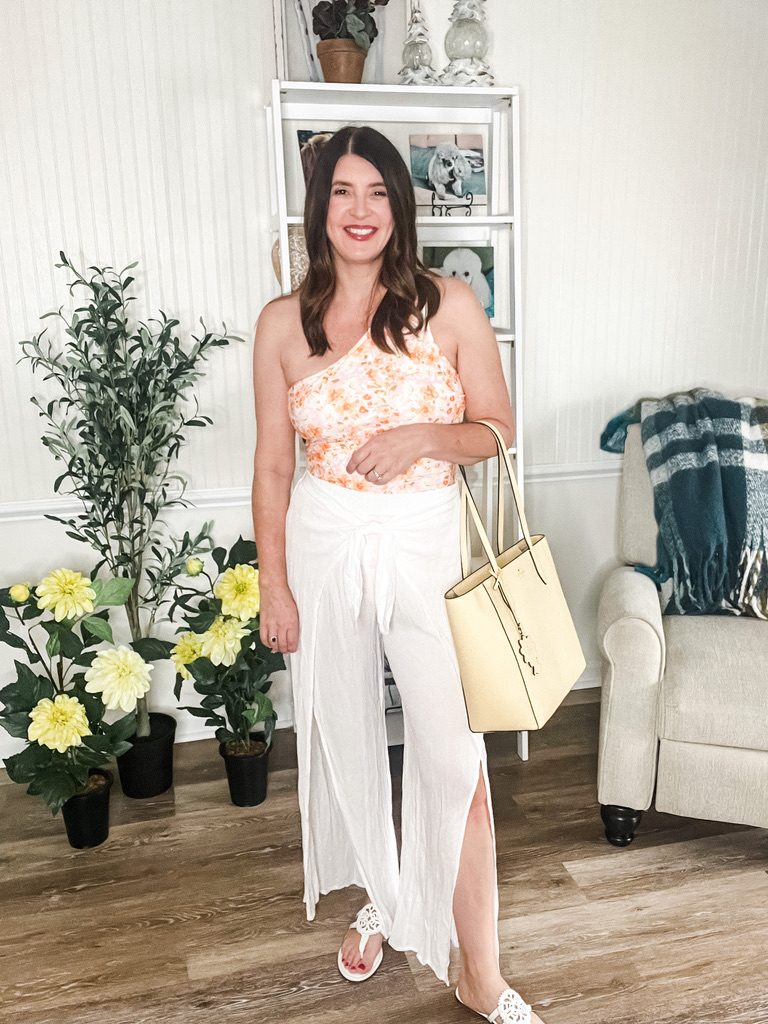 There was a hot tub in the condo complex where we were staying, but again…not my thing. I took one swimsuit because there are hot springs that you can visit. We did not make it there so I really didn't need a swimsuit. I packed this cute one shoulder style one piece from Target just in case.
Tops
I packed mostly long sleeve tops, light sweaters, and sweatshirts which worked out pretty well. I also added a few short sleeve tees, and some tank tops for layering. My best advice is to check the weather before you go and have a variety of tops that you can layer or change out if the day starts out warm and then gets cool at night.
Shoes
This is the area that was hard to narrow down. Because of the wide variations in temperatures, I struggled between wanting to take sandals and flip flops and yet knowing I needed hiking shoes, regular sneakers and warmer shoes. As a result, I overpacked on the shoes.
The hiking shoes were top priority and I would highly recommend getting a pair even if you intend to do easy hikes like we did. Easy hikes still require going uphill on unsteady surfaces and sometimes over small streams of water. I was so glad that I had a pair of good shoes. I didn't want to spend a fortune on hiking shoes since I'm not a regular hiker. I found this pair by Magellan at Academy Sports and they were comfortable and practical for around $30.
The shoes that I actually wore:
Outerwear
For this trip I packed two jackets. My Eddie Bauer puffer jacket was a must for the cold days, and it was easy to pack. I was also very thankful that I took a rain jacket since we did experience quite a bit of wet weather. I found this jacket at Sam's Club recently and I wore it several times on the trip. My daughter also got one and it worked well for her too.
I had originally planned to take my denim jacket, but it didn't make the cut. The only other piece I took was a black cardigan sweater which I only wore a couple of times.
I took one hat, and I wore it almost every day! It's this Columbia baseball style hat and it was perfect. It was comfortable and easy to pack. I highly recommend this one!
What We Did In Colorado
Saturday (Day 1): Travel Day from Atlanta to Denver and then drove from Denver to Steamboat Springs
Sunday (Day 2): Cold (temps in 40's) and raining. Not the way we hoped to start our vacation so we visited the quaint downtown area of Steamboat Springs. There are lots of restaurants and shops where we enjoyed purchasing local treasures.
Monday (Day 3): The weather wasn't perfect, but we were determined to go for a hike! It was very cold and we did see snow on this day. At least it was better than rain! We bundled up and picked out a fairly easy hike on the Fish Creek Falls Overlook Trail and headed out. Here are some photos of the beauty we experienced.
We decided to try a steak restaurant for dinner. When we arrived, we realized it was not your typical steak place. This was a "cook your own steak" restaurant. After you picked what you wanted, you take your steak to the grill area and cook it yourself. Now after two days of rain, I will admit that I was in a rotten mood. The last thing I wanted to do was cook my own steak! Everyone else in our group thought it was a fun idea and loved the concept, so I think I was the only one who thought is was a rip off. Honestly, it was probably just me so I will leave it at that.
Tuesday (Day 4): Finally the sun came out and it warmed up a bit. We decided on another hike on the Burgess Creek Creekside Trail and it was packed full of more stunning views. We saw lots of Elk tracks, but did not see any roaming around.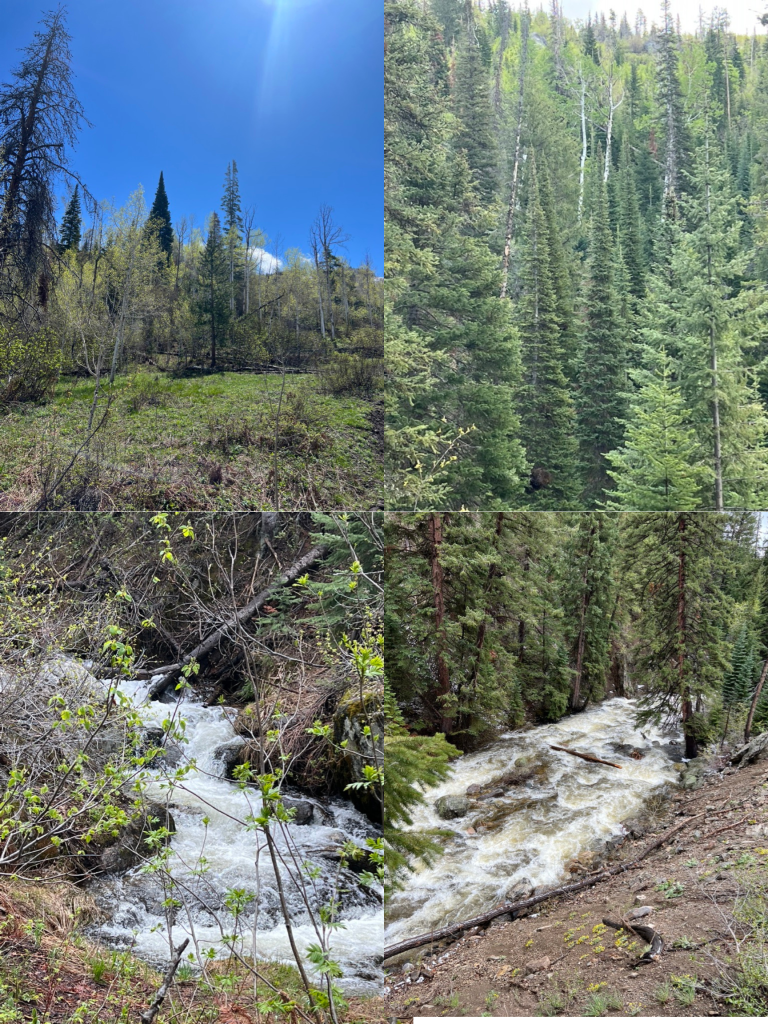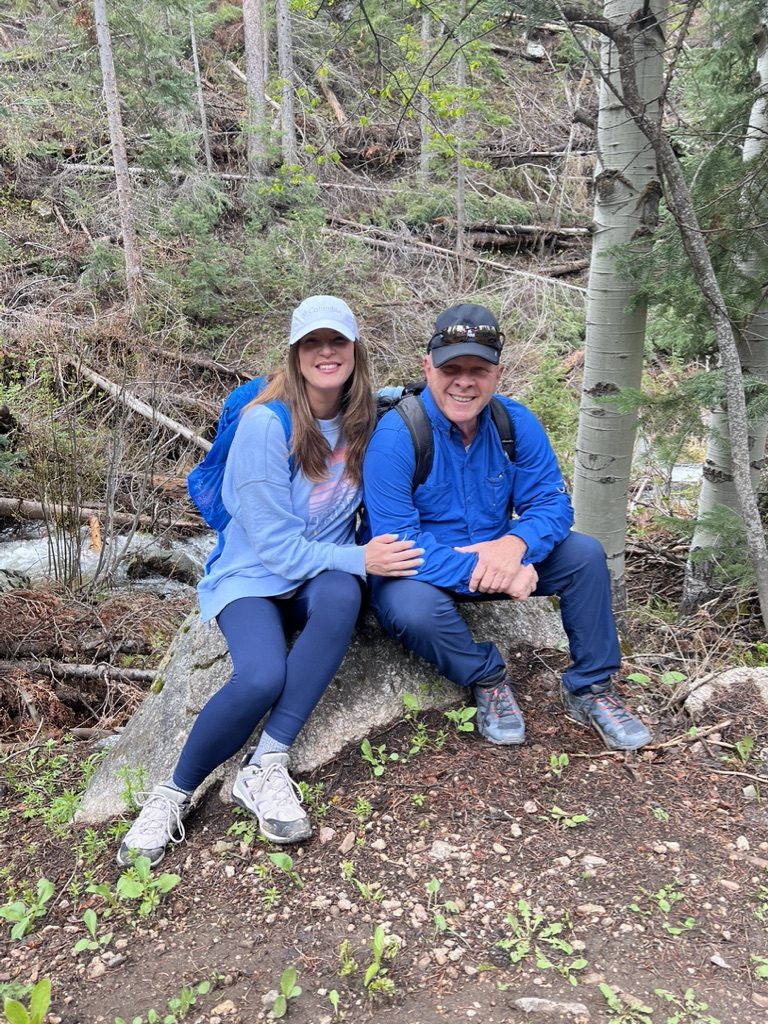 Wednesday (Day 5): Horseback Riding and Biking
Wednesday morning we decided to go horseback riding at Del's Triangle 3 Ranch. This was by far my favorite day of the entire vacation and a big thank you to my sister for taking one for the team. She had a bad experience on a horse a few years ago, and doesn't like to ride since then. She knew how much I would love to go, so she said she would do it. She got the sweetest and most gentle horse and we all thoroughly enjoyed the ride. The guides were very nice and helpful.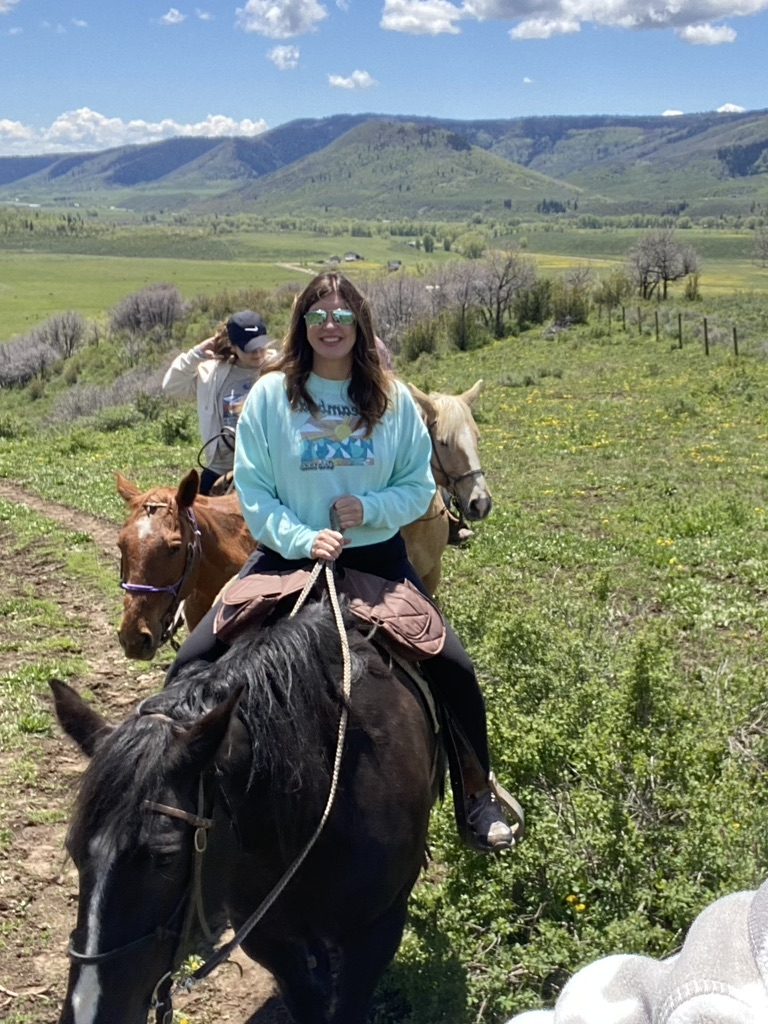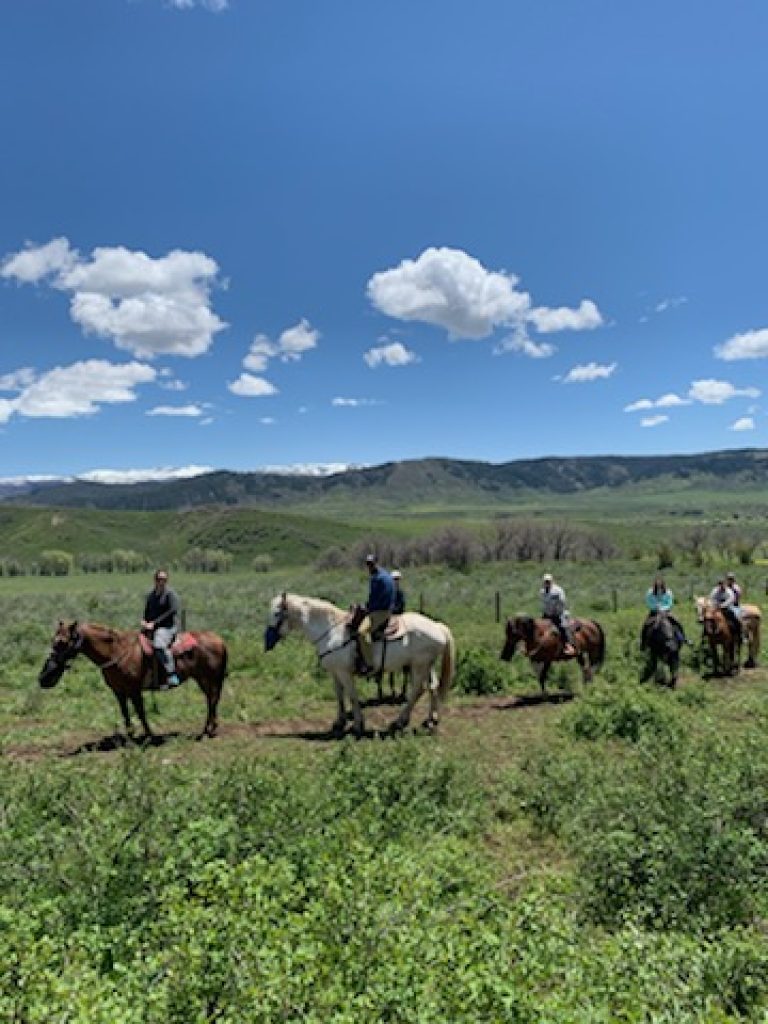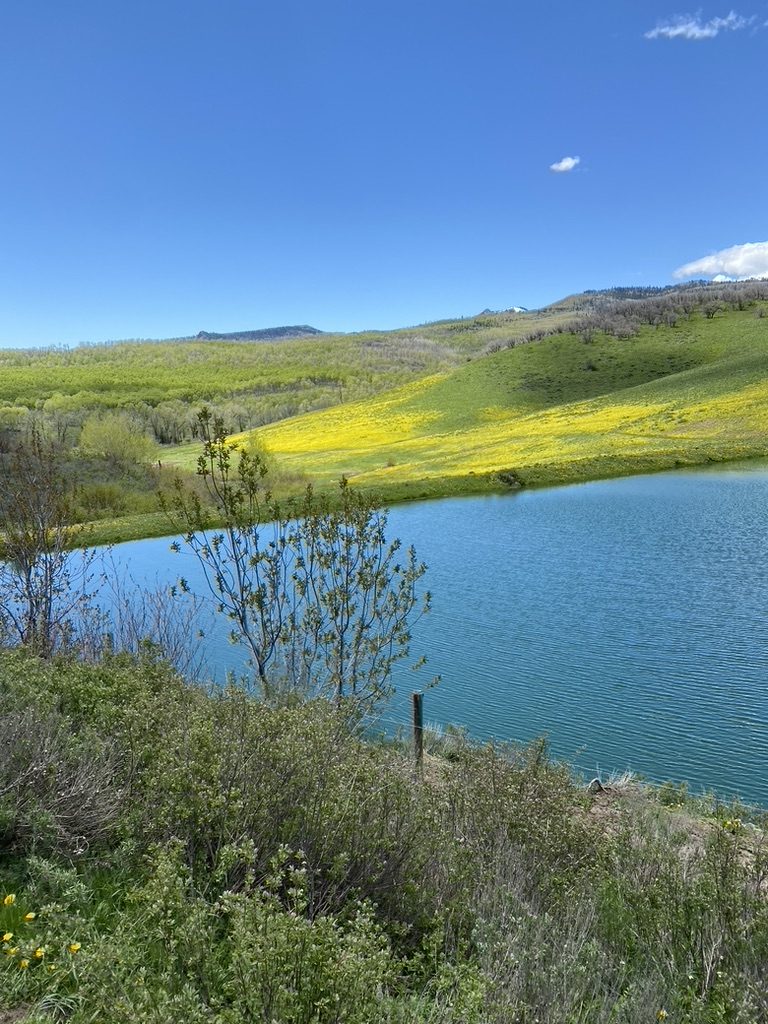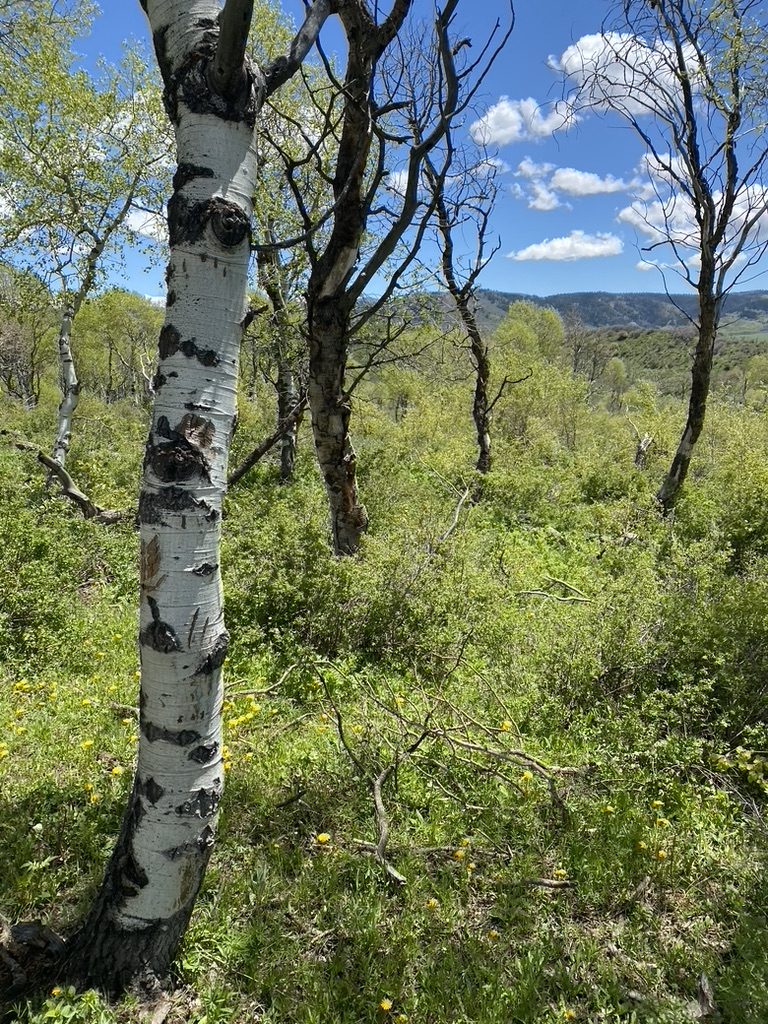 After our ride, we headed back to our condo for lunch and then went biking along the Yampa River Botanic Garden Loop. This is a nice paved trail that follows the Yampa River through downtown Steamboat. On our way home for lunch, we saw some Moose roaming right near the highway!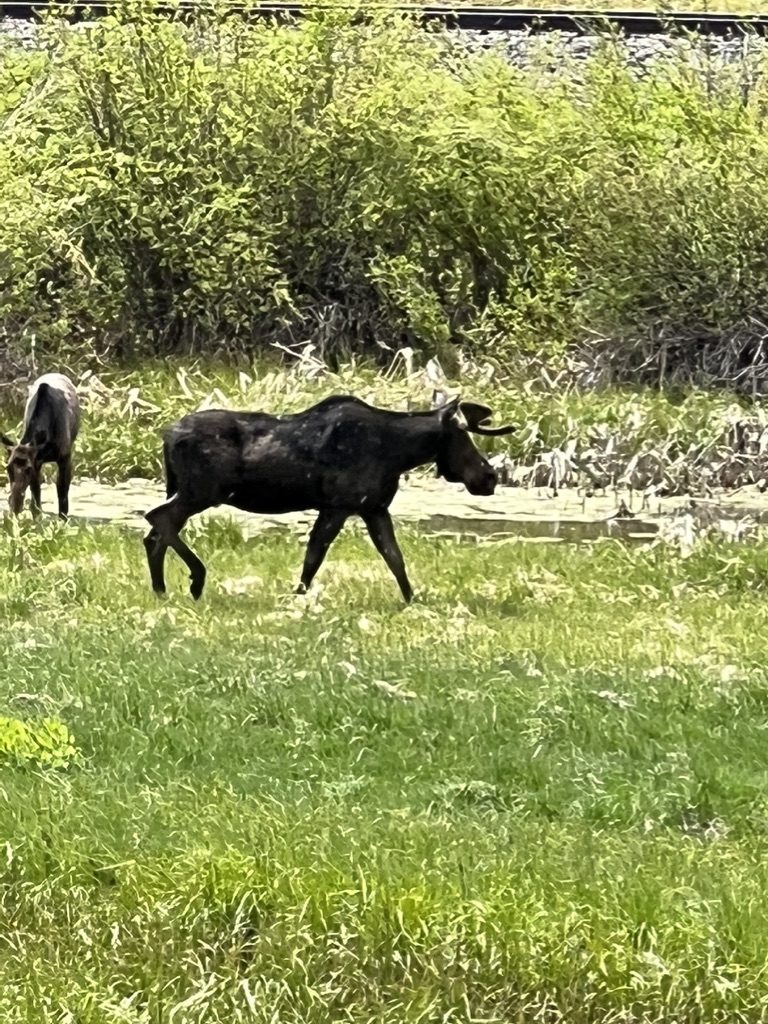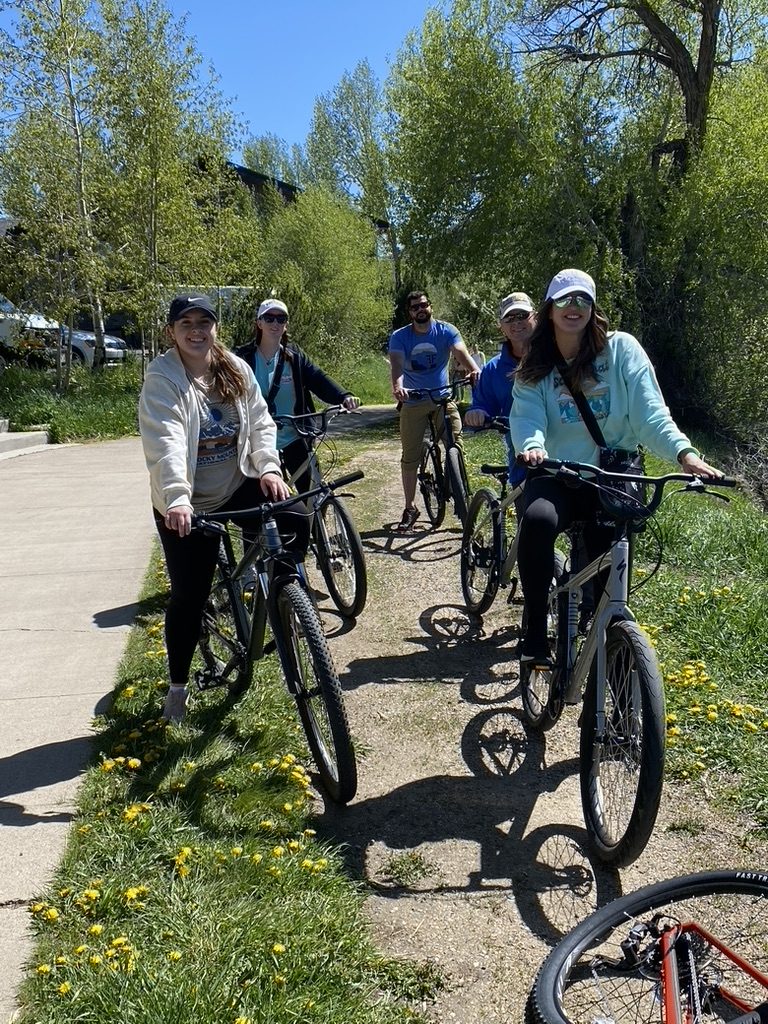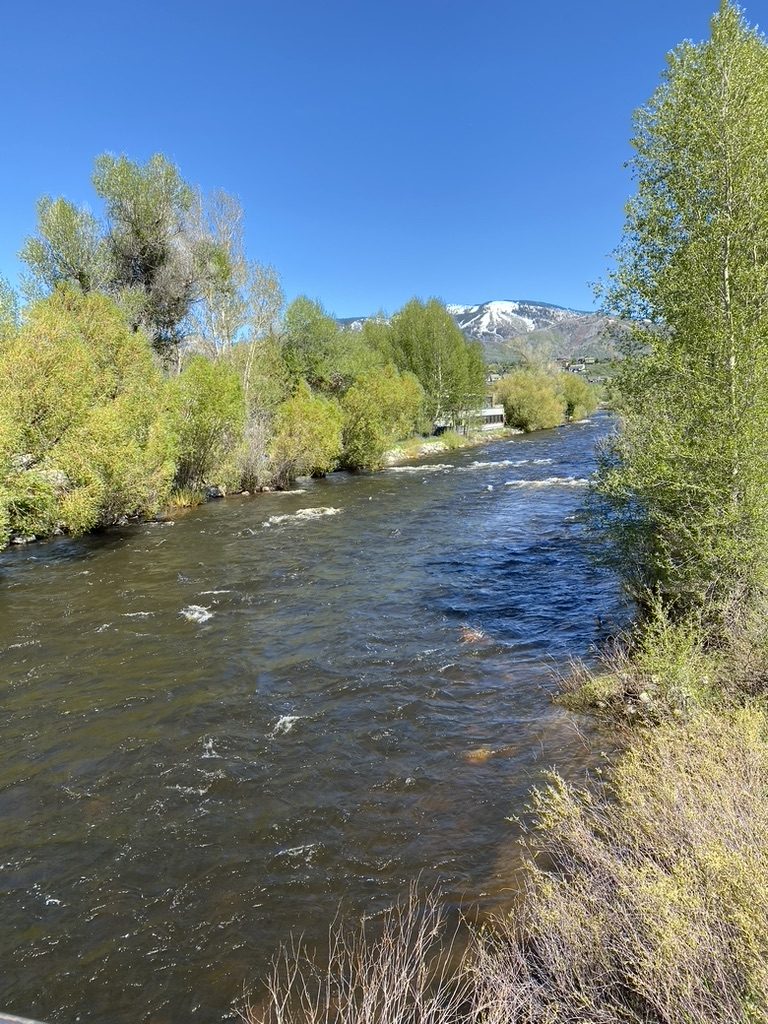 Thursday (Day 6): We packed up our things and headed back towards Denver. We stopped in Silver Thorn for lunch and did a little shopping at the Outlets. Then we headed to Red Rocks Park and Amphitheatre. Red Rocks Amphitheater is an open-air amphitheater built into a rock structure. It's unlike anything you have ever seen. They host concerts here, and you can also enjoy several hiking trails.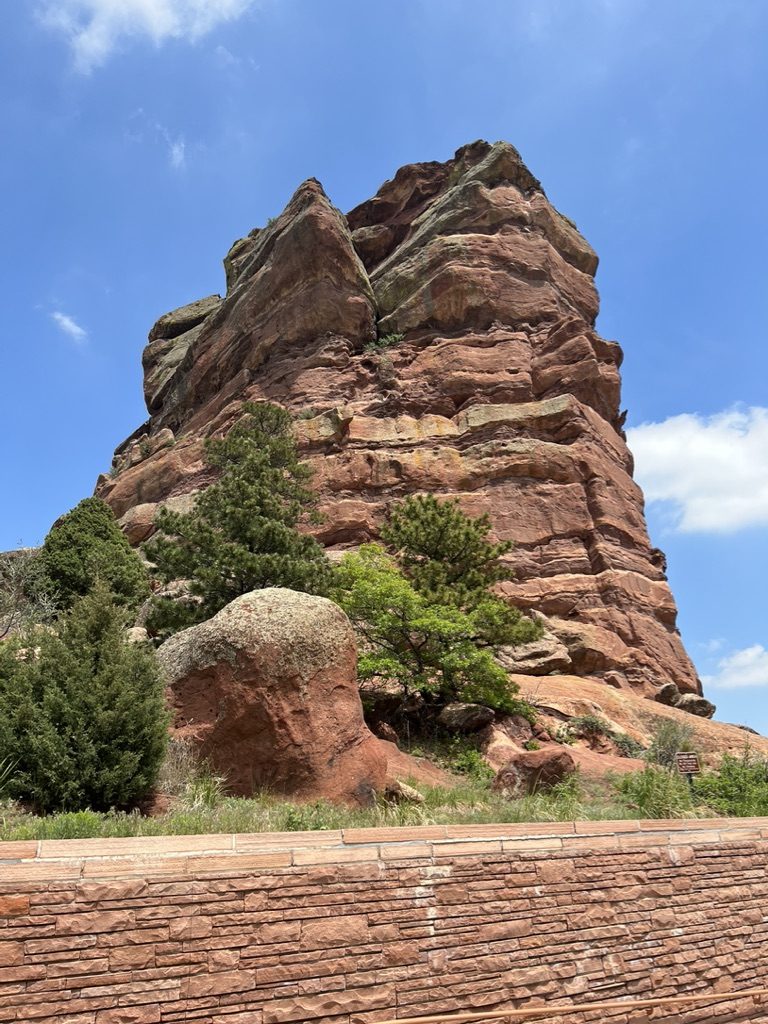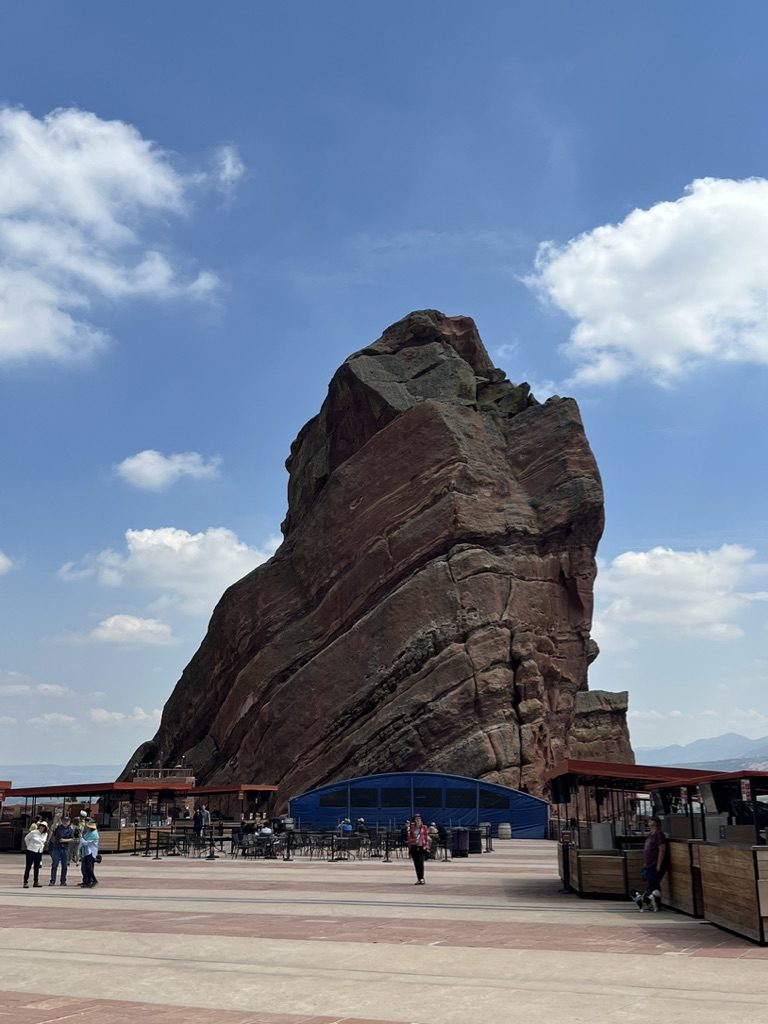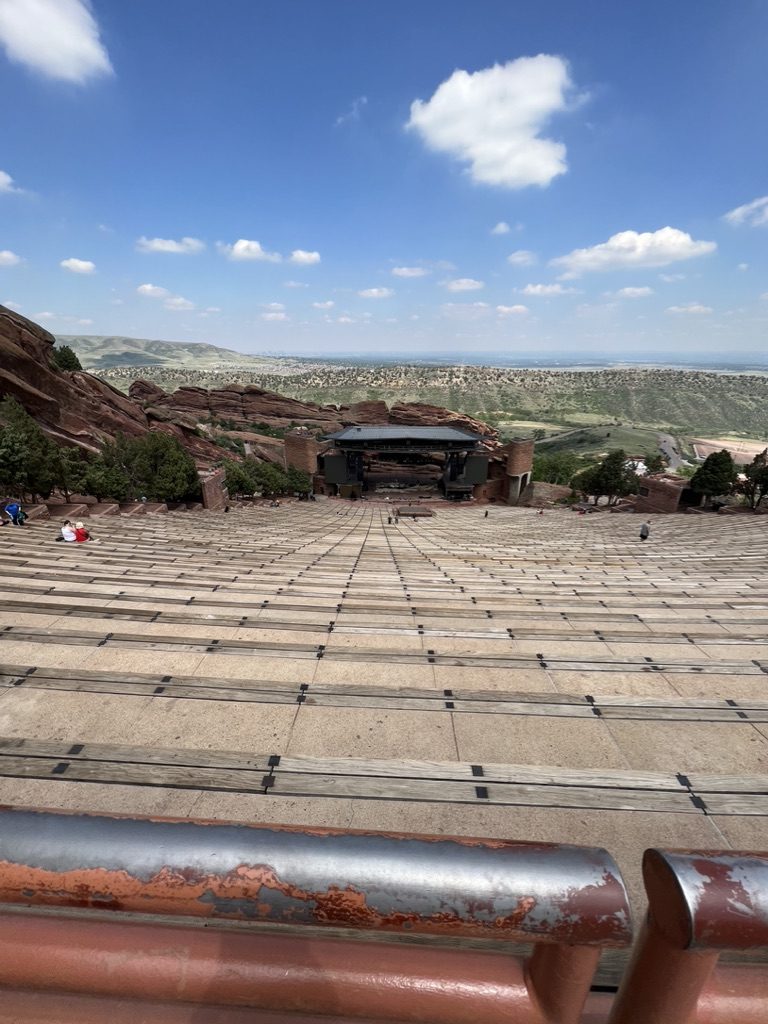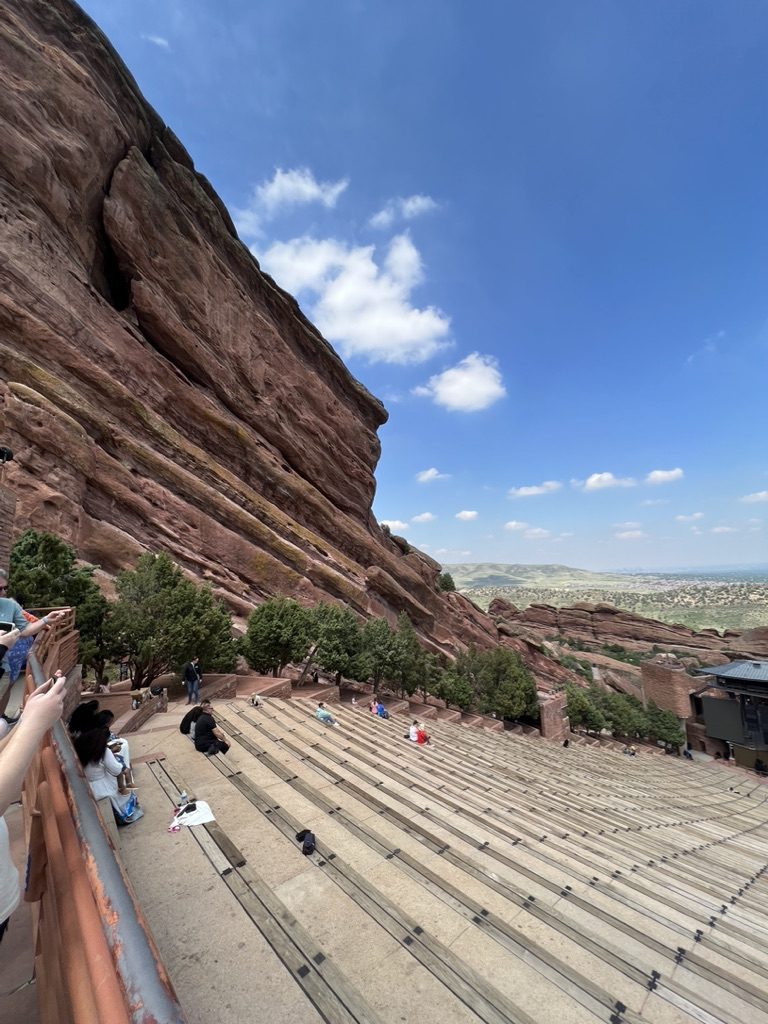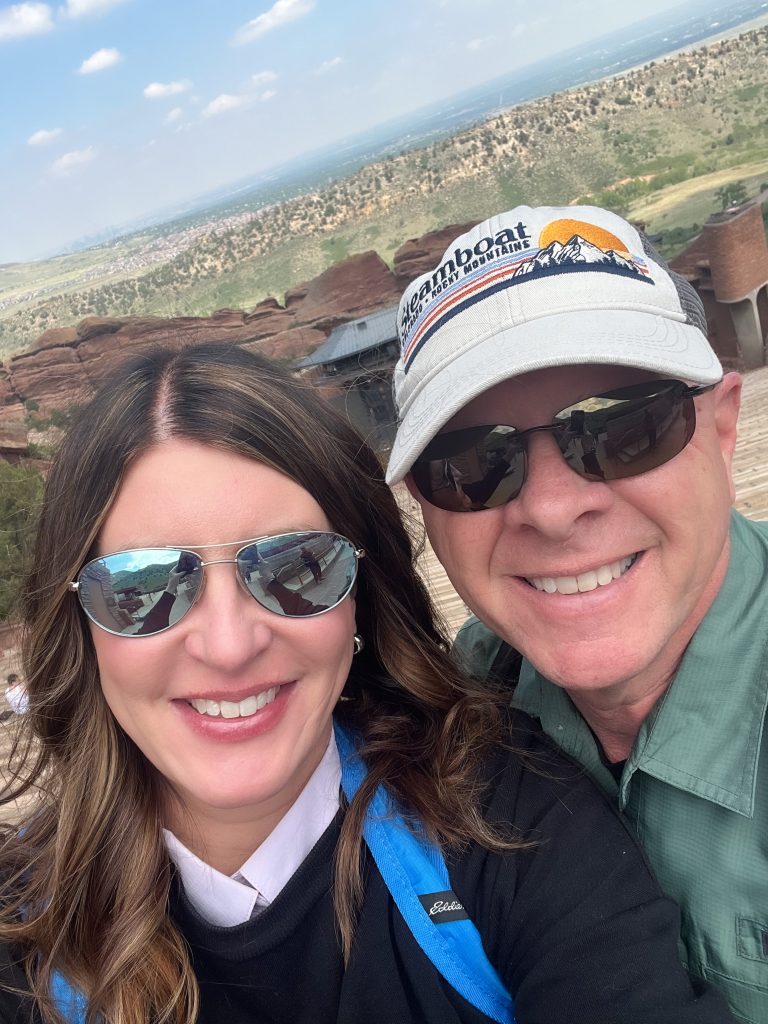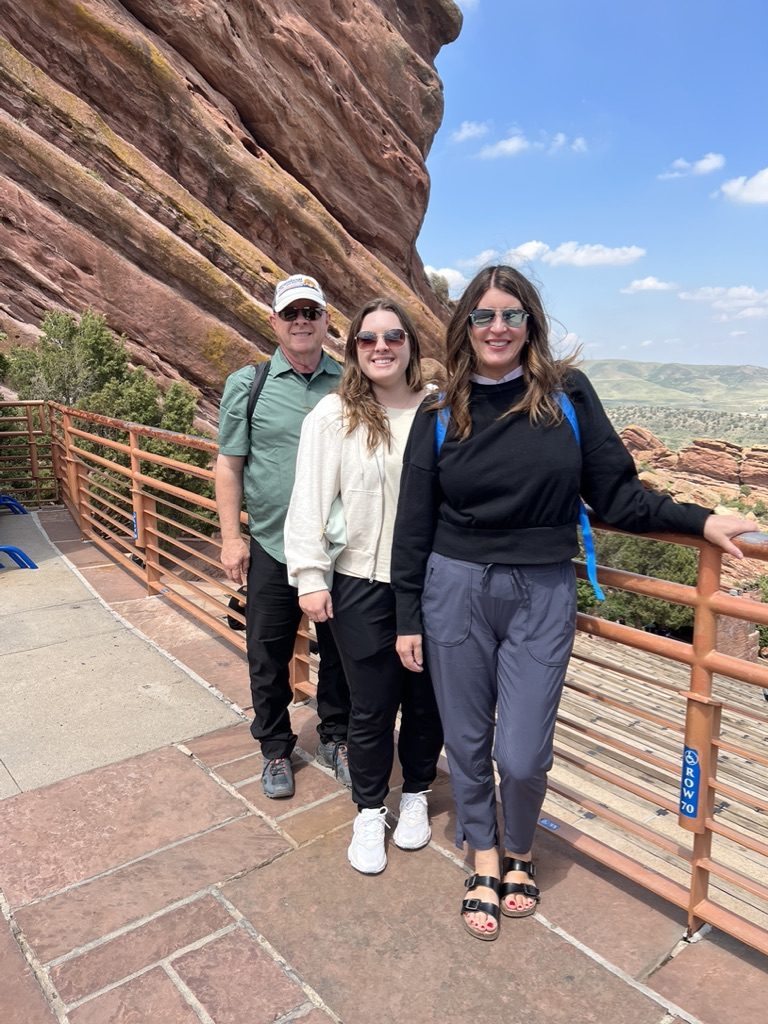 By this time, our bodies were a little tired from all the previous hikes, so we decided on the Red Rocks Trading Post Trail. It was fairly easy, but there is some uphill towards the end that challenged me.
Friday (Day 7): Wild Animal Sanctuary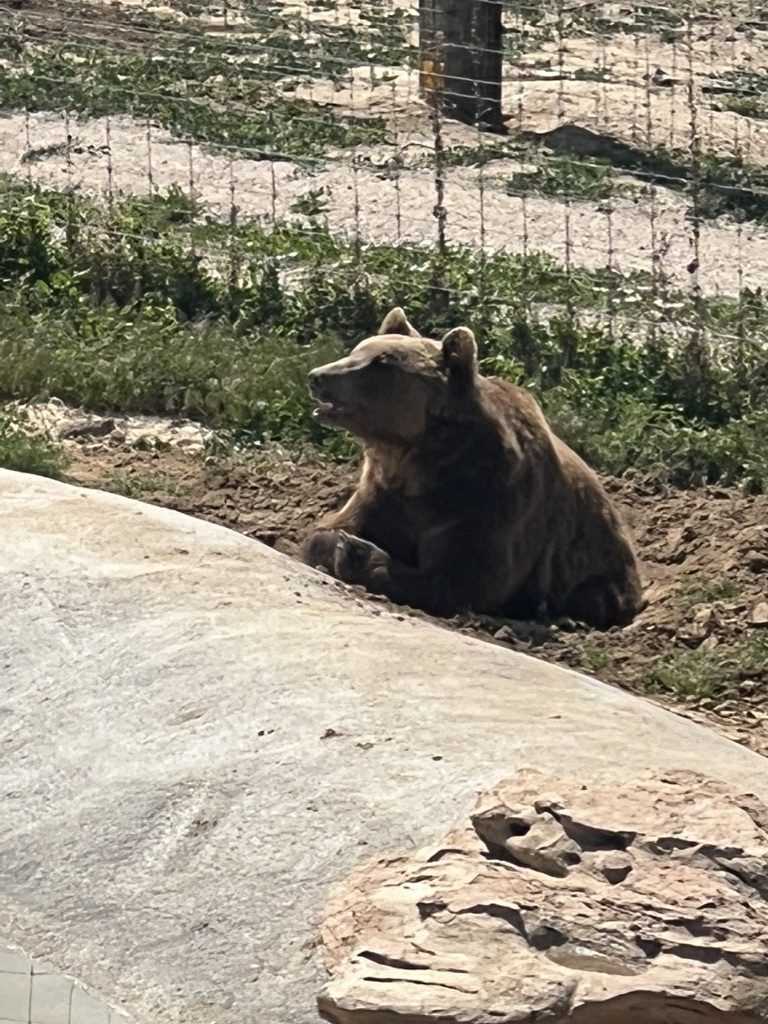 This was another favorite of mine and if you enjoy animals, I would highly recommend spending some time at the Wild Animal Sanctuary just outside of Denver. The Wild Animal Sanctuary is a 789-acre animal sanctuary in Keenesburg, Colorado. The sanctuary specializes in rescuing and caring for large predators which are being ill-treated, for which their owners can no longer care, or which might otherwise be euthanized.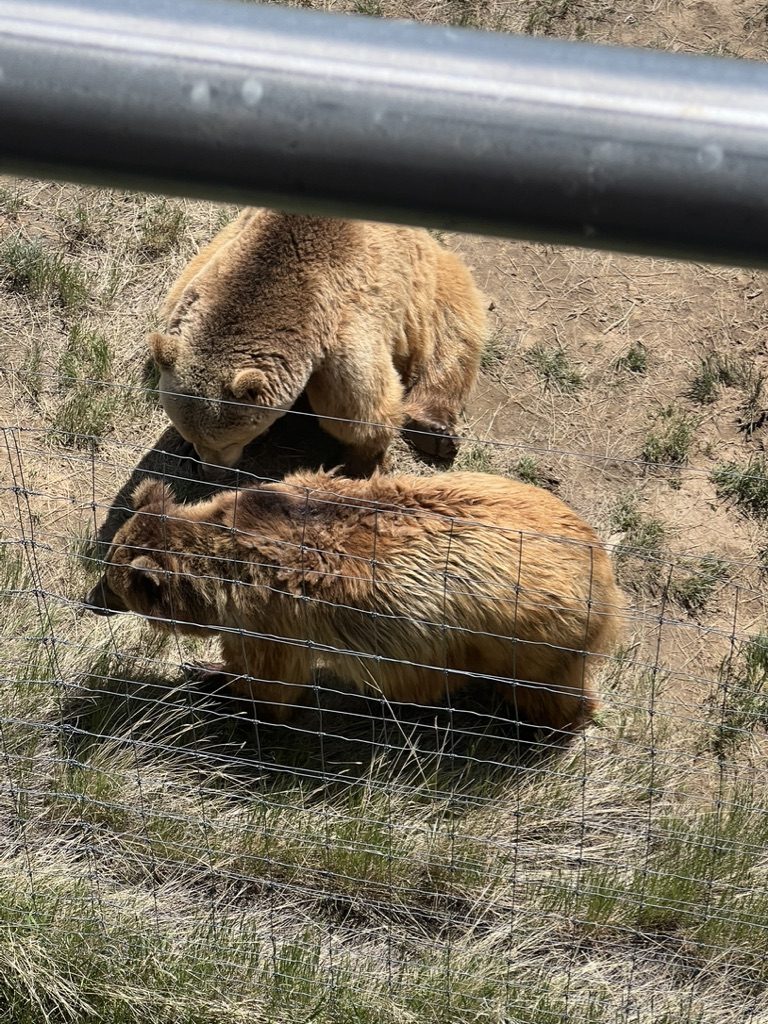 Each animal has a story, and the volunteers were very friendly and happy to talk with you about the animals and how they are cared for. We spent several hours here walking the elevated walkways that allow you to view the animals in their habitats. Make sure you wear comfortable shoes and wear sunscreen for this attraction.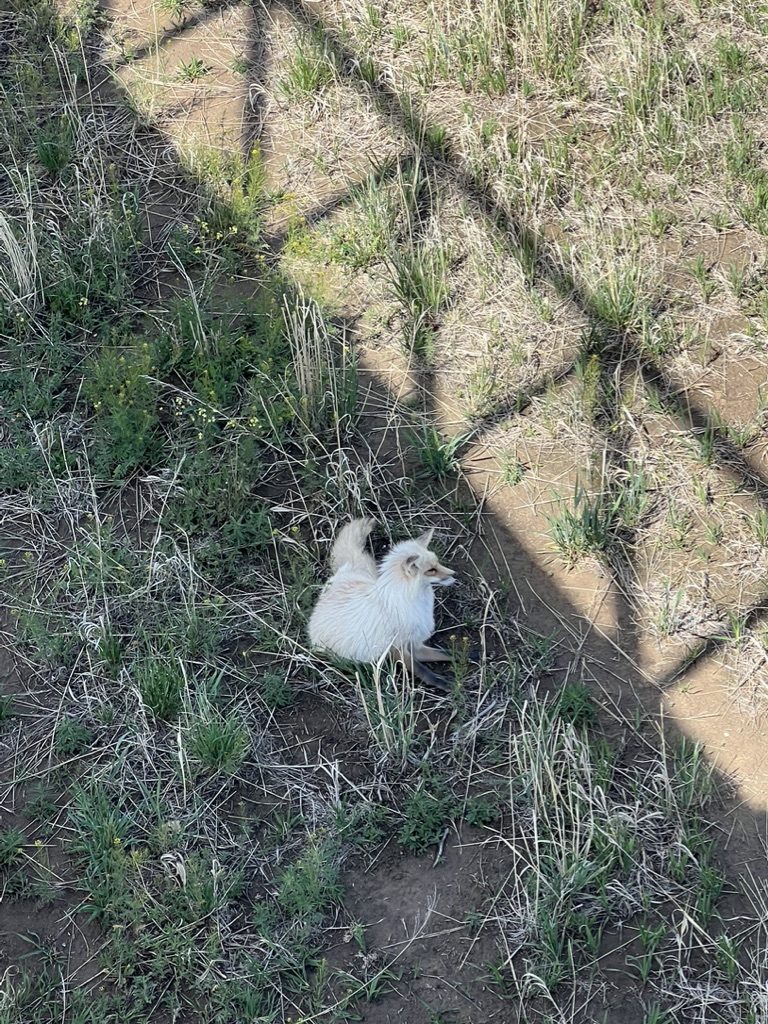 Saturday (Day 8): We had a little extra time before catching our flight home on Saturday, so we let the guys pick out something that they wanted to so. After all, they had endured lots of shopping! They chose a car museum called The Vehicle Vault. They had a nice collection of 38 exotic and classic cars from a wide span of time periods. It took about an hour to leisurely explore and even if you are not a car enthusiast, I think you would enjoy looking around.
My husband loves classic cars, and he really enjoyed it. I didn't take a lot of pictures here, but he certainly did.
Tips For Traveling To Colorado In The Spring
If driving to Steamboat Springs after flying into Denver, it's a long day. I'm glad we broke up the trip on the way back.
The temperatures can vary widely, so pack lots of layers and be prepared for anything
Take Dramamine or some kind of anti-nausea medication if you are prone to motion sickness
The elevation really does manifest itself on exertion. Pace yourself and stay well hydrated . My sister and brother-in-law are both very athletic and they got winded just walking up the steps to our 3rd floor condo.
It's very casual there, so don't worry about packing too many dressy clothes
The grocery stores and many of the retail stores do not provide bags. Be prepared to buy them or take your own.
Consider using a travel agent to plan your visit: We booked this trip ourselves, but we really didn't do a lot of planning ahead of time to book activities. Some of the attractions such as the Gondola and the mountain coaster were closed. My friend Daniela of Seabreeze And Sunshine Travels would be an excellent resource. She has a passion for travel and can really plan the trip you have in mind.
Have a beach trip planned? Be sure to check out this post. I hope you enjoyed seeing what I wore in Colorado and I'm glad I got to share some of the beautiful scenery we experienced there. The pictures really don't do it justice, so if you ever get the chance to visit Colorado I would recommend seeing it for yourself!